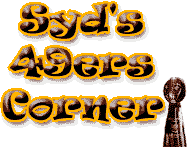 49er's make drafting an art. (05/03/02) 8:00 PM


Pressure to make something happen this season, pressure to achieve new heights in the terms of championships. This is what this season means to Head Coach Steve Mariucci, his tenure as the head coach of this franchise centers on a season with new promise.

He has to squeeze lifeblood out of the established veterans and free agents that have been signed; he will lean on them considerably this year. He needs instant stardom out of some of the draft picks of this year, in order for the team to compete on an even level with high caliber scoring teams such as division foe St. Louis Rams.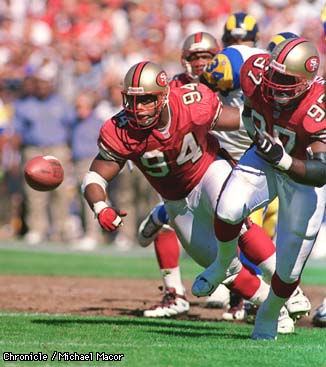 In all practicality the 49er's did an outstanding job last season in going from (6-10) to a (12-4) playoff season. The real enigma is what do we have to do this season to top that? Do we continue to have faith in the coaching abilities of Steve Mariucci?

Of course we do, even after all the publicity and constant shadowing of the questions surrounding his possible departure. Mariucci deserves a chance, and has earned that chance to try and make another run at glory.

One of the measuring sticks to Mariucci's season this year will be to find a way to beat division dominance by the St. Louis Rams. If we are going to do anything, this is where it must start. The 49er's will play the Rams on October 6th, and on December 30th, as the last regular game of the season. He will be under close scrutiny to find a way to achieve what the New England Patriots were able to do and that was to beat the Rams in last seasons Super Bowl victory.

This is the kind of pressure Mariucci will be faced with, many people and even some sports analysts have gone on record and mouthed out loud that Mariucci should have gone to Tamp Bay as their head coach. Simply to stockpile first round draft picks and makes a big splash towards achieving our inevitable sixth Super Bowl victory.

I am appalled at this thought, I am in firm belief that should a Super Bowl come our way, it will because Mariucci is our head coach. He knows that he is on a timetable so to speak, he can feel the pressure on a day to day basis. He is one of the best teachers and motivators in the game today.


As draft day drew near in April, Mariucci in conjunction with General Manager Terry Donahue prepared for the onslaught of decisions that would be made on that day and the implications that would follow those decisions.

The draft this season would be vastly more different compared to two years ago. The 49er's have experienced starters at all 22 positions heading into the draft. One thing had penetrated this franchise through raw seasons and that was youthful experience.

"To have all those starters back makes everybody feel good," 49er's general manager Terry Donahue said. "We're looking now to improve our depth. This is going to be a much harder team for a draft pick to make."

This draft was very different to last drafts, in the sense that we needed raw college players to come right on the field and take position, often with declining results because they needed time to learn and to adjust to life in the professional ranks. Now we could finally look at adding key players as back-ups to already experienced starters that needed a comfort zone in the way of rest and injury.

"In year's past, they needed to show up, have a pulse and look pretty good and they'd have a chance," Donahue said. "That's not the way it is now."

Having come this far is truly a blessing for us; we have finally made the transition from drafting for immediate starting positions to establishing quality replacement depth. This indicates that the team has grown and developed into a solid unit over the course of three drafts.

We have the immediate capability to compete on an elite level in the league, having this draft as adding insurance in the way of quality depth at key positions will enhance our likelihood of striking deeper into the winning circle of playoff contenders.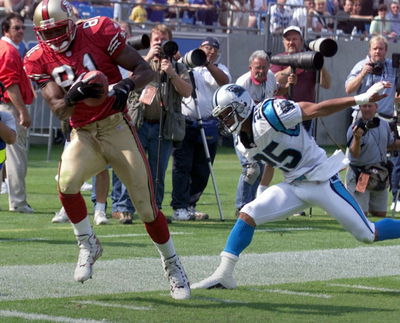 This was Terry Donahue's first NFL Draft as the man in charge, having taken the reins from former general manager Bill Walsh last May, he has made concerted attempts to put his prints on this upcoming draft. He takes great pride in learning from his mentor and master of evaluating talent from Walsh. In true respect that is why he still leans on him and had him in the war room by his side on draft weekend.

The problem going into this draft was the realization that the 49er's had no third round selection, it was forfeited to the league over salary cap violations incurred when Carmen Policy was the President of the San Francisco 49er's then under owner Eddie DeBartolo.

Terry Donahue wanted to make every attempt to soften that loss and set out to try and make the very best of every draft pick assembled, which was a total of nine picks heading into draft weekend. He went about eliminating all elements of chance in the 49er's selection formula for this draft.

"We've been preparing for the draft since last July," said Donahue, 57, who replaced Walsh as general manager in May. "We're going to hit the target. It's worked in the past. This is just going to be a tougher team to make."

The clear indication heading into the draft was what was needed the most, and that was to find a defensive back that would be able to play immediately in the team's nickel coverage while at the same time challenging starter Jason Webster.

Since the 2000 and 2001 drafts the 49er's have concentrated on establishing a defense that could challenge any rival team in the league, they achieved that goal in finding great starting talent and fine tuning that talent. Now they needed to establish insurance behind the starters, and they did so in this draft.


After a horrendous draft in 1999, explicitly speaking of first round bust defensive tackle Reggie McGrew, the 49er's and the front office staff under Terry Donahue set out to eliminate any possibilities of that happening ever again. In all senses of the word Donahue adopted a sound drafting slogan, "Young, fast and healthy."

"Over the course of the years, we've improved and tweaked our draft system," Donahue said. "It involves some technology. We've improved a couple of computer programs. It involves some the process or the system itself of how we arrive at a final grade and final ranking."

What honestly aided Donahue in this year's draft was the flurry of free agent activity that took place right before the draft? The 49er's signed four of their five top free agents, with only safety Lance Schulters getting away. But at the same time for what the 49er's had offered Schulters, they were able to sign free agent safety veteran Tony Parrish and defensive end Sean Moran, two for the price of one.

This was pretty impressive to say the least. The excitement didn't just end there, we were able to replace aging left guard Ray Brown a Pro Bowler at the position, with another Pro Bowler guard in Ex-Giant Ron Stone and 10-years younger his age.

"It is impressive what they were able to do," said agent Ralph Cindrich, who represents Ron Stone. "They were able to manage their (salary cap) problems and still make moves that look very good on paper."

Nobody can honestly imagine at how many time, energy and work goes into preparing for a NFL Draft. Terry Donahue was right when he said they had been preparing for this draft since last July. The analysis of the player is relentless and the poking and prodding of potential star players is everlasting.

The scouting department in San Francisco is one of the very best in the business. And under the watchful eye of Donahue they are even that much sharper because they know they have to be. Donahue is an organizational fruitcake in plain terms, and he enforces that quality in all that he does.

"It's not just, 'Is he a good football player?'" Donahue said. "There are other factors, like measurables such as height, weight, speed, explosion, quickness. Those are weighed, character and medical grade. I don't think you can just look at a film and say. 'Let's sign him.'"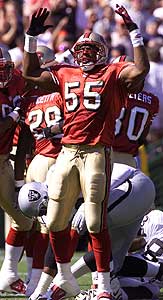 In the previous three drafts Bill Walsh then general manager, did very little on film study and in actuality leaned heavily on then director of personnel Terry Donahue. Very rare did Walsh take a player on the board without total consensus from all that sat around the war room?

As evidence look at what happened last year in Walsh's final draft as general manager, he tried to persuade relentlessly to scouts, coaches and Donahue to select Eric Johnson, a converted tight end from Yale, with one of the team's sixth-round picks.

But the board of evaluators including Donahue made the consensus to hold off on that deal. Then they finally chose Johnson with the final, seventh-round selection. Last season, Johnson started more games (15) than any 49er's offensive rookie since Earl Cooper started all 16 games in 1980.

What is so precious about the 49er's front office is the closeness of everyone that is involved, many disbelieve that head coach Steve Mariucci has much say in draft matters, but in real honesty he is sought after for his opinion on all the picks involved. It needs to be a unanimous decision on everyone's part to make harmony a reality in the front office.

"If there's a tremendous disagreement, do I have final authority? Yeah," Donahue said. "But I don't think the last three years have not been my draft and this year is my draft. The last three years have been our draft. And this year will be our draft."

"During the draft, my role will be the same as it was the last three or four years. We'll get a pool of players together in an area prior to our pick. Based on the consensus, that's whom we'll select. It won't be me picking a player."

It was Terry Donahue that brought the computer age back into the 49er draft process; he was the one that introduced as said earlier the computer hardware that would enhance their capability of evaluating draft prospects. He even upgraded the entire 49er process in how the team actually scouted players before the draft.

These changes and corrections to the 49er's draft procedures is what landed the quality personnel we have on the team today. Walsh did have an impact as well, with his keen sense of judgment and analysis, but it was Donahue's hard work behind the scenes that made the process all come together.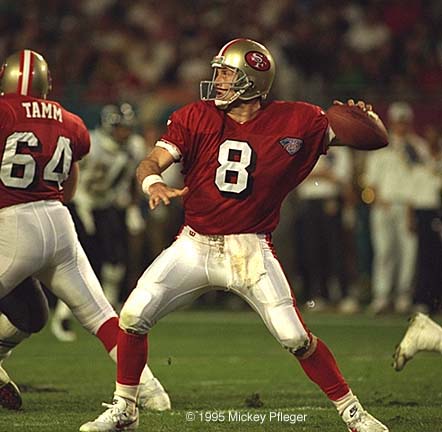 As mentioned before Steve Mariucci also plays a critical role in the 49er's draft process, he constantly in tune to what is going on at all times. He is constantly in consultations with Donahue, Walsh and John McVay.

He is after all the man on the field that must find the hidden talents that these athletes possess and make them work inside the San Francisco system. He is the one that must listen to the criticism as to why a player performs poorly on any given day, and at the same time take some credit for a players career burst as they peak in real form.

"This is my sixth time going through one of these," said coach Steve Mariucci, who arrived with a veteran team in 1997, only to see the 49er's break it down and rebuild it. "And it's much different than the previous drafts. Because, as I'm sure you know, we have not been able to keep our team together (in the past). "That was at the top of our wish list: Keep this young team together."

Taking a look at Terry Donahue you really have to come out of the meeting impressed, he is by all standards the epidemic of organization. He is one that likes to frequent sports bar now and then; he even has played as a defensive tackle at UCLA in 1965-66 and tried his hand at amateur boxing as well. When you take a look at his late-model sports utility wagon it's immaculate.

Those that get to work for the man know him well; he is the kind of boss that has nit-picking influenza. After each draft, Donahue distributes neat, blue cards to coaches and administrators who furiously call agents in order to sign rookie free agents.

Once a player is signed, the cards are tidily arranged on a board for everyone's perusal. Last year, someone signed a defensive end, scribbled his name on a torn sheet of yellow paper and haphazardly tacked it on the board.

"I promise you this week; those guys will hear that story about five times," said Donahue, who demands an orderly personnel board."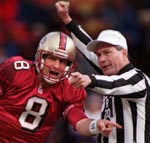 He is the guru of organization and he implies that in everything that he does and influences those that he works closely with. It is his system that has produced 18 players still with the 49er's out of the last 19 chosen.

The 49er's turned around their 4-12, 1999 record to 12-4 last season. This is the foundation of the re-made roster, and resulting success, is due to the influx of drafted players.

Going into this draft the 49er's knew what player they wanted with their first overall selection, the need was glaring when looking at last season. They targeted a defensive back to compliment starters Ahmed Plummer and Jason Webster.

In fact Plummer had a great breakout season, and very well could have been the team's defensive most valuable player. And Jason Webster played solid despite being called for 102-yards in pass-interference penalties.

The problem fell on the third cornerback position. First Anthony Parker struggled before he opted for season ending shoulder surgery. Then, rookie Rashad Holman took some mean lumps in pass coverage.

Holman though still has great potential, he has been working with a speed coach in the off-season and he should make some positive progress in his second season after spending a lot of his down time studying film and technique.

Defensive Coordinator Jim Mora Jr. Also has made a consensus that Holman will be vastly improved this season as compared to last. Miami's top cornerback in Mike Rumph seemed the perfect match, Rumph who stands 6-foot-two and has a track background, appeared to be the prime target. Rumph had already visited the 49er's facility in Santa Clara and worked out there for secondary coach Brett Maxie.

"They need a third guy to come in and make some tackles and I think they like that in me," said Rumph, who has remained in school and will graduate with a degree in liberal arts.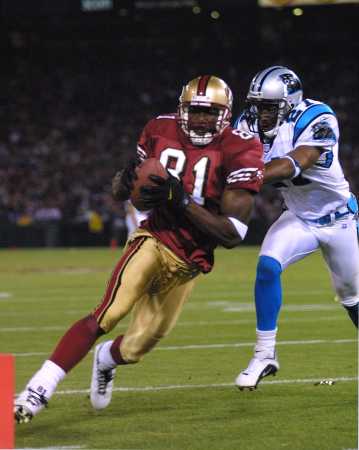 "When we get our nickel group on the field, we have to get more consistent pressure," Mora said. "I believe they will get better and better as they play more and more. Our third-down percentage was 14th in the league last year. We weren't as bad as people thought weren't, but we want to improve there. We want to get into the top five."

In another blazing accomplishment right entrenched with the draft was the negotiations going on at the same time with wide receiver J.J. Stokes over his contract.

Stokes was coming off a season that was rated at best mediocre in most analytical eyes. He caught 54 passes for 585-yards and seven touchdowns. Although this number is respectable it is still open to improvement for such a talent as Stokes.

The former UCLA star was scheduled to make a base salary of $3.75 million this season and his cap figure was close to the $5 million range. Stokes in retrospect in order to stay with the team and prove his image agreed to a restructured deal and a cut in pay. The deal in reality clears enough money to sign all the respected draft picks picked up by the 49er's.

The thinking of Donahue and others was to try and save Stokes so that the draft would be again focused on areas of immediate needs such as defense, offensive line and special teams. By reworking a deal with Stokes it secures the number two receiving position so that the 49er's can overlook drafting a wide receiver.

What needs to be clear on the drafting process is looking at really how much it has changed over the years, free agency has really robbed the draft of true value at times.

Veterans rarely remain veterans on the same team for very long anymore, the lure of money and the attraction of new faces and facilities expedite an athlete's future with different teams. It is the way things just are the overall philosophy in the league and its mentality has clearly changed completely.

"Free agency has really changed the dynamics of the game; the atmosphere now is to win now or else," Bill Walsh said in a roundtable discussion arranged for a NFL website. When looking back on two decades ago, the regular draft in the NFL was consisting of 12 rounds, and it was conducted in one day. The seven-round, 2002 draft is spread over 48 hours and the dynamics and logistics of it are sometimes overwhelming.


"Things were dramatically different before the cap and free agency, because they kind of came together like brother and sister," said John McVay; the 49er's vice president of football operations. "It's really changed the landscape, There is a lot more movement now, and salaries continue to escalate."

"Before all this, it was obviously good for the team and fans because it's tough to lose players you identify with from year to year. To keep that fan loyalty, you had to keep the core of the marquee players around. There would still be about 25% turnover on the roster each year, but most of it was through usual attrition; retirements and so forth."

"I think back to 1979, when Bill and I first came to the 49er's. The nucleus of the offensive line (Keith) Fahnhorst, (John) Ayers, Randy Cross was already there and stayed there another 10 years."

But now that luxury is no more, players become irritable for attention and for green money as we all know. Even the good teams that try and do everything right by their players get burned with this mentality. It is common place in the league now for players to be nomadic and move around without thinking of why?

The salary cap has strangled the concept of retaining a quality player long-term, should that player desire marquee pay they will be encouraged by their agents to seek it. Lance Schulters is a shining example of just that as demonstrated this season with his departure to the Tennessee Titans.

The 2002 NFL Draft came and on those two days of April 20-21st, they went into the draft and came away with a better defense. Their first two players being Miami cornerback great Mike Rumph with the 27th overall pick in the first-round and Alabama's speedy linebacker in Saleem Rasheed with the 69th selection in the second round.

"I love having a great defense," coach Steve Mariucci said. "A couple of years ago, we set out to rebuild our defense, and we're doing that. We'll have a chance to be in the elite defenses as we go on."


The San Francisco 49er's are looking for big things to happen with Rumph out on the field, he is expected to start immediately this season in nickel situations. He was a key member of the Miami Hurricanes dominating defense on their national championship team. At 6-foot-2, Rumph is a good-sized, hard-nosed cornerback who excels in bump and run coverage.

"I don't think there could have been a better fit for me," Rumph said. "I know a lot about the 49er's, and it's going to be a great place."

What was no surprise was the fact that the 49er's had their eye on Rumph all along, Mariucci indicated that secondary coach Brett Maxie rattled off details of Rumph's work ethic and personal life, summarizing the organizations strong feelings about his ability and mental aptitude for coordinator's Jim Mora's defense. It was his testimony that sold the rest on the pulling the trigger on Mike Rumph out of Miami.

Maxie came away impressed when Rumph passed a tough test during his pre-draft interview. After Maxie explained certain principles of the 49er's defensive scheme and then asked Rumph to teach them back to him, the 22-year-old rattled off an outstanding description. "I think that impressed them," Rumph said. "If I weren't paying attention, that definitely would have hurt me."

What is somewhat surprising though and you can bear weight on this if you like, was the factual statistics of Mike Rumph's senior season as a Hurricane. He had 31 tackles and eight passes defended. Despite all that the Hurricanes opponents respected him so much that they generally stayed away from his side of the field. Rumph held receivers without a catch seven times last season.

"He doesn't worry about personal glory or statistics," said Mark Stoops, who was Rumph's defensive backs coach at Miami. "He just went out there and shut his guy down every snap."

On Day One of the draft Mariucci came away all a beam at what was accomplished on that first day, the team added two promising defensive athletes who will contribute right away in their rookie season. But they also engineered a trade that gave them additional freedom to boot.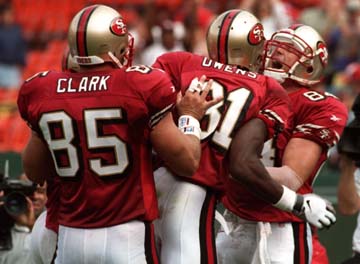 "With what we added in the trade, #102, we will be picking early in the fourth round on Sunday," said Mariucci. "It also gives us the flexibility to explore a trade. Maybe we can move up. It's a nice position to be in."

I was very impressed with the first day of the draft myself, I thought that a defensive back was a sure way of saying that we are serious about stopping St. Louis. I was also impressed to see us add Saleem Rasheed after losing Terry Killens to Denver. San Francisco has now selected a defensive player in the first round in four consecutive years and 19-of-29 (65%) draft picks since 1999 have been defensive players.

"'Last year we had to sign something like 40 or 41 guys after the draft," said the head coach. "This year we might sign 15. We are getting better and better one step at a time."

The story of Miami Hurricane Mike Rumph is an interesting one, wherever you go, you here nothing but admiration and positives about him. He is highly regarded back in Miami and all of his teammates and family is solidly behind their man.


"Mike is just a different player, a different person, " said Hurricanes secondary coach Mark Stoops. "He wants to be a great player, he wants to live right and he wants to always do the right thing. When you have a player like that, you can't go wrong."

The low down on Mike Rumph is that he was a coveted high first round pick in this draft at defensive back, many teams had him targeted as a candidate in their sights. But San Francisco had him high on their list and would have done anything to achieve victory.

They did just that with their 27th overall pick, they picked a corner that will compete and he will pressure someone for the starting position. The nickel never looked so good as it will look now going into 2002.

I will have even more on Mike Rumph and Saleem Rasheed in my next article, please stay tuned with continuing coverage on this years draft as I take an in depth look at every player and breakdown the mindset of why San Francisco did what they did.

All is bright on this new season dawning, we have the good Lord above to thank for our great fortune in obtaining the services of these talented fresh faced college athletes looking for fame.





Fan Press:
Now you can write articles for 49ers Paradise, and read what other fans have to say too in the Fan Press section.