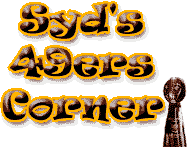 Mid-Round draftee's signal promise. (05/24/02) 8:00 PM


He resides in Lubbock, Texas in the very heart of Dallas Cowboy territory, yet he has always loved and cherished the San Francisco 49er's. Football is his life and his father was a big part of that.

Dallas stars have always surrounded him and logo's that screamed America's team. But this was not in the mind and heart of Texas Tech's star safety in Kevin Curtis.

The excitement that overcame Kevin after his name was announced in the 2002 NFL draft was instamatic. He was selected in the fourth round as the 127th overall pick in this draft. His dream has always been to play football at the professional level, his ultimate dream was to someday play for the 49er's.

"Even though I've lived in Texas, and I'm from Texas, I've always been a San Francisco 49er fan," Curtis said. "Even though we live in Cowboy country, my dad and me were 49er fans growing up. San Francisco was always my favorite team. I don't know how that came about."


The accomplishments of Kevin Curtis are impressive; he is a three-time All Big-12 selection and ranks second on the school's career list with 422 tackles. He also added 10 career interceptions, 26 tackles for a loss and six sacks. He has played both safety positions and can rotate between both when necessary.

Curtis will be a welcomed addition to an ever-improving secondary; the faces will leave secondary coach Brett Maxie reeling as they appear for mini-camps throughout the summer. He will come in and challenge for playing time behind starters Zack Bronson and Tony Parrish. He also will compete with other returning safeties in Al Blades, Ronnie Heard and John Keith for playing time on special teams and as a back-up safety overall.

"My dad and me were talking about how it would be cool to play for our team," said Curtis, a second-team All-American selection as a senior. "And now I get to play for our team. It's an honor and privilege to play for them I love it."

Kevin makes no bones about growing up and loving the 49er's. It would seem very mentally challenging to keep that picture vivid in your mind, dealing with the fact you reside in the middle of Cowboy country.

His focus along with his father's though has never wavered. Goes to show that all 49er fans come from all sorts of places, and some of your most fanatical actually live far away from the Bay Area itself.

"We like the kid a lot," said secondary coach Brett Maxie. "He has great instincts in the core; great ball skills, is extremely physical and is a very bright kid." To have him sitting that late was almost unbelievable."

What is really intriguing is the fact that Curtis knows the role that he will play with the 49er's. If anything the coaches and front office staff know that he will have an immediate impact on their special teams. His primary function will be just that in years to come and as competition evolves all around him.

"I'll come in and do what they ask of me," said Curtis. "It will probably be on special teams my first year. They have two great players in Zack Bronson and I'm really excited about Tony Parrish. I'm just trying to help the team as much as possible."

Another great strength that Curtis possesses is his versatility, he started every game at free safety as a sophomore; leading the team with a career-high 153 tackles. Then he started every game at strong safety as a junior, finishing 18th nationally with 121 tackles. He started at strong safety the first four games of his senior season and then switched to free safety for the rest of the year.

Head Coach Steve Mariucci feels that Curtis was a steal and that the secondary once again grew a little stronger right after the draft was concluded. He made no excuses as expecting nothing but the very best from his rookie safety. Mariucci has seen a defense trying to find it's own identity over the last three years, now he believes all the pieces to the puzzle are available now.

"He's a big safety who can run," 49er's coach Steve Mariucci said. "He'll compete to play on defense and be a heck of a special team's player. He was a player we started targeting that we felt we had to have."

Mariucci even indicated that the entire staff kept their "fingers crossed" as the anticipation came to an end with him still being on the board. Curtis actually came to 49er country for a workout at team facilities, just one week prior to the NFL Draft. Now he comments that he couldn't be any happier than he is now.

"I'm just happy to be on the team," he said. "I'm just going to go out and try to help the team as much as possible." When the comment came up on Curtis and his hitting abilities he would not hesitate to comment on that subject.

"Yes, sir," Curtis said. "I'm a big hitter when it calls for it. I'm a sure tackler and I'm a smart player. I've played up in the box and I've also played as a deep safety. I've done them both. My main job is to get guys down. I'm the last line of defense, and if I need to be a sure tackler, I am. But if I have an opportunity to put a big hit on somebody, I will."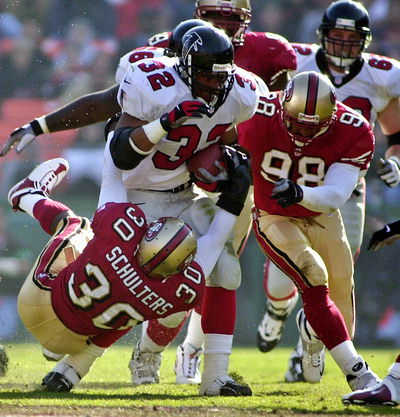 Secondary coach Brett Maxie seems overjoyed at the influx of new players into his secondary, having obtained veteran Tony Parrish and rookies in Mike Rumph, Kevin Curtis and Teddy Gaines he is expecting a secondary defense far improved and deep in the next coming seasons. The optimism runs high in Santa Clara headquarters, as the 49er's look at prospects like Curtis to set an example for the team.

"He's been one of their most productive players over the lat three years," said Maxie of Curtis's Texas Tech career. "The fact that he has played free safety, strong safety and special teams gives him a real advantage."

Texas Tech's Kevin Curtis the tale of the tape
Position: Free Safety, but knows strong and special teams as well Height: 6-2, Weight: 212 Hometown Lubbock, Texas
Positives: He is big and lean and is well defined with well-tapered calves. Can make quick decisions in a short area. He also is very aggressive and can make proper reads while in run support. He tackles his opponents with intensity, and relishes contact near the line of scrimmage.
He can catch and secure the ball away from his framework. He also has a strong straight-line charge, and comes of the edge with a degree of explosion. He also has the ability to bring the heat on a quarterback and entice them to leave the pocket.
He is almost always in control, using his hands well to properly re-direct the tight ends. He also has sound anticipation of where the ball is, and ha a way of leaping for the ball at it's highest points.
Negatives: His backpedal needs improvement, he has at times wasted steps in his transition and lost motions in his routes because of this. His poor footwork has hampered him in many areas, it actually prevents him from opening his hips properly, resulting in loss of leverage. This is a critical element as a professional safety.
He also seems to lack control in tackling, rather than face up, wrap and secure; he will primarily deliver arm tackles. He is a good off the edge blitzer, but can get bounced around when trying to re-direct inside.
He also has an unpleasant tendency to run around and jump over blockers; he also plays with his pads too high, which in the end results in poor body protection. He also can arrive late on the ball when working deep routes. He sometimes lacks the range to make mid-field tackles.
Overall his deficiencies can be corrected though with sound coaching and just plain repetition and gain of playing time experience. Curtis is definitely a keeper in my book; he imposes a great presence on the field in pure size and quickness. I am sure that both will combine with positive results.

In agility tests Curtis ran a 4.53 in the 40-yard dash, a 2.62 in the 20-yard dash. And a 1.6 in the 10-yrad dash as well. He had a 3.88 in the 20-yard shuffle, a 6.75 in the three-cone drill and a 37.5-inch vertical jump. 10-feet, 4 inches in the broad jump. Bench presses 225-punds 24 times. He also has a 33-inch arm length and 10-inch hands and is also right handed.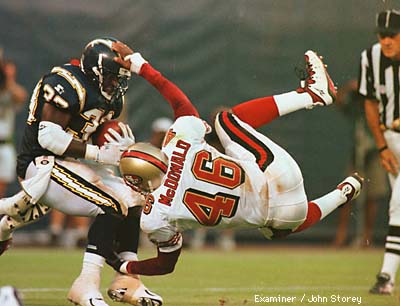 Curtis will instantly challenge holdover back-up safeties Ronnie Heard, Al Blades and John Keith for playing time. He will most likely be in the rotation at the third and fourth level safety positions, those behind starters Zack Bronson and Tony Parrish.

He will also be in competition for the nickel and dime coverage packages that will be employed on a constant basis. It is here where he will need to show room for advancement as well as on special teams units.

In 1997 Curtis was Red shirted as a freshman. In 1999 he was named to Consensus All-Big 12 Conference first team selection. He started every game at free safety and led the team with career high 153 tackles (93 solos).

Only Michael Johnson (154 in 1987), Lawrence Flugence (156 in 2000) and Brad Hastings (171 in 1985) had more tackles in a season for the Red Raiders. He also had three stops for losses of 11-yards and intercepted three passes for 47-yards in returns and he is credited for two quarterback pressures and six pass deflections. He recovered three fumbles and caused another.

In 2000 he made Consensus All Big 12 Conference first-team selection. He started every game at free safety and finished second on the team and 18th in the nation with 121 tackles (63 solos), including two sacks for minus-9-yards and 15 stops for losses of 43-yards.

He intercepted two passes for 58-yards in returns and tied for the squad lead with 13 pass deflections. He also caused and recovered a pair of fumbles. As a safety he registered nine quarterback pressures.

In 2001 in his senior year he made All-America second team selection by Football News. He also made All-Big 12 Conference second-team pick by the league's coaches and the Associated Press.

He registered over 100 tackles for the third straight time as he totaled 102 hits (69 solos) with four sacks for minus-21-yards and eight stops for losses of 33-yards. He deflected five passes and had four interceptions for 19-yards in returns. He caused two fumbles and recovered another.

He also had nine quarterback pressures, after starting the first four games at strong safety before switching back to free safety for the rest of the season. These are most interesting statistics folks, in my opinion Kevin Curtis shows great ability and talent to contribute to our secondary defense. I am hopeful that he will make a clean and steady transition from the college ranks to the pro circuit.

Curtis is also a very physical safety who is not afraid to put a lick on somebody when the time calls for it. He enjoys physical contact especially the kind that leaves an adversary on the ground looking up into the sun. He has the ideals and principals needed to carry out the important tasks that he would be expected of to do.

The front office and the coaching staff is excited about Kevin Curtis, they know that he will bring an added dimension to the pie sort to speak. Curtis grew up idolizing the 49er's from a far as many of us does that live a distance away. He has landed the ultimate dream for himself in playing for the team that he most covets.
,BR> "They've always been known as a class-act organization," Curtis said. "I'm happy and thrilled to be a part of it."

What was even more exciting was the fact that Curtis was surrounded by about 20 family members when the 49er's telephoned him seconds before his name hit the big screen. The selection just blew him away, and believes me if he is as happy as he says he is that alone is a positive for us.

The next selection in the 49er 2002 draft to be honest with all of you was a huge surprise to me. I honestly did not believe that we would have selected a quarterback in this draft based on the quartet of quarterbacks that we already had. The 49er organization selected a quarterback with roots from the old school.

They selected Brandon Doman out of Brigham Young University; the very school of now retired legend Steve Young. Doman had an outstanding senior season, and helped himself with creating a spectacular season of statistics. What was even more inspiring with this selection was the fact that Doman was unknowingly under the watchful eyes of former 49er quarterback Steve Young.


Over the course of four years the two developed a friendship that all of a sudden has a new twist, the fact that Doman reminds Steve of what it was like to be young and fresh and just starting out. These are the characteristics and settings that exhilarate Steve Young the most.

In fact shortly after his selection by the 49er's in the fifth round with the 163rd overall pick; Steve Young phoned Doman and offered his congratulations. It was a defining moment in his career, a bright spot that hopefully soon would develop into something promising. The track to glory is now being laid down as Brandon Doman looks to compete and overtake several quarterbacks in competition for the third quarterback position.

"I was just on the phone with him (Young) and he told me I couldn't let him down," said Doman of Young. "He started talking offense with me already. He congratulated me and he was all fired up and then he started telling me things I needed to get ready for, for this offense."

Steve Young crossed paths with Brandon four years ago, when he first noticed his talents on the football field during Brigham Young's spring practice four years ago. Young still keeps in close contact with the university and takes a keen interest in their sports program.

"There were about six or seven quarterback's out there and the one guy that stood out to me was Brandon," said the former 49er's quarterback. "He's a great athlete, probably the most athletic quarterback in the draft, and a good player."

To have Steve Young's seal of approval in my opinion is a tremendous shot of encouragement. You are able to have his eyes and ears on you and of course his sound advice has to be overwhelming at times.

Two things that Steve saw in Doman that are vital to a successful quarterback in the NFL are mobility and improvisation, he is able to do both and that is critical when running the West Coast Offense on any given day.
"There were other good quarterbacks in the draft that maybe didn't fit our style. He did." 49er's coach Steve Mariucci said. "We're going to give him a shot at it."

If anyone has ever marveled and watched Steve Young in action I for one can testify to his uncanny ability to make something happen out of nothing. So many times Steve would pull off a big first down or a final drive for a spectacular score that won the game.

These are attributes of a quarterback and a leader that never gives up or gives in. They are in a sense in a different world, a world where intense desire to win overcomes almost any obstacle.

Doman will come into camp as the rookie to compete against Gio Carmazzi and arena league football star Aaron Garcia. The need to have a defining quarterback is not urgent, but one that needs to show some promises in the light of being a quality back-up and eventual starter. Drafting a hot prospect now and grooming them for several years is in your best interests.

"Some people have said his arm just isn't strong enough, but that's not the case," said Young. "He was hurt for four or five games last year and still played. And he put up big numbers. I think he has a great arm."

Doman will be facing a very big up-hill battle as both Gio Carmazzi and Aaron Garcia have had time to study and get the ears wet behind the scenes with the 49er's. The system one of the most complicated in the league will take months to understand and comprehend, let alone apply the principles out on the field. Doman will have his work cut out for him, but he seems up to the task.

Doman at 25 years old is still very young, he knows that the clock is now ticking on his career and he is eager to get a head start on it. He already has dove headfirst inside the 49er playbook and is always a constant in the 49er film room. He admires starter Jeff Garcia going on as much to say that he hopes to learn a great deal from the prime time veteran.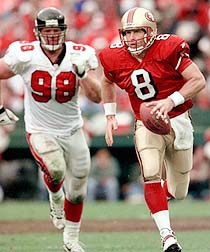 "Obviously they've got a quarterback there that is awesome. I am a big Jeff Garcia fan and I want to learn as much as I can from coach Mariucci, coach Knapp and coach Tolliner. At the combine, as I was interviewing with each organization, there was no doubt about it that the 49er's had the best organization, I was definitely hoping to get a shot to go out there. I will go out there and support and play as hard as I can every practice, every play and hopefully be a back-up style quarterback for the next little while here and hopefully down the road get a chance to be a starter."

Does the long wait bother him? Absolutely not, even indicating he is willing to wait out on the contract that implicates him in this offense, much in the same light that Young waited in the wings before he became the starter, submitting that to be patient right now is the best policy.

Doman is seemingly patient though and serene with knowing that he has a teacher on the sideline in Steve Young that will give him a slight advantage over the others, after all what better a coach than a veteran Pro Bowl quarterback. He understands he may have to play the role of a Young behind a Montana someday and that time will tell the final destiny.

"He has been a good friend. I have known him for a long time," Doman said of Young. "I grew up watching BYU football games. He and my brother are the same age and pretty good friends. He has been a very good mentor to me."

Doman finished his stellar career with BYU with 4,354-yards, 35 touchdowns and only 14 interceptions on 313-of-504 attempts (62.1%). Doman had a huge senior season in which he completed 261-of-408 passes (64.0%) for 3542-yards, 33 touchdowns and just eight interceptions. He seems to be the perfect fit for our type of system.

"He fits nicely in our type of system," said offensive coordinator Greg Knapp. "He's mobile, throws well on the run, makes good decisions and is very accurate with the ball."

The declaration by Knapp is a strong indication that Doman is the perfect West Coast type quarterback. He fits the mold an important one in defining a true quarterback that meshes with the 49er system that is in place.

"His offensive coordinator for his senior season at BYU, Gary Crowton, also coached Tim Rattay at Louisiana Tech," added Knapp. "Doman is a very mature guy who won 12 games last year."

During the teams first mini-camp of the season Doman was overwhelmed at the terminology of the 49er system and really had a poor showing at the two-day camp. However he is expected to be raw and very green around the gills in just coming in, with time and more studying he will eventually reach a comfort zone of competition.

Brigham Young's Brandon Doman tale of the tape
Position: Quarterback Height: 6-2, Weight: 210 Hometown: Salt Lake City, Utah
Positives: He is serious and very poised when facing a pass rush, he has a very high passer percentage rating. He has strong legs and great balance when he is forced out of the pocket. He has excellent roll-and throw skills and intense accuracy on his short to intermediate passes.
He also has a knack form delivering swing passes to his running backs with ease. He shows patience for his receivers in trying to get open, and at the same time he shows great courage in tucking the ball and running with it when flushed out of the pocket. He shows great elusiveness and is always a threat to run when receivers are taken out of the picture.
Negatives: Has hard time on long throw accuracy, lacks significant arm strength to get the ball up the field deep quickly. His coherent lack of height sometimes bothers him in trying to find receivers over big and tall defensive linemen. Needs some more zip on his throws, but he does have good timing on his throws.
In his agility tests he ran a 4.81 in the 40-yard dash and a 2.78 in the 20-yard dash. In the 10-yad dash he ran a 1.66 and a 4.08 in the 20-yard shuttle. He had a 6.9 in the three-cone drill and he ha a 32.5-inch vertical jump. For a broad jump he has an 8'10" and he has 31.5 inch arm length and 9.5 inch hands. Doman is right-handed also.

In 1998 he played in four games as a freshman, he completed one pass for 30-yards in victory over UNLV 38-14. He also carried the ball five times for 9-yards, averaging 1.8-yards a carry. In 1999 he played in 10 games as a reserve quarterback, he attempted only two passes, one was unfortunately an interception. He gained 32-yards on five carries (6.4 avg.) and also caught nine passes for 83-yards (9.2 avg.).


In 2000 he was named to the Academic All-Mountain West Conference selection, he played in five games starting the final two contests of the season. He completed 51 of 92 passes (54.5%) for 782-yards and two touchdowns. He was fourth on the team with 33 carries for 129-yards (3.9 avg.) and three scores.

In 2001 his career came to a sudden foaming at the top, he was a unanimous All-Mountain West Conference first-team selection. He earned MWC Player of the Week honors versus California and BYU Offensive Back of the Game honors versus California and Colorado State. He boasted a 159.66 pass-efficiency rating.

He completed 261 of 408 passes (64.0%) for 3,542-yards, 33 touchdowns and only eight interceptions. What is really intriguing is his interception ratio of 1.9 is second lowest season average in school history Jim McMahon (1.7 in 1981).

Now with mini-camps in full swing and Brandon experiencing his very first one, he is determined to get back to work. You can find him downstairs in the 49er's facility-studying tape of himself and others. Doman knows what it's like to be second best, he played behind Kevin Faterik at Brigham Young after being gone on a two-year mission fro church in Argentina.

When he came back to work he did so with a great diligence and a nose to get the job done, so that he would be in a position to someday be the starter. If Doman has learned anything he has learned to take one day at a time so to speak. He demonstrates patience that is a genuine trait of a 49er quarterback.

"You see, right here is where I need to get my feet around quicker," the rookie quarterback points out. "I watch Jeff Garcia and his feet are there before I even think about it. This is where I need to be."

The challenges ahead for Domain are real and complex; he has two other quarterbacks to compete against. One of them will most definitely be given a pink slip and sent packing soon. If anything says something about Doman it is his experience and self-confidence in him to get things done.

"I left here the first time with my head spinning a little bit, but also motivated to get better," Doman said. "I expect to learn a ton over the next few weeks after I have a little more opportunity to throw the ball and get some reps." "What I want to avoid is going out on the field and worrying about where the receivers are. I did that the first time because mentally I wasn't comfortable, but I think it will be different this time around."

We can expect to see a Doman that is eager and willing to learn, already a great work ethic has started to develop, so that in itself is a blessing. A lazy quarterback will go no where now a days, just look at some of the nomadic quarterbacks that are out there now and you'll be able to relate well enough.

"I learned a great deal about perseverance and doing what it takes to be the best while at BYU," added Doman. "You can be gifted, talented and have all the ability in the world, but if your not busting it everyday than at some point down the road it's all going to fall apart."

Now one would think that it would be ridiculous to pick Doman after such a long layover where he played no football. The 49er's seem disinterested in that history and have enough to be satisfied that he will be successful in the NFL.

Doman believe it or not has only started 14 games in his college career, his senior year being the most defining of them all. His talent and abilities though more than set him apart from so many others, you wouldn't think that this would be even possible considering his limited playing time.

"That wasn't a concern at all," said offensive coordinator Greg Knapp. "He's very mature off the field and on the field he has great poise and presence. We really liked the fact that when a play broke down, he didn't panic. More often than not he turned what could have been a bad play into a good one."

These mid-round prospects serve notice that quality depth on a roster is necessary to win championships. When you are able to approach a draft for these purposes you are well on your way towards prosperity in the league. I believe we are on the road now, and driving.





Fan Press:
Now you can write articles for 49ers Paradise, and read what other fans have to say too in the Fan Press section.