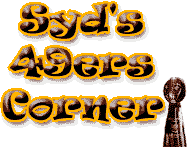 The 2001 49er offense keeps rolling right into playoff contention 12/19/01 2:00 PM

What this 2001 49er offense has done is blown away the professional football critic's and all their counterparts as we have established one of the premier offensive lines in this league. Not just this season but many seasons, this offense starts with a line that is bendable but not breakable.


This offensive line is not only overlooked but under appreciated, while wide receivers and cornerbacks get congratulatory slaps on the back and handshakes on the sideline, this offensive line merely does it's job and returns to the sideline.

This very group has taken enormous heat since Steve Young went down in a hail of Saints one week, then on a final blow by Aeneas Williams a game later. Never mind that a running back, the thoroughly undependable Lawrence Phillips, missed a blitz and allowed a hit that ended Young's career. Never mind that the saint's team that battered him the week before had a sensational pass rush or that the 49er's backfield was part of the problem there.

When Steve Young went down with a thud heard around the world, it was the offensive line that took the hit, no one else did. And when the running game mysteriously, shockingly, became one of the best in the NFL, the running backs got the glory and, in Charlie Garners case, the big money.

Let's go back to our Monday Night Game appearance in New York when we played the Jets, in a very emotional night where all of New York and the world was still coping with the tremendous loss of the World Trade Center disaster and all the loved ones that perished.

It was here in evidence that the offensive line was in true form as it always has been allowing Garrison Hearst to identify himself after two and a half years rehabilitating on the 49er sidelines. He deserves as much credit as he can absorb from coming back after this surgery of many surgeries. He ran for 95-yards that night.

And Barlow ran for 83-yards on nine carries that night which in essence softened up the Jet defense, as he did a couple of early bursts from Terry Jackson. Again the running backs did well, but when the team balances its running game, the offensive line has to be doing the job at the line of scrimmage. Case in point.

"I didn't know whether to run to the right or to the left, the holes were so big," Barlow said. This offensive line usually doesn't merit such wild praise. When comparing it's not like the Cowboy's oxen line of the 1990's. It's not even the most talented bunch in today's standard NFL.

And what's even more interesting is that it's not a dangerously thin group, either despite occasional indictments on that point. This team has been the Number Two rushing team in the NFL over the past three years, behind only Denver. They allowed fewer sacks than all but two teams last season, and they have kept Jeff Garcia healthier than most NFL quarterbacks.

So you do the math people, where do we get off or anyone else get off on knocking this great offensive line? They have no basis for their argument am I right? I believe that I am.
But you go ahead and tell me what you think; maybe there are a few discrepancies or a few misconceptions. I do not know, but one thing I am sure about, is that if I wanted a line that was as well rounded as this one for playoff time, I would choose ours hands down.

Again look at this Monday Night Game, when Center Jeremy Newberry left the game with a left ankle sprain, the offense didn't lose it's rhythm. Ben Lynch took over at center, without incident. The bench doesn't go much deeper, but the 49er's have endured several critical gaps in the line the past few years and still have kept moving the ball.

A testament of truth if I didn't know one well myself, this line has made every concerted effort to keep this team in contention. Without every individual playing at top form game in and game out we would not have achieved this success. It doesn't take a rocket scientist to figure out that we have maintained our balance and consistency for so long on offense because of this line.

Center Chris Dalman who had to retire early because of a neck injury, and the fact the team had no consistent tight end because of repeated injuries to Greg Clark, serve as reminders as to what this offense has had to deal with. And under these sorts of circumstances, and given the limited payroll available to fill the holes, the offensive line remains a rock of strength.

That very night was a statement for us, especially after coming off a loss to the St. Louis Rams for the very first time this season. We had one of our most important victories in the past three seasons.
We showed who we were late in the third quarter, when they started their drive at their own 2 and promptly pushed the ball safely out to the 18 on two runs. The running backs plugged away, and the 49er's kicked field goal 15 plays later.

We defeated the Jets 19-17 in an emotional win. Not only after an emotional defeat of our own, but in remembrance for those that perished, we shared that with the Jets and their fans. Regardless because they lost and we won. We were all united.

"Ugly football," Jets Coach Herman Edwards called it, correctly, and incorrectly. He couldn't believe the 49er's ran for 233-yards on his team. Don't blame him for not seeing the potential.
The same doubts, the same refusal for refusing to appreciate the finer points of the 49er's offensive line, rest solely with those that can see the bigger picture of this offense. This is why we have a running game, This is why we have a passing game, and this is why we are in the playoffs.

When Center Ben Lynch took over for Newberry it was an indication of how conformed this offense really is, for Lynch solidifies that very important position as a center is responsible for all line movement. Lynch finished that Monday Night Game with relative ease as productivity never was degraded.

"You need to prepare every week as if you were starting," said Lynch. "Something can happen at any time, especially with lineman because it's such a physical position."

"Ben Lynch has been here for a few seasons and he understands our offense," said quarterback Jeff Garcia. "He knows the calls on the field. We are going to get Jeremy Newberry back but while he's out, it's great to have Ben Lynch right there to step up."

What was even more symbolic in this game was when Steve Mariucci presented game balls to New York Gov. George Pataki, Mayor Rudy Giuliani, Police Precinct No. 17 and Fire Department Engine Co. 8, Ladder 2.

"I just want to say how much of an honor it was to play in New York on Monday night in front of these people who have been through so much," Mariucci said. "This is just a small, small token of our appreciation; we think the world of what they do."

In another rare melee inside the first Carolina Game back in October, left offensive tackle Derrick Deese was fined $10,000 by the league administration. He was ejected from that Sunday game for fighting with Carolina back-up safety Jarrod Cooper, who only moments earlier had been in a pushing and shoving match with guard Ray Brown.

"You got a lot of money," Brown joked with Deese in the 49er's locker room after the morning practice. "It's a game check; you can afford to lose that."

Ray Brown was involved in a shoving match when a frustrated safety Jarrod Cooper came over and got in Ray's face, seeing the altercation left tackle Derrick Deese did what any true offensive lineman would do and came to Brown's assistance.

Brown since then has taken partial credit for getting Deese thrown out of that game. And especially when the league levied a fine on him for it also. "Ray said thanks, and he'd take care of half of it," Deese said with a smile.

After saying this Brown was laughing and acknowledging what his teammate had really done for him. "Yeah, I'm going to help him out," Brown said. "He got my back."

The expulsion of Deese caught my attention as I witnessed this fight, I was happy at the fact that Deese came to assist Brown. I believe it to be what any teammate should do when another is in harms way. I only regret that the initiator of the fight being Cooper was fined only half the amount that Deese was.

When Ben Lynch took over for Newberry in the Jet game and we went on to achieve success, he filled in also for Newberry in the Carolina game but he too suffered an injury. As they were playing the Panthers Lynch injured his right ankle in the first quarter, but was forced to finish the game because the 49er's didn't have a replacement. The 49er's compensated by sliding guards Ray Brown and Dave Fiore over to assist Lynch in his blocking assignment.

"Thank goodness for Ray and Dave, because they put themselves in tough, tough situations because they knew I needed help," Lynch said. Quarterback Jeff Garcia was quick to commend Lynch on his toughness and his courage.

"Watching the film and seeing Ben limp on every single play, you felt the pain for the guy," Garcia said. "I mean, he was playing on one leg out there. I have to credit him for his effort. He was really hurting. I don't know if that's ever been done at the NFL level."

This is yet another aspect of what this offensive line can do, even in the midst of adversity they come together and manage, the expectations of fans and coaches alike is that this offense never rolls over. We are constantly on the attack and anything other than that would be termed abnormal.

Another great offensive explosion has been the addition of Vinny Sutherland to our special team's forces. The Atlanta Falcons is where he came from, they expected him to be the very next Tim Dwight for them, but he never even made it to the team's final cut down date.

Sutherland, a 5-foot-8, 188-pounder signed shortly after being released by the team that drafted him out of Purdue in the fifth round, has provided the 49er's with something they have historically lacked in large part of their existence, a dangerous kick returner.

In just recent seasons the 49er's have struggled miserably in this department, I know I have been agitated with the non-existence of a great return game for many years. Every game in recent history we have had to suffer unfairly in this crucial part of the game, poor field possession has hampered many a play in our tenure as a team. I was happy to see significant upgrading this season in Sutherland being a big part of that.

We started out with players such as Kevin Williams, R.W. McQuarters and Chuck Levy. All of these players never really provided the extra boost we needed to achieve greater success in each of our games.
Only one man in team history has returned multiple punts and kickoffs for touchdowns. That was Dexter Carter, the 49er's first-round pick in 1990 who returned two kickoffs and two punts for scores.

He has provided this team in my opinion with the best spark I have not seen in years. I have been very critical on this part of the team simply because I do not feel we place enough importance on this aspect of the team. Sutherland is a sight for very sore eyes in my opinion.

"He's got a little life to him;" 49er's special team's coordinator Bruce DeHaven said. "He makes good decisions and that's the most important thing above everything else. He's proving to be a little more elusive. He's a north-south runner, so he's not going sideways looking for holes."

Said 49er's Coach Steve Mariucci: "He's got a little make-you-miss. He's got some courage. Not everybody on the football team enjoys catching punts, or kickoffs for that matter. He takes pride in it. He's good at it."

The Falcons saw a lot of Tim Dwight in Vinny Sutherland, but Dwight was sent to the San Diego Chargers in April as part of the trade that enabled them to pick quarterback Michael Vick with the No. 1 overall selection.

The similarities resulted in the Falcons selecting Sutherland with the 136th overall pick in the draft. It just so turned out that Sutherland and Tim Dwight were good friends having run Big Ten track meets against each other.

"We wanted him to come in and replace Tim Dwight," Head Coach Dan Reeves said. "We thought he could be a wide receiver and a kick returner. He just had some problems holding on to the ball when he was here and we were a little concerned about that."

"We thought he was a guy we could get through waivers and have him on the practice squad. (The 49er's) picked up a good football player. I think he's going to get better. It was a matter of time."

I second that quote he is getting better, and he is gaining more yardages, and he is putting our offense in better field possession. Sutherland is actually having lots of fun in San Francisco he has built new friendships and he is trying to gain his teammates confidence in him.

"It's a little bit different here than it was in Atlanta, in that respect," Sutherland said. "These veterans take you right in here. You really, really, really got to earn respect in Atlanta, and I'm pretty sure I never did that."

"These guys, they get along with anyone and they talk to you more. In Atlanta, as a rookie, you're in the back of the lunch line, (and) you've got to get taped nine hours early before practice. There are just a lot of things there. In Atlanta and you're new, and say you get a new set of cleats, you might not ever find them. They could be on the roof."

Although we all know that rookie hazing goes on in every club house, the fact that 49er veterans display a little class is comforting, let alone showing some kind of acceptance to make someone feel wanted. Sutherland has adapted well under the circumstances, and he is already getting raves from veteran players, making his status that more ideal inside the team.

"He brings a little chemistry to the team. He's got a personality. You know, he's not milquetoast," Mariucci said. "Some guys keep to themselves, especially rookies. They don't say much. But he's got a little life in him. That's good. And he's developing some confidence."

Going back earlier in the season, the 49er offense had one heck of a time scoring in the first quarter of regulation play, often enough we had to play from behind and come out on top in the second half. This sort of non-production early frustrated both quarterback Jeff Garcia and head coach Steve Mariucci, to a point where they clashed.

"We haven't started as well as we started games last year," Mariucci said. "We were one of the best teams in scoring on the first drives over the last several years; the first drive of the game, first drives of the second half. That hasn't happened yet."

Even though the 49er's had evolved into the league's second-ranked rushing attack behind Garrison Hearst and Kevan Barlow. Garcia still wished coaches would utilize more of the team's passing game assets.

There was one dry spell where in four consecutive games the 49er offense failed to score any points in the first quarter, every offensive series seemed to follow the other three plays, then a punt. This was starting to wear at the fringes of both quarterback and head coach.

"Maybe that's something we should take a closer look at, as far as our first 15 and what type of plays we are calling," Garcia said. "Maybe I can have more input as far as things. I'm comfortable with and things that I like early on in the game to help us get into some sort of rhythm."

"I'm not complaining about the play calling, but when I'm working at my best am when I'm in a rhythm of throwing 70% of the time, or so," said Garcia. "That's maybe not something we're going to completely get to, but I think that would benefit our offense in a way."

This statement sent waves of discontent across the 49er coaching staff, is essence Garcia was calling them on the carpet, and questioning the very make-up of the overall game plan in the beginning of each game. It was here where Mariucci had to step in and dictate that plays that are called depend on the flow of each and every game.

"We always game plan to be balanced, but you very well could see a game like the (Oct. 1 win over the) Jets where we're running the ball a lot." Mariucci said. "And you could very well see a game like (the Sept. 9 opening win over) Atlanta where we're throwing the ball for 300-yards. We've got to be versatile, and it all depends on how our defense is playing and the score of the game."

Way to put it all in perspective Steve, I agree with this analogy as each and every game depends on the chemistry, between the offense and the defense. Especially in relation to the score, obviously when playing from a reasonable score behind you maintain the run. And when you are two to three touchdowns down you favor the pass.

Added Garcia: "I don't know if we're holding ourselves back in ways by trying to run the football. The way this team was built, and when you look at some of the talent on this team, much of that talent is in our receiving corps. And could be through our passing game. No punt intended running backs.

"Personally, I see this team, as a team that throws the ball to open up a running game, not vice versa. In ways over these first four games, there's been an emphasis to try to establish the run game, then do what you can do to take your shots (passing) at times," Garcia added. "I don't know if that is really our style yet; I'm a quarterback who likes to throw. I played in the Canadian Football League (from 1994-98). We throw the ball and don't run it."

Mariucci calmed down the anti-sentiments about his offensive play calling and hinted that Jeff does have say as far as the offensive play calling was concerned, but the final adjustments and decisions were his to make. In all he stressed that the 49er offense was still an offense searching for it's identity.

"We're trying to play accordingly," Mariucci said. "Whether that's conservative or wide open. I think it's going to change from game to game, depending on how well our defense is playing and whom we're playing against."

It's funny to hear this kind of open conflict, a disagreement between coach and quarterback can be detrimental or healthy, and certainly I term this one as healthy. I do not believe Garcia was questioning Mariucci's authority but merely making good concrete suggestions.
I believe it is soothing to know that some sorts of disagreement can be well constructed and beneficial to rounding out a well oiled offense. Players have a voice and always should be heard in its proper forum.

Another great account of our offensive line happened back in October when we played in Atlanta the second meeting, this game was a tremendous contest as it was won in overtime 37-31. However it was the tough play of a called upon center in guard Dave Fiore who was pressed to play that position because Newberry gave it his best shot, and after five plays realized he could not push off on his twisted left ankle.

It was after this that the game resumed a new face, because Fiore had to move from right guard to center and Matt Willig moved into Fiore's spot. Fiore and Garcia got off to a rough start right away, as both seemed not to be on the same page that day.

There were two fumbled exchanges in the first half; Jeff Garcia pounced upon both of which. Then when the game was seemingly at hand, the 49er's had reached Atlanta's 14-yard line in overtime, just moments away from a game-winning field goal attempt.
But on second down, converted guard Dave Fiore and quarterback Jeff Garcia misconnected on a snap for the third time, and the Falcons recovered the fumble.

Unfortunately enough though the 49er offensive line contributed to the 49er's problems in the first half by committing costly penalties and forcing Garcia to rush his passes.
But they came back in the second half by opening holes for running backs Garrison Hearst and Kevan Barlow and gave Garcia enough time to find Terrell Owens downfield to score.

"It was just one of those things where maybe I didn't get the snap all the way up and didn't get the perfect placement of it," said Fiore, whose experience at center during his six-year NFL career consisted of one pre-season game. "It can happen when you're not used to playing that position."

Even though Fiore had a rough day, overall we pulled this one out. You have to at least give him some credit for effort. He was doing something he had not done but once in his NFL career.
Still it showed how well this offensive line could mesh together in times of need. That is the magic this offensive line has, and provides this team with.

For a teammate to come out and play for both the injured starter and their back-up that was injured, and maintain the flow of the offense overall with it's dynamic abilities and talent based players, speaks volumes to the intensity of each and every player on this line.
I am so overwhelmed that we have one of the best lines possible, for it is with this underrated group I would go to hell and back, If I had to go into battle every week. You know Jeff Garcia is thinking the same.




Fan Press:
Now you can write articles for 49ers Paradise, and read what other fans have to say too in the Fan Press section.