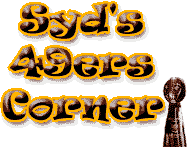 Part One: 49er's are a team with many faces, offensive stability a must 01/05/02 10:00 AM

In a rare visit back in training camp in August of 2001, Old timer linebacker Gary Plummer came in and attended. This was a linebacker that always was making a big play or was involved in one.
This was a player that amplified what being a real 49er was all about, there was no sacrifice great enough to further the cause of creating championships for this team.

He is now a color commentator on 49er radio broadcasts, and recently on crutches as a result of surgery that replaced his left hip. Plummer serves as a painful reminder of what some players go through years after the real playing is over with. The pain and devastation the human body goes through is extensive long after you decide to retire.

"I didn't sleep more than two hours at a time for about the last four years," said Plummer, whose hip replacement was necessitated by an arthritic condition. "I couldn't tie my shoes. I couldn't walk 100-yards without feeling like somebody was driving a metal spike into me."

But even after all this and the rehabilitation that continues to this day, one thing Gary Plummer does not ever regret is his football career. He has endured endless days and nights in excruciating pain, but the bottom line is being a 49er and making a positive contribution to his team on a daily basis was all worth it to him.

I find Plummer a true champion not only to professional football and his beloved team, but to all humanity as well. He is what being a true athlete is all about, doing whatever is necessary to get the job done and making those sacrifices that make a difference along the way. Although I do not promote putting one's life in danger, I do recognize and salute those that go way above and beyond in making a difference for their team.

"If somebody could have told me, 'You're going to play 15 years in the NFL but you have to give up your hip," Plummer said, "I'd have done it in a heartbeat."

Just remember what Gary Plummer is all about, he is about professionalism and being the optimum defensive player. I have always been a true believer in great defense; Plummer was one of those guys that delivered on a promise whenever the situation presented itself. Even now he writes a column on the San Francisco 49er's official website called Plummer's Points.

San Francisco continues to provide the league with an offense that is second to none, even though the St. Louis Rams seem to be the greatest offense on the planet right now. The 49er's are making headlines each and every week on how they are making the transition from above average to the elite.

When you think about offensive players that have made a difference this season, look no further than Terry Jackson, believe it or not this strong silent one has made a bigger impact than you can imagine.
Think back earlier in the season, remembers what special teams do for a team, and how they can turn the tide in a game by the flick of a switch? Terry Jackson delivers that and then some.

Jackson a sure-handed special-teams captain landed on a onside kick to secure a 49er's victory over the New York Jets back on Monday Night Football. And how about the vicious hit Jackson delivered to Carolina Panther kick returner Steve Smith that knocked both the football and his own helmet loose?

Jackson was the man that made a difference when George Seifert decided to be overly aggressive and we were able to come back and score before halftime. This was a game against Carolina that we anticipated as Seifert had some kind of hex on us over the past two seasons.

As a featured back in the two-minute drill, he set up a field goal that day by carrying three consecutive times for 24-yards in the final minute of the first half. He is also called upon to be a third down specialist. And a goal line threat. Even though he may not be on your fantasy football team, but he makes plays happen on a regular basis.

And do not forget his third-down catch and dive into the end zone during a fourth quarter rally against the dreaded Rams. Many players have defined positions, but Jackson is a third-year player with many faces and many attributes of specialty.

"He's probably the most versatile player we have on our football team right now. And he delivers every week," 49er's Coach Steve Mariucci said of the former Florida Gators tailback (and fullback and outside linebacker, not to mention SEC All-Academic honoree, team leadership award recipient and former student body vice president).

If there was ever a player that could be called a "jack of all trades" Terry Jackson is that very athlete. Whatever he is asked of he somehow or someway delivers on it. Jackson was named special-team's captain after the 2000 season. He is a non-starter with a third-year player's paycheck who was a lock to make the 49er's salary cap purge.

Jackson has been vital to our special team's unit that is exactly why he was made the captain of that unit, Special Teams Coach Bruce DeHaven relies on Jackson a great deal, as does Offensive Coordinator Gregg Knapp. He is a player with many talents and abilities, utilizing all of them are what this coaching staff has harnessed.

"He's not going to run for a thousand yards or start at tailback or start at fullback, though he could do those things," Mariucci said. "But he's got such a tremendous role. Teams need people like Terry Jackson to succeed. And if you don't have them, you're in trouble."

Jackson has had to undertake many a human anatomy in the fact he has had to fluctuate his weight from one extreme to another over the past three seasons. The 49er's drafted him in the fifth round in 1999; he is a 6-foot, 232-pound back-up fullback and emergency tailback. Because of his blocking/rushing/receiving ability, he is the team's primary choice as the single back when they switch to three-receiver sets.

"It's fun," Jackson said, "because it kind of takes you back to high school, when you played both ways and you didn't have to come off the field. You can go out there and tackle somebody, and then you can go and make somebody miss."

In all Jackson is living a dream, a dream that he wants to continue, and that he wants to be looked at as a difference maker. He desires to make big yardage, and to make the spectacular hit on someone, and to be the one to reach the end zone. In all he is the multiple task kind of guy that rarely gets the recognition they deserve.

"I just dreamed of making it in the NFL, and I've lived that," said Jackson, whose brother, Willie, is a starting receiver for the New Orleans Saints. "And I just want to take each moment and be happy with what I have. And if something more happens, that's great."

Whenever Mariucci goes to analyze a player he puts them in a four tier category as of such, Terry Jackson seems to fit each and everyone, that is why he is still on board so to speak.
He fits into the following categories: leaders, producers, role players and chemistry guys. This is where his identity has been defined at least in 49er standards. In my opinion seems like pretty good standards not just for a football team, but for the rest of your life as well.

"You know, I never really thought about what I would do if I just picked one thing. It's just kind of going out there and doing what they ask me to do," Jackson said. "The goal is just to help the team win games. Whatever that responsibility is or role that requires, then so be it."

Talk about a selfless player? This is what the NFL needs more of, stop and correct me if I am being absurd, but If we had more players with this same mentality teams would be more unified and teamwork oriented. This is what I would look for in a player, certainly we landed a great player whose role will increase due to Fred Beasley's injury to his hand last week.

One offensive lineman that is so unheralded and so underrated is un-drafted Dave Fiore, his claim to fame with the 49er's in his sixth year out of Division I-AA Hofstra, is his ability to play almost any position. He was called upon in a time of crisis where the 49er's had no where to turn.

Both of the 49er centers Jeremy Newberry and back-up Ben Lynch were out due to injuries, there is no player other than the quarterback that is more instrumental to the smooth operation of the offense than the center.

This is when the 49er's turned to right guard Dave Fiore for help, in all his years as a 49er he had played tight end, right and left tackle and even taken some snaps as emergency center in workouts. Well those workouts suddenly became real game time.

In the Oct. 14th game against Atlanta, Newberry started and lasted only five plays before it became clear his ankle would not hold up. That put Fiore in the limelight as the new starting center.

"Well, it didn't go exactly how I wanted it to," said Fiore, who fumbled two exchanges with quarterback Jeff Garcia in the first half and mishandled another in crunch time, just as the team was preparing to kick the potential game-winning field goal in overtime.

But nonetheless none of the fumbles and miscues mattered as the 49er's went on to defeat the Falcons for the second straight time this season 37-31. Garcia fortunately compensated for each mistake and the team finished with 517 total yards, this being a testament to the flexibility of the line under duress when needed.

"That's what Dave Fiore's been able to do since he got here, and that's be bumped around," said offensive line coach Pat Morris, who recognized Fiore's versatility when he worked as an assistant under the late Bobb McKittrick.

"When you have athletic linemen, they can be interchangeable parts. With expansion, linemen are hard to come by in this league. That's probably the thinnest group you'll have, if you can find good ones," Morris said. "If they're versatile, it's a good way for a guy to make a team."

This was a move I witnessed as I watched this exciting and on the edge of your seat kind of game, although I was exasperated at the fumbles and disheartened at the critical miscue when we attempted a field goal. I realized that how fortunate we were to have a lineman that would step up and try and make things right.

Jeff Garcia was Fiore's stout supporter and let him know despite the bad snaps how much he was appreciated. He played the part of a leader complimenting a soldier that had made mistakes but was still a valuable piece of the overall framework.

"One of the more positive things about our offensive line is the guys there, whether they're changing positions or not, they've been in the system for at least two years, if not more," he said. "With Dave Fiore going over to center, he's been in this system; he knows the calls Jeremy Newberry has to make at center, so that transition was not that difficult."

So I say with all honesty and integrity, my hats off to you Dave Fiore I am so happy you are on my line, without someone so versatile where would we be? That is question we have not had to worry about, as this line has made all adjustments it needs to make with precision.

A lot of what has been said of the 49er offense focuses around the big playmaker that has been there all year long that being wide receiver Terrell Owens. He alone has made games a winning or losing proposition and at the same time created disharmony between himself and his very own head coach in Steve Mariucci.

His off the field comments have been stinging deadly as he has made many references to Mariucci as not being the ideal coach of his choosing. The relationship soured last year when Mariucci suspended and fined Owens for celebrating blatantly on the Dallas Star in Texas Stadium with the full support of team management.

Just not too long ago in a game played and lost in Chicago at Soldier Field. Owens once again let the world know what he thought of Steve Mariucci and his coaching fundamentals.
The toleration level that Mariucci has had to endure with Owens has been brutal. The strain on their relationship with one another has been unrelenting, many still are wondering how any player can be allowed to get away with so much.

In Chicago on that day, the 49er's had blown a 15-point fourth quarter lead and lost in overtime 37-31. Then, on the following Wednesday, Owens suggested Mariucci cost the 49er's the game by reining in the offense to avoid offending his friend, Chicago Coach Dick Jauron, a claim Mariucci instantly disclaimed as ludicrous.

Even after this was all said and done, and the 49er's went on to play the Detroit Lions following this loss, at home and defeated the Lions 21-13, and two of those touchdowns coming from Owens himself. The strain was still there, and still is today although at a milder level.

How far do we allow athletes to whine and fuss no matter the circumstances, Owens again shed the limelight directed all his energy to lambasting a coach that has been responsible for putting all else last but this team.

What really pleased me was how Mariucci handled this whole thing, he would not allow it to distract the team or himself from doing what it is that he has to do, and that is to win football games.
Mariucci shows a focus and a determination to just move on and keep playing. He has adapted to life so well here in the NFL.

Although I do acknowledge that Owens is the main weapon and cannot be taken for granted I condemn the verbal assault he lambasted Mariucci with, simply put it is a sign of immaturity and irrationality.
I do believe the communication is a problem between the two and hope that all can be worked out, the olive branch should be extended from Mariucci and some kind of therapy mentally take place on a regular basis.

Jeff Garcia viewed the matter much in the same way Mariucci did, not allowing it to hamper the team's vision and to move on. Garcia said Owens worked well enough following the Lions game.

"Nobody said anything about what was said in the papers. Nobody criticized Terrell Owens. When he came out today, it was business as usual. There was not going to be any thoughts of not getting him the football. We gave him some opportunities, and he made great plays. That's what we expect from him."

What the main differences are between, Mariucci and Owens is the play calling of the offense and their inability to put opponents away once and for all. However I have always been a proponent of disagreement.
It is all right for a player to disagree with a coach about a play or how the game was managed, but do so privately, not out in media land.

"He wants to win and I want to win," Mariucci said of his talented wide receiver. "The issue isn't really the differences between Terrell Owens and myself, the issue is what's best for this football team. We have got a football team that is winning right now. That should be the story."

One thing that Owens shows that he is capable of is coming back from a bad game and playing even better, he did that following a Rams game in which he dropped five passes that game. And he came back against the Jets with a great performance.
The same thing happened after the loss in Chicago where he came back to have 125-yards and two touchdowns following the dropped/deflected pass that cost them the game.

The greatest shadow that Owens casts is his open mindedness and his ability to speak his mind; he does that with great emotion, and makes it known that it will never change.
Simply because it is part of him he will not give up on. H believes it is his duty as a leader among the receivers to speak his mind, and to be a voice in the locker room as well.

Mariucci again shows great appreciation for what Owens provides this team, and he realizes that the team as a whole would not be where it is without him. He compliments Owens on his ability to speak his mind and having a difference of opinion. And at the same time he hopes that diversity between the two will somehow draw them closer together.

"If it were a situation where he just shut down and quit playing for this organization, that's a different story and that has not happened," added Mariucci. "The guy plays hard, he plays well and he's an important part of this football team."

One thing is for sure and that is Steve Mariucci has gone out of his way to make known that Owens is entitled to his opinions, and at the same time acknowledges that there probably will always be some feelings there, that never completely heal. But he continues to offer his assistance and Owens claims he has been misconstrued and misunderstood.

"Everything I say is getting written the wrong way," he said. "I'm always the bad guy. I can't beat you guys. I'm not going to try and say the right thing. I'm not going to try and express my feelings. So my thing is don't ask me anything about 'Mooch.' Don't ask me anything that's going to be construed wrong. If it's not about the opponent were playing this week, don't ask me about it. That's it. Period."

The one thing I like about Owens is his so intriguing honesty, he will tell you just how he feels, and form an opinion about it at the same time. He is one hell of a wide receiver, the very best in this league in my opinion.
To say we are not lucky to have him would be for me to contemplate disfigurement. He is a devastating playmaker.

When it comes to maximum protection of a quarterback one man comes to mind, that is left offensive tackle Derrick Deese. To me he is the best in the business, he allows Jeff Garcia to make throws down field with ease, and he allows both Hearst and Barlow time to run through holes that are created. He is the protector of the quarterback bottom line and he prides himself on that very fact.

He is so nimble and extremely versatile as an offensive lineman, he has played the musical chair game on the line since the Bobb McKittrick era, the late 49er offensive line guru.
Deese has been guarding 49er quarterbacks from every position over the past 10-years, making him the longest tenured 49er on the roster. Believe it or not he is one of only three players in the National Football Conferences West Division that has worn the same uniform all 10 years.

Before Deese became a well-known commodity in San Francisco as a professional football player, there was one career he almost pursued instead.
He always had a keen interest in law enforcement and was leaning towards becoming a police officer. His family had an enormous effect on his life, so much that he still turns to them for guidance today.

"I was real close to being a cop," Deese says. "So close that if it wasn't for a junior college coach calling my mom and persuading me to come down and look at their college, I would've been a cop."

Deese's mom is his rock, the foundation of what his life is all about, she has had the greatest of influences on his life, for it is herself that instilled in Derrick the importance of what family is all about. He has since taken that advice from her to the heart and proved to be one of the best offensive lineman in the league today.

"My mom instilled in me to do my best, never let anyone tell me that I couldn't do something, make sure that I never quit at something I start and believe in myself," Deese says. "My family always stood behind me with whatever I wanted to do."

It really came into play for him though when he was in his senior season in high school, this is when Derrick discovered that his head coach had hid college letters from him and another player. He then came to the realization that maybe football was not for him.

"That's when I made the decision that maybe football wasn't for me and I wanted to go down and sign up with the police department," Deese says. "But a coach named Gene Engle had me calling and had asked me and my parents to come to his college and take a look at the school."

The coach and his family were so convinced he enrolled at El Camino Junior College, he did so despite the great apprehension he has felt at the betrayal he had endured from his previous coach. He was so young and so open to underlying circumstances and peer pressure.

Desse eventually went on to USC as a sociology major, but soon became even more involved in the football program there becoming a full time lineman. Although he still studied law enforcement it was football that really won out. During this same time he met his wife Felicia, and five seasons later he married her.

Later in August of 1998, Deese was blessed with another addition to the family when his son, Derrick Jr. was born. And on Feb. 2, 2001, his second child, Dontay, further expanded upon his duties as husband and father.

"I was there for the births of both my sons," says Deese, who has benefited from having family nearby during the important moments in his life. "It's an indescribable feeling. I know there are a lot of guys that missed out or that and I'm just glad I didn't."

By far family is the most important thing in your life, and I salute Derrick Deese for making that a main point in his life and draws substance from that. I am also realizing the importance of what family is all about, I wish for an ideal family that I could call my very own.
My mother being a source of strength for me also and adopting good neighbors as parent like figures helped me along the way. I wish my relationship was better with my dad, but time seems to be a constant barrier.

One person who has been just superb since taking over for Marty Mornhinweg as the 49er offensive coordinator has been Gregg Knapp, in his first year he has been influential in the development of this offense as a whole.
He even has been a bit more aggressive with his play calling something Mornhinweg tended to lean on the conservative approach most of the time.

Although Steve Mariucci shares the play calling duties with Knapp he has equally claimed that it is Knapp that comes up with most of them, the actual calls seem to be still done by Mariucci but the flow has been very impressive.
Knapp credits his smooth transition to his tenure in the 49er's system. After serving four years as the offensive coordinator at his alma mater, Sacramento State. Knapp served three years, as the 49er's offensive quality control coach and then three more as the quarterback's coach.

In becoming the coordinator, Knapp said his new job certainly entails more, "responsibility, making sure the offense is productive, and really overseeing more so scheme, the organization of game-plan preparation and game-day execution. That responsibility has grown dramatically."

Not being involved on just one position like he was as quarterbacks coach allows Knapp to come up with new schemes, some of which he said have come from watching tapes of other teams that run the West Coast Offense.

"Part of the main reason I didn't input as much as a position coach is that I had more duties with the scouting report and making your position player better," he said. "You can't develop thoughts of schematics."

And what does Mornhinweg think about Knapp and the offense now that he has left? You'd be surprised when you here him say: "Oh geez, they're off and running," Mornhinweg said.
"(Running back Garrison Hearst) is back and helping them. Rookie (running back Kevan Barlow) is helping them. Terrell Owens is playing well and Garcia air having another terrific year. They're off and running. One thing they're doing well is running the football in a physical manner like 1997 and 1998; they can do it all."

So it seems like the head of the offense is functioning just beautifully if I do say so myself, I must admit I was afraid of the drop off when Mornhinweg departed. But one thing is clear and that is the 49er organization manufactures great coaches, this is something we are so used to and have been able to replace those that do leave.

So I close this segment of Part One with what about the hatred that lies between Terrell Owens and Steve Mariucci? What can be done to alleviate the situation?

Some would say this is the perfect relationship in the manner that the energy feeds off from each other, Owens will still play his best and he will still catch balls thrown his way and make touchdowns.

Steve Mariucci will continue to call the plays that make all of those possibilities, because he knows despite their differences that Owens is the superstar of this offense love it or leave it, he clearly is.
So some sort of recognition of each other is imperative I believe, turn the tension into strictly coach and player type of a relationship and stop trying to be a pal or a friend. Calls it like it is right down the middle.

We all can blame all the outside forces from the media to the free agency market to the salary cap to the white house for god's sake, but the real kick of the whole matter is that both just need to be successful on the field where it really matters.

That is what 49er fans want and live for, that is scores and advancement in winning percentages and records, and most of all championships. Relationships among players or even coaches are mute to the fact that the overall plan is to become better.

If there is some outspokenness to a player and they are damaging the fabric of the team as a whole, then yes something should be done.
But the 49er's have not allowed the media to win, and we are holding our ground against those that ant to make something of nothing. Every team has it's malcontents and it's demons, we have our own, but none of it has been adversely negative and so damaging it requires disciplinary action.

Mutual communication and understanding would be recommended, finding common ground, being a good listener. Reacting in a positive manner at all times, maintaining composure and professionalism. These are what is needed, I know Mariucci would agree and I know he incorporates these as part of his repertoire.




Fan Press:
Now you can write articles for 49ers Paradise, and read what other fans have to say too in the Fan Press section.