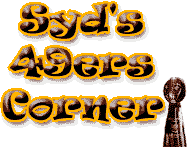 Part Three: 2001 San Francisco 49er's succumb to the voodoo of Lambeau Field 01/19/02 9:00 AM

It is 28 degrees in Green Bay Wisconsin; it is the same inside Lambeau Field, where the mystique of this home field hangs heavy in the hearts of every 49er player as they enter. It is of great importance to the Packers that the temperature stays low, for this is the curse they implore upon their opponents even before game time begins.

Lambeau conjures up nothing but bad memories for 49er fans; it is the one place we all hoped to avoid heading into the 2001 post-season. It was a loss at Texas Stadium in front of revengeful Cowboy fans in Week 16 that bought our airline tickets to this abysmal place.

The only other time that the 49er's had ever wandered into Lambeau Field in post-season was back on January 4, 1997, San Francisco's starting quarterback lasted just nine plays before coming out with broken ribs.
The head coach at that time was unknowingly running this team for the very last time. The owner then allegedly punched a Packers fan outside the stadium after the 49er's had lost that game.


Of those three it was quarterback Steve Young, head coach George Seifert and owner Eddie DeBartolo, the reality is that the 49er's and Packers had never met in the playoffs until after the 1995 season. In which Green Bay's 27-17 victory launched us into a collision course of four January match-ups.

The enigma the Packers carried with them after successfully winning three straight against the 49er's was pulsating to say the least. I can remember back when I would curse the name of Brett Favre over and over again, as he always seemed to understand as to how to win against us. He always seemed to be the one factor that was the biggest of thorns in our side.

Well he was in all truthfulness, but there was one moment that we exacted some revenge, and that was on January 3rd, 1999. That's when Terrell Owens, amid a sea of Packer defenders, made the famous Catch II, somehow miraculously holding on to a Steve Young pass thrown while he was going down to Owens into the end zone with three seconds left in the game.

So when I think about Green Bay they are memories that I would rather forget, but know that they are episodes in the 49er history that demand replay in my head. I have no love for the Green Bay Packers, but I do respect them for the ability to overcome great odds and finding ways to win. This is not to say that the 49er's cannot do the very same because they have on many occasions just this season.

But it is something to realize just what this curse is, not just with Lambeau but with the Packers themselves, what do they have that we don't? We again found that out on January 13th, 2002 as we clashed in the Wild Card Playoffs at Lambeau Field. The victory was a yellow and green one and the cheese heads were bobbing back in forth in unison.

The 25-15 loss still leaves a bitter after taste in my mouth even today, even though I comprehend that just making the playoffs was a huge improvement over last season, I still find myself believing and knowing that we could have achieved victory here. To me this game was our Super Bowl.
Being able to break that long hex of 10 straight post-season wins here at Lambeau Field in freezing temperatures, this was the frozen Super Bowl I felt deep down that we could win.
Those beliefs hung true well into the game, but as the fourth quarter came creeping in so did the 49er momentum go creeping out. We came to a slow halt just like a car with a flat tire.

Terrell Owens was open, and the Jeff Garcia pass was totally in flight, and for that one brief moment the crowd at Lambeau Field watched with all seriousness, and then all the ghosts of Lambeau came out and guided the ball into a different direction. It was in fact an under-thrown pass that came out of Jeff Garcia's hands, and it never quite reached its intended target.


It was cornerback Mike McKenzie that reached out desperately at the last moment at the Packer 17-yard line and deflected the pass to Terrell Owens. The Packer's then other cornerback Tyrone Williams caught the deflection before being dragged down in a fit of rage by Terrell Owens at his seven-yard line.

"It was a couple of inches short," Garcia said sadly that late Sunday afternoon, after a 25-15 wild-card playoff loss to the Packers. This is what he had to contemplate as he boarded a plane for the way home.

"I'm not going to sit here and say that I tried to tap it to Tyrone," McKenzie said. "But it was a situation where I definitely was able to get a good play on the ball, and was able to tap it into the air."

Just eight plays later, Green Bay Packers running back Ahman Green ran the ball in from the 49er's nine-yard line, and Green Bay was on it's way to a Sunday playoff meeting in St. Louis against the dreaded Rams.

This victory added to the overall sphere of the Packer mentality, that they are invincible at home and in the playoffs, They are 13-0 all-time in home playoff games. Including 11-0 at Lambeau itself.
Additionally to that, Packers quarterback Brett Favre who is now 8-1 against the 49er's, improved to 31-0 in his career when the temperature is 34 degrees or colder.

Quite the record don't you think? I would say so; it goes beyond recognition it goes to show just how critical Brett Favre is to this game. It is also without genius knowledge to realize that we were totally unable to apply pressure to Favre based on the critical injuries at the defensive end position.

The mood just after the bitter loss was like a fresh gunshot wound, it was bleeding uncontrollably and the pain was immense among all the players. This is what they had worked so hard for all season long.
A legitimate shot at post-season glory, a slim chance of going to the Super Bowl, I say slim only because of the histories we have with both Green Bay and St. Louis, but a definite chance to say the least.

Could we have achieved victory at St. Louis with a victory over Green Bay? We will never know, certainly Las Vegas would have said otherwise, but I believed we could win, just from the improvement I had seen from our two losses to them this season.


"The guy made a great play, and it's unfortunate the ball was a little short of where it should have been," Garcia said. "That was the play of the game."

And what did Terrell Owens do, he did what he does best and that was to complain, complain that he was left out and not included. Complain and say that he is the playmaker so why not use him, and indicate that it was a coaching matter in not giving him the ball more.
The facts speak for themselves though, Owens was a part of this game, he was constantly double-teamed and balls were forced into him nonetheless as Jeff Garcia did take some risky shots in trying to get him the ball.

Even though Jeff had completed 22 of 32 passes it did not equal out into anything but a loss as his nemeses Brett Favre had a spectacular day as usual simply as history tells us, because he was playing the 49er's.
It was frustrating to hang all the way to the fourth quarter and just witness how we slipped away, allowing big plays to manufacture and turn ultimately into profitability as the Packers closed the door on us once again.

"This game we didn't get a lot of breaks. So we had to take advantage of our opportunities," Garcia said. "Green Bay was moving the ball at the end. We needed to stay step for step. And we didn't."

"It's disappointing, man. Very disappointing. I really thought we had the team that could take it all the way," said safety Lance Schulters, one of four 49er's starters who becomes an unrestricted free agent. "The group of guys we have, if we keep everybody together, we have a chance."

Owens on the other hand was enraged not to have more opportunities, and expressed his anger right straight at the media again. He caught only four passes for 40-yards, not the type of production you come to expect from your biggest of playmakers. The Packer secondary did a great job of coverage on him and batting down passes intended for his grasp.

"Honestly, I feel like I didn't get enough opportunities today," Owens said. "I got lost in the offense. I don't know what happened."

One has to come and understand just how much of a pressure cooker a close playoff game really is, and what it entails. It is a battle of nerves and a show time of talent and ability to turn the tide, to make a difference.
It was in all a great display of football at it's best, for you have to be at your best in order to win. We weren't here, we made errors and we became one-dimensional.


Jeff Garcia may have not found Terrell Owens based on double-coverage but he did find J.J. Stokes and Tai Streets, who combined for eight catches and 102-yards of offense. From the late second quarter, when the 49er's finally mounted a touchdown drive, until the end, the 49er's passing attack had finally awakened.

However the 49er's really dug themselves a hole from which it could not get out of because they were unable to establish a running game. When you fail to establish a running game you lose clock management and you lose offensive momentum. Garrison Hearst gained just 42-yards on 13 carries, and the team as a whole gained just 71-yards on the ground.

By far this was the ax to the wood so to speak, I was and I am sure lots of you were counting on the running game by Hearst and Barlow to overwhelm the Packer defensive line.
Having had trouble over the past three regular season games, I thought it would have been a good bet. But they stepped up and shut it down; nose tackle Gilbert Brown was a big part of that formula.

Other mishaps happened that put wrinkles in the overall game plan, 49er kicker Jose Cortez had his second quarter field-goal attempt blocked from 34-yards out. Before that, Packers kicker Ryan Longwell had an extra-point attempt blocked.
Following that the Packers tried to go for two-point conversion late in the third quarter after being ahead by eight points and failed.
This is when Jeff Garcia worked his magic and hit Streets for a 14-yard touchdown pas with 12:04 remaining, the 49er's then went for two, and Garcia found versatile Streets again.

The score tied at 15-15 left the game wide open as anyone's game all over again. Packer kicker Ryan Longwell connected with a field goal on the next possession, and the 49er's came back on the next drive with a game deciding interception. This one play nailed the spike into our very own playoff coffin.


"We handled the bigness of the game better than the St. Louis game," Mariucci said. "I thought we competed well. We weren't intimidated in the least. We were very prepared. Guys had a great deal of confidence, and the momentum never got away from us."

We missed this game by a hairs length in my opinion so painstakingly close to a certified victory over the Packers right there on their home turf, I could literally taste it and smell it. I wanted the 49er's to be the team that made revolutionary history and smash the long-standing spell that Lambeau has had in the post-season.

I must comment that the 49er defense held well throughout the game, all except on that final Brett Favre drive that he was able to make two remarkable third down conversions. The 49er run defense was solid also holding Ahman Green to 86-yards on 21 carries, 49er cornerback Ahmed Plummer even had an interception off from Favre in the first quarter.

"We wanted to win. We believed we could win," Plummer said. "But we also believe we left all we had out there on that field. We didn't bring anything back to the locker room." "They made plays. They won the game. They were the better team; today."

Now let us explore the aftermath, the cutting edge of wide receiver Terrell Owens comments directed towards head coach Steve Mariucci. He criticized the play calling of Steve Mariucci outright telling the world once again that he is the man. He should be seeing the ball thrown his way almost all the time.

"I can only do so much," Owens said. "I go to (receiver's coach George Stewart) him. He doesn't call the plays; he can relay the message. He saw, I mean, everybody on the sideline saw me. I was beating guys. My number just wasn't being called."

"I was lost in the offense. I'm not a guy to curse the head coach out and say 'Throw me the ball.' That's not me. The things I've done on the field all year long should indicate that I'm a player and I can make plays. Get the ball in my hands.!"

The feud between Terrell Owens and Steve Mariucci is nothing new, in fact it has continued well over a length of two whole seasons. Owens is a wide receiver with a chip on his shoulder and he is a big time playmaker. He demands constant and unbridled attention. If he does not receive it he makes it well known.

Steve Mariucci is the coach that tries to appease his star wide receiver, but at the same time tries to check him in line, and make it known to him that he is calling the shots.
He also has made it well known that he will not allow Owens comments to be a distraction to the team. And even has publicly defended Owens as just being a competitor who desires to win. We just go about it in different ways.

Quarterback Jeff Garcia has even intervened and tried to put a face on all the negative publicity as to the comments that Owens has made. He becomes increasingly frustrated that Owens does not believe that he is trying to find and connect with him, when he is able.

"That's him expressing some frustration," Garcia said. "That's something we've dealt with all year long."

Even team owner John York has publicly said that he wants the both of them Mariucci and Owens to sit down and talk, and maybe come to some kind of compromise for the both of them.

"Yeah, I'd like to see it resolved," York said. "He's continued to play well and Steve's continued to coach well. And I don't know if there's anything to be done to make that thing go away."

The communication has got to get better here and general manager Terry Donahue has made some attempts on his won to get to know his players better. He had dinner with Owens one week just to get to know him a little better on a level platform.

"I know a lot of guys in the locker room and I'm still trying to get to know others," Donahue said. "Terrell and I spent some time one-week just visiting; not visiting in terms of business, just visiting socially."

This is what needs to be accomplished; on one hand I believe Terrell Owens should take a code of silence and approach Mariucci one on one in his office and express himself there.
His brash remarks demean the character of what a head coach truly is and that is the undisputed leader of the team. Owens is a star playmaker and he believes he can make those comments without retribution.

He can to a certain point, as long as he is able to make big plays and win football games you sometimes have to allow a little bit more from a player of this caliber. Mariucci on the other hand needs to approach Owens more often on a one on one basis and have constant communication with his elite receiver.

Owens has had to deal with a lot of questions as the season has progressed, he has had to fill the legendary Jerry Rice's shoes after being waived and acquired by the Oakland Raiders.
Owens had to step up and take on more responsibility as the "go to man" in this 49er offense and he has delivered but at the same time has made his share of mistakes also.

He has been the deciding factor in many a regular season game in both winning and losing. His maturity level has fluctuated more times than a temperature gauge on a fresh spring day. He needs to keep some of his emotions inside at times.

I am all for giving Terrell Owens his due, he deserves to get the ball more often than anybody else, I mean my Lord look at what he does with it, he scores touchdowns and he wins football games. That's what it is all about folks.

Mariucci knows this to be true, therefore he should be doing everything he can to make sure it happens, I believe he has in a large degree, but there is still room there for more opportunities.
Meaning open up the dialogue between both of you, have the relationship with Owens that you had with Jerry Rice. That's what you need to accomplish, talk game planning with him, Lord knows you would if it were Jerry Rice.

Terrell Owens has more than proved his worth, so is worthy of consideration in terms of getting together, he is brash and eccentric at times and he does run his mouth at times when it causes controversy. But his involvement and his driven urge to compete and win at all costs are great formulas you can harness and use towards the benefit of the team.

He motivates by example, he proves it on the field, and he walks the walk and talks the talk so to speak. So give this athlete his share of honest recognition. But at the same time he must show Mariucci the courtesy and respect that he deserves.

You must be able to get the ball to Owens, that is what many sports analysts are saying and some even criticize Mariucci for not adhering to that very end.
I am with them in one aspect, that Owens deserves the primary shots when they present themselves. But at the same time you cannot dictate a game and concentrate solely on just one individual playmaker or not.

"This is prime time," he said after the Packers 25, 49er's 15. "No holding back. You got to look at your talent. I'm a player who can make plays. I didn't have enough opportunities to make plays today. It's very frustrating. This was our year; we should have won this game. It's just sad."

Owens comments again tell of his limelight shining down on himself, yes he is the playmaker. But does he take into account that he is double-covered or the fact that he slips or fails to convert towards the ball. He too makes those mental judgments. He has to be accountable as well.

The fact in this game when it concerned the offense was that quarterback Jeff Garcia was not his sharpest, he threw late on a number of occasions and failed to move the offense and make critical first downs.
A matter of fact of the three marquee players in Garcia, Hearst and Owens none of them played with the intensity that they had back in regular season play.

The 49er offensive line had trouble all day long, against the Packer defensive front, they were unable to create or excavate holes large enough for Hearst to run through, therefore effectively shutting down the 49er running game, that is key to a successful ending.

They could not move the likes of Gilbert Brown, Santana Dotson, Vonnie Holiday and Cletidus Hunt. The Packer line won the battle at the line of scrimmage over and over when it came down to running plays.

"We weren't able to control the line of scrimmage today," Garcia said, again referencing the mammoth Brown and not just because Brown had split his chin on the games first play. "So we really had to go into the passing mode in the second half. In the air, we dictated the tempo. We created a lot of opportunities. I thought that maybe we could have done that a little earlier at some point, but we just couldn't do it."

Still the pain of this loss will burn inside the minds and stomachs of all the players that were involved when they comeback next season.
As they prepare for 2002, this loss will be etched in stone inside their heads, they will want to learn from this and capitalize upon it and move further into contention. Anything other than that would be a disappointment.

"We couldn't be prouder of our organization," general manager Terry Donahue said. "We've come a long way and we have a long way to go, but we have exciting times in front of us. That's how we feel."


Steve Mariucci wore a face of distraught depression in the press conference that followed the game; his expressions while on the field also spoke volumes about how the game was progressing. The cold and the wind had little effect on what was really the storm that was brewing inside of his head and stomach.

As usual following a loss in a playoff game the losing team was distinctly silent, the overwhelming reality is that the opportunity was there and squandered. But it was not like it used to be, in the essence in that when they lost to the Packers back in 1996-97. It was an air of mourning but also an air of confidence that they gave it they're all.

The loss will pass, it has to, and professional football players must move on and accept hard realities on a daily basis. Mariucci although withdrawn and disappointed knows he must set the tempo and the example, and his first order of duty was making the team understand that it blown away expectations for the season already. That next season they would be that much better, that more prepared both mentally and injury wise.

"We have some improving to do," Mariucci said. "We have some more growing to do. There's more out there for us."

What makes this season different from the past ones is the mere fact that the media and its very own fans did not have very nostalgic high expectations of this team. They expected the team to improve as I did, but that was gradual improvement not playing in the playoffs after a 6-10 season.

"I've got two different feelings," co-owner John York said. "One is the football feeling, which is I'm really disappointed in losing here. Then there's a realistic feeling. At the beginning of the year not one of you thought we'd be standing here in a playoff game at Lambeau Field."

The time of renewal is upon us; do we have to do a complete overhaul of this team after this loss? The answer to that is simple No. We have great personnel in place and the goal is to keep the personnel we now have. They form the core of us getting back into playoff contention in 2002.

We must look at every angle, every possibility of retaining the free agents we have, and at the same time accomplishing another great draft and acquiring some key free agents. We know where we need to improve, adding depth to our secondary and defining a legitimate pass rush.

We can dwell on this loss and stay depressed or we can pick ourselves up and look ahead to the future, I choose the later, it is imperative that we understand that our team has already exceeded all expectations.
I am proud of the 12-4 season; it is a shame that a 12-4 record does not accomplish a first round bye and home field. It seems that what we must try and do is find a way to defeat the greatest rival of all and that is the St. Louis Rams.

The 2001 season is over, but I can still look back and see how wonderfully this team performed, we had our share of setbacks and controversial losses, but we achieved many milestones along the way also.

We have six players going to this year's Pro Bowl in Hawaii, that is a huge accomplishment, that is something I now am looking forward to, to see the familiar red, white and gold in a sea of other elite players from the NFL. We need to count our blessings; we need to be content with what we have done.

I will be writing a complete post-season analysis and review of this past 2001 season, I hope you will look for it, I am honored to be a part of it and to piece it all together.
I am so grateful for all the excitement the 49er's have manufactured this season, so many times I have sat on the edge of my seat, gritting my teeth in great expectation for a great play.

I received my share of them, I slapped many a friends back and jumped up and down and screamed at the top of my lungs in joy at great plays and great finishes. I have had another fantastic season watching this team overcome great odds and pound the opposition into oblivion.

That is my greatest highlight of this season, and I know I can look forward to many more. Because this team is on the cutting edge now, we have been to the brink, the outer edges of the playoff sphere again.
We need now to plunge all the way in next season, and take what opportunity gives us; we can do that with the right personnel and the right vision. Something I believe we can do that with all the components we have in place right now.
I also publicly endorse Steve Mariucci for a great year, and I encourage you all to vote for him as Coach of the Year. He has accomplished a rebuilding phase that this team endured and helped bring this team back to respectability in a very short amount of time.

God Bless you all 49er fans, and please continue to hold faith, we are and will be once again the focal point in this league, we will make people stand up and take notice. So stand fast and believe in this team and yourselves, for that is what makes life so interesting.




Fan Press:
Now you can write articles for 49ers Paradise, and read what other fans have to say too in the Fan Press section.