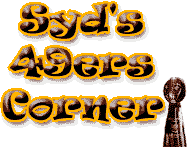 Part Two: San Francisco's offense playoff bound, Bobb McKittrick's influence prevails 01/12/02 8:00 AM

All in all one can say the 49er offense never tires, it is a mechanism of the overall team that seems to breath for the team and keep it alive in all situations. It is this offense and all the players assigned to it that have made this 12-4 record possible.

The scoreboard in every game reflects the intensity and perseverance that this offense has demonstrated by coming back time and time again in many an overtime situation.

We cannot seclude the defense; the 49er defense although still very youthful has come on strong in the later season and established itself by being responsible for several key wins in games where the offense needed help. The means to an end are achieved via both these units and in this Part Two series we will again measure the offense.

One of the most devastating injuries the 49er's faced earlier in the season was the prospect of being without their star tight end Greg Clark. It was evident that Clark stood little chance of being a contributor to this offense as injuries once again sidelined him.

Greg has been working hard to overcome several surgeries on his hamstrings and as of late has yet to play a game in a 49er uniform. It has been the last pick selection of the 2001 NFL Draft in Yale's Eric Johnson that has made the vacancy all but forgotten.

"I don't know the answer to that question, Steve Mariucci said when asked about the possibility of Clark's return." "He is trying to get better and make progress, but it has been slow. It has obviously been disappointing to him and to us. He doesn't know and we don't know."

Along with Eric Johnson there has been second-year player Justin Swift, between the both of them they have combined to bring a respectable one-two punch to the offensive lineup.
The 49er coaching staff has been so pleased with their development it views it as a strength to the capability and versatility of the offense. I have found this combination to be an option that should stay in the offensive game plans. I have been more than pleased with the youth at this position.

In fact Eric Johnson has often been described as the next Brent Jones in the 49er offense, he has been a force in blocking and making receptions over the middle, near the sidelines and in the end zone as a viable option.

"We've been very pleased with their play," Mariucci said of Swift and Johnson. 'As you know we've been using both of them and they have been grading out very well week after week. We have confidence to run behind them and the confidence to throw to them."

In a spectacular show of what teammates do for one another in the game against the Detroit Lions back in November Eric Johnson caught his first touchdown pass as a pro in the NFL, and nonchalantly flipped the ball to one of the referees. What he didn't realize was that most players cherish the ball they used to score their first points.

It was J.J. Stokes that witnessed this and instantly darted out on to the field to snatch the ball still warm from Johnson's hands from the referee and presented it back to Johnson.
To this day he is most grateful to have such teammates to be watching his back. It was Justin Swift that started out as the starter but it was Johnson that won out the position as Mariucci's confidence grew in him.

Mariucci has grown to be even more impressed with Johnson as a blocker; Johnson has gained 25-pounds since the close of his senior year at Yale. And he has used that added that weight to approach the standard Clark set with outstanding blocking.


What the 49er's knew when they drafted him was that he was an outstanding receiver in his college career. As a junior, he caught 21 passes in a game against Harvard; as a senior, he broke his own school record with 86 catches for 1,007-yards and 14 touchdowns.

What Eric Johnson brings to this offense is well-coordinated balanced attack offensively, for the longest time Greg Clark has not been able to sustain a full season health wise, in all honesty he has already outplayed and gained sufficient ground to become the starter for many more years.
I for one endorse such a decision, not to say that Greg Clark is a bad player because he is far from that, it is his ability to maintain his health that is the weakness.

One man that has defined this offense has made his mark a lasting impression on this franchise is late offensive line coach Bobb McKittrick, who passed away due to bile duct cancer.
The reason the 49er's are the top rushing team in the National Football Conference, is in large part because of his philosophies and teachings. Many fans overlook this aspect and yet focus on the passing offense instead, but the facts are in folks and they all point to this man as responsible.

McKittrick the long-time 40er offensive line coach who passed away in March 2000, spent two decades of his life tutoring the 49ers offensive linemen in the fine art of passing and run blocking.
Even though his tactics were, at times, thought to be controversial, they always proved to be effective despite the talk of those that despised us.

Even after 20 months since his death, McKittrick's impact on the 49er offense continues to show in its walk to the playoffs this season. The blocking schemes he taught during his 21-years of coaching are a key component of an offensive attack, that is once again churning out rushing yards at an impressive clip.

What makes Bobb so special was his longevity and his commitment to excellence, he was devoted to turning out the very best linemen in the NFL. He also was a devoted follower of the 49er principles and their direction to win championships at all costs. These were the reasons he loved his job so very much.

"Bobb was here a long time and a lot of the system is the stuff Bobb had taught me and taught the guys here in the past," said McKittrick's successor, former tight ends coach Pat Morris. "The basic core of the offense was built through Bobb. You have to credit him for that."

His handprints are all over this formidable and underrated offensive line, it is this line that has made Garrison Hearst's comeback a necessity and it has helped quarterback Jeff Garcia find the time to win so many overtime victories by allowing him the time to find the proper targets.
The 49er's rushing attack would be nothing without his principles and doctrines, on fact McKittrick once coached every player along the offensive line except for right tackle Scott Gragg, who signed with the 49er's shortly after Bobb died.

The players that had the opportunity to know McKittrick and to have learned from him are much better athletes because of him; he always brought the best out everyone, which is why he was such an important element in their overall make-up.

McKittrick spent years with left tackle Derrick Deese, a 10-year veteran who even now is quick to credit him for his turning him into the player that he is today. When the 49er's brought right guard Dave Fiore aboard in 1997, he was raw but McKittrick was able to coax the talent out of the former Hofstra University standout.

McKittrick was also involved in tutoring left guard Ray Brown and center Jeremy Newberry; these are two players that perform at a higher level because of his teachings and principles.

"You kind of feel Bobb's aura, especially in the offensive line room," said Deese, who joined the 49er's as a rookie free agent in 1992. "But at the same time, when you're dealing with Pat, 'he's basically kind of like Bobb."

"No one can be Bobb McKittrick but basically, the core of the protection and the core of the run game was the stuff from before, " Morris said. "It might be some things that we just added on, like the Winchester Mystery."

The mission and direction of this offensive line remains one that is immersed in tradition, Head Coach Steve Mariucci does not want that to change. What the work of McKittrick has done has been the difference in this rebuilding mode the team has been in.
While the defense was struggling it was the offense that continued to score and keep the 49er's in games during it's darkest hours.

"We do a lot of the same things that Bobb did in drills from tradition," Mariucci said. "That's not going too ever change around here, certainly as long as I'm here or Pat Morris is here."

This is the best endorsement of them all, one from the mind and heart of Steve Mariucci, one that spells out the true difference just one individual made on this side of the ball. It is McKittrick that has made the offense stand out and be feared.
He has been the underrated hero of this offense, he has been the silent one in the back ground that has left all details of his work engraved in the minds of his players and fellow coaches alike.


Jeff Garcia the undisputed leader of this potent offense earned National Football Conference Offensive Player of the Week honors back in November, after leading the 49er's to a 28-27 victory over New Orleans. Garcia completed 21-of-34 passes (61.8%) for 252-yards with four touchdowns (tying a career high) and no interceptions for a 123.7% passer rating.

Soon after Mariucci had told Garcia that he had won that honor it was Garcia that went right to the source of his award from the very beginning, and that was his offensive line.
He told them flat out that it was because of them that he had achieved that honor. Certainly a class act he did what any true professional would do and that is to recognize those responsible.
Jeff realizes that without the offensive line all things that were accomplished would not have been, it is his very nature to make those around him standout before he does himself.

What also has been a key to the San Francisco offense has been it's ability to stay consistent and balanced, no one would ever imagine looking at the 49er's that they were the top rushing team in the NFL.
But the facts and figures speak for themselves in more ways than one. This team has rushed for more yards than any other team in the NFL since the beginning of the 1998 season.

One thing that has propelled this team to more championships and more Super Bowls has been it's ability to run the ball, and to have the talented ball carriers to do just that. This offense has managed to put both the ball on the ground and in the air in consistent order, forming the nucleus for a well-coordinated and balanced attack.

"We're so balanced that it' tough to stack up against the run," 49er's center Jeremy Newberry said. "Defenses can't double-cover the receivers and put an extra safety in the box to stop the run at the same time. What makes us so successful is our balanced attack."

"To have a good running game you have to have a good running back, I don't care," 49er's offensive line coach Pat Morris said. "You could be the best line in the world but if you don't have a good running back, you don't have it."

Both running backs in Garrison Hearst and rookie Kevan Barlow have been the central figures in this calculated running attack. The change up in having both of these athletes' switches with regularity has forced defenses to come up with different schemes and play calling to try and contain these two different but versatile players.

Even when the 49er's do run the ball, they are hardly predictable. They move the chains with so many different formations and stunts, they also are able to show a number of different running styles that keep a defense guessing and caught off guard on too many occasions.

"With the different teams I've played with, there might be four or five runs and you practice those," tackle Scott Gragg said. "Here we have a whole gamut of things we can run. It's not one thing. That's our strength. It's a combination of several things."

What has really been the forefront of the offensive mindset of the 49er's has been Bobb McKittrick's doctrine of going with athletic offensive linemen? He has always gone with the lighter side of the spectrum hoping that the speed factor would open gauntlets sooner as in winning the line of scrimmage with quickness and agility. This doctrine has remained unchanged with new offensive line coach Pat Morris.

"He's embraced what was done under Bobb and added to our scheme what he emphasizes," guard Ray Brown said of Morris. "We work on drive-and-adjust rules every week and being physical at the point of attack. That's a big part of it. Really, if we just sustain our blocks, our running backs can run through arm tackles."

What has been no secret and known for a long time is the fact that the 49er's have a relatively undersized offensive line; tackles Scott Gragg and Derrick Deese, guards Ray Brown and Dave Fiore and center Jeremy Newberry, that averages 305.2 pounds.
This season in fact is the first time since the 1991-92 season's that the 49er's have returned the same starting offensive line from one season to the next. Everyone on the line is expected to use their athletic abilities as part of the overall blocking scheme.

What has gone on so unnoticed over these past three years is the fact that it is this offensive line that has made all the success possible.
They have helped this team stay competitive, they have helped this team stay balanced, they have maintained this team's identity and they have helped this team take the next step and that is achieving post-season glory this season.

"We're not overly big like some teams are;" 49er's Coach Steve Mariucci said. "In fact, we probably hedge on the smaller side, so we have to pick our spots when we're going to push people around. We have to pick our spots when we're going to scheme people and finesse people in the run game. We have to pick our spots when we're going to spread them out and run the ball in our nickel personnel groups."

Once said by center Jeremy Newberry, "We switch it up quite a bit. The outside toss plays have been pretty good to us the last couple of weeks. The inside zone plays have been pretty good; some of our nickel runs pretty good. It all depends on what the defense gives you."

Not that long ago there was talk of a possible trade involving Terrell Owens, over the clashes that he has had with head coach Steve Mariucci, whether it be play-calling or vice a versa, he has publicly challenged the coach on more than just one occasion.

Some may consider Owens a flamboyant and charismatic hot head who just because he is a success on the field and is the league's leading wide receiver has bragging rights to say just about anything on his mind. The fact remains that Owens is a very outspoken and emotional player that is not afraid to vocalize his opinions.

"We really have absolutely no intentions of trading Terrell Owens;" general manager Terry Donahue reiterated one week. "He's playing very well for the team. It's the furthest thing from our thoughts."

Even though Owens has a slip of the tongue once in awhile, he still is one of the hardest working players on the team. His performance on the field is clearly not affected by any difficult relationships with management or perceived notions from the media.
In fact you may be able to look at all the controversy he has created as fuel, an anger that propels him into a different state of mind. Maybe it is this anger that helps him attain new heights in scoring perfection, for that has been exactly what he has been a scoring machine.

What has also been so unattainable last year and the previous has been so attainable this season, the fact that the 49er;s are able to capitalize and win close games. In my opinion it is in these instances that separates the boys from the men.

"We have been able to prevail in most of them. We're learning how to win those games," said Donahue, who ran down the entire roster while handing out credit for the team's surprising success. "You can't mention the success of the team without looking at Terrell Owens and what he's done."

Another important indication of the 49er's resourcefulness has been there success despite the darkest of salary cap ramifications it has been forced to endure and live with.
Every position on the team seems so paper thin because of it, yet it grinds it out and continues to prove otherwise. The payroll limit is $67 million dollars and 30% of that payroll is being spent on players that are no longer on this team.

"I think our management people upstairs have done a great job of shuffling people around with the cap situation," defensive tackle Bryant Young said. "It's not easy to get the right guys in here. We really take advantage of what we have."

Being forced into necessity the 49er's had to fall back on building this team the old fashioned way; right through to the draft (Kevan Barlow, Eric Johnson and Andre Carter, to name three).
Along with the savvy signings of inexpensive free agents (such as Kicker Jose Cortez and return specialist Vinny Sutherland) and with another big ticket item (such as linebacker Derek Smith).

The road map to success was established right then and there, a route that had to be taken, chances had to be taken. And all in all they have proven most successful. This route has allowed this team to recover rather quickly all in an age when the salary cap conspires to bring a team down to it' knees.

"We're certainly the first ones to enter into this dilemma," Mariucci said. "And hopefully we'll be the first one's out of it as other teams go into it."

General Manager Terry Donahue added: "I think upstairs, we're functioning very, very well. I think our financial people have done the right things and have done a good job. And I think our personnel people have done the right things and have done a good job."

"And the combination of them both, all of a sudden we've changed in a shorter period of time than we anticipated, we've been able to change the structure of the team and the athleticism of the team and the depth of this team and the competitiveness of the team."

However when you really look deep enough the credit not just goes to the players, coaches and general manager, but it really goes to the behind-the-scenes members of the personnel and scouting departments as well. They have been greatly responsible for the long-term health of this team.

It is late game heroics that we need to talk about when it comes to the 49er offense; this has in large part contributed to the cool demeanor the offense has had under quarterback Jeff Garcia. Their ability to comeback after a large point deficit and overcome and still win is a tribute to this team's maturity over the last two years.

In coming into this season Garcia in his third year as a pro quarterback had never had a fourth-quarter comeback win to his credit, or 31 fewer if you want to be specific than Joe Montana produced with the 49er's from 1979-92.

This season has been quite different, Jeff has helped engineer many fourth-quarter comebacks already and has the confidence that the game is never out of reach. He instills that same confidence in his offensive players, and helps them buy into the notion that nothing is over till it's over.

"They've been a number of times we've had to battle back in the fourth quarter, and that's a tribute to all the guys how we're able to maintain our composure," Garcia said. "Those are the responsibilities of quarterbacks."

There was even a columnist that made the comment right after the season opener against the Atlanta Falcons that dubbed Garcia "Captain Comeback" after his fourth quarter comeback, a 16-13 overtime thriller back in 3Com.

"The wheels don't come off when we get behind in every game (except an Oct. 28 overtime loss in Chicago). We've come from behind in most of them to win. That's a tribute to the character and resolve that bunch has."

In my opinion Jeff Garcia has more than proven that personal resolve, he commands excellence and carries himself in a manner that promotes positive influences. The more that he does these things the more his teammates learn from him. He has managed to take control of certain situations and turn them into something breathtaking if you will.

For instance with the 49er's trailing 24-21 one Sunday against the New Orleans Saints, Garcia calmly pieced together his third fourth-quarter comeback win. With 11 minutes, 6 seconds remaining, he hit tight end Eric Johnson with a 10-yard pass for the winning touchdown.
"My demeanor on the field, especially in those situations, is to turn it into reverse pressure on to the opposing defense. They have to stop us, keep us out of the end zone. The main thing I want to do is go out and make smart decisions."

Jeff has not only impressed his teammates and fans alike, but he has made an impact with the ownership and the management as well. It is his incredible work ethic almost photo-copied right out of quarterbacks Joe Montana and Steve Young that make him separate from the ordinary quarterbacks in this league. It is this stigma that follows him wherever he goes and whatever he takes on his shoulders.

"Some people don't appreciate the toughness that this guy has, the competitive fire he possesses, the plays he makes to ensure that offensive drives don't dry up," 49er's general manager Terry Donahue said.

It is this inner strength that Jeff Garcia possesses and it is what he uses to achieve success on and off the field. He relates a lot of his ability to manage impossible situations back to his parents, whom he has a deep relationship with and appreciates them more than words can say.
The questions that surrounded him when he first came on to the scene following Steve Young's exit, were deep cutting sores that antagonized him almost everyday, he managed to turn that negative aspect of his life around and prove his true worth.

I would want no one other than Jeff Garcia to be my quarterback; he has more than proven his worth in my book. And if he hasn't made that same plateau in your eyes than you really need to re-evaluate what it is you are thinking, this incredible individual is the real deal, let's give him his real dues.

Back in November there were also questions that seemed to indicate that the 49er coaching staff, specifically the offensive assistants would put a game plan together without the insight of the quarterback. Specifically Jeff Garcia.

But it was Head Coach Steve Mariucci that came to the forefront to quell any such accusations and turn the negative comment back into a positive.
He was obviously mystified at the notion that it was even mentioned. He wanted to make all those that were concerned know that the quarterback is very much involved in game planning.

"We always want to hear what our quarterbacks want to run," Mariucci said, "because we want to know what plays they're comfortable with and which one's they're not. If Jeff says he hasn't run a play often enough in practice to feel good about it, we don't want to use that play."

What the 49er's generally do with their play-calling is called scripting, it is this practice of "scripting" the first 15-20 plays of the game that started with Bill Walsh when he was running the Cincinnati offense in the early 70's. Many teams still use this idea today including the 49er's.

What happens is that Steve Mariucci and offensive coordinator Greg Knapp meet with the quarterbacks during the week and then make up a list of 15 plays with which to start each game. What also happens is that the quarterbacks, Garcia, Tim Rattay and Rick Mirer, also make up lists of their 15 favorite plays.

"We compare the quarterback's list, especially Jeff's with the lists Knapper and I have drawn up," Mariucci said. "Usually, they're pretty close, and we try to work out a combination of our lists and Jeff's."

The same happens with the reserve quarterbacks; their two lists go up into the press box with quarterback's coach Greg Olson on game day. If either one should have to play, Olson would pull out his list.

These lists of plays that are worked on all week and finalized go into the overall game plan, which is much more complex than just the first 15-20 plays. Both Mariucci and Knapp each have a large piece of cardboard that lists those plays on one side and then plays for special circumstances. Everything from plays in the last two minutes to plays in the "red zone" broken down even further into plays from the 10, 5 and inside the 5.

So what has been the analogy of Jeff not being involve is nothing more than a myth, his insight into what goes on during game day is immeasurable, he contributes in a huge way to the overall offensive scheme. Mariucci being a former quarterback's coach himself knows this and works with this throughout the weekly planning process.

This is what the San Francisco offense is accomplishing, it is making goals, and it is through these goals that they have raised the bar on their own performance, and they have taken accountability for their mistakes resulting in losses.
What this offense has done is apply the principles of its founding fathers such as Bobb McKittrick and following the script of Bill Walsh. Steve Mariucci has kept these same philosophies in place, and why not they obviously work very well.

Now they must apply everything they have done so far this season and visit the most dreaded of places and that is cold icy Lambeau Field for the wild card playoffs against the Green Bay Packers. We have had our rematches over the years with this franchise, and we have learned a bundle of lessons from each and everyone.

One thing is for sure we are playing the same Brett Favre of yesterday as we are today, just knowing this should make you a little nervous, for it is his heroics that make the Packers a very dangerous team, and even more at home.

We can overcome this though for we have our very own champion of heroics and that is former Canadian Football League quarterback Jeff Garcia. He is used to playing and performing in the cold, this day will be no different, and we must go into this game not thinking about weather conditions but thinking about how we win.

If we can overcome the forecast and make plays on the field count, along with managing the clock and of course the scoreboard we can take that next step and go on to round two in this season's playoffs.

To be quite frank and honest though I am just darn overjoyed to see us going to the playoffs this year, we have already accomplished so much more than what was expected.
Now we must somehow meet the expectations of the fan, and that is to just win championships and Super Bowls. Time is of the essence, the salary cap does not allow you to fiddle around and wait, certainly owners are just as edgy for results.

It will be our task as fans to measure the progress of our own team, the team we faithfully watch and follow, and wish we were all there right there on that field to congratulate our players every time they make a successful play.
I know I share that same personal dream, and I do all the above with great admiration. Please see part three of this series as I continue to explore and examine the qualities that make our offense special.

Until then let's say a prayer for our beloved team, right now and may God shine his grace down upon each and every player that wears the 49er uniform. Give us hope and strength to go into battle with dignity and emerge from that battle either way with heads held high.

This is the prayer we say for our team, this is what the NFL is all about, remember we are winners no matter what, we are the best darn fans in the world, we are 49er fans. Amen.




Fan Press:
Now you can write articles for 49ers Paradise, and read what other fans have to say too in the Fan Press section.