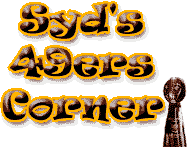 Fan Press:
Now you can write articles for 49ers Paradise, and read what other fans have to say too in the Fan Press section.
Jeff Garcia starts his own legacy and is a mentor to others 12/07/01 9:00 PM

If there is one aspect you can say about Jeff Garcia the little red head that has become the undisputed starting quarterback with the San Francisco 49erís, it is that he is so selfless and never allows himself to be the focus of attention.

This is a man that has grown up idolizing the great legends of the quarterback era in San Francisco and relishes the fact that his statistics are so comparable if not better than theirs after taking the reins from Steve Young.


Just this last July the 49erís felt compelled to award Jeff Garcia not only the future starting position as quarterback for the 49erís, but a huge contract to boot.

He astounded all the skepticís and criticís last season with career highís in passing yardage and touchdowns. Even though the team as a whole only made a (6-10) mark record wise.

Letís go back to the off-season and see how this came about and the competition that is presently all around him. He has without question locked down the starting position, if anything the 49erís needed to address it was who would be the Number #2 starting quarterback? This was finalized in the off-season and through pre-season games.

Jeff Garcia received a lucrative contract back in July, at the prodding of General Manager Terry Donahue and now consultant Bill Walsh; they brought the entire front office and ownership into the final process of securing Jeffís services.

Even though there seemed to be hesitation on the front officeís part in expediting the negotiation process on contract talks, Jeff never seemed to be worried, he was full of inner confidence that the 49erís would do the right thing and offer him a contract.

When he reflects on how rich the contract will make him, he does so without candor and he sees absolutely no change in his lifestyle or the way that he lives his life. That will be easy to say now, but wait till the money starts flowing through.

ďI think what this enables me to do is set the things up for the future for myself and for my familyís future,Ē he said, one day after signing a six-year, $36 million contract with the 49erís. ďItís not going to change me from looking for the lowest prices. I donít need five cars. Thereís only one of me.Ē

Jeff Garcia is the one man if you have doubts about wealth making him a corrupt and money hungry scoundrel, that will be totally unaffected by it. Because he has worked for almost everything in his life the hard way. He knows what it is like to be turned away and to go without.
He has been in the limelight many times before, a limelight of depression and rejection. But he has overcome all that with stellar hard work and focusing on the positives of every turn in life.

He began his career by going 0-for-196 in the 1994 NFL Draft. He was the man that set a school record for total offense at San Jose State and was overlooked by every team in the league. Feeling rejected here, Garcia headed for Canada, where he hooked on with the Calgary Stampeders of the Canadian Football League.

He did not become any overnight sensation here, even by the standards of winter nights at that latitude. He barely played in 1994. He made the All-Star team in 1995, passed for more than 4,000-yards in 1996-97, and then led the Stampeders to the Grey Cup Championship in 1998.

This was all a blessing for Jeff, he felt like he had learned a lot and he was sensing a degree of inner accomplishment inside himself. This was where he wanted to be in a sense, but honestly he yearned for something far greater, he wanted to be a part of the greatest arena in professional football there was and that was being a quarterback in the United States with the NFL.

ďI got to the point during my latter years in Calgary where I felt like the door (to the NFL) wouldnít open for me,Ē Garcia said once after his first practice of a training camp. ďI was happy in Calgary. The people there were putting me on a pedestal. Even though I wasnít making the kind of money they make in the NFL, I was living a good life. I was living a dream in the sense of getting paid to do something you love.Ē

But in reality it was his Grey Cup Championship accomplishment that opened up the doors to the NFL for him, all of a sudden he was receiving offers from NFL teams to come in and try out for their respective teams. He was worked out by a total of five teams.

The Raiders had all their assistant coaches present when Garcia worked out in Oakland. Bill Walsh watched his audition with the 49erís, which clinched the deal for Garcia. He finally signed his first NFL contract; a two-year deal of $312,500, with a whopping $46,000 bonus.

But what he did after that is what really generated the money, he not only proved his worth he proved that he was the answer to the 49er legacy at quarterback, he did that by performing at a Pro Bowl level form.
He achieved incentive bonuses that goosed his pay to $2.9 million. Thatís what you call well above the poverty line, at least it was outside of California. But this new deal he signed, guarantees him at least $10 million the next two years.

Garcia also benefits from having top-notch quality at the back-up quarterback slot, this is a slot that was hotly contested just this past off-season and in training camps.
Between the second overall pick in the 1993 NFL Draft Rick Mirer and the 49erís seventh-round pick last year in Tim Rattay. Even though both of these men became friends they were both embroiled in real competition in this off-season developments.

ďI did a lot of watching and learning last year,Ē said Rattay, who completed his Louisiana Tech career with the second-most passing yards in NCAA history. ďTraining camp is fun because I get to go out, throw and compete.Ē

The development of Tim Rattay this past off-season is a testament to his willingness to show marked improvement and he has gone about achieving that hard work ethic from watching Jeff Garcia himself. Tim was able to beat out Rick Mirer because of his hard work and attention to detail in combination with his excruciating conditioning program.

ďTim has come a long way. Heís maybe the most improved guy we have on this team,Ē Coach Steve Mariucci said of Rattay, who was drafted in the seventh-round out of Louisiana Tech; four rounds after the 49erís had already selected now-injured Gio Carmazzi.

Carmazzi who didnít play during his rookie season after the 49erís selected him in the third round of the 200 draft out of Hofstra, played for the Rein Fire of NFL Europe in the spring, but he proved ineffective as his shoulder problems worsened.

Carmazzi has a torn labrum in his shoulder, and will not be able to return to football till next February. Even though Carmazzi was a long shot to make the roster anyways he still possessed a raw talent the front office was interested in.
Rattay had by passed him last season when they played sparingly in competition. Carmazzi was put on the injured reserve list just to retain the rights to him. Former NFL Europe standout Kevin Daft and Former Sacramento State quarterback Ricky Ray was brought in after Carmazzi went down, but their stints with the 49erís was very short lived. Tim Rattay and Rick Mirer eventually made their ascending trademarks.

Tim became a model of efficiency as he worked day and night on his fundamentals and mechanicís in conjunction with Jeff Garcia, he wanted to make a run at the back-up position and he did just that with sheer determination and will power.

ďHe stayed in Santa Clara (home of the teamís practice facility) this off-season, just like Jeff (Garcia) did last year. And he just fine-tuned everything. He went through tapes and worked out on the field and chiseled his body up. Weíll, Iím not going to go as far as chiseled. But (strength coaches) Jerry Attaway and Terrell Jones have carved him up pretty well.Ē

ďI definitely think Iím more prepared to go in this year than I was last year, but itís just a kind of thing where everyday Iím concentrating on getting better. You try to learn as fast as you can, because you never know whatís going to happen,Ē Rattay said.
ďThis off-season helped a lot. I worked with Coach (Greg) Knapp and Coach (Greg) Olson a lot, and Iíve really become more comfortable finding the third, fourth and fifth receivers in the progression.Ē

All in all Tim Rattay is a class act, he is almost a mirror image of Jeff Garcia, he seems to take on those very same definitions Garcia lives and dies by, this is what will help you succeed in the long run as a quarterback in the NFL.
There was a time where Marty Mornhinweg the new head coach of the Detroit Lions actually wanted to acquire Tim Rattay to be his starting quarterback after he signed on with the Lions.

What was a interesting topic that started this pre-season was the first pre-season game of the year when three Canadian Football League stars met on the same field in a game against the San Diego Chargers starring Doug Flutie and Dave Dickenson, both former Calgary Stampeders teammates.

All three battled in this first pre-season game that was pretty big in Canada with all the fanfare of quarterbacks. All three were most excited to start and play but at the same time to see and hear from one another.

Flutie, a five-time Canadian Football League passing champion, returned to the NFL, for a second tour in 1998 when he joined the Buffalo Bills. He was released by the Bills after last season and signed with San Diego.

Jeff Garcia was the man to succeed Flutie as Calgaryís quarterback and led the Stampeders to the Grey Cup title before joining the 49erís. He made the Pro Bowl last season. His first full season as the starter.

Dickenson, the Canadian Football Leagueís outstanding player last year after three seasons as Garciaís back up, signed with the Chargers as a free agent. He competed with rookies Drew Brees and Bart Hendricks for the back up behind Doug Flutie.

Needless to say it was a real eye opener for us as we lost this close game in a battle of the former CFL stars a score of 25-24. It opened up a lot of doors as to who was progressing and who was regressing so far after this game was completed.

In the second pre-season game against the Oakland Raiders Garcia took a vicious hit on the nose from Raiders safety Marquez Pope that he never saw coming, it almost had the hair on Mariucciís head turn frostbit. Garcia fortunately shook it off and resumed playing winning that game 20-17.

What has been most beneficial also for Garciaís regular season health status was the protection Head Coach Steve Mariucci insisted on for Garcia playing in the exhibition games this season. He was overly concerned as Mariucci was aware that the only way the 49erís would have a shot at success this season was to have Garcia fully intact.

Remember quarterbacks have a way of actually being the franchise. The 49erís found out the hard way one year. Since Steve Young got hurt in Arizona in Sept. 1999 and never played again, the 49erís have gone 8-21.
They are definitely far above that now, and have blown away many a broadcasters expectations. But the reality was they would not be where they are today without Garciaís expertise.

What happened in the last pre-season game of the year was a menacing blow to back-up quarterback Tim Rattay in a game against the Denver Broncoís in which the 49erís were shredded for 35-7. Rattay threw two interceptions that were returned for touchdowns, fumbled two snaps and often overthrew receivers during this loss.

The loss with Rattay being the center of that game was a huge blow going into the regular season, however he managed to hang on and win out the coveted second tier position anyway.
A lot of the decision came down to Rattay being more mobile with his feet and having the better arm. Most in the 49er front office believed when the decision was made that Rattay would develop under Garcia in the back-up role and blossom anyway over time.

The circus at the quarterback position though was far from over, Rick Mirer was cut soon after the pre-season and the 49erís brought in Kevin Daft he was drafted in the fifth round by the Tennessee Titans in the 1999 NFL Draft.
He went to the Super Bowl and back with them and then went on to NFL Europe where he posted a league best 107.3 quarterback rating for the Scottish Claymores while leading them to a World Bowl appearance.

Despite all of the great success the Titans waived him at the start of the 2000 season, he went back and forth between practice squads from San Diego to Atlanta. Then the 49erís called as Daft then replaced the waived veteran Rick Mirer.

As the 49erís continued to struggle to find money to sign players and fill roster positions the third quarterback position became a position they frequented in cuts. Kevin Daft became a casualty once again as the 49erís tried to find money to sign players. This is where Ricky Ray was brought in just after a weekís time and he too was cut.

At one time the 49erís went with rookie wide receiver Cedric Wilson as their emergency third quarterback. But an injury to Jeff Garcia in a devastating loss in overtime to the Chicago Bears turned the thinking process around in the front office. Garcia suffered a partial tear of the medial collateral ligament in his right knee.

Back comes Rick Mirer the eight-year veteran, who was released at the end of pre-season after the 49erís decided to stay with Tim Rattay as their back up. Mirer was then deemed expendable because he was scheduled to make the veteran minimum of $477,000.

If Mirer was released after the first regular season game, he then becomes entitled to his entire salary for the season. Because of the 49er salary cap problems, the 49erís were forced to release Mirer to field a full 53-man roster. Now Mirer is back to sit among the quarterbacks at number three.

The upside of having Mirer on board at least in general was to have some kind of insurance should Garcia suffer a unfortunate setback, the 49erís fearful of this type of injury felt compelled to bring back Mirer as soon as possible especially when the injury transpired.

In Jeffís very first regular season game against Atlanta, he made it a thriller right from the get go. Jeff had his first fourth quarter comeback victory, a 16-13 overtime win against the Atlanta Falcons. It was the start of something very special as I observed the season unfold.

It was the type of performance that really hit home soon after Garcia signed a lucrative deal for six years at $36 million dollars with the 49erís, one that had the ownership and management very pleased with the results. New confidence was sprung in high fashion as the 49erís were off to a great start.

ďHeís had the quarterback efficiency rating, the passing yards, the 31 touchdowns and 10 picks,Ē Coach Steve Mariucci said. ďAll the numbers were certainly there. Whatís the next thing he graduates to? He starts becoming a leader of this team. He starts helping us win more games, win a playoff game. Those are the things that are the next steps for a quarterback like Jeff.Ē

What I find so surprising about Jeff Garcia is his ability to process information and see what the field has to offer in a minimal amount of time. He is never afraid to tuck the ball and run, with the agility of a tailback and sacrifice himself for a first down or a score.
He is without question cut from the same mold as Steve Young in so many instances. This behavior was further learned I am sure from watching from the sidelines.

ďTo come from behind and win a game when youíre down 13-3 in the fourth quarter, thatís huge, because we havenít had much of thatĒ lately, Mariucci said. ďThat helps his won confidence. It helps his teammates confidence in him. Obviously he doesnít do it by himself. But all eyes are on the quarterback when heís got to score on three late drives to win.Ē

This is a big statement in itself all eyes are on the quarterback because in all sensibility it is the absolute truth, the quarterback sets the pace and mood of the game. He can go from average to spectacular depending on the situation. They set the drive in motion and direct that drive to where it leads to a final destination.

ďWhen you look at our team in the last couple years, we really havenít had any come-from-behind wins,Ē Garcia said. ďWe havenít been able to finish teams off in the fourth quarter. I think thatís one thing I need to improve upon and one thing this team can improve upon. But we have to do it one step at a time, and Sunday against the Falcons was a very positive sign.Ē

Jeff Garcia is proud of all the trials and tribulations he has had to endure from, he admits that it is his driving force to be the absolute best that he can be. He cites his failure to land in the 1994 draft and his exodus to the CFL as prime examples. He has an inner turmoil inside of him that boils to a frenzy and he seeks to calm it the best way he knows how through positive production and winning.

Jeff relates to his best experience so far in the NFL has been his nomination to the Pro Bowl and all his accomplishments of that 2000 season. It was long sought after and by no way easy as he cast himself in the light of legendary greats such as Montana and Young in a single season.

When he is asked as to what is the true measurement of a 49er quarterback is, it is making it to the Super Bowl and winning it, that is the finality of what completes a quarterback.
As is to be expected from the last two to hold that position, Garcia knows that is the same today, and he continues to make that the ultimate final destination not just for himself but for the team as a whole all over again.

When we think back to how Garcia was found by the 49erís, we take you back to when he was a college quarterback with San Jose State. It was a match-up pf a lousy team versus a nationally ranked one, Stanford. This was on a day in September 1993; the lousy team almost won this game all because of one person its quarterback would not quit.

Jeff Garcia was his name, the redheaded freckled face whip of a kid for San Jose State. He was then undersized, physically unimpressive and had what was labeled an average arm. But there was a hitch, Bill Walsh, and then the Stanford coach absolutely loved him.

ďTheir quarterback is as fine as youíll see in college football,Ē Walsh said that very day, although most of the football world apparently chalked up his comments to senility. Even after Walsh faxed a recommendation letter to 15 NFL front-office friends, the league still ignored Garcia on draft day.

This in my eyes had to have been the biggest find in a quarterback since Joe Montana by Bill Walsh, although Steve Young was still playing at that time, his successor unknowingly had already been found by Bill Walsh the master guru of quarterback talent by far.

For league offices and friends of Walsh not to take his recommendation letter seriously has to be the most baffling sentiment I have ever known. In all my years as a 49er devoted follower even I know that the words of wisdom from Walsh are generally carved with gold.

ďHis style of play reminded me so much of Joe Montana,Ē Walsh says now from his seat, as a 49erís consultant. ďNot only could he do things within the system, but he instinctively knew how to do things out of system, too. But he didnít have the measurables that NFL scouts look for, so I didnít even get a response to those letters I sent. The attitude was, ĎThis guy doesnít have a chance. I donít know what is going through Walshís head.Ē

It took count them eight years for NFL evaluators to figure out that Jeff Garcia had talent in abundance, the same abundance that Walsh had seen back in college. Just last year, in a Pro Bowl season, Garcia threw 31 touchdowns and just 10 interceptions while passing for 4,278-yards. The yardage set a team record for a franchise whose previous two number one quarterbacks were none other than Montana and Young.

He is the grandson of Mexican immigrants (hence the name) and Irish Catholics (hence the red hair), Garcia was raised in Gilroy, California; ďThe Garlic Capital of the World.Ē And was never peoples vision of a starting NFL quarterback until he actually became one.

When you look back and see what went wrong with not finding him sooner you have to wonder how many other Jeff Garciaís might be out there in this country, totally overshadowed or overlooked by nationally recognized NFL scouts.

He went through his high school career with no Division 1 scholarship offers, a record setting college career that didnít get him a sniff of the NFL, and five years in the CFL without an NFL call-up despite a Grey Cup Championship and an MVP season.

This long a wait had to have been demoralizing for a young talented star like Jeff Garcia, I guess thatís what I like about him the most, is all the adversity that he has had to go through and defend himself emotionally over and over again.
He had to have come to a turn in the road during his early career where he wanted to quit. But he didnít, because he had inner peace within himself that drove him to take on new heights of expectations.

It wasnít until Bill Walsh becoming the general manager of the 49erís; and immediately signing with the 49erís as a free agent, for him to get his shot.

ďWe brought him in for a look-see (in 1999) as a second-or third-string quarterback and we anticipated we would have time to groom him,Ē Head Coach Steve Mariucci said. ďHe got nine percent of the snaps that pre-season, then he was thrown into a starting role in the third game after the injury to Young, and it was much sooner than he was ready for.Ē

Jeff Garcia went on to go 2-8 as a starter in 1999, that is when he wasnít getting benched or feuding with the coach. It had to be one of the most difficult things he has had to swallow as he tried to get in sync with the West Coast Offense.

ďI wasnít one of Mariucciís guys,Ē Garcia said. ďI was a guy brought in by Bill Walsh. It took awhile for Mariucci to warm up to me. I didnít always appreciate that. I just dealt with it the best I could. I think weíre over that now.Ē

In the beginning the relationship was cool but now they both are on the same page in very much in need of one another. Without each other now the ship would certainly list and sink like a titanic episode.

One of the other great attributes that Jeff Garcia regularly displays is what he can make happen while he is on the run, never have I seen someone with such quickness since Steve Young make something happen when all hell breaks loose.

He is a very solid passer in the pocket and pin point accurate, but he is even bigger an asset when things break down. He is quick and has great scrambling ability, when he has to throw on the run he is just as deadly.

Jeff Garcia suffered his worst injury of his 35-game 49erís career, a partial tear of the medial collateral ligament in his right knee in the overtime loss suffered in Soldier Field in Chicago.

However even though he was injured he did not come out of that Sundayís 37-31 overtime loss, right after having his right knee buckle awkwardly under him while being sacked by 290-pound defensive tackle Robert Newkirk early in the second quarter.

Jeff Garcia underwent a MRI examination that revealed the slight tear and or sprain of the ligament. He has since then worn a knee brace except for the latest game against Buffalo.

The injury in large part had a definite effect on the games following, as Garcia normally will take off with the ball should there be no options available. His knee brace and knowing his condition could worsen forced Garcia to be more vigilant against sacks and taking risks. He still managed to win games simply by using all his other outstanding assets.

Out of all the statistics that Jeff Garcia has, the real truth to his success lies in his ability to stay in any given game, he has not missed a start since Steve Young went down two years ago. At 6-feet-1, 195-pounds and 2.5 percent body fat Garcia is built to weather the long distances that a quarterback must endure over a long season.

That is 33 consecutive games folks if you are counting and that has to be at least equal to what he has already accomplished statistically. He is without a doubt a very special player to me; I have supported him from the very out set.
He has overcome so much adversity even within his own team and with his own teammates and head coach. Jeff Garcia epitomizes all the qualities I would want from a professional quarterback. He is so team oriented and so selfless it is way off the scale to say the least.

ďJeff Garcia is one of the toughest and most courageous quarterbacks Iíve been around,Ē said 49erís General Manager Terry Donahue. ďAnd we donít think thereís a better quarterback inside the pocket.Ē

ďI wonder at times what itís going to take for somebody to give me that credit,Ē Garcia said. ďBut Iíve gone so long without having to rely on it that it doesnít concern me. I donít let it engulf me. We have to get back to the point where Joe Montana and Steve Young led this team, which is to the Super Bowl. People arenít going to settle for anything less. They set the standard at the highest level, and thatís what I expect out of myself. For me to become a household name, thatís what it takes. And Iím not scared of it.Ē

Nothing could say it better than this statement right here folks, Jeff Garcia is the real deal he is the best quarterback in the NFL at least in my opinion. Because he embodies all the qualities that are beneficial to a quarterback. He easily stands out as one of the elite and he builds on that every day he plays. He is so underrated and so overlooked, this year he will make those not looking regret they didnít.