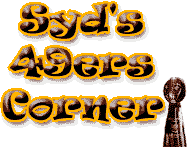 49er's find gems in the draft in Rasheed and Chandler. (05/18/02) 8:00 AM


San Francisco's secondary coach Brett Maxie stood in front of a chalkboard one day and sketched some 49er defensive schemes and adjustments during a visit from then not drafted Miami cornerback Mike Rumph. The answer he got would astound the coach and send a message throughout the organization that this was something special.

Mike Rumph translated the entire scheme right back to Brett Maxie, and he never skipped one detail. Maxie was not only in awe but utter shock as well, that they possibly had their very first round pick staring him right in the face. This is something that set the stage for his drafting, the Miami rookie had met the standard and he would be heavily counted on to deliver.

Miami's Hurricanes played a major role in strengthening this year's draft; in fact Rumph was almost a no name as he was shadowed by bigger teammates such as massive offensive tackle Bryant McKinnie. Fellow cornerback Phillip Buchanon and tight end Jeremy Shockey.

Even safety Ed Reed would be considered a more notorious face then Rumph's. All were drafted and all will have something to prove, the 49er's looked for Rumph based on so many experiences with him on his visit. They became focused that he was their guy in the first round of the 2002 draft.

Mike will immediately be given the task of becoming the 49er's top nickel back and first cornerback off the bench in the team's secondary packages. His role will be an important one considering the high flying offenses he will be tested with. He will see probably more than half of the team's defensive plays, and may even be contacted on to contribute immediately to their special teams.

One thing is for sure he will have his work cut out for him and defined on a regular basis, for the 49er's demand excellence from their athletes on a regular basis. He will be no different, on fact he may be able to use his size to our advantage.

The facts remain as they stand in his college career with the Hurricanes. His intimidating factor is one of sure utter amazement as many college teams dared not throw to his side of the field, and when they did they paid a stiff price.

"I'm just really excited about Mike because it's hard to find big corners like Mike that can bend," Maxie said. "He's a different type of body. He doesn't play like a 6-2 corner. He doesn't play erect. He plays down low. He can bend, and he has speed and he's strong, and he has long arms and he can run." "And he plays with so much confidence. The guy just works his tail off. We've upgraded ourselves with his addition, and we're pretty lucky to have him."


So it goes with Mike Rumph who as mentioned before was the very first player we chose to take in the 2002 draft. If I could say anything about this pick it would be to say that the 49er's did their homework on this guy. He is without question one of the very best at his position in this draft. The insurance he gives us against pass happy St. Louis and Green Bay will be rewarded over demonstrating some obvious patience.

So what was next with San Francisco? Would they continue to draft for defense or would they venture into some area of need that had nothing to do with defense for once?

The answer was not learned until the third round in this draft, with the selection of Alabama's Saleem Rasheed. Rasheed came into the draft as a junior, he was so confident about himself that he though he would have been chosen a lot higher. The fact of the matter was that the third round was the round made for him. He actually became the fifth linebacker in the draft to be taken at that time.

With the loss of linebacker Terry Killens to the Denver Bronco's back in free agency, the 49er's found himself or herself in a pickle. Killens was a surprise as they intended to negotiate a deal with him, however Denver had the amount of cash that he was most interested in.

Rasheed would be the very man heavily accounted on to make that loss a forgotten one. He was the man that had the versatility and mentality to fit within this lineup as it stands right now.

What is really nice is the fact he can play all three-linebacker positions, he will become Julian Peterson's primary back-up person. He will also have a major role on special teams, much in the same way that Terry Killens had.

What Rasheed essentially does is make the linebackers on this defense which is strength already even stronger. His injection on special teams in regards to his speed and athleticism will be instantly felt on this unit.

The 49er's actually selected Rasheed following a trade negotiated with the Buffalo Bills. The 49er's surrendered the 61st selection and received the 69th and 102nd overall draft picks. It was at 69th that the 49er's selected Saleem Rasheed.

"He is a great football player, who can play all three positions," said linebacker coach Richard Smith. "He is really quick at a 4.5 40-yard dash time and he started at Alabama as a true freshman. We believe that he is the first player in school history to do that."

"He played outside linebacker as a youngster and moved inside this year," said Steve Mariucci. "He's got position flexibility and that is important to us as we continue to build this defense."

The move to trade was nothing new in light of what the 49er's did last season to get defensive end star Andre Carter. I knew that even with Bill Walsh on the sidelines in this draft that Terry Donahue would be daring enough to do something in order to increase our draft selections. I go on record in applauding this move as calculated and very smart.

"We had six or eight guys on the board at the time we made the trade," added Mariucci. "To move down, acquire more picks and still get the guy we wanted in Saleem was just too good to be true."

Rasheed is a great addition to our defense and most importantly to our special teams unit, he was delighted in getting selected by the 49er's. He honestly loves the game and makes a name for himself in his hard work ethic and performance on and off the field.

Rasheed leaves Alabama as one of the school's most decorated linebackers. He made captain as a junior, as well as consensus All Southeastern Conference selection. He also was a two-time academic All-SEC honoree and is only one semester shy of graduating with a degree in marketing.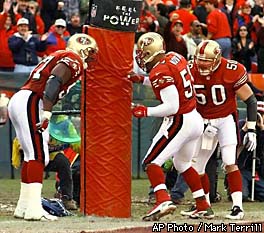 "For me, I play for the love of the game," he said. "To be able to go out there and play football and get paid for something you love to do is motivation in itself. Getting picked where I did is not something I'll need to use for motivation." Rasheed added, "I want to make sure San Francisco got the best third-round pick in the draft."

Alabama's Saleem Rasheed the tale of the tape
Position: linebacker can play at either outside or inside
Height: 6-3, Weight: 229
Hometown: Birmingham, Alabama
Positives: He is lean and very defined physically. He quickly interprets plays. Making instant decisions towards the ball. Has great hand movement and moves well down the line. Shows a good short-area burst in closing, stays low to his pads, extending his arms in order to wrap up a ball carrier.
He has great power for his frame, setting four school records in lifting for linebackers (clean, bench, incline and vertical). Is an explosive hitter who closes incredibly quickly in pursuit? Is an effective inside blitzer who backpedals smoothly in pass coverage? Has great balance and even some redirection skills to make a flash into some plays. Has good knee movement and has a fluid change of direction.
Negatives: He can sometimes lose control of a play, trying too hard to outmuscle blockers rather then attempting to slide off from them. Needs to add bulk to his frame in order to absorb the punishment that will come his way while trying to get up the middle.
He has a tendency to work a lot better in some space rather than up at the line. Has the ability to blitz from the edge, but at times he has inability to locate the ball while in the backfield.
He also tends to lean into blockers rather than delivering a strong arm in order to establish some penetration at the point of attack. Has a tendency to get knocked down too often.
According to Rasheed's agility tests they are impressive for a man his size, he ran a 4.66 in the 40-yard dash. He had a 37.5-inch vertical jump. Bench-pressed 225-pounds 26 times, 475-pound bench press, 410-pound incline press and a 365-pound hang clean. He also by the way has 32-inchs in arm length and 8.5 inch hands. He also happens to be right handed.

Rasheed's career with Alabama is a storied one, in 1999 in his freshman year he was named Southeastern Conference Defensive Player of the Year and SEC All-Freshman team pick selection. He started every game that year at strong side outside linebacker for the first nine games then shifted to middle linebacker the remaining.

He actually became the first freshman in school history to lead the team in tackles as he totaled 84 tackles (48 solos) with three sacks for minus-20-yards and eight stops for losses of 29-yards. He also continued his outstanding freshman year with six quarterback pressures and a pass deflection; he even caused and recovered a fumble that season.

In 2000 he again made All-Southeastern Conference second team selection made by that league's coaches. He also made All-SEC first-team selection choice. He was a winner of the team's Lee Roy Jordan Headhunter Award.

He started every game at weak side linebacker, all except one. He recorded 81 tackles (42 solo) with four stops for losses of 15-yards and eight quarterback pressures and one pass deflection.

In 2001 his career stepped up into high gear as he made All-America third-team selection and was the Arthur Ashe Jr., Sports Scholar second-team pick. He also was Consensus All-Southeastern Conference and Academic All-SEC first-team choice selection.

He was a winner of the team's Iron Man Award and Sylvester Croom Commitment to Excellence Award. He started every game in his junior year at middle linebacker. He joined Brooks Daniel in becoming the first defensive tandem to register over 100 tackles each in a season since Marty Lyons and Barry Krauss in 1978.

He rounded out his season with 114 tackles (71 solos), including two sacks for minus-15-yards and seven stops for losses of 14-yards. Deflected five passes and caused two fumbles and one quarterback pressure.

Not bad for three seasons of college football at it's best. Saleem has proven that he is worthy of this draft. The 49er's took exceptional care in finding this inspiring athlete; he seems to bring a certain flavor to the game that will spill over into the rest of the team.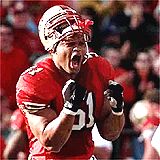 He also has received numerous awards for excellence in the classroom; he shows seriousness in everything that he does. Rasheed will contribute to the health of our special teams unit. He also has the ability to bench press twice his own body weight. When he reflects on his decision to make himself available in his junior year he does so with little regret.

"It was just something I felt was right," Rasheed said. "It wasn't a financial issue. Obviously, I want to take care of my mother. It was something I felt was the right time to do. I had a good junior season. I stayed relatively healthy throughout the season and throughout my career and I thought the time was right to move on to the next level." "I don't have any regrets on any decisions I made. I don't think you should live your life that way. Once I made the decision, I didn't look back, no matter what happened (in the draft)."

Many college athletes walk a thin line in the decision making of entering the draft in their junior seasons. Most schools and parents of course encourage their sons to finish up with school before even considering taking that plunge. But for some the lure of big money, prestige and need to help their immediate families financially drives them to that end.

When the time came for the 49er;s to make their third round selection there was debate inside the war room as to taking another defensive back, rather than a linebacker. They were even considering Florida State's safety Chris Hope when their time was drawing nearer. But the overwhelming need to fill the void left by departed linebacker and special team's ace Terry Killens overrode that sentiment.

"His size and speed gives him position flexibility." 49er's coach Steve Mariucci said. "He's a versatile athlete. He'll get 20 snaps a game on our kicking game."

Back in Alabama Rasheed had enormous responsibilities for the defense under his coordinator Carl Torbush. He was the very player that was responsible for making sure that everyone was lined up properly.

The Alabama Crimson Tide used a great variety of defenses such as the 4-3, 3-4 and some eight men fronts as well. Rasheed would keep track of not only his assignments but the rest of the players as well.

In my opinion this is a genuine trait to have as a player, he demonstrates responsibility not only for himself, but for his teammates as well. Living up to these standards and principles will only help him develop in the professional ranks faster than some.

"He's a guy who takes a tremendous amount of pride in knowing his position and the others as well." Torbush said. "Now he'll be in a situation where his job is football. He's not going to school and doing everything else. I think the 49er's will be pleased with his ability to learn and understand."

Many will discus the decision by Rasheed to come out early and make himself available in this draft as a junior. Already many have asked and wondered if it was the best decision on both parties. You would be surprised at how many juniors have made them available early and have become great successes within the league.

"We're close enough that he discussed the pros and cons of coming out early." Torbush said. "I had a lot of guys who stayed for their senior year: Greg Ellis, Brian Simmons, Ebenezer Ekuban, and Ryan Sims. I think if Rasheed had stayed another year, he might have become a first rounder." "At the same time, I think he felt like he was ready to go."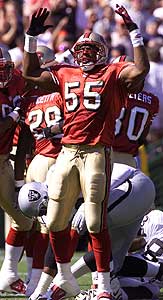 There is little doubt as to what Saleem Rasheed will bring to our team; he should mimic the very traits of Terry Killens on special teams. With his age and speed he should be even better than Killens once he has adapted to the flow of the game. I have little fear that he will not be able to adapt. He seems to study hard and take his game seriously above all else.

One thing that Rasheed is persistent in is his religion, shortly after the September 11th tragedy in which jet airliners were hijacked and flown into the World Trade Center Towers and the Pentagon. The Islamic religion and Arab world came under harsh attack from enraged Americans.

Rasheed is a life longs Muslim, and in many ways became a sort of spokesperson for the religion he loves. Many misconceptions were made as to the root of his religion as the terrorists that killed many Americans were militant hardliners of Islam.

"I've worked hard on campus and in other settings to make people more aware of the Islamic faith." Rasheed told the Birmingham News last September. Rasheed prays five times a day and has fasted during the month of Ramadan since he was 12-years old. "Saleem has strong faith," Torbush said. "He's always able to separate football and his personal faith. He's really on the ball. He understands self-discipline and that there are only 24 hours in a day. He's able to do a lot of things well because he makes the most of his time."

One thing is for sure, that is Rasheed will bring an energetic breath of fresh air to the defense and especially special teams. He has outstanding records and statistics with the Crimson Tide in Alabama.

He will use that experience to score success on the field with the 49er's. Being a rookie though he will encounter hard knocks and some bad breaks, the learning process will be ongoing.

After the selection of Alabama linebacker Saleem Rasheed, the San Francisco 49er's found them embroiled with the fourth round. Many including myself thought that the 49er's would go for an offensive lineman considering that Pro Bowler guard Ray Brown was to be cut after June 1st or maybe even a defensive tackle.

No one guessed that the 49er's would turn their sights on a kicker this level in the draft, especially with a fourth round draft pick. The 49er's chose Florida Gator kicker Jeff Chandler in the fourth round with the 102nd overall pick in this 2002 draft.

What many do not know is that Jeff made a rapid rise up the draft board in just a minimal amount of time. For as recently as his junior year of high school in Jacksonville, Florida. Chandler had never even played organized football.

He is ranked as one of the nation's top place kickers this year. He closed out his career as Florida's all-time leading scorer (368 points) and field goal kicker (67 made). His 368 points rank third in Southeastern Conference annals while his 67 field goals rank fourth and his final field goal percentage (83.8 percent) rank second.

Chandler has gone to great lengths to prove himself, and he has done so in limited fashion. In just a few years from his high school days football suddenly moved into the forefront of his life. The 49er's were desperate to improve their anemic kicking game that sputtered blindly out of sorts in the last half of the 2001 season.

In his agility tests Chandler ran a 5.0 in the 40-yard dash, had 1.28-second kick quickness. He also had an average hang time of 4.2 seconds on kickoffs, a 66-yard average on kickoffs. Chandler also has 31-inch arm length and 9.5 inch hands.

In 1997 he played in just one game for one play and made his only extra point attempt of the season. In 1998 He played in 11 regular season games for 108 plays. He also played in the Orange Bowl and was named University of Florida's Most Outstanding Special Teams Player. He connected on 33 of 37 PAT's and 11 of 15 field goals for 65 points.

He had 63 kickoffs and 13 touchbacks and an average starting drive of the 25.8-yard line for the opponent. He even was credited for three special team's tackles. He had a career long field goal versus Auburn of 46-yards.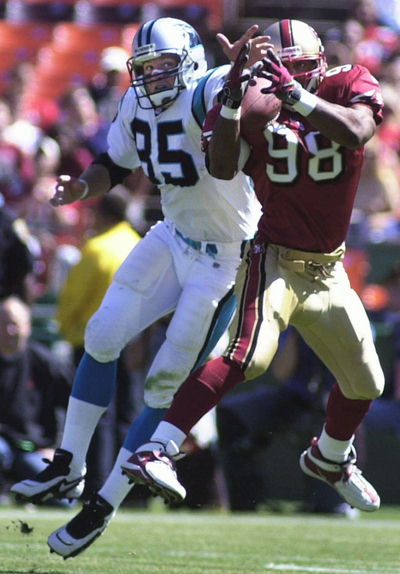 In 1999 He handled all the kickoffs and place kicking chores, he played in all 12 games for 143 plays. He also participated in the Citrus Bowl. He received a scholarship prior to the season. He was named to the Sporting News All-America second team, Football News honorable mention All-American.

Received first-team All-SEC honors and received the Ray Graves Award as University of Florida's Most Valuable Player and was also named University of Florida's Outstanding Special Teams Player.

He was successful on 38 of 41 on PAT's and 21 of 24 field goals with a long of 50 versus Florida State. 29 of 76 kickoffs were touchbacks with opponents average starting position at the 23-yard line after his 21 field goals were second best on the University of Florida's all-time seasonal list.

In 2001 he was a semi finalist for the Lou Groza award for the second consecutive year, Second-team All-SEC pick by the Associated Press and Coaches and honorable mention All-American by Football News.

He was voted Florida's Most Outstanding Special Teams Player for the season. He made 16 for 19 (84.2 percent) field goals and 49 of 53 conversions. He led the squad in scoring with 97 points, which was second in the SEC (first for kickers).

As you can possibly see is that Jeff Chandler was one of the top kickers in the nation with these kinds of statistics. In fact Chandler was the very first kicker chosen in this years draft. He becomes the first kicker chosen by the 49er's since they selected Doug Brien in the third round in 1994.

In just one week before the draft the 49er's sent special teams coordinator Bruce DeHaven to Jacksonville, Florida to watch Chandler work out. Chandler said he hit a 55-yard field goal he thought would have been good from the 60. He also mentioned that he thought in the pit of his stomach that the 49er's were very interested in his services since sending DeHaven to make a sudden visit.

"It was pretty flattering to know they'd fly all the way across the country to watch me kick," he said. However it must be said that Chandler's performance for DeHaven was just one of many for him at combines and All-Star games in the months leading up to the draft.

"The individual workouts went really well," he said. "I felt I was kicking the ball better than I ever have. It's just been a fun ride the last couple of months." "He's an extremely accurate kicker and was throughout his career at Florida," said special team's coach Bruce DeHaven. "He's a strong-legged guy and will be able to handle field goals and kickoffs."

Florida's Jeff Chandler tale of the tape
Position: Kicker
Height: 6-2, Weight: 218
Birthplace: Jacksonville, Florida
Positives: Chandler has a strong muscular body meaning he keeps himself physically fit. He shows great leg strength in the area of getting his kickoffs five-yard deep. He also has a very quick kicking release (1.28 seconds); this alone will discourage blocked kicks.
He is very accurate on his placements, and he has the demeanor to kick in poor weather conditions. He has demonstrated coolness under pressure. He is a right-footed kicker that will take whatever measures there are in order to improve his technique. He is able to create good hang time (4.2 seconds) and distance (averaged 66-yards) on his kickoffs.
Negatives: He has struggled to make conversions in fact less than 85% as his kicks tend to come off low with not enough rise to them. Needs to get better height on his kickoffs and better leg follow through as well.
"He's a real solid guy and we really like his potential to be a great NFL kicker," added DeHaven. "He comes from a solid background and was a former walk on. We like the qualities he brings to the table."


The sounds in the 49er facility is one of a positive one, the need to create pressure on one-year wonder kicker Jose Cortez was mandated by the coaching staff and the front office. Jose Cortez has a dramatic story in coming to land in the NFL; the El Salvadorian once played in the now defunct Extreme Football League. He did so well after the break up that the 49er's took a chance and signed him.

He went on to start and kicked 11 consecutive field goals for the 49er's in the first half of the 2001 season. He suddenly had problems with the trajectory of his kicks half way through the season. All of which resulted in five-blocked field goal attempts. He made just 7 of 14 field goals down the home stretch to the playoffs.

With Chandler being the first place kicker taken in the draft at the 102nd overall pick, it showed that the 49er's are very serious about production at that position. In essence Jose Cortez has been served notice that what happened last season is unacceptable.

"We brought Jose here last year, and we started in great fashion, but in the second half of the season, we didn't kick the ball well enough to be a quality kicking team," 49er's general manager Terry Donahue said. "When Steve Mariucci and the rest of the coaches get down to the red area, they need points. And we got to make those points, period."

The fact is this folks, we need special teams to be strong and to produce whenever we call on them. The kicking and punting end of that spectrum is huge for us. It makes or breaks a game. Jeff Chandler will battle Cortez and second-year tryout Jamie Rheem who failed to go on from training camp last season due to hamstring problems.

San Francisco cannot fathom to be successful without concrete special teams; both Rasheed and Chandler will be an intricate part of that equation so to speak. They will bring new life to this unit and make it more practical and productive. The draft has definitely been focused on this unit. Now we wait and see how it will translate in training camp and pre-season action.





Fan Press:
Now you can write articles for 49ers Paradise, and read what other fans have to say too in the Fan Press section.