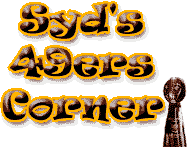 San Francisco needs Mike Rumph to deliver. (05/10/02) 6:00 PM


The consensus is out and the hype in San Francisco is that in order to win championships and advance deeper into playoff contention you must have a dominant defense. On April 20th, 2002 in the 2002 NFL Draft the 49er war room was a buzz with intense activity.

Led by General Manager Terry Donahue the overall decision was to sure up the secondary with the very best overall pick, and at the 27th overall pick in the first round we chose Miami's cornerback Mike Rumph to get the job done.

Mike had been a favorite on the 49er draft board even before the initial draft got underway, the front office and the coaching staff had sung praises about this young athlete right from the very beginning.

He was even brought into 49er camp to audition and workout for secondary coach Brett Maxie. He came away with some impressive results, making him the prime target on draft day in the first round.

"He is a character guy all the way;" said 49er's secondary coach Brett Maxie. "He's just a sound guy all the way around. Everyone we talked to about him had only positives to say."

For Mike Rumph the symbol of San Francisco as one of the premier football franchises in the league was enough to make him feel honored in his selection. In his mind he realized that to play as a 49er, the dignity and prestige that would be bestowed upon him would be significant. But at the same time he knew he was under enormous pressure to produce and reach a certain level of excellence with this winning organization.

"I don't think there could have been a better fit for me," said Rumph. "I know a lot about the 49er's and it's going to be a great place for me."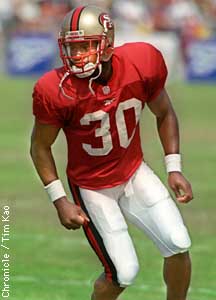 What the 49er's knew was that the number one priority in this draft was to cement the secondary once and for all against the lethal aerial attack of the St. Louis Rams. In order to do just that they knew that the draft was the best place to do just that.

The six consecutive defeats the 49er's have suffered against the Rams sticks like an ugly reminder that we are inferior to them on several fronts. Now we are another draft ahead and better equipped to handle their coming onslaught.

Head Coach Steve Mariucci was as equally delighted with the draft day results, in his mind he knows that the time clock is ticking on ownership expectations and the renewal of a new contract. Both going hand in hand he has significant pressure from above to bring this franchise deeper into post-season.

"I like what we have done here the past two days," said Mariucci. "We were able to do what we wanted to do and that was add some quality players, add some depth and hopefully fills a few needs. I can't wait to get them all on the field this week."

Rumph is one college cornerback that can appreciate the coming finer things in life, he knows that his life will now be forever changed with multi-million dollar contracts and all the eyes of the world upon him. He is complacent in his acceptance of all of this. He also accepts the new responsibilities that will be applied to him to carry out on a week to week basis.

"I grew up in a neighborhood that was tough, but I learned early on what was right and what was wrong," Rumph said.

The chemistry of the West Coast Offense and all it's complications will be a formidable task for Mike Rumph to comprehend. Some of the language and details of the system will be most challenging to learn, this has been a staple of the 49er's for many years and in essence it makes young athletes more aware of identifying their humanity better.

"The more I talked to coaches in San Francisco, the more I felt I was perfect for the system they play," said Rumph. "I know they take their football seriously in San Francisco and so do I."

49er fans have always had high expectations; it goes with the territory of winning. We refuse to accept anything less. Although we savored the fruits of defeat in 1999-2000, we came away from those better fans than before. We learned that in order to be winners we sometimes must adjust to change and accept the consequences inflicted from the past.

Since that roller coaster has come to halt in last season's 12-4 mark we are embarking on another winning streak again. The 49er's, as a whole wants to make the switch back to dominance, and that all starts with winning our very own division. In order to do that we must investigate and find the weaknesses of the enemy and cut them open.

"If they want me to come in and start, " he said, "then I will come in and start. If they want me to come in and play nickel, then I will come in and play nickel. Whatever they want me to do I'll be prepared to come in and do it."


Mike seems to have the tools and the attitude to get the job done; he has earned his first round status with these simple attributes. However he still has so much to prove on the playing field in the big leagues. His glory days in Miami are far behind him now; he will be expected to perform like never before and at a larger price and cost of his physical being.

Miami Cornerback Mike Rumph's Tale of the Tape
Attended college at Miami, Florida.
Height: 6-2, Weight: 205lbs.
Hometown: Delray Beach, Florida
In physical agility tests Mike had impressive results, he ran a 4.47 in the 40-yard dash. He had a 38-inch vertical jump and with weightlifting he bench pressed 275-pounds and had a 345-pound squat.

These are above-average characteristics in his physical being as a cornerback. The overall physical make of Rumph is something to consider as a strength and with continued practice that physical character will only be enhanced further along.

In 1998 his first full year in Miami, he played in every game in the Hurricane secondary, including three starts. He was eventually named to The Sporting News Freshman All-America first team. He achieved starting lineup status at right cornerback for games against Rutgers, West Virginia and Boston College. He was one of the very elite in Hurricane history to crack into the starting lineup as a freshman.

His five pass breakups ranked third on the team and he had a total of 20 tackles (13 solo). The prestige of being a recognized star as a freshman was enlightening to Rumph, he was already well on his way to being someone special.

In 1999 he was named to the All-Big East Conference second team. He started 11 games at left cornerback, and eventually ranked fourth on the Hurricane team with 75 tackles (52 solos that ranked third among Hurricane defenders). And on top of that led the team with four interceptions and four pass deflections.

In 2000 his success continued as he earned first-team All Big East Conference honors as voted by the league's coaches. He was also named to the Watch list of the Jim Thorpe Award, which is an award that recognizes college football's outstanding defensive backs. He started all year at right cornerback, and eventually ranked seventh on the team with 41 tackles (31 solo) and broke up 10 passes (second on the team).

He went on that year to causing a fumble and had one interception. What was most impressive though was that he did not allow a reception by a receiver in five whole games, and had only nine passes caught in his area all season long.

In his senior season in 2001 he made All-Big East Conference first-team selection by the National Sports Bureau, earning second-team honors from the league's coaches. He continued with his brilliant shutdown techniques as a cornerback in the elite college class. He did not allow a reception in seven games and opposing receivers finished the season with a total of five catches against him.

This in my opinion is what a shutdown corner is all about; he was able to instill fear in opposing quarterbacks to the point that they often did not dare to throw to his side of the playing field. The intimidation factor is something that veteran 49er cornerback Ahmed Plummer carried with him right into the NFL. This is yet another elite corner that will carry a measure of respect on opening day in the NFL.

He recorded a total of 31 tackles (21 solo) with three stops for losses of five-yards, and he deflected a total of eight passes. His incredible feats on the field with the Miami Hurricanes is well documented, he was without a shadow of a doubt one of the best in their career history.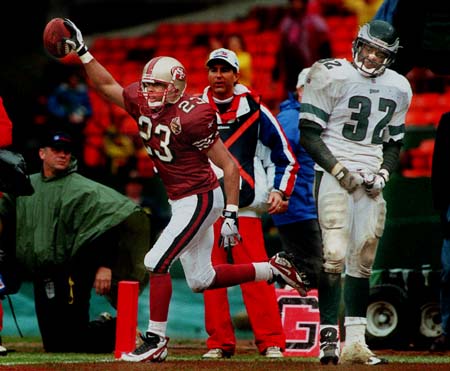 Rumph is a cornerback that accomplished the respect factor in the elite college ranks, quarterbacks can identify and testify to their hesitancy to throw to his side of the field. He is most coveted for his press-coverage techniques.

He finished his career in college with 167 tackles (117 solos), four stops behind the line of scrimmage, six interceptions and 27 pass deflections. And here's a shocker he has never allowed a touchdown catch in his time as a starter (36 of 44 games that he's played in).

All of this spells first round eligibility in my book, I mean no wonder? This is an athlete that was born with some gifts and in the long run has developed some as well. He will be a factor in more than one game down the road. The 49er's saw something in this man and went all out to obtain that.

Positives: Mike is a tall and long limbered type of corner with excellent size and standard speed. He has good ability at using his arms and hands well in checking the receiver at the line of scrimmage. He is most productive at applying great press-coverage. He shows immediate flashes of big-time ability. He also has a sharp break to the reception point and the short burst to cover ground racing down the sidelines. He is very effective playing the bump-and-run and has smooth change-of-direction capability. He is an aggressive tackler with great skills and balance while going for the ball. He also shows adequate range while dropping off in zone, ad he never stops attacking the ball while in the air. Negatives: Mike has a tendency to drag down an opponent while hanging on to them. He is also a little erratic in his backpedal and needs an extra step to turn and run with the receiver. He has lapses in quickness and in his make-up speed as a whole. He also has a tendency to make lunges without delivering an effective hit. He also does not time his jumps very well. He is not as effective in man coverage as he is in zone; he also tends to bite to quickly on moves. Focus on plays at times has been questioned.
Every player will come with its strengths and weaknesses; I feel that Mike Rumph's strengths will definitely outweigh the weaknesses. If anything the flaws that are present in Rumph's repertoire are just coordinated coaching away to becoming better. He will definitely see lots of hands on experience from some of the 49er coaching staff on a regular basis.

When the consensus was made by the 49er's to look for a defensive back that could be a difference maker in a game against the aerial circus of St. Louis all roads pointed to cornerback Mike Rumph. They had their eyes on this formidable athlete and the constant scouting report that pointed to Rumph as one of the very best on the board for the taking.

"This is a different type of corner than we have here," said Terry Donahue. "He's bigger than our two starters and he presses at the line of scrimmage. We felt all along that we wanted a physical corner and we got him. Needless to say we were very excited that he was available to us."

The fact that he had a stellar career as a college player with the Miami Hurricanes speaks volumes about what this person is all about. He is very goal oriented and always is looking to improve his game and take sound advice to advance that. The statistics in his college career don't lie and he prides himself on all of his accomplishments.

"I think it is important when you project a player for your organizations you better have a plan for him, " added Donahue. "And our coaches have a definite plan for him. They are very comfortable on how they want to use Mike Rumph in our system."

The war room on draft day was bursting with excitement, after the pick of Mike Rumph at the 27th spot in the first round selection process. The man responsible for reaping the results from this athlete will be defensive coordinator Jim Mora Jr. He was most thrilled at looking forward to working with such a prestigious college star.

"He's a great player who played at a great college program," Mora said. "He's well coached he's physical; he's played in big games and won a National Championship. He knows how to win. There's something to those Miami guys."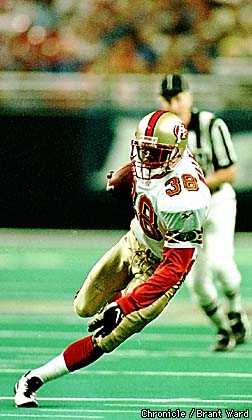 What also earned Mike Rumph some points was when Terry Donahue was involved with an interview with him at the NFL Combine held at Indianapolis every year right before the draft. Donahue instantly compared Rumph is some aspects to Eagles cornerback Bobby Taylor. He came away impressed with his discussions with Rumph and that's what really set the ball rolling in his draft process.

"We really got a chance to meet him at the combine," said Donahue. "When we walked through the door I said 'wow, that's what a cornerback is supposed to look like.' They don't build many like that anymore."

At a recent visit by Rumph to the 49er's practice facility in Santa Clara right before the critical draft was to take place, Rumph met with 49er secondary coach Brett, Maxie for an interview and some drills. When Maxie scripted one of the 49er's most complex defenses to Rumph. He nailed it right on the head as he explained it right back to Maxie.

"I think that impressed them," Rumph said. "If I weren't paying attention, that definitely would've hurt."

What has been the priority for the team remains one still today and that is building a defense that will effectively shut down anyone's high scoring offense. The 49er's have invested nine draft picks on defensive players in the first three rounds of the last three drafts.

The results were almost instant, especially after last season seeing the 49er's improve from the 29th ranked defense in the NFL in 2000 to No. 13 last season. As the first day of the draft commenced so did discussions in the 49er war room, Rumph's Miami teammate and cornerback Philip Buchanon was the highly coveted corner in this draft.

The Oakland Raiders traded up to No. 17 to acquire Buchanon, knowing that they needed someone capable of playing with youth opposite Charles Woodson on the team. The comparisons have been beaten to death by several NFL teams, and the prognosis is that both are top quality corners, but both have differences physically and mentally that will fit the prototype of their respected teams.

The 49er's were very interested in Florida's Lito Sheppard also, Terry Donahue liked the return capabilities that he possessed but defensive coordinator Jim Mora Jr. preferred Rumph with his size and physical play better.

When Philadelphia picked Sheppard one spot above the 49er's with the 26th overall pick; the arithmetic was easy when the 49er's chose Mike Rumph at the 27th spot in the draft.

One does not need to go too far in recognizing the need to beef up the secondary on this roster, after losing in the playoff game against the Packers at Lambeau Field that need became even more apparent.

The Packers exploited the 49er nickel and dime defenses in their 25-15 playoff win at will almost. The same happened when the St. Louis Rams played and defeated us twice last season. Now these teams will face the beat of a different drummer, for now when they go into their three and four wide receiver sets, Mike Rumph will be waiting for them.

Even Miami secondary coach Mark Stoops went as far as to say to 49er's secondary coach Brett Maxie that if he had to choose between Philip Buchanon and Mike Rumph on his team he would chose Rumph based on his work ethic and dedication to the game.

"Mike went out there, didn't say a word and was grinding it out every single day," Miami secondary coach Mark Stoops said. "He didn't get a lot of hype and he didn't get a lot of action, but he was very dominant. I think he's going to be a dominant player in the NFL."

What do you do when you are constantly at a loss to a team that seems to dominate every time that you play them? You go out and draft to fight that weakness, and you find ways to breakdown the barriers that separate both of you. The 49er's knew what needed to take the forefront and that was shutting down the aerial circus associated with Mike Martz's St. Louis Rams.

"They've been the better team, the Super Bowl-type team, so you say, 'How do you overcome that?' Said Coach Steve Mariucci, who's 49er's,, have lost six consecutive games to the Rams. "They possess a lot of speed on both sides of the ball. So you've got to fight fire with fire. You've got to be able to run and cover. The role we have for Mike is very needed. We felt we needed another cover guy."

Mike Rumph's life has not been the ideal life of someone growing up, for one his mother died in a car accident when he was only eight months old. His father and grandparents are the ones that raised him. Mike Rumph has a son, 14-month old Jalen, and lives with the mother of his son a half-hour away from the Miami mini-camp.


In between balancing fatherhood and football Rumph is also concentrating on completing his education, his mother whom has passed on is his driving force and sense of motivation. Earning a degree in liberal arts is "important to him, important to his dad and he knew it would be important to his mom if she were alive," said Rumph's agent, Ken Harris.

Mike Rumph's devotion to his mothers memory is so intense that he plans to go to her gravesite and visit her there after being drafted by the 49er's. By the time he was drafted the gates had closed at the gravesite and he is determined to go there in the near future.

Five years ago Rumph had written a poem, and had it hung on his bedroom wall. This was the poem that honored his mother, who had died in a car accident when he was only 10-months old.

Before he was drafted by the 49er's that poem was read aloud at a draft-day party in front of 250 people some family and some friends. The 49er's called Mike and let him know their intentions were to draft him.

"Everybody asked me if I was going to cry for the draft," Rumph said one Wednesday night by phone from his home in Miami Lakes, Florida. "That poem's the only thing that would have choked me up. I almost choked up when they read it."

"They surprised me with it. I never showed anyone that poem. I wrote it for myself. I put it on my bedroom wall. My dad found it when we were moving, kept it and never let go of it."

His mother Patricia is his symbol of determination in his young life, although he never really knew her, she is a symbol of strength for him when he thinks of her. The everlasting effect his mother has had on him is astounding, especially since he was simply but a baby when she passed.

"He takes so much after her, like taking pride in what he does, being strong and being determined to do what he wants to do," Rumph's father, Michael, said. "He's got this presence about him that she had. You can see it in that smile."

At a draft day party Rumph lit a candle in his mother's honor, some 21 years ago his mother Patricia lost control of her car on an Interstate 95 on-ramp driving home from her job at IBM.

A picture of his mother at on the draft day party table, along with an original copy of the poem, which began: "The vision that I glorify in my mind, the ideal that I will enthrone in my heart. This I build my life by, this I will become."

I must say that I have never seen such inspiration and humility as I have seen this testament of faith done by Mike. To carry on the memory of your mother and share so much of you with your friends and family are truly a blessing that no one should squander.

I find that Mike Rumph will be an emotional and dynamic football player for many years to come in this league, his college secondary coach sings those same praises as I have. And he knows so much more than I do from knowing him through a newspaper. One does not have to step out very far to realize what kind of man Mike Rumph really is.

He is a man of incredible character and dignity and seems to always strive for excellence no matter what the cost may be. He lives for his family and he honors his parents almost everyday of his life. One has to honestly believe that he will be a great father to his son Jalen for the acts of faith that he has done in his life so far.

One thing is for certain and that is for the 49er's to beat the St. Louis Rams this season, Mike Rumph will have to be a factor in that equation. The drafting of that order mandated it right from the very beginning. He is without a doubt the very best athlete available in the draft to make this happen.


"Everybody's playing three, four, five receivers," Terry Donahue, the general manager said. "You got to be able to cover them. The Rams certainly were the driving forces. When we line up against the Rams, we've got to feel comfortable we can cover them downfield and keep them covered. If you do that, you've got a chance to beat them. And if you don't, you're going to have a hard time beating them."

Symbols of the University of Miami's Glory Day's Teammate Cornerback Philip Buchanon wish his former teammate the best in San Francisco. He is not far away just across the Bay in Oakland, almost within shouting distance. The two have been close throughout their college days and the level of competition just escalated as they play for two archrivals.

"The first time I talked to him, he was saying they were going to beat us," Buchanon said. "He didn't say congratulations or anything like that. He just said, 'We're going to beat you.'"

The two will meet this season in a pre-season contest on August 24th and a regular season game on November 3rd. What will be most interesting will be their individual levels of play.

The University of Miami made tidal waves this draft with the very best in secondary talent available. We hope that tidal wave will be on the field when we face Oakland and the game comes to a close with Mike Rumph signaling victory to Mr. Buchanon.





Fan Press:
Now you can write articles for 49ers Paradise, and read what other fans have to say too in the Fan Press section.