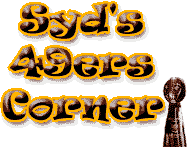 Part One: 49er's are blessed at keeping their own (04/19/02) 8:00 AM


From the very beginning the concern and realization that came over the San Francisco 49erís as they left Lambeau Field in Green Bay Wisconsin, was that some of the veteran players on the plane were not coming back. From the very outset General Manager Terry Donahue professed an undying commitment to try and resign their very own.

As names were brought to the forefront I was also very perplexed at the thoughts of some of these players that had given so much of themselves to this franchise, and of course to us fans. These were players that helped carve out a winning season in the form of a 12-4 record. These were players that bristled with charisma and a winning type attitude that was infectious and spread like the flu throughout the locker room and beyond.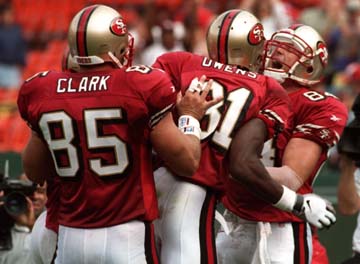 We entered 2002 with many free agents and we anticipated the very worst and found ourselves in deep thought at was what the unknown with these players. How would this franchise through all its salary cap sacrifices sign so many players?

The 49erís were faced with a salary cap deadline of March 1st, one in which they had to shave almost $10 million dollars to get underneath. This meant major cuts in a roster that was struggling to stay together. The NFL mandated salary cap of $71.1 million has to be met no matter what.

They managed to make that happen by releasing only one player and that was veteran tight end Greg Clark. Out due to hamstring injuries all season long they made the cut only after knowing that rookie tight end Eric Johnson was ready to go long term. Donahue also did some Houdini managerial work in restructuring seven contracts on the 49er roster to make additional room.

Believe it or not this made them barely breath under the cap, therefore Donahue and Company went back to the drawing board to look for more opportunities to strengthen the team as a whole. Almost $14 million dollars of dead money goes to players this year that is no longer on the active roster.


The 49erís turned to their undisputed leader in quarterback Jeff Garcia and asked him to restructure his contract. This alone saved the 49erís almost $3 million more against the cap. Donahue knew he needed money to resign his own, and at the same time have money left to add depth on the roster through free agency.

The speculation was still very intense in the front office as to how they would be able to match other teams as they made offers to their very own unrestricted free agents. Or would they give the 49erís every chance in trying to retain their services? This is what needs an answer.

ďI donít have anything to report,Ē general manager Terry Donahue said. ďHopefully, we can get something done. We realize that there are other teams that could make offers that we arenít able or willing to match. We will continue to talk, but I have no indication as to how this is going to fall out.Ē

The most depressing time of the off-season to me and I know it is the same for coaches and management is the un-denying truth that lies with an unrestricted free agent. Possible good-byeís are in order and possible accomplishments are as well. This was Donahueís greatest hour, would he do everything possible to keep what was ours? Or would he accept the inevitable and hold the door open for them to leave?

The San Francisco 49erís placed the most value in this free agent meat market on resigning their very own players, after all is it not more prudent to resign a talent you are already familiar and satisfied with? This was the thinking of all those involved in the 49er front office. Back in February of 2002 the time to forecast their next moves was being finalized; the order in which agents had priority was being evaluated.

ďWe definitely want to take care of our own free agents first,Ē Donahue said. ďBut we might get one (free agent), maybe two at the most, and have him be able to help us like Derek Smith last year.Ē


Two of the best free agent acquisitions the 49erís made last season was in defense, it was their contributions and leadership on and off the field that helped mold the rookies and second-year players. Both Ex-Washington Redskin playerís linebacker Derek Smith and defensive tackle Dana Stubblefield played key roles in the development of this defense.

The 49er offensive line suddenly became a focus this season, largely ignored the past three seasons; this line has aged some say almost to perfection. It is without question one of the greatest lines in the league today. It has established itself in both the running game and the passing game, making opponents take notice that scoring points is necessary to defeat the 49erís.

The 49erís took that step further by locking up free-agent center Jeremy Newberry to a long-term deal that signaled the beginning of more to come. Newberry now 26, became the 49er No. 1 priority in free agency. With free agency in full swing on March 1, 2002 the 49erís moved quickly to seal the deal with their talented center.

By March 2, 2002 the 49erís had him signed to a six-year deal, that is worth $20 million dollars, which included a $5 million signing bonus. Newberryís agent said it was a good thing considering his client had agreed to visit other teams just hours before the signing.

ďWe both moved a little bit and we came to a compromise that was good for both of us,Ē said Newberry, an Antioch native and former California football star that was happy to remain close to home. ďIím definitely excited about it. I was hoping the whole time it would work out. Iíll probably play my whole career here, hopefully.Ē

What I really like about Newberry is his durability and desire to win at all costs. This is a player that we will win championships with; he will set the standard for others to follow. He solidifies consistency along the line and he is well versed at calling plays at the line of scrimmage and picking up blitz movements.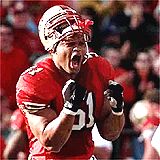 I am proud that this was a priority, I was torn between Hearst and Newberry but I knew that the line needed some definition in the way of age. Establishing Newberry as the center long-term makes this adjustment a new beginning. It also down plays concerns that the 49erís are disinterested in developing the offensive line, this signing signals a direct interest.

Newberry, was vacationing at his new Lake Tahoe cabin, where he made a statement to the fact that he might have received more money by going elsewhere. It has always been Newberryís dream to stay with the team that made his professional debut with and sealing a deal with his team was a dream come true for him. And for 49er fans as well.

ďIím not really worried about it,Ē he said. ďIím comfortable with the contract. Iím happy here. Itís not all about money. Itís somewhere I wanted to be. I love our coaching staff. The organization is great. Iíve got great friendships with a ton of people on the team. I think weíre building something special here, and with my family here, it couldnít be a better situation for me.Ē

This in all senses brings to light the satisfaction of a player within our organization; everything that Newberry speaks it is with positive influences. His happiness can only be attributed to his love for the people all around him, somewhere and somehow the organization breaths this into the players it touches. The center position on the offensive line is the captain position of the line; Newberry replaced long time veteran Chris Dalman here after a career-ending injury in training camp.

The 49erís continued their offensive signings when they approached fullback Fred Beasley with a contract offer. He was looked at with great value because he is the unsung hero of the 49er running machine.

For his lead blocking he was awarded a four-year contract worth $6.075 million with a $1.4 million signing bonus to boot. Beasley a long time friend of Garrison Hearst quickly phoned the veteran unrestricted free agent running back and told him the good news.


ďHeís worth way more than what I signed for,Ē said Beasley, the 49erís sixth-round draft pick in 1998. ďTeams are after him big time. They really love this guy. I know the 49erís love him, too. Hopefully theyíll show the love by getting him back there.Ē

Fred Beasley in my opinion and many others is one of the best fullbacks in the NFL; he has set a standard for this position. He rarely receives the praise that is due him, because the running back position is so often the highlighted position. He was named Pro Bowl alternate for the National Football Conference last season.

ďMy value is a lot more than what my contract shows, but look at the market (for free agent fullbacks); itís a bummer.Ē

Beasley has started 41 games over the past three seasons with the 49erís, while at the same time leading the way for a 1,000-yard rusher each of those three seasons. He also has contributed 496-yards and eight touchdowns rushing and 80 receptions for 625-yards and three touchdowns since being drafted by the 49erís.

Beasley has said that he ďcan bring more to the table than just blocking,Ē Beasley had only 23 carries for 73-yards and one touchdown along with 16 receptions for 99-yards last season. He played last year under a $1.115 million tender agreement. And he played in every game but the season finale, which he was forced to sit out because of a broken right hand.

My take on the Fred Beasley signing was a front office splash to seek Beasleyís help in resigning veteran running back Garrison Hearst. He is a close friend of the running back and he is the one man that helped his friend acquire so much fame. Beasley secures the running game as the reliable lead blocker, but I want to point out that he does have many other talents as well.


Talents I believe the 49erís should really take a long look at, his role is very versatile and he should be given more opportunities at the goal line and in third-down situations. He has proven trustworthy also in the receiving game by making intermediate and short passes to help move the chains.

What turned out to be the best rumor spreading free agent was the status of running back Garrison Hearst, Donahue indicated that the 49erís would only resign Hearst for the right price on several occasions. He also felt inclined to simply go with rookie running back Kevan Barlow should Hearst decide to jump ship for bigger money somewhere else.

It seemed at many junctures in the road that the 49erís were content in living the life without Garrison Hearst. Many fans including myself however thought otherwise. We in all design felt his leadership and production on and off the filed were assets the franchise could not afford to go on without.

Hearst did make several visits to other clubs one in the Atlanta Falcons back home in Georgia. There were strong indications that the Falcons were very interested in his services, due to Jamal Andersonís durability after two seasons. He did spend time with Falconís Head Coach Dan Reeves and toured and worked out at their headquarters. Hearst also made visits with the Cleveland Browns and across the Bay in Oakland with the Raiders where former teammates Charlie Garner and Jerry Rice now reside.

At 31, Garrison Hearst made the decision that graced the hearts of all 49er fans, and that was to resign with his beloved team. A team and an organization that stuck with him through all his hard times. Hearst felt compelled to make sure that the 49erís received the last chance at offering him something. Deep down he wanted to stay no matter what anyways.


The 49erís stuck with Hearst through a grueling two-year rehabilitation process with his ankle after it was injured in a 1998 playoff game in Atlanta. Hearst signed a six-year, $20 million dollar contract, which included a signing bonus of $3 million. Hearst will earn $6 million in the first two seasons of the contract and $9 million in the first three years.

ďWe think, as an organization, Garrison brings so much to the playing field and locker room as well,Ē said general manager Terry Donahue after the 49erís kept Hearst despite bids for his services from Cleveland and Atlanta.

ďItís just a situation where the entire organization feels that not only the tangible things but also the intangible things he brings to the organization were critical for the organization to retain. We believe Garrison was worth the risk.Ē

The signing of Hearst in all regards keeps the 49erís in contention once again for a playoff berth, he made an incredible comeback based on the severity of his injury. He came back to rush over 1200-yards last season. He also became a positive influence on rookie running back Kevan Barlow drafted last season out of Pittsburgh in the third round.

Said Hearst, the NFLís Comeback Player of the Year in 2001, ďI think we have something special out here, and I really enjoy working with my teammates and coaches in San Francisco. Iím glad (free agency) is finally over with and I can get ready for the upcoming season and improve on what we did last year as a team.Ē

Out of the pair of running backs Hearst carried the ball 252 times and Barlow rushed 125 times as a rookie. Each player had four rushing touchdowns last season, and each contributed to the glorious run to Lambeau Field in the playoffs. This was a tandem that made headlines all around as each one leaned on one another throughout the season.

Expect to see more of the same in these two talented athletes, Barlow has not been ruled out as the future for this franchise. That will still be up to him. He will have to continue to make constant progress and be a role model that all will look up to. He has the perfect example to play beside with, a teacher that can bring the very best out of anyone.


Garrison Hearst made the Pro Bowl in 2001 and he showed the world what could become of you once you have your mind made up. A man with incredible intestinal fortitude, I for one am amazed at this long journey through all the pain and all the waiting and wondering.

Hearst knew all the time that he would be back; he said it many times before to teammates and to reporters. He practically willed himself back onto the playing field. This is someone that you can take great pride in calling him your own. He is a player that exemplifies all that is good with professional football.

ďThe team supported me through some tough times,Ē Hearst said. ďTheyíve been very good to me and Iím thrilled to be able to stay.Ē

The 49erís gained and then they lost 10-year veteran quarterback Rick Mirer, the 49er back-up quarterback in 2000 and emergency third quarterback last season, signed on with the Oakland Raiders. Mirer never really had a chance in San Francisco, even though the West Coast Offense was ideal to him, he never was able to make the final transition.

Mirer signed in the summer of 2000 to compete with Jeff Garcia for the starter job, barely lost in that competition during training camp. But Mirer saw significant playing time in only one game that season, completing 10 of 20 passes for 126-yards in a September loss to Carolina. Those would be the only passes Mirer threw during his two years with the 49erís.

As with Mirer in my opinion he never really possessed what it takes to be a viable starter, he has been relegated to serving back up his entire career. I for one am thankful Garcia was able to overcome and is our starter now.


Special teams and linebacker Terry Killens also departed from San Francisco, he was very productive and made 25 special teams tackles just last season. He signed a multi-year deal with the Denver Broncoís one that should pay dividends for him down the road. He certainly has what it takes to succeed.

Focusing back on the offense the 49erís took ail at offensive lineman Matt Willig, signing him to a one-year deal. Willig a 10-year veteran played in 15 games for the 49erís and served as a reliable security blanket along the entire line throughout the season. He saw action last season at both guard and tackle and performed very well in each role.

ďItís really a luxury to have someone like Matt,Ē said offensive coordinator Greg Knapp. ďHe can play four different spots and he assimilates the game so quickly. Even if he doesnít get a lot of reps during the week, heís still able to step in and play a different position on game day. And play at a high level.Ē

Willig possesses great capability and reliability; he in essence helped keep the line functioning at a high level throughout the season. In my opinion his services are very much in need and a blessing.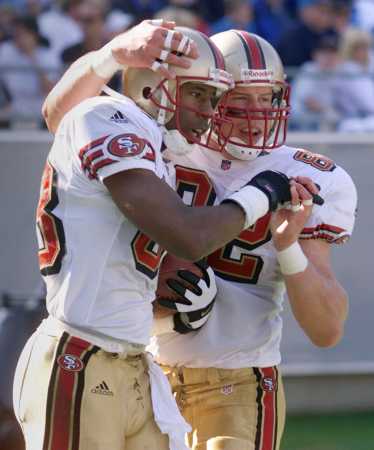 With the waiving of veteran tight end Greg Clark the 49erís knew that they needed to sure up the depth behind second-year player Eric Johnson. They did that by signing back-up third-year veteran tight end Justin Swift. He signed a one-year, $375,000 contract.

A product of Kansas State, he filled the role as a back up to then rookie Eric Johnson. Johnson became the starter after Greg Clark suffered hamstring injuries that sidelined him all season. In a cost-cutting move to free money via the salary cap they released Clark knowing that Johnson was the future at the position.

ďIím happy to be back,Ē Swift said. ďI enjoy being here, we have a good thing going on here and I think weíll be even better this season.Ē

The signing of Justin Swift is yet another great move, in the sense that it solidifies the two as a productive and effective pair. The 49erís rely heavily on the tight end position in the true West Coast Offense to help manufacture sustained offensive drives and make red zone scoring a higher possibility.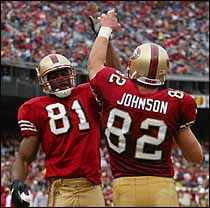 Still yet on offense the 49erís confirmed that they seek to add youth to the offensive line, all but saying outright that veteran 16-year Pro Bowl guard Ray Brown is not in their future plans. The reliable Brown has been an anchor to the line ever since and has been a role model for others to follow. Brown indicated he was willing to stay on and play one more year making his age at that position 40-years old.

Back in the waning days of March the 49erís and Brown agreed to a restructured contract for four years. By agreeing to the deal, Brown, 39, spared the 49erís from paying him $500,000 roster bonus that would have been due in March. And at the same time the team avoided taking an immediate $2.2 million salary cap hit that would have come had they immediately released him.

I for one would like to see Brown comeback at the minimal salary for depth purposes and rotation purposes as well. The likelihood of that though is slim due to the signing of a new guard in Ron Stone.

I return for the agreement, the 49erís gave Brown a $100,000 signing bonus. Brownís non-guaranteed salary this season was dropped to $750,000 from $1.9 million, though Brown and his agent, Steve Baker, said the 49erís told them they intend to release him after June 1st. That would give the 49erís a breather in delaying the bulk of the cap hit till the 2003 season.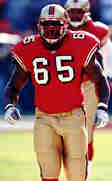 Ray Brown has indicated he is not ready for retirement, but like all 49er players he still has the desire and passion to play ball at a high level. I hope personally that Brown will either retire or be retained with his blessing at a reduced salary. Brown carries a measure of respect within the franchise that cannot be measured. He has been instrumental in helping the 49erís achieving all of its glorious offensive records. Many fans including myself salute him for his services.

The free agency of 2002 has been a blessing for the 49erís, not every player has been mentioned so please see Part Two in the continuing coverage of the 49er spending spree. The market revealed many top names that hit the market, and the 49erís played that well in true fashion as they had done one year ago in the signing of Derek Smith and Dana Stubblefield. We did very well in reining in our very own free agents, and we will prosper down the road this season for it.

What is so intriguing is the way we went about doing it, Donahue maintained a tight hold on spending money and not repeating the past sins of prior general managers. He is committed to making the balance worthwhile and keeping the team young and healthy, his actions so far are proof of just that.





Fan Press:
Now you can write articles for 49ers Paradise, and read what other fans have to say too in the Fan Press section.