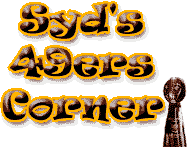 49er's deal with unfortunate baggage and offense is upgraded. (07/26/02) 9:00 PM


First round 27th pick overall 49er cornerback Mike Rumph was stopped in Miami Beach at 4:22 am by police and issued a Breathalyzer test, he failed and was arrested for driving under the influence in Miami Beach, Florida.

The very popular University of Miami cornerback had all of a sudden proven how very human he really is. I must admit I was astounded at what cost Mike Rumph was willing to take being the 49er's first-round pick, and knowing with full awareness the legalities and notoriety this event would cause.

Even though the promising cornerback, drafted by San Francisco to insure that our nickel and dime defense was strength this coming season, failed by a small margin. It does not excuse the fact that he took the risk anyway.


This news was shocking to the Miami community in more ways then one, simply because just one day prior to Mike's arrest, his former Miami teammate Najeh Davenport, the Green Bay Packers first-round draft pick, was also arrested in Miami on burglary charges.

Stemming from an incident that allegedly took place inside a Barry University dormitory a little over two weeks before he was then selected by the Packers in April's NFL 2002 Draft.

How foolish can anyone in their right mind be? Burglary? And DUI? What more needs to be said, for these young athletes to realize that all their dreams are complete in one simple contract. A contract that will make them fat and happy the rest of their natural lives because they were fortunate enough to be drafted by a team in the very first round of the NFL Draft.

Rumph posted a $1,500 bond later that same day. He was seen by police running several stop signs in a Cadillac Escalade. "He was legally drunk but he wasn't passed out at the wheel. It wasn't to that extreme," Hernandez a Miami detective said.

News swept into San Francisco regarding the incident, news that has been very unpleasant to say the least in the last few months, as many events have impacted the club in a negative light.

The Vinny Sutherland incident with drunk driving and the Jeremy Newberry brawls both in a bar and out on a lake, have already tested the patience of both 49er front office brass and fans alike.

Rumph's former teammate in Najeh Davenport, 23, who graduated from Miami Central High, spent four hours in police custody before posting a $6,500 bond. He is charged with burglary to an occupied dwelling, which is a second-degree felony, and criminal mischief, which is a misdemeanor.

Mike Rumph who graduated from Atlantic High in Delray Beach encountered more than he could chew evidently on that early morning in Miami Beach. It is a sad state when you see and hear about rising athletes that have everything to live for, and all of a sudden they fall from grace with the force of a rock hitting water.


Earlier this year 49er center Jeremy Newberry faced a barrage of negative media from his altercation with a woman on Lake Berryessa in late May. He received great news though that he will not be charged over the incident. Newberry's sister, Jennifer, who also was charged in the altercation, was charged though with misdemeanor battery.

"He's real relieved to be out from under the suspicion that hung over his head," Bill Glass Newberry's lawyer said. "We sent (district attorney Bob) Geggins a lot of information, witnesses who'd been interviewed, videotape of the alleged victim's statement on television and basically all of it supported the fact that he never hit the girl. So we had an indication that this was coming."

This incident when I first heard about it was so bizarre that I was beside myself in thinking this could happen on any lake in the country. It supposedly happened near a dock where Newberry had his boat and the victim's boyfriend was seen untying Newberry's boat when they were confronted.

Leah Tartaro, 23, of Brentwood told KTVU that Newberry grabbed her arm and hit her before Jennifer punched her in the face several times. Newberry contends till this day that he never hit her. It seems like in the heat of battle this young lady misinterpreted exactly what was going on. And it seems to me that she was clearly in the wrong anyway and deserved a confrontation minus the assault from Jennifer.

"He grabbed her arm and pushed her, true, but that was while she was slapping and swinging at his head," Glass said. "So either the girl honestly or mistakenly believed he struck her or she was reaching for the deep pockets."

It seems that this entire incident bordered on lunacy and psycho behavior, to think that she was justified in anything she was doing is ridiculous. And for her to accuse the person whose property was in question is even more bizarre, I believe Newberry did what he needed to do.

Meanwhile back with kick return specialist Vinny Sutherland, he continues to battle with his drunk driving binge and hit and run incident. He is currently involved in an alcohol rehabilitation center and is getting counseling as well. Sutherland has reported to camp and seems to be trying to put the entire negative aspect of his actions behind him.

"He's got meetings and educational programs all day. It keeps him busy. He's there 24-7," Palumbo Sutherland's agent said. "He's staying in shape. He's dealing with this in as positive a manner as possible. I think he's doing everything he can to take care of his problem and move forward."


As I have said before and continue to say it, Sutherland although an upgrade over what we have had at the helm on special teams still has so much more to improve. He has jeopardized in my eyes his very standing with this team. He has opened the door wide open for another promising young athlete to take their shot at the starting position on both kicks and punts. I say let the bodies hit the floor.

Looking at the offensive line one has to believe that this unit is much better then it has ever been. Although on the other hand when can someone point out when it was bad? This offensive line just became better, especially with the free agent acquisition of Pro Bowl guard Ron Stone.

Still there are many out there that look for the weakness that lies on the line and many believe it to be the veteran left tackle in Derrick Deese. The left side of the line is now considered in some ways a weakness, with Ron Stone anchoring the right side with former teammate Scott Gragg.

Last season on the left side of the line, the 49er's gave up three blindside sacks and rushed 143 times for a 4.5 average. The run offense was less "right handed" in 2001 than it was in 2000. In my opinion these are very good statistics and alleviate ideas that the left side is weaker than the right.

The fact of the matter is, the 49er's last season ran the ball overwhelmingly to the right side rather than to the left. In fact they averaged running the ball on the left side an average of nine times a game.

In my eyes Derrick Deese has always been an effective pass protector and a great asset to guarding Jeff Garcia's blind spot. In most cases Derrick Deese is very underrated and not given the just recognition that he deserves, I would want no other person at left tackle but Deese.

The changes on the offensive line continue to be monitored and analyzed, what is resounding good news for a change is the fact that the 49er's returned all five of it's front starters for the second consecutive season.


This line took this team to a 12-4 record and registered two Pro Bowl performers at that, on top of all that they elevated their play to make the 49er's offense No.#4 overall in the league last season. This is and stills remains one of the most looked over offensive lines in the NFL.

Losing 39-year old veteran guard Ray Brown was a devastating blow, his experience and leadership on and off the field were critical elements to the overall function of this line, day in and day out. But the push was to achieve youth and gain speed and athleticism, all of which sidelines age and experience more times than not.

Replacing Brown with the best available free agent on the market became the 49er's target area, and they scored big in landing Pro Bowl veteran guard Ron Stone from the New York Giants. The ace in the bag for signing Stone was none other than former teammate right tackle Scott Gragg.

"As soon as we signed Stoney," said Scott Gragg, "Dave (Fiore) called and said "Looks like I'm moving again." In short Dave Fiore has been one of the most versatile lineman in team history, he has accommodated the 49er brass for sometime now and with impressive results. This last change with Stone coming in will make no difference in continuity on the line.

This six-year veteran who anchored the right side the past two seasons is now moving over to the left side, this will be the fifth position Fiore has played with the team. The reasons for the move are many but overall it was because of Gragg's relationship with Stone from their time together on the offensive line for the Giants. They spent four very productive seasons together, and the thought was that it would help indoctrinate Stone into the line much more smoothly.

Communication as you know is essential and critical on any given offensive line, bonding and relationships are made and so are honest friendships. This is where Scott Gragg is implying that he has with now present teammate Ron Stone. Together they will be on the same page and flexibility on the line will again be enhanced with Fiore doing the change once again.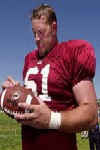 "Dave's bounced around so many places anyway, we don't think it's a big adjustment," offensive line coach Pat Morris said. "I've moved around before, so I feel comfortable changing positions," Fiore said.

One has to give hands up to Dave Fiore who I consider one of the very best un-drafted free agents we ever signed. He has been so selfless in his commitment to help this team achieve desired results, and he has been more than accommodating with changing from time to time.

Fiore, 27, was the 49er left tackle in 1998-99 and a reserve center and right tackle before spending most of the last two seasons at right guard. But what is most interesting is that even Fiore acknowledges that it is probably best for Ron Stone to work next to a former teammate to solidify the complexity of the line as a whole. Dave Fiore is seemingly on the same page as management with this switch and is very obliging to say the least.

"You've just got to get used to being on the left side, and that's where I'm getting the reps," he said. "It's the same system, so I know the assignments. It's just more getting the technique down."

The reality though for the offensive linemen as a whole when they entered training camp was not seeing all time veteran Ray Brown suited up with them. They all understood and realized just how much they would miss him as practices and drill commenced and signaled a new era for the line to endure.

"We're sincerely going to miss a man like Ray," Fiore said. "But we brought Ron in to basically fill in his place. We've been talking since before the first mini-camp on how we want to handle things on certain blocks and certain techniques. When everything comes down, we're going to be ready to play."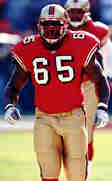 "Ron doesn't need any help with techniques or assignments," said Gragg. "But maybe I can help him in other ways. Maybe let him know that Jeff has a quick drop on this pass or that he's got a seven step drop on this one. Little things like that. You pick up on those as you get accustomed to our offense."

One has to stand back and marvel at how incredible an offensive line ahs to be while out on the field of battle. The trenches are where the war is waged and won on any given Sunday or some other playing day. If you can win at the line of scrimmage and dominate you will win the war. Synchronicity and consistency on the line is crucial to winning these types of wars on each and every day.

"Make no mistake: you want very little improvising on Sunday. If you have to improvise, that means they caught you off guard."

The adjustment that Dave Fiore has to make is relatively easy to him, because he has been there before and has the experience factor and well-known strength at that. The overall process of Ron Stone coming in and adapting to our system will be the key to this season's offense. But as said before with former teammate Scott Gragg on the same side, that transition will be relatively easy as well.

"(Right guard's) what I've played since New York so, of course, I'll be comfortable there," he said. "But, I mean, I can be versatile just like all the other guys. If they need the whole group to be versatile, then that's one thing I'm fine with."

Dave Fiore the true professional that he is has accommodated Ron Stone right from the get go, and that my friends is what a true sportsman is all about. Taking change in stride and never looking back for the advancement of the team is a great attribute to have. One that is missing in a lot of athletes today as we speak.

"We've had a good line over the last couple of years and chemistry is really important," Fiore said. "Ron's coming into the system and he's already worked with Scott, so that's good for him to move to the right so he only has to get used to one guy to his left. I've worked with center (Jeremy) Newberry and I've worked with (left tackle) Derrick (Deese) before, so we're just trying to get the best situation, and it looks like this is it."


I would also like to mention about Dave Fiore that he was honored as one of 32 NFL players at the 29th Annual NFL Fever NFL Players Awards Banquet. Hosted by the NFL Players Association and Players Incorporated, the banquet recognizes and honors one player from each NFL team for his contributions both on the field and in his community.

"This is a nice honor for Dave from both his teammates and the 49er fans," said Terry Donahue. "He works hard, plays hard and is a committed professional on and off the field. He should be proud of the recognition."

When you look back on Fiore's career you have to be amazed that he is what he is today. He was thrust into the NFL almost out of obscurity and he has absorbed everything that has come his way. He is in my eyes one of the runts in the litter so to speak that overcame all odds and is a mainstay to this offensive success in San Francisco.

His career began in 1996 after signing with the 49er's as an un-drafted tight end out of Hofstra. He spent seven weeks with the team before being released and picked up by the New York Jets.

In August of 1997 he was waived by the Jets and the 49er's, realizing they should not have let him go in the first place, re-signed Dave Fiore who was then out on Injured Reserve with a knee injury suffered while in the Jets training camp.

In 1998 Fiore opened the 49er's season as the teams starting left tackle before injuring his right knee in the third week of the season. He fought his way back from the injury to play in the final six regular season games and both playoff contests.

The following season he started all 16 consecutive games at left tackle and provided excellent protection for Jeff Garcia. Reason to believe that he can very well do it again.

The 2000 season brought another change when he was moved from left tackle to right guard. Taking little time to adjust, Fiore settled into the role and helped the team total 6,040-yards of offense to finish fourth in the NFL.

The 2001 season brought more pluses for the 6-4; 290-pound Fiore who again started all 16 games and paved the way for the comeback of Garrison Hearst and finalizing with a trip by Hearst to the Pro Bowl.


This incredible individual is a testament to all that know him and get the pleasure of working with him each and everyday. I must say this is one of many of the positives in this training camp, for wherever Fiore is there is intensity and giving.

The time warp I will take you back to is August 8, 2000, this is where former center Chris Dalman ended his career as a 49er. He collided with a teammate in practice during a drill in training camp that left him with temporary loss of feeling in his extremities.

It was the last time he would spend in a 49er uniform. During the long year he spent on Injured Reserve he realized with each passing day that his time was up as a NFL player.

He still every morning wakes up with numbness in both arms. And by the end of the day he has burning sensation up and down his neck. He has been instructed not to run at all. He is reminded about this pain each and everyday that he gets up and out of bed, he knows now what the toll of eight years in the NFL have done to his body. He has surgical scars on knees, elbow, and ankle and up and down his neck. He was a true warrior right to the finish line my friends.

"I miss Sundays," said Dalman, now an assistant football coach at Palma High and a seventh-grade English teacher at the junior high school. "I miss being with the guys; I don't miss feeling beat up."

Chris Dalman actually retired the day the 49er's released veteran wide receiver Jerry Rice. Dalman has had his 15th football related surgery to fuse together his fifth and sixth vertebrae. The operation was the same that Dalman had 13 years ago as a freshman at Stanford, when he had his third and fourth vertebrae fused as a freshman in Stanford.

The pain and agony that have been constant for Dalman, it has been a misery though that he would not replace his experience on the field as a player. He misses the smell and sounds of practice and attended several 49er mini-camps already to help out where he could.

"I still can't run because of it." Said Dalman, who won a Super Bowl ring with the 49er's in 1995. "There are no guarantees that it'll work. It might help my golf game. I might not be bale to move my head."

The positives in all of this is that Chris Dalman now spends most of his time attending to his immediate family, and spending quality time with them, that he missed over the eight years he had in the league. High school coaching has also been a great release for him as he continues to practice the game from the sidelines.

"Coaching has been a great release," said Dalman, who was the least penalized 49er's lineman between 1997-1999. "I work with a great coaching staff."

Steve Mariucci has been gracious in inviting Dalman back into training camps as the 49er's prepare to judge and finalize their rosters. He has been help already as he has participated in coaching the offensive linemen during conditioning and playtime drills.

What do we reap from Chris Dalman is still a big positive in the fact that he participates, and still is a presence on the field, but in a different role now. I am in great appreciation that we have him with all of his experience and knowledge. I encourage that the coaching staff keeps the olive branch extended for repeat visits.


What was so close to happening never did Ex-Saint wide receiver Willie Jackson after a brief courtship with the 49er's signed a three-year deal with the Atlanta Falcons in a deal worth $3.5 million.

At first the Falcons only offered him a one-year deal, but understanding the time limitations and the interest of other teams, they cut a deal that satisfied both parties.

Willie Jackson considered the San Francisco 49er's, but was looking for a deal that would keep him at one place past the two-year contract the 49er's offered at $2.5 million. Jackson can be compared to Terrell Owens as he uses his brawn and muscle to push open areas of opportunity and make secondary defensive backs tremble at the footsteps they hear coming.

What kind of sight could you imagine in the 6-foot-1, 217-pound Jackson and Terrell Owens lined up together and the ball is snapped? Certainly this would have been one of the most dangerous duos in the NFL.

I would have loved to have seen that, J.J. Stokes has never stepped up to the plate to be a true second tier receiver, he had a career year in 1998, but since then he has declined dramatically.

Taking this as a negative is certainly apparent, but we must move on from this experience. In a world where the salary cap has forced teams to zip their purses from time to time and have money left for a rainy day. It has forced teams to make very unpopular decisions with some potential stars because of the lack thereof.


The man responsible for the physical well being of this team is none other than Jerry Attaway; he is the physical guru that prepares each and every player for the grueling weeks ahead in Stockton training camp.

He arranges and keeps tabs on every players individual program. Programs are necessary in order to increase your chances of staying physically fit and avoiding costly seasons or career ending injuries.

All 49er conditioning workouts are focused on speed, quickness and change of direction, key components of what players need on the field. Low bags, ropes, ladders, cones jump ropes and sand drills are all part of the fieldwork done everyday under his direction.

What motivates and sets players apart from one another, is generally how they handle their very own mentalities and physical awareness. Generally in speaking if you don't feel genuinely good about yourself then chances are you are subject to failure.

"We try to match everything we do to what that guy needs to be successful," said Attaway. "We try and relate it to the skills of the position. Everything except the sand that is; that's just to grind you at the end of the workout."

Sometimes believe it or not their programs and their adherence to that are what keeps them or loses their employment with the team. All athletes know deep down if they have a shot legitimately or not, some sugar coat it and believe that they can slip by, but the cracks are always there to catch you.

"All of this is important, or it should be, because they all want to have a job," said Attaway who is in his 20th season with the 49er's. "If you're not in good physical condition two things tend to happen: first you're more susceptible to injury, and second, fatigued players don't learn. Either or both of these characteristics tend to lead to unemployment in September."


As position battles are waged in training camp this season as with all seasons. Keep in mind the complexities of today's NFL. A hostile place that shows no mercy for the weak at heart and in strength. Everyday is a challenge to each individual player, even for the veterans that must look behind their backs and see who's coming after what is theirs.

"At the end of the day when it comes time to start cutting people, they won't keep a player just because of his speed or strength; they'll keep the guy who makes plays. And you can't make plays if you're not on the field. And you can't be on the field unless you're in shape."

Training Camp is an exciting time and a time that really defines where a player is in his development stage. Many players that are dismissed are asked to comeback and try again next year, others are simply told pack it up and good luck.

I am thrilled to be going to camp this August, to witness this incredible event. I am in awe of such an assemble of talent and youth, and I am sure people such as Steve Mariucci still wink and smile knowing they just might have the right formula of talent assembled to help take the 49er's right on over to the next step. Let's be thankful and appreciate what we have.





Fan Press:
Now you can write articles for 49ers Paradise, and read what other fans have to say too in the Fan Press section.