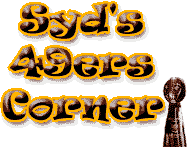 Positional battles and injuries cause 49ers to seek adjustments. (09/06/02) 11:00 AM


The competition battles that have erupted out of training camp in Stockton have had enormous bearing through the pre-season drama this past August. Positional battles have been widely epitomized as the 49ers have maintained a high degree of pressure on manufacturing and developing hidden talent.

Many of the promising athletes that entered training camp in Stockton, with high aspirations of playing in the NFL, have fallen into obscurity. Others have had doors in their lives thrown wide open, allowing opportunity to blossom like the fresh smell of lilacs in the spring.

One of the battles that has played a big factor in the 49ers plans to improve upon, has been special teams in regards to the kicking game. Both incumbent Jose Cortez and 2002 fourth-round pick Jeff Chandler have battled to a virtual draw in this heated contest.

Cortez was confident that he could hold off the pressure by reverting back to his experience and familiarity with his natural kicking style. Chandler brought instant heat upon his arrival, especially after he received a $330,000 bonus for signing a three-year contract. Cortez had previously signed a one-year tender totaling $300,000 in May.


Special teams coach Bruce DeHaven has had headaches over this competition as it has heated and resulted in forcing the 49ers to seriously consider placing both on the 53-mandated active roster. Cortez considered the underdog from the start in this well publicized battle has never surrendered mentally and even welcomed the challenge as a necessary evil.

"I'm trying to make the team and hold on to my job, so when we go to team drills, that's very important," said Cortez, whose debut season last year was marred by a second-half slide and five blocked field goals.

"I'm trying to fix my problems from last year and show them I'm capable of kicking the ball higher." "The fact (Chandler) is a high-round draft choice makes Jose's job tougher (to keep)," DeHaven said.

After the draft had been completed in April, I realized that the 49ers were very serious about applying the heat to Cortez. The fact that he encountered a costly slump in the second half in 2001 made this a necessary option to take. Drafting Jeff Chandler (the best kicker at that time) in the 2002 NFL Draft sent a clear message that the franchise demanded improvement.


"In the NFL, it's all about experience, so I feel if it's close (competition), they'd keep Jose," Chandler said. "Having experience in big games is something you can't teach."

The fact that Cortez missed eight of his last 15 field-goal tries after making 11 in a row to start the 2001 season previewed the need for immediate competition. General Manager Terry Donahue made the bid through the draft with Jeff Chandler.

What happened back in training camp was a landslide victory by Cortez over Chandler in competition, but as weeks went by his kicking abilities began to blossom from the intense battles that took place on a daily basis.

The battle of the kickers went to the five pre-season games played by the 49ers in an exhausting schedule that would test every nerve of their fiber. In Game one in the American Bowl against the Washington Redskins Cortez was the only winner with a successful extra-point conversion after a Kevan Barlow touchdown. Chandler failed to get a kick off later on a botched snap. And then missed a try from 51-yards with one second remaining in the game.


In the second game in overtime loss to Kansas City there was really no kicking factor as only conversions were made. In the victory in Game three against the Denver Bronco's the kicking game was the sole item for scoring and displayed their abilities more then any other contest.

Four field goals would win this game, Cortex hit three and Chandler hit one for 38-yards, but missed a 45-yarder as well. The edge here was Jose's.

The only concern even though Cortez had made all three field goals in this victory was the height on his field goals. He hit a beauty of a 46-yarder with just 1:14 left tom play. But he barely connected on the other two as the ball veered so much that it barely cleared the uprights.

In the fourth game against the Raiders Jeff Chandler was in the spotlight with the only field goal in the game of 24-yards. As this competition wore on Chandler had the edge on kickoffs but Cortez had better accuracy on the field goals. This in all matters complicated the scenario for the 49ers in making them consider keeping both of them.

In the Oakland game Chandler was given complete reign on the kicking assignments with Cortez being a spectator from the sideline. Cortez had been given the bulk of the work in Denver, now it was Chandler's turn.


Chandler kicked off three times, once for a touchback and another of his kicks reaching the end zone before being returned. He went on to kick an extra point and a 24-yard field goal. "We gave Jeff Chandler a lot of work because he hasn't had a lot of work," Mariucci said. "We think we know what we have in Jose. That's why we want to see more in Jeff Chandler."

As the month of August played on, so did the consensus in the front office that keeping both kickers would be a real possibility. Paying attention to special teams has been an well-observed pattern so far, in my opinion it's really about time. I feel that we eroded at this position over time, now the practicality of having a diversified and talented squad is paying off.

"Both are NFL players," Donahue said. "We're thinking they could both be on the team. One could handle kickoffs and the other could handle field goals and extra points. Or we could have one guy do it all and keep the other in case our starter goes into a slump." "Once we get into the regular season and teams start needing kickers, we could use that as a trade. There are good reasons to keep both guys."

In the last game of the pre-season against San Diego, Jeff Chandler again scores high points. Chandler kicked a 47-yard field goal in the second half and then got a touchback on the ensuing kickoff to keep the pressure on Cortez. Chandler in all converted his last four field goals of the pre-season to finish 4-for-6. Cortez was 4-for-4, including a 25-yarder against San Diego.


Needless to say this all played out to be a crucial decision for the 49ers at the end of August as they were trimming their roster to 53. The problem in having two quality kickers is almost priceless when you think about it. Many professional teams would kill to have this kind of concerted competition especially in the kicking category.

"Don't get me wrong, it's a good problem to have," said Steve Mariucci. "We have two good kickers and we feel they are both good enough to kick in the NFL. In fact, I think they will be kicking in the NFL for a long time."

"If we end up keeping both guys on the team," Mariucci said, "I don't think they would be both be active for a game. We're going to chose one and go with it. We don't want controversy or a Nervous Ned out there. Whoever we pick needs to know he's the guy."

In the end the 49ers chose to keep both kickers as the roster was trimmed to 53. Even though Jose Cortez came into training camp as the underdog, disregarding that he kicked for the team just last season. He did enough to hold off Chandler for the starting spot.

While it is not common for teams to carry two kickers the 49ers are using it to their sole advantage. Teams in fact on occasion have been known to carry two kickers with one doing field goals and the other on kickoffs. The 49ers are projecting that they have both on the active roster at least to mid-season.


"If one of them gets hurt, you've got your answer," Donahue said. "If one goes into a slump, you've got your answer, and also somebody else may need a kicker as the season unfolds and you could create value for a possible trade."

Head Coach Steve Mariucci announced that incumbent kicker Jose Cortez would get the nod as the starting kicker this 2002 season. He would indeed be the starter in their first regular season game against the New York Giants. Once highly regarded as being replaceable, he has held his critics at bay and won the starting position.

"We feel he deserves to be the kicker right now. He's been very good in the five to six weeks that we've been together," said Mariucci. "He seems to be an improved kicker over last year. He does have a year of experience with us, although we did evaluate everything from mini-camps on in a pretty even fashion. It was pretty darn fair, as, far as the number of repetitions and looks and all those sorts of things. We just felt that we had to make a decision and Jose deserves to be the kicker right now."

Having witnessed both in Stockton practice I can tell you with all honesty how even both were. What is even more interesting is how cordial they were with one another, both helping each other out in all mechanics of their practice. I had the honor of getting both their autographs as well.


Understanding what roles both would place were critical to Mariucci, that is why he named Cortez as the starter. Chandler disappointed but undeterred went about contemplating what he needed to do to triumph in 2003. You have to be sympathetic to this proud athlete as he came in from Florida and battled a veteran kicker for the starting job.

Although he failed to dethrone Cortez he at least came away tied with the prospect of being the man somewhere down the road. Cortez could very well go into a slump and therefore his opportunity would arise.

"Hopefully there'll be plans for me next year," Chandler said. "They told me my role this year. Unless Jose (Cortez) gets hurt. I don't see myself playing. I'm aiming for next year, to get my body ready to play a 16-game schedule."

The real question remains as referred to by Donahue is that Chandler could very well become trade bait, should another team need an immediate kicker. It would be nice to have Chandler around as a security blanket, but in all reality we all know that is not long term at all.

"I'm not going to worry if they'll put him in if I miss," Cortez said. "I 'm just happy I have the opportunity to be the starting kicker again. Now I've got to focus to play against the Giants. All the work I did in the off-season is paying off."

Chandler meanwhile has indicated that he would love to remain a 49er. I have reservations that he will still be on the roster at the end of the regular season, mostly in due part that it is unlikely that they carry a roster spot that is merely just a secondary kicking position.

Chandler regardless of what happens to him will be a productive piece for whomever he is employed with. The 49ers believed in him with a three-year contract.


On the other side of the kicking equation stands Jason Baker, he has despite some pre-season troubles won the starting job in a battle with Andrew Bayes. Baker came to the 49ers after being released by the Philadelphia Eagles in the 2001 pre-season. During his time there with the Eagles he picked up invaluable experience from veteran punter Sean Landeta, the very man he was trying to unseat at that time.

"He said the two best days of the year are the first day of the off-season and the day you make the team," Baker said of Landeta. "This was coming from a guy in his 17th or 18th year in the league."

I for one can remember how raw Baker was in his debut as a 49er. In fact I cursed his name on more then one occasion after his punts were something to be desired. I felt that we had sometimes compromised our position as lost games because of his ineptness.

He made the team back after the Bronco's pre-season finale in 2001. Baker averaged 50.5-yards on four punts with a long of 61-yards. This performance on this one night convinced the 49ers to give him the starting spot.

"My rookie year was, it was ok, " said Baker. "I took my lumps early on and didn't get my rhythm until late in the year. We do a lot of directional kicking here and I only did a little of that at Iowa. And it took me awhile to get adjusted to kicking at Candlestick. The winds swirl a little more there than they do in Iowa."


I for one would have to tend to agree with this foundation on Candlestick. Being there this season, I found how quickly the temperature in the air can change. You go in and wear shorts and a T-shirt and come out with a jacket and sweatpants. The winds have an astounding effect on the tempo of the game. At one point it can be very warm, and then with winds off the Bay it becomes unseasonably cool.

After his rough rookie outing, one thing that Baker has been most grateful for has been his long snapper. He tends to help Baker work through the kinks in his game. His advice and suggestions have helped Jason Baker become a more confident person.

"Brian Jennings is just great to work with. He's great at what he does and that's important because I rely on him," said Baker of the team's long snapper. "He puts the ball where it needs to be every time. That takes a load off my mind."

Whatever the situation, I am hoping that Baker will continue to find improvement in his punting duties. Very little is mentioned on the situations of these positions, yet they have been pivotal this year as we have applied a lot of pressure on our present incumbents to produce. Obviously we aren't turning a blind eye to what is happening in this important dimension of the game.

Making decisions has always been a critical element of football operations. On how much a head coach has said over matters has been different in comparison to other franchises. Had 49er Head Coach Steve Mariucci taken the job with the Tamp Bay Buccaneers he would be making all the decisions, simply because his title would have included being the general manager.

Regardless he decided to stay on as our head coach, but what has become an improvement is his input on choosing and waiving players. He has been not bashful in giving his input on player personnel to general manager Terry Donahue.

Donahue has admitted that he seeks input from Mariucci more then he ever did. Including him in on the inner circle in my view is critical to the development of this franchise.


One of the reasons that Mariucci has been getting more attention from Donahue has been the limited presence of team consultant Bill Walsh. Mariucci continues to hail the process in 49er headquarters as being one of the best in leadership and decision making. He even noted that he has been in discussions more with Donahue on relevant matters more than he ever has.

"The reality is we're going to give our coaches the players they want if at all possible," Donahue said. "We're going to have real input from the coaching staff on who they want. If they want Player A over Player B, I'll give them Player A, even if I think Player B is better. It's a cooperative effort."

Steve has had more say in operations as Bill has stepped back and let some of the management do what they do best. He continues to be a sounding board but makes his presence known virtually only when called upon. I find that to be a positive because it promotes great chemistry between Mariucci and Donahue, both should be aggressive and forthright with their convictions.

"Bill was a little more involved in the past," Mariucci said. "That's not so much the case. We may bounce some things off Bill on occasion, bit it's been more Terry and I." I am proud that this has turned in this direction.

As I have said before Mariucci remains the very best head coach for this team. His standing on personnel and its development should carry a lot of weight; after all he is the high name on evaluating performance.


Running Backs coach Tom Rathman has a dream, a dream that very well could come true. I find no other running tandem more lethal in the NFL then our very own. I believe as many fans do, that both Garrison Hearst and second-year player Kevan Barlow are at their collective best and can accumulate up to a 1,000-yards each should they see enough carries. It could very well happen this season should the play calling be adjusted to allow this and both stay relatively healthy.

Now the goal he has set up is a lofty one, many doubt that such a feat can possibly be accomplished. But it has been done before back in 1985. Earnest Byner rushed for 1,002-yards and Kevin Mack finished with 1,004-yards for the Cleveland Browns that eventually fell to the Miami Dolphins, 24-21, in the first round of the playoffs.

When you look at both Hearst and Barlow you see a duo that can really turn it on this season, of course any running game is irrelevant should it not have the offensive line to clear lanes for them and provide blocking that is equal to none.

So far the 49er offensive line has done just that. Minor alterations have taken place with Ray Brown gone and replaced by a younger Ron Stone and Dave Fiore moving over to the left.


The running duo of Hearst and Barlow produced 1,725-yards just last season. Hearst had 1,206-yards in a Pro Bowl Year on 252 carries. Barlow had 512-yards on just 125 carries as a rookie last season. This is one of the top reasons that the 49ers finished second in the NFL in rushing. Being that both are very healthy there is no reason to doubt that a thousand yards apiece cannot be achieved.

You can look for Hearst to be the undisputed starter again this season, but Barlow is the future and he will get a lot more touches on the ball. In fact the offensive scheme is to have both of them in the backfield together on more occasions so as to make mismatches happen. Unfortunately this cuts right into the playing time of fullback Fred Beasley so that doesn't bode well for him.

Another clear-cut antidote to this season is that Barlow is very well cut and healthier then he was last season. He underwent knee surgery shortly after he was drafted in the third round by the 49ers last year.

The surgery of course prevented him from working with the team during its mini-camp series. Barlow came back only to sprain his quad muscle in camp and ended up playing very little in the pre-season, obviously hampering his development.

The injuries in all made it difficult for Barlow to run with the same determination that he did at Pittsburgh, where he rushed for over 2,324-yards in just 15 career starts. Kevan Barlow has the ability and talent to be a great overachiever.

He in fact in my opinion and others was the best back taken in the 2001 NFL draft. In fact Mike Shanahan of the Denver Bronco's called the 49ers shortly after his selection and told them they had the best back in the draft.


"Hopefully, I'll be able to finish more runs, get some longer runs," Barlow said. "Last year, I remember I had a run against New Orleans. It was a long run but on the next play, I was out because of my quad." "So hopefully this year, I'll be able to get some longer runs."

Tom Rathman hopes so, the fans hope so including myself. I believe we will have a very lethal running attack. One so effective that it provides even greater disparity with our passing game, we should have more favorable match-ups as the running game takes away the pressure to such an extent it provides big passing plays.

On of the most devastating injuries this August in training camp was the injury incurred by nickel cornerback Anthony Parker. After achieving his status in 2000, Parker was positioned to be the third cornerback in the rotation, manning the very important nickel and dime chores associated with his position.

Last season he hurt his shoulder making a tackle in an Oct. 28 loss to Chicago. Much to what the 49ers wanted was for him to rest and rehabilitate the shoulder so that he could comeback in December. He opted for season ending shoulder surgery.

This fact irritated the 49ers and invoked for them to make him available for the expansion draft conducted by the Houston Texans. Drafting first-round cornerback Mike Rumph further sent a message that he was being challenged.


Parker sustained the injury tearing his right quadriceps tendon during contact drills at training camp. It ended his hopes of once again challenging for an active position on the roster. Many believe his time was up anyway based upon his durability questions. Both Rashad Holman and Jimmy Williams have been pushing hard past him in camp.

Parker a fourth-round draft pick in 1999, came to the 49ers with great aspirations in making our secondary a lot more formidable to aerial attacks. It was his size that interested the 49ers the most, but with a rash of injuries he never really had a chance to mature. Parker missed the last 11 games of the 2001 season because he elected to under go surgery for a damaged shoulder.

After completing his sixth-month rehabilitation, Parker reported to training camp prepared to compete with second-year corner Rashad Holman for the fourth cornerback position. Now with his latest season-ending injury, his hopes of ever making the team as a legitimate starter have evaporated.

You have to feel for the man when he has had so many bad breaks. One has to wonder if he will ever be able to play on a professional basis at all. Usually when you have these many injuries, there is an invisible calling that tells you, this is not for you. Parker showed flashes here and there, but he was very mistake prone as well.


Another injury that rocked the foundation of the 49ers offensive line was the injury to veteran center Jeremy Newberry. Newberry injured his calf during the first full-contact drills of camp in Stockton.

He was fitted with a boot designed to immobilize the injured calf area and has been undergoing treatment ever since. This sent a shockwave through the 49er line that created alterations that would not workout.

Of the three players assigned to the center position following Newberry's accident in practice, none were able to make a solid impression. Dave Fiore has always been the emergency center, but prefers playing his natural guard position.

Stanford rookie Eric Heitmann, reserve lineman Matt Willig and veteran free agent Jeff McCurley have all taken turns throughout practice and pre-season and have failed.

The scramble for a back-up center had begun at this point, ever since the 49ers released veteran Ben Lynch due to salary cap constraints they believed that they would find a hidden inexpensive gem in the lineup. And should one be really necessary they still had Dave Fiore.

Former veteran center Chris Dalman appeared in training camp to help with the decision making process, regarding the vacant position. Journeyman Ty Wise impressed the coaches during one workout, thus they signed him.

Both rookie draft pick Eric Heitmann and free agent Jeff McCurley practiced in that role but proved unsuccessful. Many mistakes were made including botched snaps that sailed over Jeff Garcia's head.

Ty Wise who played for both Chicago and Philadelphia in 2000 and in NFL Europe seemed the only logical candidate. However practices featured multiple bad snaps and time was running out knowing that Newberry was still incapacitated. The back burners started to come on as the time element started to present itself.


Jeremy did not play in the American Bowl, instead Dave Fiore played the center position and reserve offensive lineman Matt Willig played in his position. Needless to say the patchwork offensive line gave up five sacks that night.

Finally the 49ers made the move that everybody wanted them to make and that was to invite veteran Ben Lynch back to camp. Despite the team's intentions to dump Lynch's salary and move on, they found the task too costly considering the depth behind Newberry.

The injury to Newberry had robbed the team of his presence on the opening of the American Bowl. And it would again in their game against Kansas City that I attended August 10th. The other knock on Lynch was the fact that he didn't know any other position, so versatility was key to their decision as well.

"If we'd stayed healthy, we probably wouldn't have needed to do this," 49ers coach Steve Mariucci said. "So we felt with our health situation, we just needed to bring in another guy who knows what's going on. It's good to have him back. He's familiar with everything we're doing. Our quarterbacks are familiar with him, and the snaps, and he'll give us a heck of a lot more depth."

Pro Bowl quarterback Jeff Garcia was jumping up and down to see Ben back. He actually strolled by Ben and said, "Ben Lynch; it's great to have you back. You're the man! Now the ball can stay on the ground and we can get some snaps down."

I for one was there when Ben Lynch was resigned, in the parking lot following the game against the Chiefs fans and players slapped Ben on the back welcoming him back. In his mind he admitted that this is where he truly wanted to be.

I had the honor of meeting Ben's mother at training camp following the game, and she also indicated that Ben had been waiting anxiously for the 49ers to call him back in. Does he hold any animosity against the 49ers?


"This is a business," he said. "I don't ever think it's a personal thing. With the salary cap and free agency, there's a whole lot more factors involved. That is it. I didn't take it personal at all. I knew something was going to happen eventually. I knew eventually I would be playing football again. And I'm just happy it's back here. It's a great place to play."

Ben has served the 49ers for the past three years; his service has proved invaluable in my opinion to the strength of this offensive line. It is players like him with selfless attitudes that make the game and the sport so honorable. He adores his fans and always takes the time to recognize them, including me twice.

Lynch needs to work on playing another position to increase his chances of remaining with the team. It is almost a written criterion with offensive line coach Pat Morris that this takes place.

Newberry's strained right calf invoked this decision, I am happy that it did as are many fans that I talked to. Sometimes adversity makes us remember those that were great contributors, and Ben Lynch is certainly a solid fixture there. "This is the first time I've had a smile this big in months," the Sebastopol native said.

The reluctance of the 49ers to sign Lynch stemmed from his salary, Lynch was scheduled to earn the veteran's minimum salary of $750,000, of which $450,000 counts against the salary cap should he make the team. Dave Fiore was just adjusting moving from the right side to the left for newcomer Ron Stone when he had to switch to center because of Newberry's injury.

Now he is able to resume his progress where he was originally intended. That in it is a Godsend. Lynch played the remainder of the pre-season and even saw some spot duty at guard. The dark cloud was not done following Jeremy Newberry however, in another team practice during a drill after Newberry was finally coming back from his first initial injury. He jammed his right ring finger, and left the field wrapped in a bandage. In fact it was his first full practice since suffering a strained right calf July 23rd.


Newberry knows what pain is; he has played through it before and made everyone know he would do so again. This injury would keep him from playing in Oakland, but he found that his right ring finger was indeed fractured.

Newberry a former player for Mariucci back in California, knows that Newberry has snapped left handed before from a similar injury, so the setback was not as serious to Mariucci as it seemed to others.

"I've done it before," said Newberry, who believes neither injury will affect him once the regular season starts. "I snapped left-handed in college for six games my sophomore year. The year I played for (Steve) Mariucci." "To me, it's not a real big deal. I'll still have full use of my hand."

Newberry went on to have surgery on the finger, and ended up missing the game against the Raiders. Doctors inserted two titanium screws to stabilize the spiral fracture suffered when Newberry's finger became entangled in a teammate facemask as he blocked in training camp. He was also fitted with a small cast covering two fingers and a portion of his right hand. Ben Lynch started for Newberry in the Oakland Raiders series.

Newberry did comeback and played in the pre-season finale with San Diego for two series, his adjustment to snapping left handed was still raw. There were problems on two exchanges but there were no fumbles. On one of them, Tim Rattay juggled the snap and instinctively dived into the end zone for a two-yard touchdown.


The projected analysis on his recovery is that he will probably snap left handed right up till the 49ers hit their bye week Sept. 29th. Newberry was my first 49er contact when I went to Candlestick, and I'll tell you this guy is as strong as an ox. If anyone can grit their teeth and bear it, it will be Jeremy.

"He bobbled two snaps when he had to reach, once to his left and once to his right," Mariucci said. "He'll work the bugs out. He's done it before. I told him he needs 500 to 600 snaps before we play."

How will this effect Jeff Garcia? He actually sees very little problem, and jokingly mentioned as long as the ball reaches my hand who cares? He has supreme confidence in Newberry's abilities; his familiarity with him is ironclad.

"We've done it at least a couple hundred times in practice with him snapping left-handed," the quarterback said. "I don't really see it being a problem. I don't have to change up a thing. When the ball comes back to me, it gets placed basically the same way."


Regardless of their confidence both expressed future relief when the snapping would return to normal, right-handed. Does this become a problem? I predict it won't, there may be some hesitancy on Jeremy's part, but he will adjust knowing the consequences.

The focus on the training camp battles and pre-season jitters will continue in my next article, along with the devastating injuries that have reshaped our active roster. I will explore the cuts that were made and why they were made. And I will look ahead as to the focus this team is taking in regards to their new division. Kick off Weekend is here Go 49ers!





Fan Press:
Now you can write articles for 49ers Paradise, and read what other fans have to say too in the Fan Press section.