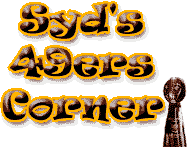 49er's on track at Mini-Camp. (06/14/02) 4:00 PM


It was cold dark and clammy in the skies over the Bay Area on April 26th, 2002 as the San Francisco 49er's opened their first series of mini-camps to sample the conditioning of their acquisitions and veteran personnel.

The 49er's like many professional organizations hold these mini-camps to gauge the off-season regimen and structure of their personnel as well as to refresh and teach new techniques and study manuscripts and film.

All of the personnel under 49er contract showed their true colors despite the inclement weather they were high spirited and eager to jump right in and get started. The talk in the locker room was one of excitement and great anticipation.

Already the notion of topping last season's record and prevailing in post-season is under many of the players tongues as they focus on what is most important at hand. And that is their mental and physical state as they all enter into the 2002 NFL season.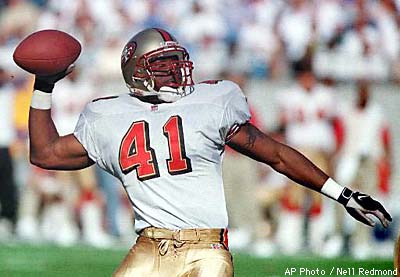 "The energy in the locker room, the meeting rooms and on the field today was unbelievable," said Steve Mariucci. "I think everyone was anxious to get back and get started again."

What really sets this year apart from so many others though was the very fact that out of the 100 players that showed up for this camp, the first of which lasted three days. The front office and coaching staff had lots to be excited about. And that was the fact that the bulk of last years starting lineup were all returning to practice and learn together.

Quarterback Jeff Garcia was also on hand to signal the start of the season to the season. He has been focused primarily to stay in shape and fine tune the mechanics that allowed him to achieve two consecutive Pro Bowl berths so far in his career.

He has made it known to everyone that anything other than excellence is not tolerated, and he carries that on his sleeve for all to see. He demands it not only of himself but those that surround him as well.

"I think each player realizes where they stand as far as physical conditioning goes," Jeff Garcia said. "Everybody knows where they need to be for this up-coming season. I think, overall, guys have been working extremely hard this off-season. I think guys came in prepared."

"I think we are well ahead of where we were last year." Said Jeff Garcia. "Look at how many starters we have returning. What is it, 20 of our guys are back and then adding two great players in Tony (Parrish) and Ron Stone. That's 22 quality starters back."

The signal of mini-camps outside of the draft is the best reminder of what football is all about in my opinion, you get to dream again as you see and hear the reports over the media wire on each individual player. Sometimes you even get to have a little peek as you stand on the sideline outside of these camps to catch images of the players you covet and adore.


The start of the off-season is always a disappointment in many beliefs, but it is a busy time for all those still involved behind the scenes of the season that was. And the players know and realize that the work hasn't stopped it has only begun in preparation for a new and up-coming season.

The transition is rough for some and smooth for others, regardless it is all necessary that each and every player stay focused on what is most important. And that is to maintain that competitive edge, staying in shape and healing old wounds as things start to get underway for another stellar season full of high expectations.

Every mini-camp has it's missing faces, faces that once adorned the skyline on many mini-camps, and voices that were set apart from the usual vocalized groups that come in. In fact two starters that once wore the red and gold were missing from camp were veteran guard Ray Brown and safety Lance Schulters now a Tennessee Titan. Both these players will be sorely missed one lost due to age and salary, the other due to dollars and a desire to be closer somewhere to home in my opinion and others.

"Well I'm sad to see ray gone," said Garcia. "He did so much for the organization and his will be a tough spot to replace both on the line of scrimmage and in the locker room. But bringing in Stone was a great move. That guy is a player."

"It really was strange," Mariucci says of the two missing faces, each of which was a big part of the 49er's resurgence the previous season. "Those two players were great guys and great players for us. It was strange not to have them around here, hearing their voices and just seeing them, just having their presence around. But it's been like that. We've been without many of our marquee players every April mini-camp. But this one, it's the fewest number of those sorts of guys that we're losing. So we dwell on who's here, and for the most part, we've returned our whole team, with very few exceptions."


Out of the lost comes the hope that the new will prosper and endure. We all believe that the loss of both these players was unavoidable for the most part, I am completely satisfied with the star players that have stepped right into their respected places. Strong Safety Tony Parrish was one of those and he encountered a life threatening drama that unfolded right before these camps were to begin.

San Francisco confirmed late in April that physicians found a lump in Tony's testicle earlier in the week, and the 49er's at the time were mum on the subject concerning his condition. The team concluded though that he would not participate in mini-camp and his future with the team in question.

Parrish, 26, had a MRI done on him in response last year to a groin injury he suffered with the Chicago Bears. The operation went smoothly and the optimism played itself out in true fashion with some help from prayer to the above.

"A week ago today I had a testicle removed after an exploratory MRI found an abnormality," Parrish said at the conclusion of the team's first practice Friday. "The pathology results are back and the tumor is benign."

The news was shocking to say the least, here we had just lost a long negotiations battle with veteran safety Lance Schulters, and all of a sudden the marquee player we had signed to a $12.025 million five-year contract to replace him, had sudden career-ending news regarding his overall health.

Thank God up above that we can all take solace that this was a blessing and a healing all in one. What could have been the very worst suddenly turned into triumph and vindication against one of the ugliest diseases known to man today.

It goes to show you all once again at how serious cancer can be, it sneaks up on you when you least expect it to. Being vigilant in everything you do is so important; knowing your family history is critical as well.

"It's one of those things where if my groin had healed up. I wouldn't have known about the tumor," added Parrish. "I feel very blessed that I was able to have the issue taken care of. I should be back in two weeks with no follow up treatment. No chemo, No radiation."

"We are all relieved for Tony that the test came back negative," said Steve Mariucci. "This is one of those things that are bigger than football and we are grateful for the good news."


What was even more contrasting was the fact that third-year strong safety John Keith was also recovering at the same time when Parrish was wheeled into surgery. Keith underwent a second operation on his left knee December 18th, and said he doesn't expect to participate in team drills until training camp, which is set to open July 20th, in Stockton.

Keith remains a man on the bubble as far as the team is concerned, so much so that the Houston Texans exposed him during the expansion draft. Keith started three games as a rookie before breaking his arm against the Raiders in Week Six.

He injured his knee on the 2001 season-opening kickoff, and after that initial surgery to repair cartilage, he had a Dec. 18th, operation to fix his anterior cruciate ligament. So the future of John Keith remains a big question mark at best.

The news of Tony Parrish did not damper the spirits at mini-camp, especially when the news came back negative. Players and friends looked on with relief that soon enough Tony would be back and playing as his normal self once again. I know I was relieved to find out and thankful that we can move ahead and remain confident that this position is solidified.

Another development that happened was the reshuffling of the offensive line, long a staple and foundation of strength for the team. The addition of Ron Stone brought in changes in the lineup. Stone opened mini-camp at right guard while Dave Fiore moved from that original position to left guard now vacated by Ray Brown. The 49er's wanted to make the change knowing that Stone made his Pro Bowl appearances at that position with the Giants. They also feel that line chemistry will not be effected.


"Dave Fiore has been so versatile for us and you all know that," Mariucci told the media after practice. "He's played all over the map for us and one of our options this year is to play Dave on the left side. We're just looking at the options right now, but it is probably easier for Ron to play on the right side next to his buddy Scott Gragg." Gragg and Stone were teammates with the New York Giants.

The 49er's also made many free agent signings right before camp started, as is expected un-drafted free agents are added so that competition can remain constant and talent unveiled that could in some manner be used as a positive for the team down the road.

Among the signings were defensive tackle Ryan Fletcher out of Hofstra, tight end Michael Hart out of Duke, wide receiver Charon Arnold out of California, defensive end Darryl Sanders out of Virginia and fullback Matt Stanley out of UCLA. Out of all of these it looks like Strong is the most complete because of his versatility, which in essence greatly enhances your stock if you are an un-drafted free agent.

Strong was a one-time tailback and then switched to free safety, he was then moved to the starting weak side linebacker spot in 2001 fall camp. Because of injuries to his teammates, he saw brief time at tailback and in returning kickoffs, overall being unusual roles for a linebacker to say the least.

Overall in 2001 while starting 11 games (he missed only one game with a sprained right knee), he accumulated 60 tackles, including six of them for losses. Thus in case Frank Strong out of Southern California seems to be the headmaster out of this group. He will make a strong pitch to be a part of special teams in my opinion with his remarkable versatility.

Another remarkable find was Oregon State's former tailback in Ken Simonton who went un-drafted in April. His 5,044-yards ranked second on the Pacific-10 Conference's career rushing list. This small 5-foot-7 player known mostly for his out going personality signed a two-year $500,000 contract with San Francisco.

"I wish he could have been drafted," said Cameron Foster, Simonton's agent. "He should have been drafted. But what matters who's playing five years from now, not where you're drafted."

What matters most is that we have him. And I believe he will push Vinny Sutherland for punt returning duties, even more so following his legalities with the law following his arrest. Simonton brings speed and elusiveness to the mix as he also has the size and speed to out match many a defender. The tainted image of Sutherland imposes new problems and thoughts for the 49er organization; simply being denied starter status very well could punish him.

"He really liked the staff. And he grew up a 49er's fan," aid Simonton's father, Ken II. "It was really something I think he wanted to do already. He wasn't too much worried about not being able to make the team. He feels that he can."

Simonton gives the 49er's some options to say the least, he will be a pleasure to have in camp this July and August. The 49er's additionally added three more players right before mini-camp in the forms of linebacker Zack Grady from Louisiana Tech, wide receiver Scott Lipford from Rowan and linebacker Brandon Moore from Oklahoma. All long shots at best to make the roster.

Moore has the edge because he comes from good stock in football heritage. His older brother is wide receiver Rob Moore of the Arizona Cardinals. Moore played for the Oklahoma Sooners and made eight starts in 2001 as the outside linebacker. He went on to finish the season with 36 tackles, including a nine-yard sack, and two fumble recoveries.

Lipford from Rowan University at 5-11, 180-pounds as a wide receiver had very good numbers in his senior year, finishing with 61 receptions for 1,256-yards and 20 touchdowns.


The 6-2, 250-pound Grady started 11 games for Jackson State and finished off the season with 93 tackles, four sacks and one forced fumble. He will have a very minimal impact coming in as a wide receiver that position is already complete.

Wide Receiver Nate Jackson was also signed on to begin mini-camp at the beckoning of Bill Walsh himself. Walsh who attends Menlo College games where Nate is from a former student before that with Cal Poly has kept his eye on this player in the games he has attended and came away with good impressions.

Jackson, a Division III All-American who caught 261 passes for 3,976-yards and 43 touchdowns in three seasons, has a real good shot at being a difference maker. What is even more crucial is the fact that Walsh likes him and has seen some nice qualities in him. But he probably will be lucky to make the practice squad at best.

"It's not a bad deal for me," Jackson said of being picked by the 49er's. I'm obviously excited. I knew I had a couple of good seasons, and I knew I could play on this level. It's perfect. They didn't draft any receivers, which is good for me. They said that I would be given every chance to make the team."

Even against all odds you can bet Jackson will give it his all, the facts speak for themselves and he comes with ringing endorsements from his coaches and even Bill Walsh himself. Jackson stands on the outer edge looking in, it will be all up to him and how he performs throughout the training process that will save him from the first cuts.

Competition is where the arena of players make the call in mini-camps, very good first impressions with the coaching staff is critical to jump on and take advantage of. The same can be said when talking about the quarterback scenario unfolding.

Jeff Garcia is entrenched as the starter as is Tim Rattay with the No. 2 position, it starts to get really cramped though when you look at the third spot once held by now departed veteran Rick Mirer to the Oakland Raiders. Mariucci has made it clear that this position will remain wide open going into both mini and full training camps.

The race begins between Gio Carmazzi, Aaron Garcia and Brandon Doman for the third quarterback position. Aaron Garcia believe it or not is the most promising, because he comes with experience in the form of playing at the Arena League level.

Carmazzi unfortunately has struggled over a two-year extended stay with the 49er's, in the form of injuries. He even now has just finished having shoulder surgery. A lot is riding on Brigham Young University's Brandon Doman as he was chosen in the fifth round of the 2002 NFL draft by the 49er's.

Gio Carmazzi once was thought to be the heir apparent to Jeff Garcia has been nothing but a disappointment since he was drafted. The 49er's have always maintained high hopes for him as he fit the mold of what a true West Coast Offense quarterback looked and performed like.

Carmazzi was sent off to play in NFL Europe last year and hurt his shoulder, spending the rest of the season on the Injured Reserve List. He has seen only limited action, just 19 plays, since being drafted by the 49er's in the 2000 NFL draft.

Carmazzi, a Jesuit High School product who was relying on last summers training camp to make the difference, but the shoulder injury in Europe has eliminated him then and started to eliminate him again.

This spring he resumed throwing and his shoulder felt much better. But soon after several workouts, his shoulder began aching again, and he again had to take a step back. Carmazzi says there is no pain when he throws, but there is afterwards. He has vowed to be an active part of this team in one way or another. The frustrating part is that in reality after a quarterback has shoulder surgery the time of healing varies.

Most do not regain full capacity until after a year of healing, for Carmazzi it has been just nine months. Frustration has set in and us starting to wear on the Hofstra quarterback. And it is unfortunate, because without these varying injuries the status of this tall quarterback very well could be most promising.

"If my arm's healthy, I'm going to be good." Promises Carmazzi, the teams biggest quarterback at 6-3, 225-pounds. "What they've seen until now is unfortunately an injured version. I think I have a lot to show that just hasn't been seen yet. It's a tough situation."

The timetable for Carmazzi's return is very limited, if he doesn't make the grade in this series of mini and training camps he in all likelihood end up being waived from the team. Offensive coordinator Greg Knapp also indicated that the team is anxious to see Carmazzi healthy but time is ticking down.

"The long-term goals are still the same. I want to be a quarterback in this league," Carmazzi said. "But the interim goals have changed. Now, I want to get healthy first, And once I am healthy, then I'll see what my career options are from there."


Meanwhile Aaron Garcia still remains in the picture, and very well could bump Carmazzi out of the lineup. With Brandon Doman being drafted the heat is real that one of these will be cut sometime come August. Garcia has just three months to prove he belongs on the roster.

Can Garcia make the leap from Arena football to the NFL? At age 31 he hopes so, especially since he knows the age factor is working against him now. Garcia is small just 6 feet tall, but he is the most polished with his mechanics. He has done very well in the past two mini-camps. Doman is not necessarily guaranteed a roster spot either, but it's highly unlikely that he will sustain a cut at such an early stage of his development.

"It's frustrating in the sense that this is not an easy system to grasp," said Garcia, who spent seven seasons in the Arena League, eventually taking over for none other than Kurt Warner as quarterback of the Iowa Barnstormers, after leaving Sacramento State. "But if it were easy, everybody would be doing it."

"This is the way it has to be. That's the business. There is such a high level of competition in this league, I expect the organization to bring in players to compete and make each other better. To be honest, maybe teams don't do it enough, especially at the quarterback position."

With four quarterbacks in competition it really hammers home the fact that fielding leaders on the field is a high priority for the 49er's, not only for the present but for the future of the franchise as well. You have to take your hat off to the front office for creating such a competitive atmosphere here, in order to verify qualities and talents that will surface due to the reality that one will pack their bags and leave.

As of now Carmazzi looks like the easy shot out, simply because he is so injury prone and the limited appearances he has been in, have been mediocre at best. The rawness of his mechanics and techniques is still apparent due to his lack of on field repetitions. Garcia has a good chance of being taken becuase he has the playing experience of a limited field that will help him when it comes to the red zone.

"As long as I get a chance to get out there on the field, play in the pre-season and things like that." This being said of Garcia himself. He is determined to keep trying until he gets it right. This is his first NFL tryout for the seven-year pro that even surpassed Kurt Warner's best single-season totals in the Arena League.

The Arena League star has even been compared to Jeff Garcia in the fact that he is so mobile and throws well while on the run. He has the uncanny ability of getting out of trouble and makes things happen while on the field. He threw 104 touchdowns just last season while playing Arena football.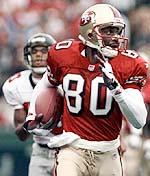 I would like to think that this alone would help make the coaching staff comfortable with going with Aaron. But only time will tell at how well he adjusts to the big time atmosphere of a full-fledged field. And he will have to be cool under enormous pressure from a better corps. Of athletes in the form of NFL personnel.

Even Steve Mariucci though has expressed his interest in Garcia, acknowledging that Aaron really is all he says he is. "It's been proven that gaining experience from the other leagues has been beneficial to making it in the NFL," said Mariucci.

I want to point out at this time that as this article was being written Aaron Garcia was waived by the 49er's, almost in due to the acquisition of former Bear quarterback Cade McNown. The jury will still be out on this one folks.

Back in Santa Clara the weather at the 49er's first mini-camps still did not damper the spirits of the players on that late April weekend. In fact the meetings, conditioning drills and practice continued under extremely wet conditions. The most heart stopping moment of the camp came when wide receiver Terrell Owens collided on the field with a teammate and stayed down on the field motionless for several moments.

He all of a sudden jumped right back up and returned into the practice regimen, he had apparently been kicked accidentally on the way down in the collision. The drama that unfolded brought back instant memories to Steve Mariucci as Owens had suffered an injury before back last season in mini-camp.

"I remember when Terrell Owens went down last year at camp and they took him off on a cart," said Steve Mariucci. "He hurt his ankle, but he came back in the next practice. He's tough as nails. He's fine."

The tandem of Ahmed Plummer and Jason Webster made a great impression at camp as well, both in their third year as young cornerbacks for the 49er's they have made names for themselves especially after last season's 12-4 record. They both shined in drills and were able to cover their receivers with every step taken.

He was seen covering rookie un-drafted wide receiver Brian Haugabrook while he was running a sharp curl route right in front of Webster, he turns and looks for the ball, but he never has a chance. As the ball arrives, Webster comes in diving in a flash almost like his life was on the line and breaks up the play.

The same was observed with Plummer as he was covering Owens almost stride for stride and then Owens breaks with him and turns sharply towards the sideline. As the ball arrives to a momentarily open armed Owens, Plummer pounces right in at the last moment, gets a hand on the ball and bats it away.

The coverage of these two corners will go a long way in our recovery from making it just to the edge of the post-season just last season. The heartbreak that occurred on that day was enormous, so the ordeal will have to be left behind as these two try and make an impact on defense.

I have been impressed with both these corners when they were drafted, I commended the 49er's for putting them right in the fire, well in all honesty they didn't have much of a choice anyway. But the baptism of fire taught both these athletes what reality was in the NFL, they have since made many adjustments and are now seasoned and lethal to any receiver that crosses their paths.


In another development that came a surprise the 49er's brought in a former teammate that entered camp as a guest coach this season. It was former center Chris Dalman that entered camp and brought some insight into the offensive line.

Dalman was forced to retire from the game in 2000 due to a career-ending neck injury. Dalman was a strong fixture on the offensive line for many years, his experience and insight is greatly appreciated from all his teammates. He is expected to be around right through training camp in Stockton.

Running back Paul Smith has been really bulking up as of late and impressing the heck out of the coaching staff with his devastating power between the tackles. He has added on about 10 extra pounds to his 5-11 frame and has been asked to do so because he is expected to be more of a fullback. He did not make a significant mark as expected last season on special teams, so the change was deemed necessary to make that a practical improvement.

It was also made necessary so that he would stand a chance at remaining on the roster, back-up fullback Terry Jackson is being looked at as a possible halfback, creating a slot for Smith as Fred Beasley's back-up. In even worse news 2001 draftee linebacker Alex Lincoln came to the 49er's facility to try and make a comeback only to pack his bags and go back home.

Lincoln missed his rookie season with a critical neck injury, and had many mysterious symptoms that robbed him of all his muscle control at the same time. Lincoln has tried to put the injury behind him and make that step towards rehabilitation. However his efforts have been fruitless as of yet.

"He came in and started to train with the guys, but he started feeling sore again," Mariucci said. "He didn't pass his physical to be at camp and he is just not ready for this."

It looks like Lincoln will face a possibility of retiring from the game completely, even before he ever gets to taste the flavor of the professional ranks. It is so sad to identify with an athlete that wants to do this more than life itself and have to succumb to physical demons that have robbed him of all his strength.

With the close of the first mini-camp in Santa Clara head coach Steve Mariucci stood back and contemplated where his team is right now, he had nothing but smiles and as he came to the conclusion that the team was well ahead of schedule in fitness, endurance and motivation.

Every player has an agenda to fill, and they all came into camp firing on all cylinders. The atmosphere is positive and the energy level is contagious, the results from this camp were near excellent.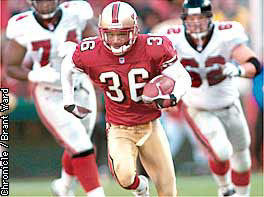 "I met with the rookies yesterday. We had 25 of them at this camp," Mariucci said. "Last year I had close to 60. That means we have more of the same guy's back in the huddle and it showed. It showed in how we practiced out there the last few days."

Certainly one mini-camp is not one to jump the gun and predict that we are on our way to the big game, but it certainly measures the barometer as to what needs to be done to get there. The tool for measurement will come with more camps and of course pre-season play.

"We have to earn that right; we have to prove that we belong there," Mariucci said. "I like what we have done this off-season and I love the group of guys we have. But we are still not a veteran team. We have some veteran guys, but we still have a ways to go."

What brought the mini-camp to it's final conclusion was the all famous 49er beep test, it is an annual 49er endurance test as all the players test their intestinal fortitude in running to the chorus of beeps on a self-imposed monitor.

It was quarterback Jeff Garcia that won the title for the third consecutive time with 120 beeps. Almost as a testament to the team that there leader is once again ready to do the job.

Garcia was the last player left standing at this competition; the only one right behind him believe it or not was fifth round draft pick quarterback Brandon Doman with 119 beeps. The veteran and the rookie quarterback lasted longer than the other 90-or-so players who began the test, which has players jogging to and from cones in 20-yard intervals while keeping pace with a beep that increases incrementally did did.

In my opinion that is a perfect validation in stamping a seal of approval on the leader of this team, Jeff Garcia always shows up in marvelous physical condition and is in excellent mental condition as well. He proves that he feels the need to rise above and prove his willingness to create opportunities whenever the challenge presents itself. I am proud to have him as our quarterback and look forward to his leadership and play on the field.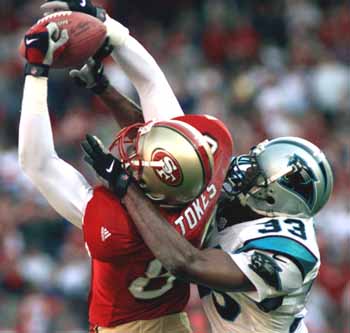 "I think it's kind of expected of me now," says Garcia, who hardly even looks winded after finishing long after many of his teammates had stopped to gasp for air. 'I hung in there and the more we ran I felt like I was staying strong."

"It's kind of my own little thing as far as being prepared and making sure I'm prepared and staying on top of things. I know there are guys knocking at the door who are going to challenge me and are going to be battling for my position. And in every way I can make myself better; whether that's being mentally sharp, or being physically sharp with my arm or being in good cardio (vascular) condition, that's the pride I take in myself."

What can be expected from Jeff Garcia can be said of this entire team, the bar has been raised for this team to go for it at all costs. The realization that the window of opportunity is starting to present itself is real. Every player is needed to play and win this game of champions; mini-camp is where the preview begins.





Fan Press:
Now you can write articles for 49ers Paradise, and read what other fans have to say too in the Fan Press section.