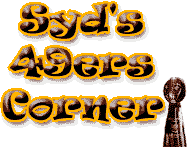 49er's encounter adversity and work diligently at mini-camp. (06/20/02) 1:00 PM


The learning stage is setting in, the scenes at mini-camps are one's of new revelations and new information to read, study and digest. Players try and find the equality of being sound both mentally and physically.

Tweaks in each will have to be identified and corrected. Competition is at the head of the class, jobs are at stake and positions and rankings are previewed as everyone scrambles to be at their very best.

The 49er's returned 20 starters to their lineup after the team lost to Green Bay in January, that in itself was a remarkable feat. And each and every one of them are executing on key with no visible appearances of slowing down.

Some teams are in disarray as they encounter their first mini-camp. But the 49er's are executing almost like the season never really ended, both with crispness and definition.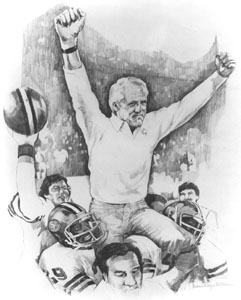 Of the 20 starters we mention most of them are either in their prime or are well on their way to getting there, the depth has significantly improved in several categories. And the two starters that were lost and had gone to the Pro Bowl have been replaced by Pro Bowlers with even better magnitude. This leaves us with a very promising formula.

Questions and concerns still remain, as the future cannot be determined until the present is well taken care of. The front office and coaching staff still have very pressing issues to address and to solve. Competition in camps will somehow play a big part in accomplishing the final picture and piecing the overall puzzle together.

The 49er's still must decide who their kicker is to be, that will in itself be a battle decided with playing time, being in camp and pre-season play. They also must address who their kick return specialist will be? Many questions are still here because of Vinny Sutherland's brush with the law.

They must decide who will join the starters on defense in third down situations, and they must find out if they do in fact require another veteran wide receiver to help put their passing game well out of reach of the others they will face.

They also are still grasping at how to improve their overall pass rush. They have suffered aimlessly here as they have made several additions but experience and motivation have been barriers.

One of the coaches that has a hand in camp and on the sidelines is defensive assistant coach Chris Beake, he basically fell into football at an early age because his father, John, was a coach with the Kansas City Chiefs. New Orleans Saints and later served as the Denver Bronco's general manager for nearly two decades. What is even more whacked is that his brother, Chip, has coached at the collegiate level, in NFL Europe and is presently with the Saints.



Beake has been a follower and a devoted teacher of the game almost at an early age; he really identified with his father since he was a coach himself. He worked for the Bronco's as a ball boy and camp assistant for many years.

He was in fact surrounded by greatness as he worked with leaders like Dan Reeves, Mike Shanahan, Alex Gibbs and Chan Gailey. These were some of the best in the business; he even worked around players such as John Elway and Karl Mecklenberg.

His Air Force career was also very dear to him, as he really wanted to somehow become a pilot. He finished his time at the Academy and his tour of duty at Eglin Air Force Base in Florida.

"I learned a great deal about the game and about the NFL from just watching some of those great guys," Beake said. "It really was a chance to do it all from helping the video guys, to helping the equipment manager and hanging out with the trainers. I picked up quite a bit of football on this level."

Shortly after his tour of duty Beake interviewed for a vacancy in the 49er's personnel department and began working for the team in 1998. In 1999 he joined Mariucci's coaching staff as the defensive quality control coach and now holds the title of defensive assistant. Since then he has proven very valuable with his good advice and knack for coaching.

In another swing for coaches there is Andy Sugarman, who attended the University of California. After realizing how terrible an athlete he really was he decided to try his hand at coaching, just so he could have his hand in the sport he loved most. He was a ball boy for the Golden Bare football team at one time back when he was 12-years old.

In his freshman year at California destiny came knocking, while in his quest for a coaching position his future took a dramatic step forward after he met a young coach by the name of Steve Mariucci.

"It was my first year at California and Steve was in his first year as the wide receivers and special team's coach," Sugarman recalled. 'I helped him with some office work and chased hi around the field. It must have worked."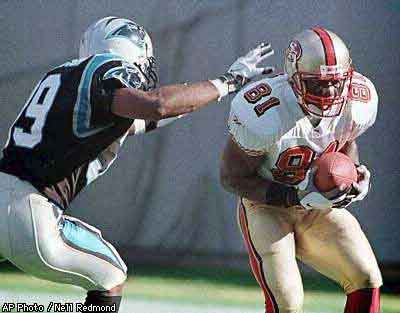 Somehow it all did, his persistence had gotten the best of Mariucci over the years. In 1998 after spending seven years working with the offensive and special teams staffs at California, Sugarman was hired by Mariucci at the 49er's.

"There is no question that being around Steve really inspired me to be a part of the profession," said Sugarman. "I guess you could say that he was my mentor."

It goes to show you how someone with extraordinary drive and compassion for the game can be rewarded. Coaching is everything to Sugarman; Mariucci realizing this granted him the opportunity to fulfill that promise to him and picked up a valuable assistant at the same time.

His role with the team is wide ranged. He handles computer operations (game planning), the self-scout, and tendencies of the opposition and also helps on field with tight ends and special teams.

I'm in a support role. My involvement is with game preparation and all the behind the scenes work," say's Sugarman. "The exciting part of my job is working with Tom Batta and Bruce Dehaven."

As with all coaches the time spent with family is far and few in between, he works long hours-spending 14-15 hour days and even more during the long NFL season. A season that seems short in my book but grueling and tedious to coaches. Sugarman though being the admirer of the sport wouldn't have it any other way.

"I love it, I love what I do," he said. "I hope to continue my growth as a coach. I love working for Steve and I enjoy being a part of the 49er's." My answer to this statement is who wouldn't? I mean I would give my left arm to have what he does each and every day to be in the mix and have access to the greatest football organization in the world. I would be there hands down.

Sugarman is yet another piece to our success as a football team; all of our assistant coaches play a vital role in mini-camp and training camp. Sugarman is no different from that, and most of all I find it necessary to mention these highlighted few because of their roles and the what really lies behind the scenes to the players themselves. Sound quality coaching is what it is; it makes the difference between winning and losing.

Coaching plays the most fundamental part in developing a football team as anyone would suffice, the everyday grueling hours and routines take an enormous amount of discipline and patience. In other words you have to love what you do to do this line of work. Many people take this part of the team roster for granted almost expecting the coach to do miracle things with his personnel.


That works only to a limited degree as that aspect of coaching relies on the personnel and the talent that he is dealt with. It is what he does with that talent that makes the difference. As much as the NFL has adopted a win now philosophy the principles and timetables for an athlete to develop have not changed all that much.

Rookies still must go through their bumps and bruises before being competitive; some are just thrown in there at earlier stages. Which in some instances can be counter productive or just plain good learning experiences.

Special teams coach Bruce DeHaven happens to be one of those coaches, he is a coach that comes from the old school of thought in terms of earning an honest days living. He was brought up on a farm in rural Kansas and he developed a work ethic that is second to none. If you want something his motto was that you go out there and earn it.

He actually lived on a farm where his closest neighbor was about two miles away. The remoteness of his life on that farm brought the one sport that was most popular at the time to him being baseball. He would always try and get his chores done on time so that he could listen to a game on the radio back in the 50's and 60's.

DeHaven eventually became a coach at the junior high school level, and then was a teacher at the same time. His passion suddenly grew stronger as coaching fed his ego to a point where that is all he wanted to do. Bruce found a love of the game and a knack for getting the most out of his young players.

"I taught history to seventh and eighth graders and coached football," DeHaven said. "They all listened the first half of the year and believed just about everything I said. But by the end of the year, they weren't having any of it."

Out of the nine years he had invested in teaching, DeHaven believes it was simply a foundation to build upon for his coaching career. Coaching in his eyes is simply another form of teaching. And with that notion I have to agree with that. So much that is taught inside a classroom can still be implied upon a playing field in any given sport.

"Oddly enough one of the people that had the biggest influence on my career was John Wooden," DeHaven believes that coaching is just another form of teaching and he learned some of his principles from one of the greatest teachers, and coaches, of all time. "And coaching to me is just really teaching. It may look glamorous to be down on the sideline, but we really are just teachers and the stadium is the classroom. Much of what I teach is based on Coach Wooden's philosophy."

Out of his 16 years of service in coaching in the NFL, eight years were invested in high school, four years in college and three were spent in the now defunct USFL. Another person he attributes a great deal of his success upon is former boss and educator Marv Levy, he along with Wooden's teachings have transformed Bruce into a very effective coach at the professional level.

Bruce is well seasoned in the dynamics of football; he has 32-years in at all levels and is a lot wiser from his many experiences. He has never tired from it though and would tell you so if you asked him. Slowing down or taking it easy is not in his vocabulary, he even admits today that there is still so much yet to learn. His positive attitude has allowed him to be more than just comfortable in all that he does.


"Experience is the best teacher of them all, as long as you learn from your mistakes," DeHaven said. "I've found that you learn more from all your failures than you do from your successes. And if you ever feel like you've got it made and have all the answers, you're probably headed in the wrong direction."

One thing I can attest to is the hard work that DeHaven has put in with the 49er's, our special teams units have improved since his arrival. However there are still enormous amounts of room for improvement. I hope that with newly infused talent he will be in a better predicament and that the personnel he has since his appointment is well rounded in experience that this year will be the best one of them all.

With the spring of mini-camps also comes important news with the selections of former 49er alumni in Ronnie Lott and Terry Beasley to the 2002 College Football Hall of Fame Division I-A Class. Thirteen players and two coaches entered the college's most enshrined honor of them all located in South Bend, Indiana.

In my opinion these players epitomize what being a 49er is all about, they define what it is to be a champion. It is through these athletes that we were able to become what we are today. We carry a championship flavor with us wherever we may go; when we wear our colors or simply put on a hat with 49er insignia the vivid appearance speaks respect.

Ronnie was a fierce hitter with an eye for interceptions; Lott is one of the greatest players in football history ever to roam the defensive backfield. Lott, was a standout safety at USC, won four Super Bowls and was selected to 10 Pro Bowls with the 49er's from 1981-90. He was consensus All-America and All-Pac 10 selection as a junior and senior, posting 250 tackles and 14 interceptions during his four-year career there.

Beasley was regarded as one of the best split-ends of all time; Beasley broke numerous Auburn University and Southeastern Conference records despite playing only three years. Beasley played college ball at Auburn from 1969-71 and was with the 49er's from 1972-75. He was a consensus All-America selection in 1971 after a three-year career where he set SEC records with 143 receptions for 2,507-yards and 29 touchdowns.

Both of these players in order to receive this type of recognition had to receive All-America credentials plus prove himself worthy as a citizen, and carrying the ideals of football forward into his relations with his community and his fellow man with love of his country. I could think of no others more in kind to receive such dignity and honor.

The Month of May spelled some more interest for the 49er's this time in a negative light, as 49er's return specialist Vinny Sutherland was charged one Saturday. With felony hit-and-run and driving under the influence after leaving the scene of a single-car accident in Saratoga, a Santa Clara County Sheriff's spokesman said.

Sutherland the promising kick return specialist with the 49er's last season made an error that will cost him in more ways than one. He was driving on Highway 9 at approximately 3 a.m. when he crashed his vehicle into two light posts and a tree, the spokesman said. Sutherland, the driver, had two passengers inside his car; 49er rookie draft picks safety Kevin Curtis and defensive tackle Josh Shaw.

What happened next was a certain indication of fear and having lost his senses because of the alcohol. He made a decision that would cost him his reputation and his sense of self worth in front of his teammates. He made a foolish decision to drive anyways while under the influence to begin with, and the same can be said of the rookies that did not try and stop him.

"Shaw stayed near the vehicle," Deputy Terrance Helm said. "He was hurt but said he'd live. Vinny and the other passenger took off."

Josh Shaw who is only 22-years old was treated for a cut at a local hospital and released. About an hour after, Sutherland was taken into custody about a mile away from the accident site. Around 4 a.m., sheriffs received a call about possible prowlers in the area and responded to find Sutherland and Curtis hiding in the bushes. Sutherland was released on bail and Curtis was not charged.

Sutherland in all honesty was the closest thing we have had to a viable return specialist in some time. The second-year player out of Purdue averaged 22.8-yards on 50 kickoff returns and 7.0-yards on 21 punt returns. In fact he had just signed a non-guaranteed contract of one-year, with the 49er's for $300,000.

In all the charges Sutherland was charged with driving under the influence, he was also cited for damage to city property in the felony hit-and-run. What was even more surprising was the fact that Sutherland was wanted at 24-years old for violating probation in San Mateo County because he failed to sign up for an alcohol-rehabilitation program after police cited him with driving under the influence in September, according to viable published reports. According to Department of Motor Vehicles records, his driver's license had been suspended since October.


The news of the accident ricocheted off the front office walls in Santa Clara and general manager Terry Donahue was forced to make a statement at that time. The proximity of the accident made it even more unpleasant. The fact that it marked and identified one of our very own was even more disturbing, but at the same time we understand that humanity comes in all sizes and makes.

"We are very thankful that no one was seriously hurt," Donahue said. "We have been in contact with the Santa Clara County Sheriffs Department and will continue to communicate with them. Vinny has been charged, and due to legal issues involved, we will not be able to comment any further."

Sutherland was being relied upon to make even a better transition this season, with a season under his belt we all expected him to be a more well rounded and responsible player. The special teams units have been in dire need of someone that can breakout of the pro-longed slump the team has been in, especially in this area.

Sutherland appeared in 15 games for the 49er's last season and returned 49 kickoffs for 1,121-yards. He also returned 19 punts for 144-yards during his rookie season. What started Sutherland off in his alcohol-related violations was his first brush with the law on September 14th; his license was suspended as he was driving under the influence and reckless driving to boot. In December, prosecutors dropped the DUI charge when Sutherland pleaded guilty to reckless driving. He was sentenced to two-year probation.

The judge then ordered him to sign up for an alcohol rehabilitation program by March 13th, but that did not happen, which violated his probation. He now faces a $7,500 bench warrant for his arrest. The drinking problem is apparent, as he has had his second run in with the law.

Sutherland was excused from practice sessions because of his violations and to get his personal life back in order. Sutherland went on to make the following statement: "I apologize for the mistakes I have made, I recognize that I have had some problems and will take every step necessary to rectify those problems."

What happened next was even more mind wrecking when Napa County Sheriffs arrested 49er's center Jeremy Newberry fro allegedly punching a woman in the face at Lake Berryessa. The sheriffs department said that marine patrol officers responded at about 3:30 p.m. to the area of the Pope Street Bridge on Lake Berryessa and found a 23-year old vacationing San Diego woman who had been beaten.

The woman made a bold statement as implying that she had been assaulted by Newberry, 26, who lives in Discovery Bay in eastern Contra Costa County, and by his sister Jennifer Newberry, 27, of Antioch. The officers located both of the Newberry's and booked them both on battery charges.

"My sister smacked the girl in the face. I was standing next to her, so they put me in the mix," Newberry said by phone from his Discovery Bay home. "I didn't get near the broad, so I'm worried about the legal issue of it."


The victim, whom deputies did not identify, sustained injuries to her face, nose, back and arm, and she was taken to a nearby medical facility for treatment, the release does state. Newberry said neither he nor his sister knew the victim.

The altercation came about in a weird manner of sorts; the victim's boyfriend untied Newberry's boat from a string of 15 or 16 boats tied together off shore. Evidently the Newberry's came up on that incident and had some choice few words with the boyfriend involved in the untying of the boats.

"She didn't like the way I was talking to her boyfriend," Newberry said. "Then she slapped me in the side of the head. My sister said, 'What are you doing putting your hands on my brother?' And then (Jennifer) smacked her. I wouldn't hit a woman anyway."

All of this before a passing camp that was to take place for three days at Santa Clara headquarters. Head Coach Steve Mariucci was embroiled in a situation he wishes he wasn't. He realized that damage control would have to be played out and he did just that. Newberry and Sutherland despite their arrests made appearances at the practice facility to turn in an effort.

What really comes to light in matters like these is the fragile line that athletes must stay on, being in the limelight and looked up to as a figure of honesty and respectability is hard to do, even for a professional football player.

"We do have a young team, certainly," Mariucci said. "There's a learning curve and a learning process that will go on, whether we're talking about football, whether we're talking about being a 49er and handling then pressures that go with this, handling being in a fish bowl, living in the public eye."

"All of our players, whether they're veterans or young guys, need to deal with that constantly, throughout their careers, after their careers, and choose to do the right thing when they have a decision to make."

"As an organization, we're certainly disappointed that you have any of these situations arise," Donahue said. "We're going to deal with them and hopefully everybody will learn from them and we'll be stronger for having gone through them. But they're a couple of unfortunate, isolated incidents; we feel we have good guys on our team."

One bright aspect from these two troubled athletes is that they continue to work hard and are devoted to being at practice as expected. The reality that they are human and can become embittered and make mistakes, as they grow older is always present in their lives, just as it is with everyday folks like you and I.

The 49er's in May again focused on the possibility of strengthening their long time foundation in the offensive line. Free agent offensive tackle Blake Brockermeyer was a serious contender for that position.

The talk at the time was to move Derrick Deese the incumbent starter over to left guard so that Brockermeyer could stand in at left tackle. In connection with newly signed right guard Ron Stone that would put Dave Fiore out as the top back up to both.

The questions that came with him though were apparently the noose around the neck that ended the interest. The Chicago Bears released Brockermeyer in April because he was going to count almost $4 million against their 2002 salary cap. He has a bad shoulder and a bum knee. He's already had surgery on both this year. And will not even be considered to play until August.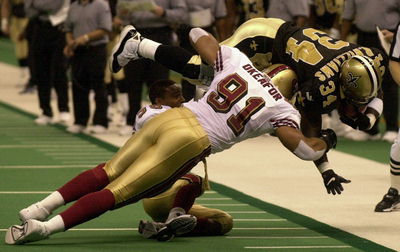 General Manager Terry Donahue deserves credit for covering all the bases, if ever there was any doubt about his talent and ability to run this franchise, he has answered that call over and over again.

He has been very careful to hold a tight rein on all spending and at the same time pick up the best athlete for the right price. Pro Bowlers in Tony Parrish and Ron Stone speak fro themselves. Brockermeyer just didn't fit that profile for some reason.

"We have a structure that we're in and a structure that I want to stay within," Donahue said. "We kind of set our structure as to what we want to get accomplished, where we're at in terms of range, and if it works out, great, and if it doesn't, we keep moving."

As The May mini-camp convened so did the interest in more free agents. The 49er's were relieved to have their starting strong safety back in uniform and in camp. Tony Parrish practiced in camp for the very first time. Blake Brockermeyer was brought in at the same time for a second look as well. Vinny Sutherland made a public statement as well in response to his accident and arrest.

Parrish as you know as out an extended amount of time because he had surgery to remove a testicle. He discovered a tumor there while under going a MRI exam on his troublesome groin area, a condition known as osteitis pubis, which irritated him during his final season. "The groin is doing well," added Parrish. "I'm trying to get some work in without aggravating it."

"I feel good all the way around," Parrish said after completing his first practice with the team. "I'm in better shape than I thought and now it's a matter of getting myself where I need to be and getting used to the new terminology here."

The relief on everyone's face was infectious as Steve Mariucci acknowledged that he too was feeling confident that Parrish was recovering well. Parrish is expected to fill the void left by departed free agent safety Lance Schulters.

"He's a great guy and is going to be a big part of our team this year," said Mariucci. "Obviously he was very anxious to get out here and join his teammates. O kept telling him to slow down, take it easy and not overdue it."

Big Jim Flanigan carries a reputation, and with that he carries a friendship with once fellow teammate defensive tackle Bryant Young. The former Chicago Bear and Green Bay Packer was a college teammate of Young's at Notre Dame. He was a six-year starter in Chicago, where he had 11 sacks in 1995 and 8.5 in 1998. Flanigan played in Green Bay last year, where he had 40 tackles and 4.5 sacks whole in rotation with starting tackles Santana Dotson and Gilbert Brown.

I must say I was thrilled when I heard the news of Jim Flanigan getting consideration, mostly from a standpoint that I believe that the defensive tackle position lacks production and competition outside the starting duo of Young and Stubblefield. Flanigan will bring a nasty attitude to this position and help refresh it when it needs to be.

Counting on Reggie McGrew who by the way is showing marginal improvement, is still not the answer, Flanigan would in fact push for that coveted back-up position that really has been vacated far too long. Someone needs to step up here and Flanigan provides that veteran edge and insurance.

"A third guy swinging in there and playing as much as a starter," Flanigan said. "I'd push as hard as I could in training camp. The way the NFL goes nowadays, you need three or four defensive tackles to make it through a game and keep everybody fresh. I think that's kind of what my role would be."

The current roster has McGrew and John Sclecht behind starting duo Dana Stubblefield and Bryant Young. But they also have free agent signed Sean Moran who can also play tackle from end and rookie tackle Josh Shaw is expected to play by August.

The 49er's after careful consideration signed Flanigan to a two-year deal that could be worth as much as $2 million if he reaches performance incentives. He received a $100,000 signing bonus and will still have a base salary of $650,000 that could go as high as $1 million with incentives. The deal was smart and it was sweet.

A Passing Camp was opened on May 29th, at Santa Clara headquarters and the stars were shining as Terrell Owens, Jeff Garcia and Garrison Hearst all participated at the camp. This camp was to focus primarily on the 49er aerial attack and to fine tune that aspect of the offense.

The 49er's were breathing a sigh of relief after Owens had just returned from a venture with the United States Basketball League. The focus of this camp has been the passing attack and it's protection.

"We have different schedules for the big guys and the little guys this week," said Steve Mariucci. "The linemen spend a lot of time working on pass rush, pass protection, things like that. But this camp isn't anything new. We've done it for a few years now."

The Terrell Owens venture with the USBL has been nothing but frustration for the 49er's, as it positions its star player in harms way on a continuous schedule. The likelihood of injury is compounded with playing such a competitive sport. The questions have arisen as to whether this should be tolerated or even allowed. Should he injury himself away from pro football clauses in his contract would be voided.


I must confess that I have a hard time supporting his venture into basketball regardless if it has been his dream. Once you sign on with a team in professional football all energies should be concentrated with that particular profession. Anything other than shooting a game of one on one hoop for physical fitness should be avoided.

"He told me that he enjoyed his experience, met some good guys, and had some fun. Played some basketball," Mariucci said of Owens. "He seems to be in real good shape. He seemed to be having fun here today, back with his teammates, practicing. He's been a busy guy. He used his month of basketball as a form of conditioning and had a little bit of fun at a sport he enjoys. He made it through healthy. That was obviously our concern. He's certainly healthy. He had a good practice today."

Meanwhile back in camp the 49er's continued to make great progress on all fronts, competition at the quarterback position was intense. The passing camp proved to be a success and the drills and practice proved beneficial to all those involved. The attitude around camp is a one of great expectation and remembering what was just last season.

When you weigh all that is accomplished and what we have now, you have to believe that this team is back on the winning street it left not too long ago. Mini-Camps is a place where players test their abilities and remember the soreness of the battlefield to come. I hope that from this camp to the next the idea of success is defined from one player to another, because jobs are on the line.





Fan Press:
Now you can write articles for 49ers Paradise, and read what other fans have to say too in the Fan Press section.