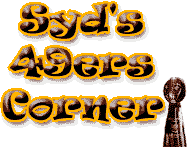 49ers are top guns in their division. (10/31/02) 7:00 PM


In a sudden twist after their loss in the Super Dome in New Orleans, the San Francisco 49ers elevated their play at Candlestick to successfully defeat the Arizona Cardinals.

This game had similar references to the one played against the Saints at least defensively. The offense made a statement in this game in more ways than one.

Moving ahead to take the lead in the division became a focus that the 49ers knew had to be fulfilled, regardless of injuries and fear of turnovers.


Looking back to New Orleans the references I am referring to include our inability to stop the third down conversions. Leading 24-13 in the fourth quarter, the 49ers gave up 22 points, 13 of them following costly turnovers that allowed the Saints to score two touchdowns on as little as 59-yards of offense.

On top of that the Saints faced third down situations 14 times. Of those they converted 10 of them. In rough terms that is a 71% success rate in conversions on 14 of the most important plays in the game.

And understand this on three of the four failed conversions, the Saints still scored on three John Carney field goals.

The inability of the 49er defense has become an enigma to behold. Why are they unable to withstand a four-quarter onslaught and remain crisp late into the game?

What really is a concern is the longevity of our team, in most cases we have been able to go the distance with almost anyone in the league. But in the last few games against the Seahawks, Saints and Cardinals we are sitting and shaking our heads as to where our defense is in the second half of every game.

The Saints run a high-octane offense under Aaron Brooks. He surgically sliced through our secondary for 254-yards and three touchdowns. Of all those yards, 112 of them came on converted third downs at that.


Along with the defensive miscue's came the offensive one's in the form of turnovers in the fourth quarter. Running back Kevan Barlow lost his first fumble in his two-year career as a 49er.

Saints defensive lineman Darren Howard right at the end of a six-yard run stripped his carry. The ball was recovered at the 49er 22-yard line by safety Sammy Knight, which allowed the Saints to retake the lead two-plays later.

Barlow being the competitor that he is took the fumble very hard. His expectations are very high being a second-year back making a name for him. The ugliness of it all carried a heavy weight on his shoulders. He accomplished 208-touches so far without fumbling away a ball. But that just didn't matter at all, what mattered to Barlow was this play and this play only.

"Clearly, one play never decides a game," Donahue said. "Kids that make errors tend to be too critical of them. That one fumble didn't cost us the game. Was it more costly than the interception that Jeff (Garcia) threw? Or was it more costly than the (51)-yard kickoff return we gave them? Or was it more costly than the 35 points the defense gave up? And the answer is no."


Shortly after Barlow's fumble and the saints scoring, Jeff Garcia threw a pass intended for Tai Streets that was intercepted by cornerback Ken Irvin, which gave the Saints possession at the San Francisco 37 with only 11:14 to play.

Jeff made no excuses for his failed timing decision; in fact he probably would repeat the same scenario under the circumstances.

"There was still a lot of time left in the game," Garcia said. "I felt good about our offense and how we moved the ball. We just needed to go out and make plays. Here comes the second play of the drive, and their corner stepped up and made a great play."

"He just drove on the route and he did a great job of sitting underneath on the route and I was a little late on the throw. Timing is everything when you make decisions."

The big twist came when Mariucci was forced to make a decision with just 1:56 remaining in the game. The 49ers elected to decline a penalty that was against the Saints having 12 men on the field.

It was a call that went against every fiber in Mariucci's mindset. Time was of the essence, so they allowed Aaron Brooks to score a touchdown from one-yard out just to get the ball back into our hands.

When you analyze that call it made sense that pushing the Saints back five-yards on a first down would only grind out more clocks. Saving time was the most valuable commodity at this point.

The Saints up to this point were leading 28-27, and even if they held them to a field goal, the Saints still could have run the clock out. I thought Mariucci did what he had to do.


"It's hard to do," Mariucci said of his decision to decline a penalty. "Otherwise, we're not getting the ball back. After the penalty, they're getting a new set of downs. So we might get the ball back with just a few seconds left, and that's not going to cut it. We needed to get the ball back."

Regardless of the last ditch call, we lost this game after a heroic drive led by Jeff Garcia down the field into Saint territory with Barlow stepping out of bounds and time expiring. This loss was a hard one to swallow, but I felt we played a team with the caliber of a playoff contender.

This was a team that we could very well see come post season. And if anything is learned from this contest it is past experience. That is what we reaped from this, knowledge to carry us into victory next time.

Another not so funny incident happened with just 40 seconds left to play in the game, an intoxicated fan wielding a sharpie pen ran out on the field and attempted to sign 49er center Jeremy Newberry's jersey. The incident brought to full light the jeopardy these players can be in at any moment in time.

With terrorist news all over the planet and people dying in innocent pools of blood each and every day it makes you wonder just how safe mass public gatherings such as in a stadium really are.

Newberry in all honesty could have been seriously harmed, what is even more disgusting is the Saint in Darren Howard that went to the intoxicated fan's defense.

Regardless of fan affiliation, Newberry could have been hurt and this is what mattered most, Darren Howard in my view is both careless and clueless in his comments.


"I thought it was an official or somebody checking my jersey," Newberry said. "I realized it was just some drunken idiot when I smelled his breath. He was trying to say something. That's when I grabbed his arm and pushed him away from me."

The 50-year old fan was Otis F. Henry of New Orleans. Thanks to 49er security guard Mike Lupient the fan was tackled and led away to the nearest jail cell.

As much as temptation strikes for a fan to step out on a field, the mix with alcohol makes that even more of a dare when the urge strikes. Safety for our players must be the top priority at all times.

Finally when you look at the positives from this game, the 49ers had their best offensive breakout on the season. They put out 418 total yards in offense. They also averaged 5.7-yards rushing, with Garrison Hearst gaining 87-yards and two touchdowns on as little as 14 carries.

Jeff Garcia threw for a season-high 275-yards completing 23-of-39 passes attempted. It was the interception that made all else fall flat.

In a not so surprising development over J.J. Stokes injury, Tai Streets has come full circle into his won as a receiver. Streets came out of the Saints battle with six receptions for 80 total yards.

This was the first time since Jerry Rice's final appearance, in Denver in 2000, that another wide receiver had more catches and yards in a game other than Owens, this is a span covering 22 games. This is a mind blowing statistic folk, 22 games!


This bears fruit more than ever that Tai Street is the legitimate second receiver opposite Terrell Owens. Certainly Stokes is far different from Streets in a lot of categories, but it is Streets acute awareness of the timing routes and his ability to cause separation from one-on-one coverage that makes the difference.

"I'm not surprised," 49ers cornerback Jason Webster said. "Tai has that deceptive speed, he runs solid routes, and I don't know of other teams knew that he could do what he's doing because really they hadn't seen him that much. We knew because we'd seen him every day."

In more encouraging news Terrell Owens indicated for the very first time, that he's considering staying a 49er for life. He made public the notion as he was interviewed by Sporting News Magazine I was impressed at the thought of Owens actually considering it.

It was well known since last season that he wanted out after his contract runs out in 2003. I have seen Terrell make enormous concessions in regards to being more team oriented and opening the lines of communication with management.

"If they see fit for me to be here, then I will be here," Owens told The Sporting News. "I want to be here as much as they want me here. Yeah, I wanted out of here. But things change from year to year, and I am subject to having a change of heart. I think it has been a lack of communication, even between the owner and me." "I feel more wanted. Otherwise, why would I want to be here?"

Whatever the case, the need to resign Terrell will become a focal point after the season is over. We need to take this quote seriously now and make acknowledgement that we care to hear even more lately.

I know that Terry Donahue was encouraged with the positive statement that Owens proclaimed with deep meaning.


"This encourages me. He is clearly a dominant player in the league and clearly on top of the receiving corps. In the league today that is. We would like to have him long-term if we were able to get to that point. If we can, we would like him to finish here."

The case of Owens versus the world is an old one. The fact that he makes every effort to have fun and to be so competitive is a testament in itself. He cares what happens to this team, and he always wants to make a difference when he can.

Selfishness has made way to self-improvement as even his demeanor with fans has made strides in the right direction.

Right before the Arizona game during practice sessions in Santa Clara at team headquarters tight end Eric Johnson began to complain about soreness and tightness in his back. Having undergone a MRI examination it revealed "a little disc bulge and some muscle spasms" in his lower back, 49ers coach Steve Mariucci said.

The injury list an extensive one so far for the 49ers, once again took an another big hit with Johnson added to that list. Injuries to linebackers Saleem Rasheed and Jamie Winborn forced the 49ers to resign Cornelius Anthony who did not make the final roster cuts back in August.

He finished in the pre-season with team-high eight special teams' stops and nine tackles form his linebacker position.

Jeff Garcia has turned to the shotgun formation as of late and he is having great success with it. This formation was almost voodoo back years ago under Joe Montana and Steve Young.

But with defenses finding more creative ways in getting to the quarterback the formation has finally dawned here with the San Francisco 49ers in full form.


"It's becoming more of a part of the offense, especially with Jeremy now snapping with his right hand," Garcia said. "I'm very comfortable using it. It's not like we're trying to hide anything. It gets me away from the center faster. So if it's something we can use in a positive way, I'm going to use it."

Since the shotgun formation has been implemented this season Garcia has yet to be sacked. He has been incredibly accurate while using it and it allows him to move the offense down the field faster in tight time situations, much like the remaining seconds in the New Orleans game.

As the 49ers prepared for the Arizona Cardinals, the Cardinals under head coach Dave McGinnis were again counting on their defense to make the grade as it has done all season. Achieving a (4-2) record and tying up with the 49er after their loss in New Orleans had them on a new high.

"That's where we expected to be," he says of playing for first place at San Francisco. "Your playing for first place, you're playing to get there and win it all. I'm not playing for evens and I'm not playing to see who can get the best marble. I'm playing to win games. It's what I envisioned."

Arizona has been famous so far this season in not allowing a running back to achieve a 20-yard run or more, and they have severely limited their opponents in scoring as well.

They have done it with younger players believing in one another and suddenly coming together as a unit and executing.

"Defensively, it's not a team where you have a whole bunch of superstars. I think there's great individual talent, but they also play well as a team," said Jeff Garcia.

"I think anytime you have a team that rallies to the ball and aggressively comes up and plays around the football, they're good tacklers, they know their roles and they just do a good job playing within those schemes."


What we knew going into this game was to try and fix the troubles we had from last week. Fix the defense on third down conversion ratios. Get the running game going and test the Cardinal line.

Create opportunities for the passing game to exploit their weak secondary. And show some improvement on special team coverage and kickoff returns.

Game #7 (Win) 49ers over Cardinals 38-28

"When these guys have an opportunity to step in and have a chance to play, it's important they take advantage of it," Garcia said. "We've had to rely on some backups to step up, and Ronnie Heard definitely stepped up big in crucial times."

"Tai Streets has been getting the opportunity to be an every-down receiver, and he's definitely taken advantage of that. And that's what it comes down to. You're on this team because you have the potential to be a playmaker, and when you get that opportunity, you have to be ready."

If anything is more truthful than this please let me know, this was a game where the backups really had to step up and did in this contest for first place in our division.

They had to because of the mounting injuries that have decimated the team over the past eight weeks. Injuries that have proved costly in terms of field position, stopping our opponents and being able to convert points into victories.

This was a game that broke all that down and proved that it could be done with some ingenuity and great planning.


The start of the first quarter began with a delay of game on the 49ers on the kickoff, Jose Cortez kicked the ball to Cardinal wide receiver MarTay Jenkins, for 61-yards he returned it 22-yards to the Arizona 36-yard line.

Here is where Arizona quarterback Jake Plummer took up with his offense, on the first play of the game he fell victim to 49er defensive end Andre Carter for a sack that caused Plummer to fumble the ball.

Dana Stubblefield recovered the ball at the Cardinal 33-yard line. Already I am tortured with excitement in seeing this first play, already I believed the door was thrown wide open for us to walk away with this.

With the fumble recovery Jeff Garcia took up house deep in Cardinal territory. Garrison Hearst caught a three-yard pass with his sore hamstring still in tact.

Another pass to Cedrick Wilson fell incomplete, while Hearst repeated with another three yards.


Reaching fourth down-and-four the 49ers decided it was best to try the field goal with Cortez kicking a 45-yarder on four plays and six yards to make the score 3-0 49ers.

Cortez kicked off to Jenkins again, but this time he returned this one 36-yards to the Arizona 36-yard line.

Once again the apparent lack of a quality coverage unit was all too real, special teams would be the culprits for a lot of our demise in coverage.

Plummer on this next drive would use second-year running back Thomas Jones out of Virginia twice for a total of five yards. On the next play a pass to David Boston would fall incomplete, resulting in a fourth down and a need to punt.

Arizona punter Scott Player kicks for 32-yards to the 49er 27-yard line where cornerback Jimmy Williams makes a fair catch. Here Jeff Garcia set up camp, with Kevan Barlow gaining five yards and a pass to Tai Streets gains another 15.

This was a great catch by Streets in my opinion and just further epitomized the need to keep this underrated athlete on the field.


With the first down in hand, Jeff used Barlow on three plays that netted 22-yards between the run and pass. He then hit Owens for 12 more yards and threw a couple of incomplete passes to Streets and Justin Swift.

Going into a third-and-ten he chose to use the shotgun formation, where he found Terrell Owens for a wonderful 21-yard touchdown pass.

This was a well-executed play and Owens once again was the playmaker with the smile from ear to ear.

The Jose Cortez extra point was good and on nine plays and 73-yards the 49ers took the lead 10-0, in the first quarter. Cortez kicked the ball to Jenkins who returned it 16-yards to the Arizona 22-yard line. Here Plummer would try and get them jump started again.

With his first play Plummer found new tight end Freddie Jones for eight yards and Thomas Jones would get five more yards on the next two plays. Plummer frustrated the running game had been contained went back to throw.

In a pass intended for David Boston none other intercepted it than fill in free safety Ronnie Heard.


Heard returned the interception 17-yards down to the 49er 49-yard line where he ran out of bounds. Here Hearst would run up the gut for four more yards and then fail to catch a pass.

Going into shotgun mode Garcia found Tai Streets that became a 47-yard touchdown after running it in from the Arizona 22-yard line.

Cortez's extra point was good and the 49ers on three plays and 51-yards extended their lead in the first quarter by 17-0. Cortez kicked to Jenkins for 69-yards where he returned it for 31-yards to the Arizona 32-yard line.

Here late in the first quarter Plummer used Thomas Jones to move the ball but only achieved a total of eight yards, with an incomplete pass then to Frank Sanders they were forced to punt again using Scott Player.

On the punt Jimmy Williams had a nice return for 40-yards where he was run out of bounds at the Arizona 43-yard line.

This was a return that was long overdue, where Williams has been suffering a dramatic decline over the past few weeks.


With 2:24 left in the quarter Garcia used Barlow on runs combining for 18-yards, and an incomplete pass to Beasley. With a timeout called by the 49ers with just 59 seconds left Hearst and Barlow combined for runs that totaled 15-yards.

On third-and-eight a pass to Wilson fell incomplete but a defensive holding penalty on Arizona gave us new life.

On the Arizona five yard line the ball was handed off to Barlow for a nice running touchdown, the extra point was good and on seven plays and 43-yards and the assist from the penalty the 49ers led 24-0. This demoralized the Cardinals a little but they remained determined to make a stand.

Cortez kicked the ball in the second quarter to Jenkins who then returned it 29-yards to the Arizona 32-yard line. Here is where the Cardinals knew that momentum had swung clearly the 49er way.

It was here that Plummer knew that scoring was the top priority as he ran out of bounds after finding no one for 11-yards.

But on this play the Cardinals were called for offensive holding which sent them back. Plummer then went into attack mode and found running back Marcel Shipp for 15-yards and David Boston for ten more.

A severe penalty on Bryant Young for roughing the passer assisted the Cardinals for 15 more yards.


At the 49er 38-yard line they went to work. It was Shipp that got hit by linebacker Jeff Ulbrich for a loss of four yards.

This was a wonderful play, as Ulbrich remains silent but deadly when he is least expected. Shipp came right back though for a 13-yard run and another for no gain.

On the 49er seven-yard line Marcel Shipp was handed the ball from Plummer and seeing a seam exploited it for a seven-yard touchdown. With the Bill Gramatica extra point good on eight plays, 68-yards and one penalty the score now was 24-7 49ers.

Gramatica then kicked the ball 61-yards to the 49er nine-yard line after it went out of bounds, thus putting the 49ers at their 40-yard line.

This turned out to be a shot in the arm for the Cardinals as they sought to tighten down the lid that they had allowed for us to explode out of. Jeff would find a determined defense on the next drive of this game.

With a run and a pass for minus Two-Yard Jeff finally found Hearst for 10-yards but it wasn't enough. Jason Baker had to punt where it was downed at the Arizona 16-yard line where Plummer took command.


Thomas Jones ran up the middle for three and Boston caught or two. Then out of the shotgun Plummer found Boston for six more. With a first down achieved he passed to Jones for six and Jones ran for six more.

But a penalty for offensive holding sent them back again. Plummer undeterred went to work hitting Frank Sanders for 16 more yards.

On the next play Plummer fumbles the ball but recovers it and finds no gain. Jones to the right end for one yard but a penalty on Arizona for holding sends it back again.

Plummer again goes into attack mode and finds Jones for 17-yards, and after the two minute warning finds Frank Sanders for 20 more yards.

With another first down achieved Plummer took to the shotgun but failed to connect with Boston and Bryan Gilmore who was then injured on the play. After a timeout Plummer ran up the middle for 11 total yards and threw to Sanders for six more yards.

Now on the 49er 17-yard line it looked like Arizona could score, but on the next play in a throw intended for Freddie Jones it was again intercepted by Ronnie Heard, this time for a touchback.


Once again the versatile free safety that was closely criticized for not being Zack Bronson had taken that big step. He elevated his play to where he snagged another potential touchdown.

This gave the 49ers back the momentum, and they ran Hearst up the middle for 11-yards and then an incomplete pass to him.

Garcia would then find Barlow for eight and then hit Terrell Owens for an unbelievable 61-yard touchdown pass, which was caught at the 45-yard line and then run in.

With the Cortez extra point good on four plays and 80-yards the score now was 31-7 49ers. This left the Cardinals little time, after the kickoff that was brought back 15-yards they decided to kneel and end the clock for halftime.

It made sense though we had injected the Cardinals with poison as they went to their respected locker rooms. We went to ours heads held high at our success on the field.

At halftime as I look back I can start to see how dynamic our offense has become. It certainly was a glorious conviction in scoring efficiency, with scores from Barlow, Owens and Streets.

And the defense with pressure applied upon Plummer and the interceptions by Ronnie Heard were key elements in the score becoming 31-7 at the half.


In the third quarter Arizona would kick to the 49ers Jimmy Williams who returned the ball for 28-yards, marking our start at the 33-yard line. Here Jeff would take a sack from defensive end Fred Wakefield his first of the game.

Afterwards Hearst would gain eight yards and a pass would fall incomplete to Terrell Owens. The 49ers would punt for 35-yards giving the Cardinals possession at their 43-yard line.

Plummer would find difficulty as Jones would gain just one yard and a pass to Jenkins fell incomplete. In to the shotgun Plummer would hit Jenkins for 17-yards and then hit Freddie Jones for five more yards.

On a new set of downs Plummer would go back and find no open receiver, so he took off running up the middle for a 34-yard touchdown run.

Gramatica's extra point was good and the Cardinals had shocked the 49er defense with a 34-yard run by it 's quarterback. The score was done on five plays and 57-yards making it 31-14 49ers.

This was a play that utterly dumbfounded me, to the point as to where you asked yourself how could this be? It was a play that should've never been. Someone should've been in position to stop Plummer bottom line.

On the kickoff Jimmy Williams would bring the ball back 26-yards to the 49er 25-yard line. Here Jeff would set up camp and started with Barlow with a combined series of runs for just six yards.

In to the shotgun Jeff hit Owens for just three yards forcing the 49ers to punt again. This one went 34 total yards where Arizona resumed at their 32-yard line.


This time the 49er defense reacted with Plummer being sacked for minus six yards by Bryant Young. Then into the shotgun Plummer would go and he missed Jones o two plays for 24-yards.

Then in a pass to David Boston who was pushed out of bounds at the 49er 22-yard line for 28-yards the play was challenged by San Francisco and won. It was determined to be an incomplete pass.

This created a third down, but a pass to sanders corrected that and Thomas Jones would run the ball three times for 16 more yards. Now at the 49er 27-yard line Plummer missed Jenkins but found Jones for an 11-yard reception.

With another first down Plummer handed off to Shipp who scored on an 11-yard touchdown run. The extra point was good.

So on three third downs the Arizona Cardinals were able to convert all of them. This was a testament to the 49ers inability to slow them down or for better stop them.

The door to the game was opened wide for the Cardinals to come right back in this. On 12-plays and 68-yards the score now stood at 38-21 49ers.


On the kickoff to Jimmy Williams, he would return the ball for 50-yards all the way back to the Arizona 40-yard line. This was his best run yet, and hopefully more to follow as Williams was able to jump start the team right back to its senses. Jeff found Owens for four yards and an unnecessary roughness call on Arizona for 15 more yards.

Garcia would then run for two and a pass to Barlow for three would be fumbled but recovered at the Arizona 16-yard line. Here Garcia found Wilson for seven and an incomplete to Owens.

Barlow would then hit a wall, but on a pass from Garcia found himself with a touchdown of nine yards. Cortez kicks the extra point and on seven plays and 40-yards including a penalty the score now stood at 38-21 49ers.

Now in the fourth quarter Plummer knew that time was of the essence, their division lead was in jeopardy and it was up to him to bring them back.

If anyone could they believed Plummer could. Weaknesses had been identified in the 49er defense; it was now their duty to exploit them.

On their 31-yard line Plummer gives Jones a crack for five yards and finds Jones for eight more. But a penalty on Arizona for offensive pass interference sends it back.

Plummer undeterred goes into the shotgun and finds Boston for 17 and Jones runs for two and fumbles and recovers. Back into the shotgun he hits Jones for seven more yards and runs up the gut for four.

Here he again achieves a new set of downs and hits Jenkins for five and Jones for two. Plummer then connects with Boston for 26-yards. Here Chike Okeafor sacks Plummer for minus eight yards.

However back in the shotgun Plummer hits Jenkins for 13-yards and Mike Rumph gets called for illegal use of hands.


This puts Arizona on the 49er 14-yard line where he finds Jones for seven and then Jones get a seven-yard run into the end zone for a touchdown. With the extra point good on 11-plays and 69-yards and one penalty the score now stood at 38-28 49ers.

Here you saw very clearly the total lack of execution and motivation by our defense. Here the Cardinals smelled blood as the inadequacy of our defense-signaled hope.

On the kickoff Jamal Robertson brings the ball back to the 49er 29-yard line for 21-yards. Here deep in the fourth quarter Jeff would go on the attack. Barlow would get hit for minus one yard and Streets would have an incomplete pass.

In the shotgun Garcia found no one so took off only finding one yard forcing the 49ers to punt.


Arizona took over at their 26-yard line, and Plummer out of the shotgun fumbles but recovers the ball. Here after he hits sanders for two yards and Boston for 22-yards.

Back in the shotgun he connects with Sanders for 25-yards but misses Jenkins.

On the next play at the 49er 25-yard line he goes back to throw to Boston, but Ronnie Heard intercepts him for the third time today. Heard runs it back to the 49er 36-yard lines for 30-yards.

This was a Godsend if I've ever experienced one. With momentum starting to swing back and forth, Ronnie Heard's third interception rocked the foundation of the Cardinals, and provided us an opportunity to end the game.

With 5:25 left in the game, Jeff took control and handed it to Barlow for three and then six more. Arizona would then begin the timeout position. Beasley and Barlow would churn out seven more yards and Jeff 13 of his own, creating a new set of downs.

Barlow would get crushed for minus two yards, but Garcia would find Owens for 19-yards, with Barlow for two more.

But what was interesting was seeing our team go for it on fourth-and-eight. Jeff would find Owens for 13-yards and a first down, all we did thereafter was kneeling.


This second half brought greater offensive prowess and proved to be a good one for Kevan Barlow. Even special teams played a bit better especially on returns from Jimmy Williams.

The defense though proved otherwise except for another Ronnie Heard interception, we were unable to stop them from converting third downs.

This almost opened the door wide open for their grand comeback. But our perseverance to overcome was there, and we made the crucial play when we most needed it.

"It was a big momentum swing for our team," Williams said. "We needed that. Arizona was making a comeback. We knew somebody other than the offense or defense had to make a momentum change in the game. One of us had to step it up."

With Terrell Owens two touchdown catches in this game it gave him 67 touchdowns in his seven-year career, thus moving him ahead of Roger Craig (66) for second in all of 49er history. He accomplished season highs with eight receptions for 132-yards.


Jeff Garcia likewise completed 18-of-28 passes for 252-yards with no interceptions. On the defense Bryant Young had his first sack of the season, and Chike Okeafor recorded his fourth. Free safety Ronnie Heard had the greatest impact with a total of three interceptions.

"See I told you. Trust yourself. Just be you and the plays will come," Mora told Heard, who rebounded from a shaky debut in place of injured Zack Bronson and grabbed three interceptions off Jake Plummer.

With all of this and more San Francisco earned the right to stand tall in the Western Division. This of course does not exclude Arizona for good; they will be nipping at our heels with only one game behind. What makes this even more compelling is that our opponents just keep getting tougher every week.

What is a legitimate concern though is our inability to nail shut the door on teams once a solid lead has been accomplished. We have allowed teams to make spectacular comebacks because for some reason our defense quits in the second half to some degree.

The addressing of this problem must be paramount if we are to stay afloat at the top of this division.

Our special teams must play at this level on a consistent basis as well, we must be able to cover kick returns better and prevent good field position.

Injuries are but an excuse, we need to step up regardless, we have the ability now let's focus and get the job done.





Fan Press:
Now you can write articles for 49ers Paradise, and read what other fans have to say too in the Fan Press section.