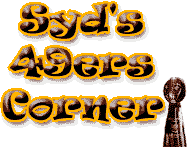 Missed opportunities are capitalized with Jose Cortez. (11/22/02) 2:00 PM


It was overtime in Qualcomm Stadium as the San Francisco 49ers had allowed the San Diego Chargers to come back in the fourth quarter and score ten unanswered points to send this one into overtime.

With 8:51 left to play in overtime after the 49ers had lost the coin flip and managed to get the ball back and drive down the field. Jose Cortez again became the intended hero of the game.

It was for a game winning field goal from 41 total yards out. Jeff Garcia had scratched and clawed at the San Diego defense to get within position for the game killer.

Positioned at the Charger 23-yard line Cortez kicked the ball and it was witnessed by the world in going wide right. The game was over at that point; the ball never seemed in my mind to stop floating in the air.


I watched this kick with wide-open eyes like so many of you did. I couldn't believe my eyes, and Lord knows no one wanted to know my thoughts. The rage and the slap to the face that we had come so close were like a blowtorch to the senses.

I was left with mouth a gape and veins in my temple bulging for blood flow. I was enraged at Jose for that missed attempt; it was in my view the pinpoint to a balloon over filled with helium.

The San Diego Chargers with great field position easily marched down the field to allow their kicker in Steve Christie an attempt of one yard better a 40-yard field goal.

He booted this with ease. In fact it left me analyzing why didn't Cortez do this? The game on a series of missed opportunities allowed this game to be won on all fronts.

This was the second time in three weeks that the 49ers had encountered overtime. But on this day the results were not meant to be. Losing the coin flip to begin overtime the 49er defense set out to do the job it should've done in the fourth quarter. They turned back the San Diego offense under quarterback Drew Brees.

The 49er offense came back out after falling on it's face with injuries and less then complete execution and managed to get the team in scoring position, all we had to do was kick a field goal and go home at (8-2).

We came back all right but at (7-3), and a heck of a lot more uncertain as to our future. After making 13 straight field goal attempts, Cortez has missed four of seven kicks in just this month alone.

What is even more noticeable is that he is not exhausted from playing a season in the XFL. He is in all intents and purposes well rested and healthy.


Remembering last season in the second half of the season Cortez had five blocked kicks, now he is on pace to duplicate that and better it. It was because of that well-known set of failures that we decided to draft Jeff Chandler out of Florida with our fourth round pick in the draft this season.

Everyone is entitled to his or her opinion on Jose Cortez. I know that I have mine, and that is to let him go. He has failed to satisfy the goal of this franchise and that is to win games and win championships.

Yes it is a collective effort and all players are accountable, but one must understand that every member on this team is held to a set of tough standards.

If they don't reach these standards on a consistent basis they are benched or are let go. The same must be applied to our kicking game. Many of us don't put enough emphasis on this unit and how very important it really is. Both our kicking and punting games are dreadful at best in this league.

Here the statistics tell the true story; Cortez is ranked 10th in the league in touchbacks and tied for 15th in touchback percentage. His kickoffs yield an average return of 23.4-yards; 35 NFL kickers have made linger kicks than Jose Cortez's season best kick of 45-yards.

The primary focus on kicking is accuracy, without that you have no job. Cortez is tied for 21st place in this 32-team professional league at around 75%. What on earth are we doing about it?

Absolutely nothing in my opinion, this problem only becomes more and more highlighted because of the timing and effect it has had thus far on our overall winning percentage. The problem is apparent and not going to go away simply because we want it to get better.


"I think his confidence is OK," Mariucci said. "Who knows what goes inside one's head? He's done some good things for us. Then he's missed a few for us now. He's well liked, he's well respected in our locker room, but we certainly needed his field goal today."

Obviously Jose has no real defense other then to blame himself for the game. Yes the game was lost on the toes connected to his foot. But it could've been won in a different fashion had both sides of the ball in regulation done their jobs. San Diego came into this game as an underdog and left as a champion.

"If they think that I've got a problem and they need to go in a new direction, that's fine with me," said Cortez, who has converted 18 of 23 field-goal attempts this season, including a run of 13 consecutive makes.

"It's frustrating because I hit the ball pretty good in practice." "I was confident I could go in and kick the game-winning field goal. I blew it."

What needs to be done is clear, and will be done is another it seems. Jeff Chandler should be activated and he should be given a chance. He was less consistent in training camp and pre-season. But the tide is not in our favor with Jose. On Wednesday November 20th a decision finally came forth from the front office.

General Manager Terry Donahue has made clear that any decision regarding the kicking position will center on Steve Mariucci.

This said the head coach made the change to try Florida fourth round pick Jeff Chandler in the Monday Night game against Philadelphia at Candlestick. I must admit I am thrilled at the change simply because Cortez has spiraled downward in an obvious slump.

This will be a golden opportunity for the Jeff as he takes over the starting position. He closed out his Florida Gator career as the school's all-time leading scorer with 368 points with a field percentage of 83.8%; the second best mark in SEC history.


"I'm excited about it, and I'm ready for it," Chandler said. "You don't get a bigger stage than that."

"I felt that Jose seems to be in a bit of a slump," Mariucci said. "He knows that. He feels that, and he's trying to work it out, but because he's in a slump, Jeff is going to get the opportunity."

Many still believe Cortez to be the best kicker of the two, but clearly this time segment in which Cortez is slumping deserves a shot for Chandler. Chandler is signed to a three-year contract, what better time to allow him to prove himself than now.

"We just had to make a decision on who might give us the best chance to win games," Mariucci said. "We have a guy sitting here waiting in the wings that can be a professional kicker. I have all the confidence in the world that he can get it done."

Ever since the failed 41-yard field goal against the Chargers, Jeff has been preparing for the possible call up to the active spot. Jeff has sat behind Cortez since the start of the regular season because he failed to unseat Cortez in training camp. Now his second chance has arrived and he must seize this opportunity for all our sakes.

The same should be said of our punting unit as well, Jason Baker is not the answer. He is the fourth punter with this team in five seasons. He ranks 29th out of 32 punters in the league.

And get this for a science; the 49ers in 15 of 20 seasons our punters have ranked among the NFL's bottom ten as a whole. Obviously this is putting special teams in a category in the file cabinet that is listed under not so special.


Looking back on better times before this game, one has to marvel at how well the San Francisco offensive line has played this season. If there is ever a unit that deserves instant gratification for winning games based upon performance and longevity it is this unit.

When you think back on Pro Bowl types from this offensive line, you can't think of many at least recently. Last season we had two distinguished players go in Ray Brown and Jeremy Newberry.

This was fitting recognition for a line that has been responsible for a large percentage of this team's success.

Many will say and I am one that this offensive line has been manufactured from low round draft picks and un-drafted free agents. It has been a work in progress under the late Bobb McKittrick and now Pat Morris.

These two have been responsible for manufacturing and producing an offensive line that is equal to none in this league.

This line deserves Pro Bowl consideration again, from center Jeremy Newberry, left tackle Derrick Deese, right guard Ron Stone to right tackle Scott Gragg they all deserve just consideration. Even rookie Eric Heitmann has played well at left guard in injured Dave Fiore's old spot.

Said quarterback Jeff Garcia: "In the past, they've been underestimated. I think in a way that's their desire, so that the emphasis on them is to get better on a weekly basis. I give them a lot of credit (for) where the team is right now."


What this line has done is kept us competitive in games. A shining example is the Oakland victory in which they dominated the Raider defense for extended periods of time. The only thing that has plagued the team as of late has been reoccurring injuries.

Injuries that have torn at the fabric and has limited their consistency in games, has ultimately compromised their ability to find a rhythm.

Execution on the field has been skeptical as of late, and Jeff Garcia has been running for his life more then not lately.

In other special news the San Francisco 49ers once buried in salary cap underworld have managed to save enough money to start resigning present players to extensions in their contracts.

The 49ers have been doing this almost in low key mode so that media scrutiny and awareness is low profile as well.

The 49ers had accumulated approximately $2.95 million in savings in which to work with just before the extension signings of running backs Terry Jackson, Paul Smith and linebacker Jeff Ulbrich.

Terms of the deals are still forthcoming but Paul Smith received a two-year extension and Jeff Ulbrich signed a four-year extension that will promise to keep him around his Bay Area home for awhile.

I a very enthusiastic to these present signings because I feel as many do that these players are all high quality players in terms of both youth and talent. I can see that the franchise has really made a turn in the right direction fiscally as well.


"We're trying to extend more and more of our young players because we think we have good young players," said Terry Donahue. "We think they're the kind of players who represent the organization well in the community and can play football in the National Football League. They have contributed to the success we have enjoyed the last couple of years."

Locking up both Terry Jackson and Paul Smith creates harmony on special teams as both of these players have crucial roles on this unit and they provide insurance at the fullback and tailback positions.

With Ulbrich signing it locks up all the key quality linebackers on the roster, Ulbrich was scheduled to be a restricted free agent at the end of the year.

Long-term deals have already been accomplished with Julian Peterson, Derek Smith and Jamie Winborn. All are signed right through till 2005.

This creates stability and long term commitment to this area on the defense. It should help keep the defense in the upper echelon of the league for a long time to come.

Going back to the victory over the Kansas City Chiefs, what was so apparent in this game related in large part to last Sunday's game against the San Diego Chargers. In the first half of that 17-13 game with the Chiefs, the 49ers had 44 first-half plays to the Chiefs 16 plays.

Our time of possession was 22:13 to 7:47, and we had 222-yards to the Chiefs 110. Here we had established almost utter dominance; we ran the ball and passed successfully in this whirlwind first half on four possessions of the ball.


On three of those possessions we scored two touchdowns and a field goal. But it was one costly mental blunder that could have cost us this game. Head Coach Steve Mariucci remembers this one too well.

Jeff Garcia had just driven the 49ers on seven plays to the Chiefs three-yard line. Only seven seconds remained in the first half of play, but it was here where Steve Mariucci angrily exchanged words with referee Ron Blum that he had mismanaged the game clock.

Mariucci claimed he though that Jeff Garcia had spiked the ball with about 14 seconds left to play. But Blum ruled on the field that there were only eight seconds left to play and Mariucci was so enraged that he was forced to waste a timeout.

While Mariucci tangoed with Blum, Offensive coordinator Greg Knapp called in a quick pass play to Garcia, however not everyone was on the same page at that time. The plan was for Jeff to get rid of the ball quickly into the end zone.

If the receiver wasn't open then we would settle for a field goal and that would have given us a 20-10 halftime lead.

Instead the play broke down quickly with Jeff throwing an interception to cornerback Eric Warfield. Although it's water under the bridge at this point it goes to show you at how critical each and every play really is during a game.

Communication is key to the overall success of the team, and here that subject was grossly compromised and the results were obvious.

"I learned something today," Mariucci said afterward as if he were in a confessional. "I concerned myself too much with the official at the end of the half. I was trying to get back some time on the clock to no avail. I need to stay in better communication with Jeff and Greg on what we are going to do. We had a plan. There were instructions. And I let it go. I need to make it even clearer as what the instructions are."


What was so aggravating about this game was how the offense just floundered after the first half. They had taken complete control in the first half and scored 17 points.

Going into the second half of this game they could not score at all from Garcia's interception on to two failed field goals by Jose Cortez. It came down to the defense in winning this game for us.

Jim Mora had a nice menu for the Chiefs with a lot of eight-men fronts in putting more defenders at the line of scrimmage to help stop Priest Holmes and tight end Tony Gonzalez before he could extend into his routes.

Eddie Kennison proved to be a thorn in Mike Rumph's side throughout this game as he beat Rumph on three consecutive man-to-man situations in the final Chiefs drive. Mora went to the zone scheme in order to provide some help and it worked.

All sorts of protection were relegated to Mike Rumph and the results were impressive with three incomplete passes and a sack was the result.

The Chiefs, who had been unstoppable in the fourth quarter after scoring 109 points in the fourth quarters of their first eight games, accomplished only three points in the fourth on this one Sunday.

"That's what championship teams are made of," defensive tackle Dana Stubblefield said. "We have to make big stops like that."

"I know we're a better offense than that," Garcia said. "It's just one of those games where you are just happy to have the win. You have to be happy that your defense stepped up and played the way they did."

One defensive player really stood out in linebacker Julian Peterson who was assigned to cover probably the best tight end in the business. Tony Gonzalez knows that he will be held at the line of scrimmage and beyond, the problem was that Julian was all over him and then some.

Gonzalez in the match-up managed to catch only one pass for a measly six-yards in this game. Julian Peterson effectively neutralized him.


"He's a great athlete," Peterson said "He's the best tight end in the league and I like playing against him. I strive on competition and he's a Pro Bowler. Day in and day out, I just want to contribute. Coach gave me an assignment to go and take him, and I wanted to make sure I did just that."

Gonzalez also contributed to his team's demise with two holding calls thrown against him. Even though the calls had some controversy to them he was still penalized for them.

It was pure textbook coverage by Julian Peterson that got the job done and it confirmed my opinion about Julian being a playmaker on this defense.

The prelude to the San Diego Charger game revolved around the fact that we were again facing an American Football Conference opponent in the Western Division.

It also came with full knowledge that we had to face the likes of running back extraordinaire LaDainian Tomlinson and a great Charger defense.

"Every week it seems, here comes another back," 49ers coach Steve Mariucci said during his Monday press conference. "Now it's LaDainian Tomlinson. Now he's the guy leading the league."

What we had established as a defense was being ranked 15th in the league in rush defense. We have allowed an average of 111.4-yards per game.

This figure may not be that impressive but in all areas we have only been eaten alive by one back thus far. And that was New Orleans running back Deuce McAllister.

Favored as the winner in this game going in, we approached this game with concerns again around injuries and an offensive performance that stagnated just one week earlier at Candlestick.

Concerns still existed around Jose Cortez as well as he continued to struggle with his kicking expertise, and punter Jason Baker continues to start as one of the worst punters statistically in the league.

The 49ers though resilient in their own personal way came in here to give a 100% effort, what transpired turned our ugly wins into an ugly loss.


Game #10 (Loss in OT) Chargers over 49ers 20-17.

"A lot of disappointment," said Garcia, who threw for a season-high 337 yards, two touchdowns and one interception; a Hail Mary caught by Chargers safety Rodney Harrison at the end of regulation. "It's very tough when you lose a game like this. It leaves a bad taste in my mouth. It was a tough game." "They played hard, We played hard, too, but we didn't make enough plays to win the game."

What the San Francisco 49ers needed was for Jose Cortez to make one more play. A play that could've won the game out right and sent us packing with smiles on our faces.

A 41-yard field goal attempt that sailed a few more feet to the left during overtime. It was a scene from The Amityville Horror Movie.

At the start of the first quarter Jose Cortez kicked 69-yards to Reche Caldwell where he was pushed out of bounds at the San Diego 36-yard line.

On the first play LaDainian Tomlinson went up the middle for three yards and quarterback Drew Brees hit Tomlinson for another yard.

On third down Brees took position out of the shotgun and hit Tim Dwight for eight yards and Caldwell for seven more yards. Tomlinson on the next carry was met Derek Smith threw so hard he back for two yards.

Tim Dwight gained two-yards on a run to the left but failed to catch a pass from Brees out of the shotgun.

Punter Darren Bennett punted 38-yards to the San Francisco four-yard line where it was downed, pinning the 49ers very deep in their own territory to start the game.

The 49er offense took the field with a Garrison Hearst run at the right side for five yards and another up the middle for 12 more yards.


With the first down Jeff Garcia failed once on Tai Streets but hit him next with a 16-yard pass play. Kevan Barlow on a run found no yardage and Garcia could not connect with J.J. Stokes on the next play.

On third down Jeff went back to the shotgun and hit Hearst for a 12-yard gain, but Barlow was hit after that and thrown back a yard.

It was here that the 49ers found the rhythm in their offense questioned as the Charger defense tried to squeeze them here on their first drive.

Jeff after the Barlow hit found Terrell Owens for a total of 16-yards on the next two plays. He then tried to find him again and Stokes but failed to connect with either one.

Here Jason Baker punted 36-yards into the end zone, where San Diego took over at their 20-yard line. Drew Brees went to work and hit Fred McCrary for 14 total yards, but a holding penalty would be enforced and knocked them back 10 more yards.

Tomlinson then ran o the right for just a yard but a taunting call was thrown at 49er linebacker Derek Smith costing us 15 total yards.

With the first down Brees found Curtis Conway for 12-yards and Tomlinson went up the middle for two more yards creating another first down for the Chargers.

Brees then went to the shotgun and found Caldwell for 10 total yards but failed to find Justin Peelle. On second down Brees turned to the shotgun and hit Conway for a huge 31-yard gain.


Now at the San Francisco 19-yard line the Chargers were breathing right down our necks. Tomlinson went back to work as he ran to the right for a total of 11 more yards, and then a facemask penalty came down on us courtesy of Derek Smith again.

Tomlinson tested the line for no gain, but on the next play Brees found Caldwell in the end zone for a touchdown.

Steve Christie's extra point was good and the Chargers on 10-plays and 80 total yards took the lead with first blood drawn 7-0 Chargers.

The two penalties on Derek Smith had a direct bearing on this score, along with soft coverage on Conway.

Former 49er kicker Wade Richey kicked 57-yards to Paul Smith where he returned it 23-yards to the 49er 36-yard line.

With just 40 seconds left to play in the first quarter the 49ers resumed command. Barlow tried a run up the middle but found nothing, So Garcia went to the shotgun and couldn't find Owens either.

On third down Garcia failed to connect with Tai Streets but a penalty came down for defensive holding that gave us a first down.

Barlow ran headfirst into a swarm of Charger defenders for minus three yards and Alex Molden sacked Jeff Garcia for a minus six-yards.

Faced with third and long Garcia dropped back to the shotgun and finding no one ran right for 13 total yards. Jason Baker again punted for 41-yards to Tim Dwight but he was dropped for minus two yards.

A penalty came down against San Diego for an Illegal block above the waist. The Chargers then took position at their own six-yard line.


The Chargers started this drive with Tomlinson gaining only one yard on two plays and then San Diego called a timeout.

Brees on third down went to the shotgun and ran up the middle for 10 total yards and a first down. He found Conway for two and failed to connect with McCrary on another.

Brees on third down again ran to the left but gained just five yards as he met Chike Okeafor. Darren Bennett then punted 51-yards where Jimmy Williams was stopped for no gain, but an offensive holding penalty was provided to us and knocked us back to our own 15-yard line.

Jeff Garcia came out firing and Hearst ran up the middle for eight yards. Garcia the failed to connect with Tai Streets which forced us to punt yet again.

Baker punted 46-yards to Tim Dwight who returned it one yard to the San Diego 32-yard line.

The see saw battle for possession here was interesting to say the least, the two teams were locked in a stalemate of defenses that had both clubs on a punting merry-go-round.

On the next Charger drive Tomlinson went up the middle for just a yard and Brees couldn't find Caldwell. In third down Brees went to the shotgun and failed to find Dwight forcing the Chargers to punt 57-yards to Williams who returned it 14 total yards to the 49er 24-yard line.


Here deep in the second quarter Jeff Garcia resumed position handing off to Barlow for a total of 22-yards on three plays that resulted in a first down. Jeff then failed to find Beasley and Hearst ran up the middle for six yards.

The 49ers here called a timeout and then on third down Jeff failed to connect with Stokes, resulting in a punt.

Jason Baker punted 48-yards to the end zone where the Chargers took over at their 20-yard line. Drew Brees dropped back and threw to McCrary for a gain of three and Tomlinson ran to the left for only one more yard.

Faced with a third down Brees went to the shotgun and failed to connect with Conway, which forced Bennett to punt 53-yards to Williams for a return of eight yards to the 49er 31-yard line.

With just 2:36 left to play in the half Jeff Garcia hit Owens for a 31-yard reception but failed to find Hearst on the next play. The two-minute warning sounded with a second down run by Hearst afterwards for seven more yards.

With a third down presented Jeff hit Stokes for a 17-yard completion, but a penalty came down for a 15-yard facemask on Matt Willig.

Still undaunted after this penalty Jeff Garcia dropped back and found Tai Streets for a 14-yard completion, but it failed to gain the first down. Jeff was given the green light to go on fourth-and-four at the San Diego 32-yard line.

Out of the shotgun he looked for his primary target Terrell Owens and found him for a 32-yard touchdown reception.


This was a beautiful touchdown pass folks, one that I marveled at as I watched it. If there is any doubt about Terrell not being the best wide receiver in the business today this erased all questions.

Cortez's extra point was good. On seven plays and 69 total yards the 49ers came back to tie the score at 7-7 even with just over a minute left to play in the half.

Jose Cortez kicked 64-yards to Ronney Jenkins who returned the kick 25 total yards to the San Diego 31-yard line. Drew Brees with just over a minute went to work from the shotgun and found Conway for nine yards. The officials reviewed the passing play but it was upheld as seen from upstairs.

The Chargers resumed their drive with Tomlinson running to the right end for 10 total yards and Brees out of the shotgun finding Conway for 10 more yards. A timeout was called by San Diego and they resumed with a shotgun pass to Stephen Alexander for 14-yards and another failed connection with Caldwell.

With only eight seconds remaining the Chargers opted for a field goal at 44-yards out but it was blocked by Dana Stubblefield and recovered by Mike Rumph who returned it 14 more yards but time had expired at the half.


With the first half over the cat and mouse game that both teams had played had resulted in a tie game. No one had really proven dominant in this contest. The only real difference were penalties that had cost us dearly in Derek Smith and Matt Willig.

The San Diego Chargers had put us on notice that they were here to play in this game, and that it would not be any easier come second half.

In fact they won the time of possession battle with over three minutes in their favor, it was apparent that our offense was having trouble finding rhythm.

With the start of the second half the San Francisco 49ers took a kick from Wade Richey, that was kicked 72-yards for a touchback. Jeff Garcia took command of the offense at our 20-yard line.

Hearst ran to the right for four yards and Jeff failed to connect with Justin Swift on the next play. With a third down presented Jeff dropped back and found our playmaker in Terrell Owens for a 72-yard touchdown, Cortez's extra point was good.

So on three plays and 80-yards the 49ers came back to take the lead from opening drive 14-7 49ers. Cortez kicked 65-yards to Caldwell that returned it for 17 total yards to the San Diego 22-yard line.

Drew Brees on the drive failed to connect with Tim Dwight but a penalty came down on Jason Webster for defensive holding which helped the San Diego cause.

Tomlinson resumed the drive with a run that was knocked back by Dana Stubblefield for minus four yards. Brees went to the shotgun and found Tomlinson for five total yards and another five after that play.


Faced still with a fourth down the Chargers punted 50-yards to Williams who made a nice return of 36 total yards bringing it out to the San Diego 47-yard line for great field position.

It looked like here we had the momentum building in our favor. This was the bright light in the whole game for us at this moment. On the first play Barlow ran right end for 11 total yards and Garcia tried to find Owens but failed.

Hearst then carried the ball up the middle for six-yards and Jeff hit Stokes for six more yards. This creating a first down the offense began to suddenly click, the best it had all during the game.

Barlow tried a run to left end but was stuffed for a negative yard and Garcia found Hearst for seven more yards.

With a third down present Jeff looked to Justin Swift for four yards and he got them, Garrison Hearst added seven with a run up the middle. Barlow then tested the right end for two more yards and a timeout by San Diego was called.

Faced with a third-and-one the 49ers turned to the hammer in Fred Beasley but he was pushed back for minus one yard.

The 49ers opted for a field goal at 24-yards out by Cortez and the kick was good which extended our lead after 11-plays and 41-yards to 17-7 49ers. Jose kicked 74-yards to San Diego where it resulted in a touchback; the Chargers resumed at their 20-yard line.


San Diego started this drive with Tomlinson who ran to the right end and was drilled by Okeafor for minus four yards and the ball came loose but was recovered by San Diego at their 16-yard line.

This was a great defensive effort by Okeafor as we were in the midst of the third quarter. Drew Brees dropped back and failed to find Alexander so out of the shotgun he found Tomlinson for a 16 -yard reception.

Tomlinson became like a one-man offense as he ran to the right and up the middle for a total of 33 more yards.

J. Chatman then tried his luck for no gain and Brees in a shotgun formation found Conway for a 35-yard touchdown pass, but it was nullified because of Illegal touching on Conway.

A big play that was busted, had Brees in the shotgun again but he failed to find Dwight forcing the Chargers to punt.

Bennett punted 30-yards to a fair catch call from Williams at our own 10-yard line. Here Jeff Garcia went to work hitting Owens for 11-yards and Tai Streets for 17 more yards.

With first downs coming easily he handed it to Hearst who was stuffed at the middle, and Beasley was taken down to the left for just a yard. On third down Garcia failed to find Tai Streets causing Baker to punt 46-yards where Tim Dwight returned it 12 total yards to their 25-yard line.


With just seconds remaining in the third quarter Tomlinson busted up the middle of the 49er defensive line for 21 total yards. This run was out of sight folks; I couldn't believe my eyes that we had been caught napping on this play.

Drew Brees then hit Conway for a 47-yard reception that shredded our secondary to pieces and Tomlinson ran to the right for three more yards.

The Chargers now standing on our four-yard line dropped back and in a pass intended for Alexander found 49er linebacker Quincy Stewart for an interception.

The 49er defense came through after allowing the Chargers to come knocking on our very door. With the fourth quarter in play Jeff took over at our 20-yard line.

Barlow ran to the left end for five yards and Garcia found Beasley for another yard. With a third down present Jeff went to the shotgun and hit Cedrick Wilson for a 14-yard gain and then we called a timeout.

Jeff started the first down with a pass to Tai Streets for five yards and then Barlow was stuffed for no gain at the left end.


Out of the shotgun on third down Jeff found Tai Streets for 12 total yards and Hearst ran to the left for three more yards. The offensive cohesiveness looked good on this drive but the Charger defense continued to press.

Jeff found Tai Streets for three more yards but failed on another passing play. This forced us to punt for 37-yards to the end zone for another touchback.

At the 20-yard line Drew Brees hit Tomlinson for 12 total yards and failed to find him on the next play. Brees continuing out of the shotgun hit Conway for 41 total yards and Tomlinson for five more yards. He failed to connect with Tomlinson on the next play and Alexander caught one for four more yards.

This set up a Steve Christie field goal attempt of 36-yards in which he made after seven plays and 62-yards the Chargers came back to close the lead to 17-10 49ers.

Richey then kicked 73-yards to Williams for a touchback. Garcia frustrated at the latest drive and then some resumed the helm.

Jeff found Tai Streets for three and Hearst was stuffed at the left end spot. Out of a shotgun Jeff failed to connect with Stokes. Cries became apparent from 49er fans as to where Owens was in this picture, could he have made the difference here now. Baker punted 43-yards to Dwight who returned it eight yards to their 42-yard line.

With 3:22 left in the game Drew Brees went into a passing frenzy from the shotgun position, this drive was a drive that literally tore open the 49er defense and exposed their weaknesses.

On the first play he hit Dwight for 23 total yards and Tomlinson for five more yards. With a first down he hit Tomlinson for eight yards and then failed to find Conway.

On second down Brees hit Dwight for seven yards and then the two-minute warning sounded. Back in on third down Brees failed to find Conway so they took a timeout to reevaluate their position.

On fourth down and three yards to go Brees hit Dwight for seven yards and a first down. On the next three consecutive plays Brees failed to connect with Tomlinson, Conway and Caldwell.

But with the next play Mike Rumph was called for defensive pass interference keeping the Chargers on the field.


Brees then handed off to Tomlinson who was stopped from entering the end zone so Brees dropped back and found McCrary for the one-yard touchdown.

Christie's extra point was good and the Chargers after 11-plays and 58 total yards along with the critical help of a penalty tied the score at 17-17 even.

Richey kicked the ball 70-yards to Williams who returned it 25 total yards to the 49er 25-yard line. With just 25 seconds left in regulation overtime seemed a distinct possibility from all the eyes on the sidelines.

Hearst ran up the middle for eight yards and out of the shotgun Garcia hit Stokes for 18 total yards that was reviewed by officials and upheld.

Back to the shotgun Garcia found Hearst for three more yards and a timeout was called with just one second remaining on the board. Jeff went back in the shotgun looking for Terrell and threw but Rodney Harrison was there to intercept it causing overtime to happen.

The second half upon analyst demonstrated the real fight that we were involved in. We had come out firing in the third quarter and extended our lead. But that was eroded quickly by San Diego as they mixed up their offense and exploited our apparent defensive weaknesses.

What was glaringly apparent was the lack of pressure on Brees; he had all sorts of time to deliver strikes to anyone he chose to. A few sacks here would have gone a long way towards ending this game in regulation.


San Diego won the toss and Jose Cortez kicked 71-yards to Jenkins who brought it out 36 total yards to the San Diego 38-yard line. Brees went right back to the shotgun as a main weapon of destruction, but he failed on three consecutive pass plays to Conway, Caldwell and Alexander to connect. This forced them to punt 47-yards to Williams as he brought it out nine yards to the 49er 24-yard line.

Here San Francisco had the chance of a lifetime. Work another miracle overtime period to your advantage just the way we did against Oakland two weeks ago.

Jeff Garcia started the drive with a pass to Barlow for three yards and another one to Tai Streets for eight more yards. However a false start penalty again this one on Matt Willig came down.

Garcia tried to find Stokes but couldn't and the he decided to run up the middle himself for 13 total yards. But again a penalty came down this time on Ron Stone for offensive holding. Jeff went back to work finding no one and running himself for 11 total yards.

On third down he went to the shotgun and hit Stokes for a 20-yard reception, a key play in the game that advanced the 49ers to San Diego territory.

Barlow then ran up the Charger middle for 14 total yards and a penalty came down on San Diego for tripping. San Diego called a timeout as momentum was building in our favor.


On a first down care of the Barlow run and penalty Jeff couldn't find Tai Streets and then was sacked by Marcellus Wiley and Junior Seau for a negative five yards.

This was a big play by San Diego that knocked us back considerably. Jeff went back to the shotgun and tried to find Owens and did for five yards.

This set up the 41-yard field goal attempt for Jose Cortez with 8:51 left in overtime he kicked it wide right for no score and the Chargers elated got the ball back.

Nothing could have been more demoralizing then this on the 49er sidelines. Anger and rage exploded as Terrell Owens went on a tirade down the sidelines.

On their 31-yard line Drew Brees resumed control and Tomlinson hit the middle for two yards and Brees failed to find Conway.

With a critical third down now Brees went to the shotgun and hit Tim Dwight for a 19-yard completion and Justin Peelle added a couple more yards.

Now at the 49er 46-yard line the 49er defense began staring at possible defeat right in the face, still blindsided at the botched winning field goal attempt. Out of the shotgun Brees hit E. Parker for an 18-yard reception to the 28-yard line.

Now Tomlinson would go to work gaining six total yards on the next three plays and setting up the Steve Christie field goal attempt from 40-yards out.

Christie fired with his foot and connected the game was over and the 49ers sent packing still dazed at what had just transpired.


After nine plays and 47-yards the San Diego Chargers defeated the San Francisco 49ers 20-17. This was all out war folks; we had met a determined enemy on the field that was a little hungrier than we were in this game.

Jeff Garcia went 25-for-45 for 337-yards with two touchdowns and one interception, he had a quarterback rating of 89%. Tai Streets had eight receptions for 78-yards and Terrell Owens another big outing had seven receptions for 171-yards and two touchdowns. J.J. Stokes saw increased playing time with three receptions for 44 total yards.

Garrison Hearst had 12 carries for 66-yards and averaged 5.5-yards per carry. Kevan Barlow had 13 carries for 49-yards and averaged 3.8-yards per carry.

On defense Quincy Stewart had a spectacular interception and Chike Okeafor added a hard hit causing a fumble along with Dana Stubblefield blocking a field goal attempt.

"Whenever you miss an opportunity to win the game for your team, and then your team loses the game, I feel like I let the team down. I blew the game," said Cortez, who also offered a more technical analysis. "I hit the ball right. But at the same time, my body was going away from the ball and it made me push the ball right."

However you want to explain it, the game was lost just not on this kick but on a collective basis as well with the entire game.

Yes this game could've been won with Jose Cortez and he deserves blame and criticism, but we have no choice but to accept this and move on.

We have to come away from this with healing injuries and eradicating a slump by giving someone else an opportunity. That's what the NFL is all about opportunity.





Fan Press:
Now you can write articles for 49ers Paradise, and read what other fans have to say too in the Fan Press section.