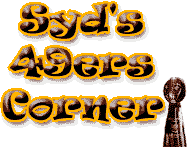 Fan Press:
Now you can write articles for 49ers Paradise, and read what other fans have to say too in the Fan Press section.
Steady as she goes on board with Steve Mariucci 12/01/01 1:00 PM

Some say that Head Coach Steve Mariucci is too conservative and too soft handed, others believe he has helped create and form this once aging and broken down team into a playoff contender.
The misconceptions and evaluations continue to be played out in one fashion or another, but the overriding factor remains is that Mariucci has taken on this immense responsibility with outstanding results.


Mariucci is a coach that shows great enthusiasm for the game, he can be seen on the sidelines with nervous anticipation, and with over joyous jubilation. He covers the whole spectrum of emotions with uncanny ease. And he can be downright serious when push comes to shove.

Going back in the season to the 49er and Rams game on September 23rd, Mariucci again encountered criticism and doubt about the team, when they lost to the Rams 30-26. Mainly due to offensive miscues and excessive dropped balls by 49er receivers, the larger than life ones come from our star receiver in Terrell Owens.

Owens flubbed four potential game-turning passes in the loss to the St. Louis Rams at 3-Com Park in front of thousands of 49er fans. He was so distraught after the game that he sat stone faced in front of his locker, refusing to comment about the game.

The overall outcome of the game was frustrating to say the least, the overriding burden rode on Steve Mariucci's shoulders, knowing that his offensive players had made so many mistakes. Everything must go correctly when playing a championship caliber organization as the St. Louis Rams.

It was Terrell Owens along with J.J. Stokes that shouldered much of the blame directing attention on them. It was this loss early in the season that dropped the 49er's to 1-1.
Had Owens caught a few of the passes that were dropped, particularly one in the fourth quarter that killed a potential go-ahead score, he believes the 49er's would have avoided their fifth consecutive loss to the Rams. Yes folks I said five straight losses to this franchise.

"I thought there were some plays I should have made," Owens said one Monday on why he took the loss so hard. "One thing Coach Steve Mariucci said right after the game is pretty much time ran out for us." "The Rams are good, but they're not that good. We got beat by four points and we played terribly. I just feel like as an offensive unit, we really didn't complement our defense."

This goes with no coincidence that we play the Rams again in two weeks, the emphasis on this upcoming game is without saying, that Mariucci wants nothing more than for a solid victory to turn the tide around in our division. And oh how sweet it would be to defeat them on their home turf.

Owens finished that first game with just five catches for 51-yards. Stokes accounted for two drops. Rookie tight end Eric Johnson dropped two balls, including one in the fourth quarter when the 49er's were on the St. Louis 16-yard line.

But it was the head coach that came out and defended his receivers, in a show of unity and support he tried to take his players out of the limelight and shed focus on himself.
This is why Mariucci is our head coach in so many ways. He has a knack for soothing over controversy and finding positives out of negatives.

He told reporters that both Stokes and Owens could not be held solely responsible for the unpleasant loss to the Rams, nor could they be held accountable for their excessive dropped passes.
"Could we be throwing the ball more accurately? Yes," Mariucci said. "Could we have been throwing the ball to different people in the rotation? Maybe on some occasions." The focus was put into perspective but Owens and Stokes insisted on the blame.

The magnitude of this up and coming game against the Rams will be pressing on the team's advantage for playing on their home field. We will have to play without any dropped passes in this important contest.
Mariucci knows what weight it would be to lose to this franchise a sixth straight time, and lose home field advantage. He never however looks ahead to a game that is over extending his thoughts. His thoughts now are to beat a Buffalo Bills team that is crippled but tough.

He is ever pressing on the time at hand. Thinking about what is up next not what is coming in two or three weeks; he has been that way right from the very start even earlier in the season.
Asked about the up coming schedule, where his still growing 49er's can grab a few wins and put themselves to challenge for a playoff spot, he responded: "I don't even know who we're playing next week. I don't even know if we have a bye the week after that. I don't even know if we go to Soldier Field after that."

Turning red faced serious earlier in the season one time, Mariucci said, "I told the team this today. 'Not only are we only thinking about this Carolina game, right now I don't even want you thinking about the game we play on Sunday night. I want you to think about today's practice, today's meetings. That's where I want your mind, 100 percent on today.'"

Inside the front office where Mariucci has one, there is a clock that hangs on his wall with no numerals. In place of the numerals there is the word "Now." It appears 12 times and carries a great deal of symbolism for Mariucci.
"It's that 'Now' concept. (Like) that clock, I want them focused on one day at a time. And then, whoever we play next, we'll play with whatever record we have. Really, it's got to be that way." "We're not good enough to look ahead, or overlook anybody or think about starting to count wins. You guys have time to do that."

This is what drives Mariucci to perfect this team, to provide them with secure knowledge to always focus on the game that is at hand. And above all just to get through every practice and every meeting with 100% of your health.

There also come times within a season where a head coach is confronted with controversy between players and himself, certainly Mariucci has had to deal with many of these certain situations. After an early season game against Carolina, controversy erupted between quarterback Jeff Garcia and Steve Mariucci over the play calling in the games.

On Monday, one day after a 24-14 win over Carolina, Garcia indicated some frustration that the 49er's have been using the run to set up the pass, rather than vice versa.

"I'm not complaining about the play-calling, but I think that when I'm working at my best is when I'm in a rhythm of throwing 70 percent of the time or so," Garcia said that Monday.

The 49er's methodically have always tried to divide their offense equally between running and passing plays. When it was mentioned to Mariucci that Garcia would like to throw 70 percent of the time, the Coach responded, "So does my kid. We all do. Every quarterback does." "For the record, Jeff is a very unselfish person. He wants to win games. He will do it whatever way we ask him to do it. When a quarterback is asked, 'Would he like to throw the ball more?' well, no kidding."

Mariucci was perplexed about the comments by Garcia and was complete with what the team as a whole was trying to accomplish. He reiterated that he was committed to a balanced offense, With the 49er's developing a young, relatively inexperienced defense, ball control is one way to minimize the amount of time a defense spends on the field.

The 49er's historically have always strived to be the best running team in the league, and they have succeeded almost every season.
Again this season it is every indication that we are, once again a premier running team, but at the same time a dangerous passing one as well. Never being just one-dimensional is all too important in this league.

Garcia tried to back off from his earlier comments, he merely was trying to explain the team's early sluggishness in trying to score in the first quarter. He believed it was the fact that the team tried overemphasize the need to run the ball then, and that passing with greater frequency could help open running lanes, as well as find his rhythm.

"I think it went too far on Monday," Garcia said. "I'm not a selfish player like that; I'm really the type of guy who says, 'Call the plays and I'll make them work.' I don't think play calling is the problem or the issue. It's just a matter of execution on the field."

"I do not wish to throw for more yards than we did last year. That's one of my goals," Mariucci said, referring to Garcia's team record 4,278 yards passing. "What happens is, when you're running the ball effectively you're chewing up the clock and keeping the defense off the field. We can win a lot of games by throwing the ball efficiently."

The debate has been raging for many years, as teams grasp for what is right and wrong in calling plays, the 49er's however have had balance for most of it's life in the league. This is something that has been taught and learned within this organization since I was a fan in the very beginning.

We have always maintained that running the ball is imperative to managing the game as far as time is concerned, the more first downs you generate the more time your offense is on the field. And the more you defense is off the field resting for it's moment.
I am still a great believer in running the ball; it alleviates pressure on the quarterback and chews away at the time. Thus allowing rotes and lanes to be opened for quick strikes in passing situations.

In yet another development this season, the question if how conservative a coach should be has been answered. Let's go back to the first game against Carolina headed by former 49er head coach George Seifert.
Seifert has always been known to be very aggressive in his offensive philosophy, Mariucci has been just the opposite. Both came to a head in this game.

Both these tendencies helped end Seifert's two-year, four game winning streak against his old team, it was a case of Mariucci's conservatism winning and Seifert's aggressiveness failing.
Of course there were other reasons why the 49er's won also, simply because of quarterback experience and the fact the 49er's are rounding out of a rebuilding mode.

The Panthers on the other hand start a rookie quarterback and are just now in the midst of trying to rebuild the team with youth, after trying to stockpile their lines with aging veterans and falling flat ob their faces. What transpired in this game was sweet, I observed the psychological war evolve as the first half was drawing to a close.

Carolina had just driven 99-yards for a touchdown to tie the game 7-7, and the 49er's took over with 1:00 left before halftime at their own 31-yard line. After a penalty set them back to the 26, Mariucci was content to run out the clock and go into halftime tied.
Seifert however was not satisfied. The 49er's ran the ball. Terry Jackson gained seven yards. Clock running. Carolina called time out. The 49er's run again. Jackson for five. Clock still running. Now it was third and three with 36 seconds to go in the half.

Carolina called another time out, it's last one. Strange decision. Even if the Panthers prevented a first down, the clock would run out before the 49er's had to punt, so there was little upside Carolina.

What happened was an even bigger downside for the Panthers; Jackson got 12 on another run. The 49er's had the ball at the 50. And they had a first down, 28 seconds to go to halftime. Now it was the 49er's calling timeouts. They maneuvered into position for a field goal, and Jose Cortez nailed it from 40-yards on the final play of the half for a 10-7 lead.

Mariucci explained his play-calling this way: Because he knew the 49er's would get the second half kickoff, he didn't want to risk a turnover in the last minute of the half that would give the Panthers momentum. He believes a score just before halftime is a big emotional lift. We'll guess what folks it was for us.

"I didn't want anything bad to happen," he said. "Going in tied was going to be OK. I didn't want to take too many chances." Seifert however said: "I played right into San Francisco's hands. That was a mistake."

Sometimes being conservative pays off in big dividends, we have a tendency to want to take risks, and go all out and score no matter what the game clock may read. But I received a big wake up call after witnessing this move made by both coaches on the playing field.

No matter though because Seifert said he would do it again. One week, he called a play on fourth-and-14 at the Green Bay 31-yard line in the second quarter. (It failed.) He says he does things like that because he wants to show confidence in his players. "I think it's important to them," he said.

Mariucci feels just the opposite. With both teams being young, Mariucci believes the 49er's are best served by keeping them out of situations where mistakes are more likely and, potentially more costly.
I tend to side with this way of thinking based on the youth on our team; I feel it makes sound sense to take this approach. Maybe next year will be the time to take some risks.

What has arisen in this clubhouse with Steve Mariucci has been great confidence, a confidence that the players feel like they can win anytime that they feel like it. It has overflowed into a season that finds them sitting tied in the division lead with St. Louis and eager for many more wins.

"To be able to win like we're doing is huge for confidence. It's huge for character," 49er's quarterback Jeff Garcia said. "It's going to prove to be strong point when we get down to later this season when wins are going to be very difficult to come by."

How really special is this season? I can tell you it most certainly is until I am blue in the face; I have never seen such a remarkable turnaround in such a short period of time for this team.
This is a team that has been surgically gutted out from its feet all the way up. This is a team that shows a tremendous amount of new faces and new blood in the locker room, this is a team that has scratched and clawed their way back into a league that frowns on losing.

"I don't know if you want to call it special, but it's a great thing going on here," 49er's running back Garrison Hearst said. "Anytime you win; it's a great feeling."

In a game just following an overtime victory against the Atlanta Falcons, Head Coach Steve Mariucci witnessed the celebration inside the locker room and responded: "It was quite an interesting, fun locker room after the game." "It was like a high school team that just won the homecoming game against the cross-town rivals. It was fun. Guys were going crazy. There was so much energy."

The 49er's so far this season under Mariucci have experienced four overtime games and have come out on top in three of them, this alone in itself was unheard of just last season where we were unable to win in overtime. The confidence in this team is at a high rate just like a heartbeat that is beating irregular, this team believes it can win in any given situation.

Are the playoffs in sight for this team? Well we are on the right track, and it would take a heck of a slump for us to be knocked off at this point. The playoffs are a topic that Mariucci tries to downplay, as all coaches do simply because of the distraction from the games at hand to get them there.

"We can't limit this football team because of salary cap or age or any of that. Those are self-imposed limitations," Mariucci said. "That's why we are harping on the 'now' thing. This team is trying to win right now, every game we can."

"It's going to get more difficult; the schedule is going to get tougher as we go. There's no gimmies, there never will be. We're going to have to fight for every win we get. We're off to a good start. We're off to a heck of a start. So who knows where this is going to end up?"

"You have a lot of guys that are making strides real fast and learning, and that's the whole part about making a team good," Hearst said. "You've got a lot of young guys that are coming in and playing well now. They had to get experience from the games.

They didn't get it from watching. They had to jump right in. I think those two years were rough, but it really taught them something. And it's showing off now."
"We've gotten off to a very positive start, but it's so early in the season," Garcia said. "It's nothing to hang your hat on, yet. There's a long way to go. We as a team are not content in anyway. We feel we can improve in so many ways."


Are the cracks in the pavement starting to come through for Steve Mariucci? Even with a record of 8-2 can this be enough to keep Mariucci in the driving seat for the 49er's for years to come. When the incident over Terrell Owens came up after the Chicago overtime loss, the whole world looked at Mariucci in a different light.

Many fans and others that hate the 49er's stimulated vast amounts of e-mail on the subject as to what a player can say about a head coach and get away with it. Even though it was Owens that cost the game against the Chicago, dropping a pass that resulted in a game winning interception touchdown.

There are a lot of media maggots and reporters that live for controversy that could care less about the substance of truth and honor in professional football. Mariucci is an old school type of coach, and yes he does seem to wear his emotions on his sleeve at times and he does care so much about his players that he sometimes downsizes the gravity of losing a game.

Many people are calling for his head, many believe he is better suited to be back as a college coach than he is in the pro's. I cannot fathom losing Mariucci for someone or anyone for that matter.
It is without relevance and without merit that he has had to deal with publicity and weather controversy, through it all I believe he has done well.

The Owens factor needs to be worked on and it needs to be corrected so it does not continue to happen, ever since his game suspension and fine last season over his two outrageous celebrations on the Dallas star in Texas Stadium. The bad blood was set in place from there on out.

The fact that Mariucci did something ahead of the league in disciplinary action speaks volumes about his ethics and morals concerning sportsmanship in professional football. And that has to count for at least something.
The fact that Owens was allowed to criticize Mariucci over allegedly throwing the game to save face with his friend Bears head coach Dick Jauron is again without any substance or practicality at all.

We have to be adults and process what happened the right way; we should be able to dictate the truth in this matter. Owens is the playmaker of this offense and he is entitled to his opinions, but there comes a time when immaturity and brash public outbursts need to stand corrected and so should this have been one of them.

The record speaks for itself, it is not a matter of coaching that has attributed to the 49er's two sole losses but the playmaking skills of it's players.
Mariucci has helped this team cross over the twilight zone and into the new dimension, he has nothing but great kind words to say about all his players. Maybe his greatest fault is that he is not Bill Parcells and rips players into submission.

Mariucci must find common ground with Terrell Owens, Owens can be won over and compromise can be found. Both needs each other to win this season, so creating harmony would make the best sense, sitting down and getting to know each other better must be established.
Communication and involvement in play-calling would probably ring a bell loud for Owens, he seems to be wanting the same privileges that Jerry Rice had accumulated with the 49er's over 16-years.

One day after the 49er's flattened the Indianapolis Colts on a road trip 40-21; Mariucci again ducked away from questions regarding our playoff picture. This had to be one of the best road victories we have had all season, as we created five turnovers to beat Manning and his Colts.

"We're still building this football team," Mariucci said. "We're in the middle of this journey, and it's a long-term process. We're still trying to maintain a certain level of consistency, especially with our offense from a production standpoint. We're pleased with our progress and the record, but we're still building this football team."

The construction of this football team has taken over as high priority, what ever comes from that seems to be gravy, the record that Mariucci has helped establish reminds us that conservative or not he has accomplished a great deal so far.

After some amazing close victories over the New Orleans Saints (28-27) and Carolina Panthers (25-22 in overtime), the 49er's broke out both offensively and defensively against the Colts. Running Back Garrison Hearst gained 106-yards in 12 carries and scored twice, and receiver Terrell Owens had six catches for 103-yards and scored once.
Even though the 49er's still allowed nearly 500-yards of offense, they intercepted four passes, two by cornerback Ahmed Plummer and another returned for a touchdown by free safety Zack Bronson.

A victory here puts the 49er's back in 3-Com where they face the struggling Buffalo Bills, and shortly after that they meet division leader St. Louis in a showdown for first place and for bragging rights. However Mariucci acknowledged that it is not time to look pass the Bills.

"We have no idea when we play St. Louis," he said. "We have one game on our schedule, and it's at 5:30 p.m. at 3Com. I think (commentator) Joe Theismann comes to town for an ESPN deal and we play the Buffalo Bills, who just got beat by Miami, which scored 24 points in the fourth quarter to beat them. So that's all we're thinking about."

This is just an indication of how well when poked and prodded on subjects such as future games he does an about face. Concentration on the game that is at hand is most important, looking past an opponent is too dangerous to do in this league, and you set yourself up for ultimate failure by doing so.

In this game it was father against son, Jim Mora head coach of the Indianapolis Colts faced his son now 49er defensive coordinator Jim Mora Jr. In this game Mora did a fantastic job of making the turnovers happen defensively whenever the Colt offense took the playing field.

Both Mora's have tremendous respect for one another, Still Mora Jr. cab boast of being 3-1 in games in which he coached against his dad. "It's a great win for the organization," Mora Jr. said after he helped guide the 49er's to a decisive 40-21 victory over his father's Colts at the RCA Dome on Sunday. "On a personal level, it's bittersweet."

The Mora vs. Mora confrontation was the talk of the town leading up to the game. Mora Jr. was seemingly besieged with questions about how it would feel going up against dad.
Head Coach Steve Mariucci confirmed that all the questions and all the reporters were rough on Jim Mora Jr. And that he handled it very well. No one can imagine the mental aspect of having to devise game plans to actually defeat a team led by your own dad.

"I was proud of how Jim handled this week and approached the week," Mariucci said. "It was a big game for him. You know, it's not easy for either of them to compete against each other."

And it certainly wasn't all peaches and cream to be Mora Sr. being on the losing end taking his team in the locker room and ripping them up, in what he believed to see their worst performance of the season yet. So is the tide in the NFL and all that we expect from it, for if you are not a winner everything else is nothing.

The talk of eradicating Mariucci from the 49er's is so ridiculous, the nameless reporters and sports broadcasters need to take note, and realize there is more to Mariucci than meets the eye.
You need to take it all in like a fine aroma of cappuccino in the morning, when you first get up. He is what this team needs and craves, players feel comfortable with him and are inspired by him, except for a few he has made incredible bonds and formed lasting relationships.

He is in my eyes the sensible coach that will go the extra mile for you, if you just give it your all. And if you fail you get right back up and try again. He is a family man that believes in tradition and utter tranquility in the home, he offers advice and encouragement to his children, and in many ways looks at his players like they were his own in guidance.

This is the man that can lead us to the playoffs and fine tune us for the final run, I know we can find faults, I know he is not perfect and that he has made calls that frustrate some.
But he is damn well close to sporting an image that reminds me of some of the greatest coaches I have ever seen. That has to be the bottom line, now all he needs to do is win the big one.