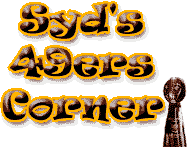 "Extra Extra read all about it, Mariucci to stay with San Francisco." (02/23/02) 4PM

The San Francisco Bay Area was abuzz with a frenzied news flash that read "Steve Mariucci is granted permission to seek Tampa Bay Buccaneer General Manager/Head Coaching position."
The Tampa Bay Buccaneers very eager to end the drought of head coaching candidates made a tremendous pitch to wrestle away Steve Mariucci from the San Francisco 49er's.

The intent of the Buccaneers was to obviously restore normalcy in the rank and file of their elaborate system, where they already had a general manager that was going sour and just recently a head coaching vacancy due to their own accord on releasing Tony Dungy.
Right after the post-season the rumor was that Dungy would be sent packing if they had another early playoff exit, well that rumor was confirmed shortly afterwards when the owners and top management canned him due to the Buccaneers inability to advance in the playoffs over consecutive seasons.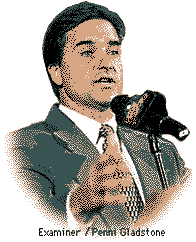 Joel, Bryan and Ed Glazer the owners of the Buccaneers, hastily ousted Tony Dungy less than 24 hours after the Buccaneers were defeated by the Philadelphia Eagles in the wild-card playoffs.
They believed or had reason to expect that former New York Jets Head Coach and General Manager Bill Parcells would come to their rescue. A deal was believed to be offered and a deal near reach or about to be confirmed.

But that anticipation was shattered by Parcells after he had them hanging, who a week later decided he didn't have the requisite energy and drive to make the coaching scene in the NFL ever again.
Parcells had disappointed the Buccaneers already once before, the team's previous owner had also sought to make a deal with Parcells back in the early 1990's, only to be left at the wedding altar wondering why.

Well that bride in the form of Parcells never showed at the altar again, therefore they looked to Oakland Raiders Head Coach Jon Gruden, who by the way had only one year remaining on his contract.
The pitch was made to owner Al Davis, but they slammed into a concrete wall at 100mph. Davis had an asking price that would scare Godzilla away; the ownership of the Buccaneers was left to seeking scraps again.

Meanwhile Buccaneer players and fans had to endure endless news flashes of the ownership being dumbfounded as to what to do. The aura the ownership had created for the Buccaneers was one of uncertainty and indecisiveness; players began to question as to why they were playing for such an unstable franchise.

Buccaneers General Manager Rich McKay had contacted former Baltimore Ravens defensive coordinator Marvin Lewis and wanted to introduce him to the ownership as Dungy's perfect replacement.
But the Glazers stepped up and said no to the hiring, even though it was Marvin Lewis and the Baltimore Raven defense that won the Super Bowl title back in 2000 for Baltimore.

The Washington Redskins as new Head coach Steve Spurrier's defensive coordinator then quickly snatched Marvin Lewis up. Now the word desperation had found it's way across the Glazers lips.
The Glazers essentially wanted or craved a great offensive mind to help turn the Buccaneer anemic offense around; it seemed that they targeted this area because of the inability of the offense to score points in critical periods. They knew they had the defense to carry them, but all signs pointed to the offense as the culprit to their stagnant state.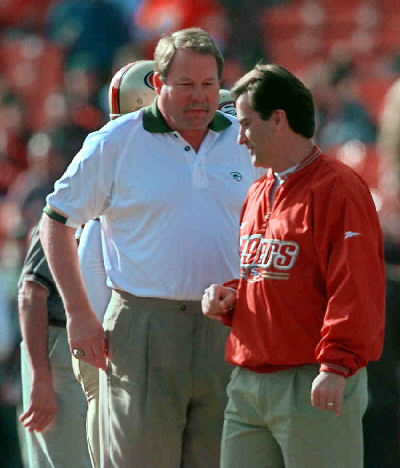 The Glazers turned to Maryland Head Coach Ralph Friedgen, but in an instant he removed his name from consideration. Now four weeks after the fact on firing Tony Dungy who had in all practical sense rebuilt the Buccaneers into a contender again from a scrap heap.
The Glazers found themselves staring down an empty tunnel without any light at the end of it; Buccaneer linebacker Derek Brooks even made the comment that the ownership had chipped away the credibility that Dungy had brought to this franchise.

The fallout continued as general manager Rich McKay was publicly embarrassed by the Glazers who said no to his candidate in Marvin Lewis as Dungy's replacement. McKay is one of the most respected executives in the NFL and to be snuffed like he was set a bad taste in his mouth. He then contemplated immediately of leaving himself citing the latest development as the example.

The McKay-Dungy regime brought respect, vision and, yes, even credibility back to this franchise that suffered double-digit losses for 12 consecutive seasons. They were the ones that transformed the Buccaneers from a league laughing stock to a team that qualified for the playoffs in four of the past five seasons, one many believe to be a quarterback away from challenging in a Super Bowl.

The Glazers though seek the alternative and believe that there is someone that can lead this team further into contention and further into glory. Then on Friday February 15th, 2002 the Buccaneers contacted the 49er's about the possibility of hiring Steve Mariucci as their new general manager/head coach. The 49er's responded with a shocking answer that spread like a plague across the Bay Area.

"Last night I received a phone call from Joel Glazer (Buccaneers Executive Vice President) and he asked for permission to speak with Steve about the General Manager and Head Coaching position at Tampa Bay," said 49er's General Manager Terry Donahue. "I hung up the phone and informed John and Denise York of their interest. Then I visited with Steve on the phone."

"I spoke with John (York) again this morning and I visited with Steve at which time he expressed to me, because of the magnitude of the job, because this is an enormous opportunity to be a General Manager, that he would like the opportunity to discuss it with them. John and Denise were supportive. I was supportive. So we gave Steve permission to go and talk to Tampa Bay because this is an opportunity that is unique."

What is so inconceivable to this whole picture is the fact that here is a franchise that is actively seeking to pry away Steve Mariucci for an enormous compensation package and a very lucrative deal that would make Mariucci rich beyond his wildest dreams.
Even though Mariucci has never won a Super Bowl, the Buccaneers saw a quality in Mariucci that compelled them to contact him.

Steve Mariucci has compiled a 47-36 record during his tenure at San Francisco, including a 2-3 mark in post-season play. He was approached once already in mid-season as a candidate for the head coaching position at the University of Notre Dame.

"Steve has done an outstanding job with us and I would like him to stay on as our coach,' added Donahue. "I think that Steve's success is going to cause this kind of reaction and interest from other people, both now and in the future."


Let's look at the reasons Steve said yes to the Buccaneers, now there are many speculations and rumors as to why he would want out of the 49er's. That media attention has been ongoing since he was hired as the former California head coach back on Jan. 16, 1997, right after longtime head coach George Seifert was told his contract would not be renewed.
Mariucci would then go on and guide the 49er's to the National Football Conference West Title in his inaugural season as a NFL head coach, with a 13-3 record.

And then bang all hell broke loose, he survived an ownership change, managed an injury-ravaged and salary cap depleted roster in 1999 and 2000, where the team finished 4-12 and 6-10, respectively, and guided the team's beautiful resurrection in 2001. The 49er's finished 12-4 last season, making the playoffs but losing 25-15 at Green Bay in a NFC wild-card game.

Right after this game speculations and rumors began to fly that the 49er ownership had grown disenchanted with Mariucci, and that general manager Terry Donahue and consultant Bill Walsh wished he would depart. Nothing was further from the truth, as the media was relentless in trying to cause separation between the two parties.

"I'm going to be back. OK? I'm going to be the 49er's coach next year," Mariucci said. "The ownership would like me to do that. I would like to do that. End of story."

During the courting of the Notre Dame position back towards late-season the issue of a contract extension brewed in Mariucci's mind, he sought reassurance and job security before turning down the college position. Mariucci has two-years remaining on his contract with the 49er's, and that was highlighted by ownership and the discussion ended there abruptly.

"John said, 'this is really bad timing.' And I said 'yeah' it is bad timing; this is really crazy." Mariucci said. "He said 'this is not the time to do an extended contract.' Which I agreed with. The extension talk started and it ended there."

"Then it just took on a new life where I was demanding a contract extension, which was not the case. It was brought up because we were comparing the (49er's and Notre Dame) situations. I told John I love being here. I do intend to honor my contract. He told me he loves having me here. He would like me to honor my contract. So that was the end of it with us. But it just kept going on and on and on."

Why does it not surprise me for this to be the truth? I am so sick and tired of media intrusiveness and media indifference for tabloid headlines that cause friction and stress that need not be even there. This along with the Terrell Owens and Mariucci case is a few in point that I would like to mention.

There is so much overkill in this industry it blows the most common sense type of logic to shreds, I am as so many others at odds at how the media can misinterpret and conjecture a simple statement.
The bottom line here is that Mariucci was concerned with his job security, as is any head coach in this league on an annual basis.

The mere fact that it came up in discussion is simple in the fact that Notre Dame had courted him in December seeking his leadership, the offer obviously would make any normal head coach think about their current situation and evaluate where they are right now.

The media has also portrayed a rift between Mariucci and 49er consultant Bill Walsh as well as general manager Terry Donahue. All three have stated publicly that none exists but the media chose to hound on the matter. Attention was fixed on the fact that Mariucci catered to players and the media, as well as his own conservative play-calling that came into question on several occasions last season.
In fact there was speculation that if not for the so-called too conservative approach taken by Mariucci in the playoffs against Green Bay, the 49er's would have advanced beyond this round and into the next.

This too conservative approach was blasted many times during the season by super star wide receiver Terrell Owens, who complained openly about the anemic offensive play calling that should have included him more. Indeed, the 49er's had more running play (509) than passing plays (506) in 2001; this is a mix that Mariucci insists is necessary to strike a balance.

I am in agreement to the point where the running game must be emphasized, no team that makes the playoffs lasts very long without a great running game, let a lone has a winning season. A balance must be made to achieve this, and a demeanor to enforce this practice is difficult.

I will agree though that there are instances where a passing attack is more lethal, in the fact that large amounts of yardage are achieved in critical game moments. Stretching the field more in my opinion is necessary, but I still like staying in the confines of the West Coast Offense. Was Mariucci too conservative? Does he deserve this criticism?

Yes there were times where he was too conservative, where the safe way was the best way, look back at the Carolina game against Seifert where he outsmarted him in the timeout game and we went ahead on a field goal before halftime.

Was the passing attack where it should have been? Probably not, Stokes and Streets never really stepped up to make a substantial contribution; sure they both showed flashes here and there, but consistently no. The passing attack rested most of the time on Terrell Owens, who was more than eager enough to seek to the spotlight.

The other worries that Mariucci had were the constant instances where he felt he had to look over his shoulder, fearing that Donahue and Walsh were watching his every move.
It was said that Walsh and Donahue avoided watching practices in person or walking through the locker room "because Steve was so paranoid about seeing them around," a team source said.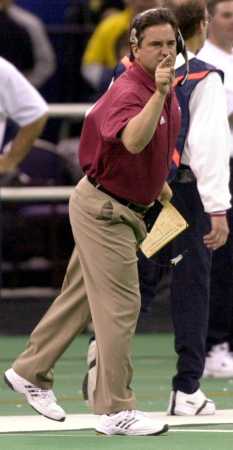 Is there any real truth to this? Being a team source you have to wonder, I have to think that Mariucci wanted to have his own signature on this team. That he wanted to have his brand on each and every player, he in essence wanted players to seek him out rather than Donahue and Walsh.
Players conceivably would seek out Walsh simply because of his legendary status and ask him many questions. Mariucci in all likeliness wanted that to change in his direction more that is understandable.

And after Notre Dame approached him back in December, some people say he was insulted that the 49er's would not extend his contract in good faith to ward off potential buyers of his contract.
There was speculation that he took this very hard, but there is every indication that he understood the fact that he had two years left, and that it would not be brought up by the York's until one year remained.

The fact that Mariucci looks for a bit of recognition is not a bad thing, many if not all coaches deserve more from their general managers and owners. Mariucci is a player's coach; he has been called this because he is generous with his praises of his players. He seeks out players and congratulates them on the sidelines and in the locker room.

He is a solid role model of what a coach should be, he rarely disciplines a player, but will when his hand is forced to. He is open and kind and welcome to disagreement, he believes that differences on a team only enhance the team further to where it is headed. Forming a mixture is what he sets to accomplish and integrate all the best qualities.

Appreciation has to come from both sides; it has to be formulated that way in order to be effective, did Mariucci get any is what we are asking? I believe he did and didn't, I acknowledge that Mariucci is the best answer for the 49er's back in 1997 and now. He is the future of this team, and I believe he still can take this team to the next level.

But I also believe a general manager is supportive enough just by having great communication with the head coach as well as an open door and an open ear. Just that alone is enough for a head coach to feel more adequate at times.
It is human nature for issues to surface about one's deserved recognition, it happens in all the workforces in this nation. Even in the NFL.

All these events and speculations could have fed into Mariucci's mindset and made him seek the interview with the Glazers, we can hash at all of this all we want. The fact remains that it was an opportunity that was huge and so intriguing one would be foolish not to at least consider it.

"It surprised me that Tony Dungy wasn't there in the first place," Mariucci said. "I think the world of Tony. And I don't know what's going on with Rich McKay. He's a fine general manager, too. So it's a bit unusual to fill the void of those two gentlemen. Geez, that's a tough task."

The Glazers flew out to Southern California for a family function and Mariucci is high on the list, when Mariucci was questioned before the meeting he was quick to make a statement: "I don't know what to compare yet," Mariucci said.
"I don't know enough about that situation to even speculate what it's going to entail. I don't know the Glazer family very well. When we get to meet it's really to get to know each other."

"I feel great about our ownership, Denise (DeBartolo York) and John; I always have. I don't know what to compare. It's a situation I'm unfamiliar with over there to a situation I thoroughly enjoy over here. And I just have to weigh it all out, I suppose."
The marathon meeting took place on a Sunday in Los Angeles that lasted about six hours into the interview, compensation was indicated to be many draft picks including first, second and third round picks as compensation over two years for the 49er's. It was also indicated that Mariucci could have been offered up to $7 million a year for seven years.

What happened next set off a bizarre series of events, events that led to the Glazers bypassing Mariucci and acquiring Jon Gruden from Oakland? It seemed that Mariucci entered the interview with lukewarm feelings, the most paramount being the hardship such a position and distance it would have on his family.

Seeming unconvinced that Mariucci would take the job, the Glazers contacted Raiders owner Al Davis and met his demand for two first-round picks and two second-round picks and according to Davis $8 million for Gruden.

The contract that was offered to Mariucci was a wide range one that went from four years up to six ranging at more than $5 million a year, striking contrast to Mariucci's $2.2 million he makes now in San Francisco.

"What weighed heavy on my mind was, 'How do I do this with my family?' I don't get the time back with my family. Leaving my family here and having a lot of money in your wallet, when I weigh it, my family is more important," said Mariucci, with tears flooding his eyes. "And all these other reasons, (owners) John and Denise DeBartolo York, and this team, and this front office and this Bay Area. I'm a pretty lucky guy."

Steve takes great aim at making his family happy and content, he has always been a family man his children bear truth to that. He has sons ages 17, 15 and 13 and a six-year old daughter. The original plan, if Mariucci accepted the Buccaneer's position, was to leave the family behind for the 2002 season.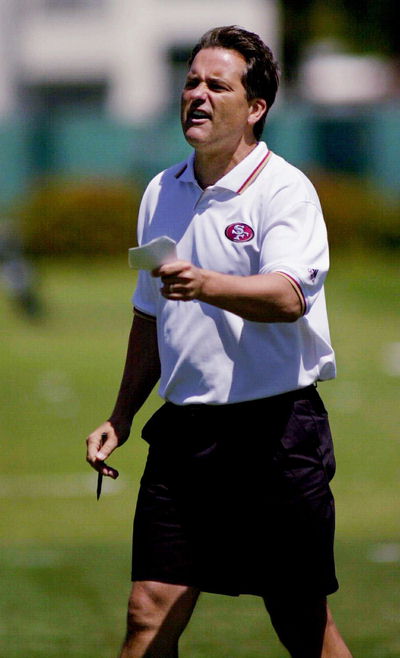 This would certainly tend to make my mind blurry as I looked from family photo album to wards of cash falling out of my wallet. Steve made the only choice that made true sense, and that was to honor his commitments to his family.
And to experience the years a father can never get back once absent for so long. His love for the owners, the management, the Bay Area and the team signal where his real ego is, his bigger heart shadows it.

"I made professional decisions and sometimes selfish decisions. When you're an upward mobile coach, you sometimes make decisions to pick up and leave," Mariucci said. "And that's never easy on the family."

What has also been a defining block for Mariucci has been his personal interaction with his players; he has made bonds and forged relationships with all of the new and young talent that has come into this franchise. The rebuilding stages have been rough but they also have been beneficial as well.

"I've had a lot of neat teams here and elsewhere," he said. "But last year's bunch was probably my favorite because of the personalities and the individuals. Collectively as a team, I love coaching this bunch; we have a good thing going."

His very own players were quick to respond to his commitment to stay on as 49er's head coach: "I'm ecstatic that he's staying," linebacker Derek Smith said after emerging from the weight room. "He's a great offensive mind and I think the guys respond to him."

"I think it's a great testament to the kind of person that coach Mariucci is," said linebacker Jeff Ulbrich. He wanted to keep his family in place and not disrupt his children's school experience. He also showed his loyalty to the team and an organization that has big things coming up in the future, and I think that is a great testament to the family man and coach he is."

Quarterback Jeff Garcia expressed relief that Mariucci would be returning as well. Garcia coming off his second Pro Bowl and third season as the 49er's starting quarterback was so pleased. "Coach Mariucci listened (to the Buccaneers) and decided to stay with the 49er's. Which is important for us, Garcia said. 'We again have the stability of a head coach that helps us to work and focus on becoming a Super Bowl-type team."

I salute you Steve, I supported your hiring back in 1997 even after having some reservations as to why Seifert was being banished. I felt Seifert had allowed many things in the end go and chose to turn a blind eye and a deaf ear to certain situations.

Steve came in at the recommendation of Bill Walsh himself and kept the ball rolling all along, even through the terrible salary cap transition that bled us dry with two losing seasons.

I am proud to call Mariucci my coach of choice, some may disagree and they are welcomed to their opinions. But I stand firm that he has the best interests at heart for this team, and he has the ingenuity and practicality to pull a championship off in the near future. I hope it happens so that all the Mariucci bashers will jump off his wagon.

Is he too conservative? Maybe but he strikes a balance, he believes in a balance and establishing a running game, in order to set up the passing game. But with some recommendations and tweaking he can adjust this to certain situations, as he so does desire.
The passing game should receive a bit more attention and probably will at Owens insistence, he being the playmaker on this offense his word to produce and be a difference maker should be taken seriously.

"There is only one Steve Mariucci and I consider myself very fortunate to work with him," said defensive end Andre Carter. "He is a great guy with great character and is always fun to be around." Carter knows how it is to be without Mariucci, as he left the University of California to take over, as the 49er's head coach in 1997. "All you need to do is look at what he did with us last year, the previous two years we were down and we came back in a big way in 2001. He is the best coach I have worked with and he is the man I want coaching us period," concluded Carter.

"As we continued to talk after I left there (Sunday night), it became obvious to the Glazer family that the deal wasn't likely," Mariucci said.
"They knew that my family was going to be an issue I was concerned about. As much as we tried to make it OK and regardless of what the money was, I just couldn't come to grips with being away from my family for a year and a half or a year or moving them again at this point. I've moved my family many times as a young coach. I made professional decisions and sometimes selfish decisions."


"We love it here," Mariucci said. "My kids love their schools. They're actively involved in school and friends. My wife loves it here and I love it here. First and foremost, more important than any job or any amount of money, is my family. And that will never change."

What is so prestigious about this area and this position? Only a few know that answer as 49er head coaches. There is a winning atmosphere here a desire to win all the time. There is a symbol of unity here and across the country to endless 49er fans that watch each and every week and jump up and down in their seats. There is just so much to like about being a part of this great organization.

"He had an offer to go to Notre Dame, arguably the most prestigious college football job in the country, and he turns it down and stays here with the 49er's," York said.
"He has an opportunity to go down and be the general manager and head coach of Tampa Bay and he's still here." "So there's obviously something pretty good about being head coach of the San Francisco 49er's."

I will say it again thanks Steve for choosing us over them; thanks for making your family number one along with all the benefits that go with that. You are a proud dad and a loyal husband it seems to boot. This franchise is better for it, for you bring all that is most human to this organization, that is being united and committed to working together as a family unit both at home and on the field of play.




Fan Press:
Now you can write articles for 49ers Paradise, and read what other fans have to say too in the Fan Press section.