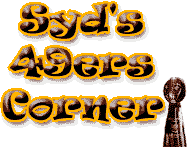 Fan Press:
Now you can write articles for 49ers Paradise, and read what other fans have to say too in the Fan Press section.
49er defense dares opponents to go for it 11/17/01 11:00 AM

On Sunday November 11th, it was a rendezvous that the San Francisco defense had circled in their minds and even on paper. No one will forget how the 49er defense was humiliated and spat upon, by a New Orleans Saint offense that went for it twice once even on it's own 28-yard line and succeeded just last season.

I can personally remember that game, as I observed our struggling young defense face one onslaught after another and witness how the Saint offense then under quarterback Jeff Blake rip us apart every time. In fact they marched so successfully they went into halftime with a 28-0 lead, and eventually defeated us 31-15.

Twice on fourth and inches, once even on their 28-yard line the Saints executed a first down play. Never has the 49er defense been so humiliated and ashamed as they were on this date last season. The 49er defense finished 29th in the league that season, but wait a minute there is a dramatic story to be told. Just one week ago, the 49er's were 20th in the league in total defense, but now they are 10th overall, ninth against the run and 17th against the pass.

Since the beginning of the 2001 season we have seen a defense blossom and mature under the tutelage of defensive tackles Bryant Young and Dana Stubblefield, their climb up the statistical ladder has been fascinating all coming to a head in their game against the Detroit Lions.

In their most stellar performance of the season so far the 49er defense held Detroit to a grand total of 131-yards in total offense in their 21-13 victory. But Head Coach Steve Mariucci says otherwise. He believes that it all started in that very game against New Orleans when it was humiliated, when the 49er's outscored the Saints, 15-3, in the final 30 minutes of that want to be forgotten game. The 49er's then followed that performance by reeling off three consecutive wins to finish the season on a 4-2 whirlwind.

This momentum in my hindsight is what we are seeing right here this season, we know that our draft picks baptized in fire have come all the way on their own. We know that the key free agent signings that we made have filled needs that were glaring. And we certainly know how tough and resolute defensive coordinator Jim Mora Jr. has been.

With all of these cylinders clicking we have been able to put a quality defense on the field almost every game this season. And by doing so we have been able to win close games even in overtime due to this unit being where it is today.

"I think that was the lowest we could go," safety Lance Schulters said of last November's meeting, which he happened to miss with a knee injury. "After that. We were like, 'All right, let's try to pull it together and make the best of our season.' "I think it was definitely the turning point. I think we started playing more relaxed. We just want to go out and play."

Whatever you want to call it, it was definitely a calling that the young defense wanted to answer the best way it knew how. And that was to go out there and slap the ignorance off their faces and play even harder. What also had to transpire was the fact that they needed top play smarter rather than harder. This is what Jim Mora tried to instill in his players, a defensive unit that went faster then the flying bobs at a county fair, where injuries resulted in consecutive rotations of personnel.

When Mora reflected back on that game he was asked whether he agreed with the defense turning around from that point in that Saints game. "We played better, but I don't know why," Mora said. "You'd have to get sports psychologists to answer that one." "Maybe just getting spanked like we did in the first half worked us up a little. Maybe it made the young guys realize the enormity of the game, how fast people can get on you, and how bad they can make you look." "I don't know whatever it was. They took it to us big in the first half, but we have kind of responded since then."

Definitely Mariucci believes it was a variety of moves that has led to the excellence of this defense. He believes all the 49er off-season moves have contributed in one way or another to the rebirth of this proud unit. The 49er's drafted California's defensive end Andre Carter in the first round and acquired linebacker Derek Smith and defensive tackle Dana Stubblefield via free agency.

I would have to agree with him on this as these very free agents have mixed well with the rookie talent we have assembled on this football team. Patience is hard to come by from a devoted 49er fan; we still are struggling to get out of the mentality that we are not a dynasty like we have been for so many years. Be it what you will, we will always believe that we can still become one, even though the dawning of the salary cap has destroyed that possibility.

These very three players have meshed with such emerging talents as cornerbacks Ahmed Plummer and Jason Webster, two second-year players who some how survived exasperating rookie seasons and are now among the most improved players on the team.

Second-year defensive end John Engelberger, is another of a number of rookies forced into action last year, whether he was ready or not he was leaned on to perform almost immediately. But now he has developed into one of the defensive corner stones on these up-and-coming units that is hungry and thirsting for redemption.

"Most of what we've been doing in the draft, in free agency, in the growth of this young team, has been primarily on that side of the ball," Mariucci said. "It's a process we're going through to get back to being the best defense in the league. We were just that in 1997. We were ranked No. 1 in nine categories. Our aim is to get back to that. And we're headed in that direction. We're not up there yet, but we're climbing."

What does this 49er defense lack? Where does it go from here? What will it take to inherit that championship mentality that it had so many years ago? The veteran on this team's defense remembers just what it will take.

"In 1994, my rookie year, I remember it being a very veteran team," said Young. "Basically, the whole defensive line was made up of guys that had been around for a long time, there was Tim Harris, Richard Dent, Charles Mann, those guys just took me under their wings and showed me the way."

"It was a fun year. The camaraderie was good in the locker room," said Young. "I remember, once a week, Harris Barton would have dinner at his house and he would invite pretty much the whole team. I think that's one of the things that brought us together. You had guys from different backgrounds and different teams and we were expected to gel quickly. Having dinner once a week aided that."

It is here where bonds are made, confidence in each other is exchanged, innermost feelings are expressed, knowledge and experience is enhanced and friendships on and off the field are molded. Being on a full stomach, you seem to relax a little bit more, joke a little bit more and share genuine opinions about matters, not just pertaining to football.

"What defined us was the respect of your teammates, guys coming in with different accolades and just knowing what they were capable of doing," Young said. "The one common goal is that we wanted to win. We always picked each other up and would do whatever it takes."

This is what will be needed down the road from all these young and talented players, it will be the duty of both Young and Stubblefield to make this matter happen. They will have to project this philosophy and carry it like a mantle into the locker room. It is what a veteran does to make the young players define respect.

"Whatever it takes" does not exclude off-the-field efforts. Simple things like picking up a teammate for practice, relaying messages or sharing music CD's creates a certain atmosphere in the locker room.

"To get that type of chemistry back we have to find a way to do something outside of football to bring the team together. Whether it is bringing back those once-a-week dinners or getting guys together after practice. It all starts with having the team gel. Bit it takes time. Even in '94, it took time."

The architect of this defense coordinator Jim Mora Jr. Went to work in the off-season to try and make the schemes seem more attainable for the younger athletes, but at the same time help them learn more complicated plays as well. So he changed things up this season, and the defensive unit has been the beneficiary, as their record will attest to. "Jim has great game plans," said linebacker Jeff Ulbrich. "He simplified things in the system, and he lets us play. We also have a lot of enthusiasm, and not just the young players but the veterans, too."

This is what it has come to simplified game plans and enthusiasm. Two seemingly simple aspects a team needs to steer itself in the right direction. But it takes a technician to get that started, and Mora is just that person. General Manager Terry Donahue said in the start of training camp that left an undeniable impression. He said that the 49er's needed to be younger, faster and healthier.

And on defense, that's what the 49er's are younger, certainly faster and unquestionably healthier than the last two seasons. And as a result, the defense has improved, and continues to play better with each passing week. "To have a young team that's improving like this" said Derek Smith, "That's been the key. We're going to keep improving and we'll still be young. And because we're so young, I think we can be good for years to come."

An instance of how tough a defensive player is on the 49er's is rookie linebacker Jamie Winborn, back in the first week of October when the 49er's faced the Carolina Panthers. It all revolved around a cleated football shoe, although they are for a good purpose in helping a player stay cemented to the turf, they can also be dangerous weapons.

During one particular play, a cleated shoe went flying into the air and propelled itself into Jamie Winborn's facemask on his helmet. Winborn had just brought down Tshimanga Biakabutuka from behind in the first quarter, when the running backs cleat poked through Winborn's left cheek, just below the mouth.

Winborn was having a terrific day personally and statistically, and he was pumped full of adrenaline from what would be a 13-tackle effort, a franchise record for a rookie player to say the least. Winborn never even noticed the injury until he stopped for a drink of water along the sideline.

"Someone said to me, 'Man, you've got water coming out of a hole in your face,'" Winborn recalled one day. "That's when I saw the blood." "All the way through," 49er's coach Steve Mariucci said. "Dr. Klint put his finger right through his lip. And it was sticking out the other side."

Whatever Winborn took it nonchalantly and went about on his business, he was stitched together at halftime; "inside and out, he clarified, and he managed to participate in 68 snaps and every defensive play. And after that he kept an eye out for wayward cleats.

"You've got to watch out for those things, trust me," Winborn said. Winborn the second-round pick out of Vanderbilt has impressed the coaches with his speed and tenacity. He did an excellent job of replacing the injured veteran Derek Smith when he went down due to an injury earlier in the season. He can effectively shut down the running lanes, and even better he wraps up and makes tackles happen on a regular basis.

While Ulbrich handled blockers at the middle linebacker spot, Winborn embraced the freedom to roam side to side and stop running backs. "Plugger is a great position for a guy who's quick, who can move well in space and can run," Winborn said. "Just being able to run back there and cover backs, that fits into what I can do best."

What has been most academic about how well the defense has played so far this season has been the defensive game planning that coordinator Jim Mora has been implementing on a weekly basis. He may very well be the most underrated defensive coordinator in the league today.

"We're giving our young players more every week," defensive coordinator Jim Mora said, "but we're trying not to give them too much at one time. The strength of our young players is their speed and athleticism. We don't want them thinking so much about what they're supposed to do that they can't move. We want them flying around and making plays."

When it comes too defensive planning, it has its similarities with that of the offense. "We look at the computer and work out their tendencies based on down and distance," Mora said. "Then we work on defenses to counter the formations they're most likely to use."

Defense is reactive, because the offense initiates the play, so Mora must survey the field and see what players the offense puts on the field with each and every play, then he sends in a defense to counter the probable formation.

What Mora has turned to has been his experience at the safety position, on the field, safeties Lance Schulters and Zack Bronson have the ability to change the defense if the offense comes out in an unexpected formation.

"That's the advantage of having safeties with some experience," Mora said. "Because they can recognize the changes. It doesn't happen often, only twice against Carolina. Sometimes we get away with something, too. In the Rams game, they came out with a different formation and we didn't spot it soon enough to change, but then, they ran the ball, so nobody knew we were in the wrong defense."

What I like most about Mora is his ability to take in so much information and process it quickly; also the fact that he includes his players in on the game planning is extraordinary in my book. His sheer wills to make the process democratic and allow his players to play to the top of their potential speak volumes about his character.

In the first game against Carolina, for instance, Mora expected to use "pressure defenses" (at least one extra pass rusher) about 35-40 percent of the time. The actual figure was at about 30 percent, and that was for a couple of reasons.

"If your having success with your 'vanilla' defense, there are good reasons not to change it," Mora said. "You don't want to take chances that might get you beat if there is no need. I listen to the players and, if I hear (defensive tackle) Dana Stubblefield say that he can get to any quarterback without extra help, there's no need to put in an extra rusher."

The logic behind blitzing or not to blitz is a simple one, it is all about taking risks, and of course evaluating those risks and what consequences you may have to pay once they are executed.

"Sometimes, it can help a young quarterback if you blitz because it simplifies his decision. If the blitz gets picked up, he knows he's got single coverage on his receivers."

The 49er defense starts out with a base defense of four linemen, three linebackers and four defensive backs, with of course many variations. One is simply adding one rusher, either a linebacker or a defensive back, at the line of scrimmage. Other times, they drop off a defensive lineman or two into pass coverage and rush one or two linebackers and/or defensive backs through the holes; that's the rush zone that has so bedeviled offenses throughout the league. Sometimes even they have an all out blitz, with seven rushers.

Whatever the plan is or whatever the scheme is Mora seems to do a great job in picking the weakness and exposing it for all to see. This is what has leaded this team to so many close decisions in our favor because of this.

"We try to mix up the defenses so the offense doesn't know what to expect," Mora said. "You really have to pick your spots with the blitz because if you don't get to the quarterback, it can expose your defensive backs." The progress of this defense has been measured very closely, especially by Mora himself; he has especially expressed great pleasure in how his defensive backs have improved. "We gave them a chance to play last year," he said. "The only way you learn to play in the NFL is by playing in games. Practice is a controlled environment, and you can't learn enough there."

One of the most talked about aspects of the 49er defense is their lack there seems to be of an effective pass rush. I for one have often wondered why it hasn't improved, but at the same time I have learned that the pressure there has been intense, so much more now with the additions of first-round draft pick defensive end Andre Carter and defensive tackle Dana Stubblefield.

In an earlier game this season, in the first against the Carolina Panthers the 49er defensive backs intercepted three of Chris Weinke's passes in that Sunday's victory over them 24-14. The defensive line was solely responsible as they applied intense pressure causing Weinke to make trial and error throws that cost the team dearly in turnovers.

"It looks good statistically when your defensive backs get interceptions, but I think the (defensive) front caused some of that," 49er's coach Steve Mariucci said. Even defensive tackle Bryant Young expressed satisfaction with the generated pass rush. "I felt like we were getting in (Weinke's) face and making him hurry throws," Young said. "It seemed like he was determined not to get sacked. I think our defensive backs were in the right place to make plays and intercept the ball. That, for us, is satisfying."

Even though our overall sack total in the league ranks near the bottom, we are still inflicting pressure upon the front line, I do believe with another year we will break through, as we need experience on the ends and more complete play from the linebackers. "If we're winning, it doesn't matter how many sacks or how many tackles we're making," said second-year defensive end John Engelberger, who has one sack. "The bottom line is we're winning."

"Pressure is the key, and (a) sack is a bonus," Young said. "If you're sacking him, then he's not making a play. If you're pressuring him and he's making bad throws that are just as effective."

The 49er's have been involved in trying to get the most out of their first-round draft pick Andre Carter, the problem has been is that he's been matched up with offensive linemen that outweigh him on almost every occasion. So the defensive schemes have been adjusted to maximize his speed and overall abilities.

"It's opening up lanes a little bit and you can get to the quarterback easier," said Carter, who's been racing behind defensive tackle Dana Stubblefield on most of those stunts. Some of what Carter has been doing is lining up as a linebacker, because he has been facing left tackles up to 50-pounds heavier than him in blitz packages.

Still another testament of strength and durability must be said about Safety Lance Schulters, in my opinion one of the toughest and one of the elite safeties in the NFL today. What he did in the second game against Atlanta in the Georgia Dome speaks volumes about blood and guts.

In a calculated attempt to tackle Falcon fullback Bob Christian from achieving a touchdown in the first quarter of play on October 14th, Lance Schulters spiraled to the artificial turf and didn't get up. As he was carted off the field, no one on the 49er sideline expected to see him back.

But Schulters had other ideas in mind. "He's going to be out for a while," 49er's coach Steve Mariucci acknowledged thinking as he watched Schulters being driven away after dislocating his right tackle while trying to make a tackle.

When he made it to the training room, he demanded the shoulder is popped back into place, and he remarkably returned to the field. He missed only one defensive series. With Schulters in the locker room, the Falcons drove down the field for another score and an early two-touchdown lead with inexperienced second-year safety Ronnie Heard filling in. But it was when Lance came out onto the field that compelled the defense to stiffen up; the 49er's rallied to pull out a 37-31 victory in overtime over the Falcons.

"All of a sudden, they put him in a sling, and he's back on the field," Mariucci said. "To be honest with you, I couldn't believe it."

Schulters went on to have five tackles plus a sack in that game against quarterback Chris Chandler. He also participated in a gang tackle on Chandler in the third quarter that stopped Atlanta on third-and-1 from the 49er 40. He was lucky there was no penalty as he was leading with his head when he connected with Chandler.

Schulters is definitely a player that plays through to the end no matter what; it was his inspirational return that ignited this defense. I cannot believe even to this day how he came back out on the field. It is a story line I will talk about for a long time to come.

"I just wanted to play man," Schulters said. "I hate these guys. I haven't won (in Atlanta) in four years. When we had a chance to get the win, It's like; it feels a little better now that you win. To hell with the shoulder."

And then you have the defensive player that is struggling to find himself, a player that knows the sting of failure and how he will attempt to comeback. In this very game against the Falcons Cornerback Anthony Parker took the brunt of the defensive criticism in this game.
Quarterback Chris Chandler singled him out and took pop shots at him the whole time. Parker is the team's third cornerback behind starters Ahmed Plummer and Jason Webster. He mostly comes out on to the field in passing downs as the nickel back. Although the 49er's won this game, the third-year pro from Weber State might have had his roughest day in the NFL in a 37-31 overtime win against the Falcons.

"I think I took a step back," Parker said. "Personally, I'm glad some of those things happened to me this game, so I can learn from them."

Atlanta wide receiver Brian Finneran caught a quick pass from Chris Chandler against am all-out blitz. Parker tried to push Finneran out of bounds and failed. Finneran turned it into a 47-yard touchdown that gave Atlanta a 31-24 lead with 2:22 remaining.

"I messed up on that play, but if other teams want to test me. I'm going to take on that challenge," Parker said. "The next game. I'm going to play totally different. I'm going to play where I'm best at, and that's press coverage."

Mora was quick even after all of this to come to his defensive backs defense, saying he also shared some of the blame for not protecting Parker with different defensive calls. The touchdown was the third time in four plays that the Falcons went after Parker.

Three plays earlier on a third-and-10, Parker stumbled as he broke to cover Shawn Jefferson, who caught the pass for a 14-yard gain. Mora acknowledged that part of the reason he didn't use a coverage that would have given Parker more help was because of how consistently Parker had performed since coming back in Week Two from a shoulder injury.

I remember these plays as I watched Parker play. And I will admit I was equally as frustrated to see him miss tackle and visually looked like he was playing half-heartedly at times. The anguish of knowing you gave up so many big plays and could have cost your team the victory has to be overwhelming. I hope for his sake that he can make some immediate adjustments, you can be assured that yes quarterbacks will attack him again, and that he will have to defend his integrity to all over and over again.

"Anthony has great work habits and he gives a darn, I didn't take the initiative to give the kid some help when I knew they were coming after him. (Assistant coach) Brett Maxie told me, "Give him help,' and I kept saying, 'He'll be all right." Parker said he senses the coach's patience with him is now paper-thin.

"I'm going on my third year. I'm not a first-or-second-round pick; I'm a fourth-round guy. What I do now is what counts, not tomorrow."

I have to agree with you Anthony, but I do hope you get the chance to redeem yourself, because I have seen you play better before, now your name is on the line, and you must step up.

In last week's game against the New Orleans Saints sentiments of what happened just last season rang like a loud bell in all of the defensive linemen's heads. It was an emotional game, and certainly a hard-fought in the trenches type warfare between the 49er offensive line and the Saint defense that is one of the best in the league.

"We gave up a ton of yards, but when we had to come up with a play, we made them," 49er's defensive coordinator Jim Mora said.

With the Saints remembering the humiliation they submitted our defense to last season by going on fourth down and making it each time last season. Once even from there own 29-yard line, the Saints opted to go for it again in the second quarter on fourth-and-1 from the Saints 31-yard line. But running back Ricky Williams swept left and was stopped for no gain.

First, strong safety Lance Schulters grabbed Williams as he tried to turn the corner. Schulters did it without a helmet, after a staggering lead block knocked it off. Schulters somehow kept his feet and slowed Williams down until help arrived.

This very play was a horrible reminder to the one that happened on Nov. 5, 2000, when Saints coach Jim Haslett decided to go for it on fourth-and-1 from the Saints 29-yard line. New Orleans easily converted on a quarterback sneak on the way to posting a 28-0 lead at the Superdome. The Saints won that game 31-15.

Not this time my friends, because Lance Schulters and others had something else in store, and that was redemption fro past sins. We came and we conquered, we were the one's that walked away with our heads held high, a defense that had grown from toddler to adulthood in one year.

"We lined up, I flashed right back to that play," Schulters said. "We got some team speed now; we can make those plays." This is the play I was waiting for; this was the play that made me jump up at my local sports pub and jump for joy. An eye for an eye I say, how sweet it was. And hopefully we will continue that same trend at the end of regular season play.