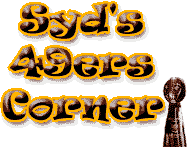 49er's and the dog days of summer. (08/30/02) 8:00 AM


If there is anything more defining, it is the commitment and determination of the San Francisco 49er's to capitalize on the 2001 NFL season. Head Coach Steve Mariucci wants to put away the agonizing 25-15 loss we suffered against the Green Bay Packers in last year's playoff battle.

He also wants to solidify his standing as head coach of this franchise. After flirting with Notre Dame and Tampa Bay last year, Mariucci wants to keep to his welcome mat outside his home near San Francisco.


No one can dispute the fact that the 49er's had a breakout season last year, going 12-4 was a remarkable feat considering all the youth and rebuilding efforts still trying to be completed from two years ago. But they made that mark and look at 2002 with renewed vigor as nothing but playoff bound expectations are acceptable right now.

The training camp days at Stockton tell a unique story as to how some of these players will be transformed and rank. I will take you back and look at some of these dog days and help us identify some of those key characteristics of what it takes to be successful in this league and on this team.

Many have thoughts of other images in their minds including Steve Mariucci; he wants an extension of his contract. An extension that will take his employment beyond the 2003 season with the 49er's.

He feels at home here, and if you saw him at training camp in Stockton you would understand at how comfortable he really is. He treats his players like they were his own family, because essentially they really are, seeing players develop and mature are his marks of success. And seeing them leave via free agency agonizes him as well.


Mariucci just as any other head coach in this league has reasons to want more and to feel anxiety at almost any given time. Your time here in the NFL is based on winning and that's all. It doesn't matter what the reasons are, just are expected to field a winning team at all costs. If the 49er's do not accomplish another 12-4 season, will he still be around?

The answer to that is not a sure thing, rather I believe Mariucci's future will be defined as to how he handles the relationships he has with certain individuals. That will be the measuring stick to his tenure with the 49er's.

The strained positions he has had with superstar player Terrell Owens and general manager Terry Donahue. And just as important his relationship with owner Denise DeBartolo York and her husband John York.

One thing that Mariucci did do earlier this year was to signal to management that he was serious about sitting down across the table. He fired his long time agent in Don Yee feeling he was a barrier to any successful bid in remaining with San Francisco.

Whatever comes from this remains to be seen, but one thing is certain and that is his love for his job especially after flirting to hear about others nonetheless.

"I was flattered to be considered," he said. "What I learned from it is that some way's there's no place like home. Some other places might be intriguing, but when you sit down and think about it the grass isn't always greener. You have to consider what you have at your own place and realize you've got it good here. I love being a 49er. That's what it taught me."


These are strong and inspiring words from Mariucci, yet there are still fans out there that doubt his intentions for this team. Many look at him as being too ultra-conservative. And in many instances they are right with their assumptions.

Mariucci will always lean to the conservative approach, but that's not always a bad thing. He believes in playing it safe, and increasing the chances of winning. He is a run oriented coach.

He believes you should pound the ball first allowing it to set up the passing game. The 49er's are a running team as indicated from their history, many of us fail to realize that because we have always been dazzled with dramatized passing plays involving superstar wide receivers.

I am a stout supporter of Steve Mariucci, I believe I go on record on many occasions supporting that claim. There is definitely no better coach in this league that could take us to where we need to go now, other then Mariucci. Yes, he is different from George Seifert and Bill Walsh, but he exercises those same principles and philosophies that both of them exemplified.


This is Mariucci's sixth year in Santa Clara, thus making him the coach with the fourth longest tenure with the same team in this league. Only Pittsburgh's Bill Cowher, Jacksonville's Tom Coughlin, Tennessee's Jeff Fisher and Denver's Mike Shanahan have been with their respected teams longer. I hope that he gives them all a run as well.

In his mind Steve Mariucci wants to stay with San Francisco his entire football career, but he understands that is a lofty accomplishment that very few will ever reach. Mariucci inherited a championship team upon his arrival to replace George Seifert.

He then nursed back to health a team ravaged by the salary cap through a painful rebuilding process. He then brought this team with great drafts and competent free agency back to the threshold of glory in his stellar season last year to 12-4. In an era where owners change coaches on a dime of a hat, these owners saw the light at the end of the tunnel.

"The most important thing for me to do and for us is to stay focused in on this season," he said. "Nobody can control the rumor mill. Staying focused on the here and now is most important for everyone involved. It's not important how many Super Bowls we won in the past or what will happen in two years. It's about minimizing the distractions and full speed ahead."


Steve Mariucci says things from his heart. He has a concerning tone in his voice at almost all the time, especially when he talks about those that are dear him. He has fun with the players to such an extent that he over does it at times.

He feels their youth to such a degree that it becomes infectious, as I witnessed that at training camp. But at the same time he tows the line on reining in careless offenders that set out to damage the 49er reputation.

The most feared position as far as depth going into training camp in Stockton and beyond has been the quarterback position. The drop off in experience is indeed huge, as the target we are speaking about is Louisiana Tech's Tim Rattay. He has to be the reliable back-up that can get the job done should heaven forbid Jeff Garcia go down to injury.

On one poll taken on the 49er's team Web Site a respondents said by 55% that Cade McNown would be the teams back-up quarterback this season. They failed to understand that McNown was never activated for one single game last year as a Miami Dolphin.

Being drafted by the Chicago Bears in the first round of the 1999 NFL Draft, he failed to show the team what they invested in him. With confidence and expectations broken beyond repair the Bears traded him two years later for no more then a sixth round pick in return.


The reasons the San Francisco 49er's brought in Cade McNown are multiple. They obviously wanted to see what they passed up after taking defensive tackle bust Reggie McGrew over McNown in which they seriously considered. And they believed they had a real weakness in experience behind Jeff Garcia, so competition would be welcomed.

This being Rattay's third training camp with the 49er's, the 49er's even before considering McNown drafted Brandon Doman in the fifth round out of Brigham Young University. Then the 49er's went on to trade with Miami a conditional seventh-round pick to acquire McNown to see if this former first round quarterback could capitalize on a former 3-12 record as a starter in Chicago.

However the 49er's will continue to tell you that they like Tim Rattay, and that all the hoopla surrounding their decisions with the quarterback position has been nothing but to provide competition at that position.

"Cade McNown has some starts under his belt. That was the attraction," Mariucci said. "But we have a lot of time invested in Tim. He's gotten good practice time and snaps, he just hasn't gotten much game action."

But as we have found out that Cade McNown came to us with all sorts of baggage in the form of questions as to his work ethic and leadership of other players. Because of his past in Chicago Cade has been referred to as nothing but a "problem child," one that we will eventually find out to hold true.


But right at the start of training camp management made clear that Cade McNown would not be considered in contention for the No.#2 job behind Garcia. He would be fighting for the No.#3 position with Brandon Doman. Management seems to be taking a cautious approach to the whole McNown theory right now, especially after gaining negative media coverage from his days in Chicago.

"I personally told him I thought it was going to be uphill (to make the team)," said general manager Terry Donahue, who recruited McNown to UCLA and coached him for one season. "(Donahue) explained the expectations: 'Come out here, and get to know the plays, get to know the players. Just be patient and just work for the goals of this team,'" McNown said.

One thing has been determined and that has been McNown's shoulder problems that have effected his throwing arm. He has had chronic pain in that shoulder from two years ago with the Bears. Now the team medical staff has recommended surgery and placing McNown on the Injured Reserve List for the season.

This became more apparent in practice sessions while he was working with the offense out on the field. His throws to receivers fluttered with little life and were almost always way off the mark. The shoulder fatigue that he experienced after practice was evident, thus generating concerns that he would be a non-factor this season anyway. Doman would get the nod at the No.#3 position.


Whatever happens, one thing is absolute in order for us to make the playoffs period, Jeff Garcia will have to be healthy. The return of so many of the original starters has Mariucci brimming with pride, he feels that if they are going to make a run of it. These guys are the one's to do it with.

"It was just nice to jump in there at mini-camp this spring and se so many familiar faces who were familiar with our calls," Mariucci said. "We should have 20 returning starters, and that has never happened in my years here. We had guys in and out of here, and it seemed like we were starting over with so many different players every season. It's a big change, compared to the years when some guys didn't even know how to line up in the huddle."

Mariucci is starting to shed a little light on the prognosis on this team, he has verbally stated that at least we will not be labeled a "surprise team," this season. Thus meaning that we should be looked at as a viable contender. Several things helped the 49er's establish prestige last season.

The return of Garrison Hearst and the healthiness of Jeff Garcia, although rattled with injuries in mid-season, Garcia shook off these injuries and played at a high level every game. He is the ideal warrior you want to go to war with on any given day. He has proved that to the world with his courage and bravery on the field statistic wise week in and week out. In fact Garcia has not missed a start in two seasons, a remarkable feat in this day of age.


One thing that was significant going into the season was the signing of Miami Hurricane cornerback Mike Rumph to a five-year deal. Rumph the 49er's first-round draft choice is expected to hold down the nickel and dime package in the 49er secondary. Should he excel here the sky would be the limit, as some people would say.

The deal is worth $6.4 million and includes $3 million combined between the signing bonus and an option bonus that is due next spring. Rumph was the 27th player selected overall, the very last of five Hurricane players (and the third member of the secondary) taken in the first round.

Two cornerbacks were targeted by the 49er's in this draft, Rumph and Lito Sheppard, to fill the "nickel" role. Thus they knew in order to contend and shut down the aerial attack by the St. Louis Rams they needed to upgrade this position.

In fact Rumph stayed away from training camp until a deal was reached, in fact eight of the ten draft picks signed right before the start of camp in Stockton. Rumph and defensive tackle Josh Shaw from Michigan State being the holdouts.

Mike Rumph had a DUI conviction he had to deal with too, on top of getting a good contract with the 49er's. He was arrested on the conviction and has started to learn from the experience. Shortly after he reported to camp and signing on with the 49er's he wanted to make sure the incident was one of the past.

"I'm kind of glad it happened, so I can get focused on what I need to do right now and just commit to football a lot more seriously, because I know now it's not college any more. It's the NFL. You've got to be who you've got to be when you wear that logo. I know that now. I learned it firsthand."


Another positive development has been the structuring of the defense, the 49er's have focused on getting younger and faster in all areas on the defense. Before the 49er's had their share of cranky old players.

Only Bryant Young and Zack Bronson have been the carryovers from the 1990's. Almost all the players especially minus Lance Schulters seem pleasant and nice, ridding the enigma that you need to be vulgar and nasty to have a dominant defense.

"I don't think it's a problem at all for this defense that we got nice guys," linebacker Derek Smith said. "If anything, it makes us better because you have a bunch of great guys working together who al know how to turn it on Sunday's. Some guys think they have to put on this tough-guy image all the time; on the field and off the field." "I think it's not necessary. I think when you're on the field, you need to do your job, and when you come off the job, it's OK to be a regular guy."

With another year of proven experience the defense ranked 13th in the NFL last season figures to be even more improved. Almost all of the defensive players fit into the same quiet, non-flashy personality mold. However that mold changes dramatically come game day, and for more reasons then not it's a good thing.

"The whole defense is amazing to be around because they are guys with tremendous character and wonderful human beings, but on the field they are mean," said Bronson. Who had just spent more then 30 minutes along with most of his defensive teammates signing autographs for hundreds of fans after a weekend practice at University of the Pacific. "Those are the kind of guys you want to play with."


One thing is certain the defense knows when to turn it on and off, and I must admit almost all the defensive players I met out at Stockton have a great demeanor. But when they are all out on the field football instincts kick right in. Thus knowing that business is business and that's the way it should be.

Throughout a seven-year career for 49er wide receiver J.J. Stokes he has been labeled and misrepresented more times then not. Stokes the No.#2 wide receiver behind Terrell Owens has struggled to find an identity on this offense all of that time. For the first time last year he was elevated to take the place of departed legend Jerry Rice.

He has struggled because he missed a lot of training camp last season due to hamstring injuries that hobbled him for a long time. Therefore getting repetitions and synchronicity with Jeff Garcia was very difficult once regular season started. He makes no excuses though and seems refreshed after taking sizable pay cut to stay with the 49er's, to move ahead and stay focused.

"Every now and then he would come into my office very professionally and said, 'Coach, I can do this. Please work me into the game plan," 49er coach Steve Mariucci said. "He's done that a couple different times."

J.J. Stokes knows what needs to be accomplished and most of all he realizes that he has had to work very hard to get on the same page with quarterback Jeff Garcia. Knowing his comfort zone is what he wants to establish, making Jeff feel more confidant in throwing his way will help his statistics.


"I think it's getting to that point," Stokes said. "I've been constantly whispering, letting them know that I'm open and for them to get the ball over to me. Camp has been great. I've been seeing the ball quite a bit, but it has to transition into the games."

Going back in time when you examine Stokes statistics he had his best season in 1998 when he caught 63 passes for 770-yards and eight touchdowns. But shortly after that season he signed a lucrative contract. And right after that his catch totals tumbled to 34 and 30 the next two seasons. Last year without Rice on the roster, Stokes stepped up to catch 54 passes but even this was unsatisfactory for himself and some fans.

"J.J. has a great attitude," Garcia said. "I'm well aware that we need to get on the same page and give him more opportunities to make plays. We need to take some pressure off (Owens) because teams are looking at him and maybe over-covering him."

Stokes was expected to be a top echelon receiver when he was drafted back in 1995, the 10th overall pick of the draft. But he never materialized into one dynamically. The 49er's have always given him the benefit of the doubt and stuck with him. Even after flirting with the thought of signing free agents Willie Jackson and Antonio Freeman.
,BR> "Is (Stokes) a great, great, upper echelon receiver? 49er's receiver's coach George Stewart asked. "I don't know that. He's been a very productive and dependable No.#2 receiver. I want J.J. Stokes to be the best J.J. Stokes he can be."

And to be honest with you that's all that fans want for him also. There have been moans and groans along the way with Stokes. I will be the first one to admit I have been dissatisfied with him also.

But in all kindness I don't think there is anyone more capable right now to replace him in this system. Maybe after starting training camp healthy he can have the bigger impact that we all expect from him, and win that $2 million cut back again.


One scary moment that happened out at training camp was to running back Jamal Robertson when he fell to the ground and didn't get up after tangling his legs with wide receiver Cedrick Wilson.

This happened during a 7-on-7 drill during the morning practice session at Stockton's Zuckerman Field. He lay motionless for several minutes and taken by ambulance to St. Joseph's Medical Center for examination.

Fortunately as already known, he was released after X-Rays and a MRI came back negative and he was released with a strained back. It was a flash back to the injury of defensive tackle Junior Bryant for the 49er's, when they were playing the St. Louis Rams.

Bryant had his career ended with a devastating neck injury. It was the second time since a 49er was last taken away via ambulance since Junior Bryant was on Sept. 17, 2000.

In another training camp incident less fortunate cornerback Anthony Parker had surgery to repair a ruptured tendon in his left quadriceps. The surgery went well as reported, but a season-ending injury no matter. Parker suffered the injury during passing drills one practice. He left the field unassisted and team officials initially thought the injury was just a strain. But further testing revealed the seriousness of the injury.

Anthony Parker was a fourth-round pick in 1999, Parker played in five games last year before a shoulder injury ended his season again. As a rookie he tore the anterior cruciate ligament in his left knee and spent the entire year on Injured Reserve. Parker was competing initially against Rashad Holman and Jimmy Williams for the fourth defensive back job.


One other segment worth mentioning is the leadership role Terrell Owens is trying to shift to himself. After mending fences with head coach Steve Mariucci the nucleus for such a role is ripe for the taking.

Owens seems to be on the up and up as his demeanor with management and the team have improved, but many say for how long? That remains to be seen, when regular season comes around and there are losses will he stab a new wound?

"A couple of my close friends tell me I've got to step it up a little bit," Owens said. "I definitely think I need to take on that role. When it's time to step up, I think I will. When it's time to say something, I think I will." Don't worry Terrell we think you will too.

Before Owens was looked at in this role, veterans now released linebacker Ken Norton and safety Tim McDonald filled that leadership role. Both had no problems in facing the team inside or outside the locker room and speaking their minds. They were motivators and kept the team churning for success. Owens needs to develop that same drive and harmony with the players.

"If he wants to be more vocal great," Garcia said. "Everybody already looks to him as a leader. He has to take into consideration the team as a whole when he speaks, though. He needs to make his presence felt as a team leader and not just himself."

High profile words from Jeff Garcia, who at times last season was visually upset over some of Terrell Owens outspoken brash comments concerning the team and Mariucci. Although never really admitted to give the media something feed on, Garcia more the once felt like Owens was out of line. He has no problem as another respected leader letting him no that.


Now let's get back to the defense, a defense is what General Manager Terry Donahue felt is where this team needed to get jump started again. That is why so much of the last three drafts have been devoted to that targeted area. Some fans will argue a little too much sacrificing the offensive line. But three things are what he had written down: Younger, Healthier and Faster.

Of his drafts he made three standout in Andre Carter, Saleem Rasheed and Jamie Winborn. Key free agent pickups include Tony Parrish, Derek Smith and Sean Moran. When combined with the returning members of the 49er defense you have a cake mixer going at full throttle so fast it will knock the lid off from it.

"This is the fastest defense I've ever had here," Steve Mariucci said. "It's not the most experienced, but it's definitely the fastest. We're built for speed now. Look at the edges with Andre, Julian, Chike and Engelberger. Those aren't the biggest guys, but their quick."

In order to be successful in our very own division General Manager Terry Donahue knows that quickness and speed will be requirements needed to tackle the St. Louis Rams. They remain the very team to beat in the division and it is time to stop the monopoly once and for all. Six straight defeats we have suffered against them, this will be an improved team when we face them again, but will it be enough still?


"I don't know that they're any quicker than last year," said Jeff Garcia, "but I can tell you they are better. They are considerably better at this point in camp then they were last year, In fact, it's getting a little frustrating out there. But that's a good thing."

Added Terrell Owens, "If they're faster, than they're better. They know what they're doing out there right now. It's like coach told me once 'If you don't know what you're doing, you'll be doing it at half-speed. And from the linebackers on back, those guys are moving!"

In one specific player the 49er's are expecting big things from this season, and that is their first round draft pick from the 2000 draft. They want him to be the player they coveted with the 16th overall pick. That is linebacker Julian Peterson.

The 49er's have looked at Peterson being their trump card in pressuring the quarterback. He was the original injection that was thought to be the key to instant success. But he has not reached his peak as of yet. Although not a bust by no means he remains committed to getting on the same page.


"I'm sure team has been a little disappointed that I haven't produced as many sacks," linebacker Julian Peterson said. "I'm working hard at that to get better."

The 49er's actually chose Peterson eight slots ahead of cornerback Ahmed Plummer, he was coming on to the team because of his registered abilities to rush the passer. His role was to be outside linebacker on early downs and then to transform into the left defensive end in then teams nickel defense.

Over the course of two seasons Julian Peterson has registered only seven sacks, but his big plays have come in the form of different areas. He has been instrumental in interceptions, two of which he recorded as a rookie still new to the system. And just last season he found himself in the right spot to return a fumble 26-yards for a touchdown against the Chicago Bears.

His pass coverage skills have been exemplified as well in training camp and in pre-season. Still many won't be satisfied until he reaches double digits in his sack totals. This after all is what is expected from him, being a first round draft pick in the first place.

"He's been productive, but he has to be more productive," Mora said. "He's had three or four sacks called back because someone else was off-sides, and he had one sack taken away from him because he got back there so quick and (the statisticians) decided to call it a quarterback draw instead of a pass." "He's done a lot more than people think."

Peterson unfortunately encountered bad luck along the road as a 49er. He was as healthy as an ox back in college, and as soon as he became a professional all his luck seemed to fade away. Peterson started seven games as a rookie after missing time with knee and shoulder injuries. He required off-season shoulder surgery, which meant the months leading up to training camp last year was dedicated to rehabilitation.


Then all of a sudden in the final exhibition game, Peterson sustained a high ankle sprain that forced him to miss two-regular-season games. When he returned, his ankle prevented him from being exhibiting his speed on the edge as a pass rusher.

One of the things I have wanted most from Peterson myself is to apply constant pressure on the passer, I believe it goes without saying that is what he was drafted for. I for one feel that injuries have been responsible in large part for his limited success. But now it's time to produce and time to earn a paycheck. Two years have passed and only average production will get you nowhere fast.

"He didn't have to rehab an injury this off-season, and that's a real key for him," said defensive quality-control coach Dan Quinn. "He was healthy, so he could get going from the get-go and do field work on his technique."

Now with a healthy season started with training camp and pre-season, Julian Peterson can now concentrate on what he was intended for. Registering sacks. I hope that he can be a nuisance for us to the opposing quarterbacks. If there is anything on defense that is truly lacking, it's our anemic pass rushing abilities.

Peterson did not resume his designated role of nickel defensive end until late in the season last year, because he was still rehabbing from his early-season ankle injury. He recorded all three of his sacks in the final six games and added another against the Green Bay Packers in the post-season.


Training Camp and Pre-Season played key roles in defining this 49er roster, I plan on looking at those in my next article. The regular seasons will kickoff with the San Francisco 49er's in the Meadowlands against the New York Giants.

I am very excited that this is finally here! The start of another glorious season, having been up close and personal with some of the 49er's has really made the difference on my outlook as a whole.

I plan on bringing you nothing but the very best in news and commentary this 2002 season. It is my commitment to my readers, website and myself as well. We are at a crossroads my friends, the 49er's can compete with anyone this season including the dreaded Rams. Please hold true to your faith and buckle in for the ride and wear your team colors with pride!





Fan Press:
Now you can write articles for 49ers Paradise, and read what other fans have to say too in the Fan Press section.