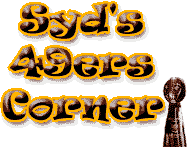 Looking at the 2002 NFL Draft; Quarterbacks, Running Backs and Fullbacks. 03/15/02 9:00 AM


The San Francisco 49er's are preparing their own agenda for the up and coming 2002 NFL Draft. Never is the more a time to get excited in the off-season then this. With a flurry of activity going on with resigning and allowing free agents to move on, the 49er's make their own plans on what needs to be a top priority.


Out of these categories in quarterbacks, the 49er's are not in that market but the late rounds might signal a different story. It is in the latest round that the 49er's acquired Louisiana Tech's Tim Rattay. Behind starting quarterback Jeff Garcia stands Rattay and a toss up of Gio Carmazzi and veteran Rick Mirer. One of these will definitely be expendable as the season nears.

In the running back market the 49er's seem to be content with what they have, Pittsburgh's Kevan Barlow seems to be the running back of the future. Especially after his outstanding season alongside veteran Garrison Hearst. Garrison just signed back on with the 49er's for six years at $20 million, the jubilation among fans is very apparent.

Behind these two starters are Paul Smith and Jonas Lewis two exceptional athletes that have both played well not only as depth but on special teams as well. In the fullback area we just resigned a key free agent in Fred Beasley to four more years, he is without a doubt one of the premier fullbacks in the NFL today. I am proud to have him back on board and believe he is instrumental in the running game.

Behind Beasley the depth is rock solid with versatile Terry Jackson, he has been a great special teams ace, and has come into certain key plays that have made opponents scratch their heads. This contingent will anchor the running game for a long time to come.


I realize that the 49er's have limited or no interest in the following groups I am highlighting, but I believe it is crucial that they are made aware of as the overall dynamics of these positions are critical to so many teams including our very own.

Out of these groups and in particular with regard to the 49er's I want to bring to light their individual sacrifices, in regards to this new and upcoming season. Quarterback Jeff Garcia just recently slashed his contract and restructured it so the team could get under the dreaded salary cap. He was scheduled to earn $4.5 million in base pay. He restructured his deal with heavy emphasis on bonuses clearing $3,375 million in cap room. This was a noble sacrifice, and a gesture by Garcia that he is here to stay and help management keep what free agents it has in the fold for a long time to come.

Garrison Hearst an unrestricted free agent has made the ultimate sacrifice in coming back at a price that is reasonable and one the team can afford. He will anchor the running game and permit Barlow to grow even further.

If worse came too worse you would see Barlow as the new starting running back, and Paul Smith and Jonas Lewis would be elevated accordingly. But only if injury struck or one out of this pack failed miserably.

A key element to the impressive rushing statistics that are compiled every season by the 49er's, is the play of their fullbacks. And starting fullback Fred Beasley is that key element, fullbacks are not widely known as the premier athletes on a football team. They are the ones that make names like Hearst a hot commodity. For without the impressive lead blocks made by Beasley, Hearst would never have generated such an impressive showing in his comeback.

Beasley signed an impressive deal for a fullback, because the 49er's understand how important it is to have an athlete of this caliber leading the way. Beasley signed a deal worth over $6 million over four years with a $1.4 million signing bonus. This anchors the running game for whoever is the starting running back.

2002 NFL Draft Top Prospects at Quarterback
No.1 David Carr, Fresno State
Strengths: He has great mechanics and a sound touch on the football.
Weakness: His decision making has been under scrutiny.

David Carr stands at a height of 6-3 and weighs 230 pounds; he has been selected as the very best in this year's draft class of quarterbacks. He looks like a top-notch lock for the new expansion team the Houston Texans. Carr is a very promising quarterback with loads of potential, however don't think he is going to come right in and take your team into the post-season.


He had a spectacular season with Fresno State and a stellar performance at the Senior Bowl. He led Fresno to an 11-2 record while throwing for 4,299-yards and 42 touchdowns. He is an excellent passer and possesses a strong arm as well. He has even been told he is one of the best deep throwers around.

What separates Carr from ordinary quarterbacks is his ability in understanding the game and just his overall mechanics, they both are nearly flawless. Carr has shown that he has a lot of confidence while standing in the pocket. He has even been compared to former Cowboy Quarterback Troy Aikman. He was even being considered an early Heisman contender after victories over Colorado, Oregon State and Wisconsin. But losses against Boise State and Hawaii doomed his chances at that.

Mel Kiper Jr. From ESPN said, "Everything about Carr indicates he's a franchise quarterback; he possesses excellent touch, timing and precision. He also has the presence and leadership qualities you look for in a quarterback. Carr was the most consistent quarterback in college football in 2001, and he took that consistency to Mobile, Ala., for the Senior Bowl."

No.2 Joey Harrington, Oregon
Strengths: Has a great release and overall mechanics.
Weakness: Has trouble looking off receivers and his overall consistency.

David Carr edged out Joey Harrington at the number one position but he still should rank as a first round draft selection. Some of the teams interested could be Buffalo, Detroit, Cincinnati and even Washington. Harrington can also be praised for his remarkable comeback skills. He is not easily rattled and always seems to be just one play away even after trailing in the fourth quarter of a game.

Joey stands at 6-3 and weighs 220 pounds; he has been instrumental in turning on the heat when his team is down and out. He has directed several come-from-behind victories during his two-plus seasons as starter for Oregon.

He is a very good drop-back passer with good size and intelligence. He has adequate arm strength and excellent leadership skills. He finished fourth in Heisman Trophy rankings. He passed for 2,415 yards and 23 touchdowns at Oregon just last season. He has good footwork and stunning speed for an athlete of his size.

The one bad thing that Harrington does do is get too streaky, he needs to establish consistency as he gets fixated on just one or two receivers for too long. With proper adjustments and training this can be corrected. He needs a great system to coordinate his abilities.

Mel Kiper Jr., from ESPN said, "Possesses all the intangibles; demonstrates leadership qualities and an ability to rally the troops." He's a clutch fourth-quarter quarterback who deals well with pressure. He has a presence and aura about him in the huddle. He commands respect from his teammates. He is mobile and has above-average arm strength. And he's proven he can play in adverse weather conditions."

No.3 Kurt Kittner, Illinois
Strengths: Has good accuracy and overall experience.
Weakness: Has trouble throwing the deep ball.

Kurt stands at 6-3 and weighs 205 pounds; he has been compared skill-wise to Chargers quarterback Drew Brees. He possesses decent arm strength, smooth release and excellent footwork. Kittner may not be mind blowing with his techniques, and has a limited upside to him. However he has few weaknesses and could be ready to step right in if he had to. Kittner is a very accurate passer and his mechanics and delivery are top notch. What is even more aspiring is the fact that he started all four years at Illinois, and it shows with his poise on the field.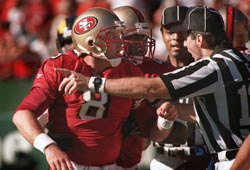 If Kittner does have a weakness it's the long ball, he can throw it long but it has little zip. He does not have great speed, but he does have a great work ethic. He seems to buy extra time with his athleticism. He ranks third on the school's all-time passing list, as well as third in career pass completions, second in pass attempts and second in total offense.

Kittner is expected to go sometime in the second round to a team like Kansas City or Chicago. He could stand to add more weight to his frame but has proven to be durable.

Mel Kiper Jr., from ESPN said, "Kittner was a smart, confident leader who ran a sophisticated offense at Illinois, but he needs to show more consistency." He often ran hot and cold over four quarters. Although he would start off poorly and then put up big numbers, he had a short memory. In other words, he would bounce back from interceptions, play extremely well and lead Illinois to victory."

No.4 Rohan Davey, LSU
Strength: Has great arm strength and delivery.
Weakness: Has durability and conditioning problems.

Rohan stands 6-3 and weighs 240 pounds, he is one of the largest quarterbacks in this draft, and he just may be a bit too large. He has struggled with some weight problems having showed up at the Senior Bowl just over 250-pounds. He has amazing arm strength and his delivery looks effortless.

He has a knack for throwing the deep ball and has a great touch on the short and intermediate passes as well. Davey has had some injury problems, and he had a total of three just last season missing some time in the process. He also doesn't possess a lot of experience having backed up Josh Booty earlier in his career at LSU. In 2001 he led LSU to a 10-3 record.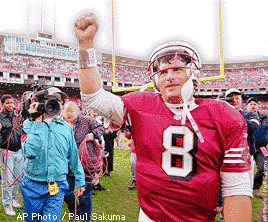 And he led them to its first SEC title since 1986. He has completed 217 of 367 passes for 3,347 yards and 18 touchdowns, all of which are school records. He has a build that is similar to Vikings quarterback Daunte Culpepper.

He can throw deep, but he is not very consistent with his accuracy and even force throws at times. There have been questions surrounding his durability, but experts believe he could be the steal of this draft in terms of quarterbacks. He could go as early as the second round or as late as the fourth round. Someone will be looking at him as a developing quarterback behind a veteran.

Mel Kiper Jr., from ESPN said, "The big question about Davey is poor footwork." He is all arms when he throws the football and doesn't use his body. When Davey has hard-charging defensive linemen draped all over him, he throws strikes because he is used to throwing the ball off balance."

There is not an overabundance of top quality quarterbacks in this draft, but the two big names on everybody's list are Fresno State's David Carr and Oregon's Joey Harrington. Below these two there are still very viable candidates, names such as Kittner, Davey have been mentioned but Stanford's Randy Fasani and Tulane's Patrick Ramsey are others that show some promise.

2002 NFL Draft Top prospects at Running Back
No.1 William Green, Boston College
Strength: Has great open field running capability and great leg drive.
Weakness: Has questions about his off the field character and weak hands.

Green has entered this draft as a junior out of Boston College, but he is still rated the very best back on the board. He is still very raw but he has tremendous upside to him. He stands 6-1 and weighs 215 pounds. Green is the nations second-leading rusher (1,559-yards, 17 touchdowns) this season.

He finished as the Eagles third-leading rusher with 2,974 career yards. He was suspended for a couple of games the past two seasons for violating team rules, even though they were minor.


He has a great upside at running between the tackles and his awesome open field abilities. He is a very physical runner who is not afraid to lower his shoulder and make contact with you. He has had trouble catching the ball out of the backfield, but that should develop with his open field running ability.

He is very good and decisive at the line of scrimmage. He can be both aggressive and patient while waiting at the line of scrimmage waiting for holes to open up. He is sure to be a first round draft pick, one that is interested being the Falcons. Some say he should have stayed in Boston for his senior year, but his worth to NFL teams hungry for a running back will not be compromised.

Mel Kiper Jr., from ESPN said, "Green is a complete back, but he's a little upright." He has to work on his shiftiness; he needs to become a little more elusive. He should also continue to work on being a factor down the field."

No.2 DeShaun Foster, UCLA
Strength: He has great vision and premier cutting abilities.
Weakness: He has fumbling and speed problems.

DeShaun stands 6-1 and weighs 215 pounds; He could have the most potential out of all the running backs in this draft. He is strong, fast and has great lateral movement. He has been compared to Corey Dillon and Deuce McAllister.

He has excellent vision and he takes anything the defense and the offensive line give him, his decisions are sound. Foster has ideal change-of-direction skills and can run effectively through a hole and laterally trying to turn a corner.

Foster isn't a slow runner, but he does not have the breakaway speed that is expected from a back this high on the chart in the draft. He has had injury problems as well so his durability is a question as well. He also has made one too many fumbles while with UCLA and that figure's to be corrected once he joins the pro's.

He has a big upper torso and deceptive elusiveness that make him tough to tackle. He is a good inside rusher thanks to balance, vision and footing. Foster may not be fully ready to step right in at the pro level, but he could be an ideal prospect to develop into one of the featured backs in the league today. Miami was interested but the signing of Ricky Williams may offset that.

Mel Kiper Jr., from ESPN said, "Foster's No. 1 priority will be to hold on to the football."

No.3 T.J. Duckett, Michigan State
Strength: Has great size and a quick first step.
Weakness: Has problems with receiving and very little patience.

Duckett is a totally different back compared to Green and Foster basically because of his size; He stands 6-2 and weighs 255 pounds. One has to be shocked when you can say he is faster than Ron Dayne, the very player many are comparing him to be.

One of his greatest assets is his quick first step, and once he gets into the open field he creates enormous mismatches in the secondary because of his size. He is Michigan State's fifth all-time leading rusher with 3,379 career yards; Duckett closed his season strong. He averaged 139.0 yards over his last seven games. He reminds a lot of people to Ron Dayne and even Jerome Bettis.


Duckett, who saw some duty at linebacker when he was a freshman, has gone from short-yardage guy to every-down back. He is not the fastest back but has good speed for his girth. He does need to learn to be more patient. He sometimes does not wait for holes to open up on the offensive line, something he will have to pay attention to in the pros.

He is also a very good blocker and has very good footwork, but he needs to reach the next level as a receiver. Michigan State tried to get him as many receptions as it could last season, but he looked uncomfortable and lost running his routes.

He has a great shot at being a late first round or second round picks, teams most interested are Miami and Houston. No one can dispute that Duckett's best days are ahead of him even though he enters this draft as a junior.

Mel Kiper Jr., from ESPN said, "I've often compared Duckett to Jerome Bettis, he's a pounder with enough quickness to bust long runs between the tackles. But to really become like Bettis, Duckett needs to find more intensity."

Lamar Gordon, North Dakota State
Strength: Has great speed to the outside and great leg strength.
Weakness: Has weak blocking skills and upper body strength.

Gordon stands 6-0 and weighs 210 pounds; he is kind of an underdog on this draft board but is a great prospect. Gordon showed impressive statistics at Division II North Dakota State and he participated in the Senior Bowl. He has a deadly combination of both power and speed, so much in fact that many teams in the pros will drool over this hot prospect.

Gordon can run the ball inside and still has enough power to turn the corner even in the NFL. He is similar to Michael Bennett last year except he is taller and runs a little upright, which is a weakness.

Gordon has already proved that he is a worthy receiver out of the backfield. Even though that part of him was never utilized at North Dakota State the adjustment will be rapid to take over. Now that Dorsey Levens has been cut loose by the Packers look for them to show an interest. Gordon is expected to go in late round two or early round three.

This is not a real strong year at running back; the top prospects are in fact juniors. And most NFL teams are not in an emergency mode for a running back. There is no explosive off the chart type backs in this draft. But there are some that with a little time will be worthy contributors. Besides the one's already mentioned there are still Clinton Portis a junior out of Miami and Luke Staley a junior out of BYU that are good prospects.

2002 NFL Draft Top Prospects at Fullback
No.1 Jarrod Baxter, New Mexico
Strength: Possesses great speed and lead blocking ability.
Weakness: Has poor receiving skills and Blitz pickup skills.

Jarrod stands 6-1 and weighs 255 pounds; He is rated the top fullback on the board, if not the only real one that is ready to start immediately. He has awesome size and speed combination. He may not be an elusive runner or have initial great burst. But he is an effective lead blocker and works well in traffic.


Some of the things that Baxter must show some improvement on is picking up the blitz and catching the ball as a receiver. Baxter is one of the very few fullbacks that will be taken possibly in the first day of this year's draft.

The market on effective fullbacks is limited as many teams use a halfback breed type of back, and go with two tight end spots. But West Coast type offenses still use them to their true function and that is to clear lanes and be a alternative receiver.

No.2 Najeh Davenport, Miami, Florida
Strength: Has great speed and great change of direction skills.
Weakness: Has problems running inside and weak blocking abilities.

Davenport stands 6-1 and weighs 230 pounds, He is a converted running back, and even though he is listed as a fullback in this year's draft he may be drafted for his former position at running back. He has displayed very good speed for a man his size and has awesome change-of-direction type skills.

Davenport favors bouncing the ball to the outside versus running it through the tackles, this is something he must address going into the professional ranks. Even if he is selected as a fullback he probably will not be a short yardage or goal line specialist.

Davenport has good leg drive and has proven that he can break tackles, he must be willing to take more chances between the tackles. He will also if drafted as a fullback need to address his blocking skills, where they are now they need work.

He has had some major injuries and it will scare a lot of teams off, however his experience as a running back will be beneficial in his draft status, it may have a positive effect in his taking somewhere even in the second or third round.

No.3 Charles Stackhouse, Mississippi
Strength: Has great receiving skills and works well in traffic.
Weakness: Has poor speed off the ball.

Stackhouse stands 6-1 and weighs 240 pounds, He may be the most complete fullback in the draft, however he does not have the upside that Baxter and Davenport have to offer a team. He is a great blocker that can block in the middle of the field and works hard and well in traffic.


He has also shown good athletic ability leading around the corner on sweeps. Even though he seems slow off the ball he has decent speed and runs very well in the open field, he is quite the load to take down once out in the open. He also has good instincts, which are important heading into the pros.

He made great strides in catching the ball in his senior season, and that alone will aid him in his draft status. He is a guaranteed first day selection, probably going somewhere in the third or fourth round. He seems to be ideal for a team that runs the West Coast Offense.

No.4 Chad Kuhns, Wisconsin
Strength: Has great hands and blocking ability.
Weakness: Has poor strength and inadequate size.

Chad Kuhns stands 6-1 and weighs 235 pounds, Kuhns seems to be the ideal fullback in the sense that he blocks really well and bails you out with the immaculate reception when called upon to do so. He is a good lead blocker and a decent pass blocker as well. He seems to really like the contact part of the job.

One of the concerns is that he doesn't have the muscle though or brute strength to outman incoming defensive ends, which poses a great concern. However Wisconsin has a great track record with fullbacks and that alone will promise him as a selection in the mid to late round picks.

In looking at other fullbacks there are still legitimate candidates that are available such as Ohio State's Jamar Martin and Tennessee's Will Bartholomew. The draft on fullbacks will be a limited fanfare as it always is. But this class is an improvement over last year, which was one of the weakest in draft history. Even though this class is still a bit below par, there are still decent prospects that can develop into something special.

In closing I want to reiterate that these positions are merely the top four in each category listed, I also want you to realize how awesome this draft will be and encourage all of you to watch and follow it. This draft has enormous implications on the futures of many teams that go for the 49er's as well.

Even though the 49er's will have little to no interest in these particular positions, they will stand to be closely scrutinized even though they aren't drafted. These top four in each category and those below the top are the future of professional football. Let's hope they all succeed.





Fan Press:
Now you can write articles for 49ers Paradise, and read what other fans have to say too in the Fan Press section.