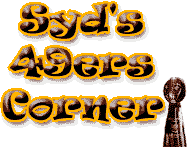 Looking at the 2002 NFL Draft; Kickers, Punters, Tight Ends and Wide Receivers. (03/22/02) 8:00 PM


The San Francisco 49er's will be fine tuning their depth concerns in these following areas, certainly the talent already on the roster is substantial. None of the above positions merit immediate attention but they do need to look at bolstering the depth of the roster at these positions. The 2002 NFL Draft is on it's way and with that comes the best excitement of the present off-season we are forced to endure.

Inside the draft it is a flurry of hard work and honest expectations, so many clubs will be picking rookies on a hope and a prayer that they will be able to step right in and make an immediate impact.

Others will be looking to sure up depth on the roster, so that insurance will be available when a veteran goes down to injury. This is what the draft is all about, raw rookie energy that can be harnessed and trained and molded into a positive productive force. One that will make a difference on their respected team so that they can achieve those higher expectations of ownership and management.

Looking at kickers and punters the 49er's will be resigned to staying with once rookie Jose Cortez. He has had both ups and downs throughout the 2001 season; he started off with a roar and struggled in mid-season. He encountered similar problems like Wade Richey did in the 2000 season.

Look for Cortez to battle it out in summer training camp, the 49er's will bring in marketed competition for him. The same goes for Jason Baker at the punting position, Baker started off horribly, but he regained control and managed to become a reliable and productive punter in 2001. He will also face competition going into training camps this summer.

When you are talking about tight end, you are talking about a real staple of the West Coast Offense, and this is where the team wants to have someone that is very productive and durable. Rookie Eric Johnson out of Yale last season proved that he is more than ready for the task.

So much that the 49er's cut veteran Greg Clark after he was sidelined for the season due to reoccurring hamstring problems. Johnson deemed Clark even more expendable after a breakout rookie season. Back-up tight end Justin Swift was also tendered a deal so that depth would remain in tact.

Along with tight end being a staple of the offense, so comes the aerial show of veteran Terrell Owens, J.J. Stokes, Tai Streets and Cedrick Wilson. All four have contributed to the success of a 12-4 record in 2001. We have a bonanza of possible game breakers right under our nose. However questions surround Stokes as he battled injuries and still struggles to put up the numbers needed to justify his rapidly rising salary.

Look for the 49er's to take a hard look at acquiring a possible receiver in this draft based on this theory. The salary implications almost guarantee that they will take one in this coming draft. Although the jury is still out on Stokes many are still calling for his head, simply because he cannot draw the coverage away from playmaking Terrell Owens.

Streets and Wilson have had bright spots throughout the season, they need simply more touches on the ball and more time on the field of play. In order to get this they will have to beat out renewed competition in the training camp phase of this off-season.

I will attempt to break down these individual positions simply focusing attention on the very top four in each category. These prospects are truly the best of the best in this year's draft class. They will be on the hot seat as the numbers are read and the decisions are made in a transition that even they will wonder what happened as the picks come to light.

Top 2002 NFL Draft Prospects at Kickers and Punters
No.1 Jeff Chandler, Florida
Strength: He is a great clutch kicker, and he has great height on field goals
Weakness: He has an inconsistent approach to the ball

Jeff is in a battle for the coveted number one slot, it has gone back and forth but I believe he is the best prospect. In 2001 he hit 19 of 22 field goals and was chosen to the Senior Bowl. Over a period of two years he converted nearly 100 extra points and was responsible for 200 points for the Florida Gators.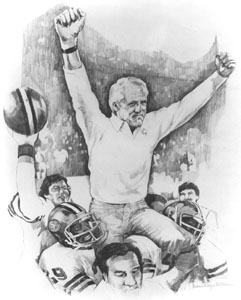 He has a career high field goal of 54-yards. He is well known for his strategic elevation on his kicks, booming the football so high it is tough to block. He stands 6-2 and weighs 215 pounds.

Chandler also has exceptional experience in big games, meaning that this will be a benefit in close games at the professional level. He has even spent some extra time in school, which has helped him mature even more rapidly as a top candidate.

Frank Coyle from CBS SportsLine.com said: "Reliable senior kicker has performed well as both a place kicker and kickoff man for the Gators. His consistency inside 40-yards will give him a chance to win a starting kicking job early in his career."

No.2 Travis Dorsch, Purdue
Strength: Has good versatility
Weakness: Has a slow approach

Everyone knows what Purdue can produce, and that is a solid and reliable player that can make the grade in the NFL. Travis is no different from this group; he has achieved high success with Purdue averaging 48.1 yards per punt and landed 11 balls inside the opponent's 20-yard line.

Just last season he nailed three 50-yard field goals, the biggest against Washington State in the Sun Bowl. He has been named an All-American punter, even though he has a slow approach on his punting duties.

On his kicks he also has a slow delivery. This could be a hazard, as opponents will come gunning for him due to this approach.

He stands 6-6 and weighs 222 pounds; he is fundamentally sound in all aspects but his approach and delivery. He will need to make proper adjustments to prevent a catastrophe due to special team's play.

Mel Kiper Jr., from ESPN said: "Dorsch has a fairly strong leg but needs to get his punts off more quickly and not be as deliberate. Reportedly, he made positive strides in this area."

No.3 Taylor Northrop, Princeton
Strength: He has great technique
Weakness: Has had trouble with kick-offs

Awesome mechanics and style are his attributes, Northrop even has very good accuracy on his kicks and has made some nice tackles in the open field when he is the last line of defense. He stands 5-11 and weighs 184 pounds. He finished 2001 with 14 of 18 field goals and 24 of 25 PAT's were made also.

Northrop has doubled as a punter for Princeton, punting 49 times for a 38.7-yard average. He is just one of the very few Ivy Leaguers that will make the ranks of the NFL. He must continue to work on his accuracy. Should he not get drafted he will still be invited to someone's training camp this summer.

Mel Kiper Jr., from ESPN said: "Northrop has a history of being a very good field-goal kicker that's where his future lies. He certainly has the leg strength, accuracy and technique. He reminds me of Matt Stover, whose kick-offs might not be that spectacular, but he is a very accurate record-setting kicker in the NFL."

No.1 Punter Dave Zastudil, Ohio
Strength: Has great leg strength and booming kick-offs
Weakness: Needs a faster delivery

Zastudil is the best punting prospect in this year's draft; he rules the punting group in his conference. As an Ohio Bobcat, he earned the Mid-American Conference special teams Player of the Year Award in 1999 and 2001. He stands 6-3 and weighs 226 pounds.

He should definitely be a draft pick going somewhere in the fifth or sixth round of the draft. He has tremendous size and leg strength. He led his conference in punting with a 45.6 average, and he finished second nationally, and became the first player in league history to win four punting titles.


That is worth some consideration folks, his requisites are impressive to say the least, for a team starving for a punter this is your man. The mentality of some in management is that you can find anyone that can punt, but the reality is that is not so true. Zastudil is the dream punter you want to take and take fast.

Joel Buchsbaum from Pro Football Weekly said: "The best punter is Ohio University's left-footed Dave Zastudil, who has exceptional leg strength and really good intangibles for a kicker."

No.2 Jeff Ferguson, Oklahoma
Strength: Has great positional punting
Weakness: Is not consistent

One of Ferguson's assets is his ability to place the ball where he wants it; he has had great success this past season. If there is one thing that he needs to work on it is his consistency, having to adapt to all kinds of circumstances is paramount for a punter. He has shown in the past that he can handle punting in different climate situations.

Jeff stands 5-10 and weighs 190 pounds; he averaged 44 yards per punt on 71 punts last season. He was even a finalist for the Ray Guy Award for most outstanding punter. He has been the full-time punter for the Oklahoma Sooners since 2000.

What also separate Ferguson from someone else are his nerves of patience, this will be the greatest asset of all as he looks for employment in the NFL. He has also been named first-team All Big 12 by Football News, Associated Press, Dallas Morning News and so on.

Kirk Bohis from the Austin American-Statesman said: "Jeff is one of the best punters in the nation."

Inside the NFL the demand for competent kickers and punters speaks for itself. This is a position that usually ranks near the bottom of any draft, unless a team is desperate to take one early because there is a pattern of inconsistency.

Much like the Oakland Raiders did with Janikowski. These individuals probably will not go in the early rounds but they will be seriously considered by teams that are in the same market as the Raiders were.

The search for talent such as this to compliment your special teams can go a long way, many teams will remember that these individuals decide games most of the time. They all will be searching for the next Sean Landeta and Adam Vinatieri, two big names in the NFL that have made names for them. Sometimes it all comes down to a kick, meaning a field goal or a pattern of pinning the opponent deep.

Other kickers and punters not mentioned would be Hayden Epstein a senior out of Michigan and David Greene a senior out of Virginia. In punting Casey Roussel a senior out of Tulane and Mike Abrams a senior out of Virginia are all good prospects.

Top 2002 NFL Draft Prospects at Tight End
No.1 Jeremy Shockey, Miami
Strength: Has great instincts and speed
Weakness: Has weak blocking skills

Jeremy will be a hot ticket for someone that is in dire need for a receiving tight end. He has great ability to settle into the right spot on the field and make himself available for a pass. He stands 6-6 and weighs 240 pounds.


Shockey loves to run after the reception and he is very good at it, he is always looking to make a big play. He has very good instincts because he reaps from being a wide receiver back in high school. One thing that is against him is his size matter. He has a weak blocking technique that will need to be corrected.

But on the bright side he can trash talk, much in the same way that veteran Shannon Sharpe of the Baltimore Ravens does. He is full of confidence on the field, and this translates into being a possible first round draft pick. Someone a team like the Arizona Cardinals is interested in. Even though Shockey is still only a junior the upside on this talent is shooting right through the roof.

Shockey led the team in reception (45) and he came in second in receiving yards with (604) and touchdown receptions (eight), including five catches for 85 yards and a 21-yard touchdown in the Rose Bowl. He has great hands, speed route running and he has a knack for making extra yardage after the catch as well. The one thing he lacks is bulk, which equals his weak blocking abilities. He will have to start a bulk program once selected to be versatile.

Chris Steuber from First Down Inc. com said: "He will be a huge mismatch as a receiver in the NFL and should continue to improve as a blocker. He is a better receiver than the Packer's Bubba Franks was at this point."

No.2 Daniel Graham, Colorado
Strength: Has great speed and good hands
Weakness: He has weak blocking and inadequate size

If Daniel were just a little taller he would be the number one pick in this category. He has the very best hands out of any player at this position. Graham also has amazing speed in an open space, and he has a knack for finding the crease in the defense to get through.

He does not have the blocking abilities associated with the tight end position, but it is something he can work on even in the pro level. He has a great chance of being chosen late in the first round along with Jeremy Shockey. He stands 6-3 and weighs 245 pounds.

Graham should have no problems displaying his receiving skills for a lucky team that should choose him. Pittsburgh is one team that seems interested, he is a unanimous All-American and he beat out Shockey for the John Mickey Award, which is given to the nations most outstanding tight end. He led Colorado in catch (51); receiving yards (753) and touchdown receptions (six). He can only improve upon his blocking skills and that should happen at the pro level.

He has great abilities to run, block and catch extremely well; he is considered the perfect all-around tight end. Some feel he should bulk up a bit more and maybe get a step faster. Others have him rated very high on the board saying he is a better prospect than Baltimore's Todd Heap, the first tight end taken in the 2001 draft is.

Pete Prisco from CBS SportsLine.com said: "Has the tools to be a deep threat in the passing game but also can block at the point. His father (Tom Graham, a Bronco's linebacker) played in the NFL, so he has an idea what it takes to succeed."

No.3 Jerramy Stevens, Washington
Strength: Has good size and a good burst from the line of scrimmage
Weakness: Needs experience and is poor at run blocking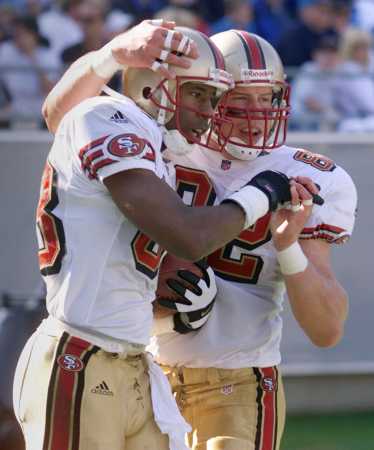 When you want to talk size for a tight end here is one that sets the bar; he stands 6-7 and weighs 260 pounds. The list for tight ends in the league is a priority, so don't be surprised to see Stevens go in the first or second round of this draft. The New England Patriots are a team that is in the market for one as well.

Stevens has such a great burst at the line and is able to catch the ball while on the run and shows good speed in the open field. He does do a good job of shedding blocks at the line of scrimmage and is even good in pass protection. He will need improvement though in his run blocking to honestly succeed at the next level.

Stevens is still only a junior and coming out of school early could be a concern. He missed the majority of last season with a broken foot. He made second-team All-American in 2000 with (43catches, 600 yards). But in the Holiday Bowl against Texas, he had nine catches for 109-yards. He has good athleticism and hands.

It is an area of concern for a junior to come into the draft after missing most of last season. Regardless he still should go early in this year's draft. The market dictates that he is ready, and West Coast Offenses will take a hard look at him as well.

No.4 Robert Royal, LSU
Strength: Has good open field blocking and great strength
Weakness: Has trouble breaking free from the line of scrimmage and weak lateral movement

Robert has great promise and should thrive in the right system in the NFL; there are concerns that he was under utilized at the college level. He has exceptional strength in his upper and lower body and should equal into a dominating blocker. In order to better handle short yardage situations he does need to improve upon his footwork and his leverage at the point of attack.

Royal has also been critical in clutch situations when all is on the line, and he has made crucial third downs when called upon to do so. Crisper route running and not needing help at breaking the line of scrimmage should be areas he is working on now. He is also a little weak at moving laterally while pass blocking.

Royal could go somewhere in the second or third down, depending on what the market is for tight ends in the league. He will be ready to contribute right away, as were the others that were mentioned. He stands 6-5 and weighs 255 pounds; he makes a statement in his appearance so this is probably one of the best blocking tight ends available.

Look for the following tight ends to be taken in the very early rounds of this year's draft, at least three should be gone at the start of the second round. This is one of the strengths of this year's draft being the tight end position. The quality here will be examined closely and teams with need will try and address their space with one of these high caliber rookie prospects.

Other tight ends not mentioned would be Chris Baker a senior out of Michigan State and Darnell Sanders a junior out of Ohio State, both of these have a positive upside as well.

Top 2002 NFL Draft Prospects at Wide Receiver
No.1 Antonio Bryant, Pittsburgh
Strength: He has great leaping ability and good footwork
Weakness: He has a poor attitude and weak blocking skills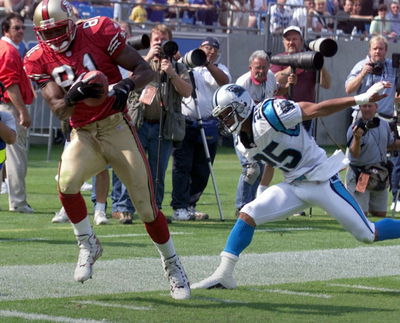 He stands 6-2 and weighs 190 pounds; his size is a definite asset to him and to his team as well. He has a knack for making a difficult catch look simple. He also releases well off the line of scrimmage and has good speed while the ball is in the air. He seems to find a way to put his body in good position and he has superior leaping ability to others.

He has the same aura that Minnesota's Randy Moss has demeanor and all, he has even "taken plays off" in the past and displays very little blocking ability while downfield. He is the winner of the Biletnikoff Award during his sophomore season in 2000. He struggled in 2001 as he battled two ankle injuries, including one right at the start of the season.

So durability could be a question that comes into play with some teams, while Bryant was out his team suffered from his loss. He was a factor though in the Tangerine Bowl victory against North Carolina State, when he torched the Wolf Pack for 101 yards and two touchdowns as he earned Most Valuable Player honors.

What separates Bryant from the others is his athleticism, size and speed it all but secures his standing as the ideal wide receiver that some teams crave. Hopefully his ankle injuries are just a one season fluke and will not be a factor again. His career at Pittsburgh has been nothing but impressive and he certainly will have a slot available in the first round as a lucky pick for someone. Teams that are interested are Kansas City, New Orleans and Washington.

Mel Kiper Jr., from ESPN said: "Has good size ands is a tremendously gifted athlete, He needs to keep working on his concentration and attention to detail to round off his game and live up to his potential."

No.2 Jabar Gaffney, Florida
Strength: Has great speed and body positioning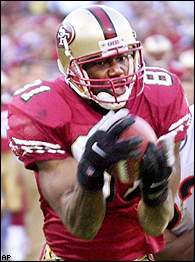 Weakness: Has off the field character questions and poor route running

Gaffney will be another bright NFL wide receiver due to his on the field performances; he earned All-American honors in 2001 and was selected to the All-SEC team. He hauled in 67 passes for 1,191 yards and 13 touchdowns last season. These are impressive numbers folks. He stands 6-1 and weighs 202 pounds.

Even though Gaffney is but a junior he still has very good clout as a receiver, he should go in the first round to a pass hungry team, one that is searching for a red zone threat. He blocks very well and he has good on the field awareness and good vision. Out of all the wide receivers taken out of Florida this could be the superstar everyone has been looking for.

He has had some minor run ins with the law and that has clouded his status a little bit. But Gaffney can find the end zone on almost any given situation, even though he has only two college seasons under his belt, he seems destined to grow right into a professional position for some time to come.

Mel Kiper Jr., from ESPN said: "He's a great red zone threat, but that was in the highly effective Florida offense in which receivers could break off their routes and get open. In the NFL, he will be more in a structured situation. Gaffney has to prove he can work his way open on deeper routes and show the speed to stretch the field vertically."

No.3 Ashley Lelie, Hawaii
Strength: He has good speed and displays elusiveness
Weakness: Needs more experience and is weak at blocking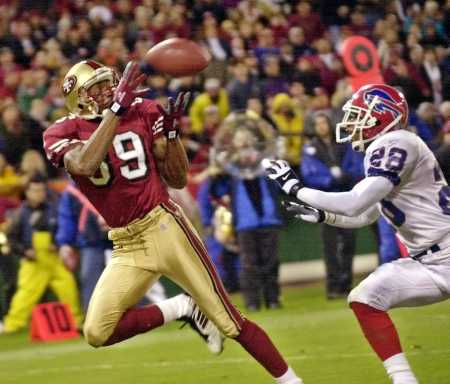 This is a receiver that is rapidly on the rise, he has actually gone from a mid round pick to a late first round pick based on some numbers posted at the NFL Combine. He was able to run some sub 4.3 numbers in the 40-yard dash. He stands 6-2 and weighs 200 pounds.

His greatest benefit was playing in Hawaii's run-and-shoot offense, which in a sense gives a wide receiver many opportunities to catch the ball. It also helps a receiver learn how to adjust routes based on what they see from the defense.

He is Hawaii's all-time leading receiver, and has been getting even better with time. This athlete poses a great upside; he is very difficult to bring down also in tackling having bulked up 25 pounds heavier from 175.

With the speed he possesses he will be a well sought after receiver, even though he is still a junior. He will need to benefit from experience meaning he will need to spend time on the field and take his licks.

Lelie will be a prospect that will help a team in more ways than one, his shiftiness on the field and his ability to make defenders miss is so important to his continues growth. He will need to concentrate on this area even more as training camps loom ahead.

Mel Kiper Jr., from ESPN said: "He has been showing phenomenal speed during his workouts leading up to the NFL Combine. Coming off a spectacular junior season at Hawaii, Lelie is running under 4.3 (seconds) in the 40 while adding weight to his frame."

No.4 Josh Reed, LSU
Strength: He has great separation and good hands
Weakness: Does not work well in traffic and has inferior size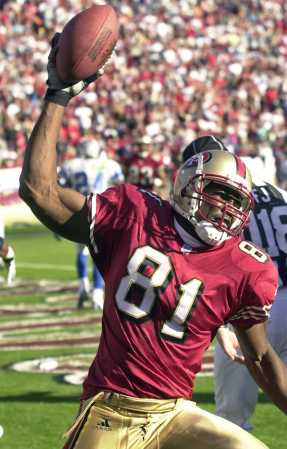 Even though Reed has a downside in terms of size, he stands 5-11 and weighs 195 pounds. He just might have the best hands in the draft. He also doesn't possess the flat out speed you are accustomed to, but he led the nation in receiving yards last year.

He earned All-American honors in 2001, and won the Biletnikoff Award, annually given to the nations top college receiver, after hauling in 94 passes for 1,740 yards, which is an average of 145.0 yards per game.

It was his play that helped LSU reach its first SEC championship since the 1980's. One may scratch his head and wonder how this talented player could be so good at such a small size. However his numbers are impressive and they make a big statement in this year's draft.

He always seems to have the ability to shine right in the brightest moments like playoff time. This in itself signals that he could become a rather big playmaker in the NFL. Teams will look with intense interest as to where he falls on the board in this draft.

Even though Reed is a junior his statistics tell the whole story, so many of the receivers in this draft are in fact juniors. And they stand right at the top of the list of the best in this draft.

Reed will be a great option receiver or a second or third receiver in standing on most teams. He will generate interest as the top three is chosen in this draft.

Mel Kiper Jr., from ESPN said: "For a former running back, Reed has incredible feet and runs excellent routes. He has a burst out of his break. He understands how to run routes and how to school a cornerback."

Other wide receivers not mentioned are Marquise Walker a senior out of Michigan and Andre Davis a senior from Virginia Tech, both are proven receivers and will be hot commodities in this draft.

The San Francisco 49er's will return in 2002 with most of their team still intact and ready to roll, they will be looking at drafting immediate depth and competition for their present starters.

This is where the draft is able to do magical things, some players that are taken turn out to be virtual superstars in a short period of time. Others of course take a series of year's to honestly mature and contribute over time.

The 2002 NFL Draft is an exciting event; every April we get to anxiously await one of the best events in the league, regeneration or a new beginning is made every time we conduct a draft. Out with the old and in with the new by some standards, but however you look at it, it will be an event that will shape one team in this league and many others in making playoff headlines.





Fan Press:
Now you can write articles for 49ers Paradise, and read what other fans have to say too in the Fan Press section.