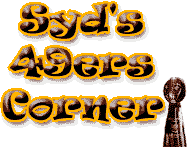 Looking at the 2002 NFL Draft; Linebackers, Offensive Centers, Guards and Tackles. (03/29/02) 6:00 PM


The San Francisco 49erís have real needs in these following areas, the consensus is that probably one of each may be either drafted or acquired through free agency. With the loss of linebacker Terry Killens to the Denver Broncoís the 49erís have lost a valuable piece of their special teams unit.

Replacing Killens will not be an easy task, simply because he was that good. He added a distinct flavor to our special teamís squad and he is already sorely missed. Killens signed on with the 49erís in 2001 for a one-year deal at the veteranís minimum salary of $477,000, during training camp last summer.

Killens was a force on special teamís last season acquiring 25 special teamsí tackles. 14 of them were solo. This is twice as many as any other players on the team. He filled the starting role at outside linebacker when Julian Peterson was injured early in the season.

He was present on goal-line defensive packages as an extra linebacker, and he finished with 10 tackles at this position. However with the priority on signing the starting unrestricted free agents, Killens found pay dirt in Denver with a seven-year deal. This is a void that will be very hard to fill.

The 49erís did make a significant splash in signing center Jeremy Newberry, with him being the youngest on the offensive line it locked that position up long-term. Newberryís contract was the most necessary out of the four starting unrestricted free agents based on this reality. Eventually the entire offensive line will have to be revamped; this is a reality the 49erís know mentally that is coming.

Newberryís six-year, $20 million deal which includes a $5 million signing bonus was a pure indication at how serious the 49erís were to retain his services. Newberry proved his worth throughout the season and played his way right into the 2001 Pro Bowl.

The deal at guard is a murky one, veteran Ray Brown who is 39-years old and is willing to play one more year being his 17th is on ice with the 49erís. The 49erís obviously want to become younger at this position, and they have been in the market for that with free agents visiting the complex.

Brown and his agent post phoned pay out in a bonus due Brown in hopes that the 49erís would re-evaluate the position. Brown has indicated he would like to play his last year with the 49erís. A tentative offer has been made but at a fraction of what the contract calls for this year.

The 49erís have invited guards Mike Wahle, Frank Middleton, Matt Joyce and just recently Ex-Saint Chris Naeole in for workouts and examinations. All of these guards though ended up signing elsewhere except for Naeole. Naeole in my opinion is a very intriguing option.

The 49erís also took steps to ensure that depth was secured when it resigned 10-year veteran Matt Willig. He played in 15 games with the 49erís last season and he saw action at both guard and tackle spots in the rotation. Willig was once a defensive end with the New York Jets but he converted into offensive linemen where the need was greatest.

Willig has been instrumental in the success of the 49er offense; he signed a one-year deal that I wish were for longer. He played in all but one game and when he was in the lineup the line never suffered a setback, it remained solid. Although Willig is 33-years old he has shown and proven that he deserves a shot to start. The 49erís could do a variety of things having resigned him.

At offensive tackle the 49erís remain solid, the only question is age, and that directly relates to left tackle Derrick Deese, he is in his 30ís and the notion is that the 49erís will look soon to become younger there. On the right Scott Gragg is there to anchor that side for a long time to come. A possible draftee or free agent could be brought in to provide either competition or more likely depth.

The 2002 NFL Draft is full of promising prospects at these positions, there is talent in each pool and teams will be busy positioning themselves for acquiring their services. I am confident that the 49erís will draft someone out of these three classes if not more, free agency of course will dictate which way they go.

Top 2002 NFL Draft Prospects at Linebacker
No.1 Napoleon Harris, Northwestern
Strengths: He is solid in run defense and at pass coverage
Weaknesses: He has problems with play recognition and weak hands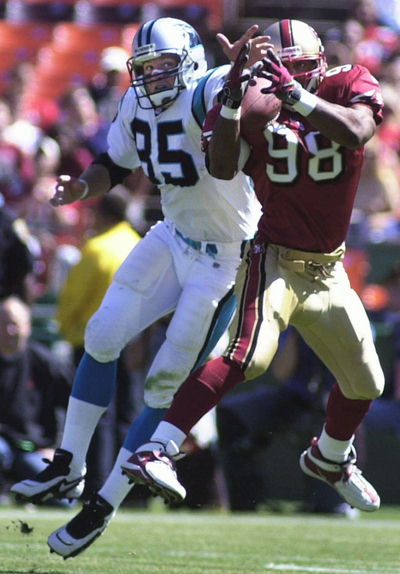 Napoleon stands 6-3 and weighs 245-pounds. The real indication of being a number one linebacker is that you are adept at defending the run and able to provide good pass coverage, this will spring you up the boards in drafting order.

Harris has a great tenacity and he has the lower leg drive to help plug holes in a defense and the overall speed to try and break the seal on the corner at the line of scrimmage. His play recognition must become a little quicker than it has been, especially when you are going pro. He has shown that he can take the game to the next level against good competition.

He also is excellent when a game hangs in the balance; his motor never stops running. He has played a lot at defensive end. He finished his career as a senior with 334 tackles, the eighth highest total on North western's all-time list. When he played at the Senior Bowl, he displayed good quickness and impressive versatility. He is projected to be drafted in the first round, by someone in dire need for a quality linebacker.

Joel Buschbaum from Pro Football weekly said: ďHarris is a very good athlete with size, speed and strength. While his instincts are not the greatest, he is getting better, and while he needs work on using his hands, he can bend his knees and play with leverage.Ē

No.2 Robert Thomas, UCLA
Strengths: He is good in pass coverage and has good lateral movement
Weaknesses: Has disadvantage at size and has durability questions

Robert Thomas stands 6-0 and weighs 240-pounds. As an inside linebacker the size disadvantage could hamper him, but he does carry his weight and has very good balance. What set him up the most are his tremendous pass coverage skills and his ability to move laterally with ease, even though he does not possess blazing speed he closes very well on the football.

He also does a good job of flushing out runners to other parts of the playing field where he knows that help will converge. He has a high sense of intelligence, but he has been bothered with nagging injuries. This is where the concern for some teams will weigh heavily. He is though the best inside linebacker available but many teams will look at an outside prospect first therefore he may not go until the second or third rounds.

He made the first-team All-American and he led the Pac-10 in tackles (10.1 per game) this past season. He has been compared to undersized middle linebacker veteran Dolphins Zack Thomas. Many teams will place a lot of emphasis on his size, thus causing his stock to fall on the boards; it will take a team similar to the Dolphins to take a chance on him.

Mel Kiper Jr., from ESPN said: ďIt is incumbent on the team that drafts him to have the 320-pound defensive tackles locking down the interior, That would allow Thomas to roam free.Ē

No.3 Trev Faulk, LSU
Strengths: He has great speed and blitzing ability
Weaknesses: He has weak lower body strength and poor pursuit angles


Trev stands 6-3 and weighs 240-pounds. Faulk is a work in progress so to speak, he has put on 10-15 pounds since the Sugar Bowl and it has not even effected his overall speed. He can come at you with a frenzied blitz and he shows blazing speed from sideline to sideline. His speed sometimes will get him in trouble because at times he is lost in traffic and causes him to take some bad angles while in pursuit of the ball.

In order for him to improve on his run defense he must improve his lower body strength so that he can stand runners up when he hits them. Faulk helped LSU make it to the SEC title last season, where he led the Tigers with 119 tackles (77 solo). He also had double-figure tackle totals in five of LSUís last eight games last season.

He is projected to be a second to third round draft choice, whoever drafts him, will acquire a project but he will be worth the pick. He has the learning ability to excel in anything he does. Even though Faulk is a junior he is still considered top draft bait.

Mel Kiper Jr., from ESPN said: ďHe needs to be more of a big-play performer, someone who can step ups and makes monumental plays. He is solid and consistent, but he needs to prove he can be more of an impact player.Ē

No.4 Saleem Rasheed, Alabama
Strengths: He has great speed off the ball and good blitzing ability
Weaknesses: He has inadequate size and weak on run defense

Rasheed stands 6-2 and weighs 225-pounds. He can play middle linebacker but his size will likely force him to play on the outside in the pro ranks. He has great speed off the ball and makes use of it when blitzing. He has the ability to blitz right up the gut or he can use the corner and get to the quarterback.

He has very good instincts and that allows him to be aware of what is around him. He will have to add some weight to his frame if he intends to be a solid player in the NFL. Opposing teams will likely use his aggressive style against him and run the ball in his direction. He does have great pursuit abilities and can make a lot of tackles from behind. He has a great upside to him and can eventually be an impact player with time.

He was the first Alabama player since 1989 to compile 100 or more tackles in a single season in 2001. He had 115 tackles overall, and closed the year with 10 or more tackles in six consecutive games.

Look for Rasheed to be a sneak maybe even in the first round, however most teams has him slotted in the third and fourth rounds of the draft. Some indicate when he gets flustered he tends to disappear from a game, probably an indication of him being a junior.

Mel Kiper Jr., from ESPN said: ďHe has played both middle and outside linebacker, but he lacked consistency throughout his career at Alabama. He had flashes where he looked like a first-round pick and other times when he was not much of a factor.Ē

No.5 Andra Davis, Florida
Strengths: Good tackling ability and good upper body strength
Weaknesses: Has poor lateral movement and inadequate size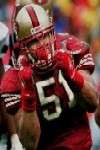 Davis stands 6-1 and weighs 250-pounds. Davis can deliver a lick on a player that would make film. He is solid at playing the run and although his pas coverage ability has improved he still needs more concentration in this area.

He has been hampered with injuries and he has problems moving laterally on the field. He sometimes looks stiff while in pursuit and needs to use his lower body at points of attack to maximize his strength.

He must become more versatile and he must show recognition on using his abilities on each and every play. He is projected to be going in the second or third round. Davis is another inside linebacker that seems undersized; he may be drafted and taught to play on the outside.

Mel Kiper Jr., from ESPN said: ďAs a tackler, he has always been solid. He can get the job done in coverage, something teams like to see.Ē

Draft top experts have voiced that this could be the weakest of all the categories in this yearís draft. There are not any superstars in this class; therefore anyone that is drafted at linebacker will require some work and patience. There are some players though with good upsides and quick learning abilities.

Other great linebacker prospects not mentioned include Levar Fisher of North Carolina State and Bradley Jennings out of Florida State.

Top 2002 NFL Draft Prospects at Center
No.1 Seth McKinney, Texas A&M
Strengths: Has experience and shows good quickness off the ball
Weaknesses: Lower body strength and lateral movement

McKinney stands 6-3 and weighs 290-pounds. He is the very best center available in this yearís draft class. He is a solid four-year starter and that experience in immeasurable as it translates into solid playmaking skills. He looks to be a leader both on and off the field. He has a great presence in the locker room as well when it is sorely needed.

He is very fast off the ball and uses his reflexes to block opponents backwards and moves straight up the field of play. He does struggle with some of his lower body strength, something he will have to deal with when he goes pro.

He also has trouble moving laterally especially in order to pick up a speed rusher. He has also proven his durability questions by playing right through pain and injury. He is projected to go somewhere in the mid second round.

No.2 Le Charles Bentley, Ohio State
Strengths: Has good upper body strength and good quickness off the ball
Weaknesses: Not enough experience and seen playing stiff


Bentley stands 6-2 and weighs 295-pounds. If there is a knock on Bentley it is simply his inexperience. He is very strong and can be relied upon to pick up blitzes from a variety of different areas. He is very emotional and is always ready for a new challenge. His enthusiasm for the game is what compels him and drives him to better himself.

He has a lot of upside to him and would be used better with a large running back that likes to pound it up the middle. He does need work on his footwork, as he tends to play stiff while backpedaling due to a pass rush situation. He took home the Dave Rimington Trophy awarded to collegeís top center. He has seen action at both guard and tackle which enhances his overall versatility as an offensive lineman.

He has also played through a very painful back injury, and thus proved that durability is not a concern, a big factor when considering a top draft pick.

This yearís class in centers is above average, although there are no superstars there is enough in this class to project some long-term players in the NFL for some time to come. They would have contributing careers once initiated and baptized under professional fire; other prospects not mentioned are P.J. Alexander of Syracuse and Jason Ball of New Hampshire.

Top 2002 NFL Draft Prospects at Offensive Guard
No.1 Andre Gurode, Colorado
Strengths: Has quickness off the ball and is good at finishing blocks
Weakness: Has poor footwork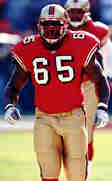 Gurode stands 6-4 and weighs 320-pounds. Andre is the number one prospect at the guard position; he even has some valuable experience playing at center. He is dominating at the point of attack and has amazing quickness off the ball.

He possesses great balance and both upper and lower body strength to neutralize on-coming blitzes. He uses all these assets as tools in blocking for the running game and providing pass protection. He may not be truly gifted at the center position, but would be good in emergency situations.

He does need work on his footwork; he was a key component in rolling over the Cornhuskers in Coloradoís 62-36 victory over Nebraska in 2001. He was a key element in blocking that day as Colorado had 380-rushing yards in that contest.

The only rap on Gurode is that he really hasnít faced real stout competition, however the NFL will be proud to initiate him. He is expected to be a late first round or early second round draft pick.

Mel Kiper Jr., from ESPN said: ďA wide body who can play guard or center; he is solid all the way around. People are impressed with his frame, and he has very long arms to go with his wide base.Ē

No.2 Toniu Fonoti, Nebraska
Strengths: Has good size and good at run blocking
Weaknesses: Does not have consistency or good blocking techniques

Fonoti stands 6-3 and weighs 335-pounds. He could be the very first guard taken in the draft, even over Gurode. He does have a huge upside, along with a great touch on finishing up on his blocks. He is a lethal force in the running game.

He will need work on his pass protection techniques simply because Nebraska is a running type of offense. He sometimes can be seen off balance and while backpedaling and this results in a waste of movement. He does possess a great deal of speed off the snap.

He is a native from Hawaii and was the heart and soul of Nebraskaís offensive line. He was a first-team All-American and an Outland Trophy finalist, he could bring opposing defenses to their knees.

Fonoti becomes the fifth Cornhusker to record more than 300 pancake blocks in a career; he has amazing mass and strength that make him a top candidate for duty in the NFL. He will need work on producing a pro-style pass blocking technique once he is acquired, and he really hasnít played up against truly solid defensive linemen. He is expected to go in the mid to late first round.

Mel Kiper Jr., from ESPN said: ďA powerful pancake blocker with unbelievable strength. Fonoti has an ability to manhandle people as a run blocker, and the size and feet to be a tackle.Ē

No.3 Kendall Simmons, Auburn
Strengths: Upper body strength and good blitz pickup
Weaknesses: Has inadequate size and some durability questions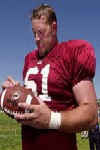 Kendall stands 6-2 and weighs 315-pounds. He has sound technique and can do a variety of things very well. He has seen extensive playing time at tackle, and by doing that he has learned how to pick up the blitz fairly well. He is on the small side but he has a wing span that is compensation and he is very hard to move out of the way.

He can use his hands well to lock onto defenders and he uses his upper body strength to that advantage. He has had some injury problems but he isnít afraid to play with some pain. He is definitely a great guard prospect maybe even a tackle for some team in need.

He has been battle-tested, by playing in the SEC and taking on stout opponents, he has faced the likes of Alex Brown of Florida and Kalimba Edwards of South Carolina. He is expected to go somewhere in the second round, he will be a solid prospect and starter for someone that drafts him. He has experience, and is a trustworthy person.

Tommy Tuberville, Head Coach of Auburn said: ďKendall Simmons is one of the best linemen Iíve been around. He had both ankles operated on after the first season we were here. Thatís devastating to an offensive lineman, but heís overcome that. I recruited him when we were at Ole Miss, but he came to Auburn. Heís much stronger now, and ready to go.Ē

The guard class in this yearís draft is exceptional, there are a few potential starters and then there are some solid prospects that will develop into potential starting offensive linemen. Some of those not mentioned include Terrance Metcalf out of Mississippi and Fred Weary out of Tennessee.

Top 2002 NFL Draft Prospects at Offensive Tackle
No.1 Bryant McKinnie, Miami
Strengths: Has great vision and size
Weakness: Where is it?


McKinnie is almost flawless if you want to believe it or not, he is one of the best offensive tackles ever to come out of a draft. He stands 6-8 and weighs 330-pounds. He has tremendous size and speed and his fundamentals and techniques are truly outstanding. He once played defense, which in essence has helped him become a better player, because he knows exactly what his opponent is about to do.

He sometimes can look tentative but in reality he is really just being cautious because he can be, and that reduces the margin of error on his part. McKinnie has the overall talent and ability to be the top pick of the draft, but that is unlikely due to the Texans are looking at a quarterback.

The real deal is what he is, no matter who chooses him he has the starting job and he will be on his way to a Pro Bowl. He has achieved the Outland Trophy for best lineman in the country at the college level. He was named first-team All-American and helped the Hurricanes make a National Championship season, keying an offense that averaged 5.3-yards per rushing attempt.

Many general managers will have their eyes on McKinnie as the draft begins; he is the same caliber as a franchise player like Orlando Pace and Jonathan Ogden. He will go in the first round of this draft.

Mel Kiper Jr., from ESPN said: ďMcKinnie combines superior size and athleticism with a defensive mentality; has shown h and get the job done against top-notch pass rushers.Ē

No.2 Mike Williams, Texas
Strengths: Has good lower leg strength and speed
Weaknesses: poor upper body strength and has weight problems

Mike stands 6-6 and weighs 360-pounds. One has to wonder why a weight of 360 would be an asset. But Williams can move a pile with that weight because of his lower leg strength. He is sometimes a finesse blocker but at the same time he can become a mauler as well. Although he still has good speed for his size, reducing that weight a little would greatly enhance his standing.

Williams will be an impact player for a team that drafts him; he showed incredible displays of power during the 2001 season, as he helped the Longhorns achieve an 11-2 record. He anchored an offensive line that helped churn out 4.1-yards per rush in 2001.

He really follows in the footsteps of former teammate and former No.2 overall draft picks Leornard Davis of Arizona. He is expected to go early in this draft just not that early. He lives up to the potential of Davis and he will be a force for any offensive line.

Houston Texans General Manager Charley Casserly said: ďMike Williams is a guy who has real good size. Heís an excellent athlete, an excellent pass-blocker, and he can run-block. He gives you the total package.Ē

No.3 Mike Pearson, Florida
Strengths: Has good footwork and good in pass protection
Weaknesses: Has inadequate size and weak upper body strength


Mike is from Gator country and stands 6-7 and weighs 300-pounds. He is in a tight battle for the number two slot with Williams. He has the best footwork in the business, and teams love his ability to block in the open field. His run blocking is average but his pass protection is superior to so many others.

He handles pass rushers very well and has a solid technique. He has faced some great opponents and is fully battle tested. He will not get beat off the snap and he cab handle most bull rushes. Even though he is still a junior Pearson made the right decision; he will be in the NFL for a long time to come.

He is even taller than his former teammate in current Tampa Bay Buccaneer Kenyatta Walker, and he is just as loved. He helped the team run all the way to the Orange Bowl in 2001. He will raise eyebrows this coming season once he is selected he has that much potential. Pearson helped the Gators average 4.2-yards per carry in 2001. He is projected to go in the first or second round.

An official from Football Corner said: ďPearson is a solid offensive player. He has played several positions on the line in his career and this points out his versatility and talent. He is solid in pass protection and does an excellent job of sliding out and picking up speed rushers. He is strong at the point, plays with good technique, and has a solid understanding of the game.Ē

No.4 Levi Jones, Arizona State
Strengths: Good upper body strength and has good speed off the ball
Weaknesses: He is inconsistent and has weak hands

Levi stands 6-5 and weighs 310-pounds. His weight is significantly less than what he is usually is playing at; he is used to playing at around the 325 range and does so with ease. He will need to bulk up once he starts a training camp for the team he is drafted by.

His stock on the draft boards has been on the rise; he is though his worst own enemy. He tends to lose mental focus at times and gets fooled by stunts and blitzes when the defense comes with disguises or is mixed up just right.

He will have to improve in this area immediately coming into the NFL. He does have good speed and can even block out of the backfield on occasion. He has trouble with his hand placement and he cannot just rely on brute strength alone to get the job done.

Jones is expected to go somewhere in the second round, he has a huge upside and will make someone a great tackle down the road. For aging offensive lines this may be your prospect.

Dan Pompei from the Sporting News said: ďHas ideal size and plays with strength, has the tools to play left tackle. Can move and get to linebackers. Is a former defensive lineman and guard who still is learning his position? Needs to be more consistent.Ē

This offensive tackle class is a great one, it is the largest in height and weight class meaning every player that is drafted will contribute to their teams running game for a long time. There are superstars in this class and they will move quickly, however there is still many good prospects left that will turn into great players.

Offensive tackles not mentioned include Coloradoís Victor Rodgers and Boston Collegeís Marc Columbo; both are very good prospects as well. McKinnie is definitely one of the best talents in the overall draft itself, behind him there are many other great playmakers waiting in the wings.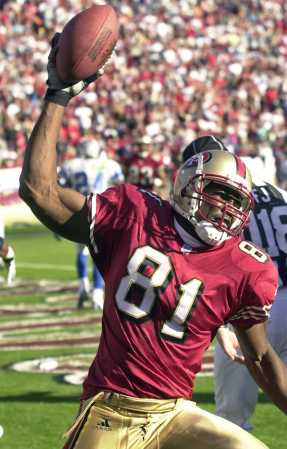 Will San Francisco go after any of these positions come draft time? I have to believe that they will. We have glaring youth needs in the offensive line and we need someone that will come in as a linebacker and contribute on special teams.

How much of a priority will the 49erís place on these positions will probably not be at the top of their list, obviously obtaining a cornerback and a defensive end to compliment our anemic pass rush are near the top. Defense will again be the focus, but some attention will start to turn towards offensive needs as well.

I hope you enjoyed more continued coverage of the 2002 NFL Draft, I know that the list of prospects are only the top candidates, but at least it gives you a good sense of where the overall talent lies and itís depth as well. Please continue to look for more draft coverage every week.





Fan Press:
Now you can write articles for 49ers Paradise, and read what other fans have to say too in the Fan Press section.