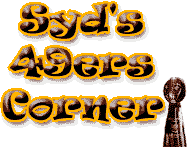 San Francisco 49ers are humbled by Philadelphia. (11/27/02) 10:00 PM


In front of it's home crowd of 67,919 people the San Francisco 49ers fell prey to the Philadelphia Eagles that came in with damaged wings, feathers tattered from losing their elite quarterback in Donovan McNabb.

It didn't matter though because a young bright kid quarterback out of Colorado in Koy Detmer rallied his troops to defeat the 49ers convincingly 38-17.

This was without a doubt one of the worst performances and losses I have ever witnessed from the 49ers. Certainly at the very least the worst loss of this season, it leaves winning at the back of your mind when compared to other losses.

The Philadelphia Eagles were out to prove that they did not need the likes of McNabb to will them to victory.

They had in all respects come together and had decided as a collective team that they would move forward, and they did at our expense.


We cannot blame this loss on just one player in San Francisco, we cannot single out has been kicker Jose Cortez and blame him for all our sins.

This time it was everyone and very few bright lights can be found in this dreary diary of a devastating loss.

The 49ers even had an extra day to rest for this Monday Night spectacle, maybe just maybe it was too much time to rest and even to think.

What was even more humiliating was when Koy Detmer was wheeled off the field with a dislocated elbow and replaced with a third string quarterback in A.J. Feeley. Feeley then proceeded to pick up where Detmer left off and led them to another touchdown score.

To say that we were not the underdogs in this game was a Las Vegas blunder; I cannot get over the perfect game plan of Eagles Head Coach Andy Reid.

The silence on the sideline in Candlestick Park spoke for itself. We had been ultimately humbled by a foe that was wounded but still so very dangerous.

With some fine play from all it's members and some ingenious planning by the Philadelphia coaching staff they came away with a sweet victory.


I honestly believe that the 49ers took this game too lightly. I believe that there was a mental image of a team without their star quarterback that they would be rendered vulnerable.

But what transpired was a feeding frenzy on our defense like you had never seen the likes of all season long.

To offset that feeding frenzy 49er quarterback Jeff Garcia did everything humanely possible to turn that tide. He was under constant and intense pressure from a defense that had one specialty and that was the blitz.

Jeff was always running or ducking for his life and often found himself laid out on the field. His throws were crisp and accurate despite all this but his receivers had hands greased with margarine.

"I would say it's more embarrassing than frustrating," Owens said. "We know we didn't play up to form. We have our backs against the wall now."


Words that came from Terrell about this loss hold true, as the 49ers jeopardized their standing not only in their division but in the name of home-field advantage throughout the playoffs as well.

Despite the two-game lead ahead of St. Louis, you should never count the Rams dead. With a few more losses like this we could very well have Ram influenza in its worst form.

Koy Detmer completed 18-of-26 passes for 227-yards and two touchdowns. After he was carted off the field with his injury courtesy of Chike Okeafor his fellow brethren in A.J. Feeley came in and led the Eagles to yet another score.

With his 1-yard touchdown pass to tight end Chad Lewis it gave the Eagles a 35-10 lead. It gave the Eagles the enormous high of smelling victory over a hated foe from last season.

Accomplishment had been done in so many forms in regards to the Eagles; they had dissected every aspect of our defense from both a running and passing attack.

What were even more discouraging were the special team's blunders of the 49ers. This is a unit that has suffered not only from countless injuries but from poor planning as well. Assignments and blocking techniques are suspect at best in my opinion.

The talent level in this unit is not used to its fullest capability, which sheds doubt on Special Teams Coach Bruce DeHaven. Eagles tailback Brian Mitchell returned a punt 76-yards for a touchdown off a line drive kick that turned so many stomachs in both the stands and through the airwaves.


When you look at any angle in this game, you see blunders. Playing the way we did in this game really shook my senses and exposed our true weaknesses. From special teams that surrendered a NFL record 13th return for a touchdown to a secondary that was burned third-degree style.

On offense the only glimmer of hope that was seen was Terrell Owens connecting for two touchdowns as the only scoring besides one Jeff Chandler field goal.

"They're a good team and they played very well," 49ers coach Steve Mariucci said. "We're a good team and we didn't play very well today."

What would be the final straw on 49er punter Jason Baker was his short punt in the second quarter that resulted in Brian Mitchell's 76-yard punt return, which gave the Eagles a 14-0 lead.

And while all this wasn't bad enough Jeff found himself being sacked three times and being called for a 26-yard intentional grounding penalty after he tried to get rid of the ball from a Jeremy Newberry shotgun snap that sailed over his head.

Going back to the week before this game after the San Diego aftermath, Jeremy Newberry had indeed re-broke the ring finger on his right hand. He suffered the injury right as they were beginning the overtime period.


"I think I did the same thing again," said Newberry, who broke his ring finger during practice August 21, 2002 and had two pins surgically inserted into it for stabilization.

Despite this if anyone knows Jeremy he is as stubborn as a mule and played through the overtime period snapping at least three times to Garcia in shotgun formation. "You've got to tough the pain out sometimes," Newberry said.

I have a great deal of respect for Jeremy, especially since he is the first 49er I've ever made contact with. He has an incredible family that turns out for every single game and takes center stage in the parking lot to Candlestick.

I was there to witness that spectacle this year, and couldn't believe the closeness and family bond that is evident every time you make contact with them.

If not all of you know Terrell Owens continues to play in pain as well. He has a heel injury that has irritated him for most of the season.

He has played with the deep bruise to his bone in his heel for quite sometime and will probably have to grin and bear it for the season.

Steve Mariucci realizing this has held out Owens in practice and limited his repetitions because of the injury. Having him stand out on the sideline is not an option that we can afford. The 49ers passing attack would almost literally die without his presence.

The pain these athletes go through on a continual basis is sometimes overlooked as the season wears on. We must all be mindful at just how dedicated these athletes are when they take to the field many of them suffering in extraordinary pain.


In other news quarterback Cade McNown put on injured reserve for the season began throwing lightly last week. McNown underwent season-ending shoulder surgery on August 29th. He just recently began throwing and has been working on improving his overall strength and range of motion.

He has diligently taken to every team meeting so that he stays focused and becomes more acquainted with the 49er offense.

"You just kind of refocus your goals," the 25-year-old McNown said. "If I was thinking the whole time, 'I wish I could be playing,' then it would drive me crazy. I just have certain things I do everyday, and they're all geared to getting better. I'm excited. I think now it's just a matter of time. I've gotten the problem fixed."

He suffered a shoulder injury on Oct. 22, 2000, while playing as a Chicago Bear in Philadelphia. It was a problem that McNown lived through the rest of the season and last year, of which he spent in Miami.

He did not play in 2001, and after getting traded over five months ago by the Miami Dolphins to the 49ers, it took the early part of 49er training camp in Stockton for the 49ers to realize he needed the surgery.

The 49ers have taken a huge gamble on a quarterback they feel could someday take over for Jeff Garcia down the road sometime.

Bothered by the shoulder he never got that chance to shine or even show his true worth. Tim Rattay solidified the back-up position rather quickly with little competition other than Brandon Doman.


Going back to the Jose Cortez debate over the San Diego loss, Jeff Garcia was one of the very few that came to Jose's defense in that game. With every 49er fan screaming for some sort of action from the front office on Cortez, Garcia was defending him in public.

"This is a team game and everyone on this team is accountable for what happens on the field," said Garcia. "I'm accountable for what I did and didn't do on the field. It's all of us together."

When you look at Jose Cortez and his resume the evidence bears true to his departure. In the opening game against the New York Giants he had a field goal blocked form 25-yards out and missed another 48-yarder.

He did connect on three field goals, including the winner for the game. In Oakland he missed a 39-yard field goal that went wide left and another 27-yarder for the win that went wide left. He did make the 23-yarder in overtime for the win.

Against Kansas City he hit the upright of the field goal post from 46-yards out, but he hit a 42-yarder for a 17-13 victory. And his last miss a 41-yarder in San Diego was for the win in overtime and he lost that. When you weigh all the evidence it's hard not to blame Cortez for some opportunities missed.

Jeff defended Cortez and even indicated that he resented Terry Donahue for bringing in Jeff Chandler and keeping two kickers on the roster all season.

Jeff felt strongly that having two on the active roster implied too much pressure on the two kickers to perform at a high level.

However the whole idea of drafting a kicker was because of Cortez having inconsistency back in 2001.


General Manager Terry Donahue was quick to defend his option of retaining both kickers, because he had justifiable reasons for it.

Jose and Jeff although competing against each other still turned out to be friends of one another. In a dog eat dog world that is hard to do especially once employed in the NFL.

"Jeff is an adult and he has opinions and he's entitled to those opinions," Donahue said. "We kept two kickers because we felt it was the right thing to do. Honestly, I wanted as many good players at every position we possibly could, including a kicker. I don't share Jeff's view."

When you look at Cortez and his demotion, one has to believe that this was a team that seemed divided on Cortez and his future. Certainly not everyone was as defensive of him as Garcia was from the beginning.

Obviously Terrell Owens was upset after the scenario by shouting and ranting on the sideline following the kick.

Fullback Fred Beasley also spoke about the Cortez dilemma as well and his thoughts seemed to echo mine as well. "We have to rally around him and let him know we are behind him, Beasley said. "Then again, you got to take care of your own shop when your number is called."


One cannot look at this as a matter of likes and dislikes. I thought that Jose was a great kicker after the opening game against the Giants scoring wise. But his kicks were less than desirable as the opponent usually had good field position most of the time.

Steve Mariucci did the only right thing he could do and that was to announce Jeff Chandler our fourth-round pick out of Florida as our starting kicker.

"This is not a popularity contest, it's a performance issue," Donahue said. "It's a matter of performance. You can't do what is the popular thing to do. We're trying to win a championship. It has nothing to do with personalities and whom you like and whom you don't like."

"I expect Jeff to do a good job," Mariucci said. "He's been in big games, big stadiums, and loud crowds that sort of thing, in Florida and he's been playing very well."

However you look at this it was for the better of the team. In fact it probably should've happened sooner rather than later. Everyone goes through a slump in their lives, but Cortez was relegated to more than his share.

I feel that in the long run Chandler will give us the best chance at success as he matures and gathers more confidence.

Game #11 (Loss) Philadelphia Eagles over San Francisco 49ers 38-17

"It got ugly fast and stayed that way," said Jeff Garcia who threw for 291-yards and two scores in the loss. "They're a good football team and they rolled tonight. They made plays and we didn't."

"It got to a point in the fourth quarter when it got very embarrassing for us as an offense," Garcia said. "We just couldn't do anything right. Just the way it was happening in front of our home fans, it's a sense of embarrassment. We didn't show up."

San Francisco won first possession and began with an Eagles kicks from David Akers for 67-yards to Jimmy Williams for 23-yards. However an offensive holding penalty was thrown on 49er James Jordan for 10-yards, backing us up to our 16-yard line.


Jeff Garcia's first play of the game went to Fred Beasley for 15 total yards for a first down. Garrison Hearst then ran to the left for seven total yards and then Garcia then tried to find Owens but couldn't, and then took off himself to the right for seven more yards.

Accomplishing a first down Jeff failed to find Hearst on the next play but he ran up the middle for two yards on the next. Jeff dropped back to pass to Owens but the ball fell incomplete, the 49ers were forced to punt on opening possession. Clearly a sign of trouble to come.

Jason Baker kicked 43-yards were it was downed by Williams at the Philadelphia 10-yard line. Here young back-up quarterback Koy Detmer began his debut, remembering he had not thrown a pass since 1999.

Andre Carter and Bryant Young sacked Detmer on the opening play for minus two total yards. On the next play a penalty for false start on the Eagles drove them back farther.

With second down and long a penalty fell on the 49ers Bryant Young for encroachment and then Eagles running back Duce Staley ran to the right for four total yards.

On third and ten Detmer failed to find tight end Chad Lewis and Sean Landeta punted 55-yards where it was downed at the 49er 35-yard line.


On the second drive Jeff hit Terrell Owens for four total yards and Shawn Barber met Kevan Barlow at the right guard spot for minus a yard. Faced with a quick third-and-seven Garcia went to the shotgun and failed to connect with J.J. Stokes.

Baker punted 35-yards where Eagles tailback Brian Mitchell returned it to the 35-yard line.

Here Detmer would begin the second Philadelphia drive by handing it to newly drafted running back Brian Westbrook who ran to the left for four total yards.

Detmer then tried to connect with wide receiver James Thrash and failed and then hit Todd Pinkston off 49er Mike Rumph for a 32-yard gain.

Now with a first down Detmer prepared the next drive by failing to find Pinkston and then handing it off to Staley for a three-yard gain to the right. A penalty came down on Philadelphia though for illegal motion and drove them back.

Detmer then dropped back and failed to find Pinkston but did connect with Antonio Freemen for four total yards.

Failing to convert the third down they opted to try the field goal being 48 yards out with David Akers.

The attempt failed going wide right. The 49ers then resumed control of the ball at their own 38-yard line.


With 5:54 left in the first quarter the see saw battle for positioning was really starting to take form. Both teams had discovered an offensive funk that they had a hard time getting over.

Jeff Garcia handed it to Hearst who gained six total yards on the right and three more yards to the left.

On third and short Garcia looked for Owens but the pass fell incomplete. Baker then punted again 43-yards where it was downed at the Eagle 10-yard line.

Philadelphia just coming off a failed field goal began their next drive with Staley up the middle for four total yards and Dorsey Levens to the right for three more yards.

Then on a trick play wide receiver James Thrash did a nice left end route that gained 12 more yards and a first down.

Here Detmer went to work finally hitting Chad Lewis for six more yards and Todd Pinkston for nine more yards and a first down. Detmer went back to Lewis and failed to connect and then handed it off to Staley for a six-yard gain.

Getting yet another first down Detmer handed it to Levens for a romp up the middle for seven total yards and Staley followed with eight more yards thereafter.

Again the Eagles had turned over a first down, and handed it to Westbrook who ran up the middle for three total yards and put the Eagles on the 49er 25-yard line. Now in the second quarter Detmer dropped back and found Todd Pinkston for a 25-yard touchdown pass.

Akers extra point good the Eagles had broken the offensive rhythm with a well executed scoring drive. On 12-plays and 90 total yards the Eagles had moved ahead of the 49ers at home 7-0 Eagles.

Akers then kicked 64-yards to Williams where he returned it 12 total yards to the 49er 18-yard line.


The 49ers at this point could see that the Eagles were not suffering post-McNabb stress. In fact their offense was clicking soundly on all cylinders with no pressure generating results from the 49er defensive four at the line of scrimmage.

Jeff dropped back and hit Owens for three total yards and Barlow ran up the middle for one more yard.

With a third down now looming Garcia went to the shotgun and hit Tai Streets for a 12-yard gain and a first down. Hearst then ran up the middle but was forced Back by an Eagle defense for minus two yards and then Garcia tried to hit Justin Swift to no avail.

Back to the shotgun on third down Jeff hit Hearst for eight more yards but not enough to turn a first down. The 49ers then punted yet again 36-yards but this one from Baker was a line drive right to Brian Mitchell.

Mitchell with clear vision of the field found lanes to run through for a 76-yard punt return for a touchdown. With Akers extra point the Eagles now jumped ahead 14-0 Eagles.

It was at this point and I'm sure for many of you that I began to become discouraged. The 49ers were really struggling in all aspects of the game and this special teams blunder was another thorn in the side.

Akers kicked 58-yards to Williams who returned the kick 33 total yards to the 49er 45-yard line.


Here Jeff Garcia went back to work with Hearst running to the right for two yards and Jeff then found Terrell Owens for a 32-yard reception. This was the best offensive progress thus far for us in this game.

Everyone including myself hoped that the trend would be created here. With a first down Garcia failed to connect with Tai Streets but found Justin Swift for eight more yards.

With a third and short situation Jeff connected with Tai Streets for four yards and a first down. Hearst then ran to the right for just a yard and Jeff went up the middle himself for five more yards.

The 49er shad managed to get down to the Philadelphia three-yard line on Owens huge reception. Jeff dropped back and found Owens for the three-yard touchdown.

Jeff Chandler's first extra point was good and on eight plays and 55-yards the 49ers had finally struck back making the score 14-7 Eagles.

Chandler then kicked 70-yards that landed inside the end zone for a touchback. The Eagles under Detmer resumed from their 20-yard line.

Detmer failed to find Freeman and Levens ran up the middle for just one more yard. With a third down Detmer again looked for Freeman but the pass was incomplete. The Eagles had finally seen an in and out pattern as they punted 46-yards to Williams who returned it just four yards.

But a penalty fell on San Francisco for illegal block above the waist pushing us back to our 27-yard line.


Jeff on the opening drive connected with Owens for a 19-yard gain and then failed to find Beasley. Barlow then got the hand-off with a run to the left but he was stuffed for a negative three yards.

Faced with a third-and-13 Garcia out of the shotgun failed to connect with Tai Streets. Baker punted 46-yards to Mitchell who returned it 15-yards to the Philadelphia 26-yard line.

The Philadelphia defense at this point had really started to frustrate Garcia. His passes though accurate was being defended not only by the Eagles but also from his own players in the form of bad routes to just dropping the ball period.

With 3:42 left to play in the first half Koy Detmer went back to work, Staley got the ball to the right for two more yards and on another trick play James Thrash completed a left end run of 21-yards and a first down.

With that Detmer hit Staley for five more yards and then the two-minute warning sounded. After that Detmer went on the attack hitting Chad Lewis for a 21-yard gain off Mike Rumph and Ronnie Heard.

With a first down the Eagles gave it to Levens for four yards up the middle and hit Staley for seven more yards, with a timeout called by Philadelphia.

With a first down at the 49er 14-yard line Brain Westbrook ran to the right for three more yards and then another Eagle timeout was called. On second-and-seven Detmer dropped back and found Freeman for an 11-yard touchdown, Akers extra point was good.

So on eight plays and 74 total yards the Philadelphia Eagles extended their lead to 21-7 with just under a minute to play in the half.

The stuffing had been punched right out of us at this point, excruciating, as it was I felt we had still a remote chance to turn this around.


Akers kicked 53 total yards to Williams who returned it 16-yards to the 49er 33-yard line. Faced with little time Garcia employed the shotgun formation hitting Stokes for three and Tai Streets for one yard.

Faced with a third-and-six Garcia found Owens for 10-yards. A timeout by San Francisco was called with just 20 seconds remaining.

Back out Garcia failed to find Tai Streets and even worst a penalty came down on 49er Ron Stone for offensive holding. On second and long Garcia hit Hearst for nine more yards and a timeout was called again.

On the final play of the half Garcia tried to find Eric Johnson but failed and time expired.

In the first half the Eagles had dominated in scoring but the rest of the statistics remained close. Brian Mitchell's returned punt for a touchdown was what hurt us the most, a costly seven points that we could have avoided.

Detmer with the help of some trick plays and his running game was making progress consistently. The Eagles had netted 201-yards to our 159-yards at the half. Besides Terrell Owens score we had accomplished nothing.

Philadelphia would start the third quarter as Chandler kicked a 67-yarder to Mitchell who returned it 25 total yards to the Eagle 28-yard line.

Here Staley ran to the right for just a yard and James Thrash ran to the left for four more yards. A penalty came down though on Philadelphia for offensive holding pushing them back.


Detmer came back and hit Levens for two and Pinkston for 11 more yards. This failed to yield a first down so they were forced to punt 40 total yards to a fair catch by Williams at the 49er 24-yard line.

Here a determined Garcia hit Owens for two plays that yielded 32-yards. With a first down Garcia gave it to Hearst who ran to the left for 12 more yards and then failed to find Beasley.

On second-and-ten a penalty came down on the Eagles for encroachment, allowing Garcia to hit Stokes for five more yards and a first down. Garcia went back to the passing attack but failed to find either Stokes or Johnson.

Finally on third down out of the shotgun he found Owens again for five more yards. With a fourth down the 49ers gave Chandler his first opportunity to score.

Chandler hit a 35-yard field goal after nine plays and 59-yards the 49er shad finally cut the lead to 21-10 in the third quarter. Chandler then kicked the ball 59 total yards to Mitchell who returned it 25 total yards to the Eagle 36-yard line.

Here is where I felt the momentum had really swung as the Eagle defense had held us to but a field goal. We needed those seven points critically here.

We now were looking at having to score every time we had the ball. But we needed a defense as well to step up, and they had not done that as of now.

On the next series Detmer hit Pinkston for eight total yards and then Staley was stopped for no gain. With a third down Detmer found Chad Lewis for a four-yard gain and a first down.

Detmer with a fresh set of downs hit Pinkston for 11 total yards and Freeman for three more yards. On the next play Detmer hit James Thrash for 37 total yards that put the Eagles on our one-yard line. A timeout was the called by Philadelphia.


With a first down and goal young Koy Detmer inspired his troops with a run right up the middle for a one-yard touchdown. Akers extra point was good and on seven plays and 64 total yards the Eagles extended their lead 28-10.

Akers then kicked 64-yards to Williams who returned it 25 total yards to the 49er 31-yard line.

San Francisco dazed and confused with this offensive onslaught came out again and hit Barlow for three more yards and he was then injured on the play with a sprained knee.

On the next play the bizarre happened with a snap from Newberry that sailed over Garcia's head and he failed to reach Stokes.

Out of the shotgun Newberry fumbled the ball at the line and it was recovered by Jeff who then tried to make a play but it was ruled intentional grounding, an offensive holding penalty was also enforced on Paul Smith that put the 49ers in punt formation again.

Baker punted 37 total yards to a fair catch by Brian Mitchell at the 49er 41-yard line.

With these series of blunders and mistakes the 49er offense gave Detmer great field position and striking distance for another score. Staley started with a run up the middle for 11 total yards and a failed pass to Pinkston.

Detmer then hit Jeff Thomason for a 24-yard gain but he was hit by Chike Okeafor and fell to the ground quivering in pain.


Koy Detmer had fallen on his left elbow and dislocated it. It was a gory moment seeing him laid out on the field and in immense pain.

The entire Philadelphia team came out to see him as he was loaded on the stretcher, along with our defense that came to terms with their own predicament.

A.J Feeley came in at quarterback on the 49er six-yard line to lead the charge and gave it to Staley who was stopped for minus one yard.

Feeley then tried to find Pinkston but it fell incomplete but a penalty fell on Jason Webster for defensive pass interference.

This put the Eagles smack on the one-yard line and Feeley found Chad Lewis for the touchdown. With Akers extra point good after five plays and 41 total yards the Eagles screamed out ahead 35-10.

Akers then kicked 56 total yards to Williams who returned it 18 total yards to the 49er 32-yard line. Here Garcia found Hearst for nine more yards and Tai Streets for seven total yards.

With a first down finally Jeff then hit Tai Streets for 14 more yards and then threw another pass to Tai Streets that was intercepted by Troy Vincent at the Eagle 39-yard line.

However a penalty was thrown on the Eagles for defensive pass interference and that put us in scoring range at the Philadelphia 18-yard line.

Here Jeff dropped back and found Terrell Owens for the 18-yard touchdown. Chandler's extra point was good after four plays and 68-yards with the help of a penalty. The 49ers had crept up to 35-17 Eagles.


Jeff Chandler then kicked the ball 60 total yards to Mitchell who almost broke another run for 57total yards to the 49er 33-yard line.

On the first play James Thrash tried another trick play but was snuffed out by Julian Peterson for minus eight yards.

Feeley then dropped back and passed to Freeman for eight more yards and Thrash for another eight yards.

Faced with a fourth down the Eagles attempted a field goal of 43-yards by Akers that of course was good. So on four plays and eight total yards the Eagles had catapulted to 38-17.

Akers then kicked 66 total yards to Williams who returned it 21 total yards to the 49er 25-yard line, but a penalty fell on Mike Rumph for illegal block above the waist pushing us back further.

I cannot help but comment on the rookie mistakes committed by Mike Rumph, I believe that they have made a profound effect in our ability as a pass defense to shut down an entire side to attack.

I have sympathy for Mike because I know that offensive game schemes have him as the primary target for all their throws. He has failed on so many occasions that they will continue this trend.

Sometimes it is better to scale back the playing time to allow him time to refocus and re-evaluate himself. Obviously he has struggled with the speed and velocity of the NFL.

Every rookie does and will be burnt in their first year. I know that Mike will become a great corner with a year under his belt. We must be patient but sensible as well in accomplishing our goals with him in mind.


San Francisco out of the shotgun found no one so Jeff ran up the middle for one yard. Shawn Barber sacks for going back to pass Garcia minus five yards and he fumbles the ball.

The ball is recovered by the Eagles and returned 10 more yards. However the play is challenged by Mariucci and is reversed showing it as an incomplete pass.

Back in the shotgun Jeff finds J.J. Stokes for a total of 17-yards and a first down. With a new set of downs he fails to find Stokes but Hearst runs up the middle for a 28-yard gain.

Back in the saddle with a first down he hits Owens for seven and doesn't find Stokes on the next play. With a third down Garcia hands off to Hearst who gains six more yards and a first down.

Jeff again fails to find Hearst and then hits Tai Streets for four more yards. Back in the shotgun he is sacked for minus nine yards and then on fourth down attempts a pass to Terrell Owens that falls incomplete. They give the ball up on downs and the Eagles take over.

With almost 11 minutes left in regulation the Eagles go to work from their 39-yard line with Duce Staley gaining 14 total yards on the first two plays. Staley continued to run but was hit for minus two and then regained those two again.

On third down Staley ran again chewing clock time for four yards forcing the Eagles to punt.

Landeta punted 29 total yards to Williams who returned it just one yard to the 49er 15-yard line. Here Jeff took over with the wind gone from his sails. He failed to find Owens and connected with Hearst for five yards.

On third down Garcia dropped back and hit Owens for a 26 total yard reception. On the next play Newberry would snap and fumble the ball with Jeff recovering it.


Jeff then took another sack for minus six yards as he recovered the low snap from Newberry. On second down Jeff would find Stokes for nine more yards and then get hit with a false start penalty sending them back.

Back in third down form Garcia failed to find Owens and on fourth down to add injury to insult was sacked again for minus 11 total yards.

Philadelphia had nailed the coffin shut as Jeff was obviously banged up and shaken from the endless onslaught of Eagle blitzes.

Philadelphia took over at the 49er 33-yard line with Staley running for just two yards and Thrash getting stuffed with no gain. The Eagles punted 26 total yards where it was downed at the 49er five-yard line.

Seeing no point in putting Garcia through another drive Mariucci put Tim Rattay in to take over.

Rattay on the first play couldn't find Tai Streets and then handed it to Paul Smith for 13 more yards. Rattay then failed to find Tai Streets and then Stokes for two yards.

Back in third down Rattay hit Smith for five and then on fourth down hit Owens for a first down with a seven-yard gain.

Achieving a first down Tim couldn't find Smith but then hit Cedrick Wilson for nine more yards.

With a third down hanging over them Paul Smith converted with a 16 total yard run and a seven-yard reception. The two-minute warning sounded, signaling the end of this incredibly long night.

Tim hit Tai Streets for 14 more yards and another nine after that. On the Eagle 13-yard line Tim was then sacked for minus six yards and he failed to connect with either Wilson or Jordan on the next two series.

A penalty fell on the 49ers for offensive pass interference but it was declined giving the ball back to Philadelphia.

With just 50 seconds left in regulation Feeley kneeled twice and the game was finally over. As difficult as this was to summarize and put into detail because of the magnitude of a loss that it was, I still feel it is necessary to fully digest what happened here.

This was a loss in the worst form and at the wrong time. Jeff finished the evening going 29-of-51 for 284-yards and two touchdowns.


Terrell Owens was the hero of the night with 13 receptions for 166-yards and two touchdowns along with Tai Streets with eight receptions and 65-yards. In the rushing end Garrison Hearst was the most productive with 10 carries for 65-yards averaging 6.5-yards per carry.

Paul Smith at the end of the game had two carries for 29-yards and Kevan Barlow had nothing at all with minus three yards and was injured during the game.

What was right with this game is hard to tell from a 49er standpoint there was nothing, what went wrong was everything. We didn't even show up for this one in not just my opinion but many a fan as well.

Being at (7-4) we are just two games ahead in our division. We have so much to work on and not that much time.

I believe that the injuries that we have suffered have really made a sudden impact, and that key members are needed back sooner rather than later.

I also hope that the shame of this game will awaken the kindred spirit inside our players to overcome all adversity. I hope it is God's will that this happens for all of us.





Fan Press:
Now you can write articles for 49ers Paradise, and read what other fans have to say too in the Fan Press section.