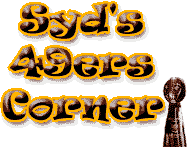 49ers offense slow out of the gate. (09/27/02) 1:00 PM


The San Francisco 49ers in 2001 ranked fourth in the NFL overall in total offense, second in rushing, 14th in passing and third in scoring. These are very impressive numbers to say the least.

The expectations then were to go out and do that again after all they had a 63.5% scoring efficiency when in the red zone which ranked second in the league last season.

This offense has had a history of making big plays, either by the way of the pass or by the run. It struggled in pre-season this year, as indicated by the statistics and the (2-3) record.

Going into the regular season with a visit to the Meadowlands in East Rutherford, New Jersey to play the New York Giants, the 49ers continued to have high expectations that the offense would perform at a higher level.


Just prior to the start of the season, the 49ers made some peculiar yet essential moves in finishing their starting roster. On September 1st, 2002 the 49ers waived their 1999 NFL draft bust in defensive tackle Reggie McGrew.

McGrew has been the most unproductive first round draft choice I have ever seen as a 49er fan. He has been a disappointment all three years as a 49er, marred by injuries and inconsistency.

Within that same wave of cuts they released just signed eight-year veteran safety Chad Cota, linebacker Cornelius Anthony, wide receiver Scott Cloman and defensive end Bobby Setzer.

Talk about a trade involving a premier running back was also rumored as these cuts were made, seeing that they had three quality backs in Terry Jackson, Paul Smith and Jamal Robertson.

Terry Donahue has been a general manager that has preached and delivered on his promises on fiscal responsibility. It is very nice that we such an ideal numbers man that holds the accounting department on this team in the palm of his hand. In essence the 49ers saved a lot of money with these releases.

In this one series of cuts the 49ers saved $650,000, and this brought the team to be approximately $5 million under the mandated NFL salary cap. Reggie McGrew was scheduled to make $750,000 in salary, and Chad Cota who had just signed August 14th, 2002 was cut as he was scheduled to earn $650,000 in a one-year deal just tendered.


McGrew has been the largest of blemishes to the 49ers and its draft team. He was drafted at a time when veteran defensive tackle Bryant Young had just recently suffered a broken leg that was so complicated there were concerns on his return. Donahue pulled the gun on drafting McGrew with this in mind.

What happened to Reggie there after was a long series of setbacks. He spent his rookie season on injured reserve after tearing a triceps tendon, and then the remaining two years he was plagued with a series of ankle injuries. In 23 career games, McGrew had 10 tackles and started only once. This was in essence finally the last straw.

"We just could not bear to pay that kind of money to someone, who conceivably, would play below 50% of the time," Donahue said. "It came down to a financial decision. It came down to a playtime decision. It came down to a production decision."

The one free agent that quickened this decision was defensive tackle Jim Flanigan; Flanigan came in and delivered all that he said he would. And he beat out Reggie for the third tackle position.

The 49ers overall have $9.5 million invested inn their top three defensive tackles this spells out to a lot of cash and a sound investment in our defense. This is even more cash that has been invested in the 49er quarterback position as a whole. The 49ers have placed a high priority on establishing a line that will prove to be worth that cost.

With veterans such as Flanigan, Stubblefield and Young the 49ers feel very comfortable heading into troubled waters this 2002 season. And the acquisition of defensive end Sean Moran from St. Louis also played a unique part as he can play both end and tackle in nickel and dime. This in all aspects relegated McGrew to be expendable.


More cuts would follow including linebacker Brandon Moore, who could not beat out fellow teammates in Frank Strong and Quincy Stewart because they excelled on special teams. Defensive tackle Garrett Johnson was claimed off waivers from Denver after Jim Flanigan went down with a hamstring injury.

The San Francisco 49er practice squad was then finalized, probably one of the best practice squads I have ever seen as far as quality and talent. Five players are allocated to the practice squad, thus giving them still marginal chances of making the active roster or signing on with another team.

They included wide receiver James Jordan; who excelled in the pre-season therefore the 49ers were inclined to find him a spot here. The 49ers chose to go with just four active receivers on their roster.

He had seven receptions for 107-yards and one touchdown this past pre-season. He was also second on the team with a 15.3-yard average per catch. I really liked seeing him in pre-season and believe he is a great candidate for possible action should an injury occur.

Safety John Keith, this was San Francisco's fourth round draft pick in 2000, and although he has been marred with injuries the 49ers still contend there is something special about him. John sustained a devastating knee injury that ended his season last year.

Offensive tackle Austin Lee, he showed enough in pre-season that made the coaching staff want to take a second look. His on field production was evident and the depth questions on the offensive line made this move reasonable.

Defensive end Darryl Sanders, was another impressionable athlete that caught the coaching staff's eyes as he performed very well towards the tale end of the pre-season. He showed very good pass rushing moves as well as the ability to handle the run. He needs to bulk up and develop game skills but he is looked at being a worthy project.


Wide receiver Antoine Tolliver, he showed great flashes of being a return specialist, his sped and ability to make defenders miss was evident as he made a splash this pre-season. The shortage of such athletes that have this type of ability is real in the league, so keeping one that may look like a back-up prospect was a no-brainer for the 49ers.

Still prior to the first regular season game, the 49ers placed newly acquired veteran quarterback Cade McNown on injured reserve with shoulder surgery taking place. He injured the left shoulder while playing with Chicago in 2000. The injury became worse as he started 49er training camp in Stockton; therefore this action was taken to preserve his roster spot.

The 49ers also went on to release three other players in fullback Jasen Isom, defensive tackle Cleveland Pinkney and center Ty Wise. The release of Wise made center Ben Lynch's position a lot more secure as he was brought in after injuries to Jeremy Newberry after being released earlier un the season. Ben became a necessity after earlier center projects failed to step up.

I hope that Ben will be around a long time, this individual has heart and incredible stamina. He simply must learn to play another position such as guard so that he can become a lot more versatile.

Something that Steve Mariucci started in San Francisco upon his arrival was to develop a player committee to air out certain views on important 49er matters. He helped organize such a committee here because it had proven to be successful while he was coaching in Green Bay.

Having a voice for the players to speak out on important issues became paramount, as the season was a spectrum of important issues that needed to be addressed.

He calls this committee the "Dirty Dozen." And it caught on with the players as a positive aspect. "It gave the players a sense of ownership," Mariucci said. "I saw it work at the pro level, and I always felt that's what I would do if I got an opportunity to be a head coach."


Certainly this is no surprise, as even in high school many athletic programs have committees in some form or fashion. Having a voice for the players in my opinion has always been a positive thing for a particular curriculum. Professional football is no different in that light as players deal with on field and off field issues on a daily basis.

The cast of characters on this dirty dozen is focused on both sides of the ball, providing continuity and fairness. Starting with quarterback Jeff Garcia, running back Garrison Hearst, wide receivers Terrell Owens and J.J. Stokes, center Jeremy Newberry, tackles Derrick Deese, Matt Willig and Scott Gragg. Guards Ron Stone and Dave Fiore, safety Tony Parrish, defensive tackles Dana Stubblefield and Bryant Young.

Of all that is the dirty dozen, one has to approve of such a good assembly of players. Having a voice is always crucial to one's sense of mind. Being able to voice concerns and make suggestions throughout a season is beneficial to both players and management. I am happy that Mariucci has made such a committee and believe it should be a practical subject on any team's agenda to consider.

About midway through the 2001 season what many fans do not realize in regards to the 49er offense was that Gregg Knapp was promoted to do the entire play calling. Knapp once again will be making all the difficult decisions with the 2002 season. What Mariucci wants to make abundantly clear though is that Knapp although calling the plays, bears only some of the responsibility.

"I don't know that we were secretive," Mariucci said. "(But) I certainly did not want any more stress on him than he already had. That's an important job. It's a tough job."

Mariucci is one coach that you will find wears a headset while standing on the sidelines, he hears all the plays being called in and is sometimes even consulted with. He has the right to veto any call that he feels would produce failure, but he has exercised that clause very seldom.

"I have to take full responsibility," Mariucci said. "He doesn't need the grief, so I take it. I always will, regardless of who's calling the plays. I'm always going to take full responsibility. That's the responsibility of an offense-oriented coach."


Gregg Knapp was elevated to the coordinator's position once Marty Mornhinweg went to Detroit to be their head coach. He has since done a credible job given that the team went 12-4 last season.

He still discusses many plays with other coaches such as offensive line coach Pat Morris and also seeks out advice from quarterback Jeff Garcia. Garcia embraces that communication and is more than willing to provide it, as should be the case.

"As the quarterback of this team, I try not to look into who or why or how things are being called, but more so just executing what is being called," Garcia said. "For the most part, my main contribution is coming off the football filed and letting coach Knapp what I'm comfortable with, what I'm seeing and how we can integrate that into getting some things called that I'd like to get called."

What has always been the offensive mindset of the 49ers has been the equilibrium of the two departments in running the ball or passing the ball. It has always been the mainstay of the coaching staff to create 50-50 opportunity or balance for both. This season the 49ers want to produce not one but two 1,000-yard running backs in Garrison Hearst and Kevan Barlow.

They also know that after hearing the vocal demonstrations of wide receiver Terrell Owens last season that they need to get the ball to him as often as possible. He will command up to 100 catches this season to be satisfied. Knapp knows that he needs to evaluate each play as what the opposing defense dictates to him. But he does have set agendas.

Said Knapp, "Ideally, we'd liked to be as balanced as possible when it's all said and done. Each game is taken individually, though, because there are going to be some games when we're going to have to throw it. If they play a two-deep cover shell, then we're going to have to run it. Ideally we want to be 50-50."

Just last season those plays came pretty close to being a reality. They attempted 509 running plays and 318 passes. But when you figure in Jeff Garcia's running plays as well that were intended to be passes being 72 of them, it still left a little favoritism towards the running game. But with a record of 12-4 who cares? Really folks as long as you achieve the desired results and reach the post-season that is what counts.

Game #1 (Win) 49ers 16-13 over Giants

This was a great spectacle as the NFL rolled out a great fanfare in the Meadowlands to kick off the official 2002 NFL season. This was a game that the San Francisco 49ers had been preparing for since the schedule was announced. Expectations of course were high that the 49er offense would come into the Meadowlands and obliterate the Giants. That was anything but the truth as we all soon found out.


In the very first quarter excitement was the name of the game, on the first Giant offensive drive quarterback Kerry Collins on a third and six threw a pass intended for Tiki Barber. That was intercepted by 49er safety Tony Parrish and that was brought back to the New York 23-yard line.

With San Francisco's next drive as a result of the interception they managed to get within field goal range for Jose Cortez for 25-yards but the kick was blocked. Ron Stone's false start penalty a factor.

Already the pretext for this game was being set, seeing Cortez's blocked field goal sent shivers up my spine as I watched, sending me back to the last half of last season where Cortez was so ineffective.

The Giants would then on their next drive with 11-plays and 69-yards reach field goal position to go ahead 3-0 on a 29-yard field goal. Collins fumbled the ball on this drive but it was aborted due to a penalty on Sean Moran for defensive offsides for 5-yards.

Jeff Garcia on the next ensuing play would rive the 49ers on nine plays for 63-yards to help set up another Jose Cortez field goal of 23-yards that was made making it 3-3. Going into the second quarter both offenses would prove ineffective as both defenses encompassed this game. One of the bright spots in this contest was watching right tackle Scott Gragg neutralize his former teammate defensive end superstar Michael Strahan.

It was a contest that was widely talked about right up to the game itself. I had full confidence in Gragg holding off Strahan especially with former Giant teammate Ron Stone occupying the slot right next to him. The pair combined to help each other take Strahan right out of the picture.

The San Francisco defense despite giving up huge passing yards to Kerry Collins kept the Giant offense most importantly out of the red zone and scoring. That is when the defense became even more constricting resulting in Collins making mistakes. Collins threw an interception to linebacker Julian Peterson ending that drive, but Jeff on coming out to start the next drive threw one himself intended for Owens.


With 1:09 left to play in the first half, the 49ers on Jeff Garcia's latest drive came within field goal range again, and again Jose Cortez missed, this time a 48-yarder that sailed wide left. With this the Giants under Collins would make good use of the minute and drive for eight plays and 47-yards to connect on a field goal from 33-yards to make it 6-3 at the half. This was anything but impressive, as the 49ers went in at halftime I had to wonder at how many more times the offense would fail.

It seemed like the only half of the 49ers that were really into this game was the defense. Of the 49ers that did not play in this opener that could have been significant were linebackers Saleem Rasheed and Jeff Ulbrich along with defensive tackle Jim Flanigan all out due to injuries.

The 49er defense was truly exceptional in this game, and without them we would have lost this contest without question. In all the 49er defense would produce three turnovers that would prove costly in the end to the Giants. And even more importantly they held the Giant running game to just 43-yards on the ground.

Another person that was the target of disdain besides Jose Cortez was cornerback Jason Webster, whom Kerry Collins threw on many times. It was Giant receiver Amani Toomer that was the star for the Giants having lost 15 pounds in the off-season to trim down and be faster on the field. Toomer would catch nine passes for 134-yards against Webster.

Webster was also called for pass interference, just one year ago he was flagged five times for this same infraction. Terrell Owens continued to frustrate many also as he dropped too many intended passes.


The second half would be a much different story; the third quarter would be a series of failed offensive drives as the defenses on both teams continued to dominate. That is until the very near end of the third quarter when Jeff Garcia on eight plays and 52-yards drove the ball down the field with Garrison Hearst catching a nine-yard pass from Garcia in the end zone for the seasons first touchdown. Going up 10-6 against the Giants.

Kerry Collins sack in the third quarter by Dana Stubblefield played a part in us getting the ball back and beginning this scoring drive, along with a Giant false start penalty. Starting off the fourth quarter Collins would again feel the wrath of the 49er pass rush as Chike Okeafor sacked Collins for six yards and on the next play he would throw a pass intended for Ike Hilliard to be intercepted by free safety Zack Bronson.

With Bronson's interception it allowed Jeff Garcia to manufacture another successful drive of nine plays for 49-yards, resulting in a Jose Cortez field goal of 33-yards that made the score 13-6 49ers. The Giants knew they had to get moving and they did, despite a sack by Jamie Winborn on Collins for eight yards.

Kerry Collins would go on an aerial attack that would pummel the 49er secondary, for 14 plays and 77-yards as running back Tiki Barber would score on a touchdown from the 1-yard line making the score an ominous 13-13 game. This is when the 49er offense largely silent for most of the game with only minimal gains here and there suddenly began to emerge.


Terrell Owens would come through as he was taken out of the game with as many as three defensive backs at one time blanketing him. The Giants were effective in taking this playmaker out of the game except when it counted the most. Jeff connected with Owens for a 33-yard reception. J.J. Stokes would provide 12 more and Hearst would run to set up the ensuing 36-yard field goal that would end after six-plays and 52-yards of offense.

In all Jeff Garcia went 16-for-26 for 166-yards with one touchdown and one interception. Kerry Collins would go for 28-of-45 for 342-yards with no touchdown and three interceptions. On the running end it would be Hearst who carried 12 times for 40-yards and Barlow on eight carries for 33-yards. Minimal gains but important yardage.

On passing tight end Eric Johnson turned into a safety valve having three receptions for 44-yards and Terrell Owens only four receptions for 41-yards. J.J. Stokes did provide some key catches with three of them for 37-yards.

On special teams the duo of Jimmy Williams and Paul Smith proved strong as Jimmy had a long return of 20-yards and Smith one for 28-yards. The defensive star of the game proved to be linebacker Jamie Winborn with a record 16 tackles and a sack.

"That was a big win for us. Especially on the road and in the emotional environment here in New York," said Dana Stubblefield. "We all know the mistakes we made out there. The good thing is we can do nothing but get better."

"To win in this league you have to stop the run, put pressure on the quarterback and you have to have guys that defend the end zone with a passion," said defensive coordinator Jim Mora. "That's what we did."


Terrell Owens although limited came through in the end. He was overthrown at times and even dropped one. And he even ran for 10-yards on an end-around. But he came through despite being tightly covered and was happy with his opportunities. Owens the most vocal in the offensive lineup had finally something good to say. In injuries defensive end Andre Carter had a right knee sprain and center Jeremy Newberry a left ankle sprain.

I must say I was very proud of the 49er defensive effort. We came from all angles in this game. I expected an offensive series instead I witnessed a defensive one as we all did. It was still very enlightening to see that our defense has matured, barring Webster's lost coverage on Amani Toomer.

Said 49ers coach Steve Mariucci; "I told them that I'm most proud about how they handled a difficult game. We were just flopping around, is how I like to describe it in the first half and it was rough sledding. It was hard to make a first down, but I didn't see any frustration. I saw some real pros out there."

I must concede that I did to, coming out of the gate with a win was awesome. But a few more gray hairs as I remember the very first game last season against Atlanta were very similar to this one. It really set the tone for the 49ers as they boarded for their flight back home for an extended home series.


After this game had ended the players and coaches were relieved to finally have some rest and relaxation that was staring down at them. After playing four games in 18 days the exhaustion and tension had really started to set in.

The weekend break would be a good time for the team to re-evaluate where they needed to be at in preparation for their home stand against the Denver Bronco's at Candlestick. Steve Mariucci applauded the team as they prepared for their long awaited break and no matter how ugly the win seemed to be in others minds, the fact was we still won.

"There are certainly a lot of things to clean up. Our red zone offense, some areas in every phase of our game certainly can use some improvement," added Mariucci. "The things that I was most proud of were poise, our confidence and our resiliency to deal with a potentially frustrating situation. They were good and we were just not hitting on all 8 cylinders and we just kept playing. We played well at the end when we needed to. We scored on our last three drives to win the game and that was big because they're a good team and a dominating defensive front and I think towards the end of the game we began to wear them down a little bit, because we did score on our last three drives when we needed to most."

Right after the game the 49ers released another player in defensive end Jerome Davis. He saw limited action in the game against New York. He was an original member of the practice squad with the Detroit Lions in 1997. He migrated to several other clubs including the Calgary Stampeders in the Canadian Football League and then on to Denver where the 49ers picked him up from.

He went on to NFL Europe where he finished the season with the Frankfurt Galaxy with 26 tackles and 5.5 sacks. The 49ers added defensive tackle Ross Kolodziej in his place from Wisconsin.


Also shortly after the game linebacker Jamie Winborn was named the National Football Conference's Defensive Player of the Week, for his outstanding performance against the Giants in the season opener. Starting in place of the injured Jeff Ulbrich, Jamie was a demon all over the field, he recorded a career high 16 tackles that evening, including one sack.

Game#2 (Loss) Broncos 24 -14 over the 49ers

This was a game that utterly frustrated every 49er fan on the planet earth. It was the opener at home in Candlestick Park. A game that so many had circled on their calendars and looked forward to. After all it was the season opener to home fans. The 49ers had just come off a narrow victory on the road against the New York Giants. Now they had an even tougher opponent in Mike Shanahan's Bronco's and their highly publicized defense.

The San Francisco offense would find no luxuries here as the Denver defense would prove to be the difference maker in this game. On top of that Denver had one an offense that could rip you apart in several different ways, especially after coming off a big victory over our archrivals in St. Louis. The had balance in both the running game and passing game with many weapons.

In the first quarter the 49ers would find trouble right from the very beginning and the odds would suddenly be stacked against them in the penalty department. After just coming off a spectacular series of crisp practices at Santa Clara the 49ers showed just otherwise.

On the opening drive in which the 49ers won the coin toss, Jeff Garcia took the 49ers down to the field only to discover that Terrell Owens would cause two false start penalties that would kill this drive. Denver on their opening drive would go down to the 49er 40-yard line only to fumble and have it recovered by safety Tony Parrish.


On the next drive it would be again penalties that stuffed the 49er offense as offensive holding was called on Scott Gragg and Kevan Barlow thus ending this drive. Denver would find more mistakes from San Francisco as Ahmed Plummer was called for Illegal use of hands on the next drive.

Denver quarterback Brian Griese then would be sacked for six yards by 49er linebacker Julian Peterson, and yet again by Andre Carter for 11-yards ending the drive with a touchy punt that is recovered by Jimmy Williams.

The second quarter did not bode well either until the middle of it where Jeff Garcia would feed the ball to Kevan Barlow who had a great run of 31-yards. A roughing the passer penalty on Denver would help our cause here. Terrell Owens would finally break free from the defensive blanket to catch an eight-yard touchdown pass from Garcia. The drive was six plays long and consumed 56-yards; we were on top 7-0.

Denver's Brian Griese would again come out firing, but he was sacked again by Chike Okeafor for four-yards. The 49ers would encounter more lapses in judgment as Dave Fiore would incur a false start and linebacker Ian Gold for would sack Jeff Garcia 7-yards.

On the punt the 49ers would be called for unnecessary roughness that would put the Bronco's in goods scoring position. Denver would drive down the field on five plays and 17-yards to kick a field goal that would make it 7-3 49ers.

The start of the third quarter would have Denver driving and reaping from two encroachment penalties assessed on linebackers Julian Peterson and Jamie Winborn. Between Mike Anderson and some nifty passing the Bronco's on 10-plays and 74-yards scored on a Mike Anderson 1-yard reception for a touchdown, making it 10-7 Bronco's.

San Francisco would go back in and see Jeff Garcia get sacked by Trevor Pryce and fumble the ball on second-and-eight on his own 43-yard line to have Denver recover it. The third quarter would end with a final drive by Denver with 1:14 left to play and Denver would benefit from safety Ronnie Heard getting called for defensive pass interference. This would set up an Olandis Gary 1-yard touchdown giving the Bronco's a 17-7 lead.


In a bid by Jeff Garcia to make something positive happen on the next drive entering the fourth quarter he threw an interception. Intended for Tai Streets cornerback Deltha O'Neal intercepted it at the Denver 1-yard line.

The ball in Denver hands once again Denver went on yet another drive, benefiting from two defensive encroachment penalties on Stubblefield and Julian Peterson. Brian Griese on 13-plays and 99-yards threw an 11-yard touchdown pass to Scottie Montgomery giving the Bronco's a 24-7 lead.

With 2:58 left to play in this game Jeff Garcia set out once again, using every weapon at his disposal he made a 1-yard touchdown himself by running up the middle to make it 24-14 Bronco's. But it was too little to late, with 1:23 remaining the Bronco's had eliminated two playoff contenders in the Rams and 49ers going into the 2002 season.

The penalties in the end is what cost the 49ers everything, in taking advantage of every one Denver made sure they would pay the ultimate price for their own mistakes. We recorded 10 penalties for a total of 114-yards. And that doesn't include four more that were declined.

In the second half of this game is where it all broke loose. Penalties took their toll and points resulted. The San Francisco defense played very well in this game, it became tired towards the end of this game though as many offensive drives were short lived. The 49ers on the ground only managed 71-yards total. In the air only 205-yards. Jeff Garcia was 27-for-36 and one touchdown and one interception.


Denver had a great day on our behalf. Brian Griese went 14-for-19 for 119-yards and two touchdowns. On the ground the Bronco's had a total of 201-yards rushing a far cry from the first game we played against New York. In the air they had 119-yards with tight end Shannon Sharpe having five receptions for 52-yards.

Terrell Owens was again limited to five receptions for 38-yards. Tight end Eric Johnson had the most productive day with seven receptions for 69-yards. Jimmy Williams had a long kick-off return of 24-yards and the average per return was 14.2-yards.

On the subject of penalties I must say that these are mistakes that are very correctable my friends. I may sound harsh, but I believe that any player that has multiple infractions in penalties should be benched to make an example of them. A lack of discipline on a team tends to harbor many weaknesses. And this is one area that we don't want to be remembered in.

"The ones that are discouraging are the ones before the snap and after the whistle," said Steve Mariucci after the game. "Those are discipline penalties and we need to be better than that. To give a team like Denver that kind of help is too much. We can't expect to win when that happens."

"We lost to a better team. They outplayed us today," said Mariucci. "We won't make excuses, we can talk about the penalties and the missed opportunities, but the bottom line is that they took the game from us."

On the injury front again the game proved costly, Zack Bronson suffered a left shoulder stinger, Eric Heitmann a right shoulder stinger, and Paul Smith a left hamstrings problem and Dana Stubblefield a sprain left MCL.

"We had a game plan, anticipating how they were going to play defense. But every time we got something good, we shot ourselves in the foot," said Owens, who admitted his lack of focus on a day that also included two false-start penalties on him. "It was a lack of concentration on my part. I don't know why."


Everyone that I know as a 49er fan was visibly upset at how the team played this game. Granted the Denver Bronco's are a premier team as evidenced in this game and against St. Louis.

But had we played with minimal penalties, we would have had a shot at winning this game. Despite not having offensive success, the defense and some key plays could have turned the tide here.

"We need to come out with just more of an attack-style offense," said Garcia. "Not so much passing more, but just an attitude that we're going to make things happen." "There has to be a mentality that we're not going to allow anybody to slow us down. And by doing that, we also have to be a team that's not going to stop ourselves."

The bottom line in this game is that we lost and lost big. We cannot hide the facts that the 49ers played poorly and did themselves in. All we can say is that improvement and discipline are necessary attributes in the NFL. San Francisco has a long tough schedule ahead of them; we inherited that with a 12-4 record last season.

The pressures on the offensive line to produce are real folks. The defense has only minor setbacks as such so far. Many games lie ahead in wait as we prepare for each and every one differently, I still have the up-most confidence in this line and it's quarterback in Jeff Garcia. We will correct this and move on. Please see my next article on continuing coverage of the regular season and news and highlights that go with it.





Fan Press:
Now you can write articles for 49ers Paradise, and read what other fans have to say too in the Fan Press section.