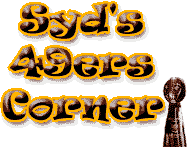 49ers struggle to put opponents away. (12/04/02) 1:00 PM


The blessing of a victory in Candlestick was one that ended a torrid two-game losing streak for the San Francisco 49ers. In those games and this one, a consistent pattern has started to rear its ugly head.

The facts are indisputable that the 49ers are found scrambling to secure a lead when the fourth quarter comes around.

The Seattle Seahawks a new division rival came into Candlestick with high expectations in contributing to the 49er losing streak. They almost answered that call with quarterback Matt Hasselback leading the charge.

With but only 92 seconds the Seahawks moved the ball 57 total yards in six plays to cut the margin to 31-17.


After a brief in and out drive by the 49ers, the Seahawks then answered within 82 seconds on nine plays and 80 total yards to come within just seven points of a 31-24 lead. It seems that no matter how you look at it the 49ers leave the back door open for their opponents to crawl into.

As pleasing as the victory was, I'm afraid the mere evidence that is attributed to the pattern I just mentioned overshadows it.

Somehow we pulled this victory off, it was even more horrifying to see the 49ers botch an onside kick by Seahawks kicker Ryan Lindell as the ball bounced off wide receiver Tai Streets chest and was recovered by Seattle's linebacker Orlando Huff at their own 43-yard line.

This victory was that close to being a loss, if not for the instinctive play of cornerback reserve Rashad Holman with an interception in the end, we would have been sent packing with another loss.


When you talk about championship teams in the NFL, one thing comes to mind. Domination is the key to success in this league, you must be able to win on both sides of your football team, meaning the offense and defense need to work together like clockwork.

Has that always been the sense with us? Absolutely not. We have struggled to maintain longevity and consistency mostly though due to countless injuries.

In a world that is insensitive to one's plight in the NFL, this team has to do what all other teams do in this league and that is to adapt. Being able to adapt to injuries and have your back-up players contribute in a positive manner is critical. This has happened to some extent but not enough to be labeled at an excellent level.

Taking a three-game lead on the St. Louis Rams in our division makes me feel refreshed and confident, as I witnessed what we couldn't do just a few weeks ago against Philadelphia beating up on the Rams.

The Eagles with a third string quarterback and some terrific defense shattered the Rams dream of climbing back in contention with us in our division.


Some of this blame in our ills with the team has been targeted at the coaching staff, many believe that Steve Mariucci should be the fall guy for our weaknesses and our inability to hold off opponents in the ending part of games.

Others including myself believe that the motivation and endurance of the team is in question. Are our players giving absolutely everything they have out on the field, are they subject to distractions or just not disciplined enough to overcome adversity.

Can they execute plays on a consistent basis without being reminded constantly from the sideline?

These are questions that I have for my team as we lead our division. I agree that there have been some bad decisions coming out of the coaching staff from time to time this season. Heck there has even been some blunders that we should've been able to avoid all together.

But I wouldn't want anyone else but Mariucci leading this team based on his perspective of where this team is at and what needs to get done to get to the playoff hunt.

Mariucci above all else knows what the critical elements are on this team, he addresses them each and everyday, he takes great pride in his work and is a sounding board for not only his coaching colleagues but for his players as well.

He runs the West Coast Offense as it is designed for and he makes careful decisions to secure leads as best he can.


He does make mistakes and he does make bad calls sometimes, but all coaches do and we would be ignorant if we didn't believe this. The human element in decisions will always be a factor in football just like any other contact sport.

Sometimes we have to live with the things that we have done, but as long as we learn from them and don't repeat them we attain victory in the end.

Garrison Hearst was the main event in this victory over Seattle; he started as the feature back with the sprained knee of second-year running back Kevan Barlow.

Hearst has always indicated he wants more touches on the ball, and did you know that whenever Hearst plays and is rushing for 100 total yards or more that this team has an overall record of (14-1) in the end.

Great credit must go to the 49er offensive line and the battering ram of fullback Fred Beasley as Garrison Hearst helped secure this victory with three total touchdowns.

Hearst had 31 carries for 124 total yards averaging 4.0-yards per carry. His longest run was a 31-yard scamper that was mind blowing. Before this day Garrison Hearst had never carried the ball more than 19 times in any games this season.

Hearst usually is sharing playing time with his understudy in Pittsburgh's Kevan Barlow, and that has been a difficult pill for him to swallow as it has been for Barlow as well.

Mariucci adopted the philosophy of applying two backs and rotating them so both are strong and fresh. That has worked with some varying degrees and does preserve a long career for both individuals.

But the inner feelings of both talented players is to be the main guy, to be the guy that makes big plays and adds to the winning column for their team.


This is what Garrison Hearst has been craving for since the start of the season and coming back from a two and a half-year hiatus with a crippling ankle injury. If you want to know someone that has guts and perseverance than you met the right person in Garrison Hearst, he is one individual that defines these two words.

I am honored to have met him one day in the player's parking lot at Candlestick Park. He is someone that radiates professionalism and thinks about what is best for this team.

With all the controversy that has surrounded him he still rates very high on the charts in my opinion. He was quoted as saying he "didn't want any faggots on my team."

I feel that when this quote was taken that Hearst was caught in the heat of training and was airing out thoughts that were intended to remain in his head but came to the surface upon presentation of a question.

Certainly the gay community was offended by this comment and rightfully so. To make such a statement representing the San Francisco community is like being in Beijing China and denouncing communism.

It shouldn't have happened and an apology was the proper route to take. Offending people for their way of life and the way they choose to live is wrong, as morally as we try to be we still are not the finals say in making judgments on others.

"I think it's unfortunate," 49ers general manager Terry Donahue said. "I don't think that is reflective of the attitude of this organization. Frankly, we're way too busy trying to block and tackle and hit passes to be involved in a social issue. I think it was unfortunate that those comments were made, and insensitive. I think we're just going to move on."


The shocking slur made headlines all over the country and cast Garrison Hearst as a bigot and an athlete that demonstrated no caring or sensitivity to an individual's beliefs or way of life.

The facts remain that he is a caring individual and that he contributes to his team in a positive manner each and everyday. His entire focus is on getting this team to a winning level and elevating it to championship status.

The late November incident rocked the foundation of the San Francisco 49ers and left most of the players shaking their heads and wondering why?

So many times athletes forget that they are under a fine microscope when they are players and can sometimes be caught off guard or at a vulnerable moment.

Hearst realizes that he was caught in one of those moments and issued the proper response to his actions.

"First of all, I want to apologize for the comments that I made, and to the gay community. I didn't realize it would be so harmful." Hearst said. "I want to direct it to my teammates for causing a disturbance among the team before this game."

"Being an African-American, I know that discrimination is wrong and I was wrong for saying what I said about anybody, any race, and any religion. I want to apologize to the San Francisco 49ers organization, the City of San Francisco for the comments that I made, and to my teammates for bringing this distraction upon us. I hope that everyone can accept my apology."

I am proud of how the 49er franchise handled this latest incident that erupted out of nowhere. Garrison made a wrong and turned it into a right, I am supportive of him for doing the right thing, I'm sure many of our fans feel the same way I do as I wear his No#20 authentic jersey with pride when I watch 49er games.


"There is no place in this organization, on this team or in this society for discrimination of any sort," said Mariucci. "I give credit for Garrison coming here and saying what he said. His words were heartfelt and sincere."

In other news that is worth mentioning 49ers consultant and quarterback guru Bill Walsh took to the field a few weeks ago to work with rehabilitating third-string quarterback Cade McNown.

McNown underwent surgery on his shoulder this past August after suffering the injury back with the Chicago Bears late in the 2000 season.

"I've been through two years of not being 100 percent," McNown said. "I'm used to the frustration. My shoulder was too weak to throw properly, so I developed a lot of bad habits."

With surgery taking care of the physical part of his training, Walsh was on the field coaching McNown as to the fundamentals of good coaching and getting him to throw the ball properly.

I consider this an honor in the highest aspect with Walsh paying particular attention to his well being. McNown has been trying to develop with the team and takes part in all their practices and meetings in getting more familiar with the system.


"I think it's important that people with a football background rebuild that throwing motion, rather than medical people, if you will," 49ers general manager Terry Donahue said. "They repaired the shoulder and now he's got to rebuild that throwing motion. We need to be involved in that process."

However you want to look at it, the 49ers still want to see what Cade McNown has in his arsenal. He will compete again for a job in 2003 as a rising quarterback on the comeback trail for a spot on the roster.

I am anxious to see at how well he does, as the competition here will be intensified again for another straight year. The 49ers are determined to have the best possible back up to Jeff Garcia and that should be our agenda.

Going back to the Monday Night loss against the Philadelphia Eagles much has to be made of the progress of rookie cornerback Mike Rumph. He was benched in that Philadelphia game as he was burned time and time again. Eagles wide receiver James Thrash was doing just what his last name says getting thrashed.

Rumph has been seen struggling on the perimeters of the secondary as he struggles to adapt to the speed of the NFL. The Eagles like so many other teams have tested Mike's patience on many occasions and this night was no exception.

Eagles receiver Todd Pinkston beat Rumph for a 32-yard gain and he surrendered an 11-yard touchdown pass to Antonio Freeman to give the Eagles a 21-7 lead in the waning seconds of the first half.

Holman and Jimmy Williams resumed his duties in light of his ineffectiveness and the fact that he was kicked in the calf earlier that was causing him pain.

In light of the teams that have tested Mike Rumph defensive coordinator Jim Mora decided to move him around and provide him some more help.

His baptism under fire has been a dramatic story since he was drafted to strengthen our secondary in nickel and dime situations.


After giving up that 11-yard touchdown pass to Freeman in the end zone the ugliness of it all came bearing down on Mike Rumph. He has been frustrated in realizing why he was drafted and not being able to live up to the standards the team envisioned him to have.

It has always been a clear reminder that rookies need to learn out on the field rather than from a sideline somewhere. In our quest for greatness we sometimes frown on a rookie for apparent mistakes, but have to snap to our senses in realizing that this is what makes rookies into seasoned players.

"He looked like a deer in the headlights," Mora said. "He looked like a rookie. That play was a classic rookie play."

The confidence level in Mike has spiraled down since, but he remains determined to deliver upon the intentions the team has drafted him for. Many fans including myself have called for his head on more than one occasion as yards and scoring take place in his vicinity much too often.

I feel that rotating him in and out with Holman and Williams is the best route to take in the learning curve of his career.

In general terns, we're going to put him where we feel like he has help when he needs it, where he can experience some success and feel good about his play," Mora said.

"Because he's done some really good things that have been overshadowed by a few bad plays. It's a rookie thing. We're trying to help him fight through it, and you do that by giving him some calls and help him when he needs it and he's got to make some plays when they present themselves."

In the game against Seattle Mora delivered as planned moving him to the inside more in nickel coverage. He played that position much, more physical and was involved in blitzing a total of 10 times.

His relief from the pressure on the outside was a planned thing, as Mora tries to regain some of his confidence. Rumph however did get beat for one Seahawk touchdown, when he missed a jam at the line of scrimmage on wide receiver Darrell Jackson, who was in motion before the play.

Rashad Holman also happened to be out of position to lend a hand and Jackson was free to score from 36-yards out.


He did deliver a crushing blow to Seahawks running back Shaun Alexander, who was stopped four yards shy of a first down on a fourth-quarter reception.

Besides the touchdown that got by him, his confidence on delivering hits and trying to make plays has improved. I would expect even more positives from Mike as the season wears on and games become even more important.

In a much-talked about issue it was official in the works when the San Francisco 49ers released kicker Jose Cortez and punter Jason Baker. I can't help but make comment on these individuals as I was present at one training camp in Stockton watching them practice.

Cortez is one of the warmest individuals I have met, as he is very fan friendly and courteous as is Jason Baker as well.

To see them cut and sent packing is most unfortunate, but in the real spectacle of matters is that they both failed to produce tangible results for our team. I believe despite their pleasant personalities that this decision was the only one we could make.

Jeff Chandler is the kicker of our future, drafting him in this year's draft indicated we needed a change and it became very clear when Cortez started skidding.

Baker has been struggling for far too long to not get the look of death from the 49er front office. His endless series of poor punts have cost the team an even playing field as position on the field can mean almost everything in a game.

Billy LaFleur off the San Diego Charger practice squad becomes the savior of our punting unit.

"I don't like to change punters and kickers in the middle of the season," special team's coach Bruce DeHaven said, "but (Baker) has just been so inconsistent. He may turn out to be a good punter. Some young punters just come along slowly."


LaFleur comes with some good experience although his net punting average is comparable with Baker's a change was still necessary in order to send a message and try someone new.

He punted for the Barcelona Dragons of NFL Europe for two seasons and was with the New Orleans Saints for two training camps.

Jason Bakers low line drives on punts were enough to send us scrambling for alternatives when he booted a 36-yarder to Philadelphia return specialist Brian Mitchell in the second quarter and returned it 76-yards for a touchdown.

I am happy to see that the front office is finally declaring these positions as important ones. For far too long this franchise has relegated these positions as low priority, with the drafting of Jeff Chandler being a surprise to almost everyone.

I must say I'm proud that we are finally addressing an increasing problem from season to season.

"We've been watching Billy La Fleur for a while and we've liked what we've seen," general manager Terry Donahue said. "He's got a live leg and is someone we are going to count on for more consistency."

The failing tendencies of the kicking game has highlighted this very position as an area of weakness. Obviously with the loss to the Chargers it spelled doom for Cortez and with the Brian Mitchell return for a score against Philadelphia it did the same for Baker.

But what are the weaknesses of the San Francisco 49ers? What are the strengths? It is clear that we are the leaders of our division but by what measure are we really the true leaders?

We have a lot to be concerned with and we need to clean up our back-yard now or we will be sent packing just the way we arrived in Lambeau Field last season.

Game #12 (Win) San Francisco 49ers over the Seattle Seahawks 31-24

"I want to see better things out of myself," Garcia said. "I want to see better things out of this offense. Today was frustrating. I don't see the progress on a weekly basis."

"The thing that makes most of us mad is we get down to the fourth quarter and we don't put the game away," 49ers offensive tackle Derrick Deese said. "That's our job. That's our responsibility."

"Anytime we win, it's good for us," said Hearst who told of the impressive numbers when he rushes for 100-yards or more. "We didn't like the way we finished, but it's an important divisional victory for us."

Seattle elects to receive the ball and the game begins, Jeff Chandler kicks the ball 67-yards to James Williams at the Seahawk three-yard line where he is run out of bounds. The start looks exceptional as Chandler plants the enemy deep in their own territory.

Seahawk quarterback Matt Hasselback begins the series with running back Shaun Alexander running to the left and getting stuffed for a loss of two yards by Young and Okeafor.


Now on his one-yard line Hasselback tries to find Koren Robinson but it falls incomplete but then hits Bobby Engram for six total yards on the next play.

With a fourth-and-six staring down at them they punt 49 total yards to Jimmy Williams where he takes it out three yards to the 49er 47-yard line.

Jeff Garcia starts the series with Garrison Hearst hitting the right side for three total yards and then he hits Terrell Owens for 10 more yards.

With a new first down Hearst tests the left side with a run of nine more yards and a timeout is called suddenly by Seattle. With third down and short Jeff fails to connect with Owens and brings forth a fourth down.

The 49ers go for it on fourth-and-one with Hearst up the middle for a total of six yards and then to the left for four more yards.

On second down and on the Seattle 21-yard line Jeff drops back to find Eric Johnson but the ball is intercepted by Seattle safety Reggie Tongue who brings it back to the Seattle 17-yard line.

Here Hasselback comes out and tries to find Robinson and tight end Itula Mili on two consecutive passes but both fall incomplete. On third down though he converts with a pass to Engram who makes a 12 total yard reception for a first down.

Running back Maurice Morris then tries the right end but is stuffed for a loss of two yards by Derek Smith and Julian Peterson.


Shaun Alexander tests the left side and gains four total yards and then Hasselback fails to connect with Engram shadowed by Mike Rumph. This forces Jeff Feagles to punt 52 total yards to Jimmy Williams who makes a fair catch at the 49er 17-yard line.

Jeff Garcia comes out and hits J.J. Stokes for a reception of 20 total yards and Hearst then hits the left side for seven more yards.

Hearst on the next play hits the left side again for two more yards and then Jeff drops back and throws to Tai Streets but the ball is again intercepted by cornerback Ken Lucas at the Seattle seven yard line.

The start of the game has already turned my stomach at this stage; the howls of shock radiate my senses as on looking fans around me cannot believe their eyes. I am dazed and confused at the very outset in witnessing Jeff Garcia throw two consecutive interceptions.

With just over five minutes left to play in the first quarter Matt Hasselback resumes the attack hitting Alexander with a 13 total yard reception and then hits Robinson for a 27 total yards on the next play.

A penalty is thrown against San Francisco's Ahmed Plummer for defensive holding and it is declined.


With a first down Alexander runs to the left side for two more yards and Hasselback finds Darrell Jackson for 16 more yards and a new first down. Now on the 49er 35-yard line Hasselback fails to find Jackson and Alexander hits the middle for four more yards.

With a third-and-six staring at them Hasselback connects with Robinson for a 14 total yard reception and then hits Mili for 10 more yards.

Now on the 49er seven-yard line Hasselback tries to find Jackson but it is incomplete and Alexander hits the left side for one yard later.

On third down from the 49er six-yard line Seattle is called for a false start sending them back again. Hasselback then in a bid to find the end zone hits tight end Itula Mili for nine total yards to the 49er two-yard line; here Ahmed Plummer stops him.

Seattle is forced to attempt the field goal and Rian Lindell hits it from 20 total yards out to put Seattle on the board. So after 12-plays and 91 total yards the Seattle Seahawks off Garcia's interception put three on the score board making it 3-0 Seattle.

Lindell kicks off the ball 63 total yards to Williams that returns it 23 total yards to the 49er 30-yard line where Jeff resumes control. Hearst hits the left side for 10 total yards and then is stuffed for a loss of three yards on the next play in the second quarter.

Jeff then fails to find Hearst on a pass play and then hits Tai Streets for a 15 total yard reception.

With a new first down Jeff goes to work with Beasley catching a one-yard pass and Hearst hitting the middle for eight more yards. On third and short Beasley hits the right side for two more yards and a first down.

Jeff on the next play finds Tai Streets again for a 12-yard reception then Hearst tests the right side for three more yards. Seattle calls a timeout at this time.


On second down Hearst then tries the right side and is stuffed for a loss of one yard but Owens hauls in a nine-yard reception from Garcia on the next play. Now on the Seahawk 14-yard line Jeff runs up the middle for seven more yards after finding no one open.

On the next play Garrison Hearst hits the middle for two more yards and then from five yards out hits the middle again for a five-yard touchdown run.

Jeff Chandler kicks the extra point and San Francisco after 14-plays and 70 total yards takes the lead in the second quarter 7-3 49ers.

A delay of game penalty is thrown at San Francisco to be enforced on the kickoff. Chandler kicks the ball 61 total yards to James Williams who returns it 19 total yards to the Seattle 33-yard line.

Here Alexander runs up the middle for a 13 total yards on two consecutive plays and then catches one for one more yard. With a third down and finding no one Hasselback runs to the left for two more yards and Seattle is forced to punt.

Jeff Feagles then punts the ball 40 total yards to Jimmy Williams who suddenly returns it for an 89 total yards for a touchdown.

This was one of the brightest moments in the game and surely one for our special teams as Jeff Chandler's extra point is good and the 49ers take a 14-3 lead.

I have to salute Jimmy Williams for this spectacular punt return that left fans all around me breathless and elated that we had scored such a significant touchdown, this was the momentum builder right here.

Jeff Chandler then kicked the ball 62 total yards to Williams who returned 18 total yards to the Seattle 26-yard line.


Matt Hasselback resumed control here but failed to connect with either Robinson or Jackson on two consecutive plays.

He then on third down found Jackson for six total yards and San Francisco called a timeout. Jeff Feagles then punted 32 total yards where Seattle downed it at our own 36-yard line.

With just over two minutes remaining in the half Jeff Garcia hit Hearst for a 12-yard reception and then connected with Tai Streets for a 22 more yards. With a first down Hearst hit the middle for just one-yard and then hit Tai Streets again for 11 total yards on a tipped pass.

With a new first down Jeff hit Owens for 10 more yards and yet again for no gain. A penalty came in on 49er Ron Stone for ineligible downfield pass that backed us up five more yards.

With a first down still Jeff finding no one open ran to the left side for five more yards and Hearst up the middle for three more yards. A timeout was then called by San Francisco and following that with just 27 seconds remaining Garcia failed to connect with J.J. Stokes from the Seahawk five yard line.

Jeff Chandler made a field goal attempt from 23 total yards out and it was good. So on nine plays and 59 total yards the 49ers on Chandlers foot went up 17-3 49ers with just 20 seconds left in the half.

Chandler then kicked 50 total yards to Morris who returned it 21 total yards to the Seahawk 41-yard line. Hasselback limited severely with time hit Alexander for two total yards and then failed to find Jackson on the next play.

With but three seconds to play he handed off to Alexander who left us with a run of 20 total yards ending the first half.


The first half instantly started off in Seattle's favor with two Jeff Garcia interceptions very uncharacteristic of him. The Seahawks though thank goodness only converted three points on these turnovers. We took back the lead and gained back the momentum on Jimmy Williams punt return.

We also took possession back as we had almost three minutes more in possession time on the field and had converted 71% of our third downs at this point. Statistically we had come out on top especially in the second quarter of play. It looked like we had at last ended thoughts of a close nit game at this point in time.

San Francisco began the third quarter as Lindell kicked the ball 64 total yards to Williams who returned it for 23 total yards to the 49er 29-yard line. Jeff Garcia let Hearst do the talking on the first two plays for a total of nine yards.

With a third and short Jeff found Owens for six more yards and failed to connect with him on another.

Tai Streets then hauled in a three yard reception and Owens again failed to connect with Garcia, forcing Billy LaFleur to punt 37 total yards to be downed by Jeff Ulbrich at the Seahawk 16-yard line.

Here Matt Hasselback failed to connect with Alexander and then passed to Darrell Jackson but the pas was intercepted by safety Tony Parrish, where he managed to tip the pass to him and returned it 19 total yards to the Seattle four-yard line.

Here Jeff gave the ball to Hearst who after three consecutive plays busted through the middle for a one-yard touchdown.

This was a dramatic shot in the arm for our defense and Parrish came up big on this play. Jeff Chandlers extra point was good so on three plays and 67 total yards the 49ers in the third quarter extended their lead 24-10 49ers.

Jeff Chandler then kicked the ball 55 total yards to Williams who returned it 18 total yards to the Seattle 33-yard line.


Alexander then ran to the right for a total of five yards and Hasselback connected with first round draft pick tight end Jeramy Stevens for 26 more yards bringing the Seahawks to the 49er 36-yard line.

On the next play Hasselback dropped back and found Darrell Jackson for a 36 total yards and a touchdown. An encroachment penalty came down on Bryant Young but of course that penalty was declined and the touchdown stood.

Lindell's extra point was good and on three plays and 67 total yards the Seahawks came back to make the score 24-10 49ers. Lindell then kicked the ball 64 total yards to Jimmy Williams who returned it 19 total yards to the 49er 40-yard line.

On the first play Jeff hit Tai Streets for a total of three yards and Hearst was stopped for no gain. Jeff then tried to connect with J.J. Stokes but failed so LaFleur was forced into punting 42 total yards to Bobby Engram where he was pushed out of bounds at the Seahawk 23-yard line.

With just over seven minutes remaining in the third Hasselback began the next series. Alexander ran to the right on two consecutive plays for 10 total yards and then Hasselback found Engram for 13 more yards on the next play.

With a new first down Alexander ran up the middle but was stuffed for no gain and then Jackson hauled in a seven-yard reception.

With third and short Hasselback connected with Darrell Jackson but on the hit by Julian Peterson he fumbled the ball and 49er linebacker Derek Smith at the 49er six-yard line recovered it.


The play was challenged but upheld by the officials costing Seattle a timeout. This was a great momentum buster by our defense and another shot in the arm for us.

The playing time of our linebackers as of late has been exceptional, beyond what our inabilities are on the pass rush and secondary this unit has played probably the best.

San Francisco took over at their six-yard line and Hearst ran to the left for a total of four yards and Jeff failed to connect with Tai Streets. A penalty though came down on Seattle for roughing the passer as Jeff took a vicious shot.

It provided a nice first down and busted Hearst loose for a dramatic 31-yard run up the middle followed by an Owens catch of four more yards.

Hearst then ran the same route up the gut for four more and caught a 16-yard reception on the next. He was at this point a one man wrecking crew as Garrison Hearst was in true form as the featured back in this offense. It seems as time wears on in a game Garrison only get stronger with each and every series that is played.

Jeff on a new first down connected with Paul Smith for four more yards and then failed to connect with tight end Eric Johnson. Now in the fourth quarter Jeff hit Owens for 10 total yards and Hearst ran to the right for five more yards.

Now poised at the Seahawk one-yard line Hearst ran up the middle for a one-yard touchdown. Jeff Chandler's extra point was good.

So on 10-plays and 94 total yards the 49ers had extended their lead to 31-10 49ers with the help of a major penalty on the Seahawks.

Jeff Chandler then kicked 62 total yards where it unfortunately went out of bounds near the Seahawk eight-yard line giving them the ball at their 40-yard line.


Hasselback connected with Jackson for nine yards and then Alexander ran to the left for five more yards. On the next play Hasselback failed to find Engram but then found him for 12 more yards.

A penalty came down on 49er John Keith for illegal contact but it was declined. With a first down Stevens caught a pass for three more yards and then a penalty came down on Seattle for a false start sending them back again.

On the next play Hasselback threw to Alexander for nine more yards but he then fumbled on a hit from Rumph. But he recovered it for no further gain as the play was credited to him as an 11-yard reception.

This set up a third and short with Alexander running to the left for a gain of five more yards and a first down.

Hasselback then failed to connect with Williams and then from the 49er 20-yard line Alexander ran up the middle for a 20-yard touchdown. However a penalty nullified that against Seattle for offensive holding.

Matt went back to work but failed to connect with Alexander and then hit him for 16 more yards but still became fourth down.

Seattle went for it on fourth-and-four with Hasselback failing to connect with Jackson therefore turning the ball over on downs. Hearst ran up the middle for two and then Jeff failed to find Johnson.

On the next play he failed to find Hearst which forced us to punt already. LaFleur punted 44 total yards to Engram for a nine-yard return to the Seattle 48-yard line.


Matt on three consecutive passing plays failed to connect with Robinson, Engram and Jackson forcing them to punt 32 total yards to a fair catch by Williams at their 20-yard line.

Here Garrison Hearst hit the middle but was stuffed for no gain and again to the right for three total yards. On third down Jeff was sacked for a loss seven yards forcing us to punt.

LaFleur punted 41 total yards where Engram made a fair catch on the Seattle 43-yard line. Here Alexander caught a reception of 16 total yards and Engram caught another for 15 total yards.

On the next play Matt couldn't find Williams and Alexander ran up the middle for four more yards. Matt then dropped back and found Alexander for seven more yards and then from the 49er 15-yard line connected with Koren Robinson for a 15-yard touchdown.

The play was challenged by San Francisco but was upheld and they lost a timeout. Lindell's extra point was good and the Seattle Seahawks on six plays and 57 total yards closed the lead to 31-17 49ers.

A penalty on Seattle for delay of game was enforced on the kickoff, in which Lindell set up to kick onside for 10 total yards that went out of bounds.

San Francisco took over at the Seahawk 35-yard line with Hearst to the right for four total yards and a timeout by Seattle being called.

On the next play Hearst was stuffed at the right for a loss of two yards and another timeout by Seattle called. Jeff then tried to find Owens but failed forcing us to punt, which landed in the end zone.


Hasselback would start from his 20-yard line with just over three minutes to play. He hit Robinson for a huge 39-yard reception but failed to find Jackson on two consecutive plays.

With a third-and-ten Matt out of the shotgun found Alexander for 11 total yards and a first down. He then failed to connect with Robinson but hit Mili for 21 more yards as he shredded our porous secondary.

With a first down Matt failed to find Robinson and then ran to the left himself for six total yards, this is where the two-minute warning sounded. Matt then from the 49er three-yard line hit Jackson for a three-yard touchdown pass.

Lindell's extra point was good and on nine plays and 80 total yards the Seahawks had been allowed right back into the game squeezing the lead to 31-24 49ers.

On the next play Lindell attempted a critical onside kick for 15 total yards that Owens managed to get for no gain. However there were offsetting penalties on the play to both Seattle and San Francisco which made the play to start over.

Lindell kicked another onside kick for 13 total yards that was recovered by Seattle at their 43-yard line. Suddenly we had overtime possibilities staring us right in the face if not defeat.

The nervousness that came over me was overwhelming to say the least. I expected this game to be a game where we could finally explode on both sides of the ball and establish dominance. Boy was I wrong to think that as I found myself simply praying for us to pull out this close call.

From his 43-yard line Matt could not connect with James Williams and then found Engram for a 14-yard gain. With a first down Matt had just over a minute in regulation to play, plenty of time to convert another score.

Matt then dropped back to throw to Robinson but Rashad Holman of the 49ers suddenly intercepted the ball, he returned it one yard to the 49er 32-yard line.


The balloon of hope busted for Seattle as Jeff came out to kneel twice and the game was over. It was a game that was supposed to have gone so differently, we were supposed to be dominant and angry from our loss last Monday Night.

I saw none of that as we struggled on both sides of the ball but still salvaged a victory in the process.

The lone star in this game for the 49ers was Garrison Hearst who had a season high 31 carries for 124 total yards averaging 4.0-yards per carry and having a long run of 31-yards. Hearst also caught two passes for a total of 28 more yards.

Jeff Garcia went 16-for-29 with 164 total yards and two interceptions; he had a quarterback rating of 42.9% his worst of the season. He was sacked and pressured most of the day, he was certainly not on his game, which elevates questions about the rest of the season.

In passing Tai Streets led the pack with six receptions for 66 total yards and Terrell Owens having five receptions for just 45 total yards. Not statistics that we are accustomed to seeing on our high flying aerial attack.

It was a defensive day for Tony Parrish and Rashad Holman with absolute critical interceptions and Derek Smith and Julian Peterson playing physical. Our defense though generated no pass rush and no sacks. They also were burnt like toast for 427 total yards in passing from Matt Hasselback.


Much can be said of this game, we definitely can take solace in coming away with a victory but the glaring inefficiency of us not blowing away opponents and keeping them out is utterly apparent. Injuries are a significant part of that formula, however depth must prove to be reliable when called upon.

It has been a hard year as a team to grasp the full context of our relentless injuries and unfortunate misgivings. We have had to reach down deep inside to win in most of our games.

This has effected the team in more ways than we can imagine as all of these players have tried so very hard to make a difference and continue to fight through adversity.

I still hold on to the fact that we can look ahead and we can improve. I know that there is more in this team that will come out. I know that we have a lot more scoring capability that has yet to come to the surface.

I also feel that despite our injuries that somehow our defense can step up when needed and called upon. We are the San Francisco 49ers we know what we are capable of the name says it all.





Fan Press:
Now you can write articles for 49ers Paradise, and read what other fans have to say too in the Fan Press section.