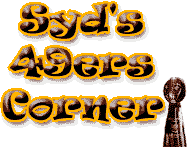 The Black Hole is silenced. (11/08/02) 12:00 PM


This was a game that had been long anticipated once it hit the San Francisco 49ers schedule from day one. The smell in the air at the Oakland Coliseum was one of napalm after 49er kicker Jose Cortez converted a game winning 23-yard field goal with 8:41 left to play in overtime.

Jose was the subject of ridicule and slander when he failed to convert what was supposed to be the game winning field goal in regulation.

With but three seconds left to play in the game after the 49er offense under Jeff Garcia had controlled the game clock on an inspirational drive down the field, Cortez attempted to end the game on a 27-yard field goal and failed. It sent the Raider chapter of demons into overdrive to say the least.


The game remained tied at 20 apiece and the 49er offensive line looked at each other in awe as they realized this game was now in overtime. It would take another solid concerted effort by this line and quarterback Jeff Garcia to reach this milestone achievement again.

They sucked it up went out there after winning the toss and did just that. Despite the obvious failure of Cortez this team united and became one all over again.

The Oakland Raiders were allowed to believe despite losing time of possession all through the game and failing to shut down Jeff Garcia with a variety of blitzes, that they would stomp a muddy cleat into their enemy.

It turned out to be their worst nightmare as we again capitalized and found first downs to become easier rather than more difficult.

Jeff Garcia was like a rabid magician as he orchestrated successful down after down, completing more than a dozen completed passes, that helped set Jose Cortez for another winning shot, and this time it went right through.

The rights to the Bay Area had been established. The Black Hole was soundly silenced and defeated all in one, they had no where to go but back home with their evil slurs and spits wetting their very lips.


This was in my estimation one of the most satisfying victories of the 2002 season for the 49ers. And most of them will tell you the same as will the majority of the fans.

I cannot explain the overwhelming sensation of accomplishment that came over me when I witnessed the game winning kick.

Defeating the Rams and ridding the monkey off our backs was sweet, but shutting up the black hole was even sweeter.

Prior to the Oakland showdown we as a team had just defeated the Arizona Cardinals in a showdown for first place in the Western Division in the National Football Conference.

The instant gratification from that victory was over-spilling into the minds of all the players and it's fans.

Being on top was something that was relatively new for us; we had always been under the footsteps of the St Louis Rams.

But now the Cardinals were the new chapter we had to deal with and we dealt with it in winning fashion.

When you look back at the match-up with Arizona and compare quarterbacks, believe it or not Bill Walsh thought that the next big thing in quarterbacks would be Jake Plummer. When you look at Jeff Garcia and Jake Plummer there are instant differences.

The Cardinals have invested millions in Plummer who is in his sixth year and final year of his contract with Arizona. In all that time they have reaped hardly anything soluble to date.

Jeff Garcia on the other hand had to work very hard to achieve recognition with San Francisco up until 2001 when he was rewarded with a six-year $36 million contract. Since then he has brought the 49ers back to prominence and he has set new standards and records for the 49ers to live by.

He has been everything we could have hoped for in a quarterback stepping into Steve Young's shoes. In my opinion he has done so eloquently and he has raised the bar for even more to come.


In other interesting news our fifth round draft pick in defensive tackle Josh Shaw seems to be making progress in his knee injury he suffered in his senior year at Michigan State.

He has been working closely with development trainer Jerry Attaway. There is a sliver of hope that should the knee become stable and ready to go he could be activated to play.

If not then he would be placed on the injured reserve. The 49ers knew first hand that they were taking the risk when they drafted him in the fifth round. They felt the wait would be worth it considering the talent they felt he had.

Shaw would be a vital instrument in spotting defensive tackles Dana Stubblefield, Bryant Young and Jim Flanigan. Shaw has of course high hopes that everything will go in the right direction.

"It feels great," Shaw said. "It felt great a long time ago." As far as learning the team's defensive schemes without actually participating in them, Shaw said. "That's all I've been doing. I haven't been practicing. I've been learning the defense so when I I do get in there, I'll know what to do. Knowing the plays is half the battle."

The obvious need for another tackle is real. It is necessary to have at least four defensive tackles ready to go, considering the pounding that the take and give out all at the same time.

Josh Shaw would be critical in refreshing the line when one would come out to rest a few downs. A decision on his fate will have to be made regarding the season soon.


Despite the ravaging injuries that we have suffered we still found a way to defeat the Cardinals and take the division lead. Recognition abounds in this game with free safety Ronnie Heard acquiring three interceptions that helped set the tone for the ending to this contest in a 38-28 victory.

He had previously been beaten in his first appearance back in New Orleans for a pair of touchdowns. The pressure on him to achieve was enormous considering the shoes he was filling in for Zack Bronson.

He came back in style with a total of three interceptions, thus sealing the lid on a comeback by the Cardinals in trying to take the lead. Defensive Coordinator Jim Mora instilled confidence in Heard though to just go out and make plays, defending the notion that Heard would learn from his mistakes. And that is exactly what he did do.

"We are deeper than we've been in recent years and that clearly helps," said General Manager Terry Donahue. "We've got a really good football team here and we have to find ways to keep winning. That's not to say we aren't concerned about our injuries because we are. Every team gets dinged up, but we seem to have had more than our share recently."

The injuries have been substantial for this team, with Heard filling in for Bronson and a rotating crew at linebacker because of injuries to Jeff Ulbrich, Jamie Winborn, Frank Strong and Saleem Rasheed.


Eric Johnson our hearts go out to as he has suffered from back pain associated with a bulging disc, he has been replaced in the lineup with Justin Swift. Terry Jackson out for the season with a torn ACL has been missed as has Kevin Curtis and Anthony Parker.

What has been a blessing for the 49er passing game has been the emergence of Tai Streets taking the place of J.J. Stokes out with a sprained knee and partially torn ligament.

Tai Streets has found new and rather dynamic ways in beating his coverage and making plays. He has proven that he can make separation and take heat off from veteran playmaker Terrell Owens.

His speed has been underrated and defenses are having a hard time adjusting to him, because they know so little about him. Tai Streets is averaging 17.3-yards on 12 receptions since becoming a starter.

Tai Streets has embraced his opportunity as a blessing and even though he wishes to stay the starter, he is humble enough to recognize that J.J. Stokes may very well comeback and reclaim his spot.


His accomplishments are many so far he tied his career high with four receptions in his first start against Seattle. The next week against New Orleans, Tai Streets became the first player other than Owens in San Francisco's past 23 games to lead the 49ers in receiving when he had six catches for 80-yards.

He continued that with a 47-yard touchdown reception against Arizona, which now makes him a legitimate deep threat. He also had yet another touchdown against the Oakland Raiders. He has in my opinion won the second tier position behind Terrell Owens.

"Tai brings a little more speed on the field," 49ers quarterback Jeff Garcia said. "I think he has a little bit more separation (than Stokes) does as far as getting away from players down the field. I was always very confident in Tai. He's a receiver that possesses tremendous ability."

Stokes on the other hand tries and stays clear of the brewing controversy as to where his role will be upon his return. Hard decisions will have to be made for the better of the team. He has in all aspects though been supportive of Streets.

"I just want to contribute," he said. "Whatever my role calls for, I just want to help this team win and take advantage of the opportunity when the ball is thrown my way."

Whatever you do is hard, Stokes clearly was making progress this season before his injury. Streets just so happen to have shown the speed and separation necessary to take heat off from Owens in many cases.

Stokes had failed to do that, but was trying to accomplish that as a goal. It becomes a minefield all over again in making a determination of who starts and who doesn't.


"There's no reason why Tai shouldn't get playing time," Stokes said. "He's performed at a great level, and the team hasn't missed a beat. Tai's performed great. He's come in and taken over. Tai is a starter in essence. I don't think it shocked anybody that he's performed so well. My hat's off to Tai."

Anyway you look at this one though someone will definitely be unhappy at some point. It has to be the guy that makes the most plays and scores the most often.

We have to make that determination on what already has transpired regardless of an injury. You sometimes find hidden gems within your ranks due to an injury. Tai Streets has been that gem in my opinion.

"All over the map, we had guys playing who were penciled in initially as backups, but now have to start," Coach Steve Mariucci said one day. "Your starters get most of the reps in practice. Your backups get the scout-team reps. I guess one of the benefits of a long (five-game) preseason is it affords you the chance to play a lot of those younger guys, give them some sort of experience, some playing time." "That has paid off a little bit."


What has also been a major pain in the neck for the 49ers has been their inability to stop opposing offenses on third down situations. From the Seattle game back on October 14th, 2002 up until the Arizona game the 49ers have failed to stop opponents on 71% of third down plays from converting.

All three teams in the Seahawks, Saints and Cardinals have found innovative ways to find seams in the 49ers zone defensive coverage schemes.

Whenever they have encountered third downs, the opposition has been able to convert on almost three-quarters of the time. It comes down to a defense that has lacked speed and execution due in large part to performance and injuries.

What you have to remember now is that it was our defense that kept us alive in the early part of this season. It was our offense that was spitting and sputtering having a hard time to score points.

Now all of a sudden with a rash of injuries we have found that our defense has suffered substantial damage in closing the gap from an experience and speed standpoint. The deficiencies have been identified and the lack of execution has been noticed.


"It's a copycat league," 49ers safety Ronnie Heard said. 'Some teams will do the same things that other teams do. The Saints did it. They saw something Seattle did and they did it, and so did Arizona." "They're just finding that open window on third-and-long."

The subject of debate has been rather the 49ers should play zone defense on third down situations or play more man-to-man coverage. We have been accustomed to doing this in the past with little problems.

Zone defense is played to take away the big play. It has been backfiring on us as of late. Many say including Mariucci though that is simply a lack of execution and you have to believe that is true to some extent.

What you will find though in most instances once you investigate is that injuries have devastated the linebackers, all have been banged up with the exception of Derek Smith.

And the one's that have been banged up or are out have been major players in chasing down the opposition. With injuries to the safety position and corner positions it also leaves the defense thin skinned.

"It shouldn't even matter what defense we're in," Heard said. "Jim calls the defense that he feels comfortable with and that he thinks we can get off the field with. We have to go out and make plays. That's what it boils down to."


In fact Jeremy Newberry's father was treated at a local hospital from the game after having a bottle thrown and broken over his head. It is just another reminder of the danger that is involved with taking up attendance in this facility.

You have to really wonder at the Raider organization as to their sentiment to these acts that occur in their very own stadium. Obviously it is content on allowing such behavior to manifest itself and grow stronger.

This game was one of the best I have witnessed as a 49er fan. It encompassed everything from great offense to defense and had game breaking plays. Control of the Bay Area was as important as winning this game for record purposes as well.

Many will tell you that this is always a rivalry at its peak when the two finally meet. With veterans Jerry Rice and Charlie Garner there as former 49ers it made it all the more competitive.

Game #8 (Win in OT) 49ers over Raiders 23-20

"I just pulled the ball to the left," Cortez said. "The same thing happened on the first one. (The snap and hold) were fine. It was my fault." "I shouldn't have been thinking about anything. I was worried about the wind and stuff. I wasn't able to block that out. I should have just kicked the ball."


The Raiders would begin this game after a kick from Jose Cortez for 68-yards to Raider kick return specialist Ronald Curry. Curry returned the ball to the Oakland 29-yard line for a total of 27 yards.

On the first play of the game Charlie Garner ran up the middle for no gain, and followed with another to the left for one yard. Oakland quarterback Rich Gannon dropped back to deliver a pass to Garner but it fell incomplete, thus forcing a punt.

Raider punter Shane Lechler made a punt of 52-yards hitting 49er cornerback Jimmy Williams at the 49er 18-yard line for a fair catch. Here San Francisco would get their first crack at the Raiders.

From the eighteen Garrison Hearst began the action with a right tackle run for nine yards, followed by another up the middle for two.

With the very first down of the game Jeff Garcia out of his famous shotgun position could not connect with Tai Streets.

Going back to the gun he found Terrell Owens for 16-yards for another first down. Hearst received the hand off next for no gain and Jeff would throw an incomplete pass to Owens.


This forced Garcia on third down to again go to the shotgun but this time handed it to Garrison Hearst, but he was hit hard for minus two yards and then the ball came loose for a fumble.

It was recovered by Raider cornerback Charles Woodson at the 49er 32-yard line. This was a costly fumble that Hearst was visibly upset over.

It spelled a great uproar from the infamous black hole after this play. In an attempt to gain formal confirmation Steve Mariucci challenged the play but it was clearly a fumble.

With 10:43 left in the first quarter the Raiders took position for the drive to the main artery of the 49ers. Charlie Garner ran to the right for 12-yards and pushed out of bounds; this run would result in a penalty on Oakland though for offensive holding backing them up 10-yards. Gannon went back to pass hitting Jerry Porter for eight yards, and on the next hit Garner for five more.

On third down Gannon tried Jerry Rice but it fell incomplete, however with very good coverage from 49er corner Jason Webster a controversial defensive pass interference penalty was called on Webster. This advanced the Raiders 25-yards to the 49er four-yard line.


Deep in 49er territory and at the four-yard line, the inevitable was to happen. A run by Zack Crockett to the one-yard line for three yards was the first play to take place as the Raiders inched closer.

Gannon would then attempt a pass to tight end Doug Jolley but fell incomplete a timeout was then called.

Upon Gannon's return he found Jerry Porter for a one-yard touchdown, he was covered tightly by 49er Tony Parrish who was called for interference but declined for the score.

Sebastian Janikowski's extra point was good, thus giving Oakland the lead in the first quarter 7-0 Raiders. The drive was made on five plays and 32 total yards and with the help of a Webster penalty.

Janikowski kicked the ball 65-yards to Jimmy Williams who returned the ball 21-yards to the 49er 26-yard line.

The Raiders had drawn first blood in this game on a 49er turnover, now it was up to Jeff Garcia and the offense to try and set the score straight. On Garcia's first pass he hit Owens for a nice 41-yard reception pass Raider cornerback Charles Woodson.

Barlow would then get a carry but was stuffed and forced out of bounds for a negative four yards.


Jeff went back to work hitting Tai Streets for 13-yards and followed with Beasley running up the gut for two.

Beasley getting the first down gave way to Garcia finding no one and running himself up the gut for two yards, he then handed off to Barlow again who did the same for just three yards.

Faced with a third down Jeff went to the shotgun throwing a incomplete pass to Cedrick Wilson, but a penalty came down on Oakland for having 12 men on the field.

Thus a new first down was granted to Garcia. Barlow started with a left run of 10 total yards, but a penalty on the 49ers would result afterwards for delay of game.

Now on the Oakland seven-yard line we were poised to strike. Jeff went back and threw a pass to Tai Streets that fell incomplete and then Hearst ran up the gut for five yards.

The ball at the Oakland two looked better than ever. But on third down Jeff went back to find Justin Swift and threw an incomplete pass; thus a fourth down we opted to kick the field goal.


Jose Cortez attempted a 20-yard field goal and it was successful. So on 11 plays and a total of 72 yards, with the assistance of a penalty. The 49ers shortened the lead to 7-3 Raiders.

On the kickoff from Cortez for 70-yards to Ronald Curry, Curry would get hit so hard it caused a fumble upon which 49er Jason Moore recovered the ball at the Oakland 16-yard line with just 2:01 left to play in the first quarter. This was a blessing we had to be thankful for with awesome field position.

Garrison Hearst ran up the gut for no gain, So Jeff delivered a pass to Tai Streets for five yards. Now at the Oakland 11-yard line Garcia went back and found Cedrick Wilson with a dramatic clutch catch for an 11-yard touchdown reception.

With the extra point good from Cortez the 49ers took the lead 10-7 49ers, for the first time. So on three plays and a total of 16 yards we began to lead at the near end of the first quarter.


On Cortez's kick for 69-yards to Curry who took it out for 25-yards to the Oakland 26-yard line, Charlie Garner began the drive for two yards to the right and another two to the left.

With the start of the second quarter the Raiders set out to make another score possible. Gannon found tight end Roland Williams for six and then Garner ran from side to side for 17 total yards.

On a first down Wheatley ran up the middle for one followed by Garner to the left for six more yards. The Raiders had established a run game here. Gannon then hit Jerry Rice for 11-yards off Jason Webster.

Randy Jordan tried a run to the right for no gain followed by a Gannon pass to Jon Ritchie for five yards. Now facing third down Gannon went back to pass to Jerry Rice but it fell incomplete, forcing a try at a field goal.


Janikowski would attempt a 42-yard field goal and hit it. So after 12 plays and 50-yards the Raiders went down the field and tied the score up 10-10 even. Janikowski then kicked the ball to Jimmy Williams who kneeled down for a touchback.

This is where the game became a stalemate and made me wonder as to how we could gain the upper hand.

With 8:55 left to play in the first half Jeff hit Tai Streets for 1-yards and an incomplete pass to Fred Beasley thereafter. Barlow then ran for nine yards and dependable Fred Beasley acquired the first down on four more yards.

Kevan Barlow resumed the charge with a run for no gain and a penalty fell on Derrick Deese for offensive holding.

Now forced back Jeff went to the pass and found Terrell Owens for a 40-yard reception again off Charles Woodson. Barlow followed with a four yard run and Garcia threw incomplete passes to both Barlow and Hearst. Down at the Oakland 22-yard line and fourth down Cortez then attempted a field goal.


Cortez attempted a 39-yard field goal that resulted in failure going wide left. It was a kick in the gut watching that kick go to the left. It was just the beginning of Jose's troubles of the day. Again this made the black hole go crazy and it sent waves of perspiration down 49er backs.

Oakland would resume play on their 30-yard line. Charlie Garner up the middle for one, and Wheatley for two. Gannon went to pass to Randy Jordan but it fell incomplete.

Forcing the Raiders to punt the ball on fourth down. Lechler punted 49-yards to Jimmy Williams that returned it eight yards to the 49er 26-yard line.

With an in and out drive by the Raiders, Jeff took control with Hearst running into a wall for a negative four yards. Garcia then passed to Owens for 11-yards, but then an incomplete pass on third down forcing a punt by Jason Baker whom punted it 35-yards.

However on the punt 49er cornerback Mike Rumph would run out of bounds and back in to touch the ball. This drew a penalty for illegal touch and it was declined giving the Raiders the ball at their 32-yard line.


With just 1:49 left in the first half Oakland began their next drive, Gannon threw an incomplete pass to Garner and the Garner ran for 13-yards getting pushed out of bounds. Another incomplete pass followed and then Wheatley ran to the left for 10 more yards, a timeout and a first down was achieved.

Rich Gannon came back firing hitting Garner for seven and Rice for 11 more yards. Garner ran into a wall afterwards for minus two yards and Gannon would find the veteran Jerry Rice for 24 more yards off from Ronnie Heard.

Garner ran to find a wall for no gain again. A timeout was called and the Raiders were now at our own five-yard line.

Rich Gannon came out firing again to both Brown and Rice for incomplete passes forcing the Raiders to attempt a field goal by Janikowski, which was good from, 23-yards out.


So on 12 plays and 63-yards the Oakland Raiders resumed control going 13-10 Raiders with mere second's left to go in the first half. Janikowski kicked the ball 64-yards to Williams who took the ball back 18-yards to the 49er 24-yard line.

But with just nine seconds left, Jeff Garcia kneeled and both teams went into their locker rooms.

So there the score stood at the half, the Raiders leading by three. We had some penalties and of course a turnover in there to think about.

We knew we needed more time on the field for our offense, because our defense was spending a bit too long on the field as it was. Adjustments were necessary for the start of the second half.

San Francisco would receive the ball to start the third quarter. Janikowski kicked the ball 57-yards to 49er cornerback Jimmy Williams who returned it 23-yards to the 49er 36-yard line.

Here Jeff Garcia brought up the offense and hit Terrell Owens for a 29-yard gain, a penalty on Oakland was called on Charles Woodson for defensive holding but it was declined.


With a first down Garcia passed to Hearst for eight yards and he ran up the gut for one more. Hearst then tested the right side for five yards and Garcia took off for nine more.

With yet another first down Garcia and Hearst went up the gut for a combined seven yards and then called a timeout. On third down Garcia passed to Owens but it went incomplete, forcing the 49ers to attempt a field goal.

Jose Cortez attempted a 22-yard field goal and it was good. So on nine plays and 60 total yards the 49ers came back in the third to tie Oakland 13-13 even.

Cortez then kicked the ball 68-yards to Marcus Knight who returned it 30-yards to the Oakland 32-yard line.

Rich Gannon passed to Jerry Rice for a 14-yard gain and Garner ran to the right for two more. Gannon dropped back to pass to Garner but it fell incomplete, it was here that Oakland called a timeout.

On third down Gannon connected with Jerry Porter for 15-yards off Mike Rumph. With a first down Gannon then dropped back but was sacked viciously by 49er defensive end Andre Carter for minus eight yards. Gannon fumbled the ball but Oakland did recover it.


Now on the Oakland 48-yard line with second and long, Gannon tried to hit Brown and was on for 10 total yards but the next one fell incomplete.

This forced the Raiders to punt with Lechler hitting it for 30-yards to Williams with a fair catch at the 49er 12-yard line.

With 6:46 left in the third the 49ers went back to work. Barlow then ran to the right for one and Garcia passed to Owens for three. Garcia on third down found Justin Swift for seven yards and a first down followed by a Barlow run to the left for eight yards. Barlow attempted a run to the right but was stuffed for a minus yard on the next play.

On third down Jeff Garcia hit Tai Streets for the first down and five extra yards, he tried to hit Owens but it fell incomplete. A penalty came in on Oakland for Illegal contact on Ron Woodson, this created another first down for the 49ers.

Barlow got the carry up the middle for one and then Jeff went to the pass hitting Owens on the next set of plays for 19 total yards and then hit Tai Streets for 11 more yards.


It was here that a penalty came in on Oakland for roughing the passer as Jeff was sent reeling to the ground under Parrella. This created yet another first down for the 49ers as penalties took their toll on the Raider defense.

On first down Barlow would gain nine more yards to the Oakland six-yard line. Here Fred Beasley would secure the first down with a one yard run. Barlow would get another and Jeff another two.

That put the 49ers at the Oakland two-yard line, where Jeff found Tai Streets for a two-yard touchdown.

Cortez's extra point was good, so on 15 plays and 88-yards and two penalties the 49ers retook the lead 20-13 49ers. They also chewed a lot of game clock with a drive that lasted almost nine minutes.

Cortez's kick of 58-yards hit out of bounds at the Oakland 12-yard line, so that put the ball in Oakland's hands at their 40-yard line as a result.


Here Rich Gannon fired to Rice for nine yards and Garners run up the middle was stuffed. With a third down Zack Crockett got the call and went seven yards up the middle. Gannon then fired to Jerry Porter for a combined series of plays that reaped 11 more yards.

A penalty came in on Oakland though for Ineligible downfield pass, a timeout was then called to figure the mess out. On second down the Raiders committed yet another penalty with a false start.

Gannon then hit Garner for four and ran himself for six more yards. Gannon then fired to Porter for 16 more yards and Jerry Rice for five.

Porter was found again for six more yards. This put the Raiders nose to nose with the 49ers on their 10-yard line. From here Charlie Garner ran in from 10-yards out for the touchdown. Janikowski's extra point was good.

So on 10 plays and 60-yards the Raiders tied the game at 20-20 even once again. It was now well into the middle of the fourth quarter, this meant that time was of the essence in order to gain momentum.

Janikowski kicked the ball to Jimmy Williams who returned the ball 48-yards to the 49er 46-yard line with great field position.


With 6:28 left in the fourth quarter San Francisco took to offense. Jeff hit Hearst for six yards and he later ran up the middle for the next three plays for a total of 18 more yards.

Achieving a first down on Hearst, Jeff found Tai Streets for five and Hearst ran for another yard up the gut. Jeff faced with a third down ran himself for the four yards necessary to create a new set of downs.

On first down Hearst tried the middle for no gain, and then the two-minute warning came on. Jeff found Terrell Owens for nine yards and Fred Beasley Mr. Reliable popped the one-yard necessary for another first down.

Hearst ran up the middle for one and Jeff found a no gainer on his own. On the Oakland nine yard line with three seconds remaining the 49ers had the Raiders right where they wanted them.

Jeff had moved them within very good field goal range and he had eaten all the time off the play clock to stuff any hope of a comeback from the Raiders with three seconds left.

Jose Cortez was called out to win this from 27-yards out. He kicked and it went wide left. It was a horrifying moment to say the least. This was one of the very few kicks that dropped my jaw to my chest as the simplistic timing and field position seemed so right.

The black hole erupted in jubilation, and Cortez hung his head and walked off the field. Regulation time was over and regulation time had begun.

On the coin toss San Francisco would somehow win the toss and elected to receive. We would have to work a miracle drive to get the opportunity once again.


Raiders kicker Sebastian Janikowski kicked the ball 68-yards to Jimmy Williams who returned it 20-yards to the 49er 22-yard line. Jeff Garcia assumed command and out of a shotgun formation hit Hearst but he was popped for minus two-yards.

The Raiders at this initial stage realized that every yard was precious. On the next play Garcia hit Terrell Owens for four more yards, and out of the shotgun hit Tai Streets for nine more yards.

This achieved the first down and Jeff was determined to make more progress as he handed off to Barlow who was stopped for no gain. Back into his passing mode he found Owens for three more yards.

With a third down again looming over his head he went into the shotgun and found no one open, taking off he made the first down with a run of 10 total yards.

Life on the line of scrimmage was really becoming a battle, as the Raider defensive line was exasperated as to how they could stop the present 49er offensive onslaught.

Barlow on the next play found a wall for no gain and Hearst was smacked down for a minus yard himself. Jeff facing a third down again went back to the shotgun and found no one, so he ran for what seemed 11 total yards.


But the play was challenged in regards to the spot for the first down and reversed by one yard giving the 49ers a fourth down and one-yard to go.

The fourth-and-one was but a mirage to Fred Beasley as he plowed up the middle for two total yards. Of course the officials challenged the play but it was upheld.

With a first down at the Oakland 43-yard line the 49ers were poised to strike. Jeff dropped back to pass to Tai Streets but it fell incomplete, but then a run by Kevan Barlow for a remarkable 14 more yards for the first down ignited new hope for the 49er offense. A timeout was then called by San Francisco to evaluate their present situation.

With a first down at the Oakland 29-yard line Jeff needed to drive inward more to give Jose Cortez a better margin of victory. Jeff out of the shotgun Terrell Owens for 16 total yards, the very yards we needed the most.

Barlow and Hearst were called upon for more leverage as they combined for eight more yards. Jeff finished the drive with a run up the middle himself for one more yard, as the 49er offense scratched and clawed at the very eyes of the silver and black.


A timeout was called by Oakland to help freeze Jose Cortez as he prepared to kick a 23-yard field goal to win the game.

Everyone from the stadium to the very living rooms of countless 49er faithful watched with anticipation on this next kick. The kick was good and the game was won.

On 17 plays and 73 total yards and a determined 49er offensive line they achieved a victory that was long overdue. They also provided Cortez with the blessed opportunity to redeem himself in front of his peers as all of them gave him their support.

In this game Jeff Garcia was 25-of-36 for 282-yards and two touchdowns, he had a passer rating of 111.1%. He was without question on the very top of his game that day; he is without a doubt a premier quarterback in this league if I ever saw one.

He does not gather the respect and recognition he deserves from sports broadcasters and analysts as they focus too often on the quarterbacks of commercials and more favored divisions.

Terrell Owens was a powerhouse in this game having 12 receptions for 191 total yards, Tai Streets for eight receptions and 61 total yards and one touchdown followed him.

Even Cedrick Wilson had a day to celebrate as he made a critical catch for an 11-yard touchdown in this contest. Jimmy Williams on kicking and punt returns performed as asked and more having a long return of 48-yards.


On the running end Kevan Barlow had 15 carries for 60 total yards followed by Jeff Garcia with 10 carries for 46 total yards. Garrison Hearst had the most carries with 18 for 36 total yards, his fumble was a costly one but he worked diligently to make up for it.

Penalties were limited as we had three for a total of 40-yards, one was in my opinion very controversial with Webster on Jerry Rice. The 49er offensive line deserves a great deal of recognition as they achieved a 65% third down efficiency rating, making 13-of-20 of them.

They also acquired a total of 30 first downs to the Raiders 15. And we took control in time of possession with 44:33 to 24:08 for the Raiders. The 49er defense had a great part in limiting the Raider running game to just 81 total yards. They also held the Raider's No#1 passing attack to 158 total yards.

One can bash Jose Cortez for his missed field goal, I did initially but the truth remains that he has been very consistent up until now. In fact by going into overtime it tested this team to come through for not only itself but for one of their own as well.





Fan Press:
Now you can write articles for 49ers Paradise, and read what other fans have to say too in the Fan Press section.