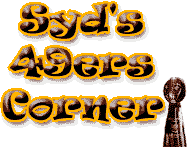 49ers get pre-season jitters. (09/12/02) 12:00 PM


Inside the University of the Pacific walls in Stockton, California lives expectations of the 2002 season. Many have come here for a chance to prove to the San Francisco 49ers and themselves that they belong here.

Many have come simply to prepare themselves for the long and exhausting season ahead, a schedule that will test every fiber of the physical and mental well being. This is where it starts the road to the regular season, final destination.


Expectations are running high, not only with ownership and management, but with fans all over the world as well. After being surprisingly successful in 2001 with an entry into post-season and a 12-4 polished record, the 49ers are prepared for whatever lies ahead for them now. One team seems to be at the top of mind as the 49ers get ready to play deeper into the regular season.

"To win the Super Bowl, we have to first win our division, which means beating the Rams," Mariucci said at the Stockton training camp. "These are the glory years for the Rams. In this era, teams usually have a couple of years when they're at the top and then they fall back, but the Rams have stayed there for three years and they still look like the team to beat, at least in the National Football Conference."

"To beat them, we're trying to build a dominating defense. We had that in 1997, my first year, but we haven't had it since. We're close now, though."

The concept has been to use their number one draft choice in Mike Rumph out of Miami, this tall and well-cut physical attribute will be the difference maker come the day against the Rams. He has been the Marshall Plan so to speak in meeting the Rams challenge head on.


Rumph will play primarily in the nickel and dime formations as the right cornerback, with Jason Webster sliding over into the middle. "We felt it better to do it that way so he'll only have one position to learn," Mariucci said.

Mike Rumph is the trump card that Mariucci plans on playing against St. Louis once the time comes. Rumph remains in many minds around the league a potential shutdown corner that can take away a whole side of the field. He proved that in college with Miami, but can he adjust that to the NFL? That remains to be truly seen.

One of the team concepts in order to do battle with the Rams was to gut the team of age and inject fresh youth and speed to the team to stay competitive. They have achieved this goal hands down. sprinkled with a few veterans, this team has never looked better since 1997. I have to say that this team is well on it's way to being one of the elite in just a short time from now.

"We're still probably one of the five youngest teams in the league," Mariucci said. "We don't have any players of 'retirement age.' Derrick Deese is 32 and Ron Stone (offensive guard) is 31, but they should have several good years left."

This combination of youth and experience has helped this team adjust and to become a well seasoned team throughout practices and pre-season. The timeline has been reversed as the 49ers have gone from being a roster stacked with aging veterans to a team with a new identity. Lethal speed and quickness only defined by the talented youth at it's disposal.

"Where young players on other teams have had to sit and watch, ours had to play immediately, so they've progressed much faster," Mariucci said. "We went through some rough times with them, but now, it's paying dividends."


What has been promising for the 49ers on a whole ahs been the steady progress of it's sophomore class of players. The average age of the 49ers hovers around 25. The elder statesman of the cornerbacks in 26-year-old Ahmed Plummer, who was drafted in 2000. Even though the team enters the season with a veteran type mentality.

Forcing to throw some of their rookies into instant action has made this team veteran-like, even with an average age so low. This has forced many of the rookies to stand up and be more accountable, therefore they have matured more quickly then the average rookie. Going into their second year promises even more flexibility and promise.

"I've always said that you'll always see a jump, a real improvement from the first year to the second year; if you play a lot in that first year," 49ers coach Steve Mariucci said. "You'll see that Eric Johnson and Andre Carter and Kevan Barlow and Jamie Winborn, that bunch." "They practice like veterans. They know it all. They know what to expect. They're not wide-eyed."

Looking at the sophomore class you have defensive end Andre Carter who was drafted out of California in 2001. He was the National Football Conference's Rookie of the Month last December and the National Football Conference's Defensive Player of the Week in Week 17. This is an impressive athlete, I had the honor of meeting him at training camp and receiving his autograph.


Then you have linebacker extraordinaire Jamie Winborn who has really come into his own, for someone that looked lost last pre-season, when he was thrown in as a starting linebacker.

He has matured almost over night as he has substituted for injured Jeff Ulbrich and played just as well. He even recorded a high 16 tackles in the first regular season game against the New York Giants.

Then there is tight end Eric Johnson drafted out of Yale, the last pick of master guru Bill Walsh. He has defined himself as possibly being the next Brent Jones at his position.

He was thrown into action after just converting from wide receiver to tight end. Then you have running back of the future Kevan Barlow, drafted out of Pittsburgh who ran for over 500-yards in 2001 despite injuries. He has shown even more promise this season especially with Terrell Owens taking him under his wing for top form conditioning.

"You saw it really toward the second half of the season, those guys really started to figure it out," defensive coordinator Jim Mora said. "Then they came out here for the first day of practice, and it's like their old pros. And they're not. They're kids."

As you can recall the real big holdout at training camp this year was first-round pick cornerback Mike Rumph. After he had missed the first two days of training camp he got on the phone with his agent and said, "I don't want to miss another day. I'm going to town."

He then signed with the 49ers very shortly afterwards, Rumph at 22-years old, and the 27th overall pick in the 2002 NFL draft is guaranteed $3.2 million, including a $2.35 million signing bonus. The deal also includes escalator clauses of up to $2.5 million in the fifth year. In all it is a robust five-year deal, hopefully worth every penny.


A great off shoot of training camp was the help that veteran wide receiver Terrell Owens offered to second-year running back Kevan Barlow. Barlow spent a month with Owens in his Atlanta home for some intense reconditioning.

Owens is well known for his strict regimen and diet, which is well spelled out in his cut and well formed physique. He originally learned his great workout regimens from the greatest of all time, being Jerry Rice. Barlow entered into a vocal contract with Owens in making himself a better rounded player, and to help him reach that 1,000-yard mark for the very first time.

"He's a robot," Barlow said. "It's hard just keeping up with that guy. He's committed to winning, and he's committed to working out. He's an advantage for me to see what it takes to take your game to the next level."

Kevan has looked spectacular in almost everything he does, he was not that way when he first entered camp one year ago with a quadriceps pull. That is what really put him behind the learning curve. The injury really bothered him all year, and he later suffered a dislocated shoulder. Despite all this he played through the pain.

"I'm willing to do whatever it takes to make this team win," Barlow said. "If that's being the No.1 guy, so be it. I'm going to go out there and do what I have to do. We were No.2 in the NFL in rushing last year. Our goal this year is to be first."

Much of the baby fat that he carried has now been replaced with muscle. This visual evidence has caught the eye's of the coaching staff during practices. He was sent to Atlanta with Owens weighing 246-pounds and entered training camp at 233. He looks leaner and meaner.


Every season has it's distractions and the 49ers are no different from other teams, the team chemistry has been severely tested with the Terrell Owens versus Steve Mariucci debate. In a matter that took center stage last season along with college and pro team overtures to Mariucci, this matter needs to rest in peace.

General Manager Terry Donahue has wanted ever since then to put the matter to rest, he and team director John York met with Owens in good faith, and came away appreciating Owens honesty. A short while later Steve Mariucci made the well publicized move of flying to Atlanta to iron things out with his star receiver.

The word of the day and has been all along is to not overreact. In a debate that has raised the eyebrows of both coaches and players, one has to decide what is most important as a season is in progress. Disrupting team chemistry and shouting insults at one another never does a team any real good. Being on the same page and moving forward despite encountering losses has always been the key.

The meeting between Owens and Mariucci was a needed one in my opinion, I applaud Mariucci for his courage in coming forward and offering peace a chance. He realizes more then anybody that issues such as this need to be addressed and corrected. Terrell Owens also deserves recognition for claiming to start anew with a fresher outlook on the season ahead and to try and use the proper channels when dissatisfied.


J.J. Stokes has been the man on the bubble so to speak for quite some time. He was forced to take a pay cut right before training camp, as the number one reason was spelled out for him lack of production.

Swallowing that hard truth was very difficult for Stokes has always maintained and lobbied for being a target of the ball. The 49ers meanwhile since trading up in the 1995 NFL draft to grab the record-breaking wide receiver out of UCLA has never really reaped from it's investment.

"Initially, I was kind of surprised," the 49ers receiver said. "It was a situation where I wanted to get the ball more and some people within the offense didn't want me to complain as much out loud. I didn't do that. In turn, I didn't get the ball." "In turn, they come and tell me my numbers aren't good."

In all fairness to Stokes I have always defended him over the years, he has been a worthy third down receiver, and he has almost always delivered. The fact that Jerry Rice was on the active roster spelled limited time for Stokes right from the get go.

The fact that Terrell Owens was on the active roster and demanded as much time spelled even lesser throws his way. Health was the last issue as Stokes has battled a series of setbacks that have cost him extended playing time.

Think back to the Jerry Rice era, look at the competition for passes between Rice and Owens, that is enough to realize that passes thrown Stokes way would be severely limited.

When Rice didn't get the ball, he even complained openly about not getting enough touches. Causing the offensive mid-set to increase his repetitions over others at Stokes expense. Last year is also a telling year of where Owens and Stokes stand in the picture.


Owens had 155 pass plays directed his way only and he made the most of them. He finished with 93 receptions for 1,412-yards and an NFL-leading 16 touchdowns. J.J. Stokes on the other hand was the target of just 90 pass plays. He finished with 54 receptions for 585-yards and seven touchdowns.

The 49ers need to more then ever include Stokes into the game plan more. It was apparent in the first regular season game against New York that we could see the blanket coverage on Owens. Stokes was virtually man-to-man coverage the whole time.

"We can't continue to rely on Terrell getting open every single play," Garcia said. "Everybody knows that he's our big playmaker. I think it's important for J.J. to step up and have more opportunities."

One thing I will say, is that when we considered several wide receiver free agents this summer, I was curious to see how Stokes would be handled. I felt that a healthy Stokes would be as productive as any free agent, so far he has been healthy. But bottom line is that we need to include him more on pass plays. He is a great blocker and a key contributor.

On another note there has been wide speculation of starting defensive tackle veteran Bryant Young to defensive end. The notion came into effect following our post-season exit out of Green Bay where he played that position admirably.

The point of that though was because of injuries. Bryant in my eyes is still the heartbeat of our defense, he is the undisputed leader of this unit and one of the best in the business.

"I think tackle is really my home," Young said after a morning practice. "It's where I feel comfortable. The team understands that." "The (defensive ends) we have are capable of getting the job done. Yeah, they're smaller, speed guys, somewhat. The most important thing is they make plays at that position no matter how big they are."


Certainly since last season we also have a lot more depth at the defensive end position now. The 49ers were so decimated by injuries entering the Green Bay playoff game because of injuries to Chike Okeafor (right fibula) and John Engelberger (right ankle) both couldn't play. That made the Young experiment possible and helped fill some of that void.

"I like our defensive line. We've got a good defensive line because they're experienced, smart and they all play with great intensity," defensive coordinator Jim Mora said. "Are we big? No. But we're fast and we're smart."

I for one am all for improving our sack total and pressuring the quarterback. I feel that we really need help in this department. But I am with Young on staying put on the line at tackle. I feel that is his best position.

We have plenty of quality ends now. We have a better Chike Okeafor (6-4, 265), John Engelberger (6-4, 265), Andre Carter (6-4, 256) and Sean Moran (6-4, 275) a seven-year veteran that will add spice signed as a free agent from St. Louis.

Steve Mariucci also is gleaming with confidence that the pass rush will be most effective this season saying, "Right now we have four ends. That's not to say we'll never play Bryant Young out there. We've got some good depth on our defensive line. We could put him out there if we need to. I'd like to think we don't need to at this point."

"We're talking about four guys that rotate through and there'll never be a drop off," Mora said. "They're never going to wear out. All four are good enough to be starters."

Okeafor has supplanted Engelberger at that starting position mostly due to performance and illness that set him out for awhile. Carter meanwhile has been trying to perfect his technique so that he can blow away his team-high sack ratio of 6.5 last season.


Some have criticized Carter for not having sound hands and needs to bulk up with some added weight. But Carter takes exception to that fact, "Why be 10 pounds heavier and be a step slower?" Carter asked.

Added Mora: "Andre takes so much pride in his body and being strong, what are you going to tell him? I'd rather him be lean and strong and play with leverage than play with 10 extra pounds of jelly on him."

I must admit that when I observed training camp in August I came away impressed with the physical attributes of Andre Carter. He is chiseled like you wouldn't believe and he has the stamina to withstand long hours in intense heat.

He still walks off the field with a smile on his face. This is the future of the 49er pass rush. Carter will not be a fluke, he will continue to prosper and materialize as one of the best defensive ends in the league.

The biggest concern going into the pre-season was the play of back-up quarterback Tim Rattay. The consensus was that he would be very raw at best considering he had just thrown three passes in his whole tenure as a quarterback for the San Francisco 49ers.

Rattay, 25, a seventh-round selection out of Louisiana Tech in 2000, had lot's to prove to a franchise that now more then ever needed him to deliver. Rattay was in effect the back-up quarterback in 2001, however because Garcia stayed relatively healthy despite some minor injuries he never really saw any real action.


The concern over Rattay's lack of experience even was more apparent in the 49ers bid to trade for veteran Cade McNown whom was with the Miami Dolphins at the time. Even though he proved to be a first round flop for the Chicago Bears, Terry Donahue was stoic in his belief that he still had something there worth taking a look at.

Even before the McNown trade the 49ers went ahead in April to draft a quarterback in the fifth round with Brandon Doman out of Brigham Young, and they have taken every attempt to work feverishly on his development. However now McNown requires season-ending shoulder surgery and thus puts Rattay in the spotlight.

"The only guy that has a secure spot is Jeff," Rattay said. "There's always going to be guys in here. There's always going to be competition. You've got to keep proving yourself and keep getting better."

Steve Mariucci also signaled the need to make Rattay game ready, by announcing that he would be the primary quarterback throughout pre-season. The fact that Rattay needs game time experience speaks for itself, becoming game savvy is very important especially should you spend any amount of time on a live NFL playing field.

Jeff Garcia was also relatively inexperienced besides the Canadian Football League when he was pressed into duty. He replaced an injured Steve Young just four games into the 1999 season, and look where he is now. The same could be said of Tim Rattay.

Pre-season begins American Bowl 49ers versus Redskins

The NFL kicked off pre-season by having the San Francisco 49ers and Washington Redskins interrupt their training camps and play in televised overseas game in Osaka, Japan. The 49ers appeared well out of sync in this game to the pass-happy Redskins of new coach Steve Spurrier. In the end despite labeling Spurrier as playing this game as it was a real game, and running up the score. The 49ers lost 38-7.

The Redskins passed and passed often, scoring five touchdowns, throwing the ball 45 times and running it just 21. Spurrier being the well known gambler that he is even went long on fourth-and-one. On this play Danny Wuerffel tossed a 31-yard touchdown pass over the middle to Derrius Thompson.


This was a game that made my stomach woozy and left me with wonders about the regular season. Even though you never really apply true merit to pre-season games they still translate into the real synchronicity of where the team is.

Jeff Garcia was even wild as he went 4 for 8 for 20-yards and was yanked from the game as was most of the starting lines on both sides, to give the back-ups some game experience and to evaluate personnel.

Washington did just the opposite though, they kept the first line in for much of the half and even in the second half to rotate their quarterbacks. The success they achieved against our players playing for roster depth was almost immediate.

"I would've liked to put some more points on the board," Garcia said. "We had a nice second drive but we didn't finish it the way we wanted to. We had a couple of missed opportunities and missed passes that I'll get cleaned up. It's the first pre-season game and were not quite clicking."

The injury that really stood out for the 49ers in this game was that to right guard Ron Stone. He suffered a hyper-extended right elbow while blocking during a botched first-quarter field goal try. This injury would shelf him the rest of the pre-season.

49er cornerback Mike Rumph started in place of the injured Jason Webster in this game, out with hamstring problems. Up till this point Rumph had never given up a touchdown pass in his four seasons with Miami. And that also included Steve Spurrier who was a coach with Florida for 12-years and played the Hurricanes on a regular basis. Spurrier went right after Mike Rumph.


Rumph showed his college self in this game, and his inexperience to adjust to the speed of the NFL in comparison. He had trouble turning and running with the receivers throughout the game. And in the second quarter Redskin Derrius Thompson got five yards past him and Sage Rosenfels hit him downfield for a 65-yard touchdown that tied it 7-7.

Just before that touchdown though the world of 49er fans watched back-up quarterback Tim Rattay led the 49ers to their only score of the game, one including a 22-yard scramble by himself that helped set up Kevan Barlow for an eight-yard touchdown run. Tim was 9 for 13 and went for 80-yards with zero interceptions. Mariucci saw good development in Rattay during this game, even though he took a couple of sacks.

Rosenfels really picked apart the back-up 49er secondary and put points on the board as he played the entire first half. He finished 10-for-20 for 172-yards. He hit rookie receiver Robert Royal after the Thompson burner past Rumph for 10-yards for a touchdown.

49er center Jeremy Newberry did not play as he continued rehabilitation on his right calf strain. The 49ers had to shift guard Dave Fiore over to center to compensate. Matt Willig played extensively at Fiore's original position. When Ron Stone went out, a rotation of Chad Ward, Eric Heitmann and Dave Costa was used in his place.

The 49er offensive line was seriously hampered with all these switches and showed it on the field this night, by allowing five sacks throughout the evening. Tim Rattay went down twice and Brandon Doman three times. In effect the 49er defense was subjected to the field all evening.


Redskins quarterback Danny Wuerffel had a great second half as he hit Darnerien McCants for two touchdowns one of 14 and the other for 44-yards. And Redskin kicker Brett Conway kicked a 30-yard field goal in the third quarter to further extend the lead. Weurffel completed 16 of 25 passes for 269-yards and three touchdowns. A staggering offensive onslaught that gutted the 49er secondary.

The backlash of this lopsided victory would anger Steve Mariucci a but, as he believed Steve Spurrier intentionally ran the score up by getting their first line on the field more often than usual. Mariucci would later go on to say that we achieved success nonetheless with player evaluation and getting Tim Rattay valuable game experience.

"Winning and losing, nobody's going to give a darn five weeks from now," Spurrier said. "But tonight there's a winner and a loser, and we're going home a winner."

Rookie kicker Jeff Chandler also really started his debut in this game as he lined up for a field goal in the first quarter, but had to abort it on a bad snap. He also missed a 51-yard attempt on the final play of the game.

Injuries were extensive on both sides in this first week of pre-season action as 49ers safety Al Blades sprained his left ankle and linebacker Jamie Winborn bruised his thigh. With that and Ron Stone's more serious injury, it added salt to an already opened wound.


Tim Rattay was very scrutinized in this game, he had some inconsistencies but overall performed well in my opinion. There was one pass I remember that was a beauty and that being his 24-yard pass to 49er receiver Cedrick Wilson. But he had ugly ones to in the form of a screen pass to Barlow. His ingenuity to scramble from the pocket on a 22-yard jaunt was similar to Jeff Garcia. But it was the line's inability to protect him that resulted in his failure.

Wilson after making this catch was absolutely leveled by a Redskin defensive back, that sent his helmet flying off his head into the benches. It was a relief to see him get up from that.

"The Redskins wanted to come out with a bang to get their fans and the organization excited by playing their (first-string) guys," Mariucci said. "We, on the other hand, wanted to give our starters a little taste, get them off the field, keep them healthy and get our young guys on the field."

49er players that really stood out in this game were cornerback Jimmy Williams, defensive end Jerome Davis, linebacker Brandon Moore, rookie linebacker Saleem Rasheed and even defensive tackle Reggie McGrew. The media backlash on Spurrier's playing the first string offense for so long irritated me to an extent, I personally believe we played this game with the best intentions in mind. Mariucci did a fine job making that decision.

After this game the team found it's offensive line in shambles, Jeremy Newberry out still with calf problems, Ron Stone now gone for 3-4 weeks and Dave Fiore playing out of position at center. Little to say other than someone has to step up.

One thing I will go on record as saying is that again this line doesn't get the credit it deserves. So much is said of the defense and so little on the fine accomplishments that this unit has done over the years.

The first player to urge his teammates back at home to play better was quarterback Jeff Garcia. He had sharp but poignant words to say regarding the loss. The fact that Steve Spurrier would use his first stringers for extended time did not mean as much to Jeff, he just wanted to see better efforts on the filed.


"This offense needs to start clicking and show it's not the team you saw in Osaka," Jeff Garcia said shortly after in training camp in Stockton. "It was a little bit of an embarrassment. Whether it's pre-season or regular season, you don't ever want to be put down like that. "It's important to regroup and refocus and not allow that to happen again."

"I realize the starters weren't in," Garcia said, "but that doesn't matter. This team is only as good as its depth. It's important to realize they're fighting when they're out there. They need to be stronger, and more willing to fight at the highest level."

"I don't think we showed that in Osaka. I'm not ready to start panicking about pre-season games, but leaders and starters need to show and say that that kind of effort is uncalled for. It's time to stand up, and turn the tide."

Like a general in charge of his army, this sounds like a great call from Jeff Garcia. If you have ever had the honor of meeting this man, you'll find him to be the most down to earth kind of person in your life.

His love for kids is astounding, he spends time with everyone of them on the sidelines and answers all their questions. He is a true hero in my book as he distinguishes what a true quarterback really is and is proud of where he came from.

One rookie that really looked sweet in this game was the play of linebacker Saleem Rasheed. His speed was astounding, speed the 49ers knew he had coming out of the University of Alabama. Rasheed finished with seven tackles in his opening game as a49er which is not bad at all. Defensive Coordinator Jim Mora believes it to be the very tip of the iceberg.

"His play was one of the positives in that game, said Steve Mariucci. "He played fast; he showed quickness, his athleticism and speed. Right now he plays from sideline-to-sideline. There will be a time when he learns to be more of an attacking linebacker and will play downhill. But right now we like what he's shown us."


"He's fast, no doubt about it," said defensive coordinator Jim Mora. "He confirmed what we knew about him: he can run and make some plays," "He played the run well," Mora said of Rasheed. "His obvious weakness right now is his pass coverage. That's the case for most rookies in this league."

Cornerback Mike Rumph also made a personal pledge to overcome his mistakes in the pre-season opener. This touchdown that he gave up was the first one since his sophomore year in Miami. But what he is beginning to understand is the difference between college and pros. He has come to terms with himself and that is always a good thing.

"It was a tough game for him to go through," Mora said. "The speed of the game surprised him. He didn't know it was going to be that fast, which is surprising because he played at Miami. But that just shows you the jump from college to pro." "It was a great learning experience for him, and he'll play a lot better this week."

In my next article I will continue to take you into the pre-season highlights and assess the reasons for cuts and additions.

I will stop and elaborate on key injuries and adjustments the 49ers continue to make, tracking progress and disappointments at the same time. The Denver Bronco's lie ahead in wait, after defeating the Rams in Week One, they pose a significant challenge for us.

I still believe that we will have an outpouring of offensive power, one where we will rack points up on a better then equal basis. A victory over the Bronco's would give us instant credibility in our division and the league.





Fan Press:
Now you can write articles for 49ers Paradise, and read what other fans have to say too in the Fan Press section.