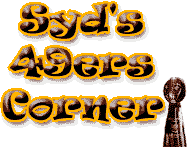 Practice brings Marvelous Joe and quarterbacks are on notice. (06/28/02) 10:00 AM


As spring blooms into summer and the 49er's begin their annual routine of holding practices and coordinated mini-camps, so does the wind bring notes and references from what was and could be now.

It was at a June practice in Santa Clara, California that the past and the dynasty of old revisited its originator of years passed. Marvelous Joe Montana, the best player and quarterback of all time in this league today arrived.

What could he possibly want? He was invited to shoot a film for NFL films demonstrating his mechanics and technique as a quarterback. The film to be run on video would be a venture between his coach and a handful of his old teammates from old. Specifically being Roger Craig, Jesse Sopolu, Mike Wilson and Brent Jones.

The spectacle had to be awe striking and exciting all rolled into one, as present 49er players watched in amazement at the centerpiece of the mantle that once was the 49er dynasty of old. Joe Montana was there, right there in front of them.

"I don't live much in the past very often," said Montana, who said he has received grief for not returning to his high school and college, either. "I consider myself a 'do' person."

This visit marked for the very first time a visit by him to a 49er practice since he was exported to Kansas City in 1993. When I relive in my mind memories of Joe Montana, I see nothing but glory and championships. I see golden trophies raised high and laughing and smiling and handshaking.

I can see myself jumping off from a sofa and raising my arms high exalting all that was and still is the San Francisco 49er's today. I can remember myself bragging about what we had accomplished as a team in such a short period of time. Those are memories that are dearest to me.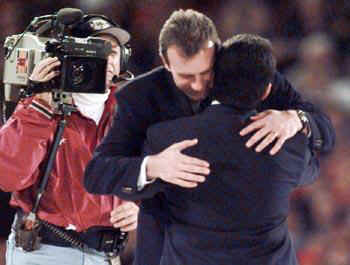 Joe Montana folks are what it's all about, he is the game, and he defined what it is. He made Candlestick Park an actual place to want to be in. He made dreams come true and enabled 49er fans to hold there heads up and walk proudly in front of their opposition.

He created an atmosphere that was unlike no other, an energy that generated on his own personal will. He was what football was all about, he bred competition all around him and he welcomed insight from all his teammates, but at the same demanded adherence to his doctrines on the field. This friends is the Joe Montana I love.

So what is Joe up to these days? He is involved with an investment program for professional athletes called Champion Ventures, Along with former 49er teammates Harris Barton and Ronnie Lott.

Montana says the Palo Alto based business is intended to help athletes save for retirement. Some would like to see the 45-year -old Hall of Famer comes back to football maybe as a coach? But Montana has been happy with his second life in investments and horses.

The overall reason for Montana's visit was to capture his quarterback talents on film for NFL Films, so that a documentary could be shelved before he was too old and wrinkled to show himself as his normal self. "(Walsh) said he wanted to get me in there before I'm too fat and old and couldn't run anymore," Montana joked.

The velocity on the ball and his drop back to pass is still something to behold, even by Bill Walsh's standard who was there to participate with him in this film idea. He fired bullet passes to teammate Roger Craig and was diagnosed by Walsh as he auditioned for the camera.


"He's probably the greatest fundamental quarterback of all time," Walsh said. "His mechanics we're the best in the history of the game. So we want that on tape."

Even Steve Mariucci was awe struck by the former hero's presence and the sound bites being played over and over for NFL Films. The back drop of the practice at hand had to be exciting as rookies and veterans strained to see and talk to the man that made legends all that more possible.

"I'm sure it was great," 49er's Coach Steve Mariucci said. "Jeff (Garcia) visited with him and Jeff's dad. I don't know how many guys have met him." "I love when those guys come back, I love it."

Bill Walsh was very happy in making this film a reality as he peered into the camera while Montana dropped back play after play, and explained the fundamentals and mechanics of the style and progression that made Walsh's West Coast Offense so famous. The filming actually went on well after the present day 2002 49er's had finished their own mini-camp.

So why not get Montana back out on the field and knight him the present day quarterback at 45-years-old? Well if you heard and saw him play you would think that would be utterly possible. He tested his arm and vision several times and came away a winner each time. Maybe Jeff Garcia and Tim Rattay should be nervous? Just kidding folks.

"This is really something I think, for Joe, that we should have historically of Joe's fundamentals and his mechanics of playing the position," Walsh said. "Because Joe's truly the greatest quarterback and maybe greatest player of all time. His mechanics are unmatched by anyone. His mechanics were the best in the history of the game."

"Naturally, (the NFL's) very enthusiastic, it's as much as their idea as ours," Walsh said. "So we're going to go through all the mechanics on the field and have it for posterity, so to speak, or for other people to learn from."


The background that Montana was playing in was a memory of good things that had passed. He played catch with his 10-year-old son Nicholas, and at the same time posed for pictures with Bill Walsh and current 49er quarterback Jeff Garcia. The very mere fact that he was standing on hallowed 49er ground was enough for me to know that he still cared.

All in all the focus of Montana and passing camp was a good shot in the arm for the 49er's, it really broke the day to day monotony and enlightened the entire team with his presence. Depth positions have been the focus of the most heated battles as rookies and veterans continue to spar over playing time and positions. It seems that some of the most heated have been at linebacker and quarterback.

Part of the linebacker equation is the starters in Derek Smith, Jeff Ulbrich, Julian Peterson and Jamie Winborn. When you count in rookie Saleem Rasheed it really brings about a group that is versatile and deep. This is a great place to have strength in numbers, as linebackers tend to face a series of injuries that plague them, more so than other positions.

Derek Smith led the team in tackles last season with 126 and was quickly followed by Ulbrich with 92 even after missing two starts with a left ankle injury at that. Jamie Winborn had 52 stops and Peterson added 49 tackles and three sacks. All in all these players accounted for 35% of all the defensive tackles last season.


The quarterback battle really heated up this off-season starting with the drafting of Brigham Young's Brandon Doman in the fifth round. Then the 49er's tried to stir new life in two-year bust Giovanni Carmazzi and then they brought in Arena League football star Aaron Garcia.

But the latest twist featured the 49er's cutting a deal with the Miami Dolphins over veteran quarterback outcast Cade McNown. The 49er's acquired McNown in a trade with Miami, and at the same time signed free agent defensive tackle Jim Flanigan.

McNown was the 12th player taken just three years ago by the Chicago Bears in the NFL draft, he was expected to be the answer to the Bears starting quarterback rotation. Come to find out he was nothing but a bust.

The deal specifies that McNown must stick on the 49er's 53-man roster for at least five games in 2002, if he doesn't the Miami Dolphins will have to give back the seventh-round pick in 2003 that they acquired from the 49er's in return.

If you want to remember Cade McNown like I did, he spent two dramatic seasons with the Chicago Bears and one year as a back up with the Miami Dolphins. In Chicago he made a reputation of alienating his teammates with some finger pointing on the field and his very high ay of life. In Miami he seemed to settle down, and it seems he has been a model player there.

"I'm looking forward to my opportunity with the 49er's," he said. "I learned a lot in my year in Miami, and I think I will be a better player because of that." Back in Chicago though what did he do? It is hard to forget the past and his lousy starts and finishes to games. What will happen with Carmazzi? These are questions that remained to be answered.


Aaron Garcia, in my opinion was a splendid candidate to sure up the quarterback competition. He certainly came with sound credentials and played well in the 49er system in practices. Aaron at 31-years-old has 311 regular season touchdown passes in the Arena League, including 92 in one season; 16,601-yards passing; and a 109.27-passer rating. As soon as McNown was acquired Garcia was released.

Somewhere the 49er's made a decision based on his performance and in my honest opinion his age. It became blatantly apparent right after Doman was drafted that Garcia was forced to demonstrate that he could take away Tim Rattay's position behind starter Jeff Garcia.

But everyone knows that was not about to happen. Having acquired the 25-year-old Brandon Doman and Cade McNown made him expendable. It also came down to size physically and pure athleticism as well.

What is even more interesting is the fact that the 49er's had a component in their system that actually worked with McNown and that is general manager Terry Donahue. Donahue recruited McNown to UCLA in 1995 and was his coach that season. But Donahue continues to claim that it had nothing to do with his personal relationship with him.

Donahue in reference to McNown claimed he would have been claimed off waivers by another team, should they have waited to make the trade. So he made the trade, in part because he saw such little risk.

"One, we had an opportunity to get a look at a player who we had a great deal of interest in several years ago, and we'd like to see if we can develop the potential we saw at that time."

Another reasons the 49er's may have contemplated the move is the mere fact that there is such little experience behind starter Jeff Garcia. Tim Rattay, a seventh-round pick in 2000, is the number two quarterback with little game experience.

He will play lots in pre-season to prepare him. Gio Carmazzi, a third-round pick in 2000 taken ahead of Rattay has been beaten out and mired in reoccurring injuries the latest a shoulder problem. It has really put a damper on his career and McNown signals his release soon.


Carmazzi underwent surgery on his throwing shoulder last August; this procedure wiped out his entire 2001 season. And on top of all that he continues to have problems with it. The condition has been worsened because of his bulging disks in his neck area; this has all but eliminated him from the competition ring between Brandon Doman and Cade McNown come training camp on July 20th.

Options are varied the one being considered is putting Carmazzi on the physically unable to perform list. He is familiar with this route because he spent last year on the reserve/non football list. But with this latest complication due to reoccurring injuries the 49er's are starting to become thin skinned with patience.

The trade involving McNown clearly indicates that the option of cutting ties completely with him is being considered. If it means only bringing three quarterbacks into the active season I support that move.

Carmazzi actually started throwing the ball back in February and experienced soreness and fatigue in his passing arm that kept him out of both post-draft mini-camps. He has even taken cortisone shots to try and curb the pain and expedite the healing to no avail. Facts are we may never know if Carmazzi has what it takes to be a 49er quarterback.

In his mind I am sure he has already accepted that with the addition of Cade McNown it only makes his task that more difficult to accomplish. He will be at a clear disadvantage to compete as long as he sits out with this injury. The interest the 49er's have in finding out if there is anything viable in McNown is real.


"They basically have told me you're going to have to win that third job," Carmazzi said. "Obviously, my timing has been terrible. But I do feel like I'm close to being 100%. My arm feels light years ahead of where it once did. It's just that I'll throw for two, three days and feel pretty good and then there will be a day I don't feel good. I'm trying to get to the point where I can feel good everyday."

Everyone thought back in 2000 that Carmazzi believe it or not would someday be groomed to replace Jeff Garcia down the road after he retired or left via free agency. Even the front office when drafting him gave him a ringing endorsement so to say that this is what they hoped he would accomplish. He has done all the opposite of that, even losing out to seventh round pick in 2000 Tim Rattay who triumphed over Carmazzi.

I must say I feel sympathetic to his cause and the case he has impending against him, but the league nor teams have the luxury of waiting on an unproven rookie to rehabilitate from multiple injuries. The drive and philosophy of the game is to win now, not later. And there will be no sacrifices made to wait on someone that isn't ready.

"It's definitely frustrating in a lot of ways because I feel I'm at a point where I'm comfortable with the offense, with the terminology, as opposed to a couple years ago when I was trying to learn all that stuff at once," Carmazzi said. "I think I've become a more fundamentally sound quarterback. It's just that I've got to get my arm strength to 100%, and I'm still working toward that."

The frustration has to be obvious on both sides, you have to feel bad for someone that just plain encounters all the misfortune in the world and still has a desire to play. Certainly this is the way Carmazzi feels deep down inside.

He knows time is running out and can do little about it, as his arm and shoulder encounter more problems and requires more surgery and therapy. On the other side the coaches have to be upset that they will probably never get the chance to fully understand his potential should the front office decide it's heave ho.

"Is he getting behind a little bit? Yeah, because he's been inactive," Coach Steve Mariucci said of Carmazzi. "Mentally, he's up with everything because he's in the meetings. It's just that he hasn't been able to show what he can do because he hasn't been cleared to go."


Getting back to McNown this leaves us with little alternative but to let him go in the long run in order to save a draft pick in Doman just acquired. Creating a competitive atmosphere with the quarterbacks is always great to do.

I commend Donahue on steering this course because as you know there is little experience behind Jeff Garcia. If he was to go down to injury God forbid the ramifications could be serious.

"We've got to make sure we create the best corps. Of quarterbacks there is in the NFL, so if God forbid, anything happens to Jeff Garcia, we can accomplish the goals we've set for the organization," Donahue said.

The interest in Cade for the 49er's actually goes back to 1999; he was looked at as being the prototype developing replacement for Steve Young at that time. But what complicated that was the fact that they had no chance of getting him with their No. 27 pick in the first round, and on top of that they were unable to work a trade that could have moved them higher in order to grab him earlier. But once it was all set and done I guess you could say we made the right decision, simply based on McNown's bust in Chicago over a two-year period.

Even now the 49er's remain optimistic when it comes to Cade, if they chose to trade with Miami it tells you that the interest is still very prevalent. Donahue seems to think that with their system it will uncover some of the more subtle treasures that McNown has to offer as far as mechanics and talent.

He may have never been comfortable with the Bears system and had a hard time executing that part of his job requirements. Whatever the reasons he will be given every opportunity to learn and execute within the 49er system.

"There's been a lot of guys taken in the first round at that position that haven't been successful," Donahue said. "There's lots of reasons. Sometimes it's the player's fault; sometimes it's the fit. I think I'll know more after Cade has had a chance to be in our system and work with our coaches."


McNown continues to struggle in finding his won identity, he is almost on the same route as his predecessor Rick Mirer, once considered a first round gem of a quarterback and has been relegated to being a gypsy quarterback.

McNown, 25, was a first round draft pick for the Bears in 1999. He played in 25 games, starting 15, but only won three. He completed 281 of 515 passes for 3,111-yards and 16 touchdowns. Running in from the backfield, McNown gained 486-yards on 82 carries.

However it wasn't good enough, 14 fumbles and fewer victories, meant teammate support of him was eroding away next to nothing. After two years of this the Bears moved into a different direction with the quarterback position. They accomplished making the playoffs with that decision.

However you look at it the positives in taking McNown seem to outweigh the negatives, I remain skeptical of his abilities and his talents based on what I have seen with him as a Chicago Bear. But I realize that our system is a lot different and our coaches are well groomed in quarterback development. If there is any team that can unveil the hidden talent it will be us.

The 49er's also moved in with a kill of a deal in signing defensive tackle Jim Flanigan, his first seven years were spent with the Chicago Bears at a professional level. He had career high 11 sacks in 1995. And he spent last season as a Green Bay Packer where he recorded 46 tackles and 4.5 sacks in 16 games.

Flanigan is 6-foot-2, and weighs 288-pounds; the Bears took him in the third round of the 1994 NFL Draft. He is very likely to have an immediate start ahead of former teammate Cade McNown. At 30-years old he still has the prime of his career left in him and will be immediate competition for often-busted tackle Reggie McGrew.

"He brings savvy and experience to the locker room," Donahue said of Flanigan, who will make up to $2 million on his two-year deal if he achieves incentives. "He's a pro. He'll be a guy who brings a real work ethic."

I believe Flanigan will turn out to be the best free agent signing simply because we lacked continuity there because of McGrew's recession over the past two years. I feel he will jump start this defense and give it a renewed energy, especially as rotation takes place in order for the starters to rest. Flanigan knows the job and he does it well, he has proven to be durable and talented and takes the game seriously.


In other news second-year marvel defensive end Andre Carter continues to work on his mechanics as a player in mini-camps. He had off-season surgery done on his left thumb in February and hasn't sat down once. He goes out on the practice field with a heavily taped left thumb and gives it his all on every down.

"They fixed the ligaments because they were kind of loose and dangling around," said Carter, who landed on his thumb during a game midway through his rookie season. "It feels better."

The injury has not been a major setback for Carter who is progressing well after surgery, he has good flexibility in it now as he rested that thumb for two weeks after the surgery and then began light rehabilitation of that thumb. He continues to workout as usual with no effect. Carter will tell you that he took a physical and mental besting over the course of a 17-week season one being a playoff berth in which Green Bay eliminated them.

"At the end of the season, you need a month or two to get some rest," said Carter, who had a team high 6.5 sacks last year after being drafted in the first round out of California.

Also on the list of new happenings was the release of kicker Jamie Rheem, thus leaving fourth round pick Jeff Chandler and incumbent Jose Cortez to battle for the coveted position. Jamie was on pace to win the job with the 49er's last summer before sustaining a torn hamstring early inside training camp. Cortez basically earned the position by default and began the season strong only to end the season on a soar note.

In my opinion Rheem was a strong candidate, but it seems like Chandler will have better breathing room in competing with Cortez.

I am hopeful that Cortez can correct his mechanics so that he can be more consistent. I am thankful that the 49er's though chose to draft for special teams this season and provides a competitive market here.


One of the top news stories in the NFL now is the emergence of another buying group; a group mentioned at the NFL owners meetings in Houston. This group led by billionaire Philip Anschutz out of Denver is very interested in building a new stadium in downtown Los Angeles.

This would mean at least one or two NFL teams would follow. Commissioner Paul Tagliabue has even approved the process in forming a committee of owners to look into the stadium idea and a possible relocation of a current NFL team.

What is known is that the facility will eventually be built, Anschutz has deep pockets and has a way of getting what he wants when he wants it done. There is a group of Los Angeles businessmen involved with him in getting this idea beyond the planning stages.

People of high profile begin with Ex-Bronco quarterback John Elway to want an in inside this group as well as Casey Wasserman who owns the Arena Football franchise, the Los Angeles Avengers, is heavily involved.

Of course the logistics of building a stadium and relocating a team are huge. The leading team with the most upside at this time seems to be the San Diego Chargers, however the NFL will want two teams in the nations second biggest television market. Preferably, it should be a NFC team; due to the fact that the Chargers are an AFC team.

Believe it or not San Francisco could be the player in this scenario, it is one that I care not too much about. Only time will really tell but there are several factors that point to the 49er's as being a good possibility.

We have the absolute worst stadium in the NFL. We hired Peter Harris as the team president two years ago for the sole purpose of getting a new stadium built. Now unfortunately you hear almost nothing about it, and 49er fans are left wondering what is to become of a stadium that is withering under age and broken promises.

Nothing seems to be happening with it at all, and sources from within Santa Clara headquarters say nothing is being done about it so far. Peter Harris seems to be embroiled in thick red tape, and the job he was hired to do is seemingly becoming impossible to fulfill.

It seems like the public in San Francisco need to be more involved in this process, getting more participation from voters in the area and on a municipal level would be ideal.

I would hope that all citizens in the Bay Area would want something done about the status of Candlestick, 3-Com or San Francisco Stadium at Candlestick Point. Whatever you want to call it, it has to bug you that nothing is being accomplished.


The ownership of the 49er's then becomes a focus, are they simply blowing a smokescreen because they are nit interested in keeping the franchise long term? We all know that Mr. Anschuta and Mr. Wasserman just don't want a new stadium in Los Angeles, they want to won the team that inhabits that stadium as well. Another franchise struggling with both stadium and ownership changes is the Arizona Cardinals.

One thing I know, and that is fans want to see something done with the stadium issue. I for one do not want to see the 49er's relocated to Los Angeles. But at the same time it is up to all citizens of San Francisco to voice their wishes to their respective legislators.

The York's need to examine every possibility in building a new stadium or renovating our current one. Either would be acceptable in my eyes, keeping the 49er's in San Francisco is on the other hand a must.





Fan Press:
Now you can write articles for 49ers Paradise, and read what other fans have to say too in the Fan Press section.