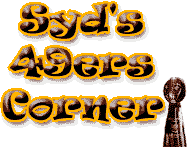 Looking at the 2002 NFL Draft; Defensive Ends, Tackles and the acquisition of Sean Moran. (04/12/02) 10:00 PM


One of the top priorities this season for the San Francisco 49er's will be getting pressure on the quarterback, something they struggled from time to time last season. The overall objective in this coming draft is for the 49er's to establish a defense that will contain and seal a high scoring offense like the St. Louis Rams.

The 49er's have already taken measures that will enhance that capability, they will continue to add to that dimension in the draft by taking a defensive end and or tackle in this very draft.

The defense will still be the focus of the draft, regardless if the offensive line is showing age and wear. The 49er's believe they can win with what they have and field a dominating defense to boot. On defense the 49er's have answered a lot of questions, they have resigned free safety Zack Bronson to an extended contract.


Also in the secondary un-drafted safety Ronnie Heard was retained as to sure up depth at the safety position with often-injured John Keith. Lance Schulters was lost after a bidding war between the two camps, where the 49er's felt his asking price was too high.

In light of that they brought in free agent safety Tony Parrish from the Chicago Bears and after several meetings and analysis signed him to a five-year deal as our new strong safety.

They have also resigned 1999 draftee defensive end Chike Okeafor as he showed signs of continued progress in rotations with Andre Carter and John Engelberger. They continued that signing spree with Bobby Setzer, as he will get a chance to compete in training camp this summer at defensive end.

The 49er's struggled last season to apply significant pressure on opposing quarterbacks, pressure was inconsistent and sacks were even harder to obtain. Establishing a pass rush will be a key component to their success this season. The 49er's are positive they have someone to anchor one side in Andre Carter, the number one draft selection last season.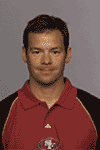 Now they need to anchor the other side, it has been one of committee last season as Engelberger and Okeafor have rotated. Injuries had depleted this part of the line at one point where veteran defensive tackle Bryant Young tried his luck at end in the playoff loss against the Packers.

That is why they invited free agent defensive end Sean Moran in for evaluation, after several meetings and analysis the 49er's signed the Ex-St. Louis Ram to a three-year contract. He will add great depth to a rotation of ends that will make or break the pass rush this season. Results will be expected after this acquisition.

Defense is the latest crave in the league to accomplish championships and win Super Bowls, it happened just this season with the New England Patriots defeating the high-flying St. Louis Rams. Against all odds a handful of no brand name players defied all the experts and won this Super Bowl on shutting down the high-octane offensive motor of the St. Louis Rams.

This is the direction that the San Francisco 49er's is taking, but they are doing it in combination with their own high-scoring offense. The 49er's were able to produce points last season almost at will with gifted and talented players on their roster. They will continue to do just that and at the same time field a defense that is smothering and dominant. This is the ideal dream team, one that is formidable on both sides of the ball.

Top 2002 NFL Prospects at Defensive End
No.1 Julius Peppers, North Carolina
Strengths: Size and speed
Weaknesses: Use of his hands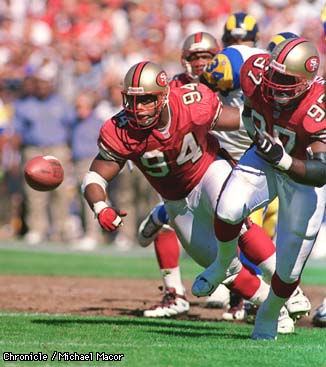 This happens to be the best defensive end in the draft without a question; He stands 6-6 and weighs 285-pounds. He has enormous size and great potential; on top of that he has a great wingspan that can have a positive effect on a quarterback's passing lane. He has incredible strength and his work ethic is second to none.

If there is something he does need to improve upon it is the use of his hands, this normally can be corrected with effective coaching and of course developing a mean streak at the same time. Peppers is a quality player that will go at the top of the draft, he is expected to go as high as number one or two overall. Wherever he does land that team will inherit a franchise player for a long time to come, and he will have an immediate impact on the team.

Over his career with North Carolina he has accumulated 30.5 sacks and has 53 tackles for a loss. He finished second in school history in both of these categories. He also was very much involved with the school's basketball program as well going with the Tar Heels all the way to the Final Four in 2000. His sack total dropped in 2001 to 9.5 down from 15 the year before, but that should have little effect on his draft status come draft day.

Pete Prisco from CBS Sports Line. Com said: "Might be the best edge rusher to enter the league since Lawrence Taylor."

Certainly the talk around the league has been most positive about this phenomenal athlete, he brings a substance to anyone's anemic pass rush right away and he can be an anchor for a long time. The Carolina Panthers have him pegged but who knows? Anyone could be in the game at this point.

No.2 Kalimba Edwards, South Carolina
Strengths: He has speed and a great wingspan
Weaknesses: Upper body strength and run defense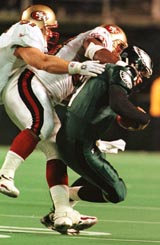 Edwards is an athlete that has great potential, the question is what position should we tap into it from. He stands 6-5 and weighs 255-pounds. He seems to be best as projected as a great defensive end, but he hasn't established his strength and his run support skills are suspect. Some have even indicated he may be better suited to be a linebacker, and in reality could be taken with that thought in mind.

But he is in the defensive end class and with some work could be a well-polished threat. He is able to come off the ball with great speed; he also uses his lower body well and can fight through registered blocks with a fiery explosion. Injuries have been a factor during his tenure with South Carolina, so it could have a negative impact on his status.

He is though without a doubt a real talent in this draft; he is expected to go in the first round. He saw some action at linebacker in 2000, he posted 19.5 sacks in his college career, including 11 in 2000.

He has had some problems with blockers when he is unable to beat them cleanly, here is where he needs to build upon his upper body strength and make that a forgotten conclusion. He has great speed and quickness that fit the molds of a linebacker or a defensive end. It is safe to say he could play both conveniently.

Mel Kiper, Jr., from ESPN said: "Edwards flies out of the blocks, has improved his pass-rush technique over the years and always hustles on plays directed to the opposite side of the field."

No.3 Dwight Freeney, Syracuse
Strengths: Pass rushing ability and creating turnovers
Weaknesses: Size and durability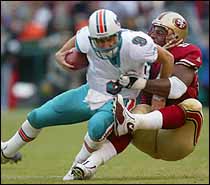 This guy is an animal of a pass rusher; He is the man responsible for setting NCAA records for sacks and forced fumbles in a single season. He stands 6-1 and weighs 255-pounds. He is really a special type of pass rusher in the way he can attack you in a variety of different looks and moves.

He can come at you from the outside or the inside and he has the ability to go with a bill rush and work directly through an offensive lineman. He is on the light side though and doesn't have the respected weight for a defensive end. Being on the light side will have its disadvantages and his height is not very ideal for batting down intended passes.

He set Big East single-season records in 2001 by forcing eight fumbles and notching 17.5 sacks. He has accumulated 30.5 sacks during the last two seasons at Syracuse. The big hot on Freeney is the fact that many smallish type defensive ends have struggled to form an identity in the NFL. This may be the same avenue we are looking at with Freeney. But his upside is way too high for some team not to take a chance on him.

When he faced off against Bryant McKinnie in a 2001 game at Miami, it was Freeney's time to shine, he was held without a sack as Syracuse fell 59-0. Of course this was one game, and it was played against probably the best offensive linemen in the college ranks.

Joel Buschbaum from Pro Football Weekly said: "If used right, he may be a Fred Dean-type player. He is super quick and sudden and has an explosive, up-field burst. He has a great first step and can counter in a flash, but his size is still a major concern."

No.4 Alex Brown, Florida
Strengths: Pass rush and run defense
Weaknesses: Poor instincts and consistency


This guy is going to be an exceptional pass rusher, he may not be as fast as the Florida players we have seen in the past but he has great potential. He stands 6-4 and weighs 265-pounds. He has exceptional strength and great leg drive as well. He plays the run well because of his legs and it creates good leverage at the point of attack.

His overall performance though has been shaky at times; he has been caught getting lost in the shuffle from time to time. And his instincts have become somewhat suspect also. The potential that he could turn into a bust for a team drafting is there. But he still should be acquired in the first round based on that he plays the pass and the run so darn well.

He has seen time at outside linebacker; he notched 33 sacks in four whole seasons. Including 31 in the three seasons he played from the defensive end position. He recorded 10.5 in his senior season.

When you are talking speed that is the name of Brown's song, he has been timed at 4.7 in the 40-yard dash. He may be the best pure speed pass rusher in this draft. It will certainly help him with accomplishing a roster spot and maybe a starting position on someone's team.

Joel Buschbaum from Pro Football Weekly said: "Brown has exceptional initial quickness and a real burst up the field. He is very athletic and can counter inside very well."


The defensive end class is a promising one, quality that projects to be above average on the league side of standards. Rather the 49er's draft one is a question now considering their need for a corner and a guard at this point. It is still a possibility they could choose one within the first four rounds. Other prospects include Kentucky's Dennis Johnson a junior at 6-7 and 260-pounds. And Will Overstreet a senior out of Tennessee at 6-4 and 255-pounds.

Top 2002 NFL Draft Prospects at Defensive Tackle
No.1 John Henderson, Tennessee
Strengths: Speed and size
Weakness: Leverage


This is the guy that will be able to start immediately once he is drafted; he is the cream of the crop. He stands 6-7 and weighs 290-pounds. He is sure to be a top 10 pick in this draft. Henderson did incur some injury problems during his senior season but he played right through them. What is most convincing about Henderson is the fact that he has ideal command and leadership ability at the line of scrimmage.

His statistics are also intriguing in that he runs under a 5.0 in the 40-yard dash and that is with a 6-7-size body. He has the ability to gain more weight in excess of 20 more pounds and it will not effect his overall game. He does have some problems with his balance and on leverage. He can come off the line too high and that sometimes neutralizes his leg drive on plays. He is definitely someone you want to build a defensive line around.

In 2000 he had his best year in piling up 71 tackles and 12 sacks, these are outstanding numbers for an interior lineman at the college level. He incurred an injury to his ankle on opening day of the season and simply played right through the season with it.

His numbers overall suffered because of this injury but he simply will do his very best once he is drafted. His durability and ability to play with pain are testaments to his endurance. He will be a sought after talent in this draft for a line suffering gaping holes that need to be filled.

Joel Buschbaum from Pro Football Weekly said: "A huge and very powerful man inside whom can be explosive. While he lacks great initial quickness, he runs very well for a big man and plays hard most of the time."

No.2 Wendell Bryant, Wisconsin
Strengths: Quickness and ability to beat double teams
Weaknesses: Lower body drive and conditioning


Bryant was a wrecking machine back in 2000 as he mauled many opposing quarterbacks in the Big 10. He had little sympathy for the running backs as well. Bryant stands 6-4 and weighs 300-pounds. He has an uncanny ability to shed blockers even while he is double-teamed. He does it probably better than any other tackle in the college ranks today. He has a multitude of abilities he is able to play on the end of the line and rush on the edge to go along with his great interior work.

He has great quickness and he is able to keep his body low to the ground and has ideal balance and footwork. He could use some better conditioning though and improvement in his legwork. He needs to key into these two areas if he hopes to be part of the elite in his positional class. He is projected to be a top 10 draft pick. He led his team in Wisconsin in most sacks through three straight seasons. He led the Badgers with eight sacks and 17 tackles for losses during his senior season.

Bryant seems to have all the skills in the world to play the position effectively; he has so much upside. He shows a great knack for consistency and he will do well with the right formula of coaching and weight room development.

Mel Kiper Jr., from ESPN said: "A dedicated and tireless worker, Bryant has all the intangibles to go along with his top-flight skills."

No.3 Ryan Sims, North Carolina
Strengths: Run defense and Play recognition
Weaknesses: Upper body strength and speed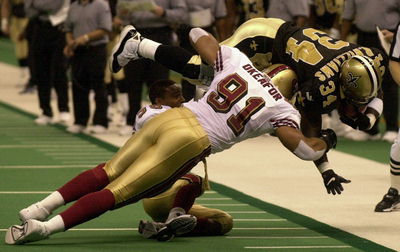 Sims has a severe problem, his problem is trying to stand out of the spotlight that is shining down on his teammate Julius Peppers, who is also in the draft as a number one draft choice. Sims stands 6-3 and weighs 290-pounds. He is excellent at run blocking, so good in fact that it should land him in the first round of this draft.

Sims is not the quickest off the ball but he has adequate closing speed and his leg drive is exceptional as well. He has been making steady improvement on a weakness a season or two ago and that has been the use of his hands, especially is pass rushing situations.

He was at one time a pass rushing liability, but his hand placement has created better leverage and his most renowned weakness became strength instead. He could ht the fitness room and work on acquiring more strength in his upper body, he sometimes gets "pancaked" on occasion.

He has notched five sacks, eight tackles for a loss and 51 tackles overall during his senior season. He earned All-America honors during his senior season, he is without a doubt a stout run-stopper and he has earned a nasty reputation for this. The University of North Carolina is well known for it's quality defensive linemen, Ryan Sims stands tall in this class and he will turn a lot of heads in this draft.

Mel Kiper, Jr., from ESPN said: "Head and shoulders above other defensive linemen at the Senior Bowl. Combines quickness and explosion with a non-stop motor."

No.4 Albert Haynesworth, Tennessee
Strengths: Size and quickness off the ball
Weakness: Field awareness


Haynesworth in all respects was expected to stay his final year in Tennessee but he has come out in his junior year. But he follows in his fellow teammate lead in John Henderson and has made himself available. He stands 6-6 and weighs 320-pounds.

A lot of the experts believe it is a good thing that he has come out in his junior year feeling he has out-played fellow teammate John Henderson. Haynesworth shows amazing explosion off the ball, he has a great center of gravity when he doesn't play high and has good use of the hands as well.

He will develop into a premier pass-blocker when he makes better use of his great wingspan. He has been improving upon his pass-rushing skills but remains solid against the run. He should be a first round selection; I would be surprised if he isn't.

He has posted 11.5 tackles for losses and broke up seven passes during the 2001 season. He has helped the Volunteers with a team-best 20 quarterback pressures. He has enormous physical abilities that are just waiting to be tapped by the right team. Even though he enters this draft as a junior he will be looked upon as a senior with his talent and ability.

Mel Kiper, Jr., from ESPN said: "Enormous physical ability. And he's still developing."


This is the top defensive tackle class of 2002, here is where the 49er's are more inclined to draft over an end. Especially since the 49er's acquired a quality veteran defensive end in free agency in Ex-St. Louis Ram Sean Moran. The 49er's will be looking to add depth to a tackle unit that has little behind the initial starters on this franchise.

Other great prospects in a good class of tackles include: Anthony Weaver a senior out of Notre Dame and Larry Triplett a senior out of Washington. The class will be highly picked over, as the league will look at building better defenses in light of the Super Bowl victory by the Patriots.

Sean Moran first came into the NFL as a fourth-round selection of the Buffalo Bills in 1996, this after a good college career at Colorado State. He spent four years with the Bills before he signed on with the St. Louis Rams for the past two seasons. His very best year came in 1997 when he started seven games and finished with 54 tackles, 4.5 sacks and two interceptions.

Sean Moran was a kind of defensive cleansing for the 49er's as they signed him shortly after signing strong safety Tony Parrish to replace Pro Bowl veteran Lance Schulters. The 49er's have struggled with their anemic pass rush and know that they need improvement in this area most of all.


Even after drafting Andre Carter with their first round selection last year, the pass rush still has not met the expectations of the ownership and the front office. And I need not say the fans as well. He signed a three-year contract that is worth $2.375 million annually and received a $400,000 signing bonus.

With the imminent retirement or release of veteran Junior Bryant after June 1st, because of a career ending neck injury. The 49er's knew that they needed someone to step in and take the initial role of leadership.

"Given how difficult it is to find defensive linemen in this league, you're always happy to add a veteran guy to the mix at that position," said 49er's general manager Terry Donahue. "We like Sean a lot and he'll fit in well with what we do."

"Sean has been on our radar screen since the start of free agency, Donahue said. "Initially he was a little bit out pricey for us, but Dominic Corsell and John McVay put us in the ballpark and we were able to work something out with his agent."

Donahue has made it well clear that Moran can play both on the outside and on the inside, he further stated that Moran would not be handed the starting position, that it would have to be earned during training camps and pre-season.


The impending drama of Junior Bryant is frustrating and unfortunate; Junior suffered a career ending neck injury that puts him at imminent risk should he ever play the game again.

He has been recommended to hang up the cleats and the helmet and move on with his life. I want to thank him and all his accomplishments over the seasons, I have enjoyed watching him play and being a part of the San Francisco 49er community. He is a true gentleman and humanitarian in the highest degree.

It was knowing this that compelled the franchise to seek out and find Sean Moran; he will have very big shoes to fill in Junior Bryant. We hope that he makes the pass rush a better reality this season. This is the last of my draft analysis, I hope you all will watch and enjoy this 2002 NFL Draft. God Bless our San Francisco 49er's.





Fan Press:
Now you can write articles for 49ers Paradise, and read what other fans have to say too in the Fan Press section.