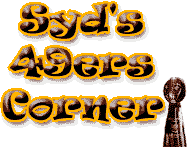 Strengths and Weaknesses unveiled. (07/12/02) 10:00 PM


With the dawn of a new season The San Francisco 49er's have come to terms where certain strengths and weaknesses lie in post-camp analysis. With camp done at Santa Clara headquarters the 49er's begin their journey to the final arena of competition in Stockton. This is where the boys will have to transform into men.

Mini-Camps has pushed certain players into the limelight and some of those athletes once disappointments now are showing new degrees of promise. The unavoidable spaces that have been seen as a weakness has been the lack of depth and experience in key areas especially on the offensive side of the ball.

After the three week long mini-camp at team headquarters the consensus was that these areas would need to be looked at more seriously heading into Stockton. The successes on the field though were many, and the coaching staff came away with new fond hope that this season very well could be the right season. Aspirations run high from training coaches all the way up to Mariucci as the horn blows to signal the ending of a wonderful three-week camp.


"I think we had a great camp here and got a lot done," said Steve Mariucci. "We had no major injuries; we installed offense, defense and some of the kicking game. I'm happy with what we accomplished."

What usually happens right after the last mini-camp is that veteran players are allowed to go home and spend time with their families should they wish to do so. Rookies and other un-drafted players are expected to remain and continue the hard work on conditioning and training for the season. The hard work put in at camp over the three weeks was so impressive that Mariucci felt there was a need to reward the players in a genuine manner.

"We moved the start of training camp back one day," said the head coach. "Everyone will report on July 21 and the first practice will be the 22nd. Everybody gets one more day off summer and then we get to work."

Still questions remain, rosters will need to be cut back, and this is always the most difficult of jobs for any head coach in the NFL. The day a player gets the word he is cut is a solemn one. You live, breath and eat everything there is about wanting to be a 49er and all of a sudden you are unemployed. It has to be a devastating feeling and emotion to find yourself on a scrap heap of rejected athletes.

"Really we have to settle the roster," Mariucci said. "We know who are starters are, but we have some real decisions to make at our back-up spots. And how many running backs do we keep? How many wide receivers? There are still decisions to be made."

What has been a busy off-season is that Quarterback Jeff Garcia has encountered exhaustion from being on the move so much in this time of reflection and training. Garcia has had to take many excursions to promote both the team and the league and do many sorts of charity work that has kept his head spinning.


When you become an elite quarterback in the NFL, your sphere of accomplishments entitles you to endless sessions of appearances at certain functions that promote the league in one fashion or another.

The many adventures you are sent on can be draining on you both mentally and physically. Jeff Garcia a fitness nut and faithful student is no different from that. "I'm a little run down," Garcia admitted at the conclusion of the team's final mini-camp.

What Garcia went on was a marathon of public events that had his head swimming everywhere but the water itself. He was summoned to the Pro Bowl in Hawaii, went to the NFL's Quarterback Challenge and participated in the 2002 MET-Rx Superstars Competition. He went on to visit with President Bush as part of a Hispanic Scholarship Fund, a Penthouse magazine question-and-answer interview and took part in being the subject in the ESPN series "The Life."

Even after all of this he then has to go out to Mexico City to promote the NFL. In the midst of all these things he has had to squeeze in a little time in training camp and play some football in the team's recent mini-camps.

Following his trip from Mexico City Garcia plans to rest and make it his priority to target football as his primary focus. This year's preparation though he has promised to do far less throwing, due to a reminder of what happened last year.

Because of his Hispanic heritage Garcia feels he has an obligation to be a part of the delegation to go to Mexico City and promote the NFL. He isn't sure though if he'll be hailed as a god or go completely unnoticed in a teeming city of 25 million people.

"I guess I'll find out," he said. His Spanish-speaking father, Bob, will accompany him. Garcia then plans to return home to the interesting life and times of being a NFL quarterback.

What bothered Garcia at the start of last season was his elbow. "In the past, I've thrown too much," Garcia said. "At this point in my career, it's not a matter of repetition; it's a matter of decision-making."


Another injury indication that bothered him last year was his knee. Having early season elbow soreness, a knee sprain on Oct. 28 and a late season rib injury has really hampered him physically. He has all but healed so far from all of these last season injuries and acknowledges that they did hamper his performance on the field.

His mobility and production late into the season was visually curtailed as he struggled to get the most out of every game. In fact the statistics confirm his beliefs that they did contribute to the overall final results as he struggled to find ways to make himself more comfortable.

"I wasn't running as much in practice because of my knee, and maybe that carried over to game time why I wasn't running as much," Garcia said. The statistics show this to be true and I could even verify from watching the late season games that his mobility was clearly jeopardized due to the knee and rib injuries.

Garcia had 44 carries for 213-yards through six games, and 28 carries for only 41-yards after hurting his knee, which he says has healed without any off-season surgery. He clearly became more of a pocket passer near the end of his rein last season as starting quarterback. It did not however prohibit his drive to take the 49er's into post-season play and to carry out his duties as a Pro Bowl quarterback.

Still questions remain. What would happen if Garcia were knocked out of the game for the season? Who would carry this team and lead it to the post-season party? That remains to be seen as back-up quarterback Tim Rattay has thrown a total of three passes in two NFL seasons. Sure Cade McNown has been acquired but he is no sure bet of even making the final roster in late August. Should he not make it that leaves rookie Brandon Doman out of Brigham Young as the third tier quarterback.

This is definitely an area of weakness when looking at the overall 49er offensive philosophy. Having someone that is proven and can step right in and take over should the starting quarterback go down is key to a season living or dying. Tim Rattay is all that stands between that formula and the future. We have to be absolutely certain that he can carry this offense should something go wrong.


With training camp getting ready to resume in Stockton the status of Giovanni Carmazzi remains clouded at best. The 25-year-old Carmazzi, a third-round draft choice out of Hofstra in 2000, missed all of last season following surgery to repair a shoulder injury suffered in NFL Europe. He has not even participated in any mini-camps because of bulging disks in his neck.

This has frustrated the front office and General Manager Terry Donahue to no end. Carmazzi once considered the next transition to Jeff Garcia has been a flop since being drafted in 2000 with that very vision in mind. Carmazzi demonstrated all that was right with running the West Coast Offense, he fit the prototype of that quarterback, and he had the size to be dominating in his reads and throwing.

"It's gone a long time now," Donahue said. "We've got to figure out something we're going to do." Carmazzi continues to be seen by a Los Angeles based medical group that has a contract with the NFL to handle injuries incurred at NFL Europe. Donahue has been irritated with that fact that Carmazzi cannot come under the 49er's direct medical staff for care with his injuries.

Should have Carmazzi been able to participate in the spring mini-camps, he would have been in the thick of the battle for the third string quarterback position. With others being cut such as Aaron Garcia and Cade McNown being acquired you now have a battle between McNown, Brandon Doman and NFL Europe quarterback Billy Cockerham.

"It's driving me crazy right now," said Carmazzi, a native of Sacramento. "Watching and learning was fun for awhile, but it's gotten kind of boring. You want to go out and apply what you know. I feel like I know what I'm supposed to do. I just want to go out and do it." "Whenever I get healthy, I can use the stuff I've learned. It's just taking a long time. I believe it's going to get better."


But we all need and know that Carmazzi's future is not with us, especially with Cade McNown on the roster. Comments on McNown were out of Miami that he had really gone into shell shock since being acquired from Chicago. Dolphin personnel could not believe at how emotionally damaged he had become since failing in the windy city.

Getting back to the Jeff Garcia story and his battles with injuries, he has shown that for the very first time, that he can incur significant injuries and still function. But as you all know and so do I, is that injuries effect performance and evidence is there to prove that very statement.

As if someone was listening to me, just recently the 49er's announced that an injury settlement with Giovanni Carmazzi had been presented to his agent and himself. It looks more than likely now that he will be released prior to training camp in Stockton. As I have said in prior articles the situation is most unfortunate, I wish there was a different route but it seems that he is the casualty that fits best in this scenario right now.

"I don't know if my right knee will ever be 100% again," Garcia said. "It's at a point where I don't feel it's a problem. It's important for me to have my mobility back because it affects my ability to make things happen on the run."

As far as I am concerned no one does it better other then Steve Young in my opinion. I have always marveled at the way Steve was able to make the impossible play while on the run, with a defensive tackle or end chasing after him. I have seen so many of these timeless elements take place. The same can be said of Jeff Garcia as he has ripped a chapter right from Steve's book and transformed it into his style of play.


I am always mesmerized at the degree of confidence and will to succeed when a quarterback goes all out to salvage a critical play or make the crucial third down to keep a drive alive. Both Young and Garcia were champions at this and Garcia continues this tradition and we should all be proud of his durability and courage while under fire.

As for Garcia's right (throwing) elbow, Garcia said: "It definitely was an issue at the beginning of the season, I've always felt soreness in double days, but this was a different feeling." Garcia admitted his elbow felt better as the season progressed thanks to doing rehabilitation, taking anti-inflammatory shots and wearing an elbow sleeve.

Jeff has made adjustment this season after going through some learning curves last spring, as he was preparing himself for the next season. He has reduced the number of throws he does with his arm and he has targeted certain weight lifting exercises to strengthen his throwing arm.

Jeff understands that the time clock is ticking on his career, he turned 32 in February and knows that the opportunity to make the Super Bowl is closing. He knows deep down in his gut that he must perform at his highest level over the next few years in order to have a legitimate shot, at entering post-season play, and going on to the Big Game.

Going back to the depth behind Garcia what would happen if Garcia took a hit that knocked him out for several games or even a season. Are the 49er's prepared to stay with Tim Rattay as their back-up plan? That is what a weakness is, not knowing because he has had such little time on the playing field.

Garcia has a style that is always on the edge. He is not very big nor is he that strong. He takes a lot of hits, and to be honest with you, you keep waiting for that one when he does not get up for a while. Almost to the same mold as when Steve Young lay motionless on the ground after a hit in Arizona.

The jury is still out on Rattay; can he handle the pressure of being a sudden starting quarterback? That still remains to be seen, and will again have to be determined with pre-season play.

Even though both Donahue and Mariucci believe that he can win games. Mariucci admits, however, that Rattay "hasn't had much chance to prove that." Instead, the coach has relied solely on practice and classroom observations.

To be frank and honest I have yet to be impressed with Tim Rattay, I believe he shows flashes of brilliance but is it consistent enough to carry a game or games should the need be necessary.

In all honesty you would ideally want a proven veteran as a back up quarterback, much in the same way that we carried Rick Mirer as insurance. Now the insurance is being counted on in failed Cade McNown thus leaving Rattay out on an island to prove himself.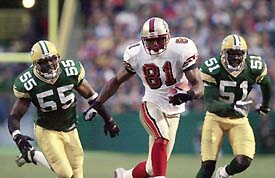 Rattay's last extended workout, starting and playing into the third quarter of last year's exhibition finale at Denver, was not encouraging. He completed 6 of 12 passes for 57-yards and threw two interceptions, both deep in the 49er's half of the field. That was a humiliating defeat to say the least, and you can read more on that game in my last 2001 review that I wrote on each game last season.

The next weakness identified is at wide receiver, as in my previous article we discussed J.J. Stokes and the restructuring of his contract. Stokes has lead this team on a path of ups and downs through roads that are full of pot holes. On some of those potholes he has virtually torn out the axles of the vehicle he is trying to move forward.

Ever since the 49er's used two first-round draft picks to draft Stokes in 1995, actually giving up the choice that the Ravens used to draft middle linebacker Ray Lewis, the proof has been crystal clear that we have made a mistake. Yet we continue to give this athlete chance after chance. We have broken all cardinal rules and bent over to accommodate this one athlete we still believe has potential.

When you compare him to the man he replaced Jerry Rice; there is absolutely no comparison. When you compare him to Terrell Owens there is still no contest as Owens plays hard and is consistent. Stokes is a nice. Pleasant fellow that has shown this offense pretty much nothing since 1998.

The 49er's have somehow taken the notion that as long as Stokes is in the lineup, opposing defenses will double-team Owens and not worry about what happens on the other side of the field.

Stokes has proven that he has trouble separating from very good defensive backs. Stokes has struggled mightily since his career year in 1998, and we are still waiting for that promise things will get better phrase.

In six consecutive losses to the Rams, Stokes has averaged 1.3 catches per game for 15.8-yrads, and scored zero touchdowns. This is pathetic folks, we need second tier production, we need another wide receiver that will contribute and be a force, that will draw away defensive backs from Owens enabling him to make bigger plays.

Recently, the 49er's have been looking at just that, by romancing the free agent Willie Jackson, who not only has good size and caught 81 passes for New Orleans last season. But his brother, Terry, is the 49er's top back-up fullback on the roster as well.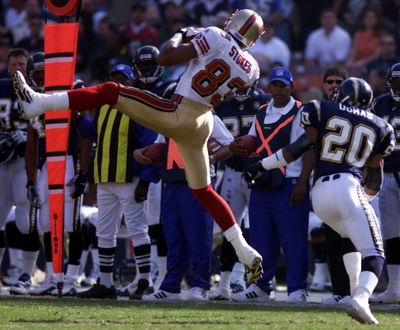 I don't know about you, but I feel it's time to end the curse of the St. Louis Rams. The only way to do that is to give them a dose of their own medicine. High-octane offense, an offense that is comparable in receiving. Of course you can't go out and try outscoring the Rams because many teams have died trying. You have to score and score often, but your defense must keep you in the game as well.

Willie Jackson would undoubtedly help the 49er's in many ways. With Willie Jackson in the lineup, the Saints beat the Rams in three of five games over the last two seasons. His totals for those five games: 24 catches, 485-yards and six touchdowns folks. Can Stokes equal or come close to those numbers? I think not.

With weaknesses being mentioned especially where it comes in conjunction to battling the St. Louis Rams, we already allowed one great receiver escape from our grasp. Indianapolis Colt Terrence Wilkins while in the prime of his career at 26 was available as a restricted free agent.

Wilkins has proven to be a worthy receiver but at the same time and even more importantly, given our immediate needs, he's an excellent kick returner as well. He ranked in the top half of the NFL last season in both punt returns and kickoff returns. What a valuable commodity he would have been to this team that has struggled consistently in this one area of need for far too long.

San Francisco's kick return specialist in the meantime checked in to a Florida residual-treatment facility, three weeks after his arrest for driving under the influence. Sutherland, 22, was charged not only with the DUI, but also with hit-and run because he left the scene of an accident.

When asked about the decision by Sutherland, a native of West Palm Beach, Florida; to enter the six-week rehabilitation program in Florida, La Jolla-based agent Joe Palumbo said, "It's in acknowledgment of his problem and in anticipation of any court order coming out of the case. He's kind of getting a head start on things."

Sutherland the kick returns specialist for San Francisco has not only tarnished the image of being a 49er, but he has also failed to make a breakaway touchdown with a catch and a return.

The emphasis on special teams in my opinion is lacking; we need to address this in the best way possible. Sutherland's stupidity should have signaled a needed change, although I'm all for one for second chances his failure on both fronts professionally and personally call for change.

Once Sutherland completes his rehabilitation program he is expected to resume his role in the 49er's lineup. But my question to all of you does he deserve it? Certainly he will have to make some positive progress to be worthy of holding on to his current duties. He holds a very crucial role in our future successes, to take this lightly is uncalled for.


"We have every intention right now to keep developing him and his skills with the team," Coach Steve Mariucci said. "As of right now he's on our football team, and the anticipation is that he is going to be in our training camp."

What is becoming a sign of strength is the depth that the 49er's have retained following the 2002 NFL Draft. Key positions are deep with talent and Steve Mariucci and Terry Donahue will face some very hard decisions when they are forced to cut the mandatory training roster from 95 to 80. As with any cuts the process will be difficult at best.

Also the maturity of the team as a whole is an indication that it is moving in the right direction, and with all 22 starters returning it needs little direction at that. It was much different in previous camps when the coaching staff was trying to fit the pieces all together and decide who would start where.

The 49er's in one area for example is very deep, and that is at the position of safety. It will be a tough instance to find out whom you are to settle with. I mean you have your chosen starters in Zack Bronson and Tony Parrish, but what about the deep cache in reserves? There you'll have decided among John Keith, Al Blades, and Ronnie Heard and then you have Kevin Curtis.

"There are some positions we're pretty deep at," Mariucci said. "And sometimes you can't keep them all." This is where hard decisions will have to be made; this is where the unpleasant aspect of being a head coach is all about.

Another person that noticed the degree of professionalism and maturity in the team as of late has been quarterback Jeff Garcia. He has indicated that he is impressed with the defensive unit and it's speed and relentlessness in pushing the offense to excel. He has seen many players grow and mature over the course of his tenure as the starting quarterback.

"We have a great group of guys," Garcia said. "The chemistry is the best situation I have ever seen. I think we will come into training camp this year ready."

Jeff Garcia shoulders the responsibility of his team, and he tries to push himself to the limit as much as he possibly can. He takes the lumps when others deserve it, as a true leader does in recognition of his teammates.

"I'm going to have to step it up," Garcia said. "I realize that the margin that I have left to play at this level, at my highest level, is lessening. It's getting smaller. So, there's probably a sense of urgency and that I really believe I need to play at my highest level the next couple of years; to get this team to the Super Bowl."


What you can be assured of with Jeff Garcia is that he will give it his all, I disagree with him in believing his skills and abilities are diminishing at this point, even at 32, he has a good six to seven years left in him. True he is in his prime and we should press for the gusto right now, but I am satisfied in having Jeff as we go into battle over the next few years.

In yet another positive development is often sidelined defensive tackle Reggie McGrew, he has been the focus of endless ridicule and scrutiny over the three years he has been a 49er. He has been a medical nightmare and a doctor's bill dream to the 49er's. Ever since acquiring him in the first round of the 1999 NFL Draft he has been a bust.

He has been largely sidelined with a variety of injuries especially over the last two years, McGrew though actually showed some positive signs last season as he totaled seven tackles and a sack in 12 games. And the coaching staff including defensive coordinator Jim Mora and head coach Steve Mariucci liked what McGrew showed in this spring's mini-camps so far.

"He's going great," Mora said. "He's in shape, he's light and he's working hard. He's about 315 or 320 pounds, but it's in-shape 320." Added Mariucci: "He's probably in as good a shape as he's been. He's doing practices back to back to back. He's staying healthy, he's focused and he wants to stay in that (defensive line) rotation."

"I've been enjoying the mini-camps. I feel really good," McGrew said, the 49er's first-round draft pick in 1999. "I've been doing a lot of fieldwork and a lot of (weight) lifting to make sure my body stays healthy."

I must admit and have made it no secret that I have been extremely disappointed in McGrew and I know I don't stand alone. He has been a failure at every avenue and the patience has been wearing thin for some time now.

We must have been thinking on the same wavelength as the 49er's exposed him in February's expansion draft for the Houston Texans. He dodged that bullet and, also avoided the June 1st salary cuts at that. But he still will have a lot to prove come training camp.

He will have to score very high in order to survive training camp cuts and the trimming of the final roster. He is scheduled to make a base salary of $700,000 this year, the third highest figure on the team next to wide receivers Terrell Owens ($3.6 million) and J.J. Stokes ($1.75 million).

Even Bryant Young and Dana Stubblefield are below his base salary figure as the starting duo of defensive tackles, each are set to make $650,000 in base salary.

No what sense does that make? Certainly McGrew deserves a lower base salary, it just happens to turn out that way with restructured deals and incentive clauses. There is still a possibility even should McGrew do well in training camp that he will be approached and asked to take pay cut.

I know I would certainly explore that based on his spotty production over the last three seasons, in my opinion that's the very least he could do in good faith for us.

"If they come do that, that's a bridge we may have to cross. I don't worry about things like that. It's their decision," McGrew said. "I've talked to a lot of coaches and they've been positive and I told them I definitely want to be back. Everything's looking good and we'll see how things pan out."

What the 49er's did this year is draft defensive tackle Josh Shaw, he is however recovering from a college injury and probably won't be ready till training camp or even beyond that. Jim Flanigan the Ex-Bear was also signed as a free agent and in training John Schlect has looked pretty impressive as well. The possibility is real that one of these tackles will not make the grade through training camp.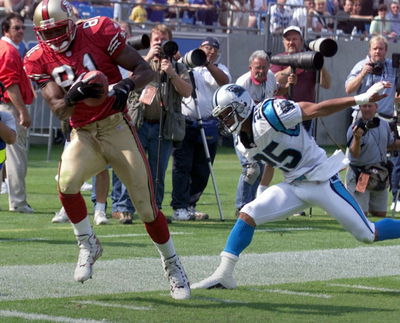 Either way McGrew in my opinion has to be at the top of his game in order to securing a roster spot. And even should he secure one a pay cut is in order. I believe in breaks and all but he has not made the contributions worthy of such a salary of that magnitude at this time. Restructure and laden it with incentives, that's the final deal.

What also is looking like a symbol of weakness is who is behind center Jeremy Newberry in the rotation? With Ben Lynch gone after the rescinding of his contract, that leaves only emergency offensive lineman Dave Fiore as the stopgap to that scenario. Fiore had to fill that spot just last season with less than desired results, in fact it almost cost us a game against the Atlanta Falcons.

Some considerations are being approached to as teaching the position to newly drafted Eric Heitiman and even Milford Stephenson. The reasons for not resigning Lynch are mysterious to me; he is a proven veteran at this position and probably could start anywhere with any other team. His presence as far as depth in my opinion was invaluable; I am anguished at the fact that we let him take a walk.

The coming of Stockton Training Camp comes with great expectation; I am planning on attending that camp this summer for the very first time. I look forward to the experience and hope I come away with some real eye openers from the experience. I plan on writing an article on the overall experience that I encounter there also.


The San Francisco 49er's are more mature and seasoned than they have been since 1999. In a two-year rebuilding project we have made enormous strides in reaching our goals and accomplishing tasks that were at some times thought unattainable.

The think tanks in the front office have been doing a great job and the coaching staff is exquisite as usual. We have managed to tuck away for the most part that pride of always winning and started to demonstrate patience, now maybe we will see the fruits of our faith come to light.





Fan Press:
Now you can write articles for 49ers Paradise, and read what other fans have to say too in the Fan Press section.