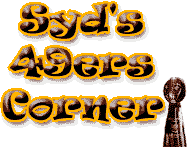 Off-Season moves put into perspective. (07/06/02) 1:00 AM




When I go back in time, back in the post era right after the playoff loss to Green Bay in January, I can't help but wonder even now where we would be, had we not made the moves we did.

There were multiple tasks and decisions to be made and ramifications from them would have to be managed. From the Steve Mariucci and Terrell Owens brawl to the NFL Draft and beyond, we persevered and change seems to be for the better.

One of the coaching changes that rocked the organization was when quarterbacks coach Greg Olson resigned from his position. He was caught in a sticky situation where he had to make a career decision in order to move his wife's career further ahead.

He returned to his roots before being called upon by the 49er's. He returned to Purdue University where he took up an assistant coaching position with the football team.

Olson was a hit with the coaching staff right from the beginning; he took his duties seriously and was a positive influence on the quarterbacks of Garcia, Rattay and Mirer.

He was well liked by all those in the 49er organization, the sudden news of his resignation was both shocking and understandable, almost noble for the cause he was promoting was actually for his wife and his family.

He made that his priority and stuck to his commitments in serving all of them. It was a hard decision based upon his advancement from college to the professional coaching ranks.


"Greg did a great job in his year here with us, said head coach Steve Mariucci. "We all understand the importance of family and the need to be closer to his wife. While we enjoyed him as a coach and a person, we knew it was difficult for he and his wife to be apart. We will miss him and we wish them the best of luck in the future."

Olson had to make the difficult decision based on his enduring faithfulness to his wife; his wife is the head coach of Purdue's Track and Field program. She was named to her position just last year and is believed to be the first female to be in charge of the men's track and field program in NCAA Division I history.

If anyone can relate to what Olson was feeling I certainly can, being in a position that demands large amounts of time and having to travel long distances to see each other is crippling to one's relationship, I know I had to do this also.

Obviously the 49er's were in no way considering replacing him; the news was shocking when they received it. His work in just one season is apparent as Jeff Garcia threw for 3,538-yards and 32 touchdowns in 2001, thus becoming the first quarterback in franchise history to throw for 30 or more touchdowns in consecutive seasons.

Garcia then went on to be named to the Pro Bowl for the second consecutive time. As you can see it was a loss to see him go the work he has done in one season in my opinion was impressive to say the least.

Olson went back to Purdue to resume his position as an assistant coach with the Boilermakers as they are called at Purdue. He joined the 49er's only after serving four years at Purdue where he helped develop two-time Heisman Trophy finalist Drew Brees.

As you know after offensive coordinator Marty Mornhinweg was destined for Detroit to be their head coach, quarterbacks coach Greg Knapp was promoted to his position opening the slot for Olson to come in.

"This was an extremely difficult decision for me to leave San Francisco," Olson said. "This was a dream job and not many guys get a chance to say they worked in the NFL, let alone working for the 49er's. I loved the year I spent here, but this was a decision I had to make that was best for my wife and me. She has made so many sacrifices along the way and this is a chance for me to give one back to her."

In March the 49er's went about to find a new quarterbacks coach that could fill the crucial gap left behind by Greg Olson, it would be a difficult process so it seemed at the time. But the 49er's would soon stumble on to a gem in Former University of Southern California and San Diego State head coach Ted Tollner.

During his time at USC, he compiled a 26-20-1 record, claimed one PAC 10 Championship and participated in three Bowl games. His 1984 USC team posted a 9-3 record, finished 10th in the Associated Press poll and upset fifth ranked Ohio State in the Rose Bowl 20-17.


Tollner also has another twist to his talented career and that is the 1986 coaching staff he had with the University of Southern California. Of those coaches one of them was none other than Steve Mariucci, who at that time was a wide receiver/special teams coach under Tollner.

He also had now a part of the 49er staff Pat Morris as his offensive line coach. The hard reality is that Tollner had already made his name a frequent spoken name on the tongue of now head coach Steve Mariucci. Tollner's credentials and accomplishments were many, and who would be a better evaluator of that then the assistants that worked under him.

Tollner left The University of Southern California in 1986; he then began a seven-year stretch of NFL coaching with a 1987 job coaching the wide receivers with the Buffalo Bills. In 1989 he was then named the offensive coordinator for the San Diego Chargers and even later served as quarterback's coach of the Los Angeles Rams from 1992-93.

The difficulty of finding a coach at the time Olson resigned was monumental; most teams already have all their coaches in place for another run at another season. Most coaches are well under contract by this point into the year.

Many options were mulled over and the 49er's realized that training another assistant at this point would take time and energy. Finding someone in the college ranks that was familiar with the West Coast Offense was crucial. And when you are trying to find an assistant offensive coach the burden of training falls on coordinator Greg Knapp.

On Monday, March 18th the San Francisco 49er's made Ted Tollner their own, replacing Greg Olson as quarterbacks coach. His challenge is to learn the nucleus of the offensive system in regards to the 49er's. He is confident that he will be able to do just that, having seven-years at the professional level will help him tremendously in getting off on a fast track.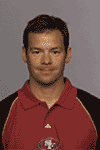 "This is a great opportunity for me," Tollner said. "It happened fairly quickly. I called Steve a week ago to express my interest and it culminated last night when he offered me the position."

"We are fortunate to land a veteran coach like Ted Tollner," said Steve Mariucci. "He has a brilliant offensive mind, with an expertise in quarterbacking and has worked with such greats a Steve Young, Jim McMahon and Jim Everett."

The experience that Tollner will bring to the 49er;'s is worth its weight in gold. The very fact that we were able to obtain him is a testament in itself. I credit the coaching staff for their search and find of Tollner.

I am impressed with the degree of experience that he will bring to our system. He will be greatly embraced by the old regime of Bill Walsh and Terry Donahue as well.

I am happy that Steve Mariucci will also be able to acquaint back to his early college coaching years, and the time he spent with Tollner. This bond will be invaluable down the stretch, as the 49er's try and position for post-season play.

"I'm looking forward to working with Steve again," added Tollner. "And I know Pat Morris, Bruce DeHaven, and Jerry Attaway; so there are some familiar faces on the staff. It's great to be able to do what you want to do with people you know."

What is interesting enough also is that Ted Tollner was the only interview for the coaching vacancy. As you can see the mind was pretty made up to begin with. Tollner was born May 29, 1940; Tollner earned a bachelor's degree in 1962 and later a Master's degree in physical education at Cal Poly.

He was a starting quarterback at Cal Poly for two years and pitched for the baseball team for four seasons. He was one of 26 survivors of the tragic Cal Poly plane crash on Oct 29, 1960, which killed 22 people, 16 of them players. He now lives with his wife Barbara, have two daughters, Linda and Tammy; one son, Bruce; and nine grandchildren.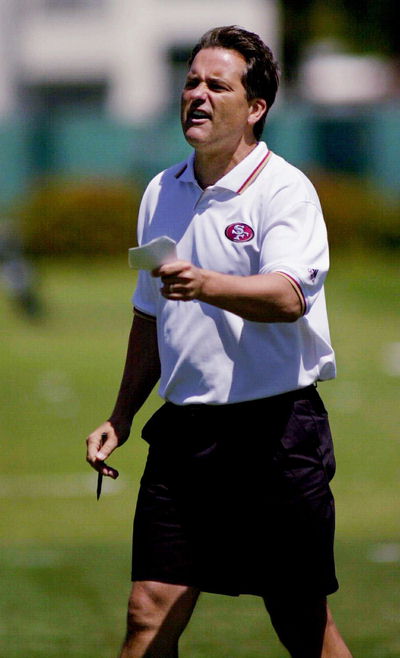 He seems to be a very credible family man as well as a father and grandfather. This seems to be the right choice in my book by far. He brings a passion for the game and an intensity to win. His advice will be considerable and his knowledge of the game extensive. These are just another sign of what is generated from this proud organization.

In regards to his new boss in Steve Mariucci, he has nothing but admiration for his former assistant. He speaks eloquently of his young offensive trademark and is committed to helping the offense. At 61, you would think that Tollner had done it all but like all old football minds, his is not willing to call it quits just yet.

"I got to know him and I gained a great deal of respect for him and how he handles his players, coaches, as well as for his understanding of football," Mariucci said. "I just felt at the time he was a class act and one heck of a coach."

Tollner signed a two-year contract with the 49er's after serving as an assistant athletic director at San Diego State since his dismissal as coach Nov. 12th. The Aztecs were 43-48 in eight seasons under him.

"San Diego is a great place and I could have done that, but I wanted to keep coaching if I could," Tollner said. "I know the grind, I know the detail work and some of the other things that some people think are not all that fun, but it's what I like to do, and I still have the energy and passion to do it."

What Ted Tollner will help us with the most in my opinion is shutting down and finding the weaknesses of the St. Louis Rams offense. He is most familiar with the "Air Coryell" offense used by the San Diego Chargers in the late 1970's and 1980's and revived by the now St. Louis Rams. He will now focus on learning our system, and finding out how we can match up with the Rams.

"I need to really get myself totally involved," said Tollner, who just last year turned down a chance to become the Cleveland Brown's offensive coordinator. "Terminology wise, I'm not familiar. There are lots I have to learn and be able to relate to how they're communicated." "I just have not coached this terminology of the offensive schemes."

Greg Knapp will be in charge of his development, and in my opinion will have little trouble getting Tollner ready and on the same page as all the coaches. Naturally this will come to him based on his past and record. He takes everything he does seriously. "He's going to be a quick study, even though he hasn't taught the West Coast system," Mariucci said. "He'll come in as a student first to learn the system."

In another interesting move the 49er's in March reached out to one of it's own from the past in former quarterback Steve Bono, he was hired to help develop future relations with players both past and present. He has been named the alumni coordinator and will join a group that already includes Guy McIntyre, Jesse Sopolu, Keena Turner and Eric Wright.

Going back in time Bono, was originally a sixth round draft pick of the Minnesota Vikings in 1985, he spent 14 seasons in the NFL and was a member of the 49er's from 1989-93. During his career he started 42 games and completed 934-of-1, 701 passes for 10,439-yards and 62 touchdowns.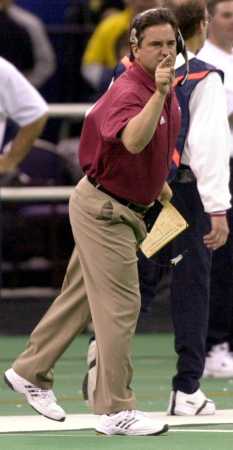 This brings another accomplished veteran into our organization, certainly the 49er's record of bringing back it's own is worthy of considerable merit. You have to believe that they are working at every angle in order to establish itself among the very elite all over again. Bono is a welcomed addition at this position.

"This gives us an opportunity to reach out more to our alumni." Said Turner; the 49er's Player Development Director and the point person for the clubs alumni efforts. "It also helps us to be more involved in the community and to allow the public to interact with the San Francisco 49er's and our great history."

How does this Alumni work? It impacts the organization on several different fronts; first it helps to support football operations by creating bonds with current and past players alike. The Alumni also assists the 49er's in the area of sales, marketing and community relations. All noble causes and needed causes.

I am a firm believer that an organization is only as strong as it is closeness with it's own fans. It is the fan that pays to see the players and it is the fan that brings revenue and splendor to an organization status.

In even more light for 49er news, the 49er's back in April made a pitch to wide receiver J.J. Stokes, take a restructured contract or prepare to be cut. Stokes has been the subject of many fans disdain and ridicule. There are even some that defend him tooth and nail and believe he is the next best thing to Terrell Owens and should be given more chances and time.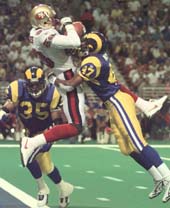 The 49er's felt they needed to address this issue going into the 2002 NFL Draft, in hindsight to figure out if they would need to draft a receiver or not. Most on the staff seemed to believe that J.J. Stokes would be sufficient but only at a greatly reduced cost.

His up and down career as a 49er has been well scrutinized and documented. I have shared the ups and the downs of this wide receiver that I had high hopes for throughout each and every year.

"We would very much like to have the situation with J.J. resolved before the draft;" Terry Donahue said one day. "He'll be asked to consider some things with his contract that we think are necessary for us to make this team successful."

Stokes in 2001 had a pretty good season considering, he caught 54 passes for 585-yards and seven touchdowns. His numbers are there, but not enough to really justify the contract he was about to make. The former UCLA star was set to make a base salary of $3.75 million this season and his cap-figure would have been close to the $5 million dollar range.

Stokes took on the second seed at wide receiver with the waiving of legendary veteran Jerry Rice. Jerry of course not ready to retire moved across the Bay to play and had an outstanding season there and continues to play. Did Stokes fill that critical role that Jerry had with us?

Absolutely not, not to the potential of a Jerry Rice even at his age of 39. Stokes afflicted with nagging injuries and inabilities to separate from defenses have struggled to find his niche in the 49er system almost from day one. If anyone has received second and third chances it has been Stokes on this club by far.

"While I fully expect J.J. to be back with us can I guarantee it 100%? No I cannot," Donahue said. "We are talking to J.J. and his agent about being at a number that is advantageous for the team and for J.J."

The 49er's have appeased to Stokes time and time again, holding on to that single hope that he can be a difference maker out on the field and draw coverage away from Terrell Owens. Has he lived up to those expectations that have been the question?

He received a fat contract in 1999, when he pocketed a $4.5 million signing bonus. The 49er's had opportunity to break their relationship with the troubled receiver right before their first mini-camp. The 49er's had even sacrificed at one time two first round draft picks in order to draft Stokes.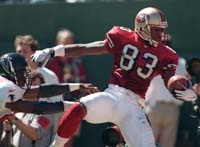 One has to think that even J.J. Stokes has come to the bitter realization that he has failed the franchise at certain intervals of each season. That is why after weeks of negotiations Stokes agreed to drop his 2002 salary from $3.75 million to $1.75 million (incentives would increase the deal to $2million.).

In even more retrospective the 49er's believed that they could have gone even lower, citing that their 1995 first-round draft choice probably wouldn't fetch more than $1 million in free agency today. But was that the right thing to do? Probably not, Stokes had proven to be adequate just not outstanding. He could get the job done.

This still tends to irritate your mind as to why the 49er's would even bother after so many seasons of inconsistency. If there are so many problems and his performance is so erratic, why keep him at all? This is what fans have debated about and argued over for some time. They seem to be holding on to some symptom of hope that all will be better, just need more time. But how much time is too much?

"I don't know if there are any receivers in the National Football League who run a better route," aid wide receivers coach George Stewart, a hard line Stokes supporter. "He's a dependable receiver."

Even Steve Mariucci admitted that Stokes probably was underused last season, not getting the repetitions that he needed to step up to that next level. Stokes has been looked to simply as the great hope of someday replacing Jerry Rice, he has done that but the results have been mixed.

"J.J. can be extremely productive if given the opportunity," Mariucci reasoned. The question still lingers though as to can he be productive on a consistent basis. That is what still remains to be seen. I have held on to this hope also that somehow J.J. will be able to step up and make big plays when we need them, only to be let down in games my hopes were peaking.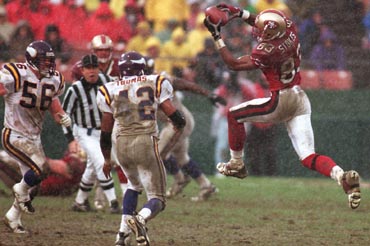 George Stewart said 40 of Stokes 54 catches in 2001 resulted in first downs or touchdowns, and he dropped just three passes. The team has had it's glory moments with him going back to 1998 when he caught 63 passes for 770-yards and eight touchdowns.

These were highs in his career as a 49er. Right after that 1998 season though he was demoted to third receiver status over the next two seasons, Stokes went on to catch a combined 64 passes for six touchdowns.

I can remember Jerry Rice once saying; "maybe it's time that I move on so that these fine younger receivers receive the playing time they justly deserve." He said this more than once, and in all of it he was referring to both Owens and Stokes.

He realized that his time was waning and theirs was just beginning. He felt like he was stealing playing time away from these athletes but he also on the other hand detested not being the number one option anymore.

Stokes was the second-leading receiver last year, but he still had an annoying habit of just disappearing. In a three game stretch at the beginning of the season, he caught a total of three passes for just 24-yards.

Against New Orleans on Nov. 11th, he was totally shut out. And he hasn't gone for over 100-yards receiving since he caught nine passes for 110-yards against Indianapolis on Oct. 18, 1998. Now one has to wonder where in the heck has he been?

It was over this period of time where Terrell Owens took the lead, it was always a rivalry some of sorts when these two were on the field together, who would score more, who would have more catches and yardage.

But Owens always seemed to triumph in the long run. Even though Stokes has accepted his reduced status next to Owens, Owens has been a staunch supporter of Stokes. Even lobbying Mariucci after their power summit back on April 9th to keep Stokes at all costs.

The consensus at the front office though is uncertainty, so much though that General Manager Terry Donahue even considered nabbing wide receiver Jabar Gaffney with the team's first round draft choice (Gaffney went six picks later to Houston).

However the need to have a proven cornerback was much greater. The 49er's still considered a receiver in the second round but traded back to then third to wind up with Saleem Rasheed at linebacker.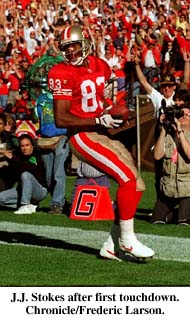 In regards to Stokes pay cut was it necessary and was it justified? I would have to agree with that it was. Based on the numbers that were just written, you have to think where is he? But have we on the other hand provided him with enough looks and included him in enough situations that he could make the catch.

"If it weren't all right," Stokes said when asked how he felt about the pay cut, "I wouldn't be here." "I feel like I have a lot to contribute to this team, and I feel like I could be used more," Stokes said. "I have a lot more to offer. They haven't used me to 100% of my capacity, maybe their capacity, but not my capacity. I'm hoping that'll change this year. I've got to do everything in my power to help that change."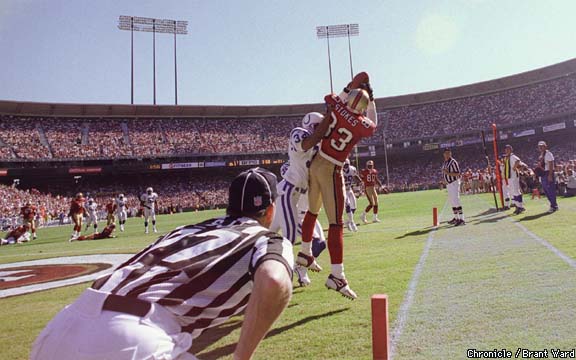 Quarterback Jeff Garcia can see where Stokes is coming from also, and wants to see him get more repetitions in the offense. He has been a supporter of Stokes also, and believes that he can be used more as a significant weapon in the 49er offense. If at all to get coverage off from Owens even more.

Garcia added, "I think it's important to get J.J. more involved, be able to spread the ball around a little bit more." Stokes though has damaged that chemistry with Garcia by simply not being healthy.

He reported to training camp last season in excellent shape only to pull a hamstring on the first day in Stockton. As a result, he missed all of camp, which may have diminished his rapport with Garcia on the playing field in all honesty.

No one can dispute that the timing of such an injury is critical to continued presence and chemistry on the field with your quarterback. Garcia having lost that playing time with him, probably felt more comfortable throws to Owens as he practiced more with him throughout the training camp process.

"As far as rhythming-up with a quarterback and getting your timing, I think hopefully a guy can have mini-camps and training camp," coach Steve Mariucci said. "It's not just timing of the routes, it's the improvising, because they're reading routes together, and they're reading coverage."

"Playing together a lot helps that. That's why you'll see quarterbacks and a favorite receiver have that relationship, because they play together for a lot of years."

Stokes though does not see that much of a problem with working with Jeff Garcia, he looks forward to getting more opportunities with him on the field. And he encourages Garcia to throw his way and test him, he does understand though that injuries do take away from that time and sometimes that leads to declining passes his way, it's a natural consistency.

"When I was fully healthy the last five or six games, it seemed like I started to touch the ball a lot more," he said. "I'm hoping we can start where we finished or even improve upon that."

Garcia went on to add, "It was unfortunate that he wasn't as involved in training camp as he would have liked to have been, but I don't think it really took away from what were able to do. I think we need to be better at giving him certain opportunities when there is a noticeable mismatch."

No one can dispute that we want that from him, obviously if Stokes was to increase his magnitude and presence on the field it would create big advantages in coverage's are concerned. Having two viable receiving threats versus one goes a long ways in moving the ball down the field.

Now the opportunities were there for the 49er's to eject Stokes as big established receivers had made the waiver wire after June 1st. Veteran receivers such as Chris Carter and Willie Jackson along with Keenan McCardell and Derrick Alexander. The 49er's chose instead to offer the olive branch of hope that Stokes could finally step up and take his rightful place along side Owens.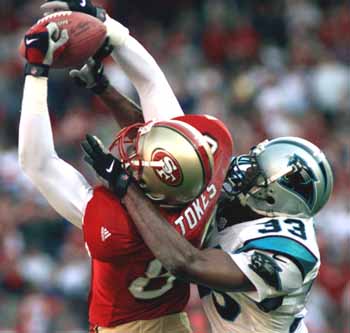 We have to somehow believe that this offense will roll along, like it has the past five years in a row, Stokes has taken his place in this lineup. He must be counted upon more heavily and the coaching staff must try and present him with more opportunities.

I want to exhaust all questions that it was the coaches that didn't provide him the opportunities. We must erase that notion and J.J. Stokes must himself deep inside make the transition from mediocre to well above average.

I believe that is the answer for Stokes, I believe he does have talent and abilities. I know he has explosion and makes great catches over the middle and dominates in size advantage, yet he continues to struggle to find separation sometimes. He must be better than that the 49er's are counting on him. Second and third chances are all used up.





Fan Press:
Now you can write articles for 49ers Paradise, and read what other fans have to say too in the Fan Press section.