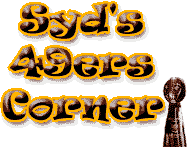 San Francisco's offensive line underrated and one of the best 12/15/01 11:00 AM
The San Francisco offense is probably one of the most underrated offenses in the league, not only for this season but last season as well. We seem to be in the overcast shadow produced by upstairs in the St. Louis Rams. A shadow that is a constant reminder that we are trailing and need to find a solution to this very season.

Going back in the beginning of the season the 49er offense, the starting one that is hadn't even scored a touchdown going into their third pre-season game of the year. A pitiful start for an offense that is now generating excessive yardage and points combined, on the arms, hands and legs of many talented playmakers on this offense.

Any offense in the NFL must have the correct components to succeed once their season starts; they must have a solid offensive line and a quality quarterback and running back. They also must have a array of receiving weapons from varying degrees, and they must possess a great coaching staff to utilize each and every player for their own individual abilities and direct them to a common goal.

This offense which ranked fourth overall in the NFL last season is off to another successful start, even though it had a rocky start in the beginning of the season. Just look at last season compared to this season and you can see that the offense is more fluid and confidant, and in many ways is picking up right where it left off last season. The excitement from the coaching staff to the players themselves is infectious and starting to bear beaming smiles on many a 49er fan.

"It's great for us to kind of start where we left off and not really go through that lull again," said Garcia. Who by the way wound up a Pro Bowler last season but was nearly benched two weeks into the season after being outperformed at times by back up Rick Mirer?

"After that second game (vs. Carolina), I was put into a situation where my job was threatened, and if I didn't perform I'd be replaced. That's not great for the confidence of any quarterback, but it was good for me, I think, as far as learning experience, learning to push through it." "Now it comes down to not having to look over my shoulder and really feeling secure as a leader on this team. I'm coming out with that confidence on the field right from the beginning this year."

Jeff Garcia started the pre-season with a splash by throwing a touchdown pass to rookie wide receiver Cedric Wilson in Week One against the Chargers. But the biggest sign of his offensive comfort level came when he played the Raiders, when Garcia found favorite target Terrell Owens in single coverage against cornerback Eric Allen and heaved up a confidant toss. Owens reeled in the 38-yard touchdown pass, and proved from there on out that the offense was clicking on all cylinders.

Added Coach Steve Mariucci, "That's what you expect when you return your entire line intact and two Pro Bowlers (Garcia and Owens). It's when you have all these new parts that it takes a while to come around."

Another offensive player that comes to light as I look back to the beginning was back-up center Ben Lynch; he is a player that lives just a short few miles from the training facility in Santa Clara. His dedication to work ethic is intense and everlasting.

If there is something Ben Lynch has learned from being drafted by Kansas City Chiefs in 1996 and then bouncing around a few years before landing a position with the 49er's, it is that professional football is a full-time, year-round job. Bottom line Lynch has worked diligently to make a roster spot and be the main man when starter Jeremy Newberry goes down.

Lynch, 28, is a product of Analy High in Sebastopol, has never had the luxury of job security while playing in the NFL. Even just last summer when the 49er's didn't invite a third center to training camp. Lynch still did not feel comfortable with his role as back up to Newberry.

He went right to work in the off-season and bore the brunt of all the summer sweat as he was determined to eliminate his competition and solidify a roster spot with his team. He knew in the back of his mind he would have to be in top form in order to achieve a roster spot on the 53-man final list.

"You look at a guy like Ray Brown and the number of years he's been in the league and he's still studying as much film as anyone is," Lynch said. "It just shows that you have to constantly be working and trying to get better."

The heat of competition for Lynch came in the form of Bruce Wiggins, an un-drafted free agent from Arizona. It is when Lynch struggled in the exhibition opener against San Diego, is when the door swung open for Wiggins.

Lynch sustained badly bruised ribs in the game. His play was pretty much erratic after that. He was even beaten in pass protection a couple of times and admittedly didn't explosively block in the 49er running game.

With this Lynch knew he had to return with a strong performance to offset the damage he had done in the previous game. Feeling much better he bounced back against the Raiders with a very solid game. Lynch has since done a great job and managed to beat out the competition and keep his position.

"The center is the most important of the positions," offensive line coach Pat Morris said. "He's the one who makes the line calls. I think Ben played two or three games last season, but when Chris Dalman went down in (1999) we didn't miss a beat when Ben was in there. It helps that he's been in the system a couple of years."

All too often we take quality depth for granted and just focus on the starting players of any professional football team, I believe Ben Lynch is a necessity to this club for all that he brings to the table. I have absolutely no doubt that when Newberry goes down and he has before that Lynch can step in and fulfill that role admirably.

In retrospect this season the departure of offensive coordinator Marty Mornhinweg was a deafening blow to the 49er offense. However his prodigal Gregg Knapp was promoted and has been doing a great job this season.

When Steve Mariucci came to the team back in 1997, he took control of the offense and called most of the plays during his first two seasons. The last two years, Mariucci delegated that responsibility to Mornhinweg.

But with Mornhinweg playing head coach fro the Detroit Lions, Mariucci chose Gregg Knapp to fulfill those duties, in fact he has in by in large relieved Mariucci of the play-calling duties but Mariucci continues to be involved for keeps sake.

Constant communication within an offense is vital to that offense playing efficiently and with regularity. Mariucci knows this all too well, as he has been involved with play calling right from the beginning.

"I wanted to do it," Mariucci said. "Marty had never been a coordinator and I wanted to take full responsibility for the offense because I was the new head coach coming in."

"There are always going to be times in press conferences when someone asked why we threw on third-and-1 or why we called a certain play. I wanted to be in a position where I could give an answer instead of guessing what another person was thinking."

The sharing of those duties continue but Mariucci has been happy thus far with the schemes and plays that Gregg Knapp has come up with throughout the season. Knapp, 38, is beginning his seventh season in the 49er's system, the first three as a quality control coach, the past three as quarterbacks coach. He will continue to retain the duty of carrying on electronic communication from sideline-to-quarterback, New quarterback's coach Greg Olsen will sit in the booth.

"That communication with the quarterback is valuable," Knapp said. "I think that has helped Jeff Garcia a lot because I remind him of certain things when I call the play into him between snaps."

"Somebody has to take control of a drive and call the plays with some continuity," Mariucci said. "You have to be able to set things up three plays later and that's tough to do if more than one person is calling the plays."

Steve Mariucci makes it all too clear though that he holds the final decisions in any on going process, even when he hands over the play-calling duty full time to Knapp he will still be in control. Mariucci loves taking an active participation in the offensive process. He is constantly wide-eyed and jumping up and down on the sideline, almost his very own cheerleader.

"If Marty was calling the plays, I'm on the headsets with veto power," Mariucci said. "I'm never going to get too far away. It's never going to be completely (Knapp's) show." This is the head coach that likes to be involved and gives constant insight to all of his assistants, he is a head coach that is a participator and he likes the idea of listening to all of his staff and compiling a game plan. He is a head coach that takes responsibility for the team as a whole, and works hard to finalize decisions.

The formula for this success has attributed to our winning record, Mariucci has always maintained that you must take small baby steps to get to where your final destination is. But it seems we hit a tremendous growth spurt this season, by obtaining a winning record and blowing the entire skeptic's away. No one including myself could possibly fathom that we are where we are right now.

The 49er offensive line is a proud one. When say a proud one I say a seasoned one with consistency. This is a line that has made possible a running game that is second to none in the NFL. It also has one of the lowest quarterback sack ratios in the league. It's sound fundamentals and techniques provide this high-octane offense with the energy it needs to feed off from.

Veteran left guard Ray Brown is where this begins. He at one point did not believe he would be back this season to play another year. He mulled the notion of retirement in his mind. But he returned for reasons that are deep in his rooted family, he returned to play his 16th season.

Even though his teammates offered support, and the 49er front office eventually renegotiated his contract to his liking. Brown continued to ask himself at 38 years old why he should stay in and play in such a violent game? The source of his comfort will tell you why, and it will enlighten you as to what family really means when making decisions that will effect your life forever.

"Not to blow this up and make this dramatic, but I appreciated my dad telling me some things before he left this earth," Brown said one day after training camp practice at the University of the Pacific. "He emphasized to me that I could still do this. He told me not to be frustrated by what other people thought."

I for one and many others would be hard pressed to find anything remotely wrong with the nature of Ray Brown; he is a very dignified and giving human being. He is always doing what is best for the team and for his family and community.

The 49er media relation's staff even joked about printing business cards that said "Ray Brown, professional gentleman." But what is very clear about Ray Brown is his ability to bring out not only the best inside himself but so many others as well. He creates great team chemistry and is a huge contributor to locker room morale. Ray Brown epitomizes the professionalism in a football player as well as a human being.

"Yeah, after the season, I maybe thought about (retiring) a little," said Brown, who's entering his sixth season with the 49er's. "I was going through my contract renegotiation and I talked to (then general manager) Bill Walsh. It was put out for me that I could retire, go play somewhere else or comeback. I appreciate the integrity with the way I was dealt. A lot of teams just shove veterans out the door."

Brown agreed to lower his base salary in compliance with not leaving and taking pay cut in February. He agreed to lower his 2001 base salary to $477,000, and he came away with a $1.8 million signing bonus.

"His last few years have been real steady," 49er's Coach Steve Mariucci said. "I don't know how much longer we'll have Ray, but at 38, he's somehow been able to maintain that same level. He's not ascending. But he's not descending; we love having him here, not only as a player, but also as one of our true leaders."

When you look back on Brown and his career you have to marvel at his longevity and his inner accomplishments both physical and emotional. Just last season he had one of his best seasons. He yielded no sacks and started all 16 games. An amazing accomplishment considering he had arthroscopic surgery on his right knee during the bye week on Nov. 21.

Even so finishing the season at 6-10 sent up red flags about Brown's future, he contemplated right after that frustrating season about calling it quits. He did not feel like he could transcend that gauntlet again and face another disappointing season.

"Maybe I was frustrated with how last year turned out, how close we were to .500. I was exhausted," Brown said. "A lot of it had to do with where the team was and how they were negotiating with me."

The 49er's have been there for Ray, especially after his dad passed away, many of the players turned out or called in condolences. The specialty that was given to Brown meant a lot, and the formula of that everything pertains to football was removed. This was what the right thing to do was all about.

Someone else that is a wheel to this offensive line and is greatly appreciated is none other than offensive tackle Derrick Deese. In fact a media relation's representative called Deese during the off-season and wanted to publicize his new status as the San Francisco 49er with the most longevity.

"I said no way, Ray Brown's been playing 16 years," Deese recalled. "Then they said, 'No, I mean on the same team." The roll call of former names went over Deese's memory as he remembered names like Rice, Norton, Young, McDonald, Hanks and Barton. Deese, begins his 10th year with the 49er's, suddenly realized the truth to that phone call.

Derrick Deese has been the body guard for many a 49er quarterback most notably Steve Young and now Jeff Garcia, he has also been the most versatile offensive lineman. As he has had to play a variety of positions when depth was fragile and he needed to move over.

"Wow. That blew me away right there," Deese said. "I'd never even thought of it. You look at all the guys leaving and you're still that same guy that's still here, still playing, still overcoming things."

"It's been a struggle. It hasn't always been easy. If you look back to when I first came into the league, there is no possible way you could have told me I was going to be here 10 years."

The hard facts were that he was nearly gone following the 1994 season, when the St. Louis Rams signed him to an offer sheet that the 49er's matched. He was on the ropes in 1995, when an ankle injury wiped out his season and left him in a reserve role the following year. It was the dark side of his career he does not like going back to.

Now it is Deese that is on charge of passing on the 49er legacy. Most of his teammates were still in high school when Deese was the starting right guard the last time the 49er's won the Super Bowl.

What Deese learned from that past experience was immeasurable beyond comparison, he learned what it had to be like in order to be labeled a 49er. It was a philosophy that was instilled in every player at that time. A doctrine preached in the huddle and in the locker room that players that called themselves a 49er really meant something special.

"I believe in doing all the extra things it takes to be 49er, things I learned when I came here from guys like Harris Barton, Steve Wallace, Jesse Sapolu, Guy McIntyre," Deese said. "There's really not that many of us left that even know about it. Hopefully we can get it instilled in the younger guys and they can carry it on."

The tenuous journey that Deese has had as a 49er is vivid in his mind, as he has had to overcome adversity and many an injury to stay a main piece of this 49er offense fro so many years. It has not been without controversy and a flair for the dynamic at times.

Had it not been for Bobb McKittrick, the long time offensive line coach, who died of bile duct cancer in March 2000, Deese probably would not have made it past 1993.

Deese was on the injured reserve in 1992 with an elbow injury, them met the same fate fro the next season after breaking his left wrist. Taking all of this in to account and his senior year at USC, Head Coach George Seifert planned on cutting him. But McKittrick sold Seifert on Deese's quickness, athletic ability and versatility, skills that compensate for a considerable size disadvantage.

Because Deese in many aspects at that time was considered too light to be an offensive lineman, during that time the trend in the NFL was leaning towards linemen being huge or gargantuan. This did not fit Deese at all in any category.

The average starting weight of the 31 players projected as starting left tackles this season is 313.6 pounds. Arizona's L.J. Shelton is the biggest (6-foot-6, 360-pounds). Deese is the smallest (6-3, 289).

Many believe bigger is better, well the trend now is just the opposite as Deese is light and possesses great leverage he is able to keep would be defensive ends at bay and protect his quarterback with maximum efficiency. He has proven this to be the truth almost every time. His teachings under former and now deceased McKittrick have played well inside his head and he has used those fundamentals and principles to be so successful as a lighter offensive lineman has.

New 49er's offensive line coach and disciple of McKittrick Pat Morris is also a big Derrick Deese fan. He can see the positives in what Deese has to offer and he implores those same philosophies in all his linemen. In other words the baton of knowledge has been handed to Morris, and the great 49er coaching legacy continues to generate itself.

"Everybody is going to question his size, but the bottom line is that athletic ability, in any sport, is the No. 1 quality," Morris said. "Is that the only reason he's lasted this long? Of course not. He's intense, he takes pride in his position and he wants to do well. He may be the smallest, but it does not make any difference."

Of these same inner and outer qualities Deese imparts these principles on aspiring young linemen each year at the Derrick Deese Offensive and Defensive Line Camp at El Camino College. This is a place where Deese becomes a teacher and helps many a young student see what it takes to become a professional player.

"A lot of people say anyone can be a lineman, and it's not true," Deese said. "Some of them are cocky little kids who think they can do it all because they're strong in the legs. Then at the end of camp they're saying thanks because they didn't know they needed that much work."

He is called upon at one time or another to play a position that is not his own by nature and with his experience he is able to deliver. In many a crunch time Deese is the one they call upon in a tough situation. However Desse will inherit the left tackle position and is playing that position for the second consecutive year.

"And now he's begging me to throw him a touchdown pass," 49er's Coach Steve Mariucci said. "He's got versatility going for him, which is something I preach to our entire team. The more you can do, the better off we'll be."

"People ask me to state my name and position and I just say, "Derrick Deese, offensive lineman," Deese said. "Year in and year out, I don't know where I'm going to be playing."

What the matter of fact is, is that not many players in the league have this type of versatility, one may look at this as a weakness due to him not being stable in a position for a long time. But overall he has handled whatever has been thrown at him, and he takes it on as a personal challenge to further himself.

Another smallish lineman that is would never have made it as a 49er is starting right guard Dave Fiore, if not for offensive line coach Bobb McKittrick he would probably be somewhere else other than San Francisco. He was a scrawny lineman from Hofstra and small in size as well.

It was in 1996 when he got his calling to the 49er's, then coach McKittrick was intrigued with his ability and talent potential. He like Deese had to overcome unbearable odds to be a professional football player; maybe this is why we have one of the most underrated offensive lines in the league today.

"He has overcome injuries, he has overcome position changes and he just keeps fighting," said offensive line coach Pat Morris of his starting right guard position. "His strength to me is all he wants to do is play football."

Fiore as he was making his mark in the 49er camp had to overcome two major knee surgeries; his smarts and quickness intrigued right from the beginning Mc Kittrick. He also managed to be versatile and unselfish by constantly switching positions.

Ask any of the other players about him and his greatest attributes and they each have a different answer. Newberry says Fiore is the strongest member of the team. And Scott Gragg says it's Fiore's intellect.

"He reminds me of (former Giants guard) Rob Zatechka, who was a 4.0 (grade-point average) medical student at Nebraska," Gragg said. "They pick up smaller details and when they are talking to you they want to make sure every detail is right."

Needles to say Fiore majored in biochemistry at Hofstra. When tight ends Brent Jones and Ted Popson got hurt in the 1996 training camp, coaches converted Fiore to a tight end, The 290-pounder quickly trimmed down to 275 and started going out for passes

. What else is surprising is that coaches didn't even have to put him on a diet, they managed to run him into the ground during two-a-day practices by sending him on deep routes to clear space for wide receivers.

What you find with in Dave Fiore is his dedication to winning games and proving to his teammates that he is worthy to be standing side by side with them. In the heat of battle there probably is none better to have by your side then Fiore.

On the first drive of his first exhibition game, Fiore played three different positions: tight end. Tackle and long snapper. "That's how I made the team," said Fiore, who played well despite the many changes.

Being a nontraditional tight end he kept the referees busy because of the number he wore, he had to report to the officials before every snap. "The funniest part of the whole thing was over the loud speaker they kept saying, '74 is now eligible. Seventy-four is now ineligible.' It was like a cartoon."

Since then due to injuries Fiore was released by the 49er's over McKittricks objections and wound up with the New York Jets for awhile where he then tore a major ligament in his left knee. The Jets were then going through the process of putting him on waivers and this is where McKittrick spotted him and took him back, unprecedented because of a very bad knee he still took him.

Fiore managed to comeback after the damaging knee injury through a grueling rehabilitation program, and has managed to get on the starting lineup as the right guard last season. Since then he has been nothing but exceptional and plays with a nonstop motor. He has been a major reason that this offensive line has managed to spring a comeback by Garrison Hearst and allowing Garcia to pass for incredible yardage.

What is another shocking move made by the 49er's earlier in the season was the reincarnation of rookie wide receiver Cedric Wilson into a quarterback? Back before the October. 7th game against the Carolina Panthers the coaching staff approached Wilson in practice and told him he was the No. 3 emergency quarterback.

He was drafted as a wide receiver out of Tennessee this spring; Wilson became the third-string quarterback when they hosted the Carolina Panthers one Sunday night at 3Com Park. Wilson was an all-star quarterback at Melrose High School-Memphis, Tennessee, passing for 6,847 yards in his career and 2,947 as a senior, according to the Memphis Commercial-Appeal.

"I still find myself missing playing quarterback," said Wilson, who switched to wide receiver as a sophomore at Tennessee after being buried on the depth chart behind Peyton Manning and Tee Martin.

Wilson became the No. 3 quarterback because of the 49er's needed to add an offensive lineman. Mariucci said. Center Jeremy Newberry was doubtful for that game because of an ankle sprain, prompting the 49er's to promote guard Mulford Stephenson from the practice squad and release rookie quarterback Ricky Ray.

A sixth-round draft choice by the 49er's, Wilson led his high school team to a 15-0 record, earning MVP honors in the state championship game. He was one of the most highly recruited players in Memphis but decided to attend Tennessee though they had two exceptionally talented quarterbacks.

He has since moved back to his receiving position after the 49er's reacquired back-up Rick Mirer after releasing him due to salary cap restraints. He plays an important role as the fourth receiver, an occasional kick or punt returns and is invaluable to our special team's squad. It just seems like life's curveballs even apply to professional football sometimes does it not?

The enigma of this offensive line is real, what it brings to the surface is hard nosed in the trenches type football. And we have been dominating most of the time. It is something to be proud of as we continue to roll right along to a playoff berth. We sometimes forget it is these men that make the offense click and produce, without them we would not be where we are right now.



Fan Press:
Now you can write articles for 49ers Paradise, and read what other fans have to say too in the Fan Press section.