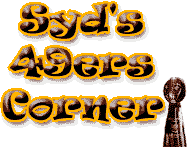 A Renaissance has started in San Francisco. (10/10/02) 8:00 PM


Following a combination of victories the San Francisco 49ers are now back in the drivers seat in the National Football Conference Western Division. The questions regarding the mediocre offense have been answered in most aspects but injuries continue to plague the team to no end In a very short amount of time the 49ers have been able to address the visible weaknesses on their offense and have made simple and ideal execution.

Injuries have been a back breaker for the 49ers as it has been for other teams as well, this is where you begin to discover rather your team has the ideal depth or not. Depth remains the coveted prize that all teams in the league drool over; we have only begun to solidify that this season by drafting for that purpose only.


Seven-year offensive guard Dave Fiore was lost for the season following the victory over the Washington Redskins. He was placed on the Injured Reserve by the team on Wednesday September 25th, 2002. He tore up his ACL in his knee and is expected to be out approximately 10-12 weeks at best.

Dave is a big teddy bear of a man, a man that is honest and so down to earth. He will go out of his way to talk and carry on a conversation with anybody. He is a gifted athlete in the area of immense strength and he is a stabilizing force on the 49er offensive line.

To lose all of that is a big thing in my opinion. His locker room presence is also one of confidence and integrity. He started every game for the 49ers this season, and moved over from right guard when veteran Ron Stone was brought in. He held the right guard position for two years. He has played every single position along the entire offensive line, including some games last year and in the pre-season at center.

No.#74 would do anything to better this team. He is all about teamwork and is a very selfless person. Dave Fiore knows this type of injury and has dealt with it before; it is the most devastating injury an athlete must deal with.

Just this past summer Fiore served as honorary captain in the 30th annual game between the New York Police Department and New York Fire Department. It was a special time because of the 9/11 scenario.

Following Dave's injury the 49ers moved quickly to try and fill the huge hole created by his absence. After inviting seven to their training facility in Santa Clara the 49ers chose the 6-3, 293-pound Craig Osika, who was a former Indiana Hoosier and a member of the San Diego Chargers practice squad.


Osika spent two years at Indiana as their starting tight end, catching 16 passes for 184-yards and four touchdowns. In his junior season the unusual switch from tight end to center where he became a two-year starter and earned honorable mention All-Big 10 honors as a senior.

In other related injuries the 49ers received a double whammy in both Jamie Winborn and Julian Peterson suffering injuries against the Redskins. Winborn the fastest linebacker on the team is expected to Miss five to eight weeks with a sprained MCL.

He was relegated to splitting time with Jeff Ulbrich and all of a sudden Ulbrich was injured earlier in the season. Ulbrich now is healthy and is assuming the full-time duties with rookie Saleem Rasheed as the top back up.

Following the game Julian Peterson also suffered damage in the form of a sprained MCL and only a severe bruise on his hip. Peterson showed up at practices prior to the game against St. Louis but did not participate. Peterson revealed that he was greatly relieved to find out the damage was not as serious as anticipated.

Steve Mariucci following the Washington game gave his players some time off to rest up and recuperate from a long stomach virus that spread through the team's ranks. There were also many options the injured players had due to the break, with most of them choosing rehabilitation assignments. The 49ers fearful for the linebacker depth with Winborn and Peterson sidelined made some roster moves.


They released newly drafted tight end Mark Anelli and they brought in linebacker Brandon Moore. Moore is very familiar with the 49ers after going through their training camp in Stockton. The 6-1, 242-pound rookie was signed as an un-drafted free agent following his college career at the University of Oklahoma. Moore had 16 tackles and one pass defense during the pre-season.

In reference to the strength of the team, the 49er defense is to be commended for their fine play over the past three games in the regular season. The 49ers are finding that blitz packages are almost non-existent because they are generating a steady push from their front four like never before. The starting unit for the first time in two-years is applying enormous pressure on the opposing offensive line like you'd never believe.

The ends in Andre Carter and Chike Okeafor and the tackles in Bryant Young and Dana Stubblefield have been the spear that has headlined this defense. Carter in his second-year has made immense improvements in technique and style.

Okeafor a fourth-year scholar has busted out of his seams in a surprise display of strength and athleticism. Dana Stubblefield is finding that he is definitely at home again feeding off the intensity from his partner in Bryant Young.

Both Stubblefield and Young have been able to tie up the offensive guards and tackles, which allow the ends in Carter and Okeafor to roam free. Even Julian Peterson has had success in coming in from the outside to the passer. Carter wore down Redskin Pro Bowler tackle Chirs Samuels in the game against Washington.


"When a Bryant Young comes up to you during the game and says, ' Jim, we can get there with four; we don't need a blitz. Well, shoot. You say, 'Well, great." "That's their pride, you know," Mora said one Tuesday. "Their job is to get there and rush the passer. They want to feel like they're doing that and they are. We're even getting good pressure with three. It's much better."

What was once a weakness last season has become a source of inspiration and strength this season. Through three games the 49ers have registered 10 sacks. They finished with 32 sacks last season. With the pass rush being the sole reason they drafted defensive end Andre Carter out of California, Carter delivered as a rookie with 6.5 sacks.

Both Carter and Okeafor, who is a fourth-year veteran drafted in the third round in 1999, have registered three sacks apiece. Okeafor has been a dramatic surprise for the 49ers having beaten out John Engelberger in pre-season and has discovered he has non-stop motor.

Defensive Coordinator Jim Mora is full of praises for his players as each and every one of them have committed to a rigorous off-season program that has paid off for several players. He also points to the coaching of defensive line coach Dwaine Board and Dan Quinn, the defensive quality control coach.

He further states that both veterans in Stubblefield and Young have provided the fire for this defense to erupt, by flushing the quarterback out of the pocket and into the waiting arms of Carter and Okeafor.

"They made it a real source of focus and you see it paying off. It's an excellent group of players, but they're also real professional. Real prideful-type guys," Mora said. "They want to make sure they're doing what they need to do to help this team."


All I have to say folks is that our pass rush is back. These four guys have made me smile on more than one occasion already. I have been impressed with each and every one of their plays, as their timing and rhythm seem to be in sync more than I have ever seen it. I would love to relish in the days of Charles Haley and Chris Doleman. I believe that we have found the perfect scenario for this defense.

Washington Redskin quarterback Shane Matthews would be the first to tell you that the 49er defense is for real. He felt the heat almost every play as the four relentlessly applied pressures and pursued him out of the pocket.

He was sacked three times and was hit another 10 times. Andre Carter registered two of those sacks. Matthews never really had ample time to plant and throw to his receivers, causing their offense to falter.

All of this was done to Matthews without calling for a general blitz. It was not needed and hasn't been needed for much of the season thus far. The constant pressure even without a sack has made the opposition really uncomfortable.

And the more that this happens on a regular basis the more a reputation will be built again. Opposing offensive linemen and quarterbacks will become psychologically infected with knowledge of their intense pass rush.

"That makes a defensive coordinator feel good," Stubblefield said. "It makes it sweet for the defense if these guys know that we can get to the quarterback and drop seven, eight defensive backs."


Questions soon after the Washington victory began to circulate as to the up and coming contest with the St. Louis Rams minus their star quarterback Kurt Warner to a broken finger. One of those was highlighted due to the absence of Dave Fiore at left guard. It would be the 6-foot-3, 301-pound rookie from Stanford that would get the call to fill that void. One that he did well in replacing Fiore in the Washington game.

Eric Heitmann a seventh-round pick in the 2002 NFL Draft replaced Dave Fiore in the third quarter against the Redskins after tearing the anterior cruciate ligament in his right knee. He more then held his own as the line opened holes for their 120-yards in rushing yardage. Heitmann was in all senses not supposed to be this good; after all he was a seventh-round draft pick.

Just before the draft back in April, Heitmann was projected to be a middle-round draft pick by most standards. But doctor's discovered a stress fracture in his lower back during a physical at the NFL scouting combine and, as predicted, his stock plummeted down the charts.

The 49ers however took the risk. They drafted Heitmann with the 239th overall selection. Now, they are putting his amazing comeback and placement right up there with seventh-round diamond tight end Eric Johnson out of Yale. Johnson was another gem found back in 2001, and is now on pace to be one of the best tight ends in the NFL.

Heitmann saw work in the pre-season after Pro Bowl veteran Ron Stone hyper extended his right elbow at right guard. He started three games there in his place and performed well. Now he is starting in Dave Fiore's place at left guard against the Rams.

The switch to left guard, Heitmann said, shouldn't be much of a problem. "That's the position I played in Stanford," he said. "So it will be a natural transition."

Derrick Deese the veteran at left tackle displayed faith in Heitmann's learning curve to the NFL. He has been a vocal supporter and a trusted comrade to Eric as this scenario un-folded with Dave Fiore. Deese has been in his corner coaching him and providing sound encouragement. Derrick had this to say about Heitmann.

"He got to play guard with the starting group, so he was already going against starters. He came into Sunday's game (after Fiore was injured) and filled in fine. He had a little nervousness, but they (rookies) all do."


Said Heitmann: "I remember going into this game last week feeling a little bit anxious. I got in there. I felt comfortable and I think the pre-season helped out a lot."

What was the most intriguing was the coaching from the sideline to Heitmann via the injured Dave Fiore. He continued to give pointers to Heitmann as the game progressed and let him now that he was ready to do this regardless of the inexperience.

"Dave is an incredible player. What happened to him is unfortunate," Heitmann said. "He's almost a mentor to me. He helped me a lot."

One thing that has helped Heitmann prepares for the professional level has been the support from his fellow college teammates. He even moved closer to the area and finds stability in an area he can relate to. He realizes that his roots are precious to him and he downplays the minor bulging disk in his back, not related to the previous condition discovered at the scouting combine.

"A lot of players have to deal with a lot of distractions, being in a new environment so far away from home and friends. I didn't have to experience that," Heitmann said one Monday. "I still have all my friends from Stanford. I'm still living in the same house as last year with a few guys who still play for Stanford. The environment is so comfortable for me; it helps me deal with the transition."

So it has been he stood in and replaced Fiore in the 20-10 victory over the Redskins at home. He can certainly do it again at home against St. Louis and beyond. Matt Willig is expected to be near full capacity as well after being out with right knee problems himself.

The hard reality is that there is almost nothing behind Willig should another offensive lineman go down. Many have criticized the franchise for constantly over looking the offensive line and focusing just on defense. It has been the miracle work of former line coach Bobb McKittrick and now Pat Morris that have made this line so special.


The talk before the game against the St. Louis Rams was one of confidence, what would be a bye week for the players would be another long week for the coaches as they studied a mountain of game tape on the Rams. The Rams suffered a huge setback with a long injury to quarterback Kurt Warner against the Dallas Cowboys. The Rams reeling from that loss and others found themselves at (0-4).

For three years the Rams have harassed and defeated the 49ers on six different occasions. The curse had to be broken and every player on this 49er roster wanted that, it was a sense of urgency that compelled him or her.

The stigma has always been the road to the Super Bowl runs through St. Louis, now they had a game at home in which to prove just that, and at the same time some help with injuries to the Rams that would make the task easier.

Going back to last season is most painful for me in remembering the Rams; they were yet again the obstacles to all our dreams. Twice last year we faced them, the first we lost 30-26, in a game in which 49er playmaker Terrell Owens dropped a handful of passes all but accepting the total blame for that game.

Owens would vehemently want a re-match to redeem him and he got one. In the second game with the lead in the division all on the line again the Rams defeated the 49ers 27-14. Once again the 49ers would need both sides of their ball to function in unison and win this game as a team.

One thing that we did not do prior to this game is take the Rams for granted, No rough talk from someone like Lance Schulters proclaiming the Rams wide receivers as "being soft." And no single instance where the 49er s felt they could pulverize them while they were down and out.

"We don't anticipate them changing their offense. They did not change their offense when Trent Green got hurt a few years back and a guy named Kurt Warner took it over and did very well," said Steve Mariucci. "Jamie Martin's been around long enough to know how this works. He was productive last week against Dallas. He'll have a full week of practice, that's much more than he had last week. We simply have to put a good plan together, execute the plan and play our best football."


The fact of the matter remained that the 49ers really hadn't played their best football game yet of the season, and the speculation surrounding that was uneasiness regardless of the Ram injuries. These guys had beaten us for six consecutive games, and they were coming to us. With injuries to our own it kind of made us almost balanced against each other, yet we knew that we had to end this streak right here at home.

In still more practice squad moves the 49ers resigned tight end Mark Anelli to their practice squad and added a talented kick return specialist in Aaron Lockett, who had a strong record setting college career at Kansas State. He ranked as the only player in school history to gain over 4,000 all-purpose yards (4,023), a number that ranks him fifth all-time in the Big 12 Conference.

Comments by Terrell Owens after the 49ers defeated Washington, were blown again right out of proportion. Owens made a comment in which he thought was still a lack of aggressiveness on the coaching staff to manufacture points. After suffering a big point differential back in pre-season in the American Bowl, many players like Owens wanted to avenge that by running up the point spread in this victory.

"We have no killer instinct, period," said Owens, who caught just two passes for 33-yards but ran 38-yards for a touchdown. "I think I wasn't the only one who felt like that. For whatever reason, we did what we had to do."

Mariucci of course being the diplomat that he is downplayed the seriousness of Owens comment. And indicated he felt strongly about avenging their loss in the first game by running up the points.

But the health of the team was put in grave risk. Players had succumbed to the stomach virus ravaging the team. It was that fact and more that brought Mariucci to play the game to win and not to embarrass or seek revenge for a prior loss.

"We were a sick team to start and became a banged-up team," Mariucci said. "This was one of the reasons I played it very conservatively and safely the last couple of minutes. We wanted to finish the game strong, but we couldn't afford any more injuries. We decided to take a knee."

I have to support Steve on this one, we were visibly hurting, and we were playing with Tim Rattay in for Jeff Garcia. We had lost Jamie Winborn, Dave Fiore and even Julian Peterson to injuries. Steve had an obligation and a duty as a head coach to try and prevent any further damage for the sake of glorifying just one game.


Game #4 (Win) 49ers 37-13 over Rams

The streak was ended, no more six consecutive victories. The San Francisco 49ers has finally done what they have been trying to do for three years, defeat the St. Louis Rams. It was a game in which all the old had arisen out of 49er mediocrity, over the last three games ending with a devastating illness that ran through the team against Washington.

It was a new beginning for an offense that had been squandered and denied time and time again as opposition played the "cover2" type defense to take away the long strike to Terrell Owens. This time we had a cure for that.

The first quarter proved to be a very good contest as the Rams came out on the opening drive trying to score, to set the tempo under quarterback Jamie Martin. With some nifty passing and running by Marshall Faulk the Rams drove all the way down the field to the San Francisco 20-yard line.

A false start on Rams lineman Adam Timmerman helped stall the drive, and some incomplete passes here and there helped end a drive that lasted for 9-plays and 60-yards with kicker Jeff Wilkins kicking a 38-yard field goal for the Rams to go ahead 3-0.

On the kickoff 49er tailback Terry Jackson brought the ball out of the end zone for a 23-yard gain. Here the 49ers set up camp, with Fred Beasley and Garrison Hearst provides the punch to start off. Hearst had an around the right end run for 40-yards before being taken down.


Terrell Owens would round that out with a 14-yard gain and Hearst running some more to get within field goal range for Jose Cortez who kicked a score from 33-yards out on 7-plays and 62-yards to make the score tied at 3-3. The Rams thus began on their 23-yard line to start the next drive.

Here on this drive the arm of Jamie Martin would meet a sound 49er secondary that excelled in pass defense. Incomplete passes would be the curse to all three prolific Rams receivers. An Illegal Use of Hands penalty on Mike Rumph would give them new life but the drive would be more of the same. Pressure from the front four was intense on Martin causing him to hurry passes. A punt to 49er cornerback Jimmy Williams resulted in a 20-yard gain to start at our own 29-yard line.

Jeff Garcia would employ the shotgun formation here as he had on the last drive. He was determined to find an aerial attack. Kevan Barlow had a nice 15-yard run around the left end to the St. Louis 39-yard line. St. Louis would hurt themselves with a roughing the passer penalty for 15-yards, that was controversial. Setting up anew on the Rams 18-yard line it was only a matter of time.

With a Barlow run and a Garrison Hearst reception the hot read was next for none other than J.J. Stokes. Jeff stepped back and delivered a 13-yard strike to Stokes after the run in. I was so excited to see that Stokes was made the primary read and that the running game was being established.

On 9-plays and 71-yards the 49ers had established a tempo that the Rams were very unfamiliar with. Jose Cortez's extra-point was good and the 49ers led the game 10-3 with just: 16 seconds left in the first quarter. On the punt Rams wide receiver Terrence Wilkins would bring it out 21-yards and set up camp on the Rams 18-yard line.


Here is where momentum was building for the 49er fans. The screams and were becoming more deafening and the Rams wanted to quiet the crowd by scoring immediately. On the first play Jim Flanigan stuffed Marshall Faulk for no gain. A wonderful read and plays. But Faulk would have a nice run of 24-yards that would help the Rams punch into 49er territory.

Stubblefield would then bat a pass away and put pressure on Martin that continued to the degree they were forced to punt to begin the second quarter. The punt was downed effectively making us start from our own 4-yard line.

Here Jeff Garcia would face a difficult obstacle; a false start penalty ensued on the rookie replacement of Dave Fiore on Eric Heitmann. Garcia then stepped back and delivered another hot read to J.J. Stokes, which was caught at the 49er 17-yard line, and Stokes ran with it all the way to the St. Louis 47-yard line for a gain of 51-yards.

Hearst would then be employed again as would Owens for 17-yards. After this it would be all Jeff Garcia as he made one run out of the shotgun and another from six-yards out to score a touchdown. With Jose Cortez's extra point good on 7-plays and 96-yards the 49ers went up 17-3.

On the punt the Rams would get a nice return from Terrence Wilkins setting them up camp on their own 41-yard line after a 42-yard return. Jamie Martin came out firing finding Proehl and Holt and with some help from Faulk reaching the San Francisco 29-yard line.

On the next drop by Martin he threw a pass intended for Ricky Proehl that was intercepted by 49er strong safety Tony Parrish at the 49er 16-yard line and he returned it all the way to the St. Louis 34-yard line.

Here Jeff would set up camp and deliver some short passes and both Barlow and Hearst would have some minimal gains as they approached field goal range for Jose Cortez. With a two-minute warning just passing and a timeout the 49ers opted for the field goal from 21-yards and it was good. On 9-plays and 31-yards the score was 20-3 49ers.


On the ensuing punt to Terrence Wilkins he returned the punt by Cortez for 29-yards, here the Rams set up shop on their 31-yard line. Jamie Martin again came out firing, hitting Tory Holt and getting a penalty on 49er Andre Carter for Encroachment.

Going out of the shotgun though the 49ers redeemed themselves with a sack on Martin for minus seven yards by linebacker Jeff Ulbrich. Again Jamie got up called for the shotgun and threw a pass intended for Marshall Faulk that was intercepted by 49er cornerback Jason Webster at the St. Louis 37-yard line and he ran it in from there for a touchdown.

This was a great moment for me and for many of the Webster bashers. Now they had nothing to complain about. Jason Webster although bitten in Game #1 against the Giants was still one of the best corners around in my opinion.

The extra point by Jose Cortez is good, and on zero plays and 37-yards from the interception the score now stood at 27-3 49ers. With only: 04 seconds remaining the punt was made and the half was over. The 49ers went into their locker rooms with a chip on their shoulder and a lot wiser of the Rams.

With St. Louis punting to start off the third quarter Terry Jackson brought the ball out to the 49er 16-yard line where Jeff Garcia set up camp. Owens became the first target for 12-yards and Hearst ran and caught the next phase of positive yardage.

But on third down and three yards to go, Jeff was sacked by safety Adam Archuleta that blew right by rookie Eric Heitmann for his first mistake. Garcia was sacked for a negative seven yards, forcing them to punt. Wilkins would only gain three yards on the return though.


To start the third quarter Jamie Martin knew he had to make something happen, Marshall Faulk began with a run and then there was Offensive Holding called on St. Louis putting the drive into jeopardy. Then on a setback pass by Jamie he threw an interception as it was perceived to 49er cornerback Mike Rumph, that was negated because of a roughing the passer penalty on Chike Okeafor that ended that hope.

Jamie Martin found new life and drove the Rams all the way down on short passes and runs to the San Francisco 12-yard line. Here he threw a touchdown pass to Tory Holt that was called back because of a penalty on St. Louis for offensive pass interference that was clear and present.

Martin was unable to salvage the next drive and provide another touchdown as the 49er defense tightened its grip. Therefore Jeff Wilkins kicked a 37-yard field goal that was made after 14-plays and 49-yards to make the score 27-6 49ers. On the punt the ball landed at the 49er 27-yard line going out of bounds.

On the next San Francisco drive that would take them into the fourth quarter, Jeff began with a series of plays starting with a run by Barlow. With some short passes and runs the 49ers marched all the way to the Ram 14-yard line.

Due to an incomplete pass to Tai Streets the 49ers chose to kick a field goal. On 11-plays and 46-yards Jose Cortez kicked a 32-yard field goal to make the score 30-6 49ers. It was the beginning of the end for the Rams.

Again on the kick Terrence Wilkins would have a good return for 42-yards, taking it to the Ram 47-yard line. Here Jamie came out firing passes that landed short of their intended marks and they punted for a touchback. San Francisco had the ball after just a short time once again.

Jeff Garcia would feed the ball to Garrison Hearst who would make a nice run of 24-yards up the middle followed by a Terrell Owens pass for 23-yards and a Streets pass for nine. Hearst would again take over and in the end run in a touchdown from 16-yards out. With Jose Cortez's extra point good on 7-plays and 80-yards the 49ers went up 37-6 49ers. On the punt to Wilkins he brought it out 20-yards to the St. Louis 24-yard line.


Jamie Martin would look at Marshall Faulk to ignite a spark, and he had runs of four, nine, three and four yards. Then as Jamie dropped back and threw to Faulk who was hit by Parrish it looked like Faulk had no control after being called a catch. The 49ers challenged and it was overruled as an incomplete pass.

The 49ers would take over after a kick out of bounds at their 38-yard line. Tim Rattay would come in to mop-up and provide a rest for Jeff Garcia considering the score. But the Ram defense finally held tight and the 49ers punted to the Rams in which they fumbled the ball and managed to recover.

Now the Rams would begin what would be their final drive. Martin would make a series of passes and running plays that would go by the two-minute warning. Getting down to the 49er 41-yard line they would regroup and call a timeout. Martin would come out firing again hitting L. Gordon for a 7-yard touchdown. Wilkins extra point being good on 13-plays and 81-yards the score now stood at 37-13 49ers.

On the final possession by the 49ers at their 13-yard line they chose to kneel and allow the clock to wind down courtesy of quarterback Tim Rattay. It was a glorious moment for all 49er fans, not just in Candlestick but all over for one's that watched via a television set as well. The momentum had clearly swung are way at the half and it never relented.

In passing Jeff Garcia was 18-of-26 for 214-yards and one touchdown with zero interceptions. St. Louis Jamie Martin was 23-of-40 for 232-yards for one touchdown but two interceptions.

For St. Louis in passing it was Marshall Faulk with seven for 37-yards followed by Ricky Proehl for four for 41-yards. And for the 49ers it was Terrell Owens for seven receptions and 89-yards and J.J. Stokes for two key receptions for 64-yards and a touchdown.


On the rushing highlight you have to like Garrison Hearst who had 13 carries for 116-yards, and Kevan Barlow for 10 carries for 50-yards. On St. Louis it was all Marshall Faulk for 18 carries for 73-yards. This was a pure indication that the 49er offensive line exacted dominance at the line of scrimmage. And that rookie Eric Heitmann played a good game.

On defense it was none other than Tony Parrish and Jason Webster each with a pick off Jamie Martin. And Jeff Ulbrich for the sack. Of course credit has to go to the whole unit for limiting the Ram receivers and to rookie Mike Rumph for playing a good game. Martin really had no time to feel really comfortable and it showed all day long. I give this game an A+ on the account that this game was won on all fronts by the 49ers.

One can say what they want, but I have a great feeling in seeing this offense explode finally. I enjoyed every aspect of this game as we mixed things up, but most of all we executed each play effectively. Hats off to the coaching staff for sticking to their game plan and ideals. Obviously with some more time it was just a stone's throw away.

Now we have Seattle on a Monday Night televised game. It will be essential now for us to establish a winning record with our own division members. Having faced only the Ram thus far we need now to set the target high on the Cardinals and Seahawks. Until next time God Bless our 49ers.





Fan Press:
Now you can write articles for 49ers Paradise, and read what other fans have to say too in the Fan Press section.