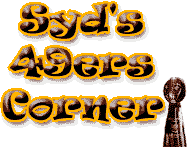 Early season skids set tone for 49ers. (09/20/02) 9:00 PM


It was unmistakable being in San Francisco, staring across the barricade built to keep fans across the road from the entrance to Candlestick. There I stood anxiously waiting with friends and family for the players to arrive in their respected time slots and like on queue each time we jumped up and down and signaled for some form of recognition.

This is what I experienced on August 10th, 2002 as I waited to enter to see the 49ers play their very first home game in the pre-season against the Kansas City Chiefs. The 49ers had just come off an emotional loss in the American Bowl across the Pacific against Steve Spurrier's Washington Redskins, and they were hungry to redeem themselves regardless if it was a pre-season game or not. The mood was full of sparks and indications that the team was ready as they took the field and began warming up.


In Head Coach Steve Mariucci the agenda was still first and foremost player evaluation, many cuts would have to take place after decisions were made on August 28, 2002 to be in compliance with the 53-man mandated roster put forth by the NFL.

This was the most difficult aspect of his job and readily admits that, as it is for most coaches that become attached to their players as weeks go by and bonds are formed.

Going into this game, the 49ers had agenda's to fulfill, one of them was to continue player development and the other was to give back-up quarterback Tim Rattay more repetitions as he dodged questions from all fronts on his obvious inexperience as an NFL seasoned quarterback.

The 49ers as was determined early, set their hopes on the notion that their starter in Jeff Garcia will remain healthy throughout the season. Should something happen to Garcia, they were in full understanding that it could be a struggle should Rattay have to take the helm.


Pre-season Game #2 49ers Loss 17-14

This was a game that twisted you up in knots; Kansas City scored on their opening possession with quarterback Trent Green and veteran running back Priest Holmes involved together in their only series.

The Chiefs offense drove 66-yards in 10-plays to score the opening points. Green was able to systematically spread the ball around to his receivers, confusing the 49er secondary.

Green went 4-for-5 for 40-yards, which included a 4-yard touchdown slant to Dante Hall, Holmes had five rushes for 26-yards with 18-yards on an end route run that brought him deep into 49er territory.

The 49ers did come back in dramatic fashion as Terrell Owens and Jeff Garcia set the offense out on a roll. This would be one of the rare instances in this game where the offense would advance. Owens made a sensational 71-yard touchdown reception.

After catching a slant from Garcia in the first quarter and turned up field shedding a tackle attempt by cornerback Eric Warfield, then he bulled past linebacker Larry Atkins and safety Jerome Woods. Nearing the goal line, a second gang tackle try at Owens resulted in him carrying three defensive backs into the end zone.


This was an unbelievable catch and run by Owens, as I witnessed this I could now say to myself, that this was truly the star playmaker for our team. No one was going to stop Terrell from reaching that end zone. The sure determination on his face said it all, and he made the score become 7-7. As a result of all the defenders he dragged with him, he sustained a slight groin pull.

"You know, people give him hell for what he does off the field," Atkins said, "but when it's time to play the game, he really brings it. He's a receiver with tight end size. I put him right up there with Randy Moss (Minnesota) as the two best receivers in the league. I also know that's a play our defense will hate to look at again while watching game films on Monday."

"I think everybody is getting more comfortable with each other, and everybody wants to improve on some things last week," Owens said. "I was just feeling it, and I got in there."

Jeff Garcia completed 6-of-9 passes for 118-yards in just two series of work. Garrison Hearst rushed for 24-yards, and Kevan Barlow caught three passes for 42-yards. Saladin McCullough had eight rushes for 40-yards. The Chiefs and 49ers would not score again until the third quarter in this game.


Back-up 49er quarterback Tim Rattay was granted the most extensive playing time as the coaching staff scrutinized his every move on the field. Rattay did not fare well at all in this game and went away with the nagging questions that haunted him earlier from the media and fans alike.

The 49ers designed a game plan that would utilize Rattay in taking shots down the field. Two of those shot resulted in interceptions. The Chiefs in conjunction used one of the interceptions for a short touchdown drive, with quarterback Jonathan Quinn hitting running back Josh Roth for a 5-yard touchdown pass.

Tim Rattay did have one successful drive of 71-yards, he went 10-for-19 for 152-yards. He hit third string wide receiver Cedrick Wilson on a 5-yard touchdown pass late in the third quarter. Shortly after this there was no more scoring as the game went into overtime.

Third string 49er quarterback Brandon Doman would come in and prove to be just as raw as Rattay in the performance category. He threw a wobbly pass at the 49ers 20-yard line that ended up being intercepted by Reggie Stephens and thus set up the game winning field goal from 42-yards out. The air was once again bleeding out of the tires for the 49ers.


Damage from this game became serious when rookie safety Kevin Curtis was helped off the field with knee injury that was later diagnosed as an MCL tear. What was even more depressing was the fact that Curtis had been playing so well, and was being counted on as being a significant upgrade in the secondary in nickel and dime situations. The injury would be season ending for this rookie. This resulted in the 49ers looking at veteran free agent Chad Cota at safety and later signing him.

In this game the team again played without center Jeremy Newberry and guard Ron Stone on the line, both still nursing injuries. Dave Fiore started off at center but was later replaced by newly signed Ben Lynch at center after being let go due to salary constraints. The center position had finally become important enough to warrant his signing and brought some resolve back to the offensive line that was missing with the injuries.

In other positive aspects from this game defensive back Jimmy Williams continued in his quest to take away the kick return duties from Vinny Sutherland. He did not return any for touchdowns and he was never past the 49er 35-yard line as the Chiefs special teams targeted him well enough.

However he continued to show enough signs and flashes that warranted taking a further look at him as the kick and punt return man for this team. Williams shows good decision-making and seems a lot more slippery in the way of bringing him down.

Both Williams and wide receiver Cedrick Wilson continued to make strides in unseating Sutherland. Sutherland had been put on the hot seat following last season's performance in which he never returned one for a touchdown and didn't have a return beyond 19-yards.


"He made very good decisions when to return it, when to let the ball drop. All those things are very important to be a punt returner," Mariucci said in a conference call with reporters one night. "He showed he could make you miss. He's a slippery guy back there."

"I thought Jimmy looked very natural tonight. I thought he would," Donahue said. "He handled punts at Vanderbilt. Cedrick Wilson hasn't, so he's got a further row to hoe."

Other bright spots in the game as player evaluation included linebacker Saleem Rasheed; he recorded team high eight tackles and also played very well on special teams throughout the game.

First round pick cornerback Mike Rumph played better in this game and was on the field for most of the game. Rumph participated in 61 of the 49ers 74 defensive snaps, plus played 19 plays on special teams. The confidence in Rumph was never lacking, even after the American Bowl, the 49ers still knew they had something special in Mike Rumph.

"He was much better than the first time around," Mariucci said. "He did a great job. He was much more poised and relaxed. He bumped this guy out of bounds four times. When a guy goes out of bounds, he can't come in and touch the ball, so that's good. He's starting to play with more confidence."

The 49er defense long awaiting someone to step up and generate a concerted pass rush finally got one in this game. Veteran free agent Sean Moran was a bull all over the field on this night. Moran made two sacks in this contest against Kansas City and they were the only sacks thus far for the 49ers.


Moran sacked quarterback Todd Collins for a six-yard loss on third down to thwart Chiefs offensive drive midway through the second quarter. The he dumped Joe Germaine for a five-yard loss on third down to ends the Chiefs first offensive drive in overtime. Moran also went on to have three tackles and he recovered a fumble that later was overturned by officials review of the play.

I believe Moran will be the difference maker in the 49er pass rush. The 49ers only produced 32 sacks last season and ranked 27th in the NFL in sacks per play. It was the lowest category overall in regards to the 49er defense as a whole last season. Adding Moran will certainly make an impact as shown here in this game.

"I'm just so looking forward to playing fore this team," Moran said. "I just tried to play my ass off like I try to do every down, and I ended up making a few plays. We've got a hell of a talented defensive line here, but I feel like I can help it out."

Shortly after this game, it was learned that newly acquired quarterback Cade McNown would not play the rest of the pre-season because of an inflamed shoulder.

Rookie safety Kevin Curtis was not put on the Injured Reserve List to protect him from the August cuts. And Chad Cota a seven-year veteran signed a one-year tender with the club for the league minimum salary of $650,000, only $450,000 of which would count toward the salary cap.

Curtis had surgery to repair the posterior cruciate ligament in his left knee. First-year punter Andrew Bayes was released to make room for Cota and after failing to unseat Baker for the punting duties. Jeremy Newberry although nursing his right calf still hoped to play in the next game against Denver.


I would like to take some time and talk about an offensive lineman that made a big impression on me at this particular time. That is Dave Costa. The 49ers have always looked for guys on the offensive line that could be versatile and competitive. Able to change positions on a whim of a notice. Well Dave did just that in this game.

"I started at right guard and during the game Pat came up and told me I was moving to left tackle," said a laughing Costa. "That was no big deal because I know the plays over there. But I don't think I'd taken a snap at right tackle until the game."

Costa in his second year with the 49ers played very well throughout training camp and had an impressive impact on this offensive line. In a real world where the 49ers concentrated on building a better defense, having a man like Dave Costa to sure up depth on the offensive line was a God send. He was a very positive person and I had the honor of meeting him and talking with him. I am sad that he was cut and wishes him the best.

Pre-season Game #3 49ers Win 12-7

This game was a contest between Jose Cortez and Jeff Chandler more than anything else was. This was the game that really had an impact on the overall decision in picking the starter.

Just before this game took place it was learned that defensive end John Engelberger had to have an emergency appendectomy after feeling ill in his hotel room in Santa Clara. He has since then made a great recovery and is back to his full form.

This game was also highlighted with the retirement of veteran Denver Bronco running back Terrell Davis. Having battled multiple knee injuries and struggled with rehabilitation over the years, it was recommended that he retire by his doctors should he want to resume a normal life again. It was very dramatic to say the least.


The 49er offense came out under Jeff Garcia and had a stunning drive courtesy of a Denver penalty. Jeff Garcia connected with Terrell Owens for a 48-yard pass that resulted in a Jose Cortez 27-yard field goal that capped an eight-play, 69-yard drive.

Denver's Brian Griese came out and drove the Bronco's down the filed for the next possession. He had a 12-play, 80-yard scoring drive that was unfortunately aided by the 49ers with 21-yards of penalties.

The drive was capped with Denver running back Clinton Portis going into the end zone with a one-yard touchdown plunge. Portis looked very good in my debut of him as he finished with 43-yards on 11 carries and scoring the only touchdown of the evening. The 49er defense would take this game under its belt the rest of the way.

In fact the 49er defense would only allow the Denver offense to cross the 50-yard line three times the rest of the game. Jeff had some extended playing time as he went the entire first half. He was 11-of -18 for 149-yards.

On the Denver side rookie wide receiver Ashley Lelie looked impressive as he confounded the 49er secondary. He was the only real passing threat on the field for Denver as both Ed McCaffrey and Rod Smith were out with injuries.

He caught some difficult passes a total of five for 56-yards. Brian Griese also played the entire first half, and was 8-for-13 for 73-yards and had one interception.


The 49ers cut the Bronco lead at halftime to 7-6 with a Jose Cortez's second field goal. The 24-yard field goal capped a 14-play, 71-yard drive for the 49ers. What hasn't been said though was that these field goals barely made it through the uprights. Height on his kicks was still becoming a concern.

The connection between Garcia and Owens was predominant in this game as usual. What really concerns me though is that someone needed to come out and be the viable second option as a receiver. Terrell Owens had seven receptions for 123-yards in this game. And no one else had anything really significant. Cedrick Wilson had a beauty for 22-yards and that was it.

"I think it was good I the sense that we were able to sustain some drives and we were able to move the ball," Garcia said. "Obviously, I'm disappointed we didn't get the ball in the end zone."

One attribute of this game belonged to veteran fullback Fred Beasley who had some bone crushing blocks for the team in this game. He flattened cornerback Denard Walker, who was found lying on the field gasping for air after the hit. The block was so effective that it wiped out two other Broncos. This further illustrates that Beasley is one of the best fullbacks in the league today.


Strong safety Tony Parrish had an impressive outing in this game picking off his first interception as a 49er. He picked off a Brian Griese pass at the 49er 15-yard line and returned it to the Bronco 47-yard line. With Jeremy Newberry still out with injury, both Ben Lynch and Eric Heitmann rotated at the center position. Dave Fiore was happy to move back to left guard.

In the second half it was again back-up quarterback Tim Rattay in the spotlight, and he did relatively well this time. He went 9-for-10 for 91-yards and zero interceptions. He was very well on his way to achieving a touchdown run but found him beset with penalties and sacks allowed by the 49er offensive line.

Late in the third quarter Jeff Chandler would extend the lead to 9-7, connecting with a 38-yard field goal. Jose Cortez would then go on to kicks the finale of 46-yards with just 1:18 remaining in the game.

Just giving the Bronco's one more shot down the field, but on Todd Husak's drive for Denver he threw an interception to 49er cornerback Jimmy Williams that ended the game for good.

Jimmy Williams continued to impress Mariucci as he displayed the daredevil mentality in himself on the field. He fielded three punts in this game, one of that made the coaches stand up and take another look.

Rather then let a third quarter punt drop and roll into the end zone for a touchback, Williams retreated from the 16-yard line to his 6, where he made a running catch and brought the ball back 8-yards to the 14. The scolding he received from that play was instant and direct.

One thing that sat well with the 49er coaching staff was the improved play of quarterback Tim Rattay. He displayed more confidence and looked more comfortable on a whole while in the second half of this game. Still concerns mounted with knowing that offensive drives failed to make an impact to the end zone. Rattay still had to prove that he could connect solidly down the field.


"The plays that we called when he was in the game, for the most part, he executed darn well," Mariucci said. "He checked it down. He did the smart thing with the ball most of the time. I was encouraged with his decision making."

Shortly after this game the 49ers made more adjustments by signing former Arena League football stars in cornerback/return specialist Clevan Thomas from the league champion San Jose Saber Cats. And another in Antoine T.T. Toliver from the Tampa Bay Storm. To make room fro them the 49ers released wide receiver Nate Jackson and cornerback Fred Booker.

More news erupted when center Jeremy Newberry widely believed to start in the next game against the Oakland Raiders sustained another pivotal injury. He jammed and fractured his ring finger on his right hand. He jammed it in a teammate facemask during team drills. He later had surgery on it and had screws inserted to speed up the healing.

He would not play in the Oakland contest because of it. But he went on to train snapping the ball left handed which he was accustomed to doing back in college with the same form of injury.

The 49ers also made a statement in the receiving department by claiming former Buffalo Bills receiver Jeremy McDaniel of waivers. The 49ers went on to release wide receiver Cory Brown to make room for McDaniel. The 49ers in their own way had concerns of their own with finding a compliment to Owens on the other side.

Pre-season Game #4 49ers Loss 17-10

Again the San Francisco offense sputtered and spitted and never really produced desired results. In a dreary atmosphere of silver and black, the Oakland Raiders 17-10 beat the 49ers in a Battle of the Bay type atmosphere. The Oakland defense was ferocious and deadly in this game and held the 49ers throughout the game's entirety.


The Oakland defense would confound the 49ers by coming out in a 3-4 version of alignment and this really threw the 49er offense for a loop. Not having Jeremy Newberry or Ron Stone continued to hamper the 49er line.

On the 49ers first six possessions in the first half, with starters be it playing on both sides, the 49ers were limited to only two first downs and 59-yards of total offense.

In fact the 49er offense was so pathetic in the running game it was held to six total yards in the first half. This was also a sloppy game to say the least as 20 penalties would be assessed on both sides, 10 a piece. And both quarterbacks in Rich Gannon and Jeff Garcia would take deadly blows.

The Raiders got on the scoreboard first with a Reggie Barlow punt return for 57-yards for a touchdown with less than five minutes into the game. Oakland then would score again on a Sebastian Janikowski field goal 43-yards with 4 seconds left in the first half.

It would be Tim Rattay that helped engineer the 49er scoring drive, as he led the 49ers on a 36-yard scoring drive for a score, hitting Cedrick Wilson with a nice 15-yard fade pass over Raiders first-round draft pick Phillip Buchanon.

One of the best highlights of the game was when both 49er defensive linemen in Andre Carter and Bryant Young hit Rich Gannon causing him to fumble the ball. The ball skidded some 30-yards before 49er cornerback Jason Webster fell on it.

Unfortunately Gannon was still sharper than Garcia as he completed 13-of-20 passes for 88-yards. Even Jerry Rice made the 49ers know that he was still around as he caught four passes for 50-yards that evening. There was only one flaw Rice dropped one.


Penalties above else killed the 49ers; drives were hindered time and time again as they tried to get started. Beating yourself is no way to play a game, and we did a good job of plainly beating ourselves up so Oakland could walk away victorious.

The 49ers tied the game in the fourth on a Jeff Chandler 24-yard field goal with 11:48 left to play. But the very quarterback that we had let go, in Rick Mirer would comeback to haunt us. Mirer led the Raider offense on a 61-yard scoring drive that ended with Madre Hill's 15-yard running touchdown in the fourth quarter right up the middle.

Former 49er running back Charlie Garner would also have a big day, he rushed six times for 57-yards, and Garrison Hearst would have lowly three rushes for four yards. It would be 49er running back Jamal Robertson that would have the quick bursts this time as he had five rushes for 41-yards.

Jeff Garcia went 8-for-16 for 60-yards and zero touchdowns. Tim Rattay went 12-for-19 for 140-yards and one touchdown, but more importantly zero interceptions. Special teams also failed to help our offense, with poor positioning.

If not for two missed field goals by the Raiders this probably would have been a worst score. The most infuriating play by the 49ers was the holding penalty on back-up center Ty Wise that overruled a game tying touchdown pass from Tim Rattay to Mark Anelli with 4:55 remaining in the game. The entire game was a nightmare of offensive ineptitude and costly penalties.

"We have to play better than that to beat a good team like the Raiders," 49ers coach Steve Mariucci said. "We can't have all those penalties. The defense kept them out of the end zone, but we've got to play better all the way around."


During Jeff Garcia's nearly two quarters of play he was running for his life most of the time, something we all hope he doesn't have to get used to. Garcia was sacked by tackle John Parella, who overpowered left guard Dave Fiore.

The Raider defense, which confused the 49er offense by switching from a 4-3 to a 3-4 defensive scheme, leveled Garcia twice as he went to pass. The real possibility of an injury was as close as it gets right their folks.

What was still another knife in the back was the deadly injury to linebacker Jeff Ulbrich in this game. He sustained the injury to his left knee when he tried to leap over a pile to make a tackle on Zack Crockett on a third-and-1 play. Crockett's helmet hit Ulbrich's knee, which snapped it back violently.

The list of the injured continues to grow with John Engelberger fallen to appendicitis, Jeremy Newberry finger injury, Ron Stone strained right elbow and Vinny Sutherland with a hamstring injury. The pre-season almost over never looked so devastating health wise.

The cutting of the roster came down hard after this game as players awaited the final word on their fates regarding making the team. Getting down to 65, the team cut Seventh-round draft pick Teddy Gaines, Linebacker Masafumi Kawaguchi, Center Jeff McCurly, Defensive tackle John Schlecht, Tight End Ben Steele and Defensive back Clevan Thomas.

Gaines becomes the team's third draft pick not to make the team once drafted. He joins Kory Minor (1999), and Alex Lincoln (2001). McCurly proved to be an ineffective back-up center behind Ty Wise and Jeremy Newberry, to such an extent it brought Ben Lynch back into the fold.


In yet another wave of cuts the 49ers released tackle John Feugill, tackle Austin Lee, running back Saladin McCulllough, wide receiver Jeremy McDaniel and safety Brian Smith. Out of these McDaniel was the most surprising after just signing him recently.

What happened next was even more surprising as San Francisco released safety John Keith and incumbent kick returner Vinny Sutherland. Keith was largely released based on his durability questions and his plague of injuries. Sutherland was clearly beaten out by talented Jimmy Williams.

"Vinny did not play as well as a fourth receiver as we need our fourth receiver to play," Donahue said. "And that was in far and away the overriding decision."

Other factors included his off field problems with alcohol and his recent hamstring injury that would place him away from the season opener against the New York Giants. I in all fairness think it was a good decision based on those accounts and on Jimmy Williams performing so well.

Pre-season Game #5 Win 49ers 27-3

This was the best pre-season game ever for the 49ers, and one not too soon as Tim Rattay had an outstanding performance in this game. Many of the questions that continued to be asked were answered in this game with media and fans alike.

Running back Jamal Robertson also made a statement by having a record performance making the decision difficult with so many talented tailbacks on the 49er roster. This was a game where many of the starters did not play, Jeff Garcia sat out this game so that Tim could get the nod with the first line offense on the field.

Rattay completed 16-of-21 passes for 158-yards and one touchdown in the first half. He directed scoring drives of 12, 1 and 11 plays in his one-half of playtime. The 49ers first scored as they capped a 12-play, 69-yard drive with a two-yard touchdown run to go ahead 7-0. This drive didn't go completely as planned but the creativity that Rattay showed was impressive.


"Actually it was a bad play," Rattay said of his scoring run. "I didn't get the snap and so I had to run it in. I was happy that we were able to make something out of nothing."

What really came through on the next drive was the play of our special teams along with our defense in setting up the next score. Jimmy Williams downed Jason Baker's punt with a wonderful grab at the three-yard line. Two plays later, Drew Brees fumbled the snap and the 49ers recovered to set up a three-yard touchdown pass from Rattay to James Jordan.

The only points by San Diego was in the second quarter on a Steve Christie field goal of 39-yards with 13:31 remaining in the half. San Francisco would again score on an 11-play, 72-yard drive that ended with an 11-yard touchdown run by Jamal Robertson.

The 49er defense would continue to do their part in this game by forcing a fumble on Chargers running back Josh Norman. Rashad Holman recovered the ball and the end result was a 25-yard field goal by Jose Cortez.

Star of the running game Jamal Robertson had 21 carries for 112-yards and one touchdown. The Chargers offense was limited to just eight first downs in this game, we even used creativity on defense by switching our defensive scheme from the 4-3 to the 3-4 alignment. This really caused the Charger offensive line headaches.

Wide receiver James Jordan also had a critical game right before cuts, as he was a collegiate teammate of Tim Rattay's out of Louisiana Tech.

He caught five passes for 62-yards and one touchdown. Cedric Wilson also had a five reception, 64-yard outing. And on defense linebacker Brandon Moore had a team-high six tackles as he rallied for position in keeping a job.


San Francisco ended their pre-season on a positive. After being beat up and thinned out with injuries, this team was able to piece together a performance that was sorely needed after past poor ones where the offense floundered.

Steve Mariucci and the rest of the front office came away from this game with better realizations of where they are headed and putting a definite plan into place was now reasonable and practical.

The kicking and punt return duties were now officially Jimmy Williams, he played well in the pre-season finale, returning punts eight and eighteen yards. He also made a fair catch on the Chargers 10-yard line, had a 21-yard kick-off return and pinned the Chargers at their own three-yard line. His versatility and his ability to make big plays has become a needed asset to this team, one it truly never had under Vinny Sutherland.

Mariucci agreed: "He did some great things for us. He showed returnability and versatility in covering kicks. He played defense much better than he did a year ago. He's a pleasant surprise."

Finally I would like to say that even though the 49ers finished their pre-season at (2-3), the most important thing is what we ended up with in the end. We now have distinct players of talent and ability.

We now have a real starting rotation and periods at depth positions. We have a vision of the future as we approach the regular season and get ready for Week Three. These are our 49ers of 2002, some concerns still lie ahead, and some have already risen to the surface after two regular season games of play.


But the overall picture is just beginning, we have time to adapt and make provisions. We have time to turn whatever is not working and make it work. That should be the goal of this organization. We need to set our sights on something so positive that we cannot fail so help us God.

I will continue to explore the season as we proceed forward, I will continue on analyzing the cuts and the acquisitions. The start of the regular season and all it's bumps and bruises we will look into. Progress is first and foremost in my mind; it must be a 49er trademark that all us fans carry.





Fan Press:
Now you can write articles for 49ers Paradise, and read what other fans have to say too in the Fan Press section.