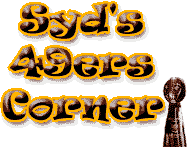 San Francisco's offense searches for answers. (10/04/02) 10:00 AM


After lacking any real sustained offense in Weeks One and Two, the 49ers found themselves mired in a sea of thoughtlessness and utter frustration. Some screamed for radical changes to be implemented and others demanded both Steve Mariucci's and Gregg Knapp's heads on a platter.

What was supposed to be a known strength for the team had suddenly turned into a weakness. The offense found itself looking down rather than straight-ahead after a (1-1) record that was disputable at that.


The coaching staff went into emergency session and muddled over what their options were, and to try and find out if they were in fact guilty of running a too conservative offense.

Many fans have sounded off relating to this matter; I have also in my own way as saying that the offense is too one-dimensional at times. We need to be more creative, we need to do some radical things once in awhile.

I am all for playing it safe, such as Mariuci is well known for in order to nurture a semi-guaranteed victory. But I am also aware that there are times where you need to be bit more liberal, and that is trying something different or stretching the field more with a long pass or just playing the shotgun.

Others contend that the offense is just fine and that it's the simple art of fine execution that's not taking place like it should. I must agree to this sentiment based on the penalties that we have sustained over these two games.

Certainly there is a lack of communication and discipline in the ranks when you have such idiotic violations. One has to believe that this is a shared infraction on both the players and the coaches themselves.

"We're not going to run the wishbone. We're not going to put in the run and shoot. We're not going to try and be like somebody else," Mariucci said one day following the 24-14 loss to the Denver Broncos in the 49ers home opener. "We're going to run our offense. And we're going to do it better. It's been good to us. It will be good to us."

Finding synchronicity in this offense has been a real word problem for the team. The team has gone in after these two games and torn apart game film. The 49ers totaled just 261-yards against the Broncos and 279 against the Giants in the season's opener. In both these games the defensive schemes on both opposing teams kept their safeties back to defend against the deep threat in Terrell Owens.


Ranking 28th in the league in total offense is pitiful. The 49ers know this all too well, especially following the loss at home against Denver where the fans were almost sang to sleep by an offense that was utterly dominated the entire game. Either by way of a tough Denver defense or shooting themselves in the foot with costly penalties, the 49ers threw this game away.

"When we look at the film, we analyze every step, every technique, every concept, every play call, every game-plan thought," 49ers coach Steve Mariucci said one Monday. "What happens is, if you win the game, you feel good about your plan, and if you lose the game, it's easy to feel like you're conservative and you should've done more."

The calls have been claimed to have been there, in fact it has been said that the 49er receivers were asked to go vertically a total of 16 times. But instead of Garcia throwing deep, he usually always checked down to Garrison Hearst and tight end Eric Johnson, resulting in only modest gains and caused all 49er fans to muddle profanities under their tongues. The jest of this game was frustration at its highest level, the 49ers, as a team would feel the effects from this game for a long time to come.

"We're not executing offensively," running back Garrison Hearst said. "If you don't execute in this offense, things don't work for you. It comes down to small things with this offense. A small block here, a small blocks there. Little things make the West Coast offense work, and that's what we have to do better."

"There's something missing right now because we're not moving the ball the way we need to," quarterback Jeff Garcia said. "I don't have a clear answer on it." "I feel their frustration, with the ball being checked down a lot wondering why we're not throwing deep," Garcia said. "From my standpoint, the only decision I was left with many of those plays was to check down to running backs or tight ends."


When you look back on this game the truth is apparent that Garcia really had no real options other than to hit the backs and tight ends with the deep zone completely taken away. Short to intermediate range did not prove enough especially with the team causing penalties that snuffed out offensive advancement. The Denver defensive line also played dominant enough to limit the running game, causing the 49ers even further complications.

People have also called for the running game to step up and it hasn't. In just two games, Hearst had 17 carries and Barlow only 15. Many believe it to be not enough carries for just one back to get in a rhythm. Many see Barlow as the dominant back and that he should be declared the featured back. But Mariucci and running backs coach Tom Rathman has made it abundantly clear that both will have equal roles.

One of the key injuries in this game was the collision between free safety Zack Bronson and Denver veteran tight end Shannon Sharpe in the second quarter. He kept trying to play but was bothered so much that he left in the third quarter. The pain that he played in was so intense that it forced him from the field.

The left-shoulder stinger that he sustained was serious enough to list him as doubtful for the Washington game. Paul Smith a reserve fullback and key special teams player also pulled a hamstring in the second half of the Denver game and was listed as doubtful.


What the opposition has done in highlight is play the "cover2" defense, this is a defense that is typically played against a team that has a lethal aerial attack such as the St. Louis Rams. In fact even the 49ers have modeled this to their specifications when playing the Rams.

It is a defense that converts the safeties to help the corners play tough zones and defend against a big yardage play. One that very well could be obtained through 49er playmaker Terrell Owens.

One has to wonder how and why the 49ers have been unable to counter this type of defense. It has forced the offense to look at alternative means of offense such as Eric Johnson and the running tandem of Hearst and Barlow for passing yardage.

Even J.J. Stokes seems to be eliminated from the puzzle with this type of defense in play. It is his inability to force separation and get open that has led to the check down plays, especially with the running game so limited to the success of the opposing front four.

In order to qualify as a championship caliber team the 49ers must never allow it to be kicked in the head like it allowed itself to be at home in front of nearly 68,000 screaming fans. 10 penalties for 114-yards and rushing for a mere 71-yards are downright degrading along with allowing 201-yards on the ground to Denver. No team achieving these statistics will ever be considered a playoff contender.

With the safety numbers depleted and the 49ers only going with three active safeties on the roster, they were forced to resign safety Jason Moore who spent part of the 2000 season with the 49ers. It was thought practice squad member John Keith would've been called but he continues to rehab from a knee surgery that ended his 2001 season.

Defensive tackle Garrett Johnson was waived to make room for Moore. What was even more intriguing was the signing of former 49er defensive tackle bust Reggie McGrew by the Atlanta Falcons.

He signed a one-year contract after being waived at the beginning of the season by the 49ers. He was the 24th person acquired overall in the 1999 NFL Draft, but after signing a seven-year contract he proved to be nothing but a disappointment after a series of injuries left him staring from the sidelines more than being on the field for all the money he was earning.


Penalties are another demon that the team is dealing with; so far the 49ers have been penalized 15 times for 143-yards. This just after two games. Anyone that has any football sense at all realizes that the West Coast offense relies on getting small chunks of yardage in a positive motion down the field. The 49er offense did just the opposite, reverting back in large fashion to the years that sent them into a rebuilding mode with very raw players just learning the system.

From 1998 through 2000 in fact, the 49ers had the three highest penalty yardage totals in their history. Just last year however, the 49ers were able to cut their penalties down to 82 for 669-yards.

The 2002 team is well on its way in achieving a pace of 120 flags for penalties. If there is anything that is more idiotic than this someone tell me. I have a hard time understanding such a high degree of penalties considering that the team is now compensated fully with proven experience.

Terrell Owens the undisputed playmaker in the 49er offense has been a bulls-eye target for opposing defenses, he has been effectively eliminated in large part because the secondary has doubled and tripled teamed our talented receiver. Owens is just second on the team after two games in overall receptions.

Owens has nine catches for 79-yards, while Johnson has 10 receptions for 113-yards. Owens has been the target on 17 passing attempts. But he has dropped five passes, including two that were jarred from his very hands. This alone has been a concern for me, as Owens was famous for dropping passes in crucial situations last season. One has to wonder if this will continue to be a trend.


Eric Johnson at tight end happens to be first in most part because he has been the safety valve for Jeff Garcia. Everyone knows that Terrell Owens has to have the ball, and that we as a team must do everything we can to make him a primary target.

I believe that plays have been better designed in this aspect, in the sense that he is more so the intended target of choice. However other teams have adapted to this knowledge and have taken measures to neutralize him.

"I've noticed a little aggressive play," Owens said. 'I've been smacked around the first couple of games. I'm just trying to be patient about it. I've been hit hard a couple times, but I always got up. The thing is you've got to fight through it. I always prepare myself. I knew it wasn't going to be an easy season."

And he has been hit hard; and I have witnessed exactly what all of you has. Terrell Owens is a marked man on our offense, and nothing will change that. What does have to change is for J.J. Stokes to become more of an open field threat.

If he cannot make the grade than Streets or Wilson should be eligible for the opportunity. Not saying that Stokes hasn't made some positive contributions, but simply not on the scale that is needed to alleviate Owens situation.

Terrell Owens himself has applauded the coverage as offering an opportunity for his teammates in Stokes and Streets. He has made every indication that should he be covered so must the ball goes in the other direction. Others must step up and contribute, another receiving threat on a greater magnitude needs to emerge and soon. If not this offense will continue to struggle.

"It's like trying to find a way through a house in the dark," Owens said. "I'm trying to find holes. Jeff Garcia is trying to find holes. I even told Tai (Streets) and J.J. (Stokes) and Eric (Johnson) that the thing I do on the field is going to enable those guys to get one-on-one or get match-ups where they can be open and get opportunities."

Expectations are high for our receivers, speculation continues to run in our minds as to rather we should have acquired a free agent wide receiver to compliment Owens. We had some that visited, but the organization chose to extend an olive branch to Stokes and hold faith that he could finally emerge. That still remains to be seen with the majority of fans.


Looking at a positive sign for the 49ers has been the play of defensive end Chike Okeafor, the 6-foot-4, 265-pound lineman has really made strides after just two games and was tied with Stubblefield for most tackles and shares the sack record with linebacker Julian Peterson. In tackles it is seven and sacks it is two apiece.

Being a 1999 third-round draft pick it is nothing like the present in which he knows he must prove himself. His contract is up at the end of the season, and being a success now is the direction he wants for new negotiations come season's end. Up until now Chike has only had three starts in 41 games in his first three seasons as a 49er. He has now officially turned the heads of the coaching staff.

"It's early in the season and I've got to keep going, but I think the sky's the limit for me," said Okeafor, who edged John Engelberger in a pre-season competition for the job. "I've just started to tap into my potential. I'm working to get better every day to see if I can become great, hopefully."

Establishing himself now is the very key to his future; I have been impressed with his technique and style of play. I believe him to be the perfect compliment to Andre Carter on the other side who is getting better with each and ever game as well. I was amazed at his emergence in winning the position from John Engelberger, but I was relieved after seeing him play that he was the chosen one.

"Chike was in a time of his career where it was time to become a starter and a productive, dominant defensive end," Mariucci said. "He's stronger now at the point of attack against the run. He's always been an active pass rusher and will chase you down from sideline to sideline. He's making lays like that now. He's much improved over last year."

Okeafor just prior to playing the Washington Redskins prepared for the game with former Redskin Dana Stubblefield. Stubblefield practiced regularly against offensive tackle Jon Jansen, so he gave Okeafor some inside tips on how to approach him.


One of the offensive weapons that has benefited the most from the double-team coverage that Terrell Owens has been getting has been Yale's very own tight end Eric Johnson. Johnson the last pick in the 2001 NFL Draft has been the early surprise last season and even more so this season.

He has in effect been Garcia's pure safety valve over the course of the two games played just prior to Washington. He hauled in the team lead in receptions in their loss to Denver. He had a career-high seven passes for 69-yards in that game. Garcia was forced on many occasions to dump off passes to the very nearest receiver as the deep patterns were covered.

Eric could be involved in his most productive season, as he puts everything of himself into the game. When Johnson was drafted with the 224th overall pick he was considered to be the understudy to then veteran tight end Greg Clark. But Clark encountered nagging injury problems in the form of bad hamstrings that forced him into pre-mature retirement. His departure from the team was Johnson's sure gain, as he took advantage of the presented situation and ran away with it.

"I'm trying to catch balls to take attention off of (Owens)," Johnson said. "It probably has something to do with Jeff and I clicking better this year; him understanding where I'll be and me knowing when to expect the ball, getting used to sitting down in certain zones and reading the coverage's. It's just a matter of getting comfortable."

So is Eric Johnson the next Brent Jones? I have to say that is a real possibility, to be honest with you he is the best I have seen next to him as far as a tight end. Greg Clark was a great blocking tight end, but his receiving skills and durability on the field were questionable. Should Johnson make more improvements in the area of blocking as he already has he will be too darn good to keep off the field period.


Game #3 (Win) 49ers 20-10 over Redskins

This was a war that was waged on two fronts, to the 49ers a bad omen hung over the franchise very early that game day morning as a flu virus entered the teams practice facility and headquarters to ravage the physical dominance of every player.

It was almost like Washington Redskin head coach Steve Spurrier had made his very own terrorist attack on the 49er complex. This game was an important one in the sense it was the game to find retribution from a humiliating defeat they suffered at home against the Denver Bronco's.

All of the 49ers could remember what had happened to them in the first exhibition game of the season at the hands of Steve Spurrier and his Redskins. He toyed with us like a game doll with his first line of everything for most of the game and ran up the points for a 37-7 victory over us with no remorse.

The players and even the coaches had revenge on their minds for this game. But that seemed to be a secondary thought afterwards when the flu virus all of a sudden struck with such ferocity that it had almost half the team on intravenous fluids before, during and after the game. It was like a flashback to the sitcom MASH television show without the entire humor.

In the first quarter San Francisco took the field with many an ailing player most notably quarterback Jeff Garcia who was in horrible shape after being up very early with the stomach virus raging inside him. The drive was short lived as they failed to make a first down at their own 39-yard line.

Washington resumed with their next series only to see their running back star in Stephen Davis fumble the ball on a run up the gut, the ball came loose and strong safety Tony Parrish was there to recover it, and bring it back to the Washington 14-yard line.


Here Jeff Garcia would go to work, with a seven-yard reception made by Eric Johnson; the next play was set up for running back Kevan Barlow who then had a seven-yard romp into the end zone for a 49er touchdown. Thus putting San Francisco up 7-0 on two plays and 14-yards.

The rest of the quarter would feature a series of checkmates. Redskins quarterback Shane Matthews would move his offense up and down the field, in slow motion, as the 49er defense was very constrictive. Jeff Garcia would take a sack and he would throw some incomplete passes that would make you wonder if this was something ominous starting all over again. The illness was clearly taking its toll.

Washington would go on a drive that would penetrate the second quarter and go for 12-plays and 73-yards to the San Francisco 14-yard line where they were forced to kick a field goal from 33-yards. Thus making the score 7-3 49ers. Well inside the second quarter both teams would go in and out and then the 49ers pulled out a trick or treat play.

The first option for Terrell Owens was to throw a deep pass himself to J.J. Stokes inside the end zone from the Washington 38-yard line. This was made possible with Jimmy Williams's 25-yard return after the ball was kicked to energize am exciting play like this.


Stokes was covered, so after looking deep. Owens turned to option two. He tucked the ball away and started running like no one's business. He was amazing as I watched him, he ran right, then back to his left, cutting all the way across the field and picking up blockers all along the way in the process. The final ending was volcanic to say the least. Owens cut up field and ran straight into the end zone for a touchdown.

When you really counted Terrell out at times he can come right back and nip you hard. This run was amazing, I was still amazed afterwards that the coaching staff was so ambitious and daring to even consider such a rare play. But it was on this play that turned the tide of war. This 38-yard run was a wonderful sight to see, and to know the power and fine athleticism of this fine human being is truly intimidating.

Washington reeling from the surprise play would then go out on Matthews's arm and Stephen Davis's legs to seek an answer. Chike Okeafor would be called for defensive offsides. And Matthews would take a sack from 49er defensive end Andre Carter for 13-yards that was a beauty. But this would cause Matthews to fumble the ball but Washington, which gave them new life, would finally recover the ball.

Matthews would then light it up with a series of passes that would end up with Zack Flemister catching a touchdown pass for 19-yards on 12-plays and 70-yards of offense, to make the score 14-10 49ers.


With 2:57 remaining in the first half the 49ers set out again, Tai Streets would catch a couple of receptions for 11-yards each and Garrison Hearst would rack up some yardage. But the drive would be stalled due to some incomplete passes and an offensive holding penalty on Derrick Deese at the Washington 5-yard line. Would force the team to kick a field goal by Jose Cortez from 33-yards that would end on 13-plays and 68-yards for a new score of 17-10 49ers.

It was a an exciting first half to say the least, but what was happening on the field was yet another story as Jeff Garcia succumbed to the illness on that final drive of the first half. Eight hours before kick-off after believing he had avoided the virus, Garcia suddenly felt ill, and he started to feel horrible as the day progressed. He suffered from dizziness, aches and pains in his joints and overall sluggishness.

But I will say this for Jeff he still played his heart out in that first half. He completed 10-of-17 passes for 84-yards without an interception. And he had to run twice for 15-yards down the field on one of these he delivered an impressive block that helped Terrell Owens gain entrance into the Redskin end zone for a touchdown.

With the start of the third quarter The Redskins would begin on an in and out series. With Garcia getting progressively worse, Mariucci allows Tim Rattay to assume the helm, a penalty on Dave Fiore for offensive holding is declined which kills the drive. The Redskins under Matthews comes in and out once again. Jeff Garcia returns to take control thereafter.


On this next drive a penalty on Jeremy Newberry for an ineligible downfield pass would cost them five yards. Jeff would then look for Terrell Owens for a big play on a third and eight from the 49er 34-yard line. The throw by Garcia was a bad one and seemingly intercepted by Redskin cornerback Champ Bailey at the 49er 45-yard line.

49er players and coaches all around witnessed something different about the call, prompting Mariucci to challenge the call. The call was reversed in our favor after it showed that Bailey had trapped the ball.

"He popped right up and was all excited, knowing full well he might not have had it," Mariucci said. "He was putting on a little show, trying to convince the officials he got the ball. But when they showed the replay, it became very obvious to our people upstairs that he didn't catch it. They simply told me it wasn't a catch."

The ruling was then changed to a third down incompletion; the 49ers then punted to Jacquez Green, who then muffed the ball when Terry Jackson brushed by him. Jimmy Williams was there to recover the ball. The officials then made a call that would send another challenge out by Mariucci.

They declared Jackson had been pushed into Green's path by a Washington blocker, ruling out an interference call. But they did not see the ball bounce off Green, initially awarding possession to the Redskins. After the review on Mariucci's second such challenge it showed that the ball had hit Green before it was picked up by Williams at the Washington 32-yard line.


However even after all of this and Jeff Garcia then resumed the next drive, on second and ten he went back to throw a pass to J.J. Stokes and he was really intercepted this time by none other than Champ Bailey, for a touchback. Shane Matthews would then come out and go in and out in the next series, reaping nothing. But Jeff Garcia was done.

"I wanted to fight through it, to not let it get the best of me and not use it as an excuse. But it was something where it got worse instead of getting better," said Garcia, who had never asked to be taken out of a game before.

Jeff went in at halftime and tried to lay down for 15-20 minutes, along with taking intravenous fluids. But the brief rest might have been enough to offset his judgment and cloud his vision as to throwing the interception. Garcia has always displayed a resiliency that is equal to none, to see him on the sideline after the half frustrated and depressed as to his physical incapacity was heart breaking.

"I saw J.J. (Stokes) had some separation, but I waited too long. I should not have thrown the ball at that point," Garcia said. "That was probably the main reason why I felt I shouldn't be in the game. I wasn't making good decisions or thinking quickly. I didn't feel crisp." "I really believe, at that point. I was making a decision for the team. I was trying not to be selfish."


The pass that never made it to Stokes was the ending of the Jeff Garcia drive, the scrappy and mobile quarterback would concede to his ailment and he would take his place in prayer on the sideline that Tim Rattay could salvage the victory.

With 6:34 left in the third quarter quarterback Tim Rattay came in to conserve the fragile lead that the 49ers had over Steve Spurrier's Redskins. It was the running back tandem of Hearst and Barlow that would help him in the end. Both backs knowing the situation were determined to raise their level of play to chew up the game clock and they did just that.

At midfield the 49ers drove into Washington territory on the ground to the 17-yard line setting up a Jose Cortez field goal that was good, making it 20-10 49ers. The eight plays and 330-yard drive culminated with the 35-yard field goal.

On the next Washington drive Shane Matthews would go out and attempt a comeback, he almost had one in the works on Julian Peterson's roughing the passer penalty. But the 49er defense had new life, a new focus. Their quarterback was on the sideline and they knew that this game was in their hands.

The start of the fourth quarter was all about winning time of possession for the 49ers. They had a plan and Rattay's was to conserve the lead at all costs. Rattay was in and out on the first drive. On the punt the Redskins did some trickery of their own with a lateral to cornerback Champ Bailey. The trick was successful in putting the Redskins in excellent field position at the 49er 47-yard line. Jason Baker was called for a facemask with a penalty.


The Redskins unable to move the ball made a quarterback change bringing in Danny Wuerffel. But an offensive holding penalty and some tough 49er defense held their ground and they were forced to punt. Rattay would assume another drive that was killed on offensive pass interference on Tai Streets. Rattay would also be sacked by none other then LaVar Arrington for a negative two-yards.

Wuerffel came in and assumed command only to go back and throw a pass intended for Rod Gardner that was intercepted by free safety Zack Bronson at the San Francisco three-yard line. This was a play that made me jump out of my seat and applaud and shout. The physical play of our defense is to be commended my friends. With all the uncertainty surrounding Bronson's health and ability to stay in this game he came through in flying colors.

With 7:59 left to play in the game, Tim Rattay went out to consume the clock with Hearst and Barlow and they succeeded in chewing up that remainder. It culminated with him kneeling at the Washington 19-yard line for the victory. Now many including myself wanted to see the 49ers kick the teeth right down Steve Spurrier's throat in this game for past sins.

However it was in Steve Mariucci's mind that we simply pull this one out with the physical condition of the team in a depleted state. I must concede that this was probably the correct decision.

"Some of us wore those blue masks, like your having a baby," said coach Steve Mariucci, himself a pre-game victim of the bug that had no fewer than 17 49ers, eight of them being starters, feeling faint, nauseated and nasty. "It was kind of crazy in here."

All in all the 49ers had run through 20 bags of intravenous fluids, and even that did not keep Jeff Garcia out on the field. And it didn't matter because our back-up quarterback came in and got the job done. In the past Rattay has simply come in and mopped up after Jeff. This time it was different he had to come in and help preserve a victory.

"(He was) like a veteran," tackle Derrick Deese said. "He came out and said, "OK guys, we have to move the ball. 'He sounded just like Jeff."


He completed 5-of-9 passes for 41-yards but kept the ball on the ground with Garrison Hearst and Kevan Barlow sharing the workload. He even managed to take the 49ers on a 33-yard drive that ended with a Jose Cortez field goal that further padded our lead.

His biggest contribution happened in the fourth quarter when they faced a third-and-nine from their own 19-yard line. Rattay had not broken the single digit numbers in passing, but he did here hitting Terrell Owens for a 16-yarder that gave new life to the offensive drive.

The cost of this game was enormous. Left guard Dave Fiore was lost for the season to an ACL tear in his knee. In fact it was so severe he had surgery and was put effectively on the injured reserve list for the season. A generous and kind man he took the news like a champion, vowing to comeback for next season. Rookie Eric Heitmann played well in the second half following his injury.

The linebackers took a licking as well as Julian Peterson injured his right knee and hip trying to recover a second quarter fumble forced by an Andre Carter sack. Just a few plays later Jamie Winborn came out with a sprained left knee. Thank God Jeff Ulbrich had been cleared to play right before this game.

"At one point, we didn't know what we were playing," Ulbrich said. "(Derek ) lined up at Julian's spot, I looked at Rasheed and said, "Who's the (middle linebacker).' He said he was." "We didn't have any drop-off," Smith added. We've got a good linebacker corps, and at any time, anybody can step in for anybody else and play as good or better."

In other news I want to acknowledge the fine play of center Jeremy Newberry who as usual plays through pain like no one's business. He snapped right handed for the first time after the injury to his hand at the beginning of the season. He performed well.


All in all this victory was a well-fought one through all the adversity that was thrown in with it. We emerged and gained redemption and recognition from the Washington Redskins. True there was fallout a little between Terrell Owens and Steve Mariucci, but both are on the mend and have concluded they won, despite not going for throat like they intended to do for so long.

I know that this sets the stage for the next big air show in the St. Louis Rams, and I realize despite the Rams misgivings and losses that they will want to make a stand and finish their losing streak.

Fortunately we have them on the ropes with injuries to many key players on their roster. But remember that the instinct to win knows no formulas, it's just there regardless of the personnel. Surprises happen in the NFL, and we must be prepared for all of them.





Fan Press:
Now you can write articles for 49ers Paradise, and read what other fans have to say too in the Fan Press section.