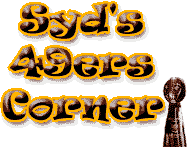 2001 San Francisco 49er's Post Season Review 02/10/02 1:00 PM
2001 San Francisco 49erís Post-Season Review

A) 2001 Overview:
The 2001 San Francisco 49erís greatly exceeded all expectations this season, coming off a total of two rebuilding seasons in which their total win category equaled 10. The entire organization was surprised and stunned to witness a 12-4 season and make an entry into the post-season against Green Bay in the wild-card playoffs.

Even though the loss at Green Bay was devastating and disappointing, the emphasis must be on what the team as a whole achieved in this remarkable season. The young and tender defense that had been nourished after two successful drafts reared its head above water and was a force to contend with.

The 49er offense maintained itís identity despite injuries and manufactured scores and comebacks that shocked many a team and many a 49er fan. On the edge of you seat was a common place for 49er fans as they watched from across the world everywhere.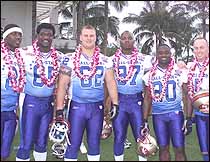 Stars were born and records were accomplished, players united on a common front and focused on what was most important. Controversy erupted between star player and head coach. A positive role model of immense effort made Comeback Player of the Year on this very team.

Controversial games were played and lost, officiating continued to be an enemy rather than a compliment. Rookies broke out in true form and accomplished a true identity for future seasons. Key free agent pick-ups from Washington added the glue to the defense that kept it running on all cylinders.

A tight end stepped up in his very first year and aroused the organization that not all was lost because their talented veteran went down early to a season-ending injury. Assistant coaches on Steve Mariucciís staff defined themselves in more ways than one with incredible contributions to the winning record of this team.

Devastating injuries took place throughout the season but some were more brutal than others especially towards the end of the regular season in the form of pass rushers. An offensive player with great respect and honorability finally received his just credit in a trip to the Pro Bowl after 16 seasons.

A record total of six San Francisco 49erís will be making a trip to the NFL Pro Bowl in Hawaii. Positive development happened almost on a daily basis as this team matured and grew into a dynamic force that maybe peaked just a bit too much into this season. Confidence and respectability was evident as the season wore on, never relenting after being outscored was a sense of calmness as a Two-time Pro Bowl quarterback steered this team into many a last minute victory.

Honor and distinction were common accolades that this team could take with them from the field to the locker room and back home again. Conversations among 49er fans were all about how well we were doing and that we are back in the saddle again courtesy of the rock band Aerosmith.

With all of this agenda and more the San Francisco 49erís rose above the inequity and discarded the notion of losing and rebuilding, to bask in the limelight that once was a trip to the playoffs. Even though the team is far from complete, having very little depth and still in need of key playmakers to surface. They forgot all of that and played their very hearts out, just to make us remember that we are winners and always will be.

B) Interesting Statistics: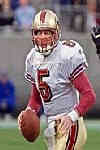 Quarterback Jeff Garcia once again defied logic, as he accomplished another Pro Bowl caliber year. He posted the leagueís third-best passer rating (94.8) and a touchdown-interception ratio (32-12) second only to Oaklandís Rich Gannon. Out of 504 passing attempts he completed 316 all for 3,538-yards. He had a completion ratio of (62.7%), his longest pass was a 61-yarder and he was sacked a total of 27 times.

In the running department with Garrison Hearst coming back to full form after two and a half years of surgeries and rehabilitation, he carried the ball 252 times for a total of 1207-yards. He averaged 4.8-yards per carry and his longest run was a 43-yarder. He recorded four touchdowns in the process.

Rookie running back Kevan Barlow allowed Hearst to comeback into form gradually; he was a key change of pace back in this offense. He further accomplished his own identity and looks to be the back of the future.

On 125 carries he had 512-yards, averaging 4.1 yards per carry. His longest gain was for 25-yards and he also scored a total of four touchdowns. Barlow made the fit look simple and he was a load to bring down when he was running north south up the middle. In receiving the star playmaker was of course Terrell Owens, he was a demanding type of player that allowed the media to shine itís controversial light on him. He was never without some kind of comment, in essence leading to dissension in the clubhouse. Terrell Owens had 93 receptions for 1412-yards, averaging 15.2-yards a reception. His longest was a 60-yarder and he scored a total of 16 touchdowns. Sometimes critical touchdowns that sealed the fate of the game. But also at the same time he dropped many balls that turned the tide of a game. Overall though he was a crucial playmaker in game time conclusions.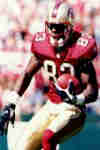 J.J. Stokes also turned up his production after a beginning injury plagued season, many in the fan based world wondered if Stokes still had what it takes to be a starting wide receiver. Many a fan questioned him at length as to his substance and what he could accomplish with Jerry Rice now out of the fold.

He had 54 receptions for 585-yards, averaging 10.8-yards a reception. His longest was a 47-yarder and he scored a total of seven times. He was a definite compliment to Owens in the passing game; he allowed Owens opportunities and at the same time was open when he was well covered.

Eric Johnson cannot be left out, as the rookie tight end replacing Greg Clark due to nagging hamstring conditions, he came on hard and proved to be the starter of the future. Johnson was a key instrument as an alternative when receivers were well covered, and enhanced his blocking skills when it was time to run the ball.

Johnson had 40 receptions for 362-yards, averaging 9.1-yards per reception. His longest was a 24-yarder and he scored three times in the end zone. He was a true positive element in this dynamic offense. He has even been compared to all time legend tight end Brent Jones, and was Bill Walshís very last selection as general manager of this franchise.

On special teams we were markedly improved with punter Jason Baker he started off horribly in the season, but eventually turned it around, he averaged 40.8-yards per punt and had a total of four touchbacks. He had 69-punts for a total of 2813-yards. He was at best average most of the season.

Kicker Jose Cortez was another bright star, he started off strong and sputtered later in the season, with a number of missed and or blocked field goal attempts. He was though pretty consistent overall. Many were in disbelief that he could fill the shoes of former kicker Wade Richey, he proved them all wrong. Cortez was also a key stopper on kick-off return specialists; he showed remarkable toughness and was able to stop scoring runbacks.

Also on coverage units on special teams linebacker Terry Killens and running back Terry Jackson were key players, as they sacrificed bone and limb to make the big play downfield when it counted most. Killens had a total of 24 tackles and Jackson 20. They always led the charge and vastly improved the sphere of special teams on this team. Vinny Sutherland proved to be a great kick-returner even though he was unable to score one, he made good yardage after the catch. He averaged 22.8-yards a carry, and broke a long one for 65-yards. He should be looked at for keeping around for a while.

On defense there were many a bright stars, as this defense was able to total 20 sacks in the last eight games after a long drought in the beginning. Key additions in free agency by linebacker Derek Smith and the return of defensive tackle Dana Stubblefield were vital.

The 49erís finished ninth overall in the league for run stopping (98.2-yards per game) a far cry better from last season. At linebacker the speed was definitely a factor just the tackling was suspect in the later stages of the season. In the secondary players became playmakers especially in the likes of safety Zack Bronson and cornerback Ahmed Plummer. Both were keys to the coverage blanket we tried to establish throughout the season. It was depth that hurt so bad towards the end of the season.

Both had seven interceptions in this season, Bronson for 165-yards and Plummer for 45-yards. Jason Webster and strong safety Lance Schulters continued to prosper as well, Webster had three interceptions and Schulters three. The secondary was ideal all except for depth.

One key element on the defense that lacked explosion though was the pass rush, something that was identified throughout this season. Rookie defensive end Andre Carter in his first season fared well though, he led the team in sacks with 6.5 on the season. Defensive end John Engelberger followed with four, and despite his injury towards the end of the season, looks good for the future. Defensive tackle Dana Stubblefield also had four and Bryant Young his partner 3.5.

Regardless of the sack ratio it was this defensive line that showed promise by at least generating pressure on the quarterback in many a given situation. The addition of Derek Smith and Dana Stubblefield were supplements to this pressure. This defense overall did an outstanding job in the mode of marked improvement. With some good draft decisions and resigning what we have we should be even better next season.

Coaching cannot be left out, I must say despite the sarcasms as to Mariucci being too conservative, I believe he did a fantastic job along with his talented assistants of turning this team into a winner. He should not be overlooked, rumors spread as to Mariucci leaving for Notre Dame but he weathered that thought and verified he would always be a 49er. And that he wanted to see this process through till the end.

The facts remain that he had nothing but the best intentions for this team, he is a visible and encouraging figure, he has a vision that is feasible and well planned in conjunction with the front office and ownership. We must be content in knowing that he is doing everything possible to build and field a championship caliber football team.

1) Pre-season Game 1: (August 11, 2001) San Diego 25 49erís 24
The San Francisco 49erís started this pre-season with many interesting and hopeful prospects, many drafted and un-drafted players were playing for employment. As is with the nature of pre-season. The Chargers were coming off a league worst record of 1-15, but they came into this season with a new look and with some new faces.

There was Buffalo Bills refugee quarterback Doug Flutie steering the Chargers now, and he led the team on itís first two possessions down the field for touchdowns, one a seven-yard pass to wide receiver Curtis Conway. Needless to say Flutie was a Canadian Football player along with Jeff Garcia on the very same team, now they faced each other. This game was also the return game of running back Garrison Hearst, all of 49er land was concerned as to how he would take his first real game. He carried the ball five-times for only nine-yards and felt fine.

As is expected back-up quarterbacks took over the game rather quickly after Flutie and Garcia excited following multiple scoring drives. Garcia was 3-of-7 for 41-yards and Flutie was 8-of-10 for 70-yards. Both Tim Rattay and Rick Mirer saw action and did rather well. The fast opening touchdown drives by the Chargers though made the difference in the loss.

What was the unique play of the game was how Flutie blocked 49er strong safety John Keith on a 27-yard reverse by Chargers wide receiver Tim Dwight on the gameís very first drive. Four plays later Flutie scored the opening touchdown.

49erís that scored were rookie Cedrick Wilson with a 16-yard touchdown pass from Garcia, running back Terry Jackson right before halftime ran one in from the 12-yard line. And wide receiver Dwight Carter scored with a touchdown with 13:18 left in the game.

New 49er kicker Jose Cortez fared very well nailing a field goal from 24-yards out and former 49er kicker Wade Richey now a Charger missed a 39-yard field goal attempt. Even though it was a loss, it was a good measuring tool for many players; Hearst had a good sound evaluation and back up Tim Rattay did very well.

Key 49er statistics
Jeff Garcia 3/7 41-yards, one touchdown
Tim Rattay 9/14 141-yards, one touchdown
Rick Mirer 5/10 50-yards, one touchdown
Dwight Carter 3 catches, 48-yards and one touchdown
Cedrick Wilson one catch, 16-yards and one touchdown
Jonas Lewis six carries for 31-yards
Terry Jackson three carries for 12-yards and one touchdown run
Garrison Hearst five carries for nine-yards didnít get hurt, and caught one pass for 15-yards


ďI ran the first play like I was nervous,Ē Hearst said. ďI rushed it instead of taking my time and being patient.Ē ďWe mixed it up with him,Ē said Coach Steve Mariucci. ďHe felt good. Wanted to play a little more, but we just thought weíd leave well enough alone and weíll get him some more next week.Ē ďI think he feels pretty good about his health and where he is right now. We just didnít want to overdo it.Ē

2) Pre-season Game 2: (August 19, 2001) 49erís 20 Oakland 17
This game was the long anticipated return of legendary wide receiver Jerry Rice, except just for one thing; he was wearing silver and black instead of red and gold. Jerry Rice who set every conceivable record after 16 seasons as a 49er returned to 3Com Park in its second pre-season match-up.

Jerry was not that much of a factor though in this contest, as he only caught one pass and played only three series. He was though the center of attention though in what we call the ďBattle of the Bay.Ē After releasing Jerry in June mainly due to salary cap reasons he went and signed with the Raiders for two-years.

Right before the game Jerry took to the field about 45 minutes to game time, among cheers from the 49er faithful. He jogged out of the visitorís tunnel for the very first time; he then eventually jogged across the field to hug San Francisco Coach Steve Mariucci. Even though months after his departure he acknowledged he never felt comfortable playing for Mariucci, the recognition of each other was enough to quell all the media attention.

Terrell Owens the heir to the Rice throne showed Jerry what he could do by made a nice scoring catch on a pass from Jeff Garcia in the first quarter. Garcia looked sharper in this series going almost the entire half before Tim Rattay took over. Late in the first quarter a blitzing Raiders safety Marquez Pope flattened Garcia at the goal line with a vicious hit. All eyes were on Garcia to make sure he was all right, the recently signed $36 million quarterback was o.k. Garrison Hearst in his second appearance looked sharp also with six carries for 27-yards.

The Raiders quarterback Rich Gannon was 8-of-11 for 60-yards and scored on a touchdown by Mondriel Fulchur, who caught two of the Raider touchdowns. Raider back-up quarterback Bobby Hoying led two scoring drives himself going 7-of-14 for 106-yards, leading to a touchdown and a field goal.

49er running back Jonas Lewis made the final scoring run that kept the 49erís ahead with 13:11 left in the game, The unique play of the game was the 49er defense that held the Raiders on their final three drives securing a 49er victory.

Key 49er statistics
Jeff Garcia 5/7 for 78-yards and one touchdown
Tim Rattay 7/17 for 89-yards setting up field goals
Terrell Owens two receptions for 42-yards and a touchdown
Cedrick Wilson two receptions for 33-yards
Jonas Lewis 10 carries for 61-yards and an eight-yard touchdown run
Garrison Hearst six carries for 27-yards unhurt
Jose Cortez made a 37-yard field goal and missed a 43-yard field goal
Daniel Greer sack on Raider quarterback Marques Tuliasosopo
Stephen Fisher interception


ďThis actually felt like a regular season gameĒ said Terrell Owens, who caught a 38-yard touchdown pass to upstage his mentor one more time.
ďI feel much sharper than I did last week,Ē Hearst said. ďI also feel like I read the plays better. Each game, I get more comfortable.Ē
ďIím pleased with the way Garrison ran the football and the way the offensive line blocked,Ē Garcia said. ďI thought they did a great job of opening some holes, and they gave me some good protection.Ē

3) Pre-season Game 3: (August 25, 2001) Seattle 28 49erís 18
This game was a disaster for the 49erís in a storm of turnovers and penalties and a poor defensive effort to stop the Seahawk opening drives. This was a game that sent up warning flags about how the regular season could be. It was certainly an eye opener for not only players and fans but the coaching staff as well.

Seattle quarterback Matt Hasselback starred in his first NFL game since signing a $24 million dollar contract, he led the Seahawks on three straight touchdown drives to open up a victory for Seattle. He completed eight of his first 10 passes in the opening 12 minutes for three scores.

After jumping to a 21-0 lead, in just the first quarter he never scored again, but why did he have to in the first half? He was 10-for-15 for 116-yards and three scoring drives. The 49er defense was pathetic as Seattleís Charlie Rodgers beat 49er rookie Rashad Holman in the end zone for a 21-yard touchdown reception. Moments later Hasselback moved them back again with a 90-yard drive that led to a Darrell Jackson 12-yard touchdown catch.

Two roughing the passer penalties and the defensive inability to stop Hasselback is what led to our demise early in this game. The 49er offensive effort was also anemic to say the least struggling to get points on the board.

Jeff Garcia did hook up with Terrell Owens on a 29-yard touchdown reception and he went 5-for-8 for 72-yards. Tim Rattay got the bulk of the work with Rick Mirer mopping up soon after. Rookie running back Kevan Barlow saw his first action of the season due to injury in training camp. He rushed for 66-yards and scored on a 1-yard run with 10-seconds left to play in the game.

Garrison Hearst also did a better job but showed some rust, he rushed nine times for 35-yards and caught three passes for 25-yards, but he also dropped two passes and fumbled on Seattleís 4-yard line as well.

Kicker Jose Cortez also continued to struggle missing a 36-yard field goal. This is where doubt about the kicking game was starting to generate. The game overall was a wake up call of what needed to be addressed. These were the mistakes that could not be afforded in a regular season match-up. The unique play of the game was Owens 29-yard touchdown reception early in the second quarter.

Key 49er statistics
Jeff Garcia 5/8 for 72-yards and one touchdown
Tim Rattay 13/21 for 138-yards setting up field goal
Terrell Owens five receptions for 77-yards and a TD
Cedrick Wilson four receptions for 62-yards
Kevan Barlow 13 carries for 66-yards and a TD
Garrison Hearst nine carries for 35-yards and three receptions for 25-yards, including costly drops and a fumble
Jose Cortez missed 36-yard field goal


ďWe made too many mistakes;Ē 49erís Coach Steve Mariucci said. ďSeattle scored on the first three possessions, (and) we canít dig holes like that. We need to get better and clean those things up.Ē
ďI feel like I messed up some plays,Ē Owens said. ďIím really bummed I fumbled. Weíve just got to get better. I think weíll be OK when J.J. and Tai get better.Ē

4) Pre-season Game 4: (August 31, 2001) Denver 35 49erís 7
This game was abysmal at best for the 49erís as they rested many of their starters going into this game, the Denver Broncoís used this game as an audition of their stable of running backs, and they ran through the young 49er defense like a hot knife through butter. It was the star opening of Bronco running back Terrell Davis who ran for 42-yards and scored on a 20-yard run.

The others being Mike Anderson who ran for 61-yards on 15 carries continued to hurt his position status by fumbling on the 49er 2-yard line. Olandis Gary ran nine times for 52-yards, but most of his yardage came against unseasoned 49er defenders about to hit the waiver wire.

In a game that featured back up quarterback Tim Rattay for the 49erís he did little to help himself on the battle for the coveted back-up position next to Garcia. The 49erís gained 93-yards on their first two possessions, after that they managed a disappointing 62-yards the rest of the game.

Rattay threw two interceptions that night, both were returned for touchdowns and he mishandled two snaps. These pre-season jitters sent warning signals right through the 49er coaching staff and front office.

Rattay who started the game, while Garcia rested for the regular season opener, was 6-for-12 with 57-yards. He threw a 5-yard touchdown pass to rookie running back Kevan Barlow in the first quarter; this was the only unique play of the entire game.

The 49erís never scored after this; in fact they went about helping Denver look fabulous with multiple turnovers and sloppy play snapping. Linebacker Julian Peterson left the game with a sprained left ankle. Most starters on both teams stood on the sideline and watched the second units throughout the game.

Key 49er statistics
Tim Rattay 6/12 for 57-yards and two interceptions
Rick Mirer 2/7 for 15-yards
Kevan Barlow nine carries for 37-yards and one touchdown reception
Eric Johnson two receptions for 30-yards

ďIíd like to say it felt pretty good tonight, but we just didnít have a lot of guys,Ē Mirer said. ďHopefully tonight wasnít a gauge of where weíre at as a team.Ē
ďWe have to decide if we are going to continue in that direction with an up-and-coming young quarterback in Tim,Ē San Francisco coach Steve Mariucci said. ďWe havenít decided if we want to stay on that path or be comfortable with a proven veteran.Ē

1) Game 1 at home, (September 9, 2001) 49erís 16 Falcons 13 in (OT)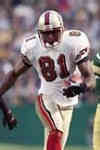 This opening season game was a thriller, featuring the passing attack of the San Francisco offense; it was definitely a Jeff Garcia day and a day that featured Atlantaís future quarterback in Michael Vick. It was Atlanta in the beginning along with running back star Jamal Anderson that rushed for 86-yards in this game and scored on a 1-yard run to make the score 7-0.

Atlantaís starting quarterback Chris Chandler shared duties with Michael Vick, together after the first score they generated only field goals. Atlanta managed only 241 total yards throughout the game, as the 49er defense kept the score close.

In the 49er receiving department all three receivers turned short receptions into long gains, leading to a frenzy of an offensive effort by the 49erís in the fourth quarter to eventually tie the score at 13-13. The 49erís scored 13 straight in the final minutes after struggling to find any offense in three straight quarters.

It was a culmination of Owens, Stokes and Streets that put this game away, Garcia found Stokes with a 47-yard pas early in the fourth quarter. Two plays later, he found Stokes for a diving 16-yard touchdown catch with 11:29 left, cutting Atlantaís lead to 13-10. And in the final minutes, Terrell Owens again was a difference maker by getting the 49erís into scoring position on a short catch he turned into a 40-yard gain with 2:00 left. San Francisco managed to get to the 4-yard line and stalled after Garcia overthrew Owens and Streets on consecutive plays settling for a field goal to tie.

In overtime Garcia found Tai Streets that he turned into a 52-yard gain that set up the field goal shot by Jose Cortez that sealed the game for the 49erís. What seemed out of character was the calmness in which Garcia handled the game in overtime. Garrison Hearst continued to be more and more productive, by rushing for 48-yards and catching four passes. He seemed more and more comfortable as the game wore on.

Key 49er statistics
Jeff Garcia 26/40 for 355-yards, 1 interception and 1 touchdown
Terrell Owens seven receptions for 93-yards
J.J. Stokes five receptions for 93-yards and a TD
Tai Streets three receptions for 81-yards
Bryant Young two sacks
Garrison Hearst 14 carries for 48-yards
Jeff Garcia five carries for 38-yards


ďSome of those balls would have gone to Jerry, thatís for sure,Ē said Stokes, who had five catches. ďWe love Jerry, but now that heís gone, weíre allowed to make plays. Thatís all we ever wanted.Ē
ďWe had some close games last year, and they didnít end like this,Ē 49er coach Steve Mariucci said. ďWe fell short every time, but we came on really strong with our passing game. Itís all in keeping with being balanced and unpredictable. We want all our guys to make catches and contribute.Ē

2) Game 2 at home, (September 23, 2001) Rams 30 49erís 26
This was a game filled with emotion as the entire world was still dealing with the terrorist bombing and huge loss of life at The World Trade Center Towers and the Pentagon. Many came together as they prayed for solace and comfort, the NFL had done the right thing and post-phoned last weekís games.

The very same 49er receivers that won the home opener for us lost this game for us. In a whirlwind of drops and fumbles including three by Pro Bowler Terrell Owens and two by J.J. Stokes cost us this game against archrival St. Louis. The Rams defeated us for the fifth straight time in a dramatic flair of Marshall Faulk that ran 18 times for 105-yards and caught eight passes for 79-yards. Their star receiver in Isaac Bruce had eight catches for 144-yards and a TD.

St. Louis came out firing with 12 straight points, but the 49erís came back and scored 16 in the final 4:07 of the first half. The 49erís also lost running back Garrison Hearst to a concussion but he returned for a few plays later on after the second quarter. Both Az-Zahir Hakim and Isaac Bruce caught touchdown passes to give the Rams a 14-point lead, but the 49erís came back to cut their lead to 30-23 on fullback Terry Jacksonís 10-yard TD with 10:31 left. This was the unique play of the game in Jackson once again coming through.

Soon after this though the Ram defense held the 49erís to nothing more than a field goal by Jose Cortez that made the final score 30-26. The dropped passes by Owens and Stokes destroyed offensive drives and compromised our ability to stay in this game. Penalties went our way early in the game, giving our offense the means to stay in the game. And a running into the punter penalty opened the door for Jeff Garcia to run in a 10-yard TD.

In other developments 49er cornerback Ahmed Plummer made his first INT, and rookie running back Kevan Barlow looked good scoring a TD lunge with 1:15 left to play. The fallout of this game was enormous as Terrell Owens sat in front of his locker for 45-minutes afterwards and blamed himself. Offensive tackle Derrick Deese bruised his right calf and was on crutches after the game.

Key 49er statistics
Jeff Garcia 19/34 for 121-yards, 1 INT and 1 TD
Kevan Barlow 13 carries for 49-yards and 1 TD
Terry Jackson three receptions for 22-yards and a TD
Ahmed Plummer 1 interception
John Engelberger 1 sack
Jose Cortez no missed field goals
Lance Schulters fumble recovery
Andre Carter fumble recovery


Kurt Warner threw for 321-yards and three touchdowns and Marshall Faulk on the last Ram offensive drive was outstanding as he started off with an 18-yard run and rushed seven more times and caught two passes eating 6:35 left of the clock. The 49er defense could not find a way to derail this Ram express, resulting in their first loss of the season.

3) Game 3 away; (October 1, 2001) Monday Night 49erís 19 Jets 17
Here the running game started to take shape as Garrison Hearst and Kevan Barlow stole the entire game with their running abilities, between both of them they ate the game clock and generated 233-yards. Barlow had 83-yards on nine carries and Hearst had 95 on 20 carries.

The Jets had little to celebrate trying to win a game at home in remembering the disaster at the World Trade Center, they had many tackling mistakes and a defense that could not stop the running behind Barlow and Hearst. They managed only two successful drives one of 88-yards and the other of 84-yards in which Curtis Martin scored touchdowns.

Jeff Garcia hooked up with Terrell Owens as he hit Owens over the middle for a six-yard score, after moving the ball on Barlowís powerful legs all the way down the field. Jose Cortez was masterful in his field goals as Jeff Garcia moved the ball down the field and he was able to make three successful field goals ultimately winning the game. Special teams were also a blossom as Vinny Sutherland returned a kick for 65-yards, with this return the 49erís ate up 9:47 of the remaining game clock for the win.

The unique play of the game was defensive tackle Dana Stubblefield blocking Jetís kicker John Hallís 50-yard field goal try, here the 49erís were able to stage an eight minute march that gave Jose Cortez a chance to hit a 19-yarder to take the lead in the game.

Key 49er statistics
Jeff Garcia 16/20 for 141-yards
Terrell Owens four receptions and a TD
Garrison Hearst 20 carries for 95-yards
Kevan Barlow nine carries for 83-yards
Andre Carter 1 sack
Vinny Sutherland 65-yard return
Jason Webster 1 INT


This was a game that was won in the midst of the very city where so many had perished, an 80-foot United States flag was unfurled before the game started. This was an inspirational game for both sides and Steve Mariucci gave the game ball to the City of New York in honor of their courage. Terrell Owens went out and tried to redeem himself from last week, and the 49er running game got off in high gear for the very first time. Here Garrison Hearst surpassed 5,000-yards rushing for his career, and rookie defensive end Andre Carter played against his father who was the Jets defensive line coach Rubin Carter and recorded his very first sack.

4) Game 4 at home, (October 7, 2001) 49erís 24 Panthers 14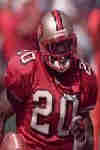 This was a game that presented former 49erís head Coach George Seifert another view of his old team; they had never beaten him up until now. Mariucciís conservatism finally won out; he struck a good balance between running and passing. And of course three costly interceptions by Panther quarterback Chris Weinke helped seal their fate. Chris Weinke went 29-for-47 for 275-yards and a touchdown, however he threw three costly interceptions, one was caught by cornerback Ahmed Plummer his second at the 49er 13-yard line with 2:00 left to play.

San Francisco mounted a strong running game, despite having a thin offensive line. Center Jeremy Newberry was out with an injury, and left tackle Derrick Deese got ejected late in the first half due to fighting with Panther safety Jarrod Cooper, who in my opinion was defending guard Ray Brown.

Strong Safety Lance Schulters had an interception late in the first quarter that started the 49erís first real offensive drive, that resulted in Jeff Garcia doing a 1-yard touchdown plunge. The Panthers did mount a successful drive in the first half with a 99-yard drive on 10-plays that resulted in a 10-yard touchdown pass to tight end Wesley Walls with 1:07 in the half.

Carolina then took the lead in the second half going up 14-10 on a Doug Evans 39-yard interception of Jeff Garciaís, this seemed to be a miscommunication between Owens and Garcia as to where the other was. Evans returned it for a score side-stepping Garcia trying to stop him.

Jeff Garcia came right back though as the communication problem was soundly resolved when he hit Owens over the middle, and he high-stepped it 29-yards into the end zone. Later on in the third quarter Garcia hit Owens again with a perfectly thrown 20-yard fade for another score. Jose Cortez continued to shine as he made a 40-yard field goal at the halftime gun, and continued his streak of 10 consecutive field goals.

Nearly after five years since Seifert left San Francisco he found himself defeated and packing for home, Garrison Hearst had another successful day in running for 73-yards. The unique play of the game was Mariucci outsmarting Seifert before the half on timeouts and it resulted in Jose Cortez scoring the lead points before the half. This was a masterful display of good coaching. Terrell Owens continued to be the main focal point on this offense as he had eight catches for 118-yards and two touchdowns.

Key 49er statistics
Jeff Garcia 17/31 for 212-yards, 1 INT and 2 TD
Terrell Owens eight catches for 118-yards two scores
Garrison Hearst 18 carries for 74-yards
Jeff Ulbrich 1 sack
Ahmed Plummer 3 INT
Lance Schulters 1 INT
Jose Cortez all successful 10-straight field goals


This was a game that showed how determined the 49er game plan really was, offensive stars were shining in this game as well as a improving defense, Plummer was becoming a shutdown cornerback. One that could be relied upon the rest of the season. It also created a stigma that the Owens was and is the main weapon of this offense, one he would help remind us all of down the road.

This game also showed dramatic improvement in our secondary, although it struggled against St. Louis, it came back with a stellar performance here. The only matter that was of concern was lack of depth. It also proved that the offensive line despite having two starters absent from the line was able to go right on clicking.

5) Game 5 away, (October 14, 2001) 49erís 37 Falcons 31 (OT)
This was one of the most exciting games I have ever witnessed, full of intrigue and drama, the 49erís came from behind in outstanding to lay claim to dominance over the Atlanta Falcons for the second time this season. It was also the sight of where Garrison Hearst had suffered his greatest setback where he injured his ankle severely in the 1998 playoffs, on this very same artificial turf.

Falconís quarterback Chris Chandler once again took the helm, as he completed his first six passes to bring the Falcons to a 14-0 lead. Bob Christian scored on a 5-yard scoring pass, and running back Maurice Smith, starting his second game in place of Jamal Anderson because of a season ending injury, scored the first rushing touchdown of his career on a 3-yard run before the opening period was even over.

Jeff Garcia came back and scored on a 7-yard run himself, but Falcon kicker Jay Feely kicked two field goals of 39 and 24 yards to give the Falcons a 20-7 lead at halftime. I must say this was disheartening to say the least as I watched this game. The 49er defense was in a state of frustration when Bryant Young cursed them out to rally them back. The 49er passing attack would go into high gear after this, Garcia on third-and-five at the San Francisco 48, Terrell Owens slipped behind Falcon cornerback Ray Buchanan to haul in the pass, he then broke a tackle and high stepped it into the end zone for the winning touchdown. This was a 52-yarder folks with 6:16 left in overtime. And this was the unique play of the game folks.

Owens had also caught a 33-yard scoring pass from Garcia late in the third quarter, dinked the ball over the crossbar after scoring. Owens would have nine catches for 183-yards, adding to his bloated ego that he was the man. Before Owens scored the tying touchdown with 4:44 left in regulation the lead saw two changes. Kevan Barlow scored on a 4-yard run to put the 49erís ahead for the first time, 24-23. The Falcons responded with Chandler throwing a 47-yard touchdown pass to Brian Finneran, with a 2-point conversion stretching Atlantaís lead to 31-24. Owens would comeback and catch two touchdowns one in overtime to kill the Falcon mindset.

Through it all Chris Chandler went 19-of-36 for 268-yards with one INT, and two touchdowns. He put on an aerial battle full of flavor but it was Jeff Garcia that would win the ultimate battle. This was a fabulous show of strength in the fact that the offense and defense never gave up despite the score and being behind. The calmness and understanding that they could come from behind was apparent. This was a game that featured two fumbles one by Garcia and the other by Hearst, and it had plenty of drama all over it as it unfolded.

Key 49er statistics
Jeff Garcia 27/41 for 332-yards, 0 INT, and 3 TD
Garrison Hearst 12 carries for 78-yards
Kevan Barlow eight carries for 38-yards and a TD
Terrell Owens nine receptions for 183-yards and 3 TD
Lance Schulters 1 INT
Bobby Setzer 1 sack


This was a game that proved to the world that the 49erís could win in overtime, the curse they had last season had been lifted. They now could hold their heads up and never look back. The ability for this team to turn around and believe that they could still win was a true sense of extraordinary spirit. This was one of the best 49er games I have ever witnessed, I remember cheering at the top of my lungs when Owens scored the final touchdown.

The maturity and stability of the team was unbelievable to say the least, they demonstrated great willingness to exploit and overcome great odds. It was a rallying call I believe for the rest of the season, the 49erís would ride this momentum for a long time down the road.

6) Game 6 away, (October 28, 2001) Bears 37 49erís 31
This game would have severe repercussions all throughout the season, for it was in this game that star wide receiver Terrell Owens blasted head coach Steve Mariucci. He accused him of throwing the game and being too conservative, to maintain his friendship with Bears head coach Dick Jauron.

The Bears were pumped for this game right from the very beginning, they remembered what the 49erís did to them last year, in a 17-0 shutout with Terrell Owens completing 20 receptions. They more than made up for it with this game as turnovers produced a sweet victory for the Bears.

In the beginning of the game it looked like the 49erís would repeat there performance of old, with Jeff Garcia getting the team up to a 14-0 lead in the first quarter. The Bear defense looked out of sync and mystified at the completions. Garrison Hearst had a tremendous day with four receptions for 105-yards and a touchdown, his first since 1998. But it was when Bears quarterback Shane Matthews that came in to relieve injured Jim Miller that really got it going for the Bears.

The Bears were trailing 28-9 as Matthews took the helm and steered the Bears back into the game, he calmly led the team to three scores in 20 minutes. The Bears rookie running back in Anthony Thomas was lethal to the 49er defense; he churned up 127-yards on 27 carries that day. It was his 12-yard rush that set up wide receiver David Terrellís touchdown catch that cut the 49er lead to 31-23.

The Chicago defense then came out and did what they do best shut down offenses, and they did that to us, making us go three and out and giving the Bears back the ball with just two minutes left to play. And it was here that Matthews lead them on yet another scoring drive. He threw to five different receivers and completed eight straight passes and brought the 49erís to the 49er 4-yard line before spiking the ball with 26-seconds left. He found David Terrell again for an emotional touchdown, the play was challenged but it failed to change anything. Anthony Thomas then became the go to gut for a tying two-point conversion, and he was successful as well, after a challenge was made of that and failed to change anything.

Then came overtime, the reason for this overtime was ours, we allowed the Bears to dictate the game in the final quarter, we blew it on both sides of the ball and allowed them to climb back into this game.

As the 49erís came out in overtime Jeff Garcia once again looked for the big playmaker to make a difference in Terrell Owens, he threw the ball to Owens bouncing out of his hands and into Bear safety Mike Browns hands. Brown returned that ball 32-yards for the winning score. It was one of the most heartbreaking scenes I have ever had to endure all season. This was unfortunately the unique play of the game.

Brown held the ball up over his head as the Bear fans cheered aloud in celebration, he even took a victory trot all around the field with ball held high to rub the defeat in. The utter frustration that would show for many games to come would present itself after this loss. The Bears came from behind over coming a 19-point deficit and defeated the 49erís in overtime.

Key 49er statistics
Jeff Garcia 21/29 for 269-yards, 2 interceptions and 2 TD
Terrell Owens six receptions for 60-yards
Garrison Hearst four receptions for 105-yards and a score
Lance Schulters 1 INT
Julian Peterson 1 INT and a fumble recovery
The ramifications after this game were huge the accusation against Steve Mariucci was ridiculous and without any merit at all. Terrell Owens and Mariucci would have a severely strained relationship following this game. The fact that the 49erís allowed the Bears to climb back into this game is one thing; the fact Mariucci intentionally wanted the loss is beyond comprehension.

This would be a game that would haunt the 49erís for a long time, and probably will until they someday meet once again. The bad blood has been spawned right here, and it will continue to grow more intense as time wears on. The ride back home on the plane was a long and silent one, the 49erís needed to regroup and evaluate what had happened soon afterward.

7) Game 7 at home, (November 4, 2001) 49erís 21 Lions 13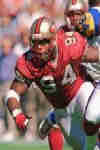 If there ever was a more dangerous game to play it was this one, the 49erís were coming off a very emotional defeat at the hands of the Bears, and the Detroit Lions were hungry for their very first victory of the season. The heated comments made by Terrell Owens still hung in the air, the tension and non-communication between star receiver and head coach was evident in this game.

The cast of the game took an ominous start as Detroit scored a touchdown immediately on a Jeff Garcia interception in the opening drive to Robert Bailey, who took the interception 74-yards for a touchdown. However it was the 49er defense that came out on the field to redeem itself from last week and put the clamps down on the Lions for the rest of the game. They did not score a touchdown after this; they simply had to settle for multiple field goals.

This was also the return of former 49er offensive coordinator Marty Mornhinweg, who left to become head coach of the Detroit Lions; he was amazed at how far the 49er defense had come in such a short time. The interception by Bailey was a result of Garcia having his arm hit at the line of scrimmage; the Detroit defensive line kept Garcia under pressure all day.

As a matter of fact Lions defensive end Robert Porcher was able to get to Garcia twice with sacks, Detroit took the lead early in the second quarter on the first of Jason Hansonís two field goals. But the 49er offense came right back in the final minutes of the first half and scored with tight end Eric Johnson catching a 4-yard touchdown passes with 54 seconds left in the half.

In the second half the 49erís laid claim to even greater dominance as they came out to decide this game once and for all. Terrell Owens was the main weapon of choice despite Mariucciís irritation with him. Owens caught a 30-yard touchdown pass from Garcia early in the third quarter to finally put the 49erís ahead for good. He added a 7-yard scoring touchdown early in the fourth quarter to cap off an 87-yard offensive drive that was very impressive as I watched. This was the unique play of the game.

Unfortunately there were no congratulations from the sidelines in light of what had happened with Owens speaking to the media, after making the touchdowns Owens would go to the bench cover his head and stay far from view.

Detroit did block two of Jose Cortezís field goal attempts, the second one from 19-yards with 1:54 left to play. The Lions even inserted back-up quarterback Mike McMahon to try and spark something special but to no avail.

All in all it was a great victory especially after suffering such an emotional overtime loss just one week ago. The victory did wonders for the 49erís morale, and kept them right on the path they wanted to be on.

Key 49er statistics
Jeff Garcia 26/35 for 296-yards, 2 INT, 3 TD
Garrison Hearst 21 carries for 82-yards
Terrell Owens nine receptions for 125-yards and two scores
Eric Johnson four receptions for 35-yards and a score
J.J. Stokes six receptions for 72-yards
Derek Smith 1 sack
Dana Stubblefield 1 sack
Julian Peterson 1 sack
John Engelberger 1 sack


The 49er pass rush was at itís best in this one particular game, after being virtually non-existent over the season the pass rush came through in true form. The number one concern over the season had been the absence of such a rush, and this game seemed to be the breaking point.

The victory was sweet with the fact it brought the 49erís back up to (5-2) for the season, the pressure was needed to put on St. Louis as they continued to dominate the division. The fallout between Mariucci and Owens would continue to plague the team, but Mariucci did a spectacular job of not allowing it to get to a point it would be damaging for the team mentally and emotionally. He made sure that the target of this team was on one thing and that was winning football games.

8) Game 8 at home, (November 11, 2001) 49erís 28 Saints 27
This was a huge day for Garrison Hearst and this was a game that again put every 49er fan on the edge of their seats. Jeff Garcia was magnificent in this game, as he was 21-of-34 for 252-yards, he hit Terrell Owens with eight passes for 100-yards and two touchdowns.

He also found Eric Johnson for the go ahead touchdown with 11:06 left to play in the game. Garrison Hearst split the formidable New Orleans defense apart in his best effort of the season. He rolled up 145-yards in rushing, 119 just after halftime in fact. It was the running game of Hearst and the offense being on the field to eat up the clock that decided this game. The Saints however did not roll over and dies this was an all out brawl from beginning to end.

Saints quarterback Aaron Brooks connected with his playmaker in Joe Horn at wide receiver for two touchdowns passes, and Saints kicker John Carney kicked a total of four field goals. But what had been the nagging problem all season came back to haunt the Saints in the form of penalties and turnovers.

Brooks was his normal elusive and mobile self, creating headaches for the 49er defense, wondering if he would stay in the pocket or breakout and take off. He was 22-of-37 for 347-yards himself.

What was the unique play of the game was rookie running back Kevan Barlow, who caught a short pass and rumbled up the right sideline late in the first half. He broke a total of five tackles before lunging over the goal line for a 61-yard score that put San Francisco up 21-11.

The Saints came back though with offense of their own with 13 straight points, going ahead late in the third quarter on Hornís 6-yard touchdown catch to end a 89-yard scoring drive putting them ahead 24-21.

But it would be their star running back in Ricky Williams that would decide their fate, with 13:23 left to play, 49er defensive end Chike Okeafor stripped the ball from Williams, giving the 49erís the ball at the Saints 30-yard line. Garcia then hooked up once again with tight end Eric Johnson with a touchdown that put the 49erís up 28-24. New Orleans had one more shot and believe me they looked like they were going to make it as I watched breathlessly. The Saint offense came back with a 63-yard reception by Willie Jackson to the eight-yard line. But two false start penalties moved them back, then Ricky Williams dropped a pass that should have been caught in the end zone with eight minutes left, and they had to settle for a field goal.

This was the deciding play of the game, and sent a chill of excitement throughout 3Com Park that day, once again the 49erís had escaped a near ending defeat. All cylinders of the team as a whole had worked hard in this game. It was a real offensive show to see and remember.

Key 49er statistics
Jeff Garcia 21/34 for 252-yards and 4 TD
Garrison Hearst 17 carries for 145-yards
Terrell Owens eight receptions for 100-yards and two scores
Kevan Barlow three carries for 12-yards and three receptions for 80-yards and a score.
Eric Johnson three receptions for 35-yards and a score
Chike Okeafor key strip of the ball
Andre Carter 1 sack


This was again a legitimate statement that the San Francisco 49erís was for real folks. They defined themselves over and over again, both sides of the team were clicking and playing well, real defined improvement in all phases of their game was coming through. The ability for them to hang tough and take advantage of key opportunities speaks volumes of how far this team has come, they beat a winning team at home and started to erase the curse that they had not achieved victory over anyone important up until now.

9) Game 9 away, (November 18, 2001) 49erís 25 Panthers 22 (OT)
The San Francisco 49erís cashed in on yet another stellar overtime victory that sent my heart racing right out the door. They closed the door on George Seifertís Panthers for the second consecutive time this season. Although the Panthers much tougher than last time, they succumbed to the onslaught of Garcia and Company.

Jeff Garcia threw a seven-yard touchdown pass to Terrell Owens and on top of that made a two-point conversion with 1 second in regulation. All this to tie the game at 22-22. Then in overtime Jose Cortez kicked a 26-yard field goal that lifted the 49erís over the Panthers again in victory. This was the fourth time that Garcia had rallied the team to either win or tie a game in the critical moments of the fourth quarter, he had made his name as comeback kid official.

Panther quarterback Chris Weinke went right to work after the 49erís fumbled on their first possession by 49er fullback Fred Beasley. Weinke turned that turnover into a 13-yard touchdown pass to running back Richard Huntley. But Weinke encountered some of the very same problems that plagued him last time he saw the 49erís. Receivers would drop passes that should have been caught. And the Panthers had to settle for a pair of field goals through the next two quarters. Carolina held a small lead 13-7 until Garcia came out and got the offense moving late in the third quarter. A 79-yard drive ended on a 9-yard touchdown pass to J.J. Stokes.

Garcia moved the 49erís again at the start of the fourth period when he was intercepted on a low pass by cornerback Doug Evans, Carolina scored on the turnover taking the lead 19-14 on a Wesley Walls touchdown but they failed to convert the two point conversion. Old time 49er defensive tackle Brentson Buckner created havoc for Garcia also, as he intercepted a Garcia pass at the 42-yard line. But Garcia came right back and marched the 49erís 66-yards on 11 plays, and converted a fourth-and-5 at the Carolina 46. From the 7-yard line Garcia hit Owens on a fade in the right corner of the end zone to make it 22-20. Then Garcia sent a light toss over to tight end Eric Johnson who made the two-point conversion, sending it into overtime. This was the unique play of the game. The 49erís then won the toss and Garcia marched them on a 66-yard drive, completing passes of eight and 15 yards to Owens to set up Jose Cortezís winning field goal. Yet again the 49erís came through, what a thriller it was.

Key 49er statistics
Jeff Garcia 34/54 for 305-yards, 2 INT, 3 TD
J.J. Stokes eight receptions for 72-yards and two scores
Terrell Owens seven receptions for 99-yards and a score
Garrison Hearst 17 carries for 92-yards
Fred Beasley fumbled


This was a game that kept you again on the edge of your seat, going into overtime was not a scary thing anymore at least to the 49erís, but it was still for me. When you overcome and come out as winners though it seems all worth while. The Panther defense was better in this game but Garcia made the right adjustments and kept getting the offense down the field. Although turnovers could have ruined our victory here, it was the determination to come right back that decided this game. The 49er defense also did another great job of being in the right places, especially stopping that two-point conversion attempt by the Panthers.

10) Game 10 away, (November 25, 2001) 49erís 40 Colts 21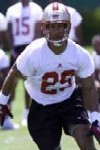 This was a game that brought forth into the light the immense improvement of the 49er defense. Coming off a victory over the Panthers and going up against the high-octane offense of the Indianapolis Colts on the road was a challenge.

The 49erís rolled into Indianapolis and met that very challenge, to all of our satisfactions. The Colts looked great starting out, they consumed more than half of the very first quarter with a 14-play, 85-yard drive made by Coltís quarterback Peyton Manning, that was capped off with running back Dominic Rhodes with a 1-yard touchdown run. But the Colts would soon find themselves faced with a 49er onslaught of incredible proportions. Coltís rookie safety Jason Doering was called for two first half personal fouls that led to scores. One was Jose Cortezís 30-yard field goal and Jeff Garciaís 5-yard touchdown pass to J.J. Stokes that put the 49erís ahead 10-7.

Manning came right back though before the half was over and connected with star receiver Marvin Harrison with a touchdown, making it 14-10. The see-saw battle would resume as Garrison Hearst had a outstanding day in production as he had a 28-yard touchdown run, that was his first rushing touchdown since his injury two and a half years ago. Manning followed that score with an interception, which led to Cortez and a field goal making it 20-14 halftime lead for the 49erís.

The Colts made another statement with running back Dominic Rhodes pounding it out into the end zone early in the third quarter to give the Colts a 21-20 lead. This would be their last scoring drive.

The Coltís and their fans had reason to celebrate and be merry, as they stayed neck and neck with the San Francisco 49erís. We had reason enough also at this time to be a little worried as to how we could manufacture more points. We knew that this would be a shootout with Jeff Garcia going head to head with Peyton Manning.

Peyton started to have a bad day as he missed Trevor Insley with a pass, that had free safety Zack Bronson in that balls sights. Bronson made a great interception and ran it back 48-yards for a touchdown. This was an awesome play and is the unique play of the game.

Not but six plays after this one, a Peyton Manning pass again bounced out of Insleyís hands and into rookie 49er cornerback Rashad Holmanís for another interception. Two plays later, Jeff Garcia connected with none other than Terrell Owens on a 35-yard touchdown pass that made it 33-21 seven seconds now into the fourth quarter. Unfortunately for Manning it was not over, 49er cornerback Ahmed Plummer intercepted another pass, and the 49erís got a 43-yard touchdown run from Garrison Hearst to seal the 49er victory. Manning was so ineffective that in the final minutes the Coltís actually pulled him as the quarterback and inserted Mark Rypien. But to no avail.

Key 49er statistics
Jeff Garcia 14/22 for 179-yards with 1 INT, 2 TD
Garrison Hearst 12 carries for 106-yards and two scores
Terrell Owens six receptions for 103-yards and a score
J.J. Stokes four receptions for 43-yards and a score
Ahmed Plummer interception
Rashad Holman interception
John Engelberger sack
Zack Bronson interception


In a high stakes game facing an inter-conference rival, this game was as exciting as we all thought it would be were. I imagined a lot of points scored and a lot of offense; we saw that in the first half as they went head to head. But it was the 49er secondary that stood tall and proud with brilliant displays of awesome coverage.

They turned this game completely upside down for the Coltís and allowed us to determine the outcome of this game. Getting on the plane for the trip back was a joyful experience for once, a distinct difference from the one at Chicago.

11) Game 11 at home, (December 2, 2001) 49erís 35 Bills 0, (shutout)
This was true momentum folks, the 49erís were probably right at their peak as they headed home from Indianapolis and prepared to meet the Buffalo Bills on Sunday Night Football. Most gave the Bills little chance of competing against us, and somehow the experts were right this time. The Bills reminded me of what we looked like back in 1999, and to say that I enjoyed this massacre I must say I didnít in the sense that I hate the Bills. But I was very happy to see us advance and keep the heat on rival St. Louis. This was a game that once again defined the 49er defense. In a blistering display of offense Jeff Garcia made many connections, he completed nine straight passes ending with Tai Streets making his first career touchdown of his career. Fullback Fred Beasley would also contribute as he scored his first touchdown of the season as well.

The San Francisco defense was mean and calculating as they set up a touchdown midway through the second quarter. As Lance Schulters leveled Bills quarterback Alex Van Pelt on a safety blitz. Ahmed Plummer did a great job of blanketing Bills star receiver Eric Moulds; he stepped in front of him and tipped the ball out of Ericís hands and into his own, for an outstanding interception. This was the unique play of the game.

Even the forgotten wide receiver known as J.J. Stokes started coming around as he made key advancements of the ball, he had eight catches for 68-yards that night. Terrell Owens scored his 13th touchdown of the season as well. And Garrison Hearst continued to tear other teams apart with 124-yards rushing and one touchdown here in this game.

The 49erís did have some problems in the form of special teams and with kicker Jose Cortez, he missed a short field goal attempt, had another blocked and shanked a kickoff. All in all it was his very worst performance of the season. This caused us to have very legitimate concerns as to going into the playoffs with this guy. Paul Smith the 49erís reserve running back even hit some action as he scored his first NFL touchdown in the fourth quarter with 3:08 left to play.

Key 49er statistics
Jeff Garcia 19/27 for 189-yards and 2 TD
Garrison Hearst 25 carries for 124-yards and a score
Paul Smith four carries for 27-yards and a score
Fred Beasley four carries for 8-yards and a score
Terrell Owens six receptions for 72-yards and a score
Tai Streets two receptions for 34-yards and a score
Jose Cortez missed and blocked field goals
Ahmed Plummer 2 interceptions
Reggie McGrew sack
Julian Peterson sack
Lance Schulters sack


This was the first shutout of the season, as well as three overtime victories the 49erís could sit back and be proud of what they accomplished. They pounded the Bills into oblivion in this game; it was a virtual slaughtering of the lambs. The entire machine of the 49erís was shining from head to toe.

We had so much to be thankful for as we pressed the issue over and over again about trying to win the division, the only way we could was to keep winning, and to look at finally beating the Rams right after this uplifting victory. We went about preparing to do just that.

12) Game 12 away, (December 9, 2001) Rams 27 49erís 14
Here was a game we really had to win, we really wanted to win, but truth be told the St. Louis Rams have our number, and the entire division to boot. Coming up on this game, I really was more optimistic because I felt that we had emerged beyond where we were last time we played the Rams.

Boy was I wrong, we fell flat on our butts again in this head to head match-up, it left again a bitter sense of disappointment that we could not overcome this explosive and very talented team. This is a team that is a model of what we looked like in the 80ís under the guidance of Bill Walsh and George Seifert. We all know where we must go from here. The Ram defense was smothering and the pressure on Jeff Garcia excruciating as he entered the game with the leading National Football Conference passer rating, but he was only 13-for-36 for 146-yards with zero touchdowns and two interceptions.

It was his worst performance yet, a striking contrast to what the 49erís had just done to the Buffalo Bills less than a week before. The Ram defense held the 49erís in check, they were unable to even get a first down until the second quarter and were held to 222-yards.

Rams star quarterback Kurt Warner continued his great dominance of the 49erís he was 26-for-42 for 294-yards and one interception and two touchdowns. One of those was to wide receiver Ricky Proehl for a 15-yard touchdown in the first quarter.

Marshall Faulk gave the 49er defense fits and tumbles as he scored from six-yards out on a run into the end zone, he then caught a 3-yard catch in the end zone that put the Rams firmly on top with 21-7 at the half. The Rams went on to add to their winning streak of six consecutive victories over the 49erís.

Rams elite cornerback Aeneas Williams intercepted two throws by Jeff Garcia, the first one led to a Marshall Faulk score and the other one led to a 39-yard field goal by Jeff Wilkins that put the Rams ahead for good 27-7 with 9:47 left in the game.

The only 49er unique play of the game came when Garrison Hearst scored on a 1-yard run in the third quarter, beyond that there was little to celebrate anything. The 49erís were unable to take advantage of key Rams mistakes, this was the most frustrating process I had to digest as I watched this horrific game.

Zack Bronsonís interception of a scrambling Kurt Warner ended up with a punt six plays later, and the 49erís went three-and-out after Wilkins kicked off out of bounds in the third quarter. A fumble after a catch by Az-Zahir Hakim gave the 49erís, trailing 27-14, one last chance with 3:37 left to go. But once again four plays later they went nowhere.

The Rams even used some trickery and deceit to rub salt in the 49er pride tank; The Rams went for it on fourth down twice on the Ramís first scoring drive. The second time, Warner faked disgust under center and walked away as Faulk took a direct snap and ran the ball for the first down. Boy that really hurt.

Key 49er statistics
Jeff Garcia 13/36 for 146-yards and two INT
Garrison Hearst 11 carries for 39-yards and a score
Eric Johnson four receptions for 38-yards
Jeff Ulbrich and Derek Smith combined sack
Andre Carter sacks


This unfortunate loss planted the St. Louis Rams as the division leaders and clinched their dominance as home-field advantage was won. They would sit proud as the division leaders and chart their course for the playoffs. The 49erís fell once again to a superior opponent, they failed to take advantage of key situations, they failed to win the battle at the line of scrimmage.

This loss indicated that we would have to enter into the playoffs the hard way, on the road and through the wild card. We hoped above all else that we could have prevented that from happening. We failed to keep the momentum going. We would have to shake off the cobwebs and readjust our focus.

13) Game 13 at home, (December 16, 2001) 49erís 21 Dolphins 0, (shutout)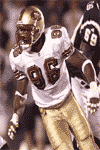 If there is one positive you can take from this season, itís the fact that the 49erís always seem to rebound big after an emotional loss. Once again the 49erís would breakout and take the football world by the horns. The Miami Dolphins came to town, and after suffering a big setback in the face of the Rams many experts thought the 49erís were critically vulnerable.

Miami quarterback Jay Fiedler versus 49er quarterback Jeff Garcia, it was almost in the same mode as the Peyton Manning confrontation, lots of offense expected. But once again as was the case in Indianapolis, the 49er defense would play a huge role. On Fiedlerís opening drive, he overthrew several of his wide receivers, on one it proved costly, as Zack Bronson was there to pick one off. Fiedler finished his day 16-of-28 for just 149-yards. Dana Stubblefield and Ronnie Heard blasted Fiedler with some savage hits that stopped drives in the second quarter, one with Heard forcing a fumble in 49erís territory.

San Francisco would dominate this game in huge fashion, the Miami defense would be faced with a very long day, of trying to cover talented versatile receivers and taking the beating that would come their way all day in the form of a 49er running game. The 49erís made a 64-yard drive of nearly seven minutes in the first half, ending with Eric Johnsonís 12-yard scoring catch two seconds before halftime on a pinpoint pass from Garcia, that was astounding and the unique play of the game.

The 49erís came back after the half to essentially put the game away; right on their very first drive. They converted two long third downs during a 17-play, 98-yard drive over 11 exhausting minutes, this all came to an end with Kevan Barlowís short touchdown run. The 49erís recorded their second shutout of the season, and slapped Miami across the face as they were trying to position themselves for a playoff run. In essence the 49erís could honestly have faith in their very young defense; they played brilliantly yet again in this game.

I enjoyed watching the enormous pressure exerted on Fiedler throughout the game, as I was equally amazed at Zack Bronson and his marvelous interceptions. Garrison Hearst had yet another great game rushing for 103-yards breaking the 1,000-yard mark yet again in his storied career. The Dolphins tried to make another effort in the fourth quarter to score but came up short again after Fiedler was intercepted by cornerback Jason Webster inside the 49erís 40-yard line.

Key 49er statistics
Jeff Garcia 14/20 for 133-yards and 1 touchdown
Eric Johnson 1 catch for 12-yards and a score
Garrison Hearst 26 carries for 103-yards
Kevan Barlow 14 carries for 39-yards and two scores
Jamie Winborn and Bryant Young combined sack
Ronnie Heard sack
Chike Okeafor sack
Andre Carter and Okeafor combined sack
Jason Webster interception
Zack Bronson interceptions


Again total effort on both sides of the ball was evident, we slapped Miami with a humiliating defeat, and we again proved ready as a defense. Playmakers started to emerge in the form of Bronson and Heard. They provide the secondary with a solid punch, and can bring the heat when called upon.

This was a game I enjoyed a lot, simply because it crushed a team that was a winning team, we shutout a very good contender after suffering such a loss against impossible St. Louis. This is the game that shot us into the playoffs for good, this was the measuring tool we needed to extract and learn from.

14) Game 14 at home, (December 22, 2001) 49erís 13 Eagles 3
After coming off an extraordinary shutout of Miami, one wouldnít think the 49erís could turn around and almost do it all over again. This was a game that made 49er history; this was a game that identified the young 49er defense as a legitimate force in this league. The Eagles and the 49erís were playing for positioning in the playoffs, this would prove to be in that caliber of games where winning for positioning is all too important. The Eagles had an impressive road record winning all their road games; they had a reputation of winning while on the road and brought that into 3Com Park on this day. The conditions of the field on this day played heavily in favor of the 49erís, for heavy rain had pelted the area all day the day before the game. The field was slippery and very muddy, forcing the Eagles to play in unfavorable conditions.

Eagles quarterback Donovan McNabb posed a series of problems for the 49erís, he had a great reputation of making plays out of impossible situations. He had incredible rushing yardage history, and he was preparing the team to win its division. When you combine all of this, you have a game of enormous potential.

The Eagles started the game with a great intensity, as McNabb completed his first eight passes in the first quarter, but the Eagles best drive would stall on the two-yard line. David Akers score on a 20-yard field goal was the first and only score, allowed by the San Francisco 49erís. The 49erís went on to tie the score on a 21-yard chip shot by Jose Cortez, and they went ahead on another short field goal late in the third quarter.

What happened next in this game was so dramatic and so unbelievable, as the 49er defense would stand tall and proud in one of the most memorable moments in itís history. Leading 6-3 early in the fourth quarter, the 49erís thought they had made a definitive goal line stand when Derek Smith, who had nine tackles, flung McNabb out of bounds on fourth down, but it was Lance Schulters that was called for holding behind the play. Two plays later, thatís six times folks! Smith stepped in front of McNabbís pass to Chad Lewis for an end-zone interception. It was his very first interception of the season, this was a play that sealed the deal on the Eagles and was the unique play of this game. The 49erís would also have its troubles scoring on the Eagles, failing on two drives inside the Eagles five-yard line. But the 49erís who were banged up with Jeff Garcia wearing padding to protect his bruised ribs, and Terrell Owens nursing a hip pointer, they both came through.

After this the 49erís moved to midfield when Owens drew an interference penalty, Jeff Garcia hit his favorite target over the middle for Owens 14th score of the season. This 32-yard touchdown pass to Owens would be the final episode of this complete contest winning 13-3.

Key 49er statistics
Jeff Garcia 14/24 for 136-yards and 1 TD
Garrison Hearst 17 carries for 72-yards
Terrell Owens four receptions for 64-yards and a score
Kevan Barlow three receptions for 20-yards
Jose Cortez made all field goals
Derek Smith key interception
Julian Peterson sack
John Engelberger sack


This was a game that I will always remember, it was an extraordinary goal line defensive stand that marveled the world, and it incited great pride in all of us 49er fans. I found renewed strength and an eagerness to look forward and hope that this team would be great in the playoffs.

Even though many of the players were beat up and nursing injuries they did not give up, they played their hearts out and ignored all the aches and pains of a long season. Many contributed to this great defensive showing; a lot of credit needs to go to defensive coordinator Jim Mora Jr. He was the genius that manufactured this great stand.

15) Game 15 away, (December 30, 2001) Cowboys 27 49erís 14

This had to be the worst game of the entire season; this was the game that determined where we were to go in the playoffs, on the road or staying at home. In all aspects it would be the very game that would influence our early exit from the playoffs. For it was in this very game that all the eggs were in one basket so to speak for the playoffs.

It was a game that would frustrate you and make you curse beyond belief, for the officiating in this game weighed heavily against us. One could say we deserved to lose this game, I would be implied to agree with them, but we were also cheated out of some very legitimate visual plays called the other way.

It was the return of Terrell Owens to the Dallas star, and the Cowboys wanted more than anything to shove this game down our respected throats did. Well little did we know that they would succeed? It would be a game that would darken our brightest day.

In the beginning the 49erís started to show their real form of old, Jeff Garcia was 21-for-36 for 229-yards and two touchdowns. He scored on a six-yard run that put the 49erís up 7-3, and then threw a seven-yard touchdown pass to J.J. Stokes with 12 seconds left in the second quarter to go ahead with the halftime lead.

Cowboys quarterback Quincy Carter would have a very good day against the hated 49erís, he had this date circled in his mind, and he had been looking forward to avenging the loss last season imposed by the 49erís. He was 15-of 25 for 241-yards, but with that he also had 30-yards rushing on 10 carries.

Dallas would defeat the49erís for only the second time in seven meetings, Carter used his feet and his arm to guide three straight offensive drives to start the second half: His own controversial 1-yard line that clearly showed he did not make it, but it was ruled a touchdown anyways. And then there was the long pass to Joey Galloway who looked to come down out of bounds but was ruled in anyways and then the 20-yard field goal by Jon Hilbert.

The Cowboy defense became impenetrable in the second half, they limited the 49erís to two first downs on their three ensuing possessions. The Cowboys turned a 14-19 deficit onto a 27-14 lead. The 49erís would try as they might to comeback, and even reached the five-yard line but Garcia threw four straight in-completions and the 49erís fell flat on their faces.

Key 49er statistics
Jeff Garcia 21/36 for 229-yards and 2 TD
Terrell Owens five receptions for 93-yards
J.J. Stokes four receptions for 47-yards and a score
Garrison Hearst 11 carries for only 35-yards
Bryant Young sack
Terry Jackson fumble


The combinations of Carter to Galloway and the handoffs to Emmitt Smith, who rushed for 126-yards on our once imposing defense, said it all. The Cowboys had reason to celebrate playing spoiler in this game. They effectively extracted great revenge in this game by eliminating home-field advantage for us with this loss. After this loss we faced a prospect of playing Green Bay at home.

17) Game 17 away, (January 6, 2002) 49erís 38 Saints 0 (shutout)
The last regular season game would provide all of us a lot of fireworks, as said before it seemed that after every loss we had, we came back with a fury. This was a game that defined that all too well again. Into New Orleans we would travel, we had beaten the Saints once before already, but that was in overtime and the score was won by a mere point. We all knew going into the Saints home, that they would want to extract revenge like so many others wanted to. But the Saints had struggled as of late losing their last four games; they had been giving up around 40 points in those games played.

The 49erís would show classic dominance in this game, On their first two possessions, the 49erís took advantage of a fumble by running back Ricky Williams on their 44-yard line. On first down, Garcia found Terrell Owens 10-yard behind Saints cornerback Fred Thomas for a 56-yard touchdown and a 7-0 lead. On their next one, Garcia found Owens again for a 60-yard touchdown that put the 49erís up 14-0. This was a beauty folks and was the unique play of the game.

In the second quarter, the 49erís recovered Ricky Williams second fumble, on the Saints 28. This set up Garciaís third touchdown pass a six-yard pass to Terry Jackson making the lead 21-0. Then midway through the third quarter, the 49erís had their third interception of the game from Aaron Brooks that led to a 39-yard field goal that made it 24-0.

Garcia would not be finished here, as he threw his fourth touchdown of the day, on the very first play in the fourth quarter, hitting J.J. Stokes for a six-yard score making it 31-0. Brooks was intercepted for the fourth time in the fourth quarter, and back-up 49er quarterback Tim Rattay marched the 49erí another 44-yards for the 49erís final touchdown, with Terry Jackson running in from the nine.

Key 49er statistics
Jeff Garcia 14/21 for 263-yards and 4 TD
Kevan Barlow 16 carries for 63-yards
Garrison Hearst 15 carries for 57-yards
Terry Jackson four carries for 18-yards and two scores
Terrell Owens two receptions for 116-yards and two scores
J.J. Stokes six receptions for 79-yards
Andre Carter sacks
Dana Stubblefield sack
Jamie Winborn recovered a fumble
Derek Smith recovered a fumble


A shutout 38-0, this was a great way of ending the regular season; this was sweet justice compared to the devastating loss we had suffered at the hands of the Cowboys. Green Bay was our clear opponent, everyone was excited and exhausted all of the above and more.

I thought the catches made by Owens were formidable and accurate, Garcia and Owens seemed like a match in heaven happening. The momentum was being built upon as the 49erís stared back on their 12-4 record, a feat they never dreamed possible in such a short period of time.

17) Wild Card Playoffs, away at Green Bay, (January 13, 2002) Packers 25 49erís 15
It was 28 degrees at Lambeau Field, a frozen hell if you could ever imagine it; this was the very place that the 49erís wanted to avoid. But they sealed their fate when they lost to Dallas just two weeks ago. The mystique that this field held was almost legendary; the Packers had 12 straight victories at home on this field in post-season play. What was even more depressing was Packer quarterback Brett Favre was 30-0 in starts at Lambeau Field when the temperature was 34 degrees or colder. This in itself was intimidating to say the least, even though I believed that we were the better team, and I still believe that today. So many things went right for the Packers, and so many things went wrong for the 49erís.

The Packers had the home-field sanctuary that it had craved for the playoffs, they needed it because they had surrendered an average of 170-yards rushing the last four weeks of play. All of these to non-playoff teams mind you, but they were able to get back some injured playmakers just in time for this pivotal game. Linebacker Nate Wayne out with a back injury was back, and nose tackle Gilbert Brown out with a foot injury was back to clog the middle.

These players made an enormous impact on this game, the 49erís believed that they could establish a running game, and take time off the clock, after all four other teams had just done this. Unfortunately the Packers strengthened their run defense immensely with these player additions and limited the 49erís to just 71-yards rushing, in fact Comeback Player of the Year Garrison Hearst finished the day with only 42-yards on 13 carries. The Packers special teams came right out firing in the first quarter, having returned after arthroscopic knee surgery Allen Rossum returned a punt 35-yards, setting up a Green Bay 40-yard touchdown drive that Favre capped with a five-yard toss to wide receiver Antonio Freeman. The crux to this though was when 49er defensive tackle Dana Stubblefield beat Chad Clifton to block kicker Ryan Long well's extra point.

However the blocking kick was returned when the Packers Cletidus Hunt blocked a 34-yard field goal attempt by Jose Cortez after Darren Sharper dumped Garcia for a 10-yard loss on a third-down safety blitz. The pressure on Garcia would be evident all day in this game, in his first playoff appearance he scrambled many times for his life. The 49erís were able to get to Green Bayís 44-yard line when Favre floated a pas to Tyrone Davis that was intercepted by Ahmed Plummer, this was Favreís first pickoff in 115 passes.

The 49erís came back in the game taking a halftime 7-6 lead when Hearst scored from the two with 11 seconds left in the half, capping a 15-play, 86-yard drive. This was the unique play of the game. Green Bay came back in the second half with a Ryan Long well field goal from 26-yards that made it 9-7. Favre went on to hit tight end Bubba Franks with a 19-yard touchdown pass with 3:26 left in the third quarter, this was one play after Corey Bradfords 51-yard catch.

This made the score 15-7, but instead of sending out Longwell, Head Coach Mike Sherman went for 2, and it failed when Donald Driver was tackled shy of the end zone after the reception. This was a great moment as I watched I actually believed we could turn this around at this point.

After this controversial call to go for two, Jeff Garcia would make them pay for that decision, he drove the 49erís 61-yards in six plays for the tying touchdown and two-point conversion. It was Tai Streets that made the 24-yard touchdown, and for a brief moment the 49erís had quieted the noisy Packer fans in and around all of Lambeau, it was a brief moment of ecstasy in my opinion.

The Packers came back though one for a field goal and the next on a remarkable play, Favre guided the Packers on a 93-yard touchdown drive after Tyrone Williams interception of a deflection by Mike McKenzie with five minutes left to play, and the Packers clinging to a 18-15 lead. The pass by Garcia was intended for Terrell Owens but it was thrown just short enough for the Packers defensive backs to make a big play on the ball. Owens would be later furious and open mouthed about how he should have been a bigger factor in this match-up. Again signaling that Mariucci was playing way too conservative.

It was Packer running back Ahmen Green who had 21 carries for 86-yards, that scored the 9-yard touchdown after this huge play, a play that sealed the fate of the San Francisco 49erís for the 2001 season. The loss was devastating and every player that walked off the field held their heads low, it was a sickening feeling deep within on how far they had come and failed.

Key 49er statistics
Jeff Garcia 22/32 for 233-yards, 1 INT, 1 TD
J.J. Stokes four receptions for 52-yards
Tai Streets four receptions for 50-yards and a score
Terrell Owens four receptions for 40-yards
Garrison Hearst 13 carries for 42-yards
Jose Cortez blocked field goal
Ahmed Plummer key interception
Julian Peterson sack


The loss and exit from the playoffs was pure destruction emotionally and mentally for this team, but they had come so far and accomplished a lot in a short period of time, many thought they had far exceeded their goals already, and I was one of them. Peaking too early in oneís season can be deadly, if you do not slow down; this team definitely peaked way too early for comfort. Key games were lost and compromised; we had made league news though with so many overtime victories and shutouts for the season.

The hard work of the front office and the coaching staff was astounding in my opinion; we have one of the greatest organizations in football today, that is my belief. The evidence is on the field and in the halls of the locker room. We had to endure the sarcasms of Terrell Owens but I believe that it is merely a cry for winning more than anything.

This team and all itís players should stand proud after a record of 12-4 in the regular season, sure the playoffs are different and you start off with a clean slate, but we entered this playoff race after impossible odds, and at the same time we grew from within.

Looking ahead at the 2002 season
Letís not forget where we came from or who we are, the 2001 accomplishments will be physically present in this yearís Pro Bowl in Hawaii. Of the San Francisco 49erís six will be represented, this is an all time high in personnel. We have a lot to look forward to and be proud of.

Guard Ray Brown after 16 seasons of hard work will be there, Quarterback Jeff Garcia will again make his second trip, Comeback Player of the Year running back Garrison Hearst will be there. Wide Receiver Terrell Owens will represent our offense, and defensive tackle Bryant Young will represent the defense. Center Jeremy Newberry moves in as Vikings center Matt Birk could not make it due to his marriage arrangements.

Newberry was chosen as a first alternate in case any other center could not make it, therefore he is excited to be able to go, Cornerback Ahmed Plummer was named as a second alternate at the defensive back position.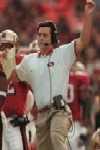 The 2002 free agents the San Francisco 49erís need to be concerned with are many, we will still be in a salary cap situation that will make it difficult at best to keep them all. General Manager Terry Donahue has indicated his desire to keep the players on the roster all in tact, but that is easier said than done in the long term. The 49erís in essence could be $10 million over the cap because of bonuses and incentives paid out to Jeff Garcia and Garrison Hearst.

Of the four that will weigh the heaviest on the minds of Donahue and Company in the front office will be Running back Garrison Hearst, he is an unrestricted free agent starting March 1st. Rookie Kevan Barlow has done a remarkable job in switching back and forth and giving Hearst a rest, but I believe he is invaluable, as Barlow needs to learn more from him over the years.

Fullback Fred Beasley, he is unrestricted and he will command attention, he is known as one of the best fullbacks in the league, and this position is in very short supply of game breaking fullbacks. I believe a great effort should be expended in retaining him, little to people realize how successful a running back is all because of a great fullback like Beasley.

Center Jeremy Newberry has done an outstanding job over the past few seasons, and his service will be of great value to an offensive line that is growing older, he will need to be resigned to build upon youth on this line.

Strong Safety Lance Schulters is an unrestricted free agent, and he will probably be the most difficult to resign, he will command a big salary. But he is worth it, he proved himself worthy with his blood and guts coming back in a game after separating his shoulder.

Others include Offensive lineman Matt Willig a great top of the line reserve lineman; he came in and never missed a beat. In reality he could be a possible starter for like an aging star like Ray Brown who turns 40-years old.

Linebacker Terry Killens a great special teams ace, and a great player that provides solid depth at this position, he is unrestricted. Quarterback Rick Mirer the third notch quarterback on the roster, he has been in and out to provide insurance in case Garcia went down he is unrestricted but expendable.

Defensive end Troy Wilson unrestricted brought in for the playoffs due to Chike Okeafor and John Engelberger out with injuries, he was solid but expendable. And defensive back Tyronne Drakeford another former player brought back to provide depth, again he played well but is expendable.

Of the restricted free agents who we can match any offers from other teams, leading the pack to keep is fullback Terry Jackson a special teams ace and captain. He is so versatile and he makes big plays. Defensive end Chike Okeafor has made progress in his pass rushing and should be retained. And finally center Ben Lynch a rock solid back-up center behind Jeremy Newberry.

Of the exclusive rights free agents who need to negotiate contracts with only the 49erís at this stage of their careers are: Defensive back Ronnie Heard, Kicker Jose Cortez, defensive end Bobby Setzer, tight end Justin Swift, running back Jonas Lewis and kick return specialist and wide receiver Vinny Sutherland.

ďThereís no way Iím going to prioritize the free agents,Ē Donahue said. ďWhat I will say is that we would like to have as much continuity on our team as we can. Thatís important to us. Economically can we do that? It depends on how cooperative everyone is. It depends on what the real cap room is and how we can work with the cap to create enough opportunities for each and every one of those guys to comeback. Weíve got to get them back or weíve got to replace them.Ē

What needs to be the primary focus as mentioned is to try and sign the starters back to this franchise, to me that is the most important order of business we can accomplish as a team. We want to field the same starters we had in order to keep the glue of the team together over the long haul, back into the playoffs. Can we make another run? I say absolutely and there will be that expectation to make it also, especially after squeaking in and then shutout. Consultant Bill Walsh believes we can also, with some more hard work and dedication to excellence we can overcome anything, even if the overall record is like 10-6 instead of 12-4, we can expect the same.

I am proud to be a 49er fan, that is the inner drive I carry with myself all the time. I wear it like a banner for the whole world to know. I speak in volumes about how the 49erís are coming about, mostly through my writings. I praise each and every 49er fan around the nation and the entire world, for their belief and convictions for this team; you are all the real heroís of this season for we are the supporting cast for this great franchise.



Fan Press:
Now you can write articles for 49ers Paradise, and read what other fans have to say too in the Fan Press section.