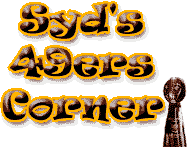 San Francisco's running game at it's best, but stadium needs an identity. (07/19/02) 9:00 PM


When you imagine in your minds the greatest running backs in the league today and yesterday many names come to one's mind and tongue. You have to translate those thoughts and analyze them into order as to the best to the above average and then you have the average.

Of my favorites I envision Walter Payton, Eric Dickerson, Tony Dorsett, Emmitt Smith, Jerome Bettis, Ricky Watters, Roger Craig and Charlie Garner.

But of the present and the now, I find no others more lethal and more prepared to go far this season then Garrison Hearst and second-year running back extraordinaire Kevan Barlow.

These two have been on a path of destruction to opposing rush defenses, the bar has been raised and these two are more than just tuned up, they are revving the engines into overdrive.


As I look back and remember last season. I saw a running game that was equal to none, we ranked second in the league in rushing with an average of 140.3-yards per game. This contributed to an offense that ranked fourth overall in the entire league.

Hearst had a marvelous comeback year in which many or should I say most couldn't believe he would step foot on a playing field ever again.

He proved them all wrong and proved to himself after 2.5-years of rehabilitation and enduring patience by the team, that he was back and back for good. He generated 1,206-yards and that was in conjunction in sharing playing time with Pittsburgh's rookie Kevan Barlow whom had over 500-yards rushing himself.

As highly dynamic the passing offense has been for the 49er's, it has always been the running game that pushed them ever closer to the post-season. Many fans and non-fans when they think of The San Francisco 49er's they automatically think passing offense, and it's many successes correlating with quarterbacks Joe Montana and Steve Young and wide receivers John Taylor, Dwight Clark, Jerry Rice, Freddie Solomon, J.J. Stokes, Brent Jones and Terrell Owens.

Having both Barlow and Hearst in the backfield this season will generate a fear across the league that opposing teams will be forced to game plan around and take notice. We will have a better-diversified offense in having rotating fresh legs to run with. This was proven over the course of the season last season, greatly reducing the risk of injury to any featured back.


Both have looked remarkable well throughout mini-camps and both head into training camp knowing that they will both again share the workload. Both seem satisfied in adhering to this especially Hearst who just signed on to an extension of his contract and a $3 million signing bonus.

"We like to have both athletes on the field at the same time, and then we've got to be creative as to how we're going to run the ball and throw the ball," Coach Steve Mariucci said following a mini-camp. "We wouldn't use one of them as a true blocking fullback. We'd use them in a split-back set or move them around as receivers."

What we need to see is even more plays with both of these young studs on the field together; this in itself would confuse and disorientate the opposition. Hearst and Barlow were on the field together in only two plays last season.

More experimenting with this would be beneficial. Finding the effectiveness these two would bring on the field at once would be most interesting to see. I think we might see more risks taken in the course of this season, as the offense looks for new ways to create versatility.

"Not taking anything away from Fred Beasley, because he's a great fullback, but I think having two quality ball carriers in the backfield gives us a double threat," quarterback Jeff Garcia said. "Not only carrying the ball but also catching it out of the backfield and being able to make things happen with they're running abilities. I think it's a great option for us."

The consensus on the team as spoken by Jeff Garcia is to see Barlow and Hearst on the field together more often, certainly the frustration that defenses would have is identifying who would have the ball and what routes the two would take.

Both are agile receivers out of the backfield and pose a tremendous threat when in motion. I am all for intensifying the running game and feel that this should remain a mainstay for the team.

The Coaching staff has been experimenting with the thought of starting both running backs out of the backfield to mix up the offensive strategy as a whole. They have done many drills and repetitions already in spring mini-camps and that will continue throughout Stockton training camp.


"Coach said he's going to get us out there together a lot more this year," Barlow said. "I'm just trying to get out on the field anyway possible. I just want to be productive and help this offense."

Just as a rookie and back up to premier running back Garrison Hearst, Kevan Barlow ran for 512-yards; that being the most by any 49er second-tier running back since Joe Cribbs' 590-yards in 1986.

Barlow wants even more yards this season and a lot more opportunities. The itch for playing time is starting to unravel Barlow to the point where he has been lobbying Mariucci to get him on the field at the same time with Hearst more often.

"If either one of us gets our hands on the ball, we can go all the way with it," Barlow said. "Nobody can really defend that. That's going to keep them off-balance."

The schemes and formations now being devised by the 49er coaching staff should include more Barlow and Hearst together. If there is anything more lethal to the opposition it is the ability to keep them guessing and the ability to manage the game clock.

This is where the running game comes in and solidifies that fact. The only downfall of course to this formation is what it does to leading fullback Fred Beasley.

Beasley is already unpleased to be relegated to a role of just being a great lead blocker. He has always wanted to be more and was at one time before the Barlow acquisition was completed. Beasley needs to have more opportunities as well, as he has proven effective in the red zone area and in making critical third down plays. I have a high regard for Beasley and consider him one of the tops in his position in the league.


However being devious and ruthless and devising new ways to confuse and hinder the opposition has to be a serious consideration. One that the 49er's need to continue blazing new ways to move the chains.

It is my hope that double doses of Barlow and Hearst take place and that Fred Beasley can be incorporated more at the same time into critical situations like mentioned before.

The two styles both possess are intriguing because they are so different. This in itself will knock a defense to its knees not knowing which way one will go. Barlow is a big, punishing running back that like to plow right up the middle through defenses; Hearst is the maker of the darting and sprinting running back, one that makes defensive backs miss as they reach out to grab him. He uses a unique blend of power and slashing moves that keep defenders off balance as he moves the ball up the field.

I have complete confidence in second-year running back Kevan Barlow, he is in many terms a human wrecking ball the way he eludes would be tacklers and dances inside and out while making yardage in the process. He has size, strength and powers all great attributes for a premier running back. His tenure as a 49er with us must be taken seriously, as I believe he can only become better over time.

"This year, everything is coming along," Barlow said in an interview with San Francisco Illustrated Magazine. "I talked to the coach and he said my role is going to increase. I want to be in the offense as much I can and help produce."

Kevan has not had a glorious debut as a rookie, in fact he met his first season with a rather damaging injury, he was determined to not let it take precedence over his season and vowed to begin his rookie year in high fashion.

He had late-April arthroscopic surgery to repair meniscus cartilage in his knee. This was a major setback for the rookie out of Pittsburgh, he was mentally and physically drained form the injury and its rehabilitation process.


But with health not an issue now the sky seems to be the limit for Kevan Barlow now, his understanding of the 49er system has been beneficial and will increase his success rate with his second-year knowledge. He has looked crisp in workouts and drills and continues a rigorous off-season conditioning program.

"Everything is much easier than it was the previous year," Barlow said. "Last year, I was just going out there and guessing, just trying to move full speed and not knowing really what I was doing. I'm a lot more comfortable in what I'm doing now, trying to be more decisive."

His attention to details have not gone unnoticed, the coaching staff gives him high marks in almost every detail. Barlow seems to be on a course to someday resume the lead role that Garrison Hearst has been blessed with through enduring hard work and dedication.

His association with Hearst has proven to be beneficial to him in more ways than one, Hearst has had a great influence on him as he has struggled to learn the ropes of the offensive strategy and philosophy of the West Coast Offense.

The experience and playing observations have helped Barlow become a better running back by simply watching and listening to Hearst as he comes in off the field.

Some of the things Barlow has been taking more time with include taking more time to limber up his legs before he begins his conditioning drills. Last year, when he didn't do so he suffered a quadriceps pull early in training camp that forced him to miss almost three weeks of drills right in the middle of being considered in taking the lead role as the starter.

"He's training much harder than he ever has in his life;" 49er's Coach Steve Mariucci said. "He's learning how to work like our veterans." "I've got big-ass legs," Barlow said, laughing. "It takes an extra 15; 20 minutes to get these puppies warmed up."


The prognosis on Barlow is most promising, I expect him to be a huge factor in this seasons run in the winning column. Barring injury Barlow could establish the rights to take over the leading role as running back. Garrison Hearst though may have something to say about that, because he just signed an extension and is preparing to be around for awhile.

"I'm going out there full-speed, full go, giving it my all," Barlow said. "I want to get everything down pat right now, so when the season comes everything will be intact and I'll be ready to go and be on top of my game. Because I'm going to ball this year."

In another bright picture for the 49er's the success of NFL Europe's Jamal Robertson has overshadowed almost everything else in regards to the running back unit on this team. Robertson who plays for The Rein Fire broke records left and right, back in May in a victory over Frankfurt, he had a 188-yard performance in a 24-20 victory.

In his career-high breakout performance he had touchdown runs of 90, 50 and 20 yards. This is an incredible testament to his abilities and talents, as he jockeys for position in the 49er lineup.

Robertson is a two-time All-American at Division III Ohio Northern, he was signed as a free agent after a year in the Canadian Football League this winter and then allocated to NFL Europe.

In five-games in Europe he had rushed for a league best 587-yards, averaging 6.5-yards per carry. What is astonishing is that while he was in the Canadian Football League's Calgary Stampeders, he had enormous difficulties cracking their starting lineup. This being the same team that produced 49er quarterback Jeff Garcia.

Robertson, like Garcia has had to find success the hard way along the path to establishing an identity for him. Once he was in NFL Europe, he became a friend with Rein Fire's quarterback Tee Martin.

Martin the former Tennessee Volunteer and current Pittsburgh Steeler urged his coaches to really look at Robertson as a possibility. An injury incurred and opened the door for him to run.

Robertson who optioned to go to Europe did so knowing he had far better chances in making the team then not to. His performance in Europe has suddenly raised the eyebrows of the 49er coaching staff in considering him long term; however he still faces great odds with a roster deep in the running back department.

Robertson who stands 5-10, and weighs 210-pounds has compared himself to Eagles running back Duce Staley. "I feel some of the defenses underestimate me because of my size," Robertson said.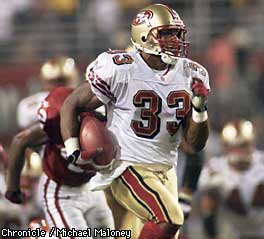 What many try and forget is that the 49er's had experimented with sending a running back to NFL Europe before only to be burned in the process. Remembering former troublemaker Lawrence Phillips sends chills up my spine.

Robertson has been quite the opposite though of Phillips and seems to making a statement with his honors in Europe. It is in my opinion that should he not make the final cuts in training camp someone else in the league will be happy to give him a shot.

I believe we can prevent that with giving him ample opportunity to prove himself in camp, he seems to be nudging former Extreme Football League star Saladin McCullough as his main target of competition.

So it will be interesting to see these two go head to head in trying to make the roster. The roster was lightened in weight though in the surprise release of running back Jonas Lewis.

San Francisco's Jamal Robertson won one of NFL Europe's most distinguished awards in receiving The League's Most Valuable Player Award in Offense. He became the fourth such running back straight in receiving the award. His 792-yards rushing ranked third in the league and included a 90-yard touchdown run against Frankfurt, the longest run in Europe League's 10-season history.

Robertson also had even more impressive statistics in leading the league in touchdowns with eight, and ranked fourth in total yards from scrimmage with 929-yards, having caught 14 passes for 137-yards.

Robertson seems to be the real deal, what would be most favorable would be to retain him and go into the season with one of the deepest running back contingents in the NFL. Much the same way the Denver Bronco's have done just recently in the last few seasons.

This depth is most enticing in the fact it comforts possible injuries and creates constant competition for the lead and back-up roles on the roster. This is what any coach dream of having at every position; unfortunately it doesn't happen and is financially impossible with salary cap considerations.


Commenting on the release of Jonas Lewis is something I have a difficult time with, as I really liked what I saw in Lewis in everything he did and contributed to this team. I felt he was a rising star on this team and displayed great abilities in enhancing our special teams and competing for a chance to unseat kick return specialist Vinny Sutherland.

Just one day after the 49er's wrapped up a three-week mini-camp back in May; the 49er's signed Lewis to a one-year contract. The third-year running back was delighted to continue his quest for something more. Lewis is a former San Diego State Aztec, and he missed most of last season unfortunately due to a serious groin injury in the opening game last season.

His statistics last year was two kickoffs returns for 32-yards. He made his mark mostly on special teams. He appeared in 10 games as a 49er and finished third on the team with 13 special teams' tackles. Lewis finished his Aztec career as the school's second-leading rusher with 2,843-yards, trailing only Marshall Faulk.

As July came into being though Jonas Lewis received the disturbing news of his release, they released him with nine running backs still on the roster heading into training camp.

Lewis has not taken the release with ease, but holds no grudges either surprisingly. His release may be in light of Jamal Robertson's record season in NFL Europe, therefore increasing his chances of making the roster.

But it is in my opinion as well as others, that of the running backs still on the roster others could have been released, such as Jasen Isom or Matt Stanley. Certainly it clouds the mind as to why not one of these?

I do not make a habit of questioning what the front office does, obviously because they are paid to make these difficult decisions. But I disagree with this one.

I honestly hope that Jonas Lewis makes it somewhere else, he has even indicated he would be thrilled to comeback if asked by the 49er's. He holds no ill feelings towards them and even goes on record as saying they are one of the best organizations in the league. He would love to be a part of that, I say bring him back if we can.


In other news the team was honored in having both Quarterback Jeff Garcia and Running Back Garrison Hearst named recipients of the 2002 Victor Sports Awards, which took place on June 29th in Las Vegas, Nevada.

Garcia who had won Pro Football Player of the Year award and Garrison Hearst the Pro Football Comeback Player of the Year award received their awards at the 36th Annual Academy of Victor Sports Awards, which benefits the City of Hope National Medical Center and Beckman Research Institute.

The Victor Awards is televisions longest running sports award shows, honoring the best athletes and coaches in the world. The honorees are professional and amateur athletes whose achievements are judged to be the most outstanding by the Nationally Academy of Sports Editors.

This distinction is an honor at the highest magnitude as it incorporates everything that is sought for in an athlete today and for tomorrow as well. In my opinion both Garcia and Hearst exemplify this example and strive each and everyday in order to better them and perform at an unselfish level at all times.

What each of these players has gone through over the years as 49er's is enough in my eyes to warrant such an honor. I am pleased and proud that we can employ such awesome personnel.

How does the Academy work? It is comprised of sports editors, writers and broadcasters who vote on the winners of 35 categories in 15 sports, in addition to various Special Achievement awards. Both Garcia and Hearst fit the mold very well and contribute to the overall sphere of professionalism.

All proceeds of the event go to the City of Hope National Medical Center and Beckman Research Institute, a national institute-designated Comprehensive Cancer Center located in the greater Los Angeles area. City of Hope is one of the leading world's treatment and research centers for cancer and other serious diseases including diabetes and HIV/AIDS.

Certainly these kind of contributions are worthy and bear witness that every good cause goes a long way to fighting these deadly diseases. All of another or us at one time have been touched by someone a friend or family member from the terrible results of theses diseases.

I know I have and I implore that all research is genuine and that funding these events and participating in what you can is all beneficial. I pray everyday that a cure and further improvement can be made. God Bless all of you that have been effected.


What do we call our old stadium? 3Com's naming rights have expired and there is yet no corporation willing to step up and buy those rights. I always liked Candlestick and then didn't mind seeing it changed to 3Com Park either. But now there seems to be no sense in what it's called now.

San Francisco Stadium at Candlestick Point that is what it is called now. A windy place notoriously known for the ever shifting wind and its proximity to the raging waters of San Francisco Bay.

The 49er's have long been abandoned by their teammates from the baseball Giants. The need for a new stadium or a revamped old 3Com or Candlestick is very much in need.

It seems like the entire issue of stadium relocation or reconstruction has died a slow and agonizing death. Very little is mentioned as to the future of each subject and the current 49er owners seem in no hurry to pursue the matter likewise.

In regards to the new name: "We thought it would be less confusing," said Chris Mack, property manager for the city's recreation and park department. "It took a long time to get away from the Candlestick name," Mack said. "Some people still can't get away from it."

The official San Francisco 49er website still uses the name 3Com, as does other 49er affiliated websites, and to be honest whom wouldn't? I mean to call it the other name is ludicrous to say the least. Game tickets still have the name 3Com and it seems they will have to stay that route due to the long worded name of the current.

As I have mentioned before the citizens of San Francisco and all outlying communities need to rise up and demand action from the city and it's legislators to find new ways to brighten up the stadium.

Tax incentives and breaks could be arranged and negotiations with the DeBartolo's could be a consideration in reconstructing 3Com so that it is again a bright and vibrant place to visit and watch games.


Highway signs will continue to be worded 3Com as well, the expense on changing the signs would be ridiculous, let alone practical. If you don't know the true cost let's say signs that are located on stadium grounds cost $30,000 to put up and another $30,000 to take down. Quite expensive don't you think?

I will be honored to be there this season and watch the 49er's spar with the Chiefs in pre-season action, I am looking forward to the entire event and acquainting myself with the realms of downtown San Francisco as well.

I continue to implore all those that want to keep a tradition alive and a name cemented in San Francisco sports history to encourage politicians and owners alike to work with more regularity in finding a solution to our stadium status.

I am proud of the history in which this stadium holds, the memories, the many televised games that were watched at this very location goes beyond comprehension. I am a proud 49er fanatic and could never dream of being anywhere else. Although I live many miles away I still would never want the 49er's to pack up and move.

The talk and investigation of moving a professional team to Los Angeles is real and ongoing. I know that the San Diego Chargers seem to at the top of that list, but never rule out what could happen to our very own franchise. I would rather see them move east rather than south to be honest with you, but most of all I would rather see them stay right where they are.

The cost of going to a game has risen dramatically over the years, yet the faithful continue to pay to witness the very team that has dedicated it's life to winning for it's fans.

I believe the 49er's should continue to look for ways to improve their fan-related activities, and I believe more should be done to reach out to their fans that are many miles away as well.


Taking away Fan Fest day this year was in my opinion a poor move, simply because many look forward to this day in order to be in close proximity with the revered players on their team.

I know I am disappointed as I plan on attending training camp in Stockton as well. But I will hold true and go anyway, hoping that I latch onto several players and win not only signings of memorabilia but also a chat here and there as well. Then I will say it was indeed all worth it nonetheless.

We as the fans of this proud franchise need a larger voice, I hope that somehow in their infinite wisdom as a prestigious organization in sports history will live up to their elevated name.

There are no more faithful then us; we define what a fan is simply with our class and character in recognizing the team of pronounced choice. I hope and pray that this 2002 season can be a continuance of 2001. I wait for the start with great anticipation.





Fan Press:
Now you can write articles for 49ers Paradise, and read what other fans have to say too in the Fan Press section.