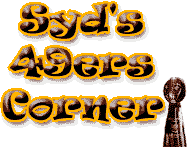 Looking at the 2002 NFL Draft; Cornerbacks, Safeties and Schulters Farewell. (04/05/02) 9:00 AM


The San Francisco 49er's have made headline news not only in the Bay Area but all over the sports network world on recent free agency signings. The recent acquisitions of former Chicago Bear safety Tony Parrish and former St. Louis Rams defensive end Sean Moran solidifies a 49er defense for a run at glory.

The 2002 NFL Draft just became even better after the 49er's received compensatory draft picks from the league under the NFL Collective Bargaining Agreement. Where a team that looses more or better compensatory free agents than it acquires in a year is eligible to receive these compensatory picks.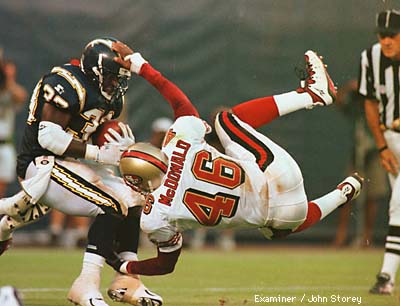 Last season the 49er's did loose compensatory free agents: defensive tackle Brentson Buckner, running back Charlie Garner, cornerback Monty Montgomery and defensive end Anthony Pleasant. And they signed one compensatory free agent in linebacker Derek Smith.

What did the 49er's receive in the form of additional draft selections brings their total on draft day to nine. They acquire a fifth-round selection (no. 172 overall) and two seventh-round selections (Nos. 249 and 256 overall). The 49er's have a pick in each round including two in the fifth and two in the seventh rounds. They forfeited their third round pick as part of the Clark/Policy Settlement with the league.

Now some may think that two seventh-round additions may be meaningless but I beg to differ with you on that one. Look at the fine prospects that we have drafted from the seventh round that turned into stars. We have Yale's tight end Eric Johnson who had a great rookie year supplanting Greg Clark. And we have Louisiana Tech's Tim Rattay as our back-up quarterback who eliminated favorite Giovanni Carmazzi.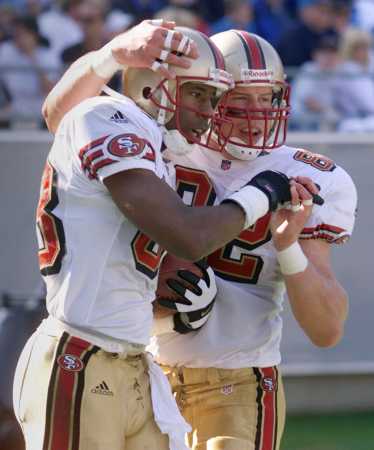 We can expect huge things to happen in this draft, even though we acquired free agents on the defensive side, we can expect some more defensive positioning in drafting defense. The 49er's are still very much in the game of drafting a cornerback, somewhere in the first or even second round to sure up their nickel defense and add depth.

In the safety department the need is not as pressing with the signing of Tony Parrish who replaces departed Lance Schulters. However do not count that out as we may still draft one to add competition and depth.

Top 2002 NFL Draft Prospects at Cornerback
No.1 Quentin Jammer, Texas
Strengths: Great closing speed and man-to-man coverage skills
Weakness: Overall speed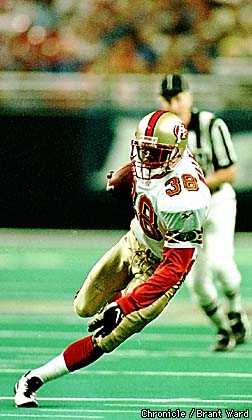 Jammer is the most complete cornerback in this year's draft; he comes at you with a variety of moves that will leave your head shaking from side to side. He stands 6-0 and weighs 195-pounds. He has a varying degree of styles that will leave you guessing at what he does next.

He is very physical at the line of scrimmage but should a receiver beat him off the line he has the fortune of having enough closing speed and cover skills to make up for his mistake. He often leads with his upper body well while tackling, and while he may not be the most ferocious hitter as a defensive back he makes solid tackles. His one and only weakness seems to be his overall speed, he has never been timed under 4.5 in the 40. But he does compensate somewhat with great size and sound hands.

With some exposure and some playing time he will be a cornerback that will eventually take one whole side away from an offense to throw to. His playing time at safety helped him become a better player overall especially in tackling. He made first-team All-American in 2001; he deflected 24 passes and did not allow a touchdown reception during the regular season.

He helped the Longhorns defense allow only 236.2 yards per game and 4.77 yards per pass, both the lowest in Division I-A. He is strong and very aggressive; he is the terminator this year at his position in this draft. He could go as high as No.6 in the first round of this draft. He will be a starter or fight for that spot on nay team fortunate enough to acquire him.

Pete Prisco from CBS SportsLine.com said: "A bigger, more physical corner who reminds some of former Longhorn Bryant Westbrook, now with the Lions."

No.2 Lito Sheppard, Florida
Strengths: Quickness and good play recognition
Weaknesses: Off the field character and work ethic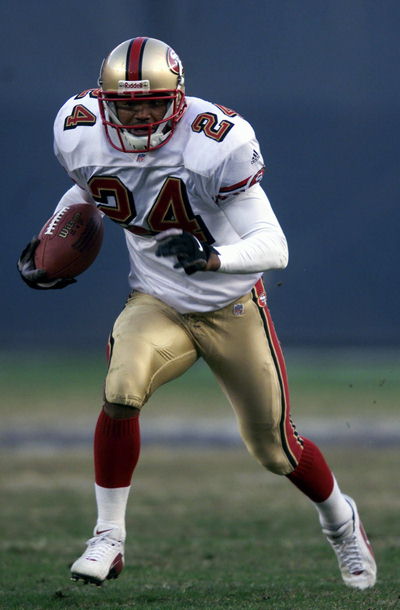 Even though Sheppard is only a junior the upside of this particular player is enormous; he seems more than ready to take on a professional career in the NFL. There are questions that surround him though. He stands 5-10 and weighs 195-pounds. He seems to be like the first player to be late to practice and the first one to leave practice.

He boasts that he has all the talent in the world and sees little worry about practicing to fine-tune that ability. What does work for him is his blazing quickness on the field it will astound you. He accelerates very fast and has the speed to turn the corner while in traffic and makes great cuts.

He is very elusive and many say he would be the ideal return man for any team that chooses to draft him. He is projected to go in the middle of the first round, an angle the 49er's may look at.

The gamble is there for a team in dire need of improvement in their return game, someone will look at Sheppard as being worth the risk and draft high. His numbers with the Gators dipped in 2001 with only two interceptions but quarterbacks also showed respect and stopped throwing to his side of the field.

Former Florida defensive coordinator Jon Hoke said: "Big plays at critical times. He changed the momentum of games. He's as good as I've ever coached in his ability to make plays."

No.3 Phillip Buchanon, Miami
Strengths: Instincts and jamming at the line of scrimmage
Weaknesses: Overall speed and vertical leap


His overall improvement in his game has made him eligible for this year's draft even if he is still a junior. With one more year and him staying his senior year he very well could have become the first-round selection in the 2003 NFL Draft.

He stands 5-11 and weighs 190-pounds. He plays his opponent with an uncanny sense of experience; he seems to know exactly what the next move will be. He also uses his body and his hands very well in jamming his receiver at the line of scrimmage.

Any team that drafts him will be able to use him on quarterback blitzes as well, he is one of the best when it comes to just that. His overall speed has been questioned though, as he has never been timed under 4.5 in the 40. Taller receivers based on his size and his weak leaping abilities also could test him.

This will in large require a safety to accompany him as a ball is thrown deep downfield. Buchanon without a doubt will be a good corner; it is his weakness at leaping and his speed that worry me. With time and coaching though he could in a year or two turn into a very special player.

His head coach has compared him to Shawn Springs of the Seattle Seahawks and Duane Starks of the Baltimore Ravens. He has not allowed a touchdown pass in his entire career at Miami. He has great game breaking ability especially in the form of a return man. In 2001, he ran back two punts for touchdowns and had two 60-yard kickoff returns.

Pete Prisco from CBS SportsLine.com said: "He reminds a lot of scouts of Buffalo Bills corners Nate Clements and Antoine Winfield. They are both shorter corners who can cover but hit bigger than their size, too."

No.4 Mike Rumph, Miami
Strengths: Good hands and run support
Weaknesses: Weak speed burst and lower body movement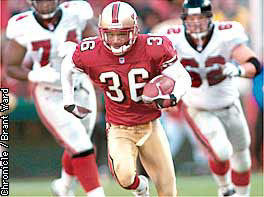 Rumph follows right in the same footsteps as teammate Phillip Buchanon. They helped the Hurricanes reach a 12-0 record as both took away the opponents passing game in high fashion. He stands 6-2 and weighs 190-pounds and he is the tallest in this position class.

He had no interceptions in 2001 but he broke up eight passes, he broke up 10 in 2000 and had four interceptions in 1999. He is without a doubt fundamentally sound, almost in the same caliber as Quentin Jammer in this position class. He has a unique understanding of the game and should have no problems making the transition. He is ready to step into a starting role with little or no adjustment periods.

One of the biggest concerns with Rumph is his potential and upside, he has weaknesses in his running motion and seems to be stiff and not fluid enough at times in the secondary. However one has to try and consider that maybe the right coaching will be able to correct some of this In one of the best cornerback classes in a long time Rumph will be highly sought after going in the first or second round.

Houston Pro Football.com said this: "Mike Rumph is a tall, speedy corner with long arms, tremendous cover skills and a burning desire to get better, To put it more successfully, he's a coaches dream."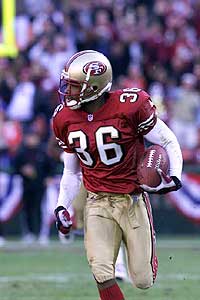 The cornerback class is a deep one; we have to believe that the 49er's will make a bid on this class as General Manager Terry Donahue has made it abundantly clear. That in order to compete and make the post-season we must find a way to stop the St. Louis offense.

Top 2002 NFL Draft Prospects at Safety
No.1 Roy Williams, Oklahoma
Strengths: Tackling and pass coverage
Weakness: Speed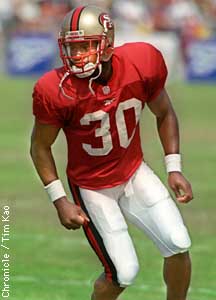 Roy is probably the most complete natural athlete at the safety position class. He is a punishing hitter and has had enough exposure to adjust and close on the ball quickly while it is in play. Even though he stills a junior he should be able to make a smooth transition.

He stands 6-0 and weighs 220-pounds. He is very adept at pass coverage and has good leaping ability and size for his class. He is a very physical safety and he will fight to stay with the bigger receivers in this league. His straight-line speed is not the best, but his quickness makes up for that. He has an uncanny ability to execute and make good tackling angles while in play; he also is the best safety at shedding blocks in this class.

Williams is so good at what he does he should be the first safety taken in this draft, he could go high in the first round or fall to the later. He has so much upside he could contend for NFL Defensive Rookie of the Year.

In his three-year career with the Sooners, he had nine interceptions, seven sacks and 29 tackles behind the line of scrimmage. In 2001, he set career highs with 101 tackles, five interceptions and school-record 22 passes broken up. He will be ideal to any team applying a nickel or dime package.

Pete Prisco from CBS SportsLine.com said: "Normally a safety wouldn't be rated this high, but this one is special. He is big, fast and some teams even think he can play nickel linebacker in passing situations."

No.2 Edward Reed, Miami
Strengths: Tackling and pass coverage
Weakness: Straight-line speed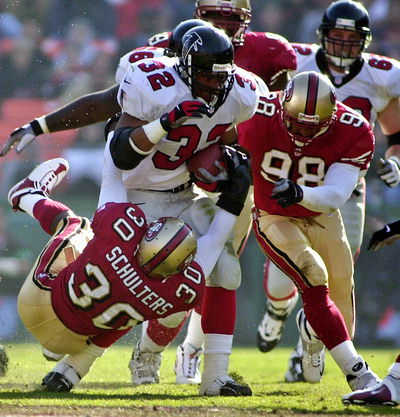 Reed being a senior is the best outside of Williams in his class, He is truly amazing in his pass coverage skills and at making exceptional big plays that count. He stands 5-11 and weighs 200-pounds. He is leaving Miami as the career leader in interceptions and had a habit of converting them into points.

He is a solid tackler and hits with ferocity, at the line of scrimmage or deep in the secondary Reed times the passes effectively so that he can deflect them with ease. His straight-line speed seems to be the only knock on him, but coaching and practice may correct that one flaw.

Football News named Reed its Defensive Player of the Year. He was twice a consensus All-American. He carried the name "Papa Smurf" while with the Hurricanes and made 17 interceptions in his final two seasons there. He also returned three of them for touchdowns in 2001. He has also blocked four kicks in his college career, and is considered an excellent run-stopper.

He has been compared to Brian Dawkins and future Hall of Fame candidate Rod Woodson. He will be most likely a first or second round pick He has the experience and maturity to step right in and make a difference. He will fight for a starting position right away once he is drafted.

Dan Pompei from the Sporting News said: "A free safety prospect, Reed is better in coverage than run support. Packs a wallop for his size. Has athleticism and instincts."

No.3 Michael Lewis, Colorado
Strengths: Upper body strength and speed
Weaknesses: Finishing tackles and consistency


Mike Lewis is an up and coming prospect that could project right into the first round, he shows great flashes of brilliance but he has come down with amnesia at times on certain plays. He stands 6-1 and weighs 215-pounds. He has not played at a consistent high level for one full season so there is concern there.

He is an excellent run defender and he hits with a purpose. When he is on his game he is very lethal against the run and the pass. He has great closing speed and he is very fast in both straight-line and lateral speed.

Lewis finished the 2001 season with 112 tackles, 14 third-down stops and five interceptions, and at the same time he made several All-American teams. He has often been compared to Philadelphia Eagles free safety Brian Dawkins.

He has the size and aggressiveness to compete for a starting job in the NFL. He will be a worthy candidate, but he will need some coaching and counseling on his mental lapses for some plays. With the right system he should excel.

Joel Buchsbaum from Pro Football Weekly said: "He has good size, speed and range, and he can plant and drive on the ball. A good hitter and tackler, he will often play up in the box."

No.4 Lamont Thompson, Washington State
Strengths: Pass defense and run defense
Weaknesses: Durability and lateral movement


Lamont just came off a very serious neck injury that sidelined him for an entire year. He came back and led the Pac-10 in interceptions. He is a multi-faceted safety able to give you different looks and styles of play. He stands 6-2 and weighs 215-pounds.

He has great strength in stopping the run and is great in pass coverage as well, if not in fact for the injury to his neck he would be literally neck and neck with Williams and Reed as the top prospects. His one need is defining his lateral movement, which can be corrected with proper training and coaching techniques.

He ended is career with Washington State with a career-high 10 interceptions, tops in Division I-A. He led the Cougars with 93 tackles and 13 pass break-ups. He was also the Sun Bowls Most Valuable Player. Throughout his college career he saw action as a cornerback and as a return man as well. All of which contributed to his versatility and defining his character and play on the field.

At one time he intercepted four UCLA passes in one game, he is an impressive candidate to those that can look pass his injury. He certainly has bounced back nicely from it so far. He could go late first or well into the second round.

Washington Coach Rick Neuheisel said: "Don't throw where No. 19 is. You have to be aware of where (Thompson) is. He has a license to read eyes, and takes advantage when the ball is in the air."


This is an impressive class of safeties, rather the 49er's actively still pursue one is anyone's guess at this point. I am inclined to think they will in order to add competition and depth. One-step the 49er's did do is lock-up the one man opposite Lance Schulters who was unrestricted and holding out for more money.

Zack Bronson the veteran free safety still had one-year left on his contract when the 49er's offered an olive branch he could not resist. Bronson, 28, tied with cornerback Ahmed Plummer for the team-lead with seven interceptions last season. He scored two touchdowns on returns, including a team-record 97-yard interception return against the Chicago Bears. He was third overall on the team with 76 tackles.

The base of the contract with Bronson adds four more years to his contract. He is going to solidify the secondary and provide a great presence on the field for many more productive years to come. I could not have been happier than to see such a contract resolved and planned in the wake of going no-where negotiations with veteran Lance Schulters.

"We are happy to report that Zack has agreed to a four-year contract extension," San Francisco General Manager Terry Donahue said. "He's been a very productive player for us and we are excited that he is going to be with us a while."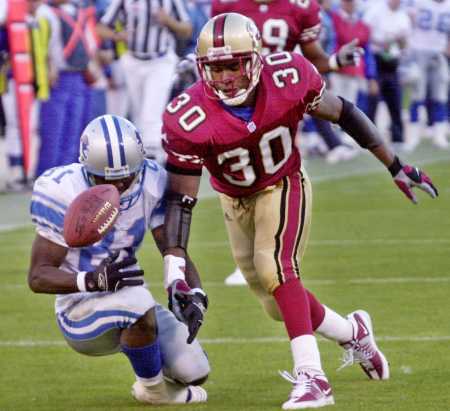 As soon as this was done the Schulters activity started to turn sour, Schulters agent Brian Levy had nothing but indignation over the contract extension and was prepared to market Schulters services to the highest bidder.

Going back we can remember that Schulters always had a difficult time getting a long-term contract out of the 49er's. He held out of training camp for six days in 2000 and accumulated $30,000 in fines while the 49er's then under Bill Walsh refused to renegotiate his deal. He then became a restricted free agent last season but in the end he failed to reach a deal with the club before signing a one-year tender for $1.488 million.

Brian Levy who is Schulters agent is the one person responsible for making Lance so bitter and so convinced that he is worth so much more. The marketing index on players is way off the boards, in a market where teams are forced top observe costs and adhere to cap restraints, players must become fully aware of there situations as well.

"I think they suspect there's a possibility that they could lose Lance, so they wanted to solidify the other half of their safety position," said Brian Levy, Schulters agent.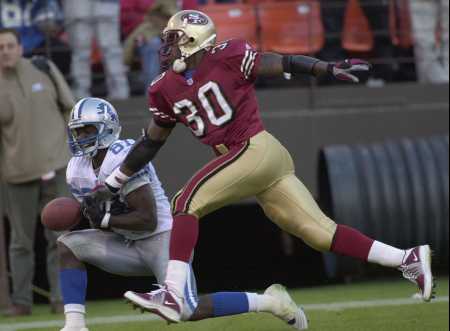 Lance has shopped his services throughout the free agency time, with the 49er's remaining firm on their offer in order to stay within the framework of the salary cap. He visited Atlanta and Tennessee.

At one point the negotiations really turned downhill especially as the end of March drew nearer. "We could be a long way apart (in negotiations with Schulters)," said Donahue, who spoke with agent Brian Levy. "I just don't know if there's going to be much hope to bridge the gap."

"Lance and his representative are clearly way outside our boundaries," Donahue said. "When Lance eventually signs a contract, it'll be closer to our position than his."

So the war of words were, and with that the shopping was underway, the 49er's targeted free agent safety Tony Parrish he made two scheduled visits with the team and was rated as the best safety on the free agent market.

On March 12th, 2002 Tony Parrish made his first visit to the 49er headquarters along with other potential prospects as guards were in the same planning stage. Former Colt's safety Chad Cota was also a candidate the 49er's were considering. Parrish obviously was the better of the two being a four-year veteran and had started every game for the Chicago Bears since he was drafted back in 1998.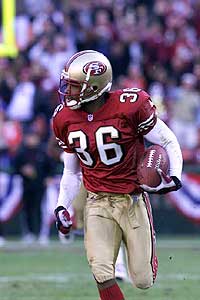 On March 26th, 2002 Tony was invited back once again, he finished the 2001 season with 67 tackles, three interceptions and two fumble recoveries. He then met with defensive coordinator Jim Mora and secondary coach Brett Maxie, who the first time was on a scouting trip when he visited the first time.

In essence this is what Schulters was looking for, a deal that was similar to the seven-year, and $24.5 million safety Shaun Williams accepted when he resigned with the New York Giants. Williams deal includes a two-tier signing bonus of $6.5 million that will be paid over the next two years.

Just last year the 49er's re-signed offensive tackle Scott Gragg they spent $18 million over six years. The fact that they're offering Schulters less is something Brian Levy calls "unacceptable."

But there are financial implications to offering such a deal, we cannot and will not go back to the wheeling and dealing days of Dwight Clark and Carmen Policy. We already have got in trouble with them loosing two draft picks in the process, because of shady business deals. Terry Donahue has made it clear that he will stay in the perimeters of the cap.

Many reasons abound as to why the 49er's cannot offer a contract much like Williams received from the Giants. One is the 49er's have just recovered from a two-year salary-cap overrun that resulted in back-to-back losing seasons from 1999-2000. And second Donahue said the team's conservative fiscal approach is most necessary for the long-term stability of the franchise.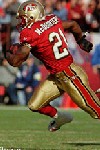 On Tuesday April 2nd, 2002 The San Francisco 49er's ended the deadlock talks with Brian Levy and agreed to terms with former Chicago Bear strong safety Tony Parrish. This was a signing that became more apparent as talks began to breakdown between both parties. I was hopeful that Parrish would be the one to be signed, and I am convinced that the position suffers absolutely no setback in quality.

"We tried hard to keep Lance," 49er's General Manager Terry Donahue said. "He played very well for us, and we considered him an outstanding 49er. We just got to a point where we didn't feel we were going to be able to make a deal."

"Was he disappointed? Not even a little bit," Levy said. "Lance understands it's business, and they made a business decision. We're moving forward, just like they are."


Parrish the hard hitting safety with a reputation for the Chicago Bears comes to the 49er's in the form of a five-year deal worth $2.4 million per year, about $1 million less a year than what Schulters was seeking.

"This is a chance for me to play close to home and have my family see me play and enjoys the NFL experience," Parrish said. "I like the fact the 49er's are a good, young defense and are a playoff caliber team. I'm looking forward to coming out, getting to know the guys and being part of the 49er's machine."

I am so enthusiastic to report that most all 49er fans are happy to have Tony Parrish on board, and he will continue the hard hitting style brought to the 49er's by none other than Ronnie Lott, Tim McDonald and yes even Lance Schulters. I am confident that the 49er's are now frosting the cake for another run at the post-season, I am positive it will be another season to be proud of with the talent we acquire and have waiting to start.





Fan Press:
Now you can write articles for 49ers Paradise, and read what other fans have to say too in the Fan Press section.