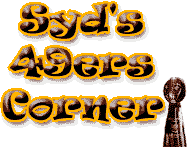 Mistakes prove deadly in the Super Dome. (10/25/02) 12:00 PM


The devastating injuries that crippled the San Francisco 49ers after the Monday Night Game in Seattle, would play an important role in their demise in Louisiana's Super Dome against the New Orleans Saints.

Free safety Zack Bronson and special team's leader Terry Jackson would be two key players missing from the 49er defensive front.


In Monday's 28-21 win over the Seattle Seahawks everyone knew that the victory came at a very high price. The injury situation had become increasingly worse within the ranks of the 49er personnel.

Depth for the very first time would be challenged to step up and positions would be filled with players untested to the speed and ferocity that the league now embodies.

"That's going to be a blow. He's our center fielder back there," Mariucci said of Bronson, who has 10 interceptions in his past 14 games. "He's been so good at stealing the ball and getting our defense lined up right."

Nothing could be more of the truth in recognizing an athlete that we resigned just this off-season over strong safety extraordinaire Lance Schulters. He has been in the shadows of Schulters much too long and was finally attributed the true praise for his personal accomplishments and his sacrifices for the team.

In other news Terry Jackson had his season cut dramatically short after having surgery to repair a torn anterior cruciate ligament in his right knee. Jackson was the back-up fullback to starting Fred Beasley and Paul Smith who had been Fred's back up has been nursing a pulled hamstring injury for some time.

It ultimately forced the 49ers to enter tight end Justin Swift as the emergency fullback, for the Saints contest.


Looking back on the Seattle game we defeated a team that was very clever and tough in their hometown. This was a team that was kept alive in the game by big plays from their special teams and a returned kick for a touchdown nonetheless.

Jeff Garcia did an admirable job in keeping the running game alive either through his tailbacks or just using his own feet.

Jeff also as usual plays the ball as safe as he possibly can. He had not up to the end of the Seattle game thrown one interception in his last 55 passing attempts. And on top of that the 49er running back tandem of Barlow and Hearst have not had one fumble through the first five games.

And what is even more impressive is that the 49er defense had forced two turnovers to give them a plus-seven margin in takeaway-giveaway department so far this season.

The loss of Zack Bronson was a dark cloud elevated over the 49er organization. His broken foot has left him unable to play for up to two whole months. Without Bronson the edge on playmaking ability and defensive leadership on the field is severely blunted. What also seems to be becoming a negative is punter Jason Baker's total inconsistency.

Seattle kick return man Bobby Engram fielded Baker's low punt; broke attempted tackles from Brian Jennings and Quincy Stewart to return it 61-yards in for a touchdown. This is the play that kept the Seahawks alive and well inside this game.

In recalling Terrell Owens touchdown and his illustrious signing of the caught ball with a sharpie from his sock and then handing it to his financial advisor in the stands. I was amazed and impressed.

Everyone and the media have power bombed this one incident and taken it so far out of context that the league reacted by declaring such actions un-sportsmanlike. It is a sad day when one cannot treat someone with an autographed product regardless of the setting and just walk away.


I am defending Terrell because I believe he is the target of a media frenzy that looks to distort and maim everything that he stands for. I have gone on record as saying his actions on the Dallas star were out of line, especially when he did it the second time around.

I have even criticized this prized and talented athlete with opening his mouth and blurting out false and pretentious statements to the media. His disregard and public disdain for Steve Mariucci was made utterly apparent.

But I also know that this athlete wants to win and win at all costs. He also likes to have fun when it calls for it. So he does it with a lot of flair and style. Some say he does it to draw attention to himself.

And to a certain degree they may be right, but I also believe he does it to stir emotion and feeling in his team to get up and fight and or celebrate.

Terrell Owens can be called and labeled a lot of things but I'll tell you there is no one as competitive. He wants attention and he wants a chance to make a difference no matter what. He wants to be a symbol of strength for this team, and yes he has a funny way of showing it sometimes.

But overall his nature is harmless and self-induced. He lives for the moment and wants to capture it in its raw form. He relishes his natural and talented abilities and does display a brash cockiness at times, but he is a star athlete that plays to win, not when he feels like it.

Owens said after the Monday night game: "I just tried to be creative and tried to have fun. I just had a feeling I was going to score, so I put a pen in my sock. Everybody always says I'm being disrespectful. I'm just having fun. Everybody says I'm a bad guy. I just try to be creative."


The mixed review from sports analysts to professional players has been astounding. Some are outraged calling it horrible and premeditated behavior and others call it a moment of fun and simple celebration. I tend to fall on that celebration module myself.

Owens did something so simple and so in character of himself that it didn't astound me, but amused me and led me to believe that he does enjoy the game and loves having fun.

What was even more telling was that Seahawk cornerback Shawn Springs who was covering Owens did not have a problem celebrating in the style he did. Even after being the one that was beaten by Owens for the dramatic touchdown. They both share the same financial advisor that Terrell gave the signed football to.

Said Shawn Springs who was beaten by Owens on the 37-yard pass play, "That's something he should do. I was talking to him all day. That's something I would do if I were a wide receiver. I was happy to see that."

Not all of Shawn Spring's teammates had the same nonchalant reaction as he did however, and it divided then playing field as far as overall comment. "That's B.S., it really is," Seahawks defensive tackle Chad Eaton said, "He disrespected us in our stadium. It goes to show you he has no class."

And added Eaton's fellow defensive tackle John Randle, who by the way once celebrated sack by crawling in the ground and lifting his leg like a dog near a fire hydrant, "It's embarrassing to us, and it's embarrassing to the league. Things like that don't look good." Randle seems to talk from experience.


The 49ers and Seahawks have made clear that they look forward to their second contest on December 8, 2002. It could be a revengeful match-up that the officials and the league will want to look at closely.

Obviously emotions will run high in that contest, but they have been fabricated in my opinion by the media and key elements in the sports circle that want to draw attention to something other than the sport itself.

Seahawks coach Mike Holmgren went on record saying: "I think it's shameful," he said. "There's no place for anything like that in our game. It's too great a game, and it was a dishonor to anyone who ever played this game."

Mariucci found no grounds to believe that Owens was way out of line and never rebuked him for it. Both the coach and star receiver had their ups and downs last season with jarring comments back and forth at each other. But both have found a newborn respect for one another as the communication between the two has solidified.

"It happens all the time where a guy wills core a touchdown and give it to his mom or his girlfriend," Mariucci said. : There weren't any obscene gestures, there was no taunting toward the bench or the crowd. The only unusual thing was the Sharpie out of the sock."

Regardless of all the media attention and the ever lasting backlash to this over dramatized incident, I stand in full support of Terrell Owens on this one. I believe he did nothing intentional or disrespectful, and it is the close mindedness of some on the opposite side that cannot see the true meaning of what the act was all about.

Just having fun playing the game. The NFL has restricted the very notion of having fun, in some ways for the better but to squeeze the very life out of it is ludicrous.

The play of the game at Seattle was when Seattle had marched down into 49er territory at their 37-yard line. Seattle ironically was already in command of the lead going into the fourth quarter.

Facing a third-and-nine situation quarterback Trent Dilfer went back to pass to Mack Strong, however 49er defensive end Chike Okeafor was there to deflect the pass in closing and the ball was tipped into the waiting arms of cornerback Ahmed Plummer.

Thus ending the drive that could have been the grand finale for the 49ers. Jeff Garcia resumed with the ball on offense and found Terrell Owens for the signature touchdown play.


"That was a great play by Chike," said defensive coordinator Jim Mora. "He had another deflection earlier in the game just like it. He's been doing the little things like that for us all year and probably hasn't gotten enough recognition for it. But that play was huge."

What were so apparent in this game, were the versatility and the adaptive nature of the team to stay with it. The offensive line had many struggles in this game, being unable to create lanes for both Barlow and Hearst and they exposed Jeff to two sacks and some very intense hits. But somehow they stuck with it and commanded the game soon after the Owens touchdown.

Another subject in contrast is the wide-open play of Tai Streets; he has been so impressive when the opportunity has presented itself. He caught four passes for 66-yards in this game and has excellent speed and ability to shed coverage.

J.J. Stokes has since struggled to display that ability, his inability to shed the coverage has led to fewer opportunities and forced the offense to settle with too many passes for minimal gains.

What was witnessed, as a Seattle spectacle to behold was their new and luxurious stadium. Team officials of which included team owner John York and President Peter Harris toured the new stadium for 3.5 hours and marveled at the complexity and design of the new structure.

The looks of the 67,000-seat, open-air stadium rests right where the Kingdome once stood. There was no reason to believe that the 49ers could not manufacture the same thing right at Candlestick Park today. From the shops to the eateries and beyond the 49er brass came away very impressed.

The turf itself was something of an enigma as it is called Field Turf, a synthetic grass that is in fashion because of it's friendliness to the knee's of professional players.


"We think this is a terrific stadium," said Harris, who has also visited Reliant Stadium as part of an ongoing stadium tour. "We think it's great from a fan's perspective. The (seats) are so close to the field of play. But it's not overdone, ornate or fancy. It's just a really good place to watch a football game." "It's really fan friendly."

The rush to build a new stadium in San Francisco has been far from that; there has been no rush as plans to start a new project or build one are still kept secret and left on a shelf.

President Peter Harris contends that the plans are still in the works and that a stadium will someday be built in San Francisco. But the talk has been all that and more; action now would speak volumes higher than words.

In some key roster moves before the Saints game the 49ers put Terry Jackson on the Injured Reserve List, thus ending his season with a torn ACL. They resigned defensive tackle Ross Kolodziej to the 53-man roster and added fullback Jasen Isom to the practice squad.

Isom who didn't make the final roster cuts back in August was brought back on in light of Jackson being gone and Paul Smith suffering hamstring problems.

As the 49ers prepared for the New Orleans Saints they did so having full awareness at how darn good their familiar opponent had suddenly become, at (5-1) they had already set the league on fire. They are the contenders for the post-season and a win in the Super Dome would be relished as a sweet incentive to move forward.

The Saints up until they played the 49ers had already beaten some very tough foes. They had defeated Chicago, Green Bay and Tampa Bay. And their other two victories took place against Pittsburgh and Washington with convincing fashion at that. So a walk in the sun and having a picnic we're not.

No one was giving these guys an overlooking within the 49er organization. In fact they knew that the damage suffered in Monday Night's game was substantial enough to warrant close looks at all their game planning and strategies.

This was a prototype playoff game in the making so to say this early in the season. New Orleans had matured under Jim Haslett and had major weapons at its disposal. Taking all of them into account and cross checking them as key.


"They know us very well and we know them just as well. Even though it's not a divisional opponent any more, they are one of the top teams in the league right now and they've beaten some great teams this year," said Jeff Garcia.

"It's going to be a loud stadium. It's their home turf obviously. There are going to be a lot of factors that we'll have to overcome in order to go out there and get a win. I really feel good about what we have as a game plan, where we are as a team. I think it's going to be a great battle. It's probably going to be our most difficult battle to date."

Boy he wasn't kidding when he made this statement prior to the game; in fact all of Las Vegas had this one by 2.5-points New Orleans. Realizing the situation with the game made the issue a pressing one.

Ronnie Heard would get the start in place of Bronson and Jamal Robertson would replace Terry Jackson. Stokes and Engelberger still banged up would remain out and Bryant Young would play hurt.

Game #6 (Loss) Saints over 49ers 35-27

I told them last night, this is going to be like a playoff game and we'll probably see these guys in the playoffs," 49ers coach Steve Mariucci said. "I don't know if it will be in our place or their place, but it was probably a playoff preview."

I must admit that the noise and actions on the field spoke for themselves, this was a game that could very well be a future game to be played this post-season.

It had all the chemistry and signature of a playoff game. The Saints came into this game relatively healthy and confident, the 49ers tired and banged up, but determined to play at a high level.


In the first quarter San Francisco wins the toss and elects to receive, Saints Toby Gowin kicks to 49er running back Jamal Robertson who returns the ball 23-yards to the 49er 23-yard line. The 49ers would try and strike first and establish dominance.

Starting with the run game that went no where, Garcia finds Tai Streets for 13-yards and hits Garrison Hearst for 15 more yards and a first down, this was a vintage play made by Jeff.

Hearst continues for 4-yards and then Garcia eventually finds Terrell Owens for 31-yards off Jay Bellamy and Sammy Knight. Hearst would grind out some more positive yardage until we reached a third-and four.

On the New Orleans 4-yard line Jeff Garcia found Terrell Owens in the end zone for a touchdown. After 12-plays and 77-yards the 49ers with the extra point goes 7-0 49ers.

New Orleans receives the ball and runs it out to their 38-yard line a very good run by wide receiver Michael Lewis. Here Saints quarterback Aaron Brooks would begin, in good field position remind you.

Here we would see Deuce McAllister a lot; he would begin his testing of the 49er defense. Michael Lewis achieved 15-yards and veteran wide receiver Joe Horn would get 12 more yards.

Jake Reed would be found for 10-yards and McAllister would finally be stopped at the 49er 4-yard line. Between field position and mixing up the run and pass, Brooks was poised for a strike. But Saleem Rasheed sacked him on the next play for minus one yard.

Too little too late though, for Brooks found McAllister in the end zone for a 4-yard touchdown. With the extra point from John Carney the Saints on 11-plays and 58-yards answered with a 7-7 tie.

On the next drive in the first quarter, 49er cornerback Jimmy Williams would find only 13-yards, giving the 49ers a start at their 17-yard line. Here on the first play Garcia would find up and coming second receiver Tai Streets for 22-yards.


Kevan Barlow would test the defense for 8-yards and Streets was again found for 15-yards. Barlow would then grind out 12 more yards. Creating a first down just in the second quarter.

Here out of the shotgun Jeff would find complete coverage and would take off running for 14 more yards, this was a great run.

On the next play Garcia would find Kevan Barlow for a 12-yard pass that set the 49ers up on the Saint two-yard line. Here Jeff would hand the ball to Garrison Hearst for a touchdown run of two yards. This seemed like a rejuvenating run for us where I believed we began to have momentum building.

Here with a Jose Cortez extra point on 8-plays and 83-yards we led the game 14-7 49ers. Jose would then kick to the Saints where Michael Lewis would make a 17-yard return, giving the Saints a start at their 19-yard line in the second quarter.

On the first play Deuce McAllister would bust through the 49er defense for a 53-yard run, getting pushed out of bounds by Tony Parrish at the 49er 28-yard line. Aaron Brooks on first down passed to Lewis with no gain and fumbled.

The ball was recovered by 49er defensive end Andre Carter and brought back to the 49er 31-yard line for the next start.


Jeff Garcia had established a rhythm on the last drive and attempted to keep that going with Hearst for 4 more yards and Owens for 7 more yards. He would then run himself for 5-yards and Beasley for 2-yards.

Establishing a first down he found tight end Eric Johnson for 8-yards and this is where another potential rhythm began to prosper. Garrison Hearst would find a hole for a 30-yard run and then Garcia would hit a brick wall at the Saint 6-yard line. With the Saint defense tightening we were forced to kick a 24-yard field goal by Cortez that was good.

On 11-plays and 63-yards the 49ers took a significant leave at 17-7 in the middle of the second quarter. Jose would then kick to Michael Lewis who had another huge return from the Saint two yard line for 51-yards before being tackled at the 49er 47-yard line.

Again our special teams showed disparity in the ranks without Terry Jackson and Jamie Winborn. This is where speed and accuracy were beginning to show the missing links. If anything was more obvious it was the poor coverage units on our special teams.

The Saints with Brooks would move the ball on the ground and in the air with Horn catching and running for 18 more yards. Aaron Brooks would then struggle to find another completion ending up at the 49er 28-yard line for an attempted field goal.

Here John Carney would attempt a 46-yard field goal that proved to be good. On 7-plays and 19-yards the Saints moved ahead with the score to be 17-10 49ers.


Toby Gowin would then kick the ball to Jimmy Williams for a return of 20-yards to the 49er 23-yard line. Jeff would begin here with a Fred Beasley run of 7 more yards and Barlow for two yards.

A false start penalty on Derrick Deese would kill this drive as Garcia would find Streets, but it would fail to yield a first down. Here Jason Baker would punt to Michael Lewis for no gain at the Saint 22-yard line.

With 1:50 left in the half Aaron Brooks would feed McAllister who would run for 13-yards and out of the shotgun he would connect with Jake Reed for 25-yards. A penalty on the Saints for offensive holding negated the play but Brooks out of the shotgun would find Reed and McAllister to establish a first down again.

Here is where you began to see the porous 49er secondary, and their inability to get off the field. This was a frustrating time for me as I observed this action. With some incomplete passes Brooks with time running out opted to try a field goal, John Carney attempted a 55-yard field goal that was short and no good. The first half was over.

The start of the third quarter would begin with a Jose Cortez kick to Lewis again for a gain of 18-yards. Here Brooks would start at the Saints 29-yard line. Again McAllister would start and Horn would receive a pass from Brooks for 16-yards.

With some short gains, Brooks went to the shotgun to find Jake Reed for 10-yards He would then find him again out of the shotgun for a 13-yard gain.


This drive would have four complete first downs, establishing wear and tear on the 49er defense. This drive lasted almost eight minutes and drained the defense considerably.

Brooks would find Jerome Pathon for 19-yards, but a penalty on the Saints for Illegal Procedure would kill the drive finally for an attempted John Carney field goal of 31-yards.

The field goal was good and the Saints inched ahead even more. It became 17-13 49ers. The state of this drive said a lot for what was starting to bear fruit on the field, the 49er defense was staying out on the field far too long and started to show breaks within the ranks.

This drive had 15-plays and went for 58 total yards. Toby Gowin on the kick to Jamal Robertson resulted in a 30-yard gain, the best return yet for us. We set up at our 34-yard line.

With under seven minutes in the third quarter Jeff Garcia began his next drive, a pass to Owens fell incomplete and a Hearst run for seven yards coupled with a Beasley run for 4-yards created a first down.

From here again an incomplete pass to Owens and a very short run by Hearst. Out of the shotgun Garcia hit third wide receiver Cedrick Wilson for 12-yards and on first down Hearst made a marvelous 20-yard run.


From this point both Owens and Garcia would inch closer to the Saint 13-yard line with Beasley pushing ahead another five yards. With another first down, Garcia handed off to Hearst who went around the left for an eight-yard touchdown.

This was another thrilling moment especially as to the way our defense had struggled. With the extra point on 11-plays and 66-yards the 49ers led 24-13.

With 1:04 remaining in the third quarter the kick to running back James Fenderson was brought back for 22 total yards. Here the Saints would start at their 37-yard line.

Aaron Brooks went right to work with a pass to Joe Horn who fumbled the ball out of bounds for the Saints to retain it.

Brooks would then go with the shotgun to hit Pathon at the Saints 50-yard line for 17 more yards. After a timeout the Saints would find Pathon again for 4-yards. This would take us into the fourth quarter.

Horn would beat Rumph for 4-yards, and at the same time Rumph would be called for defensive pass interference.

With a first down the Saints had new life again. With a McAllister run and a Brook's sack courtesy of Andre Carter for a negative five yards, Brooks went into the shotgun and hit Pathon for 19 more yards.

On another pass to Pathon covered by Jason Webster, it would fall incomplete but it would be defensive pass interference on Webster.


With a new first and ten Aaron Brooks found Joe Horn for a 10-yard touchdown, here the Saints would attempt a two-point conversion with Deuce McAllister but he was denied.

Thanks to Jeff Ulbrich the score remained in our favor. On 9-plays and 63-yards and two 49er penalties the Saints inched closer with the score 24-19 49ers.

The Toby Gowin kick to Jimmy Williams would net us 20-yards on the return. Here on the 49er 18-yard line we would begin our next drive. Jeff Garcia prepared the start in the fourth quarter. On the first play he found no one and ran for no gain. Here rookie Eric Heitmann would be called for offensive holding.

Then on first-and -19 Kevan Barlow was handed the ball, but defensive end Darren Howard knocked the ball loose from Barlow as he fumbled and Sammy Knight recovered the ball on the 49er 22-yard line for our first turnover that turned deadly.

This turnover by Kevan Barlow would signal the change of momentum in the game, up until now the 49ers had played decently to say the least, but with 12 minutes left to play in regulation. We opened the door wide open for the Saints to make a comeback.

They started with McAllister for two yards and then Brooks hit Joe Horn for a 20-yard touchdown. Again they would attempt a two-point conversion attempt with Brooks running up the middle he was denied. This play would also result in a personal foul on Pathon for 15-yards.


The damage had been done though as on 2-plays and 22-yards the Saints inched pass the 49ers by one point making the score 25-24 Saints. On the Gowin kick, Jimmy Williams brought it back 16-yards to start the 49ers at their 39-yard line.

Here Jeff would take up position again. A pass to Owens would net 19-yards and Streets would gain 12 more.

Hearst then would crawl further ahead with a mixture of both run and pass. Unable to make a first down they opted to kick.

This was a 41-yard field goal attempt that proved to be good. So on six plays and 38-yards, the 49ers resumed the lead in this game with a 27-25 score 49ers. On the Cortez kick Michael Lewis would bring it back 13-yards for the Saints to start at their 33-yard line.

Here Brooks would not find Joe Horn and McAllister hit a brick wall. In the shotgun though Brooks found Horn for 17-yards on Mike Rumph. Another pass to Deuce would net 16-yards and he had a run that was great of 19-yards after getting pushed out of bounds. With a first down the Saints smelled blood and Brooks ran for 12-yards on that play.

Fortunately there was a penalty for delay of game on New Orleans. But by then the Saints were already on the 49er 10-yard line. Brooks would again find McAllister for six yards, but after this the 49er defense stiffened, as Brooks failed to get them into the end zone.

John Carney was called in to attempt a 22-yard field goal that was good and on 10-plays and 63-yards the Saints resumed the lead at 28-27.


Toby Gown's kick to Jimmy Williams would net back for us 21-yards, where we took over at our own 30-yard line. Jeff Garcia at the helm resumed play with a handoff to Barlow for no gain.

On second down he dropped back and identified Tai Streets as the hot read and passed, but it was intercepted by cornerback Ken Irvin who was instantly stopped by Streets.

However with 2:23 left to play in the game and the Saints in excellent field position the end was near. Brooks took over and handed it to Deuce who ran 25 total yards to the 49er 12-yard line.

Here Mariucci called for a flurry of timeouts to slow the game to no avail. Between Deuce and Brooks the ball moved closer until Brooks ran it in, a penalty against New Orleans was then called for having 12-men on the field.

Mariucci had a very tough decision to make one that probably wouldn't be popular but necessary as the situation presented itself.

He had to get the ball back into our hands. The only way to instantly do that was to decline the penalty to get it back and he did so.

So on 4-plays and 37-yards the Saints scored with the extra point being good to move ahead 35-27 Saints. There would be 1:46 remaining for the 49ers to work a miracle. Gowin kicks to Jamal Robertson who is pushed out of bounds for a gain of just 16-yards.

The 49ers were at their own 9-yard line, because on the kickoff tight end Justin Swift was called for tripping, which backed the 49ers up and added insult to injury after the touchdown. In a bid to get out of the hole Garcia went to the pass not finding Johnson or Wilson to catch it.


Out of the shotgun he found Garrison Hearst for 15-yards and some breathing room, but time was not on their side. On the next few plays he could not connect with Streets and found Johnson for 12-yards.

With a first down he attempted passes to Hearst and Owens to no avail. On third down Garcia passed to Barlow to achieve 12-yards and then a pass to Streets out of the shotgun for 13-yards.

At the New Orleans 39-yard line there was but 16 seconds left in the game. The situation was compressed to utter miracle work. Garcia dropped backed and passed to James Jordan but it went incomplete, a dire play with well known consequences.

The last play was to Barlow as a pass but Barlow was run out of bounds after 19 more yards at the Saint 20-yard line with time expired. The game was over at 35-27 Saints.

This was a heartbreaker to say the least, but a measuring rod that determines the very aspects that we need to work on to become a better team. Weaknesses were identified and action plans are now in place to correct those fragile sections.

We lost in many forms, the most obvious the pass and run defense being unable to shut down Aaron Brooks and the costly turnovers in the fourth quarter. We had this game won right up until the last quarter.


"You come out of it feeling a little empty because we had a chance to win it and failed to do that," Mariucci said. "But I told the players we have a good team. We'll fly home fast and we're going to forget about it and get on Arizona quickly. We're probably going to see these guys in the playoffs. I don't know if it's going to be at our place or their place, but this was potentially a playoff preview."

Through all the tough plays there were stars in this game. Jeff Garcia played well he went 23-for-39 and 275-yards with one touchdown but one interception. His passer rating dropped in this game to a 78.5%.

On the receiving unit Tai Streets continues to make a name for him. He had six receptions for 80-yards averaging 13.3-yards per catch.

Terrell Owens backed that up with four receptions for 61-yards averaging 15.3-yards per catch and one touchdown. I the running game Garrison Hearst had 14 carries for 87-yards averaging 6.2-yards per carry and two touchdowns. Barlow had six carries for 28-yards averaging 4.7-yards per carry but a costly turnover as well.

On defense the bright spots on the defensive line were Andre Carter, Saleem Rasheed and Jim Flanigan all of whom had sacks in this game. Strong safety Tony Parrish led in tackles with six, and saved a Deuce touchdown from happening.


"Terrible, terrible," 49ers outside linebacker Julian Peterson said. "We've got to do a better job. We've been kind of struggling all year. They kind of exploited us." "I don't know what it is. Maybe we need to tighten up a little bit. We just need to tighten up our technique."

"Third down has been our Achilles heel all year," 49ers strong safety Tony Parrish said. "We just have to find a way to get off the field."

Whatever you want to say the bottom line is this folks. You have to make tackles. You have to make receptions. You have to be accurate. And you have to be consistent. These are the standards by which you want your team to function by.

Without any of these, you will have games like these. Playing a superior opponent requires mistake free ball, and we were unable to achieve that.

Putting all injuries aside, you still have to perform and do so at a high level. Now we are tied at the division level, now we must put on our playing face and go out there and apply all these principles.





Fan Press:
Now you can write articles for 49ers Paradise, and read what other fans have to say too in the Fan Press section.