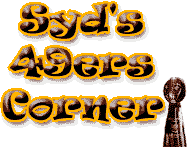 49ers are sleepless in Seattle. (10/18/02) 5:00 PM


Coming off a dramatic and over satisfying victory over arch rival St. Louis the 49ers still shaking their heads at the astonishing demise of the Rams sought solace in Seattle.

The victory over the Rams was hailed as one of the brightest triumphs in this early season. The curse that had been relevant for so long over their heads had finally been broken with some assistance through attrition and injury.

The Rams clearly came out of Candlestick with a new sense of bewilderment and shell shock. Their consecutive six-game dominance had come to an end with a 49er 37-13 victory.


"That was huge," 49ers receiver J.J. Stokes said. "They've been a thorn in our sides for a while, and finally we beat them up, which feels real good."

"Oh, it's a step backward," Rams coach Mike Martz said. "This is a game of emotions, intensity and attitude and we've got to restore that. I think we've been intense up to this point, but we made an awful lot of errors. I can't explain it."

This incredible performance being the season's grand opening if you want to say it in regards to a balanced attack for the 49ers, was even more satisfying coming at the expense of St. Louis. Coming into this game with the Rams our offense ranked a measly 29th place in the league.

Jeff Garcia found a rhythm that worked in completing 18 of 26 passes for 214-yards and a touchdown. He added one by rushing and veteran medical miracle wonders Garrison Hearst added one and churned out 116-yards.

What was still a positive was the playing of the 49er defense. The Ram rushing and receiving weapon in Marshall Faulk turned out only 110-yards in total offense. He had 73-yards rushing and another 37 in receiving.

This was by far a low profile game for the respected offensive star that has been an Achilles heel for our team. The two interceptions off Rams quarterback fill in Jamie Martin was another barometer reading for our defense that assisted this game to our favor.


Both 49er receivers looked comfortable together in Owens and Stokes, they played almost in unison for once together, making me remember the year 1998 all over again when Stokes came into the fire.

With veteran Ram corner Aeneas Williams sidelined due to injury, Owens had his way with Dre Bly and Stokes ate up rookie cornerback Travis Fisher. Stokes had a nice inside juke that had him score a 13-yard touchdown; it was a photo signature shot of what he can do when attention is directed his way.

"That play is there any time I'm against man coverage," said Stokes, who sat out the second half with a right knee sprain that occurred on a 51-yard pass play. "The fact that there was a rookie out there just gave us added reason to run it."

The individual play of Stokes is to be commended and long overdue, as 49er fans would imply. But one has to question rather the 49er coaching staff really targets Stokes enough in similar situations. Obviously with Owens covered like a blanket right from the get go this season, the emphasis should've been drawn more to getting Stokes the ball.

Someone else that looked strong and continues to be is kicker Jose Cortez. He has been near flawless in almost every outing as of late. His job in jeopardy was when the 49ers drafted kicker Jeff Chandler to compete with him this off-season. He has really stepped up and found a newfound rhythm with his foot.

Said Garcia: "It's nice to get that monkey off our back and finally get a win against the Rams. We have not done that in three years, It's definitely a nice feeling to be able to put them away and put them away early."


"It's just another win," wide receiver Terrell Owens said, not convincingly. "I just think that the important thing is that we were aggressive today, we were aggressive on offense and we were aggressive on defense."

The injury to J.J. Stokes in this game was another reminder at how fragile the season is for the 49ers. It seems like Stokes has bad luck in so many appearances after a positive play.

With the 49ers backed up on their own 2-yard line courtesy of great Rams special teams. Stokes caught the eye of Jeff Garcia and hauled in a pass in front of cornerback Travis Fisher at the 17 and turned directly up field.

He side stepped free of a tackle and by free safety Kim Herring, and he could have gone all the way but as 51-yards approached the pain that flared like a volcano in his knee hobbled him for Dre Bly to run him down. He was later diagnosed with a strained collateral ligament in his right knee.

The running game was another indicating factor that the 49er offense had finally found some identity. Garrison Hearst has hungered for more carries and for a chance to be a difference maker in more than just one game.

His standing in the lineup has been challenged by second-year back Kevan Barlow, but he has graciously accepted his role and has worked hard to find an even compromise. After being held for a combined 45-yards on 17 carries against the New York Giants and Denver Broncos.

Hearst established a rhythm in his run against Washington with 19 carries and 97-yards and now against the Rams with 13 carries for 116-yards. He caught another four passes for 17-yards.


When Hearst rushes for 100-yards it is a usual indicator that the 49ers are dominating their opposition. Since joining the 49ers in 1997, Hearst has had 15 100-yard games. Including the Rams game, the 49ers have won 14 of those battles.

I say give Hearst the ball and let him pound it. The run has been our staple and should continue to be so. It has always provided our bread and butter down the road and has aided the passing game considerably.

"I think it was very important for us to get the ball going on the ground," 49er quarterback Jeff Garcia said. "I think Garrison did a good job running for us, finding holes, getting up field. When we get our running game going, it obviously opens us up for the pass."

Jeff Garcia criticized by the media as being in a slump as of sorts came through in this jaw breaking game with an array of offensive plays that were timed and calculated in their precision. He looked sharp and was as he performed at probably his best all season so far.

"When I'm moving around and I step up in the pocket and I can make plays and be creative, that's when I feel I like things are going right for me," Garcia said. "That's when I feel I'm making things happen."

The new faces in the 49er secondary have brought the war front right to the Rams now. Without quarterback Kurt Warner the Rams offense really lacked the bite that we were accustomed to. Nonetheless we took advantage and still made some big plays on this fearful dragon of a team.

Kurt Warner has had a lot of fun against us at our distasteful expense. He has scorched the 49er secondary for 1,533-yards and 13 touchdowns in just five games over three seasons. This is like napalm bombing in the morning folks.


Jamie on the other hand the back up to Warner, completed 23 of 40 passes for 232-yards and had two intercepted passes. Martin finished with just a 61.7% quarterback rating. These two interceptions were where the tide turned for the Rams.

Martin threw a pass in the second quarter that was intercepted by strong safety Tony Parrish that helped set up a field goal.

Soon after that he threw another pass intended for Marshall Faulk that was just four seconds before halftime that was tipped off a screen pass to Jason Webster. Webster then returned the ball 37-yards for a touchdown that made it 27-3 going into the half.

"We started fast. We finished the game with some scores. We never let them get any momentum," Mariucci said. "We've got a real young football team and most of them had never beaten the Rams. Now we have. It's a big win for all of us."

After the victory the 49ers and their fans really had some time to celebrate, but for Mariucci and the coaching staff it was all about going back to the drawing board and getting ready for Mike Holmgren's Seattle Seahawks on Monday Night.

The emphasis after the Ram victory suddenly shifted from beating the Rams to winning the division title. With the Rams in the cellar so to speak the real enemy staring up at us was Arizona and Seattle believe it or not.

"Our goal obviously is to win the division first," Mariucci said, "because if you win the division, you're guaranteed at least one home game in the playoffs. It is interesting to know the Rams are 0-5 because that's completely unexpected. We'll keep it one game at a time, and there'll be a purpose for every game. There's a tough schedule in front of us."



What has become the problem now is the lull that is now setting in following the milestone victory over St. Louis. Being satisfied with just that has to come to an abrupt end. The season is long and full of potential potholes.

The opponents are tough all along the route and the veteran players on the team know they must be the vocal leaders in getting this team prepared for the long haul.


"Guys around here, we've got to get used to success. We've got to get used to being on top of our division," said veteran defensive tackle Dana Stubblefield, one of the few 49ers old enough to have experienced the glory years of leading the NFC West from September until January.

"Back when I was here (in the mid-1990's), we were always a team that everybody wanted to beat." "That's the problem. It could hurt us because of our lack of playoff experience, the lack of winning experience on this team."

Obviously the 49ers are much better prepared to handle tough opponents such as St. Louis and beyond. The front office and the coaching staff have given the team the tools needed to be better equipped in handling the adversity they see on the field. The winning attitude still exists in San Francisco and the echoes of the past still resound down the corridors at Santa Clara headquarters.

"The moves that we've made, whether we're talking about drafting and signing free agent kids or bringing in veteran free agents, have been right on," 49ers coach Steve Mariucci said one Monday.

"They're guys that fit in with the rest of the team from a character standpoint, guys that fit in with our scheme, the way we like to play offense and defense, good people that work hard."

When you look at the 49ers today you have to be amazed at the transformation that is taking place within the framework of the team. This team radiates a winning attitude it is sprinkled with just enough veteran players to make an impact with the younger athletes. This is what the organization needs.

It has attained youth and speeds and at the same time become wiser and more adaptive to the new ways that are the NFL. In a world of salary cap casualties the pool of talent becomes like a yard sale at times. We have done a fine job in acquiring great talent at wholesale prices for the future of this team.


The days prior to the Monday Night countdown against Seattle were filled with anxious anticipation, for one Seattle was a brand new division opponent in the West and they boasted a brand new state of the art stadium. A stadium that San Francisco may have whom knows when?

The nervousness was real and the fact that the 49ers were playing in front of a hostile crowd and the players and coaches scrambling to find familiarity with that environment after a long home game haul. Mike Holmgren is a feisty and wise adversary and Mariucci knew from experience having worked for him, that this would probably be a barnburner.

"We're going into this situation somewhat blinded by the fact that this is a brand-new divisional opponent," quarterback Jeff Garcia said. "It's something that I think is going to lead to many positive games in the future. But as far as anything in the past, this is a fresh start."

With the realignment the 49ers have become a well-rested team in terms of travel miles going to all parts of the continental United States. It is a relief to see that there is finally substance in the divisions in regards to location and distance. The 49ers have welcomed this more than any other team, and statistically benefit the most from this transition.


"We welcome that because it only makes sense geographically," said 49ers Coach Steve Mariucci, whose team traveled much more under the old format. "Finally the NFC West is truly western teams. I think it was a long time coming. I think it's going to be good for the fans and for the NFL."

With the imminent arrival of the 49ers, Mike Holmgren couldn't help but remember back to his days in San Francisco. He has fond memories there and has many friends and family that still live in the Bay Area. His familiarity with their system makes him that more dangerous to plan for. His kind words regarding Jeff Garcia were vibrating clear.

"He's just a fine player. He's very mobile, very accurate, a very, very tough guy," Seahawks Coach Mike Holmgren said. "He's not a big man, and he gets smacked around a little bit, but he is the key, in my opinion, to what makes them work."

With Stokes injured during last weeks game, he was determined to try and rehabilitate the knee so he could play on the Monday Night game. Rather than take the chance of further damage the 49ers decided to give Tai Streets the opportunity to come in and make a difference. Streets at one time seemed likely to steal Stokes position but his durability has been hampered with a string of injuries.

Taken in the sixth round of the 1999 NFL Draft, the 49ers already knew that he had blown out his Achilles tendon while playing in a pick-up basketball game. They felt he was worth the risk due to his amazing speed back in college. He spent that rookies season just rehabilitating, but did make it for the final two games of the season.


Streets though was buried behind Jerry Rice, Terrell Owens and J.J. Stokes. He managed to catch 19 passes for 287-yards including a career-high four receptions for 73-yards against the Falcons.

With Rice being shown the door Streets tried to move up a slot in the receiver rankings, but fractured a fibula in the process. It occurred against the Bears at home being Rice's final game as a 49er.

Streets had a long road ahead again to rehabilitate having a steel rod inserted in his leg, which he still has today. He is anxious to start and show the world that he can still run and catch the ball.

His turn would come against Seattle. He is a player that is not humble and will do anything that is asked of him to do. He is a devout Chicago Cubs' baseball fan and watches the game intensely.

One has to acknowledge veteran wide receiver Jerry Rice turning a golden 40-years old this past week. He is the master of this game, and is undisputed in every category. It seems like yesterday that he was still a San Francisco 49er. He now wears the dreaded silver and black of the Oakland Raiders. This change has been good for him and he would be the first person to admit that to you.

He holds 15 NFL records, his 1,388 receptions, 198 touchdowns, 21,359 yards from scrimmage and 245 consecutive games with a catch are but a few. Turning 40 doesn't slow the master at all.

He is determined to get the Raiders to post-season play no matter what. He has been one of the top most productive receivers in the league today still going. An Energizer bunny if you want to call him, Jerry is a remarkable human being, never wavering from his set course of action.


"Nothing surprises me about Jerry," said Harris Barton, a former teammate with the 49ers. "Now, its a lot more hard work than it used to be, and a lot of people would get frustrated with that, but Jerry hasn't. He's taken it as a personal challenge."

The demise of Jerry in San Francisco is well documented, his salary was one that deemed him expendable for the club to make the cap. It was a tough and personal decision that his creator in former general manager Bill Walsh had to make.

Even today Bill wishes Jerry was still a 49er. He knows though deep in his heart that Oakland was his best calling. And he wishes him well; knowing that even Jerry has far out exceeded his expectations of him.

"The greatest part of the story is that people were jumping off the Jerry Rice bandwagon in droves," said Brent Jones, another former teammate. "There were times when only he believed what he could still do."

The guesswork on when he will retire is amusing to Jerry; he takes it with the grain of salt that it is. He manages to find renewed strength and stamina whenever he plays and still loves being in the spotlight today.

He has always said that he will know when it's time, and I believe him. I am just happy that I still get to see him play, even if he is just across the Bay, in a land that despises our very own.

In another aspect of recognition, a lot needs to be given to strong safety Tony Parrish. Parrish in fact has not missed one game so far.

He is turning out to be one of the team's best free agent finds in a long time. He has incredible work ethic and has talent and abilities that are so numerous to mention.

"We try to use all of Tony's abilities," defensive coordinator Jim Mora said. "He can play man (coverage), we can blitz him, and we can put him in a deep zone. I think he fits this system perfectly. It's almost made for him. I didn't know he was going to fit as perfectly as he has."


The Chicago Bear's loss was our gain, and they really never made an effort to resign him. Parrish leads the 49ers in interceptions (two), fumble recoveries (two) and passes defended (six), he's also fourth in tackles with 20. I must say that he is an upgrade from Lance Schulters in my opinion.

Game #5 (Win) 49ers 28-21 over Seahawks

This was a game that could have easily gone either way. It was a hard fought knock out battle right from the beginning and towards the end. It shows that the competition in the league is so very real and close.

The San Francisco 49ers knew when they came in that this would not be an easy victory, and it wasn't. Many players came through where they could've easily have given up. The resilience and durability of our team was surely on display here on a great Monday Night Special.

In the first quarter the 49ers would start the game, on the kickoff tailback Terry Jackson would return it for 15-yards out to the 49er 27-yard line. The game would be dynamic right from the beginning, as Seattle would show a variety of defensive movements; mostly they would incorporate a blitz to make Garcia uncomfortable.

With passes to Tai Streets and modest runs from Garrison Hearst, the drive came to a stop as Jeff was sacked by defensive tackle Chad Eaton for a loss of six yards. However a face mask penalty on Seattle's Chad Eaton negated the sack and the 49ers moved ahead 15-yards for a first down. Garcia would then move the ball from the Seahawk 41-yard line.


Garcia would go to Garrison Hearst and a catch by Terrell Owens for 14-yards after getting pushed out of bounds. The 49ers managed to move only a slight bit more and stalled at the Seahawk 19-yard line, where Jose Cortez was setting up. The 37-yard field goal would be good, on 12-plays and 54-yards making the score 3-0 49ers.

On the kickoff from Jose, Seattle's second-round draft pick in running back Maurice Morris would return it 24-yards to the Seattle 25-yard line. Here Trent Dilfer would set up camp. With an incomplete pass to receiver Darrell Jackson and a short gain by running back star Shawn Alexander, Dilfer went back to pass on third down.

His pass intended for Koren Robinson was intercepted by free safety Zack Bronson at the Seahawk 46-yard line and returned to the 38-yard line. This was a big showstopper for Bronson as the defense tightened its grip around Trent Dilfer.

With Jeff taking over the 49ers incurred an Illegal substitution penalty for five yards, soon after that Barlow would run for seven and Cedrick Wilson would contribute with a nine- yard reception getting pushed out of bounds.

Fred Beasley and Hearst would combine for very modest gain, but a penalty on Seahawk's defensive back Shawn Springs for Illegal use of hands would give us five-yards for a first down.


Jeff would set up camp at the Seahawk 19-yard line; the striking distance was mouth watering at this point. Jeff connected with Tai Streets at the Seahawk eight-yard line for 11-yards.

On the next play Jeff looked for Terrell Owens and connected for an eight-yard touchdown pass that was so sweet. The drive was just six-plays for 38-yards which included the penalty.

Cortez with the extra point making the score 10-0 49ers. Next the kickoff to Maurice Morris who took the ball out for a 27-yard gain to the Seahawk 31-yard line.

Trent Dilfer would take over at the Seahawk 31-yard line, on the very first play he was sacked by 49er defensive end Andre Carter a loss of one-yard. Alexander would then run and Dilfer would connect with Bobby Engram for 11-yards.

Engram would again be successful on a 19-yard reception and Darrell Jackson would reel one in yards. Here the 49er secondary was live bait.

At the 49er 18-yard line Dilfer hit tight end Itula Mili for nine more yards to the 49er nine-yard line. Shawn Alexander would get much closer on four-yard run. Trent would then hit running back Mack Strong for a five-yard touchdown, Rian Lindell's extra point was good and on 10-plays and 69-yards the Seahawks scored.

The score being 10-7 49ers. On the kickoff to San Francisco Terry Jackson would return the ball 13-yards to the 49er 25-yard line.

Here is where Jeff set up camp, Garrison Hearst up the middle for three and a incomplete pass to Tai Streets resulting in a penalty on Streets for Illegal touching for five-yards.

The 49ers were stuffed on two players following forcing the 49ers to punt. Seahawk Bobby Engram would give a fair catch call but a penalty on Seattle for offensive holding would be enforced for the 49ers.


The start of the second quarter would bring more of the same. On the first drive Trent Dilfer would move from the Seattle 32-yard line. Shawn Alexander would find a tough 49er run defense on the next series of plays.

Dilfer would then go to the air to get the first down. With a series of short passes and runs the Seahawks would get the ball down to the 49er 18-yard line.

Here the Seahawks would attempt a 36-yard field goal to tie the game. The attempt would be no good, going wide left. The 49ers would take over at their 26-yard line.

The 13-yard run by Barlow would get sent back on a Jeremy Newberry hold for 10-yards, Jeff Garcia would make that 10-yards up with a pass to Terrell Owens, Barlow would get stuffed for a loss and a penalty on Garcia for delay of game would result.

The 49ers found themselves having to punt, and Jason Baker did just that for 42-yards to the Seahawk 39-yard line where Bobby Engram waited and caught. He then ran 61-yards right over our special teams unit for a touchdown.

This was a play that made me ugly more than anything else was. Lindell's extra point conversion was good and on absolutely no plays and 61-yards later the Seahawks had taken the lead 14-10.


Lindell's kickoff would go to Cedrick Wilson where he would take the ball out 20-yards to the 49er 30-yard line. Here Jeff Garcia obviously perturbed would take over; he nailed Tai Streets for a 35-yard reception.

The next series of passes would be for naught, so Garcia took it on his shoulders and went around the left end for a 17-yard run. He would again run for 12 more yards.

However a penalty on Ron Stone for false start would slow the rhythm. Jeff would attempt a pas to Beasley for zero and then Chad Brown for a loss of six yards systematically sacked him. Jeff would attempt to run but was stopped short of a first down, forcing the 49ers to attempt a field goal.

On the Seahawk 11-yard line, Jose Cortez would kick a 29-yard field goal, so on 9-plays and 59-yards the 49ers would inch closer to the Seahawk lead at 14-13. Jose Cortez then kicked off to Maurice Morris who returned it for 15-yards to the Seahawk 23-yard line.

Here with two minutes before the half the Seahawks would try and score again. Dilfer hit Engram for 11-yards, but then a false start penalty on Darrell Jackson would stall the drive.


Trent Dilfer would not fold though as he came back and hit Darrell Jackson for 16 and nine yards respectively. Alexander and Mili would then inch closer before a penalty on Seattle for a false start. Undeterred Dilfer would then hit Engram for 15-yards getting a first and ten at the 49er 32-yard line.

This was a nervous spot for me as the time was at 17 seconds left to play. An incomplete pass resulted on the next and a penalty on Mike Rumph for Illegal contact would be enforced.

At the 49er 27-yard line Dilfer would then fumble the ball and Seattle would manage to recover it via Shawn Alexander but he was knocked back in the process. Seattle would have no choice but to attempt a long field goal with so little time left. Lindell attempted a 57-yard field goal that went no good and short, leaving the score at 14-13 Seahawks.

By this time all of us could not fathom at where we were at, falling suddenly behind to Seattle did not seem possible. But thanks to poor special teams on our part, we had put ourselves in a hole.

The Seahawks were actually in the driver's seat at this point; the 49ers were frustrated and reeling from a Bobby Engram touchdown after a kickoff.

The start of the third quarter would begin with a kickoff to Seattle's Maurice Morris who ran the ball back 23-yards to the Seattle 26-yard line. Here is where Trent Dilfer would set up camp.

Dilfer would start with an incomplete pass and a penalty courtesy of Jeff Ulbrich for defensive pass interference for five yards would follow. The Seahawks would gain new life on this penalty.

Darrell Jackson would catch a 10-yard pass and Shawn Alexander would get the bulk of the work that ended with another incomplete pass to Darrell Jackson and a punt from Jeff Feagles, that would result in Seahawks special teams pinning us at our own 1-yard line.

Why couldn't our special teams do something as creative or at least execute? Certainly this unit is to blame for the Seattle lead.


Jeff would take over at the 1-yard line and try to get breathing room on Beasley who ran into a wall. Jeff then went to the air hitting Wilson and Owens in stride. A big personal foul penalty on safety Marcus Robertson would result in 15-yards.

Garrison Hearst went to work next with a combination of rushes and a catch for 13-yards. Barlow would then follow with the rushing attack and Owens would catch a six-yard pass. Jeff would make a run on the next play for seven yards and Hearst another nine yards.

On the next play at the Seattle six-yard line Kevan Barlow ran in for a six-yard touchdown to give the 49ers the lead after 12-plays and 99-yards. The 49ers led 20-14 at this point after a Jose Cortez extra point.

On the kickoff to Maurice Morris he ran it out for 15-yards to the Seattle 24-yard line. Trent Dilfer would again come out calm and confident that he could take back what was just taken. Shawn Alexander led this drive in big fashion with a 42-yard run.

With a series of passes to Koren Robinson and Bobby Engram the Seahawks advanced down the field. Penalty on Ahmed Plummer for defensive holding was declined, moving the Seahawks up to the 49er four-yard line.

From here it was just a matter of time, with running backs Mack Strong and Shawn Alexander, it had enough to allow Alexander a shot on third down and one for a 1-yard run into the 49er end zone. On eight plays and 76-yards and an extra point from Lindell the Seahawks again took the lead at 21-20.


With the third quarter on the ropes the 49ers went three and out rather quickly. Incomplete passes seemed to run rampant as pressure generated on Garcia was still intense.

The 49ers were forced to punt to Bobby Engram for a fair catch at the Seattle 31-yard line. Here the Seahawks would break into the fourth quarter with the lead in hand.

Alexander would lead off with some running and catching; Dilfer then would connect with Darrell Jackson and Bobby Engram for modest gains. Alexander and Strong would move the ball forward a bit and a penalty on Seattle for a false start would lengthen their third down.

Trent Dilfer knowing this decided to go to the air, in a throw Ahmed Plummer intercepted intended for tailback Mack Strong the pass. Plummer with the thankful interception set up the 49er offense at their own 32-yard line.

San Francisco would resume with Jeff feeding Owens for no gain and Hearst rushing for 10-yards and catching a 16-yard reception. On the next series the passes from Garcia would go incomplete but an Illegal contact penalty on Seattle gave the 49ers new life and a first down. On the next series Garcia dropped back and saw Owens open and connected with him for a 37-yard touchdown.


A two-point conversion became necessary at this point, and Garcia found Garrison Hearst for the completion. So on six-plays and 68-yards and a penalty the 49ers went ahead 28-21 with just over seven minutes left in the game.

Jose Cortez kicked off to Seattle's Maurice Morris for a gain of 18-yards. Setting up camp at the Seattle 35-yard line.

Trent Dilfer needed another miracle, dropping back and hitting Robinson for 16-yards, however he fumbles and recovers the fumble at the 49er 49-yard line. Dilfer would go back to work and find little gains from Alexander and a fortunate defensive pass interference call on Mike Rumph giving Seattle new life with a first down.

Dilfer would again move ahead slowly only to have an offensive pass interference calls on Itula Mili for 10-yards. Dilfer would find himself in a hole too large to come out of and had to punt.

On the punt that went for a touchback there was offensive holding called on Seattle, which was declined.

With five minutes left to play, Jeff wanted to eat some clock. With Barlow and a penalty on Seattle for a neutral zone infraction time was erased. After the two minute warning the 49ers managed a first down between the running of Garcia and Barlow.

With 1:11 left to play Garcia began the kneeling process that resulted in our victory that Monday Night.

Jeff was effective enough to win this game going 16-of-29 for 202-yards with two touchdowns and zero interceptions. He had a quarterback rating of 100.1%. Terrell Owens had a big night with six receptions for 84-yards and two touchdowns. Tai Streets followed with four receptions for 66-yards.


In the rushing department Kevan Barlow had 12 carries for 68-yards and a touchdown, he averaged 5.7-yards per carry. Jeff Garcia followed with seven carries for 48-yards and Garrison Hearst 10 carries for 41-yards.

On defense we would have lost this game without them, Zack Bronson had one and Ahmed Plummer as well. Andre Carter had the lone sack. Overall though the run defense held Shawn Alexander tough and kept us in the game despite some special teams bungles.

This was a night I term sleepless in Seattle, it was a game that kept your attention and really was a well fought fight in and out.

We paid dearly as usual in this victory by losing Zack Bronson to a broken foot, Terry Jackson to an ACL and John Engelberger to a high ankle sprain.

What was the most intriguing part in this game was the calm that the 49ers displayed. They never believed that they were on the ropes and kept fighting. I credit the coaching staff and all he players for their efforts to overcome many adversities.

We are bound to have more close contests as the season progresses the line between victory and defeat has been squeezed considerably.





Fan Press:
Now you can write articles for 49ers Paradise, and read what other fans have to say too in the Fan Press section.