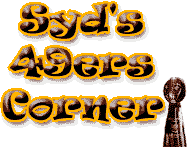 Late rounds in draft find hidden treasures. (05/30/02) 12:00 PM


The perception in professional football has always personified the first and second rounds in any given draft. But the real results point to mid and late rounds as finding the real talent in any given draft.

The mystery with some of these college players is so construed that you are liable to look right over them when searching for quality talent. What you may find ending up with is talent that just needs to have a bit more time and patience.

The San Francisco 49er's are no different in this area, and you'll find in large degree that a lot of their prestigious players from years past were found not in the first phase but the second phase of the draft. The 49er's have one of the best scouting departments and evaluators of talent in the league today.

If anything they have a leading edge in front office personnel and coaching overall. After all we do hold the very personification of the Bill Walsh coaching tree. We have Mr. Walsh himself. And not only do we have him, we have probably the best college coach of all time in the history of collegiate football and that is Terry Donahue.

The 49er's entered the fifth round of the draft with the same determination and vigor to add quality depth to their lineup, they did that in selecting Michigan State Spartan Josh Shaw with the overall pick of 172.

Shaw was a three-year starter for the Spartans. What was risky was the fact that on his way to an All-American senior season he suffered a season-ending knee injury.


This was what scared many teams away from selecting Josh, and this was what the 49er's found to be a risk worth taking. Now the pressure is on Josh Shaw to put all the skeptics to rest, and that is with his performance on the playing field and putting a period at the end of durability. If not for this injury Shaw would have been a highly sought after tackle early in the draft.

"We think that when he gets healthy, we will have a heck of a player inside for us," said Steve Mariucci. "This is a guy we had given a much higher grade in the draft and we are pleased to have him."

Shaw was drafted in mind regarding our anemic pass rush; he has proven and shown in college games that he has excellent ability in applying pressure on the quarterback. Josh Shaw was selected with this very thought in mind. He finished his career with 214 tackles and just three sacks. Despite that the scouts and coaches loved what they saw on the field.

"He's a little like Dana in the way he plays," said defensive line coach Dwaine Board. "He's real steady against the run and has some pass rush skill. You watch the film from his career and he was constantly double-teamed."

Of all the injury risks the 49er's have taken a chance on this one happened to be a significant one in relation to his knee. Shaw posted 54 tackles, including nine tackles for a loss, while starting seven games at right defensive tackle before suffering a knee injury. He then had surgery to repair the knee and is expected to be back at 100% by August.

What you will find most interesting in this Spartan is the fact he beams with astounding confidence in his abilities. He loves the game for what it is and is willing to pull out all the stops to achieve greatness.

"I was killing everybody. I mean, they couldn't stop me," said Shaw, the second of the 49er's two fifth-round selections in the NFL draft. "I had two interceptions, and I had 50 tackles before the start of the sixth game. So I was averaging 10 tackles a game. I was really tearing it up. I was getting better every game, so there's no telling where I would have been at the end of the season."

In all of professional sports the very real threat of injury always looms large for full contact sports. Josh Shaw experienced first hand at what a devastating injury feels like especially in the prime of his senior season.

On the second series of the Spartan's sixth game, Shaw was coming around the edge for one of his favorite duties; getting in the face of a quarterback. A teammate coming around the other edge got flung into the air and came down on Shaw's right knee, blindsiding the agile defensive tackle.

This has to be the most agonizing and painful ordeal an athlete ever has to go through; the reality of the sport is overwhelming sometimes. The fine line between glory, accomplishment and devastation is real and ever present. After the blow to his knee had taken place, he looked down at his knee and witnessed the devastation.

The knee was totally torn apart, the grisly damage was a sight not to behold. Both his anterior cruciate and medial collateral ligaments were torn. His posterior cruciate ligament was torn completely off the bone.

His season had suddenly come to an abrupt end. The carnage was grotesque and it was even a probability that he would not ever play again. But that thought did not enter Josh Shaw's anatomy.


"I didn't let it get me down," he said. "You know, it's football. It's a game you play, and bodies fly everywhere and anything can happen. So I just started working hard, figuring if I work real hard at it I'd be able to come back."

Steve Mariucci is one that realizes the gravity and depth of his injury, and he used words of caution in bringing Josh along slowly rather than quickly. After all the need for a defensive tackle was minimal, he was drafted basically to provide quality depth and to rotate eventually with starters Young and Stubblefield.

"We'll be real patient with Josh," added Mariucci. "He won't do anything in mini-camps for us and we'll bring him along gradually. We want this guy to be ready for September not April."

The San Francisco 49er's looked beyond Josh Shaw's injury; this is something that is very difficult to do because you have so many probabilities in the context. Would he be able to play again? And at what level would he be able to play? Would he be able to revert back to the Shaw of old? What is the risk percentage with this injury?

Many questions had to asked and answered, and the 49er's continued to come up with the same answers. Doctors expressed a positive response to his injury, revealing that he could make a full recovery and are back to play soon.

Still with all this promising information at hand the 49er's were still making a risk move, but it was one after careful considerations worth taking. The 49er's were determined that Josh Shaw could make the rehabilitation needed and still fulfill his duties as a reserve lineman.

"Trust me when I tell you, if we hadn't taken him when we did, somebody was going to take him right away," 49er's general manager Terry Donahue said. "We wouldn't have gotten Josh Shaw if he were healthy. It was his bad fortune and our good fortune, ultimately, that he was injured."

Josh Shaw is a formidable defensive tackle, the 49er's have made it clear that he is a part of their long-range goals. He will fight to play back up to starting tackles Stubblefield and Young. Should his recovery become a slow process, the 49er's will consider placing him on the injured reserve list for the season. However I expect Shaw to be ready come opening day.

In all his rehabilitation process has been progressing very well, he is already running and doing drills even before the first spring mini-camps had started. He is expected to be cleared to practice by the time training camp begins in July.

"You're going to see me," Shaw proclaimed. "The 49er's got a real good deal. I'll be able to show them what I can do when I put the pads on."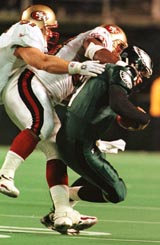 Michigan State's Josh Shaw tale of the tape
Position: Defensive Tackle
Height: 6-3, Weight: 279
Hometown: Fort Lauderdale, Florida
Positives: Shaw has the bulk frame to handle extra weight, in fact he is capable of adding on at least 20 more pounds without much effect on his overall play. He has good off the snap quickness. He also has flashed the ability to adjust on the move.
He has fluid lateral agility, and he shows great aggression to getting to the ball. He also has the body flexibility to stack up at the line of attack. Has the surge needed in order to close a short area.
He looks natural reacting to run plays and shows the suddenness to close the gaps with his movements. Has more than one gear he can generate another when he comes to within sight of the quarterback.
He also has the agility to flip his hips and demonstrates good balance while moving through traffic. The surge this athlete generates on a dime will amaze you; he brings a scary threat as a legitimate pass rusher.
Negatives: Has to redefine himself in the weight room. His body seems and appears so smooth that he needs to refine the muscle in his torso so that he is not so smooth.
He sometimes loses track of the ball while making penetration on the line of scrimmage. He also tends to get too high in his stance, which in the end causes blockers to knock him off balance.
He also has a hard time extending his arms, causing him to struggle in containing and disengaging due to his lack of power. Also is inconsistent in shedding, and manages to get his arms tangled up trying to get into the blockers chest.
He always gives a great effort in trying to form a pass rush, but his minimal strength prevents him from getting adequate penetration.
He also has been seen being sluggish moving up field and adjusting to the play outside the box. He does not always have good reaction time, as he does not get his hands up quick enough before blockers attack his feet. He also has a had time dealing with combination blocks which causes him to get knocked around.


In agility tests Shaw ran the 40-yard dash in 5.08, the 20-yard shuttle he ran a 4.52. He had a 31-inch vertical jump and landed 8 feet, 8 inches in the broad jump. He bench pressed 225-pounds 22 times and had a 330-pound top heavy bench press. He leg pressed 600-pounds 16 times. Shaw also has 32.75-inch arm length and 9.75 inch hands, he also is right handed.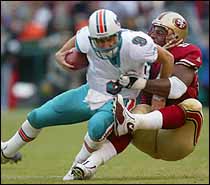 In 1998 he played as a key reserve at defensive tackle, and saw action in every game as a Spartan. He finished his freshman year with 31 tackles (14 solos), an 8-yard sack and three stops for losses of 12-yards.

In 1999 He actually shared Michigan State University Outstanding Lineman Award honors with tight end Chris Baker. He started the first four games at left defensive tackle and the final four on the right side. He recorded 61 tackles (26 solos) with four stops for losses of 7-yards.

In 2000 He made All-Big Ten Conference honorable mention, and he again shared Michigan State University's Outstanding Underclass Lineman Award honors with tight end Chris Baker. He played in 10 games, starting at right the first five contests and then shifted to left. He finished fifth on the team with 68 tackles (33 solos), including two sacks for minus 10-yards and eight stops for losses of 20-yards, and he forced a fumble.

In 2001 he became one of the team's leading tacklers before being sidelined with a serious knee injury. He still managed to finish sixth on the team with 54 tackles (33 solos), including nine stops for losses of 15-yards.

He also is credited for five quarterback pressures, and had a pair of interceptions for 13-yards in returns and three pass deflections. He recovered and forced a fumble, and started seven games at right defensive tackle.

In all he proved beyond a doubt that he has significant pass rushing skills, and he uses them to harden an ego that needs constant feeding. Shaw lives for the rush in wrapping up and taking down a quarterback. I feel the 49er's got a sweet deal in Shaw, I don't believe he will be a detriment to the club what so ever if anything we really did land a steal of a deal.

If anything I am hopeful that Shaw will give us some leverage in moving all time bust Reggie McGrew. He will surpass his injury and demonstrate to McGrew what durability and playing with pain really mean. The nonsense that has surrounded McGrew all these years has been far above ridiculous, especially with what the man is making for money.

The sixth round of the draft would offer something different in the minds of the 49er brass and offense is where they would draft for, in the likes of Wisconsin's tight end Mark Anelli. Mark was taken in the sixth as the 201st overall pick in this draft.

What is most interesting about Anelli is that he is very similar to recently cut veteran tight end Greg Clark. Clark was cut by the 49er's for primarily salary cap purposes and was considered one of the best blocking tight ends in the league. He suffered a series of hamstring injuries and complications in training camp that sidelined him the entire season last year.


The loss was considered not so serious mainly because of the play of rookie tight end Eric Johnson, who was drafted out of Yale just last year. He proved very capable of handling the workload, and his statistics were very above average for his rookie season. Back-up tight end Justin Swift then received the nod to extension of his contract once Clark was out of the picture.

But did that solve all of their problems at that position? I think not, the 49er's still wanted very much a tight end that excelled at the blocking aspect of the game. Clark was a strength in this area every time he was called upon. The 49er's had this in mind when making the nod to go with Mark Anelli.

"He's a great combination player, who blocks well at the line of scrimmage and can get in the open field and make plays in the passing game," said tight ends coach Tom Batta.

Anelli has made no assumption as to the perception of what coaches look for inside him. He understands what his role would be if given the opportunity. He has made public his desire to play football on a regular basis. What lies in store for Anelli is yet to be determined but he is certainly eager to get started.

"My strength is probably my blocking," said Anelli, the 201st player chosen in the draft. "I'm probably going to do some blocking and do some route running, a little of that."

The Greg Clark photo copy is a bright young man that is not only an expertise in the art of blocking, but he is also someone that can read pass coverage's well and has impressive quickness off the line of scrimmage.

"We're bringing him in as a blocker;" 49er's Coach Steve Mariucci said. "Now, he'll probably be a little like Greg Clark. Clark didn't like being considered just a blocker. He also wanted to be thought of as a capable receiver."

The 49er's are expected to keep three tight ends on this years roster which rounds out to be starter Eric Johnson, Justin Swift and should he make the roster Mark Anelli. There is little concern on many including myself that he will not make it. They also have long snapper Brian Jennings who is a willing participant at the position also. There is also Mike Hart from Duke who is un-drafted that is competing in mini-camps at the same time.

"I'm really excited about coming over there and competing," said Anelli, an agricultural business management major. "The 49er's have a great, great program, a great system. They have a lot of good tight ends, and I noticed that they used their tight ends a lot and are very active in their roles."

Starting out at Wisconsin Mark Anelli split time at the tight end position and rarely got a chance to showcase his receiving skills. But that all ended last season, when he moved into the starting lineup and coaches introduced a passing attack designed to make greater use of the tight end.

This is where he will see plenty of mixture, in the West Coast Offense he will have every opportunity to excel. The design on a tight end in our system is a serious one, we rely a great deal on this position to sustain offensive drives and to score within the red zone when needed.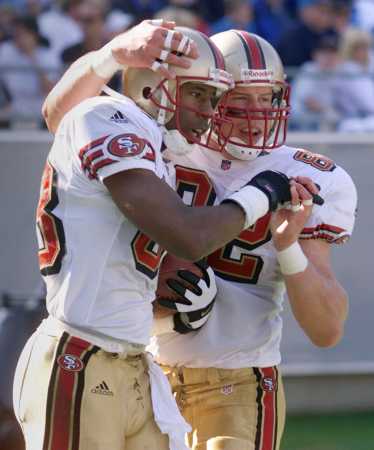 Wisconsin's Mark Anelli tale of the tape
Position: Tight End
Height: 6-4, Weight: 265
Hometown: Addison, Illinois
Positives: Unbelievable blocker has all the traits of success in the NFL, shows good quickness off the line and adjusts well to uncover the pass in the short area. Has good intelligence in holding on to the ball while moving in traffic. He shows the ability to easily extend and adjust to the ball while it is in flight.
He is a very aggressive and determined drive blocker who has the strength to reach and turn the defender up field. Has good arm extension and has the ability to snag the ball away from his body.
Negatives: Can be sluggish getting into his routes. Seen sometimes laboring at times to stir the motor inside. Lacks some hand usage and upper body power to escape some jams. He has very little elusiveness or burst after the catch. Is not fluid enough in motion while going up field.


Certainly these types of weaknesses can be corrected with training and coaching, something I'm sure Anelli will address as his progress is evaluated. Mark will make every effort to make the grade in each category as training camp gets under way.

In Mark's agility testing he ran a 4.8 in them 40-yard dash. He bench-pressed 225-pounds 18 times. He has a 33-inch arm and 10 plus inches in hands. In 1997 he was red-shirted as a freshman. In 1998 he appeared in four games, recording one solo tackle.

In 1999 he played in nine games, starting in two of those games. He caught three passes for 46-yards a (15.3 avg.). In 2000 he started eight games, finishing with 10 catches for 78-yards (7.8 avg.), four kickoffs returns for 35-yards an (8.8 avg.) and a pair of tackles.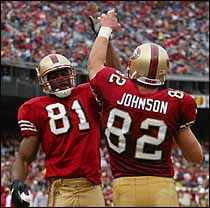 In 2001 he was named to All-Big Ten Conference first-team selection by the league's coaches. He was also a recipient of the team's Coaches Appreciation Award. He moved into the starting lineup, responding with career-high 35 catches for 357-yards (10.2 avg.) and three touchdowns. He gained 12-yards on three kickoff returns and recorded five tackles (4 solos) on special teams.

Another great advantage that Mark may be able to bring out in the team, is the fact that he was excellent in special teams plays and always had a knack for making those plays exceptional. One would anticipate that we would take a hard look at getting him more involved on special teams as training camp verifies his desire and intensity.

One has to be hopeful that San Francisco picked up some exceptional college athletes in this year's draft. Although any draft is hard to rate and it is very difficult to articulate exactly where this will impact a team.

I have to say the acquisitions of Josh Shaw and Mark Anelli stand as noticed and that the drive and talent level in each of these linemen is at offense or defense will calculate into serene success for us. The underlying facts speak for themselves; a season can be made or broken on the wings of these developmental players.

Extracting as much success and ability from each and every one will be a job in itself. But in the final analysis it will be well worth the hard work.





Fan Press:
Now you can write articles for 49ers Paradise, and read what other fans have to say too in the Fan Press section.