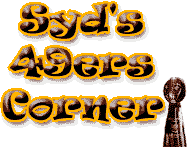 49ers leave Chiefs scratching their heads. (11/15/02) 2:00 PM


The Kansas City Chiefs entered Candlestick with a great deal of confidence, realizing they are playing at the very top of their game with being one of the leading offenses in the NFL. They in fact came into this contest leading the league in seven categories.

One of which was averaging 32.4 points a game. With the San Francisco defense being well known for their inconsistent season, the Chiefs felt they were easy prey.

It was in fact just the opposite as the San Francisco defense arose to the occasion and limited the league's most powerful running back in Priest Holmes to 11 carries for 51-yards and just five more yards on two receptions.

Before this game Kansas City was averaging 159.4-yards rushing per game. A great deal of this was because of the Chiefs offensive line, a unit that gets little recognition for what it does.


It is similar in comparison to our own; offensive lines such as ours get very little attention in the true facet of things. It is almost expected of them to perform and open running lanes and create protection for their quarterback to perform at an elite level.

But it was our defense that won the battles this day at the line of scrimmage. Being able to take Holmes out of the game and limit him was a victory right from the beginning.

Having our offense stay out on the field was also a sure sign that we were successful in keeping Holmes off from the field for long periods of time.

With this victory the 49ers propelled themselves three games ahead of the Arizona Cardinals and St. Louis Rams inside their division.

This contest turned into a similar contest that we had just played across the Bay against rival Oakland. We were able to stay out on the field for an extended amount of time, thanks to the offensive line and the running game.

A combination of Kevan Barlow and Garrison Hearst kept the Chiefs off guard and gasping for air as they tried to put a stop on these two.


The running game in turn created opportunities for Jeff Garcia to do what he does best and that is to spread the field, and find a multitude of different receivers.

Even though most receptions were for mild yardage, they were enough to gain first downs and keep offensive drives moving.

Even though many 49er fans expressed disappointment at the lack of scoring, one has to be totally satisfied with the awesome balance displayed on the field that Sunday.

The theme of the 49ers this season seems to be in motivation and perseverance. The team made this very apparent in their victory over the Raiders just a short time ago. Jose Cortez was the subject of immense ridicule and judgment as he failed to convert a game winning field goal at the end of regulation.

However as discouraging as the failed kick was, and the instant curses and slanders that rained down upon them from the black hole intensified. The more the team became united and determined.

It almost became the sequel to the film "Braveheart" in which Mel Gibson defied the English Army by all of them pulling down their pants and bending over, to show the English their derrieres.

The absolute resolve that this team displayed was incredible in supporting one of their own that was struggling.


Stubblefield said, 'Oh, Lord, they were tough." When Cortez missed a field goal in the first half, Stubblefield said he heard the fans screaming: "Hey, is Jose drinking out there?"

Jeff Garcia also was very much in earshot of the verbal carnage that was raining down upon the 49er offensive line. The overwhelming negative atmosphere began to play upon the mental senses of the 49ers, to the point that it transformed into new energy and determination. "Dealing with the situation you deal with in Oakland, I mean, talk about verbal abuse," Garcia said. "So I just think we were so focused on the field, and not allowing them to interfere with us."

Terrell Owens was another strong factor in the Oakland victory; Oakland matched their best shutdown cornerback in Charles Woodson on Owens for most of the game. He failed to contain Owens despite the cramps that plagued him throughout the game.

He in fact had 12 receptions for 191-yards. What was even more inspiring was that three of those receptions went for 29-yards or more and six of them resulted in first downs.

Reporters and sports analysts tried to get some time after the game with Owens, but Owens has been in an interview blackout as he has tried to damper the bad publicity being elicited over his performance. He did though issue one statement: "I did my talking on the field. No comment."


"We did everything we could (to stop Owens);" Raiders coach Bill Callahan said. "We put Charles (Woodson on him) one-on-one, we had double coverage, we had bracket coverage. We had every conceivable coverage known to man, but he continued to break our secondary down."

What Owens does on the field is really electric in my eyes. He has the sparkle in his eyes of a champion, an athlete hungry for glory. This in my opinion is a great enthusiasm to have as you are in mid-season form.

Owens has been practical in terms of staying away from the media bugs that prey on his every move and statement.

I am proud that he has taken this course of action against a media driven industry that looks for controversy every time it locks horns with Terrell.

"I don't care what he does," linebacker Derek Smith said. "I don't care if he pulls a pen out of his sock and signs a ball. I think he's more of a team guy than people point him out to be. He's the kind of guy people don't want to play against."

What is a pure demonstration of his teamwork is when Jose Cortez failed to get the ball through the uprights at the end of regulation. As all of hell was raining down on him, and he walked off the field with a heavy head, Owens was there to console him.

"T.O. was telling me, 'Hey, get ready. Shake it off, we're going to move the ball down, you're going to win this game for us," Cortez said.


"As a kicker you've got to be able to block everything out and just concentrate on the snap and the holder," Cortez said. "I just let that wind get in my head a little bit. I cam back in overtime and I was able to block everything out."

I must say that Cortez's failed field goal was a killer, I was upset and had legitimated reasons to be as well as any 49er fan observing the game. But I realized at how consistent he has been from the very beginning and realized everyone is allowed a bad day.

At the same time I realized afterwards at what this did from a team standpoint. It gave them reason to rally and conquer adversity, and lend support to a player that was distraught.

Another great player that has excelled all season has been fullback Fred Beasley. He has been the silent hero in so many games for this franchise. He receives almost no public recognition for the dirty work that he is to perform on a weekly basis.

He is the very man that allows great running backs like Kevan Barlow and Garrison Hearst to make big plays on the field.

He is also the man that the team calls upon in third-and-short situations and even fourth down situations to make that crucial yard, so that the drive continues. This is the man that deserves to go to the Pro Bowl; I urge all of you to vote in his favor.


Even though he hasn't scored a touchdown this season, this fifth year fullback from Auburn is the workhorse that gets results every time he steps out on the field.

In fact he is the very player the team signed last year when he hit free agency, because the franchise knew he was the brawn in front of the backs that followed him.

He played a vital role in getting Garrison Hearst to resign with the 49ers because of their long-standing friendship.

His number was called upon on a fourth-down play in overtime. It was just the second time all season long that the 49ers had gone for it on fourth down.

It was an honor for Beasley to get the nod. He got the yard, which in turn led to Jose Cortez's second-chance field goal that led to our victory over the Raiders.

"I like to be that silent killer," Beasley said one Monday. "I'm not a big rah-rah type. That works in my favor. I just want to be out there playing the game."

One thing that Fred takes a lot of pride in is his ability to spring Barlow or Hearst for a long run. He is a person that is as selfless as you can get, and he has a great sense of humor as well. He does not require the limelight of glory; he simply does what he is asked to do.


"I remember going against Fred," said safety Tony Parrish, who played with the Chicago Bears the past four seasons. "When I think of a fullback, I think of a lead blocker, and Fred is right up there."

"I just try to do what they ask me to do," said Beasley. "If my job is to be an extra lineman, so to speak, then that's what I'll do. I try to leave a mark on somebody in every game. I try to make sure they know me by the end of the game."

Having this tough mentality gives Beasley a sense that he can do almost anything that is asked of him. Many defensive linemen across the league will tell you how tough he really is. He has made a mark this season as he has in past seasons. When he is coming right at you, you better be prepared to get some bruises.

"I'm not going to get a lot of touchdowns or make a lot of big runs," Beasley said. "So when a guy comes at me and tries to give me a shoulder to block instead of straight up, that's how I know I've earned some respect."

When you wrap up this pivotal game against Oakland you have to give credit to the magic of quarterback Jeff Garcia. He withstood an array of Raider blitz's all day long. He dominated the Raiders, by keeping the 49er offense on the field for 30 consecutive plays.

13 in the final 6 minutes, 20 seconds of regulation and 17 in the game-winning overtime drive that culminated with Jose Cortez kicking a 23-yard field goal with 6:23 remaining.


Simply put Jeff played his best football on this day, using every aspect of his ability to make plays with all the knowledge he has at his disposal. He was like a man on mission impossible and he opened doors that were thought to be shut.

"I really think I went out and played the way I envisioned myself playing," Garcia said after an emotional-victory celebration in the visitor's locker room. "I played Jeff Garcia football. I am more into the game when I'm running around, making things happen."

If you really look at Jeff, you can without a doubt spot the very abilities that Joe Montana and Steve Young possessed. He has attributes from both that he puts on display throughout the season.

And he takes great pride in being able to elevate that play to their respected levels, that are well known throughout the league. Jeff Garcia is the very person that this franchise needs to fulfill its next destiny.

He will have many books written about him; the one thing he needs now is a Super Bowl victory.

"Jeff Garcia played a fantastic game," Mariucci said after the 49ers reached the midway point of the season with the National Football Conference Western Division leading record. "That's why he's a Pro Bowler."

The apparent shift in wide receivers from J.J. Stokes to Tai Streets has been a great conversation among 49er fans. But what has been made sort of clear is that Mariucci intends on incorporating Stokes back into the lineup slowly.

It seems that Streets has really carved out a claim to the second coveted position opposite Terrell Owens.

The relationship between Stokes and Streets remains a close one, however the media bugs continue to hound out the fact that Streets seems to be running away with the starting position. In short term as of now he has.

One's injury creates opportunity so to say, and certainly Stokes realizes that more and more everyday.


"I told J.J. I'd like to have him on the field more than he played last game. Mariucci said one Wednesday. "I like keeping Tai Streets on the field because he's been very productive and he's good for our offense, too. We've got to balance that out, keeping Tai Streets on the field and having J.J. out there much more than he was last week."

Streets ability to spread out defenses has been more and more apparent every game that he plays in. The coaching staff realizes that they are in a dilemma with so many talented receivers in the mix.

He also has the speed to create separation, much better than Stokes has been able to do in years. Stokes brings a good dimension to the game, but he lacks that burst or speed to lose defensive backs from pressing.

"Definitely, you enjoy it when you're in there more. Any receiver wants as many opportunities as possible," Streets said. "But I'm happy to be contributing to help this team win in whatever way I can."

In a positive move by the San Francisco 49ers they signed fullback Terry Jackson to a two-year extension. He was team captain of special teams before his season-ending injury with a torn anterior cruciate ligament in his knee.

Jackson made waves on special teams coverage units over the course of his service and was used in many specially designed plays on the field.


"We are all very excited that Terry is going to extend his career in San Francisco," general manager Terry Donahue said. 'He is the kind of player and person that we want representing our organization."

As with many of San Francisco deals involving their premier players I must admit this was a great deal indeed, despite Jackson being out for the season. I know that the special teams units have sorely missed his tough demeanor both in the locker room and out on the field.

Jackson is probably one of the most versatile athletes on the team's roster right now. Having that asset he was an easy candidate for being extended, it just makes good sense for us to do this now.

Getting back to the defense a few words on rookie cornerback Mike Rumph. There have been a lot of comments labeling Rumph as being too soft and making too many mistakes. There is no doubt that he is adjusting and learning on the field.

But please remember that he is just a rookie and adapting to the speed and life of the NFL, is a far cry from his college days.

Defensive Coordinator Jim Mora has really gone out on a limb in departing from the two-deep zone coverage in the secondary to implementing more man-to-man coverage.

For example in the Raider game the 49ers spent 30 of their 54 snaps in man-to-man coverage versus the zone. This has been a growing up experience for Mike Rumph as he learns on the fly rather than the sideline.


Mike has made enormous strides in his coverage abilities since the start of the season. Mora saw this as the season progressed. He is confident in the rookie's style of play and what he brings to the table in the 49er scheme of defense.

Mora also knows that the only way for a cornerback to learn is for them to experience it first hand. A lot in similarity to Ahmed Plummer and Jason Webster did in their rookie seasons.

"We have been trying to protect a rookie," Mora said. "We're not going to let him get beat for the 70-yard touchdown. We're going to help him until he gets his feet wet."

"But now, when I see the look in his eyes and see his work ethic in practice, and I see his confidence increase, it allows me to be more confident in calling man defenses."

The fact that San Francisco is the worst team in stopping third down conversions does not point a finger at just Mike Rumph. What has happened over the past few weeks is that quarterbacks are just finding soft spots in the zone coverage applied by the 49ers.

Mike has been in on those plays but you must consider what Plummer and Webster went through in their rookie seasons back in 2000. That year, the 49ers allowed touchdown passes of 44, 48 and 78 yards in the first three games. This year the longest pass play allowed all season by the defense was a 27-yard pass in Week 1 against the Giants.


"Of course. I'm always the one that comes in on third down," Rumph said. "They're depending on me. Coach (Mora) told me the training wheels are off. Let's play football. That's what I've been waiting for. I was happy, because it showed the team had confidence in me."

I am all for allowing Mike Rumph to learn on the fly. Just look at what it did for Ahmed Plummer and Jason Webster, two of the youngest corners in the league today. But both are becoming elite shutdown corners.

Plummer is a little ahead pf Webster in that category but Webster improves almost every season. Having Rumph as a part of this mix is certainly beneficial all the way around.

In preparation for the Kansas City game the San Francisco 49ers knew that priority one laid with stopping veteran premier running back Priest Holmes. Being able to do that would open up a lot of other possibilities in getting the Chiefs in trouble early in the game.

This was the 49er mandate set out by the coaching staff. Holmes was the target and the defense knew that this game would be a barometer in measuring any kind of third down improvement for them.

In fairness the Chiefs knew that they had to do a lot of different things in keeping the 49ers off the scoreboard. A difficult task considering the weapons at their disposal, and having a quarterback that is able to make big plays once the pocket has been pressed and he is allowed to get outside.


Coming off an emotional and physically draining victory over the Oakland Raiders had Head Coach Steve Mariucci concerned about the state of the team. He wanted to make all the necessary moves in order to lighten the weight that they had all just gone through.

It was a concern because such an awesome victory tends to allow the players to let their guards down when going into the very next contest. Certainly the 49ers had to be crisp in knowing that Priest Holmes was coming to town.

"We're going to find out," Mariucci said. "That's one of the reasons I let the guys off (on Monday). I wanted to have two days to let everything clam down. It was emotionally draining. You've got to rest, and you've got to just let go."

"We've got to find a way to pick it right back up. Forget about the win. Our players have got to get it past us quickly. You've got to be able to handle success, and you've got to be able to handle defeat."

Game 8 (Win) 49ers defeat the Chiefs 17-13

"I made a throw I shouldn't have made," Garcia said. "I can't say what I said on the field. That play is just not typical of me. It's not the way I play football. Bit I can't compound a mistake by making a worse mistake. It's one of those things you try to put behind you, but the whole halftime I was fuming. That should not have happened."


The San Francisco 49ers would begin this contest on offense; Kansas City's kicker Morten Anderson would do the honors with a 70-yard kick to the end zone that resulted in a touchback to begin this game.

Jeff Garcia took command at the 49er 20-yard line to start and hit J.J Stokes for a five yard gain, along with an 11-yard gain to back-up tight end Justin Swift.

Obtaining the first down Garrison Hearst began his first run for four yards to the right and Terrell Owens caught a seven-yard reception as well. Another first down completed the 49ers continued their drive with Hearst to the left hitting a wall and Garcia finding Owens and Streets for a combined 10 more yards.

Another first down had been accomplished and the 49ers already were establishing an upper hand here. On the next play Garcia hit Hearst for six yards and Barlow ran to the left foe three more yards.

With a third-and-one Garcia passed to Owens for an incomplete pass forcing the 49ers to take a timeout at the Chiefs 34-yard line.

On fourth-and-one the 49ers elected to go for it and handed the ball to Mr. Reliable fullback Fred Beasley who ran right up the middle for three wonderful yards.

Garcia hit Stokes for six more yards and Hearst ran to the left for just one more yard. On third down Jeff looked to Tai Streets but the pass fell incomplete.


This forced the 49ers at the Kansas City 24-yard line to attempt a field goal. Jose Cortez plagued from thoughts of just last week attempted a 42-yard field goal and hit it. So on 15-plays and 56-yards the 49ers took the lead being 3-0 49ers.

Cortez then kicked off for 62-yards to Dante Hall who returned it for 28-yards to the Chiefs 36-yard line. Here is where Trent Green went to set up shop against the 49ers.

A trick play on end around by wide receiver Eddie Kennison started the drive for eight yards and Holmes broke through for three more yards.

Achieving a first down Green hit Kennison for a 16-yard completion off Ahmed Plummer, Holmes then ran to the left for four more yards and Green missed tight end Tony Gonzalez.

A false start penalty was applied to the Chiefs for negative five yards. Out of the shotgun Green then hit Kennison again for 18-yards off Mike Rumph and Holmes ran to the left for nine more yards to the 49er 11-yard line.

This was a series of great plays from the Chiefs especially with Eddie Kennison beating out both Plummer and Rumph on passing plays. Now the Chiefs were poised to strike, and they did with an 11-yard run by Holmes to the right and into the end zone.

However the touchdown was nullified because of an offensive holding penalty on the Chiefs. With a second down Green tried to find Boerigter but it was incomplete and then Green ran up the middle for seven but was met by Tony Parrish.


Stuck on the 49er 16-yard line and a fourth down the Chiefs elected to attempt a field goal with Morten Anderson who hit a 33-yard field goal. So after 10-plays and 48-yards the Kansas City Chiefs tied the score at 3-3 even.

Anderson then kicked the ball 51-yards to K. Kosier brought it out 10-yards to the 49er 29-yard line.

With 2:13 left in the first quarter Jeff began the drive, hitting Cedrick Wilson twice for a total of eight yards. Beasley then ran up the gut for four yards and a first down, and again to the right for six more yards.

Barlow took over with a run to the right for two and a pass to Tai Streets for four more yards made a first down.

This became a drive that was crisp and well-executed Jeff was in true form on this drive and the coaching staff was very creative. On a new first down from the Chiefs 47-yard line Jeff hit Tai Streets for a nice 15-yard reception and then Kevan Barlow ran to the left for 11 more yards.

This created yet another first down for the 49ers. Jeff gave a handoff to Terrell Owens on a reverse and Owens sprinted to the left for a total of 19-yards before getting pushed out of bounds.

This was a beautiful play. On the next play though Ray Crockett sacked Jeff Garcia for negative three yards.


On the Chiefs five-yard line Jeff handed off to Garrison Hearst who ran to the right and into the end zone for a touchdown. Jose Cortez's extra point was good and on 11-plays and 71-yards the 49ers took the lead 10-3 in the second quarter.

Jose then kicked 56-yards to Dante Hall who made a nice return of 36-yards before newly activated safety John Keith stopped him.

Kansas City took over in great field position at the 50-yard line. Trent Green found success in hitting Eddie Kennison for a 21-yard gain off 49er safety Ronnie Heard.

Holmes then ran to the left for 11 more yards and Green found Gonzalez for six more yards. At the 49er 12-yard line the Chiefs quickly established that they could come right back as well. Priest Holmes on the next play broke to the right for a 12-yard touchdown.

The extra point by Anderson was good so on four plays and 50-yards the Chiefs came back to tie the game 10-10 even in the second quarter. Anderson then kicked a 54-yard kick to Jimmy Williams who returned it 26-yards out to the 49er 42-yard line for good position.


Jeff Garcia again went right to work failing to find Streets and Hearst went up the middle for three yards.

Out of the shotgun Garcia ran to the left for seven and Hearst to the right for four more yards. Jeff then found Tai Streets for an 18-yard reception and a new first down.

Hearst got the carry for two yards off the right and then a penalty fell on the 49ers for a false start on Owens. Garcia found Justin Swift and Hearst for a total of 14 more yards creating another first down. Owens got the handoff for a run to the right for four more yards and caught one for five yards.

This set the ball up at the Chiefs six-yard line, where Barlow got the handoff and ran to the left for a six-yard touchdown. So on 11-plays and 58-yards the 49ers retook the lead at 17-10 49ers.

This was a great drive and the creativity and imagination of the 49er coaching staff is to be commended. Garcia continued his great trend of spreading the ball around and the offensive line continued to play well.

Jose kicked the ball 62-yards to Dante Hall who returned it 17-yards to their 25-yard line. Here Green gave it to Holmes who was stuffed for one yard and out of the shotgun Green failed to find Kennison.

Dana Stubblefield then sacked Green and the two-minute warning sounded, the Chiefs elected to punt and did so for 25-yards where it was downed at the Kansas City 45-yard line.


With 1:53 left to play in the half, Jeff went to work, he failed to find Owens and out of the shotgun handed it to Hearst for five and hit Owens for a 17-yard gain. With a new first down Garcia failed to find Owens and hit Hearst for a nine-yard gain that was reviewed but upheld.

Here San Francisco took a timeout, at the Chiefs 14-yard line Hearst was stuffed for one yard and with time running out Jeff spiked the ball. A timeout by the 49ers with seven seconds remaining.

Here is where Steve Mariucci argued for more time with the official and inadvertently cost the 49ers on this play.

On the next play Eric Warfield intercepted Jeff out of the shotgun tried to hit Tai Streets but it, but thankfully time had expired.

This first half represented in almost every category a clear advantage for us. With the 49er offense on the field for over 22 minutes compared to almost eight minutes for the Chiefs.

We dominated in both rushing and passing yardage and we held the Chiefs third down efficiency to just 33%. We did however throw an interception that at the very least could have been three points.

Jose kicks the ball to start the third quarter 47-yards to R. Owens who suddenly muffs the catch, however he recovers it and brings it to the Kansas City 27-yard line. Johnnie Morton takes the ball around the left end for 13-yards and Green hits Holmes who is stuffed for a negative yard.

Green then tries to find Dante Hall but fails and then goes into the shotgun to find Kennison for a 17-yard gain off Ahmed Plummer.


With the first down acquired Dante Hall gets the carry but us slammed for a negative yard by both Carter and Flanigan. Backed up on second down Green drops back and throws to Dante Hall where the ball is suddenly intercepted by Ronnie Heard.

What was supposed to be a game breaking interception was nullified when an encroachment penalty fell on the 49ers committed by Bryant Young. The Chiefs had new life and Green tried to find both Holmes and Gonzalez but failed, thus they were forced to punt.

Dan Stryzinski's punt went 40-yards into the end zone for a touchback; here the 49ers began at their 20-yard line.

Garrison Hearst would be the workhorse as he took the first two for a combined six yards. Garcia then found Owens and Beasley for a total of 11 more yards.

With the first down acquired Garcia continued with hitting Beasley for a total of 13 more yards. Another first down obtained Garcia failed to find Barlow and Hearst broke a run for 17-yards off to the left side.

Again the first down was obtained and Hearst began with a six yard run followed by a pass to Swift that was stuffed for a negative yard.


On the Chiefs 28-yard line on third down Garcia then was sacked by defensive tackle Eddie Freeman the rookie out of Alabama. This forced a field goal attempt by Cortez from 46-yards that failed when it hit the left upright.

This sent the 49ers packing and the Chiefs began at their 37-yard line. Both Holmes and fullback Tony Richardson would combine for a total of seven yards on rushing.

Trent Green then hit Kennison for nine yards and Holmes ran for three more yards. However a holding penalty fell on Gonzalez sending the Chiefs back.

Trent Green went back to work with the third quarter winding down. He hit running back Mike Cloud for four yards and Holmes found three more.

On third down Green went to the shotgun and hit M. Boerigter for a 24-yard reception. Thus the Chiefs had converted and had a first down.

With the start of the fourth quarter the Chiefs felt that they had a scoring opportunity at the 49er 26-yard line. Holmes went to the right but was stopped for just one yard and Green failed to find Gonzalez.

In a third down situation Green went to the shotgun but failed to find Dante Hall, thus forcing the Chiefs to try a field goal.


Morten Anderson hit a 43-yard field goal and closed the gap on the 49er lead with the score at 17-13 49ers. The Chiefs accomplished this drive on 10-plays and 38-yards. Anderson kicked 54-yards to Jimmy Williams who brought the ball out 16-yards to the 49er 32-yard line.

The 49ers began to believe that the costly interception before the half ended was starting to haunt them. Jeff set out to correct it but was sacked for negative four yards by defensive end Duane Clemons.

Barlow then went up the gut for four and out of a shotgun Garcia failed to find Stokes. In and out we punted for 33-yards where Hall brought it out six yards to the Chiefs 27-yard line.

Trent Green with another chance hit Richardson for two and Holmes was stuffed for no yardage. Green then passed to Gonzalez but it failed to connect, forcing the Chiefs to punt 37-yards where Williams got two yards to the 49er 36-yard line.

Yet again Jeff would try his luck, failing to find Owens but hitting him for five yards on the next. He hit Owens again for three more but it brought up a fourth down and they were forced to punt. Baker punted 33-yards where Hall had a gain of just one-yard.


Trent Green back to work hit M. Boerigter for 18-yards getting the first down and Holmes ran and caught a pass for a combined eight yards thereafter. On the next play a big sack came in on Green courtesy of Andre Carter for a negative 10-yards.

This forced the Chiefs to punt 44-yards to Williams with a fair catch call at the 49er 16-yard line.

With 7:18 remaining in the game the 49ers knew that they needed to either score again or eat the clock. Jeff set out and Barlow ran for a total of eight yards on two carries. Fred Beasley converted the third down again with five yards to keep the 49ers on the field.

Jeff then hit Barlow for nine and Beasley ran for another three yards to the left. Another first down accomplished Hearst and Barlow went up the gut for a total of 14 more yards winning another first down.

A timeout by Kansas City and then San Francisco was called. On second down Barlow went to the right for just one-yard and the Chiefs used another timeout.

Hearst on third down went for three yards but a delay of game penalty hit the 49ers sending them back.

On fourth down the 49ers had to punt and Baker hit it for 35-yards with a fair catch by Hall at the Chiefs 11-yard line.


With just 2:00 left in the game this drive was critical for both teams. Out of the shotgun Green hit reliable Kennison for a 23-yard gain, and again for a 17-yard gain.

With the first down in hand he hit Kennison again for 13 more yards, but failed to hit Gonzalez. Out of the shotgun Chike Okeafor suddenly sacked Green for a negative yard.

Going back into the shotgun Green could not find either Kennison or Gonzalez due to great 49er coverage. The Chiefs gave the ball back with 1:07 left in regulation.

Jeff Garcia on the 49er 37-yard line did the right thing and kneeled on the ball three times for the game to expire and the 49er victory. In a dramatic whirlwind drive by Trent Green he was stuffed right at the end by a constricting 49er defense.

The day was exceptional for San Francisco as Jeff Garcia was 25-of-35 for 175-yards but he had one interception and only a 70.5% quarterback rating. This was conservative but effective enough to win.

Terrell Owens had a productive day with seven receptions for 51-yards and his complimentary Tai Streets four receptions for 41-yards.

Both Garrison Hearst and back-up tight end Justin Swift had good receptions. Hearst three for 21-yards and Swift three for 18-yards. Beasley had three for 16-yards and was critical on third down conversions.


In the running game we excelled at working the ball and eating the clock as Hearst had 15 carries for 69-yards and one touchdown. And Barlow had nine carries for 37-yards and one touchdown. Jose Cortez had an all right day but missed a field goal attempt.

On special teams Williams had a decent day again with a long return of 26-yards. The offensive line of the 49ers played well in staying on the field and in the rushing end of the game. But failed in pass protection as Jeff was sacked three times too many.

On our defensive front credit goes to Dana Stubblefield, Andre Carter and Chike Okeafor for sacks. And great coverage and tackles by Plummer, Rumph, Peterson and Parrish. We held the Chiefs to a 36% third down efficiency, while completing 61% ourselves.

We had a total yardage of 323-yards compared to 256-yards for Kansas City. We held the Chiefs to 80 total yards rushing and 176-yards in passing.

We even had a good day penalty wise acquiring only three for 15-yards. Total time of possession was 38:34 to 21:26 in 49er favor.

We achieved another milestone. We went ahead three games in the National Football Conference Western Division. We now have a total record of (7-2) and are looking at being right up there with the very best in the league.

Facing San Diego next is another challenge in our run defense. We stuffed the best in Priest Holmes, now it is on to Tomlinson.

Although this game was not exciting scoring wise, it was defensively. We must give credit to our defense in the second half for holding a four-point lead.

They all played marvelously and deserve the recognition of improving upon their third down conversion coverage.

A lot was achieved and I am proud regardless of another "ugly" win. I'll take them anytime.





Fan Press:
Now you can write articles for 49ers Paradise, and read what other fans have to say too in the Fan Press section.